As I type these words winter has officially been with us for less than a month. ☃️
Yet, in many corners of the world, it began, two, three, or perhaps even as many as four months ago (I have, for example, experienced snow in September while living in certain parts of Canada) and that can mean that we are already more than a little eager for spring to return.
Alas, save for those lucky folks in some particularly warm and/or mild climates, we need to exert saint-worthy patience for a bit longer.
However, as entrenched into the bone-chilling heart of winter as many of us are, subtle signs of spring's impending return are – or will soon be – perceptible again.
Not trees in bloom, perfectly tender asparagus and delectably sweet little strawberries perceptible, but the forebearers to those kinds of seasonal changes and many others that will greet us as winter takes its bow and exits stage left.
In the 2 years and a couple of weeks that Witchcrafted Life has been online, I have penned 1 – 3 dedicated posts a piece so far for each of the Pagan sabbats. Such posts have focused on things such as the history, traditions, associations, correspondences, colours, foods, herbs, plants, animals, crystals and so forth of each of these sacred days.
You can bet your favourite winter scarf that I won't stop writing those kinds of posts anytime soon. 😃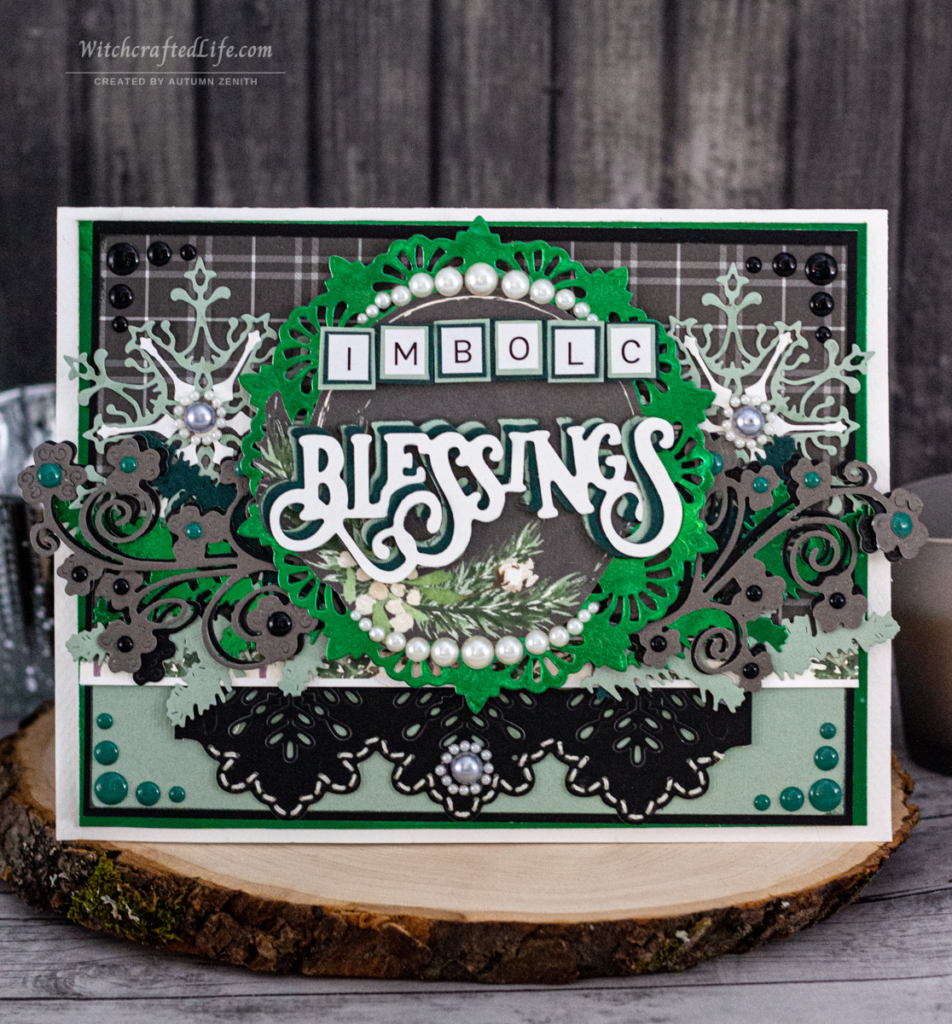 However, as one of the guiding inspirations for this blog's creation was to not "merely" share some posts that focused on paper crafting and others on Paganism/witchery, but to combine the two on various occasions, that is what I am planning to do more of throughout this year (and beyond!).
There have, of course, already been a handful of posts that combined both.
However, starting this month, I am on a mission to create and blog about at least one craft (be it paper or otherwise) project for each of the year's Pagan sabbats throughout 2022/2023.
Ideally, continuing to do so on a fairly regular basis beyond then as well.
The first sabbat to transpire after the New Year, Imbolc (aka, Imbolg), is rapidly approaching again and as such I decided there was no better time to get the ball rolling on my roster of sabbat-focused projects than with an Imbolc themed creation.
Elegant winter meets spring colour palette Imbolc card
Much as with the seasons themselves, there are certain colours that are broadly associated with each sabbat.
Those which are – in the Northern Hemisphere – often ascribed to Imbolc include colours that echo both winter's chill and the inaugural glimmers of spring's upcoming return.
Fire, light, and sunshine are integral components of many an Imbolc celebration. This often leads to colours such as white, yellow, bronze, gold, and red being connected with Imbolc.
Others with strong ties to Imbolc include (but are not limited to) cream, pale pink, green, light blue, brown, grey, and silver.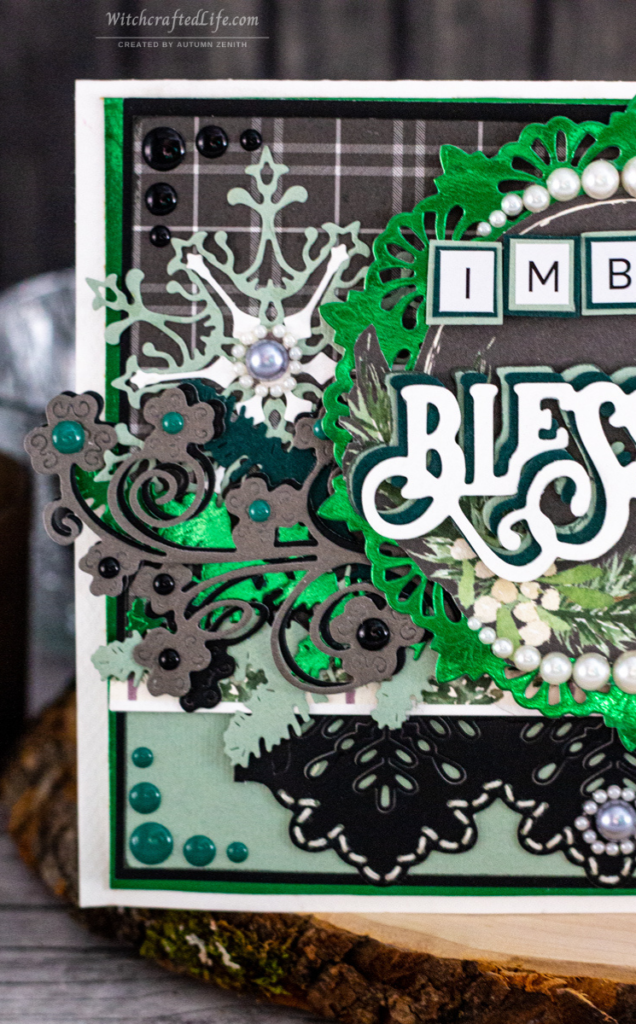 As I envisioned the card at the heart of this post, I knew that I wanted to utilize a colour palette that tapped into both the dark heart of winter and the jovial, far more lighthearted (as a general rule) nature of springtime.
Imbolc is often viewed as being the first spring sabbat, even though it is housed at the start of February.
As with many sabbats, solstices and equinoxes, this perception stems in no small part from the days when our ancestors lived in tremendously close proximity with nature and the perpetual ebbing and flowing of the seasons.
Whether for hunting, planting crops, being able to dig into the soil to set posts or lay bricks for new homes or myriad other happenings, the seasons dictated and shaped a great deal of how civilization has unfolded.
Early February does not usually have the warmth or greenery of Ostara or Beltane, but it is far enough away from the Winter Solstice to afford it the title of spring's unofficial start.
Or, if you personally feel that it is simply too deeply buried in wintertime proper still, then Imbolc serves as a midway wintertime sabbat celebration that embraces elements of the present season and the one that lies ahead in near equal measure.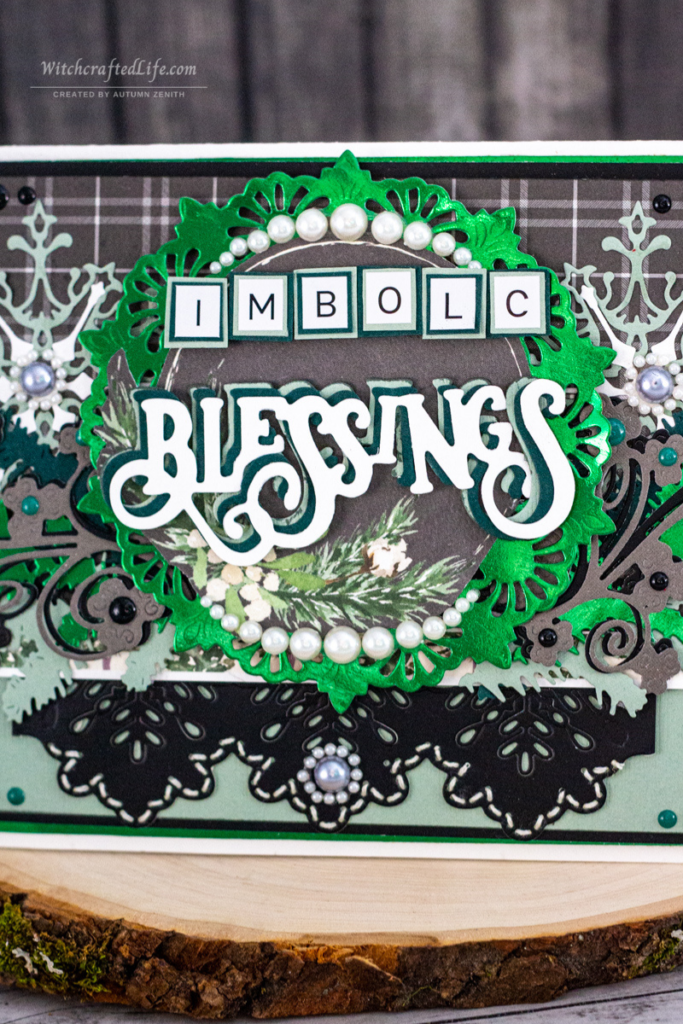 The colours used on this card tap into both winter (black, grey, and white) and early spring (grey, white, and green).
Much like Imbolc itself, they serve as a reminder that it will not be too much longer until the world rouses from its wintertime slumber and slips into its springtime finery once again.
In addition to the colours themselves, this card represents the seasonal duality of Imbolc by the presence of both snowflakes and greenery (the bloom bedecked branches/vines).
Given that the snow in our backyard is still up to my knees and may very well rise higher again before winter officially throws in the towel, this chilly season component is one that I – like many of us – associate closely with Imbolc.
Yet even as I light a flock of twinkling candles, invoking both literal and metaphorical warmth and light back into the world once again, I am already daydreaming about the lush foliage and life-affirming properties of spring. These too are honoured come the year's first sabbat.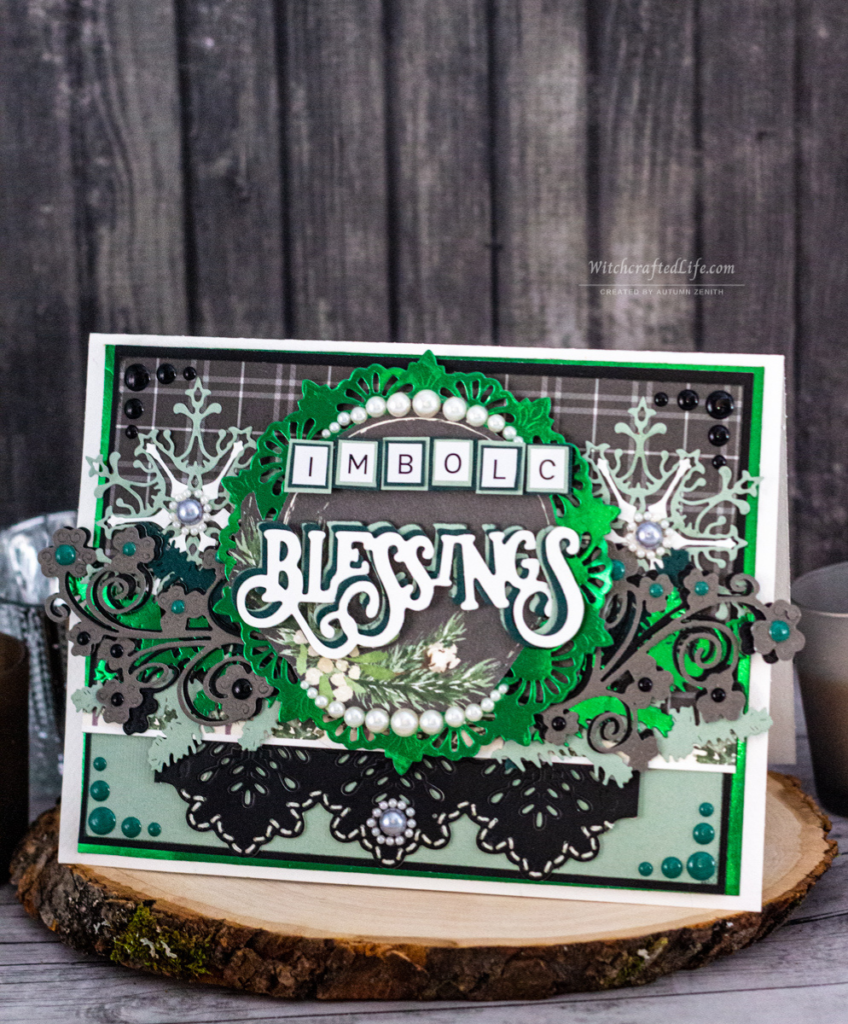 I find the colours at play on this card to be very soothing and peaceful. They are not as bleak as the harshest days of winter, yet nor are they as vibrant and breezy as those of, say, late spring or early summer.
Much like Imbolc itself, they are comforting and ancient, a marriage of two seasons that is, in fact, the precursor to the death of one and the rebirth of another.
Products used to make a festive black, grey, green, and white Imbolc card
-White or off-white (which is what I used) subtly textured or smooth cardstock
-Sage/light green cardstock – Soft Tones Cardstock from Paper Accents
-Dark (pine/forest/hunter) green cardstock
-Grey cardstock
-Black cardstock
-Green metallic cardstock – Foil Cardstock Paper from Recollections (Michael's brand)
-Grey plaid paper – Christmas Festive Ornaments Paper from Carta Bella
-Pine tree print border strip of paper – Christmas Border Strips Paper from Carta Bella
-Fir/pine bough patterned paper (used in the center of this card) – Christmas 4"x4" Journaling Cards from Carta Bella
-Ornate circle die
-Snowflake border die (or a similar snowflake border punch)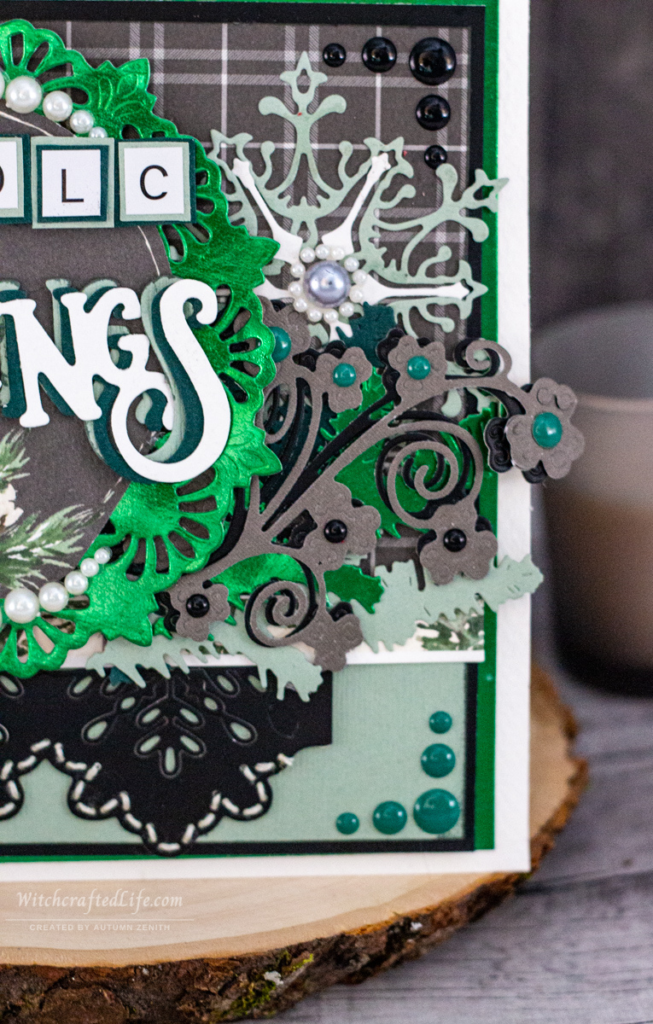 -Two-part snowflake die (a single layer/part snowflake works just as well here, too)
-"Blessings" word die (or letter dies, stamps, stickers, wood veneer pieces, or rub that can spell out the same word)
-Small vine/branch with flowers die
-Fir/pine branch die – Fall Foliage Dies from Spellbinders
-Off-white and grey flat back adhesive pearls – Opaline Designer Half Pearls from Basic Grey
-Black and green enamel dots – Green Fields Enamel Dots from Alte & New
-Dark green ink – Memento Dew Drop Northern Pines Ink from Tsukineko
-Black and white tiny letter stickers (product not named but from the Stickah brand sold at Dollarama)
-White or off-white embroidery thread (very thin crochet thread could also be used here)
-Dimensional foam, pop dots, or similar to elevate some of your layers
-Adhesive, such as a tape runner, of your choice (I often use my Scotch Tape Glider)
How to make an elegant winter meets spring Imbolc card
Start by making a card base from either white or off-white cardstock.
Cut a piece of green metallic cardstock slightly smaller than the card base. Adhere.
Cut a piece of black cardstock slightly smaller than the green metallic cardstock layer. Adhere.
Next, cut a piece of the grey plaid Carta Bella paper so that it is slightly smaller than the width and about 60% off the height of the previous layer. Attach it to the top portion of the black cardstock layer, as shown.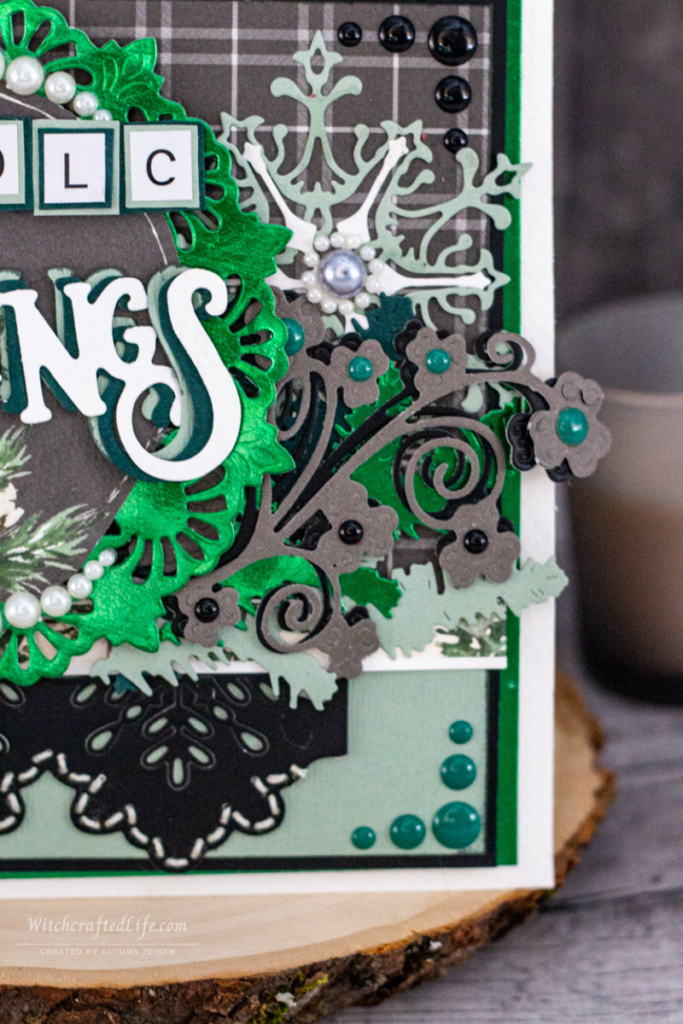 Cut a piece of sage/light green cardstock so that it is slightly smaller than the width and about 40% of the height of the black cardstock layer. Attach it to the bottom portion of said black cardstock layer.
Die cut (or punch out) a border strip with three good-sized snowflakes from black cardstock. Use white or off-white embroidery floss to stitch through the edges of this piece (alternatively, you can use an opaque white pen or marker to hand draw stitching instead).
Adhere in the center bottom of the sage/light green cardstock layer. Top the center snowflake with an off-white and grey pearl embellishment.
From the Carta Bella Christmas Border Strips Paper cut out a pine tree border strip and adhere it roughly 2/3rd to 3/4th of the way down the center of the card layers that you have constructed so far.
Using both sage/light green and white/off-white cardstock, die cut two nesting snowflake shapes. Place the smaller white or off-white piece inside of the larger green snowflake piece. Adhere to the sides in the top 1/3rd of the center panel of the card, as shown.
Top the center of each white inner snowflake with an off-white and grey pearl embellishment.
Use the Spellbinders fir/pine bough die to cut two branches from each the sage/light green, dark green, and metallic green cardstocks.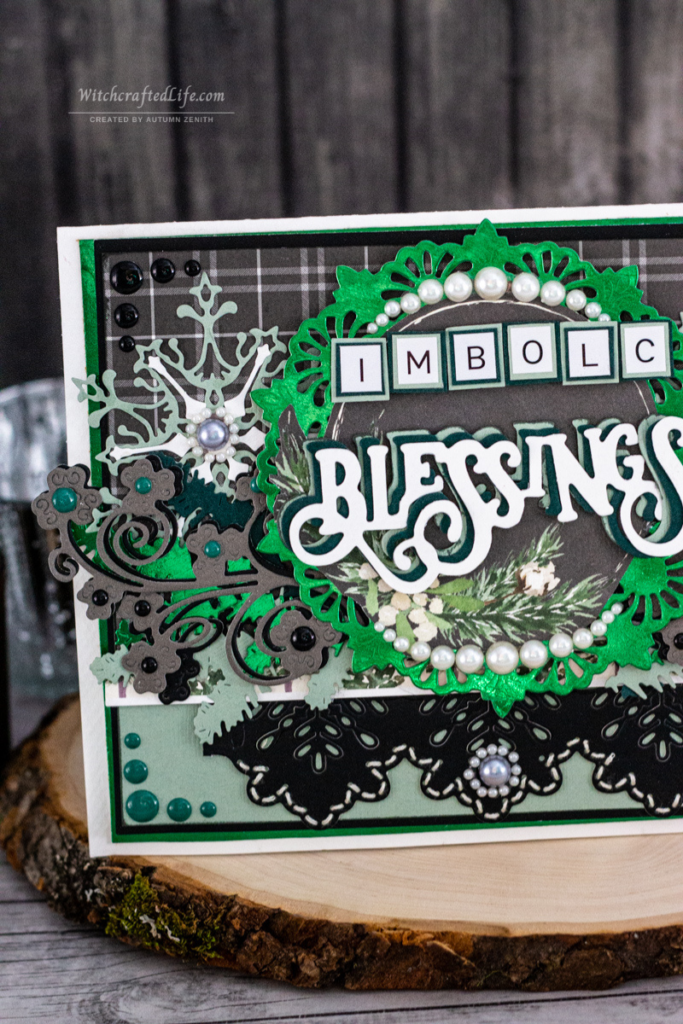 Starting from the darkest to the lightest colour, arrange these bough pieces around the edges of the center of the card, allowing them to overlap a bit with the snowflakes and the pine tree border strip. Adhere.
Die cut two flowering branch/vine pieces from black cardstock and another two from grey cardstock. Top the black pieces with the grey ones, off-setting them a little so for an added sense of dimension. Adhere both pairs together and then atop the center of the fir/pine bough area that you just created.
Using the Alte & New enamel dots, adhere green and black dots on the flower portions of the flower branches/vines, as shown in the photos throughout this post.
From green metallic cardstock, die cut an ornate circle shape. Using pop dots, foam squares, or another dimensional adhesive, adhere this circle to the center of the card front.
Cut out the winter foliage (with a dark grey background) piece from the Carta Bella 4"x4" Journaling Card paper, then this piece into a circle shape. Adhere it to the green metallic layer from the previous step.
Next, use the small white and black letter stickers to spell the word "Imbolc", alternating between light and dark green cardstock, adhere and then fussy cut out each sticker so that it has a very thin border around it from either of those two cardstocks.
Repeat the cardstock process again, this time alternating colours so that if the letters were first backed with light green paper, their second border (backing) layer is dark green and vice versa.
Arrange the letters in a playful slightly uneven (from one another) manner in the top portion of fussy cut circle created in the previous step.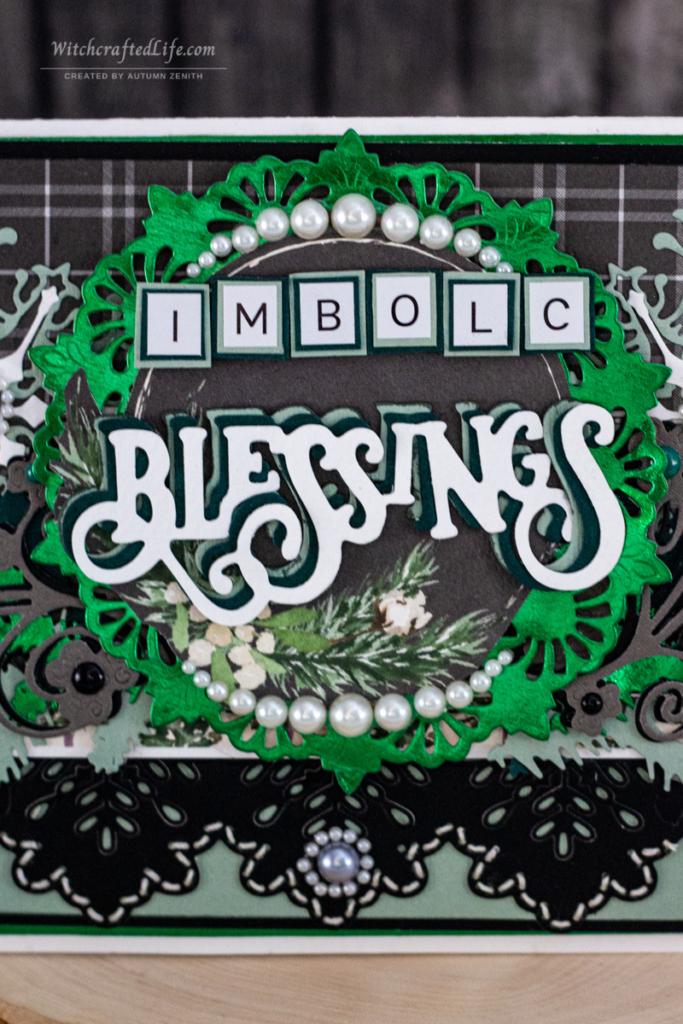 Use the "Blessings" word die to die cut three identical words, one each from sage/light green, dark green, and white/off-white cardstock.
Arrange these layers starting with the sage/light green, then the dark green, followed by the white/off-white so that all three layers are slightly off-centre from one another for an added sense of depth.
Adhere the layers together and then beneath the "Imbolc" letter stickers.
Use three sizes of matching coloured off-white or white adhesive pearls to create a frame/border around the top and bottom portions of the fussy cut green paper piece, as shown.
For the final step, use three sizes of black Alte & New enamel dots to adorn the top corners of the grey plaid paper layer and three sizes of green Alte & New enamel dots to adorn the bottom corners of the sage/light green cardstock layer.
And just like that, you have a sophisticated, wonderfully seasonally appropriate handmade Imbolc card to send off or present in person to someone special.
Alternatively, if you use a different sentiment this same design can be used for various other wintertime (or summertime if you are south of the equator) events as well. For example, Yule, Christmas, New Year's, winter birthdays and anniversaries, just because and thinking of you cards, and even as a very heartfelt sympathy card.
One foot in winter, the other stepping towards spring
As with each of the Pagan sabbats, those who choose to observe them have free range over when they opt to do so. Nothing on that front is written in indelible ink and those of both Pagan/Wiccan/witchy leanings and otherwise that make the sabbats a part of their lives can do so whenever they desire.
That said, a good many of us opt to do so on either February 1st or February 2nd.
As a general rule, I lean towards February 1st. As with each of the year's eight beautiful sabbats, however, aim to encapsulate the sacred day itself with at least a few more days on either side. Thus, instead of "just" one day, Imbolc and each of its other sabbat siblings become mini seasons of celebration unto themselves.
I adore Imbolc and while that is, objectively, true for each of the eight sabbats that comprise The Wheel of The Year, there are some that I feel all the more pulled towards.
Imbolc, situated as it is as the counterpoint to Lammas six months later (on this side of the equator), is a cozy, soulful period that invites us to reflect on where we have come not only since January 1st of the present year, but since this point last winter.
As well, it taps into the return of new life + gentler weather that will soon pop back up much like a crocus exuberantly bursting through a mantle of snow to soak in the year's first warm rays of sunshine.
I do not hate winter (far from it!) and can scarcely imagine living somewhere that did not experience a frozen segment of the year.
Winter – much like fall – stokes the fires of my creativity, my energy, my productivity and much more in ways that spring and summer are not always able to do to same degree.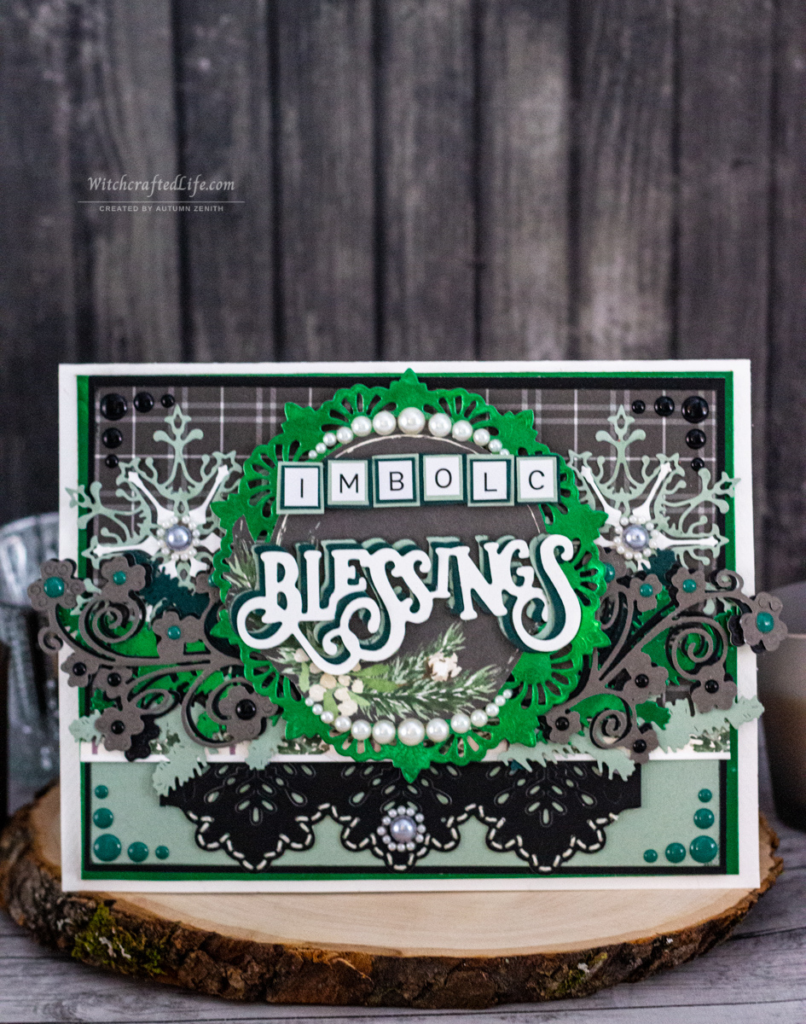 Many is the year that I have felt a splash of melancholy as winter breathed its last. However, those post-winter blues are rarely long-lived as the endearing vitality and breathtaking colour palette (to say nothing of the scents, tastes, and sounds) of spring dance merrily across the landscape once again.
Right here and now though, in our wee corner of Western Canada, the mercury sits below freezing, many local bodies of water have ice on them that is thick enough to safely skate or fish on, and there's plenty more snow forecasted in the coming weeks.
Come February 1st and in the days that buffer it on either side, I will embrace winter while it is still here. And at the same time, I'll steer the rutter of both my witchy workings and life as a whole towards springtime.
Each season and sabbat is a gift, and Imbolc – with its emphasis on fresh starts, new life, and finding light in even the darkest times (aka, the middle of winter) – is no exception.
Just as the wording on this handmade greeting card states, with all of my heart, I wish you each a blessed and truly beautiful Imbolc. May it, in due time, unfold into a low-stress, high enjoyment spring for all of us!
Whether you observe Imbolc or not, what do you view as the unofficial start of spring? Which colours do you most associate with this point in the year? ❄️🖤🌿