Imbolc is the first Pagan sabbat that follows the Gregorian calendar's new year.
Frequently observed on February 1st, Imbolc is a traditional Gaelic festival which celebrates and honours the start of spring.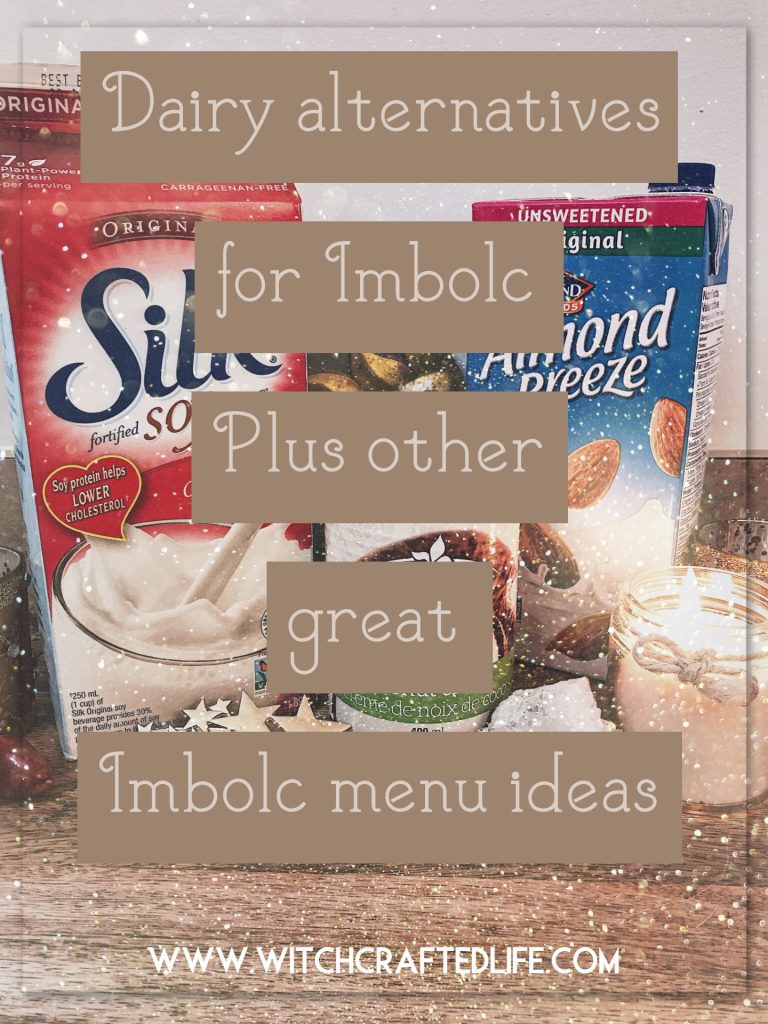 While in many parts of the world snowy weather is still out in full force and an event that gets the ball rolling on the coming season may seem a tad premature in early February, that is all the more reason why mid-winter is an excellent time for Imbolc.
Imbolc's ancient past
In connection with Beltane, Lammas/Lughnasadh, and Samhain, Imbolc (or Imbolg, as it is also spelled) is one of the four Gaelic festivals that were observed throughout the British Isles by the ancients.
It is believed that the goddess Brigid was strongly connected to Imbolc, which is further evidenced by the fact that as Christianity spread across the area, Imbolc was reworked by the early church to become Saint Brigid's Day.
If observed on February 1st, Imbolc is immediately followed the next day by the Christian holy day of Candlemas (the Feast of the Presentation of Jesus Christ) and by, on the same date, the more secular observance of Groundhog Day.
While some of us might enjoy the good-natured fun of Punxsutawney Phil, the Christian observance of Candlemas is not something a great many contemporary Pagans and witches observe.
Yet Imbolc itself is a day to celebrate and give thanks for the longer hours of daylight that are gradually returning to our world.
This point is one of the first signs that spring isn't quite as far away as the present icicle covered weather may have us believe.
Newness is an overriding theme at Imbolc. It relates to the lambing season, to the first stirrings of spring, to the prospect of brighter days ahead, and to making the most of the blessings of mid-winter.
Fertility, vitality, reunification, growth, optimism, fresh starts, hope, abundance, comfort, caring, light and love (including that expressed through the rejoining of the god and goddess at Imbolc) are just some of the themes and meanings that people have long imbued Imbolc with and derived from its happening alike.
These are all excellent points for the modern observer of Imbolc to incorporate into their magickal workings, spiritual practices, and daily lives.
Why is Imbolc associated with dairy foods?
Imbolc is deeply connected to themes of hearth, home and livestock. While far fewer of us today raise our own sheep, goats, and cows for dairy production, the connection to the calving season and to the historical significance that the return of spring had on the diets and daily lives of many earlier peoples ties dairy products to Imbolc.
Further, dairy was often a key source of vitamin D, something that the diminished sunlight fails to deliver in potent enough quantities to those living in more northerly parts of the world, including Ireland and Scotland, during the colder half of the year.
Thus dairy, which contains this vital vitamin, was one way to help to maintain healthy levels of vitamin D until spring and summer returned.
The modern dairy industry
To go even slightly in-depth into the workings, practises and atrocities of the modern dairy world is beyond the scope or intended key focus on this post.
It warrants mentioning, however, that the ways in which milk is generally obtained from cows, how the calves that are produced to trigger (or sustain) the production of cow's milk are treated/dealt with, and what problems can accompany dairy products differs radically in many respects from how small scale milk production was often achieved in centuries past (particularly those before the industrial revolution and widescale shift towards city living).
I am not here, however, to judge or criticize those who opt to eat dairy. We must each make our own dietary and ethical decisions based on a myriad of factors, and this post is not about telling you why you may not want to eat/drink dairy products.
Instead, it suggests alternatives for those who cannot, or do not wish, to consume milk and other animal-derived dairy foods, whatever the reason(s) behind such a decision or dietary requirement.
Why bother with milk alternatives for Imbolc?
Firstly, I should point out that there are, of course, no hard and fast rules that say you "must" consume dairy – or any other specific type of food – for Imbolc. You can eat whatever your heart desires on this beautiful sabbat celebration.
Dairy and dairy alternatives are logical choices for this special day, however. They represent the calving season, as well as the bond between mother and baby (animals and humans alike)
In addition, milk and dairy-free alternative milks are often white or cream coloured, which corresponds with the snowy landscape that is common in many parts of the world in early February, as well as newness, peace, hope, and possibility. All themes that jive marvelously with Imbolc and the promise of spring's return.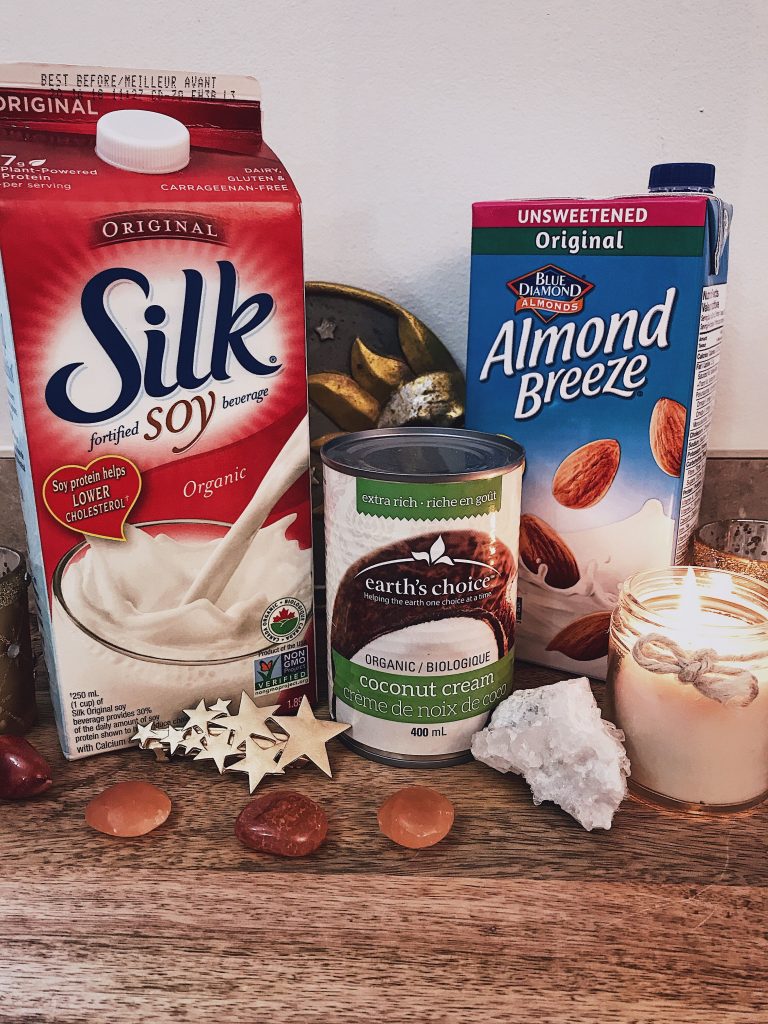 If you cannot, or choose not to, eat dairy, that does not mean that you have to forgo foods that pay homage to the meaning and historical importance of dairy at Imbolc and throughout the coming spring months.
Imbolc is a time for hearty foods that dig into our modern-day winter caches or which represents those held by the ancients.
Rich, filling, stick-to-your-ribs fare is a common theme at this time, as are warming/spicy foods that represent the returning light and increased temperatures of spring.
Although lighter menu options are no less appropriate for Imbolc, as well.
Reasons to choose dairy substitutes for Imbolc
There are numerous reasons why someone may not, or cannot, consume animal-based dairy products.
These include, but are not limited to, the following:
-Medical reasons: Including allergies, lactose intolerance, digestive disorders, and various other serious health issues.
-Religious or cultural reasons.
-Dietary reasons: Whereas some vegetarians (including lacto-vegetarians) will consume dairy products, others, and all vegans and plant-based eaters eschew animal-derived dairy products.
-Ethical reasons: Similar to the entry above, though there are some people who consume certain animal products (for example, meat, fish, or game they've hunted themselves) yet do not eat/drink dairy because of their personal views on the modern dairy industry, milk's potential to cause health issues, or other reasons.
And, again, all vegans and strictly plant-based eaters avoid dairy in any form. Whereas not everyone on a plant-based diet may do so from a purely ethical standpoint (dairy avoidance thus being a by-product of their chosen animal product-free diet, which may be adopted for health, weight management or other reasons), vegans typically refuse to eat/drink any animal products on the grounds of ethical reasons.
-Unavailability of dairy products: Sometimes, a person may not have immediate assess to dairy foods where they live, simply be out of them at home that day, or have a food budget that does not allow for some/all dairy products at present.
-Dislike of dairy: Common as dairy products are, not everyone enjoys eating them, even if they are technically able to do so from health, diet and/or ethical standpoints.
12 plant-based milk alternatives for Imbolc
-Almond milk: For those who are able to eat nuts, specifically almonds, almond milk is a wonderful alternative to dairy milk for Imbolc, especially since nuts and seeds are often associated with this sabbat, housed as it is in the depth winter, when, traditionally, by and large, only foods could last for months on end were available to those in many parts of the world.
As well, almond milk is low in calories (roughly 30 calories per 240 ml of unsweetened almond milk), very low in carbs, and, I've personally found, one of the easiest alternatives to substitute for dairy when cooking and, especially, baking.
Magickally speaking, almonds have a rich history around the world and are associated with the element of Air, quite a few different gods and goddesses, and on the magickal working front abundance, psychic abilities, luck, love, banishing, fertility, hope, healing, prosperity, and clarity.
-Cashew milk: Someone of a newcomer on the mainstream alternative milk scene. It is generally creamy, somewhat earthy flavoured, fairly interchangeable with almond milk, low in calories (some brands are as low as 25 calories per cup) and carbs, and great, I find, for sweet and savoury dishes (especially those involving sauces, Asian and tropical flavours).
Cashews are linked magickally with love, communication, prosperity, career, travel, adventure, and stability.
-Coconut milk: A stable of many household cupboards, both in the homes of animal product eaters and non-animal product eaters alike. Commercially prepared coconut milk and its associated products, such as coconut cream, have become fairly easy to find in some parts of the world over the past couple of decades in particular.
Coconut milk is lovely, creamy, versatile, and a good alternative for those who cannot eat, or dislike the taste of, nut milks. It is, however, more caloric on a cup per cup basis than most other dairy milk alternatives, with pure coconut milk averaging around 230 calories per cup.
In addition to coconut milk and cream, coconut oil can be a great choice for Imbolc, used in place of dairy fats, such as butter or ghee.
Magickally, coconuts are linked with water magick, the moon and lunar magick, purification, travel, happiness, protection, summertime, and revitalization.
-Hemp milk: An increasingly popular alternative to dairy milk, hemp milk (which averages about 80 – 90 calories per cup) is a good source of plant-derived protein and while it does come from the same type of plant that produces marijuana, drinking hemp milk will not cause one to get high as it contains only trace amounts of THC.
Hemp has been a vital crop in various parts of the world for thousands of years, its fibres being used for everything from rope to paper, wicks to clothing. Magickally, hemp is linked to many of the same things that pot itself is, including grounding, visions, happiness, prosperity, peace, serenity, meditation, removing negativity, relaxation, healing, helpfulness, and love.
-Flax Milk: Earthy, mild and pleasant tasting, flaxseed milk is low in calories (25 calories per cup of some brands), low in carbs and fat, and is rich in omega-3 fatty acids.
On the magickal front, flax seeds are associated with areas such as physic visions and abilities, protection, hearth and home, guarding, protection (especially of babies and children), luck, interpersonal relationships, increasing the accuracy of divination, and weaving things into being/reality.
-Macadamia milk: A gentle, appealing flavoured nut milk, macadamia milk is somewhat higher in calories than almond and cashew milk (50 – 70 calories per cup, on average), but still lower than certain other dairy milk alternatives, such as coconut milk and hazelnut milk, respectively.
Macadamia nuts are connected magickally with areas such as protection, love, friendship, communication, and protection.
-Oat milk: Oat milk is similar in calories to (what is known here in Canada as) 1% milk, at about 130 calories per cup. It has around 2 grams of fibre and 4 grams of protein per cup and is a rising star in the dairy milk alternative field.
While delicious – and terrific in everything from hot cereals to baked goods – it is important to note that oat milk may not be suitable for some people with gluten sensitivities, gluten intolerances, and celiac disease.
Certain brands of oat milk are made from gluten-free oats, however, the risk of cross-contamination with gluten may still be present. In addition, not all celiacs (myself included) are able to eat gluten-free oats. One reason for this is the presence of a protein in oats called avenin which has a similar amino acid structure to that of gluten itself, which some with gluten sensitivities and celiac disease are sensitive to as well. If oats trouble you for any reason, then you'll naturally want to opt for a different dairy milk alternative instead (I'm partial to almond milk myself).
Oats are a stellar choice from Imbolc from a spiritual and magickal perspective, as they have longstanding ties to the goddess Brigid. Corn dollies, for example, which are sometimes used to represent Brigid or the goddess/feminine divine in general, are a traditional part of Imbolc celebrations. Despite their name, they often created from wheat or oat straw, which makes oat milk an especially apt choice for Imbolc.
In addition, oats are linked to prosperity, abundance, helping to harvest the seeds of your efforts, comfort, the sacred feminine, healing, nurturing, ancestry, support, fortitude, mindfulness, tradition, and both fall and winter.
-Quinoa milk: Quinoa has emerged, over the past decade or so, as a beloved and widely used super grain far outside of its native region of Lake Titicaca. It's not surprising then quinoa milk would quickly spring into being at a commerical level and enter the dairy milk alternative sense as one of its fastest rising stars.
Quinoa milk has about 70 calories, 2 grams of protein, and 12 grams of carbs per cup. It is taste is generally mild, fairly neutral, a little earthy, a touch nutty, and great in both cooking and baking.
Magickally, quinoa is a handy grain (or grain-based milk) to utilize in magickal workings pertaining to strength, well-being, harmony, wholeness, clarity, serenity, stability, bonding, and abundance.
-Rice milk: Back in the day, when I first started adapting my diet for medical reasons, rice milk was one of the few dairy alternatives that existed in many parts of Canada (soy and almond were the other two biggies at that time). These days, as this list highlights, many other options exist, but rice milk remains popular and for good reason.
Rice milk has about 110 – 120 calories per cup. It is awesome for drinking as is, cooking, and baking; naturally subtly sweet tasting, and produced by a wide range of brands.
You can also easily make your own rice milk at home if you'd like (the blog Simply Vegan has a simple three-ingredient rice milk recipe, for example, if you'd like to give doing so a shot yourself).
Rice is one of the most abundantly eaten grains in the world and it has strong cultural and spiritual ties to, and for, many cultures around the world. Magickally, rice is associated with a number of different areas, including good fortune, love, fertility, wealth and money matter, abundance, tradition, stability, commonsense, stick-to-itness, keeping unwanted spirits at bay, wellness, blessings, mothering and motherly energy, and cleansing.
-Soy milk: Another long-time player on the dairy milk alternative shelf, soy milk is great for adding to warm beverages, drinking on its own, cooking and baking with. It is more caloric than some other milk substitute options, coming in at about 130 – 140 calories per cup. While I do not generally drink soy milk myself, my husband (who also eats a plant-based diet) loves frothing it and adding it to his daily coffee.
In terms of its magickal connections, soy is linked to many things and, much like rice, has been an integral part of many traditional cultures and diets, particularly in Asia, for thousands of years. Use soy in your magickal workings when you're focusing on areas such as psychic abilities and awareness, protection, strength, balance, unity, creativity, newness, spiritual health and wellness, being flexible, and grounding.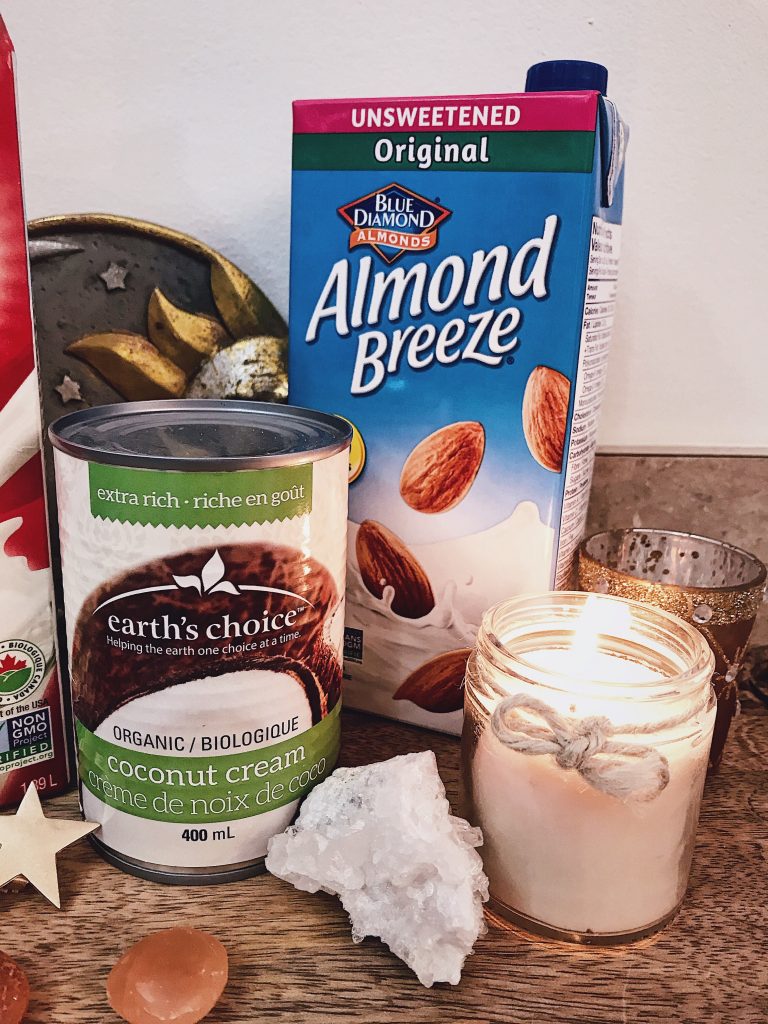 In recent decades, we've seen an explosion in the number of non-dairy substitutes and alternatives hitting supermarket and health food store shelves in many parts of the world.
As well, more and more people are appreciating the cultural significance that non-dairy milks and the foods made from them have long had in the traditional diets of scores of different cultures.
If you wish to make your own dairy milk alternatives, recipes abound online and in various cookbooks nowadays that can help novice and veteran cooks like create healthy dairy-free milks at home themselves.
The act of doing so can be a wonderful way to incorporate further kitchen and hearth/cottage witchery into your Imbolc celebration.
It is also a terrific activity to get kids (and non-Pagan household members, too) who are old enough to help out involved with.
Of course, store-bought or farmer's market sourced versions are great choices, too, and it is by no means essential that one creates their own non-dairy milk alternatives for Imbolc.
In addition to drinkable liquid forms of dairy substitutes and alternatives, there is an ever-increasing number of foods such as cheese, butter, cream cheese, heavy cream, yogurt, sour cream, mayonnaise, condensed milk, whipped topping, and eggnog available nowadays.
Such products can make for great options at Imbolc, either as standalone foods or to be used as ingredients in recipes for this festive Pagan occasion.
Other foods that are associated with Imbolc (and that make great Imbolc menu options)
In addition to dairy, and as we've discussed in this post, dairy-free milk alternatives, numerous other foods have both long-standing and more contemporary connections to Imbolc.
Many represent what was available to earlier peoples at this time of the year, long before the modern, life-changing invention of things such as refrigeration, global food transportation, and supermarkets were mainstays of most peoples' lives in the industrialized world.
Some other tasty, meaningful options for Imbolc include:
-Bread: Especially breads with Irish (including Irish soda bread), Scottish, British or otherwise Northern European roots, those made with traditional recipes, and options that include one or more of the other foods listed in this post.
-Pancakes and crepes: The shape and colour (light golden brown) of pancakes and crepes represents the returning sun. Plus, both pancakes and crepes can include other foods on this list, such as dairy/dairy alternatives, eggs, oats, dried fruits, preserved fruits, warm spices, or certain root vegetables (carrots, potatoes, sweet potatoes, etc).
–Oats: Harvested in the golden sunshine of late summer and early autumn, oats, when properly stored, can keep well for many months.
Their connection both to the warmer months that we're eager to usher into our lives again, as well as the traditional diet of the Scottish people, plus their pale, creamy colour and nutritiously rich composition make oats (as well as foods such as oatcakes) a natural fit for Imbolc.
Enjoy oats in oatmeal and porridge, cookies, muffins, crackers, breads, as a coating for other foods, cakes, smoothies, granola and muesli, crumble toppings for fruit dishes, dumplings, and numerous other recipes.
-Root vegetables: Onions, potatoes, yams, sweet potatoes, garlic, beets, turnips, carrots, parsnips and other vegetables that, when properly stored, helped many of our ancestors to survive the long winter months when food stores and sources were often scarce and the threat of starvation could be a frighteningly real possibility.
-Preserved fruits and vegetables: Canned, tinned, frozen – you name it! Now is the time to put those tasty warm weather produce items that you preserved or purchased to good use.
-Dried and dehydrated fruits: From raisins to apricots, currants to dates, dried fruits are another food that tends to hold up well during the long months of winter. Their sweetness suits the optimism of Imbolc and their culinary abilities make them a tasty standalone treat or addition to other dishes spanning rice puddings to salads to baked apples.
-Dried legumes and pulses: Again, another traditional form of food preservation that helped generations past to endure the fresh food shortages of the cold half of the year. Lentils, especially yellow and orange varieties are a beautiful – and nutritious way – to represent the light, warmth and revitalized energy that we welcome back into our lives at Imbolc (chickpeas and hummus do the job there wonderfully as well).
-Rice and pasta: Hearty, versatile, easy to store and keep fresh, as well as often being vegetarian and/or vegan in their natural states (some pastas though, for example, include animal products such as eggs, milk or squid ink), these are wonderful ingredients to combine with dairy or dairy alternatives or enjoy as is at Imbolc.
-Warm spices and hot foods: Think cinnamon, cloves, nutmeg, allspice, ginger, turmeric, curry, cumin, fenugreek, mustard, horseradish, wasabi, chili peppers, cayenne, paprika, lemongrass, and pepper (including white, red and pink peppercorns).
These are ingredients that bring much-needed pizzazz and warmth or heat to dishes, something that is often welcome in the dark heart of winter that Imbolc calls home.
Again, these are awesome options to help impart kitchen magick into your dishes and have the added bonus of often residing already in a witch's herbal collection.
-Saffron: By far one of the most vibrantly golden yellow naturally foods that we can eat, saffron is a brilliant – albeit, somewhat pricey – option to include in your Imbolc dishes (though a small bit goes a long way, which can cut down on the cost per dish).
From creamy risottos to a silk pasta sauces, saffron – which is harvested from the crocus sativus, or saffron crocus – is a beautiful addition to your Imbolc menu.
-Nuts and seeds: Are you noticing a trend towards foods with long shelf lives, high nutrient content, and versatility?
Nuts and seeds often excel on that front. While the oil content in some does mean that you need to keep an eye on their expiration dates, in general nuts and seeds are hearty and relatively shelf-stable.
Both, but particularly seeds, are a mightly apt representation of the seeds from which countless new plants with soon grow again come springtime.
As well as symbolizing the agricultural process in general, renewal and rebirth, and the germination of new ideas, prospects, hopes and dreams that we can plant and nurture at Imbolc.
-Eggs: If you eat eggs, they are a sound choice for Imbolc dishes (as well as magickal workings and altar setups), as they represent new life, rebirth, faith, hope, and warmth. Their iconic colours of white and yellow also correspond excellently with the hues of both wintertime snow and the returning sunshine of spring.
-Honey: While some people (myself included) tend to think of honey as being associated more with Litha and Lammas, its long shelf life, warm gold and amber colours, health-giving properties, ability to be substituted for refined sugars in many dishes, and ancient history all make honey a natural partner for Imbolc.
Naturally, those who eat animal-product free plant-based or vegan diets, or who are unable to consume honey for medical reasons, will want to bypass its usage.
Interestingly, and excitingly, more "vegan honeys" are hitting the shelves these days.
Much like dairy alternatives, these products generally do not include any actual animal products or by-products and are honeys simply in name. Examples include Vegan Honae and Blenditup Bee Free Vegan Honey.
Additionally, you can make your own vegan "honey" from various commonplace ingredients, including apples, as this YouTube recipe for vegan honey demonstrates.
-Chocolate and cacao products: Store cupboard staples and beloved foods alike for many of us, chocolate and cocoa are terrific choices for Imbolc.
Their sweetness, richness and near-universal appeal make chocolate (both dairy and dairy-free versions) a great choice for the chilly days of Imbolc season, representing the pleasures of bright, warm spring days ahead.
These are just some of the possible culinary options that can help you to celebrate and honour Imbolc.
In addition, various herbs are strongly associated with Imbolc, these include basil, pine, dandelion, lemon verbena, tansy, bay, violet, angelica, blackberry leaves, and jasmine.
Dive into your favourite cookbooks, personal recipe collection, or online recipe sources (Raven and Crone has a lovely list of Imbolc recipes, for example) and let your creative juices flow as you mindfully put together an Imbolc menu – be if for yourself, two people, a group, your coven, or any other gathering – that helps to honour the first of the three springtime sabbats.
Imbolc is more than just what's on the menu
As much as food can be a key component of our sabbat celebrations (and/or altars and ancestor or spirit ally offerings), there is more to Imbolc, of course.
This chapter of the year invites us to honour Brigid, the sacred feminine/goddess in general, to light a proverbial spark inside ourselves for the changes we wish to create in our lives, to cleanse and refresh ourselves and our homes, to reflect on what the heart of winter means to us, and to prepare for spring's return.
It encourages us to be patient and remember that even the coldest winter will eventually pass.
Imbolc is an excellent time to lean into hygge, to use the dark nights as times of either peaceful rest or busy productivity, and to begin activity keeping an eye out for the shifts in nature that will facilitate spring's return.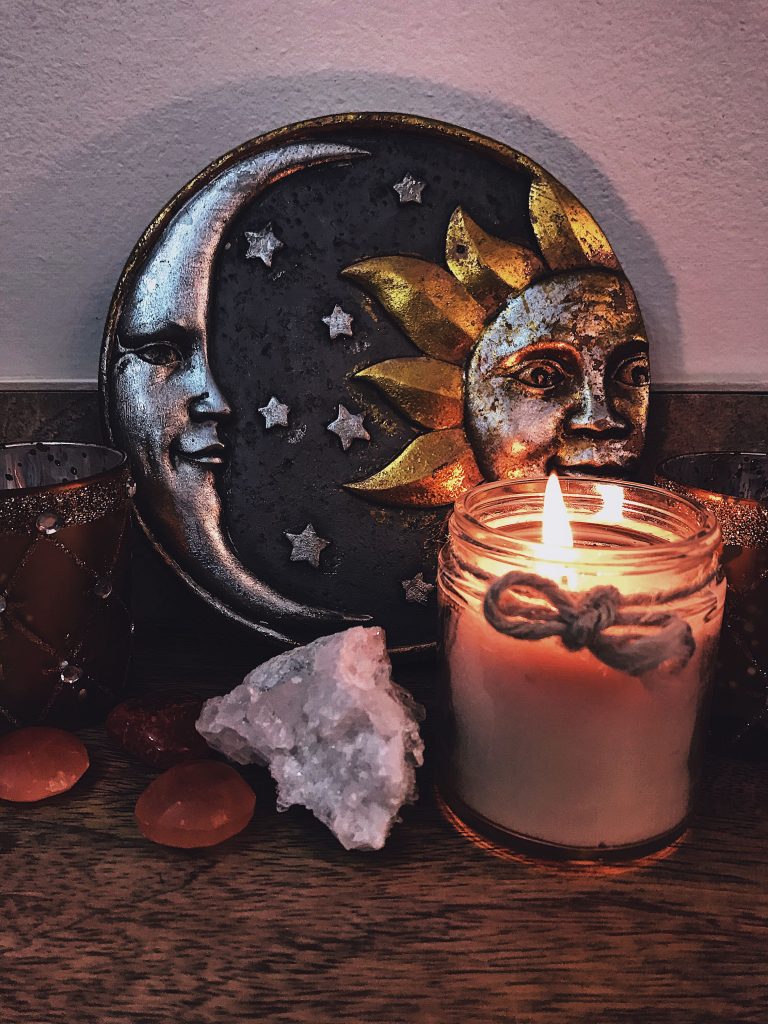 Whether you involve real dairy, dairy alternatives or neither of these types of food in your Imbolc happenings, this sabbat can be a time of warmth, rekindling, hope, positivity, and joy.
Bust out the candles, light a fire, create a new altar setup, whip up a festive feast or humble, hearty meal and activity look for ways to let your own inner light shine brightly as the current year embraces its second month and all that remains in store for us between now and the end of December.
Blessings of warmth, love, happiness and serenity to you at Imbolc and always, dear friends!
Note: This post is not sponsored in any way. My household purchased all of the food used in the photographs above. These foods are shown for illustrative purposes only.