The beautiful sabbat of Beltane is upon us again. A season whose fledgling roots were acknowledged and celebrated back in the chilly days of February, at Imbolc, has since transformed into the radiant bloom that is springtime.
Historically, Beltane has often marked the start of the light half of the year, which is characterized by such things as abundant sunlight, warmth, and a wide variety of fresh crops.
This light-filled half will conclude, from a sabbat standpoint, with Samhain at the end of October, from which point onward the world will experience the darker half of the year. Until, in a dance that has played out since time immemorial, the cycle begins anew once more the following Beltane.
For those north of the equator (south of this point, the seasons – and, optionally, Wheel of the Year – are experienced in reverse order to those in the northern hemisphere), May and June are often a gloriously lovely time.
All of nature has come out of hibernation, the sky rivals tropical seas with the depth of its azure tones, the grass is verdant, lush and inviting to our sandal clad feet, and some of the most delicious fresh food of the entire year is once again in season.
This year, however, while all of those same things still ring true, the Covid-19 pandemic and continued need to remain in self-isolation, coupled with global food chain and supply shortages of certain products means that popping down to the nearest grocery store or farmer's market for fresh produce may not be possible at present
Even if our local supermarkets are open, there's no guarantee that the items we're after will be on their shelves. Nor that we'll be in a position – be it due to health, finances, or safety – to reach the stores nearest to us in the first place.
I'm a huge proponent of eating fresh, shopping locally, and (if feasible and so desired) growing some of your own food.
Tough times alter our lives, however. The types and availability of food that we presently have available to us is currently one of the ways in which many people are experiencing the impacts of this devastating global pandemic.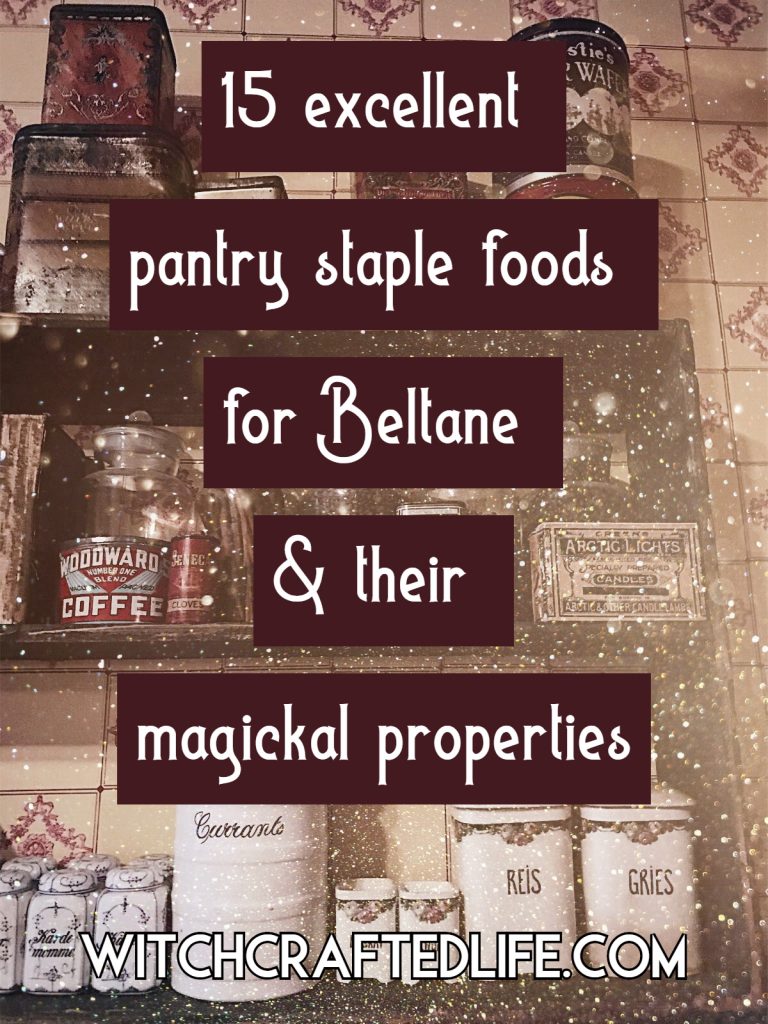 In today's post, we are going to explore some of the foods that are closely associated with Beltane coupled with ways to make the most of those foods in store cupboard form, as that is what an ever-increasing number of us are working with for our daily menus and sabbat meals alike.
What foods are traditionally associated with Beltane?
Beltane is the Celtic May Day festival whose roots stretch far back in history, to a time of a primarily agrarian-based society the predated the industrial revolutions by hundreds upon hundreds of years.
It is one of the four traditional Celtic/Gaelic festivals that helped to delineate the seasons for these early people (the others were Samhain, Imbolc, and Lughnasadh/Lammas, respectively).
Beltane was heavily associated with the start of the summer pastoral season, fresh produce, and energy filled life, plus fiery passion, and was seen to be a time when – much as at Samhain – the veil between the worlds thinned.
The ancient Celts were certainly not the only culture to celebrate, honour and/or worship the start of May, but it is largely through their observance of this annual happening that we've derived much of our 21st century interpretation of Beltane. Influences from other early European cultures, including the Norse and the Germanic peoples can be felt as well.
As this springtime sabbat is typically observed on, or right around, May 1st, the foods that have traditionally been associated with Beltane tend to be those that are at are in season at that point in the spring.
These include, but are not limited to, the following:
-Asparagus
-Artichokes
-Baby/new potatoes
-Bannock
-Blueberries
-Carrots
-Celery
-Dairy products (vegetarians, vegans, and those who do not otherwise consume animal milk products can easily swap in dairy alternatives instead)
-Garlic (as well as wild garlic)
-Green beans
-Green peas
-Edible springtime flowers such as honeysuckle, lilacs, jasmine, roses, and violets
*IMPORTANT NOTE* Only Jasminum officinale is edible. All other jasmine species, including "false jasmine" are poisonous. Please see this page on edible flowers for more details.
-Honey
-Leeks
-Lemons
-Lettuce
-May Wine (alcoholic or non-alcoholic versions; here is a lovely May Wine recipe that you may enjoy)
-Oatcakes
-Radishes
-Ramps (a species of wild onions)
-Roses (and rose water)
-Rhubarb (in some areas, in others it may be ready later in the summer)
-Scones
-Spinach
-Spring onions
-Strawberries
-Swiss chard
-Various herbs such as chives, dill, lavender, lemon balm, rosemary, tarragon, and thyme
-Watercress
Importantly, it should be noted that the ancients did not have had access to all of these foods at the same time and in the same place. (Ye olde Whole Foods Market was definitely not a thing yet! 😄)
However, chances are that of those they were able to harvest or otherwise obtain (such as through trading), they would likely have included a variety of these healthy offerings into their diet during the spring and early summer months.
Some of the above listed foods are going to be explored in further detail below, complete with their respective magickal correspondences.
Are fresh foods a better choice for Beltane?
While you might prefer the taste or texture of fresh versions of certain foods, from a magickal standpoint, I do not personally believe that canned, tinned, frozen, dehydrated, or otherwise non-perishable forms of food are automatically less effective, magickal, or meaningful (especially if little to no preservatives or artificial ingredients have been added to them).
You can impart, bless, charge, or otherwise imbue anything that you eat or work with in your practice with the energy and intent of your choosing.
Doing so should help to ensure that foods with far off expiration dates are just as useful and beneficial in your workings (and daily meals) as those that were just plucked from the field or tree.
Objectively, while some foods are seen as being fairly common non-perishable pantry or store cupboard staples, I have no way of knowing what you have on hand and/or may readily have access to at present.
I encourage you to keep in mind as you continue reading from this point onward, that this is not a checklist. It is totally okay if you do not currently have some or even all of these different foods at your house.
Necessity is the mother of invention and of substitution. As lovely as it is to try and eat foods that are traditionally in season – or otherwise plentifully available – at the time of each of the sabbats, if that isn't feasible for you, please try not to worry about it.
As an alternative, you could aim instead to focus more on the colour of your food. For example, luscious greens and sunny yellows, pretty reds and elegant purples to mirror and correspond to the hues that we see in abundant in the natural world during the month of May.
As well, for the purpose of keeping things concise, I have used the terms "pantry" and "store cupboard" quite liberally here, extending them to cover various foods that you may have in canned, tinned, packaged, frozen or otherwise non-perishable form.
Naturally, if you currently have ready access to the fresh versions of these foods and wish to enjoy them during the Beltane season, by all means do so.
That said, we witchy folk are nothing if not resourceful and know that making the best of what we have at our disposal right now is one of the keys to a happier, more content, and abundantly blessed life and magickal practice alike – so reach for those store cupboard staples!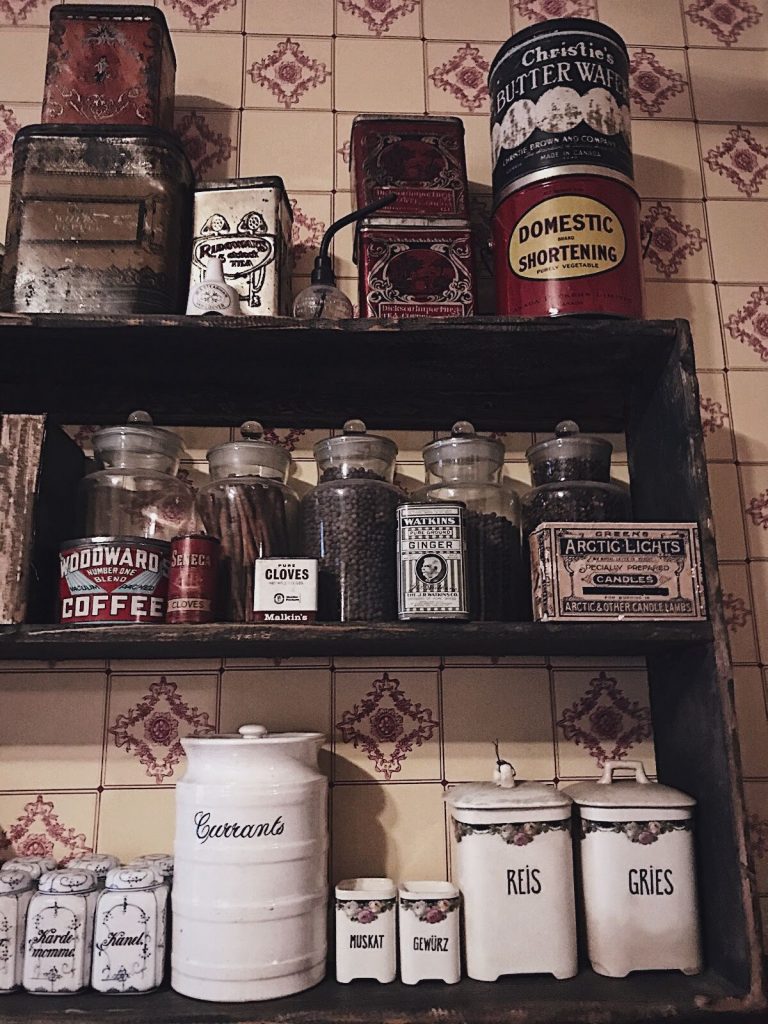 15 foods for Beltane and their magickal correspondences
1. Asparagus: Magickal properties for asparagus pertain in no small part to lust, sex, power, and fertility – making it one of the most well-suited foods to tuck into at Beltane. In addition, asparagus is linked magickally to cleansing, purifying, healing, water magick, money magick, fortitude, keeping a calm head, standing up for yourself and others, boldness, and masculine energy.
Common non-perishable forms of asparagus include frozen, pickled, and canned/tinned.
2. Artichokes: Magickal properties for artichokes tend to gravitate heavily towards matters of shielding and protection, as well as areas of personal growth, getting to the heart of the matter, letting your inner desires shine or manifest, exposing the truth, boldness, honesty, caring for others, and love of all sorts.
Common non-perishable forms of artichokes include frozen, pickled, and canned/tinned.
3. Blueberries: Magickal properties for blueberries abound – much like the healthy properties of these powerhouse fruits. Turn to blueberry magick for protection (including of pets and other animals, as well as houses and property protection), the moon, feminine energy, health, healing, restoration, aura cleansing and strengthening, divination, faeries, sweetness, vitality, completion (of projects, goals, tasks, etc), shielding and protecting from energy vampires and psychic attacks, and optimism.
Common non-perishable forms of blueberries include frozen, dehydrated, powdered, freeze-dried, syrups, jams, jellies, preserves, and canned/tinned.
4. Carrots: Magickal properties for carrots – by far one of the most iconic and beloved of springtime vegetables – include such things as grounding, healing, protection, desire, sexuality, fertility, seeing things for what they truly are, planting seeds of your desires, positivity and fun, sweetness, healing, opening your third eye, dreams, visions, youthfulness, and playfulness.
Common non-perishable forms of carrots include frozen, dehydrated, freeze-dried, jams, preserved in sweet syrups, relishes, pickled, and canned/tinned.
5. Celery: Magickal properties for celery include those that can help with a number of important areas of our lives, including mental clarity, releasing, banishing, concentration, psychic awareness and gifts, soothing, helping to pass or speed along unwanted situations, serenity, calming, weight related matters, balance and harmony, unearthing the truth, and (much like asparagus) water workings and rituals.
Common non-perishable forms of celery include frozen, dehydrated, celery salt, celery seeds, and canned/tinned.
6. Garlic: Magickal properties for garlic, one of the world's most frequently used and adored culinary ingredients, are quite abundant and pertain to matters such as protection, luck, distancing yourself from unwanted energies and individuals, health, personal growth, masculinity, strength inclusion in witch jars, spell jars, mojo bags, and poppets; home protection, cleansing, purification, ancestor work, spell breaking, hex and curse breaking, working at the crossroads, and nighttime magick.
Common non-perishable forms of garlic include minced and crushed forms of garlic sold in jars, frozen, freeze dried, garlic salt, garlic powder, garlic paste, pickled, and canned/tinned.
7. Green Beans: Magickal properties for green beans are plentiful – much like the culinary applications for perineal springtime vegetables. Matters of divination, money, creativity, new starts, standing tall (standing up for yourself), insight, wisdom, communication, clarity, personal space, getting out of ruts, hopefulness, creativity, garden and the fae are some of the key areas where green beans can help your magickal spells and other witchy workings. (Note, these magickal properties apply to yellow wax beans as well.)
Common non-perishable forms of green beans include frozen, freeze-dried, pickled, and canned/tinned.
8. Green Peas: Magickal properties for green peas (including sugar snap peas) share points in common with those of green beans, as well as some of their own special strengths. Turn to green pea magick when you want to focus on areas relating to new growth, love, traditions, family matters, ancestor work, history, gardening, environmental protection, Gaia, strength, grounding, acceptance, serenity, and money matters.
Common non-perishable forms of green peas include frozen, freeze-dried, canned/tinned, and green pea snack crisps.
9. Honey: Magickal properties for honey flow as abundantly and beautifully as this ancient, much adored culinary treasure. Work with honey in your spells, rituals, offerings and other magickal activities that pertain to love, happiness, peace, serenity, creativity, femininity, fertility, healing, self care, vital energy, binding, friendships, reaching amicable outcomes, traditions, family, celebrating both life and death (including as an offering at cemeteries, launching new project and businesses, sweetness, kindness, romance, longevity, the sun, in hoodoo honey jars, and as an offering to a wide array of gods, goddesses, and spirit allies.
Most forms of honey, assuming they are properly stored are inherently long-lasting. If needed, honey can be frozen and thawed for later use (or used straight from its frozen form in some types of recipes).
10. Lemons: Magickal properties for lemons are generally upbeat and sunny, reminding one of the vibrant hue of this beloved citrus fruit. Make lemons your magickal main squeeze when you want to focus on spells, rituals, offerings and other witchy workings pertaining to awareness, spirituality, clarity, purification, cleansing, rejuvenation, happiness, compassion, prosperity, warm and friendly relationships, friendship, femininity, fertility, children, auras, lightness of being, dreams, breaking negative ties, optimism, and the moon. (And, my fellow Cancers may enjoy knowing that lemons are closely associated with our astrological sign, much as it is with that of Pisces.)
Common non-perishable forms of lemons include frozen, freeze-dried, dehydrated, preserved, dried lemon peel, lemon extract, lemon juice, lemon concentrate, lemon pepper, jams, marmalades, and candied lemon peel.
11. Oats: Magickal properties for oats stretch far back into the past and oats remain one of the most versatile and useful magickal ingredients you can keep in your kitchen or witchy ingredient cabinet to this day. Use oats in your magickal workings when you're focusing on areas of happiness, health, tradition, stability, fertility, ancestor work, family matters, fortitude, endurance, persistence, personal change, meditation, house and home, beauty, friendship, faithfulness, good luck, stick-to-itiveness, comfort, healing, respect, spiritual growth, venturing out into the world, education, employment, and achieving balance in your life.
Most varieties of oats, assuming they are properly stored are inherently long-lasting. Some of the most common forms of oats include oatmeal, quick cooking oats, old-fashioned oats, rolled oats, steel-cut oats, oat flour, oatbreads, oatcakes, oat crackers, oat based breakfast cereals, granola, musali, granola bars, British flapjacks, oatmeal cookies, and oat milk.
12. Rosemary: Magickal properties for rosemary abound and this beautiful herb is one that should have a standing spot in both your magickal workings and your kitchen. Use rosemary when you're focusing on areas pertaining to love, attraction, spicing up your life, the solar plexus, dream work, warding off nightmares, memories, loyalty, sleep, strength, kitchen witchery, home blessings and protection, family, jealousy, bonding, purification, divination, protection from the evil eye, cleaning your space, offerings, the dead, hedge riding, spirits, ancient history, creativity, strengthening relationships, rejuvenation, bathing, and the element of air.
Common non-perishable forms of rosemary include dried, frozen, rosemary paste, rosemary-infused oils, and rosemary salt.
13. Spinach: Magickal properties for spinach are strong and ample (much like the delicious culinary possibilities when cooking with spinach). Tap into the green goodness of spinach when you wish to focus your magickal workings on areas of personal growth, money, fertility, passion, strength, determination, shielding, charging, the forest (and nature in general), travel, transportation, ley lines, astral projection, or the planet Jupiter.
Common non-perishable forms of spinach include frozen, canned/tinned, and dehydrated.
14. Strawberries: Magickal properties for strawberries are generally sweet, upbeat and highly welcome – much like this sunny weather culinary staple. Turn to strawberries in your magickal workings when you're centering your attention on romance, love, pregnancy, family, youth, beauty, femininity, positivity, hope, truthfulness, creativity, warmth, friendship, overcoming hardships, dedication, success, stamina, reliability, giving, spiritual detoxification and cleansing, good luck, or the goddess Venus.
Common non-perishable forms of strawberries include frozen, dehydrated, freeze-dried, powdered, syrups, jams, jellies, preserves, and canned/tinned.
15. Thyme: Magickal properties for thyme include those pertaining to purifying, cleansing, releasing and banishing negativity, happiness, personal style, prosperity, sweetness, hope, stability, tradition, balance, personal freedom, boldness, positive outlooks, letting go, compassion, reaching peaceful agreements, easing anxiety and nervousness, grief, trauma processing, releasing negativity, the fae, forest spirits, history, ancestors work, finding lost items, house hunting, financial matters, longevity, creativity, performing arts, writing, and honoring the dead.
Common non-perishable forms of thyme include dried, frozen, thyme paste, thyme-infused oils, and thyme salt.
As discussed earlier in this post, it is useful to remember that the magickal properties of each of the above listed foods apply whether a given food is fresh or preserved in some manner.
I aimed to include foods in this list that are, under normal (aka, pre-Coronavirus) circumstances, relatively readily available in many parts of the world in at least one non-perishable form, such as canned, tinned, frozen or dried.
Thus making them more likely to be a store cupboard (or freezer, spice rack, etc) item that you already have in your home or which you may be able to purchase – depending on what the shops or online sources for groceries (and magickal ingredients) in your area still have in stock at the moment.
Ways to work with food at Beltane
If you're wondering how to work with food at Beltane, you've come to the right place!
The following are some lovely and meaningful ways to involve springtime foods in your Beltane celebrations, rituals and magickal workings.
Before hopping into this list, I need to preface it by making an important point. If you – or anyone in your household/family – need every last bite of food at present, please do not sacrifice even so much as a single blueberry or crumb of oatcake for purposes that do not involve human or pet consumption of said food.
It is a wonderful thing to celebrate the sabbats with food-related activities and festive meals, but we are currently living through some exceptionally different and difficult times and survival must always come first.
So with that important point established, let's continue on and explore a number of different ways to perform Beltane kitchen witchery and otherwise work with food at Beltane in a magickal context.
–Place offerings of food on your altar or in another spot in your house (or yard) for whatever spirit allies, deities, elementals, angels, or other entities you presently work with.
–Hold a dumb supper. While most commonly associated in a modern Pagan sense with Samhain, the act of holding a silent – or "dumb" – supper in order to honour the departed is a poignant act that is inherently at home come Beltane as well.
This is especially true since Beltane and Samhain are exactly opposite each other on the Wheel of the Year and both are liminal times when the veil between the worlds grows thinner. If you'd like to learn more about Dumb Suppers, I suggest checking out this guest post I wrote on the subject back in 2018.
-Whip up some delicious Beltane recipes and have an early morning feast to welcome the rising sun on Beltane morn (or later in the day as a fun and festive May Day brunch.
-Make a batch of beautiful Beltane cupcakes or a charmingly lovely May Pole Cake, both of which honour the centuries old tradition of dancing around a maypole at the start of May.
–Anoint candles with dried or fresh herbs or flower petals (ensure that anything you burn is safe to be inhaled by humans and any animal friends who live with you).
–Mix dried or fresh herbs with salt (white, black, pink, etc – depending on what you're aiming to accomplish or manifest) and use it to cleanse, bless, protect, or banish unwanted elements or energies from your house, by sprinkling the herbed salt mixture in various areas inside or out of your home (again, make sure any ingredients you use are safe for pets and humans – especially if you live with children).
–Create healthy, all-natural treats for your beloved pets using some of the same store cupboard ingredients that you may be tucking into this Beltane. For example, these 4-Ingredient Dog Treats that star blueberries and whole wheat flour or these inviting looking Carrot and Catnip Kitty Treats.
-Make a loaf of bread, cake, batch of cookies, tray of brownies, or another recipe that includes two or more of the Beltane foods listed in this post for extra seasonal potency.
For example, what about a carrot, thyme and lemon cake? Why not a vegan pot pie with green peas, spinach, leeks and assorted herbs? Or why not a delicious overnight oatmeal loaded with strawberries and blueberries, plus rosemary or lavender, if you have some to hand.
–Connecting all the more with the fae is one of the key elements of Beltane for some folks, myself included. Why not bake classic oatcakes, scones, Fried Honey Cakes, or Elderflower Fritters to leave as an offering for those faeries who inhabit your immediate environment.
-If you have access to pesticide-free edible flowers that are safe for human consumption, consider creating a gorgeous flower-infused honey that celebrates two of spring's most meaningful (and delicious elements).
This Rose Honey recipe does the trick superbly (and would also make for a wonderful drizzle atop a wide range of Beltane baked goods, from muffins to cakes to berry crisps, crumbles, and buckles).
-If you're imbibing this Beltane or otherwise utilizing alcohol in your workings, rituals or offerings, consider adding some delectable spring fruits – such as strawberries and blueberries or, if you can get them, early season or frozen peaches – to the wine or your choice for a delectable Beltane sangria.
–Start a book of your favourite sabbat recipes or magickal recipes, including those for Beltane, and add to it each time you hit upon a dish that's a winner. Alternatively, jot down your sabbat recipes in your grimoire, book of shadows, or another existing book in which you record information pertaining to your path.
Creating our own light during the darkest of times
Beltane is a time to actively embrace, honour and celebrate the sunshine generated light that has returned to our world.
To this end, bonfires have long been a traditional part of many Mayday festivities and rituals. They are not the only way to let the light shine all the more brightly in our lives, however.
Things are not just tough, they're out and out brutal for the planet as a whole right now.
At Beltane, I encourage you to look for safe, meaningful ways that you transmit energy, positivity and hope out into the world.
Ensure that you focus on your own well being, while also remembering that of others and the countless ways that we are each doing our best to stay afloat, keep our worlds intact as best we can, and remain alive during the Covid-19 pandemic.
In addition to working with seasonal foods and kitchen witchery in general, ask yourself what are some things you could do right now to brighten your days or those of others?
Much as there is a limitless amount of energy in the universe, so too do we have a profound amount of both inner energy and light that resides within ourselves.
This Beltane, tap into and honour that light.
Let it shine, allow it to help you process and cope with the current state that the world is in, and permit it to guide you onward through the remaining months of 2020 that lay beyond May 1st.
With all my might, I wish you a safe, sacred, beautiful, and blessed Beltane. 🌼🌞🌼