Like many a card maker, handmade birthday cards are frequently at the heart of my paper crafting adventures.
There's just something about the return of my own birthday month, however, that makes me want to churn out twelve months worth of b-day cards for friends, relatives, neighbours, complete strangers – you name it! – in the span of just a few weeks. 🎂
Does that actually happen? No, not so far, but the spirit is there all the same! 😊
Earlier this month my own birthday transpired on July 10th. However, even with the candles having been blown out for another year, I'm still in a celebratory + birthday card making frame of mind.
This is bolstered all the more by the fact that less than a month after my birthday, Tony's returns in early August (we're both summer babies, which is such a fun point to share in common).
That I'm often in full-on birthday card making mode during the summer is both enjoyable unto itself and wonderfully pragmatic at the same time.
Several friends and family members have fall time birthdays (including three in the middle of October alone), so being able to create some of those cards in advance is really handy.
Especially since I'm often enmeshed in a glorious haze of fall, Thanksgiving (Canadian and US alike), Halloween, and Pagan autumn sabbat paper crafting during fall time itself.
To say nothing of Yule, Christmas, and New Year's cards as well! 😄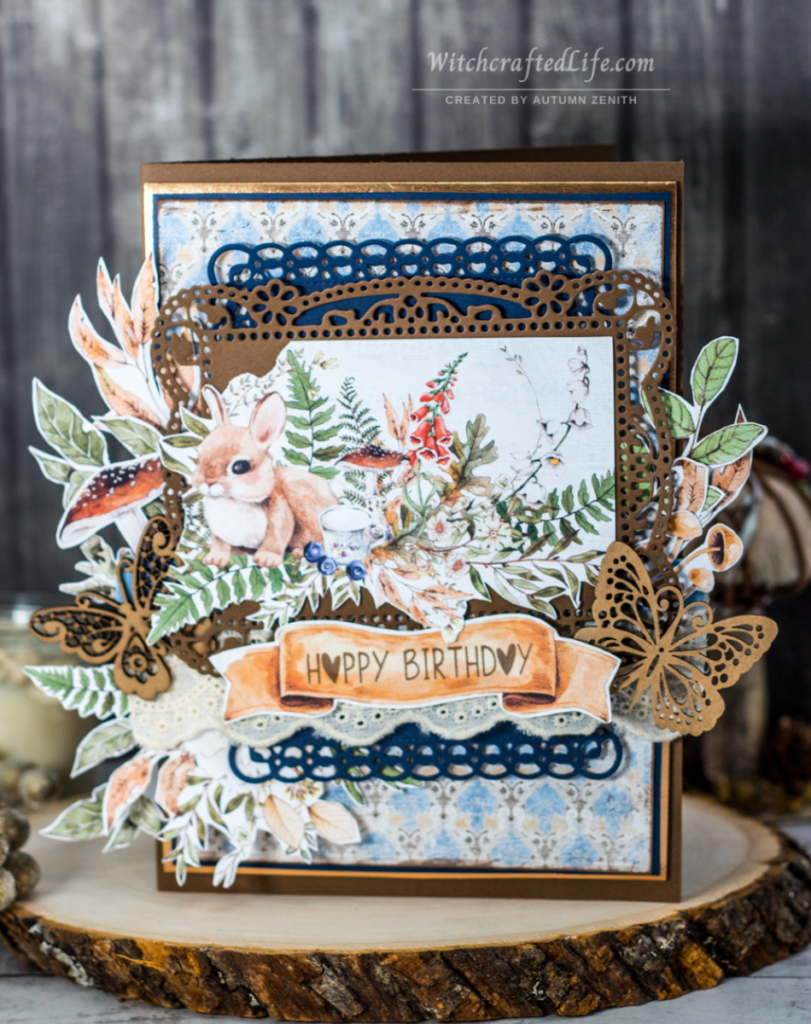 This particular greeting will be zipping off to an immensely dear long-time friend of mine in the States, whose birthday falls in the final weeks of the year.
We both adore animals, especially cute woodland creatures, so I knew that a handmade card starring a darling bunny surrounded by plenty of beautiful foliage and toadstools – not to mention the whimsical little teacup and blueberries – would be a lovely fit for her own special day. 🤎
An adorable woodland themed Happy Birthday card with lots of layers and fussy cutting
This birthday card looks like it might be a bit complex or require a slew of products. In reality though, it is relatively straightforward and calls for just a handful of different items.
Fussy cutting is the MVP when it coms to making this lovely birthday card.
Cue up a good movie, YouTube video, podcast, or music playlist, grab a pair of comfortable fine-tipped scissors (or craft knife and suitable cutting surface, such as a self-healing mat) and settle in for a fussy cutting session.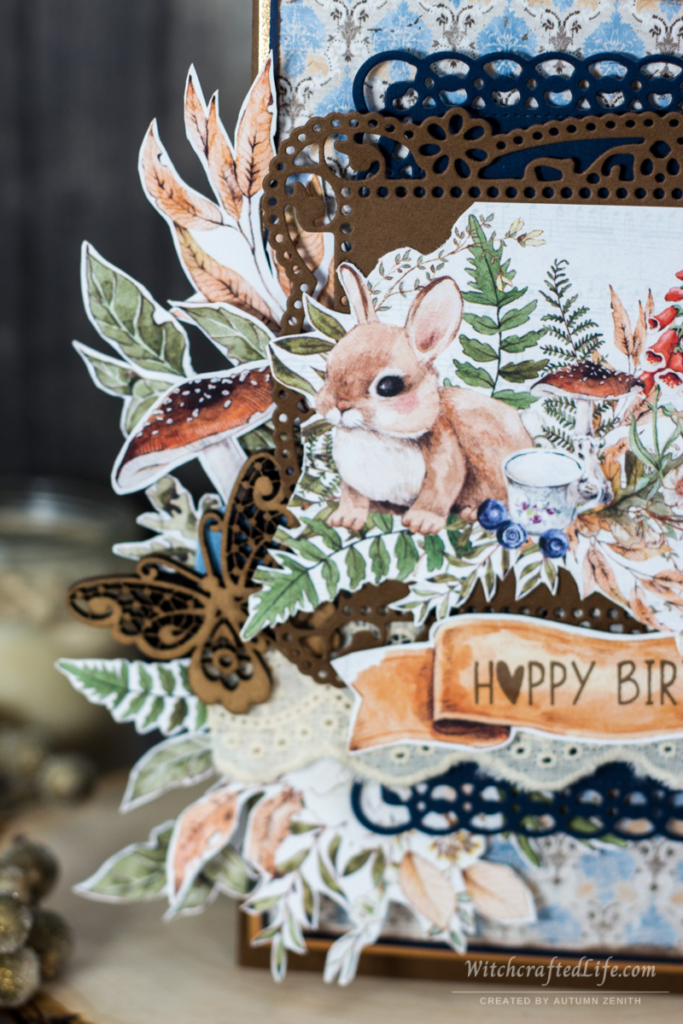 I really enjoy fussy cutting and find it is both relaxing and a marvelous way to stretch one's paper crafting supply stash.
Sure, you can often purchase various types of premade die cut paper and chipboard pieces, and I certainly enjoy working with those types of products, too.
However, fussy cutting opens up an even broader range of images that we can use in the same types of ways as these premade products.
On top of the versatility of fussy cutting, there is often a fair bit of cost saving involved as well, as most patterned paper sheets cost less than premade die cuts.
And, of course, sometimes it is oodles of fun to mix premade die cuts and fussy cut images together.
In the case of this sweet woodland rabbit themed birthday card, I opted solely for fussy cut shapes – including a fussy cut panel for the central image.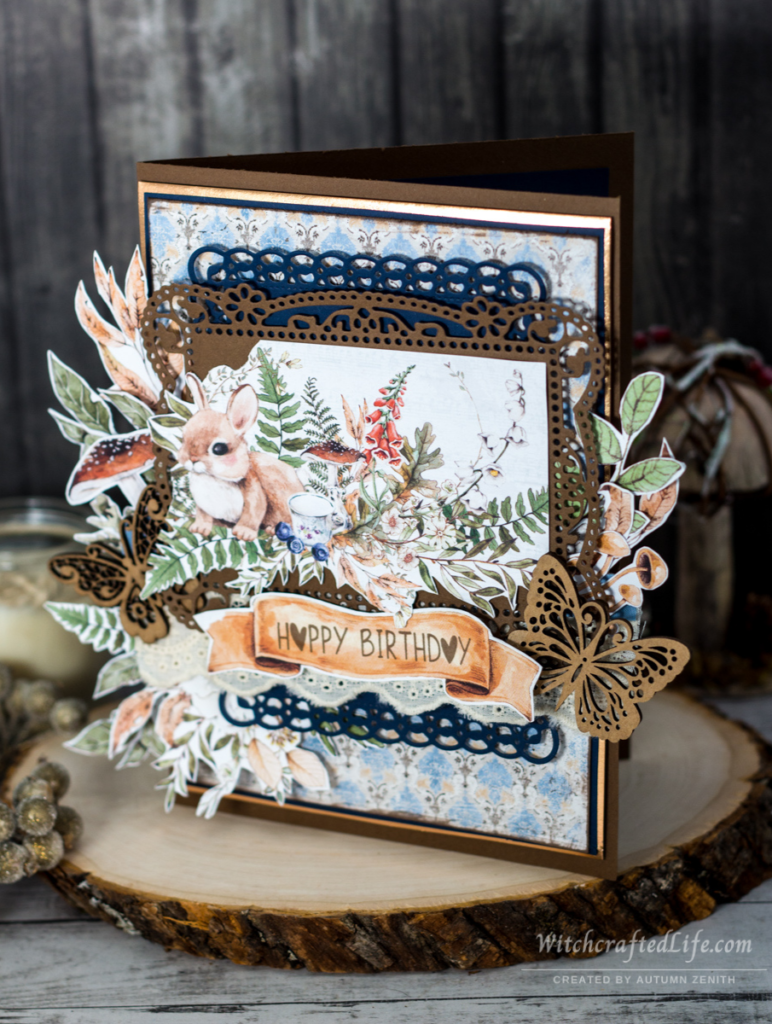 For the sentiment, I stamped a cute little "Happy Birthday" greeting in which the letter A is replaced by a heart in both words onto a fussy cut banner piece from P13's Forest Tea Party 07 sheet of paper.
This same piece of paper is where all of the fussy cut pieces, save for the central bunny image, hailed from as well.
The darling little rabbit image is from the same P13 Forest Tea Party line, hailing specifically from the Forest Tea Party 06 sheet of paper.
Beyond the fussy cutting, this card is a speedy breeze to put together.
A few layers of a cardstock and printed paper (some with inked edges), a couple of die cut decorative edge rectangle shapes, two earthy hued wood veneer butterflies, and a barely-visible-but-definitely-there piece of light blue seam binding, as well as a length of cream eyelet trim are all it takes to put this enchanting birthday greeting together.
Products used to make this layered and fussy cut woodland critter birthday card
-Medium or dark brown cardstock
-Navy or midnight blue cardstock
-Rose gold metallic cardstock – Rose Gold Cardstock from Recollections
-Foliage, mushroom, and banner print paper – Forest Tea Party 07 from P13
-Bunny image print paper – Forest Tea Party 06 from P13
-Elegant blue and light brown print paper – Vintage Summer Basics 1915 from Maja Design
-Two different decorative edge rectangular shaped dies
-Dark brown ink – Dewdrop Rich Cocoa Ink from Memento
-Happy birthday sentiment stamp
-Brown wood veneer filigree style butterflies – Wooden Butterflies from Recollections
-Light blue seam binding
-Cream (or ivory or white) cotton eyelet trim
-Dimensional foam, pop dots, or similar to elevate some of your layers
-Adhesive, such as a tape runner, of your choice (I often use my Scotch Tape Glider)
How to make a cute woodland themed birthday card
To make this sweet woodland bunny birthday card, begin by making a card base from brown cardstock.
Cut a piece of rose gold metallic cardstock (you could use aged gold or copper coloured metallic cardstock here instead, and I suspect that classic white or cream vellum would look terrific as well) slightly smaller than the size of your card base. Attach to card base.
Cut a piece of navy blue cardstock ever-so-slightly smaller than the piece of rose gold cardstock. Attach to rose gold cardstock.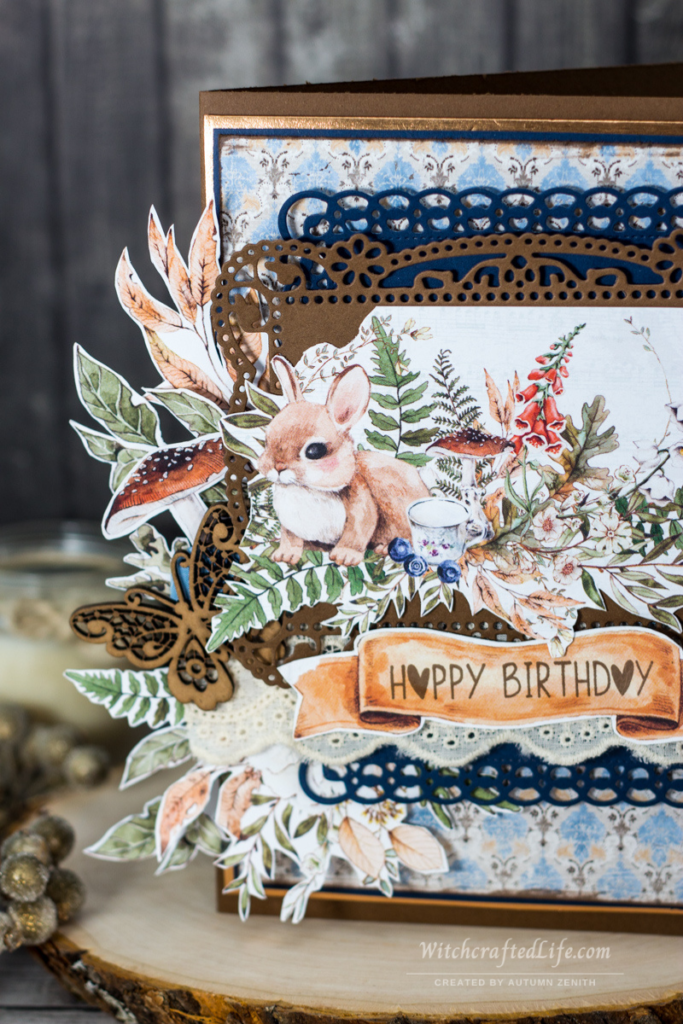 Follow this up by cutting a piece of Vintage Summer Basics 1915 blue and brown print paper from Maja Design slightly smaller than the navy blue cardstock. Ink the edges of this paper layer with dark brown ink, then attach to the navy blue cardstock.
Adhere a length of light blue seam binding or ribbon horizontally across your card front, a touch below the middle point of the card.
Die cut two different elegant/decorative edge rectangles. One from navy blue cardstock, the other from the same brown cardstock that you used for the card base here.
Layer and arrange in a similar fashion to those shown here. Optionally popping the upper layer of die cut cardstock up with foam doats or a similar raised adhesive for an added sense of dimension.
Cut a piece of cream eyelet trim and adhere it so it overlaps with part of the bottom of the navy blue die cut cardstock.
Fussy cut the central bunny (with teacup and blueberries) image from the P13 Forest Tea Party 06 paper. Attach to the die cut brown cardstock central panel.
Next, from the same sheet of P13 paper (Forest Tea Party 06) fussy cut an assortment of different leaf and toadstool shapes.
Arrange and adhere as desired around the central panel of the card.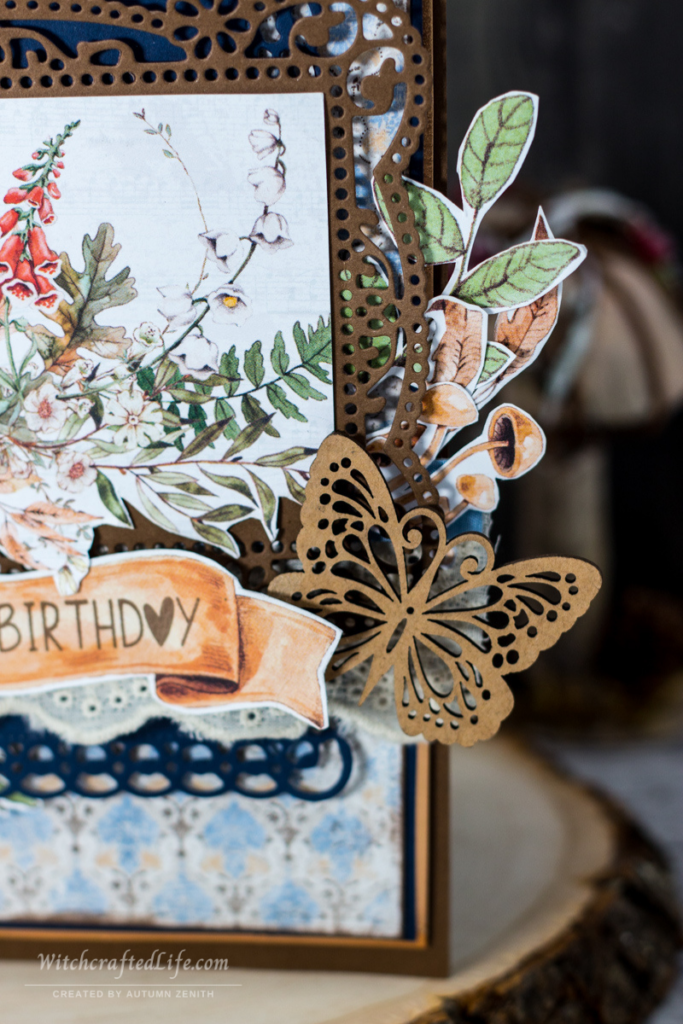 Fussy cut a scrolling banner shape from the same P13 (Forest Tea Party 06) paper.
Using the same brown ink that inked the edges of the Maja Design paper with, stamp a happy birthday sentiment onto the banner (if you have one, I suggest using a stamping platform for this so as to help ensure precise placement of the sentiment on this fussy cut shape).
Adhere the "Happy Birthday" banner in the center of the cream eyelet trim layer with pop dots or another dimensional adhesive.
For the final touch on this cute woodland themed birthday card, tuck two wood veneer butterflies between some of the fussy cut leaves, as shown.
And there you have it! A card that looks complicated, but really isn't, and which is sure to delight the lucky recipient that you send or present it in person to is now all ready to go. 💚
Let the seasons be your paper crafting muse
This card was created with a friend's birthday in mind, but you could easily swap out the sentiment or forgo including one all together.
Instead of making this into a birthday card, why not turn it into a Mother's Day, Grandparent's Day, thinking of you, missing you "just because", get well, or congratulations card?
It would also make for a fantastic seasonal greeting card, be it from any point (in the Western Hemisphere) between spring and mid-autumn.
And for my fellow witches and Pagans, I think this design would be fantastic as a Beltane, Litha, Lammas, or Mabon greeting. And, given the rabbit imagery, it would not be out of place for Imbolc or Ostara either.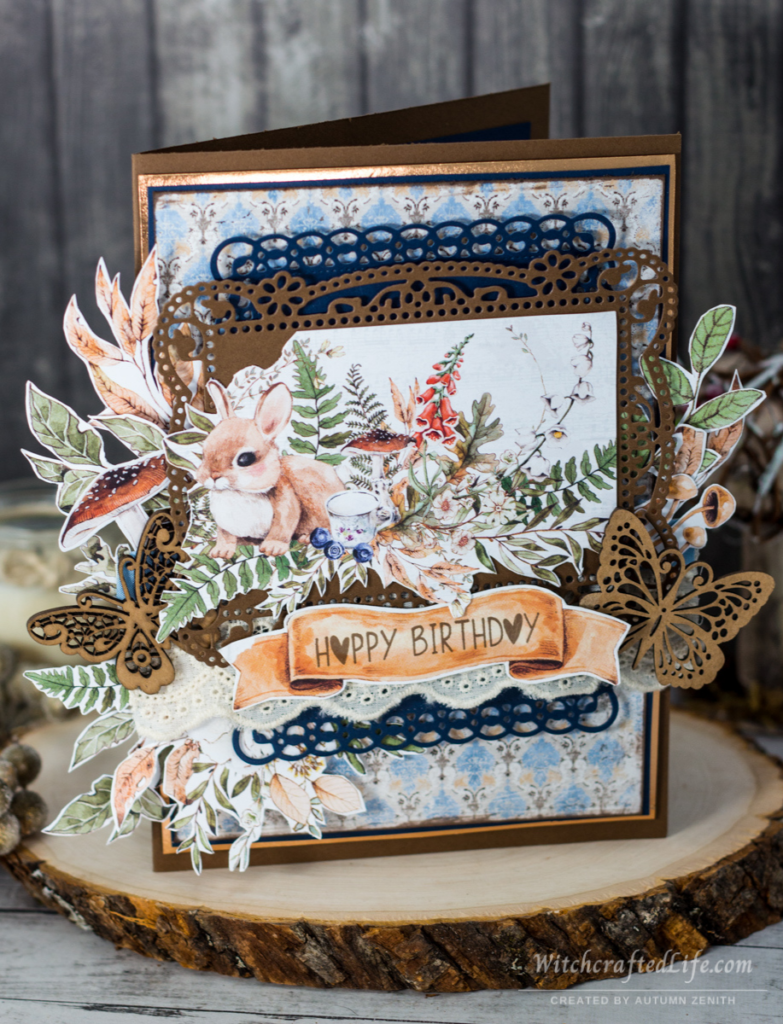 This card embodies a good deal of my personal style, not only in terms of card making, but in regard to my overall paasion for Mother Nature.
I am a nature/green witch through and through, and spend as much time as possible outdoors the whole year through.
I have long joked that I'm one tent purchase away from simply moving into the backyard during all but the coldest months.
As much as both Annie (our dog) and I would surely enjoy that, I haven't quite taken my passion for being outside to that extreme yet. Especially since it would a bit tricky to cram a craft room's worth of paper crafting supplies into a small tent… 😄
I draw a great deal of inspiration from nature – just as many others around the world have done since time immemorial – and apply that inspiration to countless areas of my life. Paper crafting 100% included.
This summer (or winter, if you are south of the equator), I encourage you to look at nature through the lens of inspiration. Take photos or make written notes of natural elements or scenes that speak to you, detailing them for potential future inspiration in some of your own wonderful crafting projects.
No other season is quite as alive or rich with natural abundance as summer. From flittering dragonflies to sprawling seas of wildflowers, sun-kissed beaches to gorgeous green leaves rustling in warm breezes, feel, connect with, and translate nature into your crafting.
Then rinse and repeat, so to speak, with each of the other seasons – as well as what I like to call the "micro seasons". These are the brief periods of, on average, 1- 3 weeks, as one season gently melds into the next.
The sights and colour palette of summer into fall are represented on this card, making it especially well suited for a late summer or autumn time birthday like that of my cherished friend. 🧡
Do you delight in letting nature influence your paper crafting as well? What are your favourite seasons to draw creative inspiration from? 🍄🐰🍂