Commonly referred to as the longest day of the year, the Summer Solstice is a beautiful celebration of sunshine and the coming harvest season that it helps to bring into being.
For many witches, Wiccans, and Pagans, the Summer Solstice – also known as Midsummer, though in many modern calendars and cultures alike, it is generally seen as the official start of summer, not the middle of the season – corresponds with the sabbat of Litha.
Because both the Summer Solstice and Litha are inextricably linked to the sun, so they are inherently connected with nature itself.
While certain rules regarding self-isolation are loosening in some parts of the world, and the number of businesses and public locations such as parks and beaches that are once again open is steadily increasing, a good many of us remain in self-isolation this month either by necessity/ordinance or personal choice.
My husband and I have opted to voluntarily continue sheltering at home throughout June, which means that I'll be celebrating Litha right here on our property.
We're fortunate to have a lovely little slice of rugged woodland for our backyard. And though it will play an important roll in my Litha celebrations, today I wanted to shine the spotlight on Summer Solstice activities that you can do indoors.
Regardless of the Covid-19 situation, not everyone has a backyard or easy access to a public park, forest, beach, etc..
You may be indoors on the Summer Solstice due to medical reasons, your job, caring for loved ones, personal choice, or an array of other reasons.
And, while for many of us witchy and Pagan folks nature is akin to oxygen for soul, not everyone goes gaga for the great outdoors – which is perfectly okay!
If it's currently safe for you to do so, and nature is your personal jam, you can certainly involve the outdoor world in your Midsummer celebrations.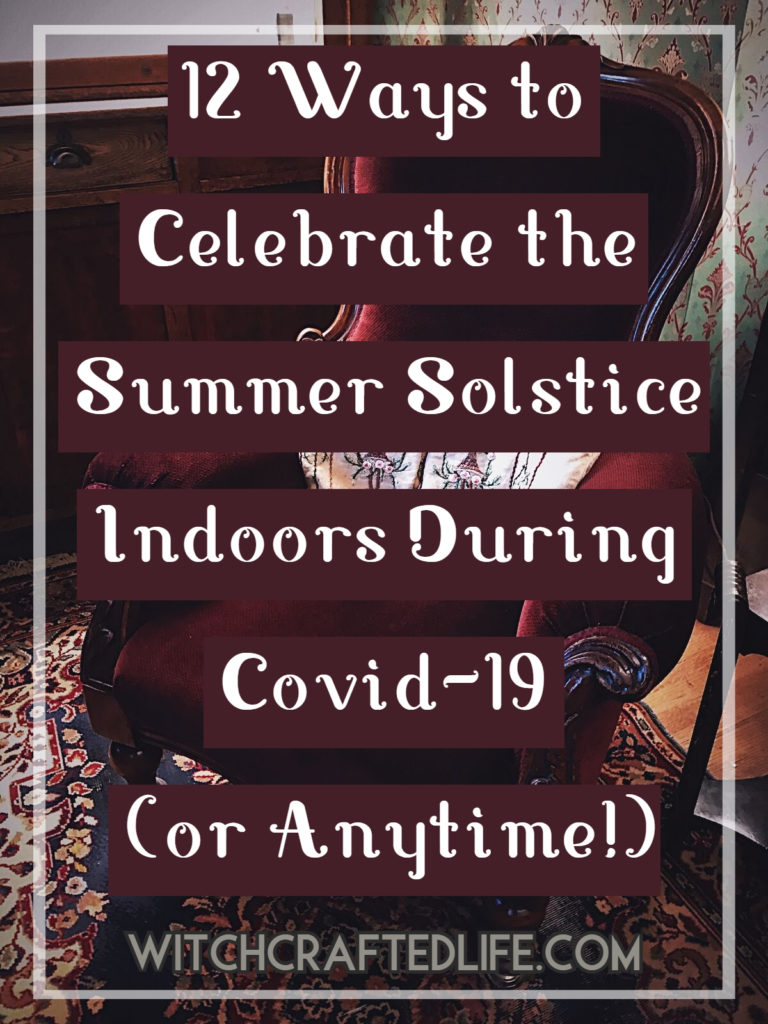 However, as the ideas in this post detail, it is entirely possible to celebrate the Summer Solstice without setting foot outside.
When is the Summer Solstice?
The Summer Solstice has a floating date and takes place each year between June 20th and 22nd.
This year, the Summer Solstice takes place on Saturday June 20, 2020.
The exact time of this year's Summer Solstice's occurrence will be 11:43 UTC, which equates to 2:43 PM PST and 5:43 PM EST, respectively.
This Solstice is one of two times in the year (the other is the Winter Solstice) when one of the Earth's poles – the North Pole – is titled as closely to the sun as it possibly can be, thus making the South Pole as far as away from the sun as it can be.
This explains why the Summer Solstice is the day with the longest number of daylight minutes.
Hard as it is to believe, from the very next day onward, we gradually start to lose light again.
Thankfully, we won't start to see or feel the impact of this in too many notable ways until summer starts to wind down and the beautiful season of fall, with its notably shorter hours of daylight, returns.
Are Litha and the Summer Solstice the same thing?
Although they frequently fall on the same day – and plenty of witches and Pagans (myself included) will sometimes use the two terms (as well as Midsummer) interchangeably, technically speaking, Litha and the Summer Solstice are not the same thing.
Well, not entirely at least. 😉
The Summer Solstice is an astrological event involving, as we just discussed above, the day when the North Pole is at the closest point it will be to the sun in the entire year.
Litha is one of many forms of Midsummer festivals or sacred days that have been held to celebrate the Summer Solstice throughout the course of time.
Today, Litha is celebrated by many contemporary witches, Wiccans, and Pagans as a way to honour and work with the longest day of the year.
Though as with each of the eight sabbats that comprise the Wheel of the Year, not all observers of Litha may opt to celebrate it on the exact same date as one another. Thus, for some people, their personal (or group) Litha celebrations may not transpire on the Summer Sabbat itself.
Various individuals and belief systems see Litha as a day that witnesses the eternal battle between light and dark in our annual cycle of life here on this planet (a fight which repeats itself on the Winter Solstice in December).
This is sometimes portrayed as a battle between the Oak King (who rules over the light-filled half of the year) and the Holly King (who has domain over the darker half of the year).
In short, the Summer Solstice refers to the longest day of the year, whereas Litha is a sabbat that corresponds with and is often celebrated on the Solstice, but which does not always transpire for all observers of the sabbat on the exact same day.
Whereas plenty of people who are not witches or Pagans may choose to observe and possibly honour/work with the Summer Solstice on a spiritual level, relatively few individuals who are not of a witchy, Wiccan or Pagan persuasion are likely to observe this day as the sabbat that is Litha.
And as a fun, relevant fact, in case you were curious, the word "solstice" is an amalgamation of two Latin words. Sol, which means sun, and sistere, which means to stand still.
And just as the ancients looked upon the solstices as times when the sun may have seemed to stay or stand still for a little longer, so too can we opt to hold these days with reverence. Devoting some introspective time to honouring what they mean to the planet and to our own individual lives alike.
12 Ways to Celebrate Litha Indoors During Covid-19 (or anytime!)
The ideas presented below include some that are of a more witchy or Pagan nature, but all are open to anyone, regardless of their personal spiritual path or beliefs who may want to engage in them.
The Solstices are an ingrained part of the year which occur whether we make a point of celebrating them or not.
Observing the Summer and Winter Solstices (as well as the Spring and Fall Equinoxes), however, can be a highly meaningful way for us to feel an even stronger and more poignant connection to the changing seasons and to nature, whether we're inside or outdoors.
1. While you might not be able to do so on the shores of a beach or heart of the woods, if you have access to a window (and an at least somewhat unobstructed view), you may be able to watch the sun rise on the Summer Solstice.
This seemingly simple act can be one of the most intensely meaningful and memorable. I love to watch the sun rise (and later, set) on Litha, often grounding myself first, practicing mindful breathing throughout, setting intentions, giving thanks, saying Pagan prayers, and sometimes even singing straight from my heart to the rising orb that has sustained life on this planet for millions of years now.
2. Cook, bake or eat foods that correspond with the colour of the sun and its light in their raw state.
Bananas, lemons, apricots, starfruit, mangos, yellow kiwi fruit, golden raspberries, eggs, corn and cornmeal, pancakes, yellow zucchini, yellow potatoes, yams, yellow peppers, chanterelle mushrooms, pineapple, yellow apples, yellow plums, yellow figs, yellow watermelon, yellow cheeses, yellow/golden cakes and cupcakes, honey, many different cooking oils, chamomile tea, mustard, turmeric, and saffron are just some possible – and delicious – yellow food options.
If you practice kitchen witchery, you may wish to select foods whose correspondences align with the overall themes – such as life, bounty, hope, love, fertility, abundance, and manifestation – of Litha/the Summer Solstice.
Just as you want to work kitchen magick while preparing your delicious yellow foods, stirring your intentions, desires, and magickally focused thoughts into your meals.
3. Use the return of summer's sunlight and warmth as an ideal time to metaphorically burn away negatives in your life.
Much like how we tend to shed layers of clothing as the weather heats up, this point in the year is an ideal time to take stock of your life and actively look for areas that are no longer serving your well, which are holding you back, or that may be hampering you in other ways.
Engage in releasing, banishing, dispelling, grounding, and balancing spellwork and rituals during the season of Litha to help cleanse your life of negatives and better prepare yourself mentally, physically and spiritually for the dark half of the year that lays ahead.
4. Make a new magick wand. Various tools are associated with each of the sabbats. When it comes to Litha, candles, staffs, and wands in particular are closely tied to this sacred summer celebration.
Get creative and make a new wand using items you have on hand or can easily, and safely, access outdoors.
Create your wand in the days leading up to the Summer Solstice and consider consecrating, blessing and charging it with the rising sunlight on the Solstice morning (or at any point that day).
You may wish to create a wand that you use specifically on Litha and during the summer months or one that will be a year-round magickal tool for you.
In either case, utilizing colours (such as yellow, orange, red, green, white, and gold, as well as clear), crystals, and other materials that correspond with Litha and the sun can help to imbue your beautiful new wand with an even deeper connection to the Summer Solstice.
5. Burn candles! Bonfires have been lit at Midsummer since the time of the ancients and remain an important part of many Summer Solstice and Litha celebrations around the world to this day.
If having or attending a bonfire is out of the question this year, turn to the radiant energy, light and beauty of candles instead.
Now, I'm not suggesting, of course, that you gather up ever last candle in the house, place them side-by-side, and have an indoor bonfire. Goodness, NO!!! Please do not do this!!!!!!!
Instead, what I am proposing is that the twinkling flame of one or more candles can be used a meaningful and potentially magickal way of honouring both the sun (+ its warmth and light) and the traditional bonfires of the Summer Solstice.
While not mandatory, if you have some to hand, you may wish to burn candles in solar colours such as yellow, orange, and red that correspond all the more to the sun's own colours and energy.
You can add further magick and intention to your candles by doing things such as anointing them with various oils/herbs/charged waters, carving sigils or other meaningful symbols or signs in the wax, and charging the candle before using in the sunlight on the Solstice.
As always, be sure to make safety your top priority when working with candles. Never leave them unattended or around curious pets or children. Burn them in appropriate candle holders and have an easily accessible source of water available in case any flames start to get out of control.
6. Make paper oak leaves to honour the Oak King. The mighty oak tree has a long and highly venerated connection with the Summer Solstice, as does the figure of the Oak King, who presides over the waxing half of the year leading up Litha.
The Oak King is a folkloric representation of the warmer half of the year, which is usurped by the Holly King who in turn rules the waning half of the year until the Winter Solstice.
Fascinatingly, the Celtic name for Oak ("Duir") means doorway. This is especially apt given that from this point onward, we will technically be entering the dark half of the year, closing the door on the lighter months that lead up to the Summer Solstice.
Whether freehand, tracing the real deal, using a die cutting machine, or with a printable oak leaf template, the Summer Solstice is an excellent opportunity to create a flurry of our own paper (or fabric/cork/felt) oak leaves.
You can use your homemade oak leaves as the paper for spellwork, as home décor, on your altar, create a wreath or wearable crown with them, make garlands out of them, involve them in crystal grids, use them to write down your favourite summer blessings or memories on, as place cards at a Litha meal, and much more! Let your imagination soar and have a delightful time crafting your own handmade oak leaves this summer.
7. Create a sun-filled summertime music playlist. Did you know that there are over two hundred songs in the English language that include the word "sun" (or some variation of sun, such as sunshine or sunny) in their title?
As this list of songs with the word sun in them attests, this is definitely true.
Why not create a playlist of songs that involve the sun and/or other summertime lyrics to pump up your mood, or conversely, to help you relax and unwind, this Litha?
If you're a fan of dancing, swaying, or singing along to the beat, go all out and let your inner musical spirit soar. Summer is an inherently fun time of the year for many of us and music can help make it all the more so.
8. Honour your inner light. It is anything but a state secret that this year has been incredibly challenging for both the world as a whole and many individuals themselves.
It is completely understandable – and natural – if you're feeling more drained than a bathtub right about now.
What are some simple, meaningful and enjoyable ways that you can honour your own inner light and allow it to shine all the more, (especially) if it's been put on the back burner in recent months?
Litha, the longest day of the year is an ideal time to honour and nurture your inner light.
Permit yourself some self-care time, engage in an activity that makes your heart sing, create a list of reasons why you're amazing, treat yourself to a favourite meal or activity, breath deeply, and know that no matter how dark life may get at times, your own inner sunshine is with you always.
9. Bake and decorate an edible version of Stonehenge. Not only is Stonehenge in the UK strongly connected to both ancient and modern Paganism, but it one of the most visited ancient sites in the world each Summer Solstice.
This year's festivities have been shelved due to the pandemic, but that doesn't mean you can't bring a hit of the magick and mystery of this sacred monolithic site into your own Summer Solstice celebration.
Why not try making a lovely gingerbread Stonehenge and (optionally) decorating it with things such as sugared flower petals, chocolate-coated sunflower seeds, sweet herbs and spices, candied citrus peel, and frosting in solar shades of red, orange, or yellow?
You could create your gingerbread Stonehenge as an offering, to use on your Litha altar, to enjoy as part of your Summer Solstice feast, to utilize in spellwork, or for any other reason that you fancy.
This is a fun activity for the whole family. If you have little ones at home, consider getting them involved and sharing some cool facts about Stonehenge and its historical significance as you bake and decorate your impressive Summer Solstice dessert.
10. Integrate a new spiritually meaningful activity into your life. Back in early January, I posted about 12 Ways to Live a More Magickally Focused Year. Now is a terrific time to take a few minutes and assess how you've been doing on the daily magick front so far in 2020.
It is also a great point in the year to start (or pick up) a spiritually meaningful activity, habit, or focus that you've been wanting to begin or reconnect with.
Let the longest day of the year shine its light on your life to help you see your deepest desires and drives that have yet to be fully addressed.
Which of these can you begin doing something positive about this summer? What skills would you like to learn? What areas of your life may need some TLC?
All of these things are excellent points to give mindful, focused thought and corresponding action to at Litha and straight on into the second half of the year.
11. Put together an energy bag. Select or make a pouch or bag in the size of your choosing out of a sheer, mesh/tulle, or other gossamer type fabric.
If sewing isn't your – cough, cough 😄 – bag, but you want to make one from scratch all the same, I highly suggest checking our Silver Raven Wolf's excellent tutorial on How to Make a No-Sew Magickal Bag.
You'll want to fill your energy bag with items that pertain to the vibrancy, warmth, light, joy and sense of thriving life that the sun and summertime give off.
Examples of such items includes the following:
-Small candles in solar colours
-"Fiery" crystals and stones such as sunstone, yellow appetite, pyrite, orange calcite, carnelian, rose and yellow quartz, garnet, yellow aventurine, citrine, tiger's eye, yellow tourmaline, and aragonite.
-Charms or pieces of jewelry in warm metals such as gold, brass, copper and bronze
-Beads, especially glass and crystal beads, in solar and other summertime colours
-Fresh, dried or artificial flowers (do keep moisture content in mind if using fresh flowers, especially if you wish to keep this energy bag for more than a few days)
-Dried herbs, dried herbs, dried seeds (including sunflower seeds), dried tea leaves, and/or dried or dehydrated summer fruits
-Small vials or other containers of beach sand
-Ethically sourced shells, sea dollars, sea glass, and other small items from oceans or lakes
-Ethically sourced feathers from birds that are especially active or visible during the summer months
-Small vials or other contains of glitter in sunny colours such as yellow, orange, red or gold
-A warm or "fiery" incense blend
-Pieces of dragon's blood resin
Gather the items you wish to use, place them in your energy bag, charge your bag in the sunlight on Litha, bless or concrete the bag and its contents, and either use the mixture as part of spells workings, as offerings, on your Litha altar, or as a personal source of strength, energy and vitality throughout the summer months.
12. Do something pertaining to genealogy. Trees are one of the first things that I associate with Litha. I adore trees, working with tree spirits and energy, doing tree magick, spending time in the company of trees, you name it!
Save perhaps for small potted trees of the indoor variety, most of us don't have a lot of branch filled friends under our own roof. One tree that we do have with us at all time, however, is our family tree.
Whether you're a passionate family genealogist or would be hard pressed to come up with your grandmothers' maiden surnames off the top of your head, there are activities pertaining to our family trees that nearly all of us can do.
You may wish to research branches of your family tree that you don't know much about, speak with or even interview living relatives about your family history, frame and display treasured family photographs, create family trees stretching back 3 – 5 generations and give copies to your immediate family members as gifts (this site has over 370 different free family tree templates), record facts about your own life for posterity, or research the history of surnames in your family.
If you are adopted or otherwise do not have much (if any) information about your birth parents or ancestors, you could opt to work with the family tree of your adopted parents, if doing so felt right to you.
Or you could focus more on your own life instead, documenting facts about yourself and putting together a budding new family tree starting with yourself, any biological siblings you may have, and your own children and/or partner(s), if applicable.
You can also use this time to call upon, work with, provide prayers or offerings to, or otherwise engage with your ancestors, whether you know them by name or not. (As I'm very fond of saying, we might not always know our ancestors' names, but, from the other side of the veil, they know ours.)
Litha and summertime are natural fits for family related activities of all sorts, so don't be shy about making your nearest and dearest (be they living or departed) an especially meaningful part of the sunny season.
And a few additional ways to celebrate Litha indoors
I had such a blast compiling the twelve ways to celebrate Litha indoors for this post that as I was putting the finished entry together, I felt compelled to share a few more ideas.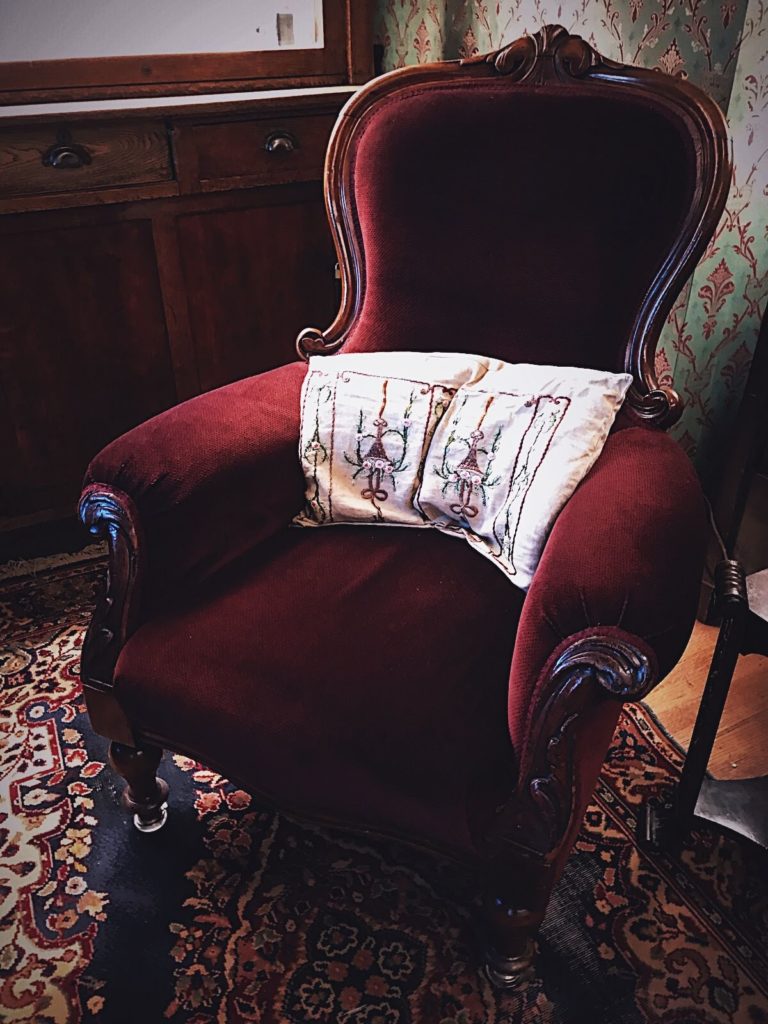 These ways to celebrate Litha are not detailed to the same degree as the twelve listed above, as I feel they're fairly self-explanatory.
Naturally, if you have any questions or would like me to expand on any of them, please do not hesitate to let me know in the comments below.
-If you have a piece of it leftover, burn the remnants of your Yule tree or other natural Yule season greenery (boughs, wreaths, etc). Inside the house, this is often best done in a woodburning stove or fireplace, or a large fire-safe cauldron. (Ensure that you have a working fire extinguisher at the ready.)
-Decorate and actively work with your altar for Litha. I really enjoy adorning my altar for Litha and often do so with fresh or dried flowers, decorations and images of the sun; sand, grass, leaves, various animal figurines, crystals in Litha related colours, and anything else that feels right to me in the moment.
-Do an oracle or tarot card pull or spread for Litha (such as this lovely example of a Litha Tarot Spread).
-Charge your crystals and/or other magickal tools of your choice in the sabbat sunlight to imbue them with the might and majestic energy of the longest day of the year.
-Leave offerings to the fae and/or otherwise work with or honour the faerie folk.
-Plant an indoor herb garden in pots or other suitable containers, ensuring that they're able to get enough daily sunlight.
-Make a summer themed centerpiece for your Litha dinning table, altar, mantle, dresser, coffee table, or other spot of your choosing. The sky and your imagination are the limit when it comes to what to include.
Some fun ideas include fresh, dried or article flowers and/or leaves, seashells, sea glass, miniature beach toys, beads or charms, springs of lavender or rosemary, small figurines or toy versions of animals that you associate with summer, candles, glass pebbles (available from many craft stores, florist supply shops, dollar stores, and big box stores), small vintage linens or crocheted doilies, items depicting the sun, and fresh or artificial summertime fruits.
-Create a piece of art or another type of craft project that depicts or represents the sun. Bless and imbue it with positive, radiant energy and display it on your altar or elsewhere in your home to enjoy throughout the summer – or all year long, if you fancy.
These are but a few more ideas regarding what to do on Litha and how you can celebrate this beautiful summertime sabbat when you're indoors.
Naturally, if such is feasible for you at the moment, you can carry out some of the activities listed in this post outdoors or bring your completed projects with you when you go outside.
The Midway Point in The Wheel of The Year
That is precisely what Litha/the Summer Solstice is, and as such, it has a unique advantage of being able to pull from the strength of the earlier sabbats in the year, and to help propel us onto those that still remain.
Many see the next sabbat in the Wheel of the Year, Lammas/Lughnasadh, which transpires in early August, as the first of three harvest festivals and, in some respects, the very earliest start of autumn.
Thus, Litha is the main summer sabbat and its position as such enables us to truly celebrate and honour the present season.
No matter how much we may miss spring or love fall, summer is here and it deserves to be venerated and enjoyed.
Whether you spend the whole day inside, outside, or a combination of both, take time this year to reflect on what the Summer Solstice means to you, your life, and your spiritual journey.
Get creative, give thanks to the sun, have fun, and carve out some time to embrace the warmest season, starting with the Summer Solstice straight on to the third week of September, when we'll once again say hello to the Fall Equinox.
What are your plans for the Summer Solstice/Litha this year? 🌞