"There are only four kinds of people in the world. Those who have been caregivers. Those who are currently caregivers. Those who will be caregivers, and those who will need a caregiver." – Rosalynn Carter
These words – succinct and starkly true – spoken by a former First Lady touch on a subject that many of us will have firsthand experience throughout our lifetime.
I've worn the shoes of each of these four roles at various points in my own life and I know that I am far from alone on that front. A good number of us are in one or more of those very roles at any given moment.
No matter how fiercely independent and self-reliant I am, as a multiple severe chronic illness warrior (a topic that I touched on recently in my detailed post Tips on How to Handle Social Isolation from a Long-Time Multi-Chronic Illness Fighter), there is always a degree of needing a caregiver involved in my own life.
To what extent that need exists has varied and changed many times over the years, but it is ever-present and I am profoundly grateful to those special, compassionate souls in my life who are able to provide me with assistance, support, understanding and care.
I've also had quite a few times when I myself was also a caregiver. It's a position I've been experiencing again recently, as my husband has been contending with some serious health issues of his own pertaining to his kidney health.
In February, he underwent an emergency operation in Vancouver that left him virtually bedridden for quite some time, followed by another surgical procedure for the same issue a few weeks later at a hospital closer to where we live here in the interior of British Columbia (our small town itself does not have a hospital).
Tending to my honey is a meaningful honour and something I do with a heart full of love and every ounce of energy I can devote to this important job. However, be it nursing Tony or anyone else that I've looked after throughout my life, I know firsthand how difficult being a carer can become and the toll it can easily create on those in this rewarding, yet often challenging, position.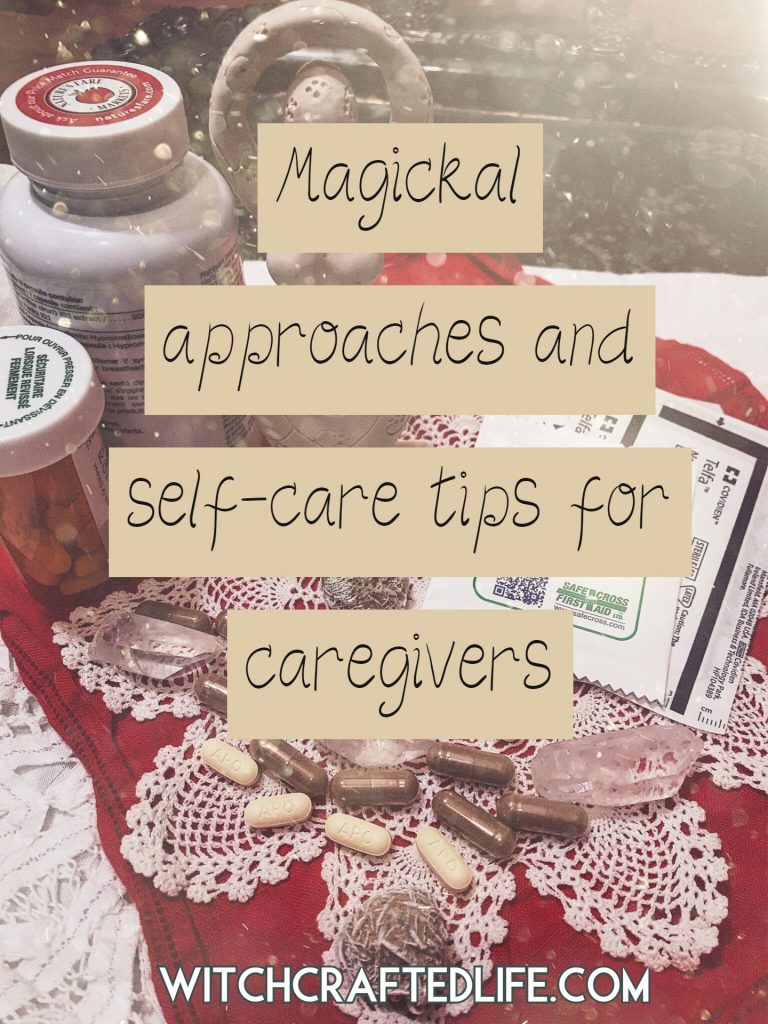 In this post, we're going to explore self-care tips for caregivers coupled with some magickally and spiritually centered ideas for those who take it upon themselves to look after others in this capacity.
What is a caregiver?
While it would be easy for me to wax poetically about what it means to be a caregiver and how we shine our light, love, energy upon those we are deeply connected to, for now, I will get down to brass tacks and give you a more prosaic definition.
When we're speaking in terms of nonprofessional and (often) unpaid individuals, a caregiver is a person who provides care for another human or animal (today's post will focus on carers who tend to other people, though the same points largely apply to those looking after the health and well-being of animals).
There are countless possible scenarios in which one may become a caregiver and nearly as many different people that may be in need a carer themselves.
Some of the most common people that others (again, in a non-professional capacity) care for include:
-Infants and children
-Life partners and spouses
-Parents
-Grandparents
-Siblings
-Other relatives
-Close friends
Generally speaking, individuals who are not paid for the care that they provide are referred to as family caregivers or informal caregivers.
I'm not too keen, literal though it may be, on the latter term though, as I feel the word "informal" somewhat invalidates or diminishes the time, energy, effort, work, emotional, physical, and mental impact involved with caring for another person. As such, I will not be using that term from this point onward.
How many people are caregivers?
Globally, that is next to impossible to determine, but it's safe to say that the number is sizable. A 2013 Pew Research study found that 36% of US adults provided unpaid care to others in the previous year.
With an ever-increasingly larger number of people above the age of 50, there is a high probability that we'll a continued rise in this number throughout not only America but in many other parts of the world as well.
Who can be a caregiver?
The answer to this question is not as straightforward as it may seem on the surface.
While research shows that the highest percentage of caregivers are women, those of all genders can – and do – take on this role as well. Being a carer is by no means the exclusive domain of women.
Sometimes people volunteer to be caregivers, at other times, this position may be thrust upon them – potentially out of the blue (for example, if a loved one suddenly developed a serious medical problem, was in an accident, or while they're recovering from surgery).
Unplanned or unexpected caregiving can be especially tough, at least initially, but all caregiving comes with challenges both for the patient and the carer alike.
Many people find caregiving, including unpaid caregiving, to be a rewarding and beautiful act, but that doesn't mean it can't simultaneously be difficult, stressful, demanding, exhausting, and life-changing.
Going into the myriad of potential challenges that being a caregiver can entail – from potentially needing to take time off from (or even quite) one's job to managing another's finances to providing hands-on medical treatment is beyond the scope of this post.
However, I want to acknowledge the incredible, compassionate work of those who are currently, previously have been, or may become carers in the future.
While looking after someone briefly may not be the toughest thing you'll ever do, longer, more serious care may very well be one the most challenging and difficult roles you will ever take on in your lifetime.
It can feel and/or be thankless at times. If no one has said a heartfelt thank to you lately for your hard work and compassion, please accept a very sincere one from me here today.
Casual or part-time vs full-time caregiver
As these terms imply, being a casual or part-time caregiver usually means that this role is not an all-consuming, around the clock activity for you. While you may be someone's ongoing carer for a long period of time, doing so is generally not something you focus primarily all day every day.
Fulltime caregivers generally provide extensive care on daily (or nearly so) basis, often for multiple hours of the day – if not throughout the entire day itself. This role can, and often does, become a full-time job with little to no monetary compensation.
Both part-time and full-time caregiving can be demanding and take similar tolls on those involved in this loving act, but those who are fulltime carers may, naturally, be at an even greater risk for experiencing health issues of their own as a result of caring so extensively for one or more people in their lives.
What is caregiver stress?
Even people who have a natural affinity for nursing, looking after, and otherwise tending to the needs of others are, at the end of the day, only human and like all humans, are apt to experience a limit to what they're able to reasonably handle and cope with.
Caregiver stress – which, especially if it becomes an ongoing part of one's life may be called caregiver stress syndrome – is characterized by extreme exhaustion that may lead to burnout.
This exhaustion can be physical, emotional, mental, and even spiritual. It may lead the carer to shift too much of their attention toward the person (or people) that they're looking after and in turn neglect their own fundamentally important health and well-being.
Feeling overwhelmed, overworked, overburdened, extremely drained, pulled too much in multiple directions at the same time, unnerved, anxious, depressed, upset, frustrated, irritable, scared, alone, helpless, worrisomely uncertain, or stretched too thin are amongst other common signs of caregiver stress.
As well, some people may struggle to admit that they feel these kinds of ways and/or to reach out and ask for help in their role as a carer. This only stands to amply the issue and may lead to a person hitting the dangerous point of burnout even more quickly.
It is not uncommon for caregivers to develop new health problems of their own and/or to have existing medical issues flare-up, worsen, or otherwise become more problematic.
In many instances, caregiver stress can be managed and reduced when it is acknowledged, addressed and dealt with in a frank and open way.
Yet even when this is done, caregiver stress can still be a substantial ongoing challenge and one that carers and their loved ones need to be mindful of and routinely tackle headfirst as much as is realistically possible.
The suggestions that follow in this post are some ways that may help to counterbalance, at least to a degree, the very real impact of caregiver stress and burnout.
What are the signs of caregiver stress?
On top of those just mentioned, the following are some of the signs that a person may be experiencing caregiver stress.
-Cognitive difficulties including, but not limited to, experiencing brain fog, short-term memory troubles, having a hard time concentrating or remembering information, difficulty focusing, and struggling to multi-task as effectively as you could prior to becoming a caregiver.
-Changes in mood and state of mental health (depression and anxiety are both common amongst caregivers and may themselves help contribute to serious medical problems such as stroke and heart disease), including mood swings, crying more often or more easily than usual, and difficulty moderating one's temper or other strong emotional states.
-An overwhelming and/or frequent sense of helplessness, uncertainty, and/or isolation brought on from the act of being a caregiver.
-Changes in sleep habits, particularly in terms of insomnia, nightmares, and broken or restless sleep. Live-in caregivers or those who look after people during the night may find that their sleep quality is poor and sleep itself sporadic, particularly if they wake up to tend to the needs of the person they're caring for.
-Decreased immune system health. Weakened immune systems are a well-established hallmark amongst many caregivers. This is largely due to the impact that focusing so much of one's energy, strength, thought, and emotional resources on another has on the human body.
-Changes in eating habits, including overeating, undereating, stress eating, or the development (or worsening of existing) eating disorders.
-Excessive or abusive use of alcohol, prescription or illegal drugs.
-Engaging in, or thinking excessively about, self-harm or harming others.
-Putting your own well-being and needs on the backburner all the time, possibly with associated feelings of resentment, frustration, anger, sadness, anxiety and/or depression stemming from doing so.
-Withdrawing from your usual actives, passions, hobbies, and social activities either due to extreme exhaustion, your own medical reasons, or feeling that you simply cannot leave the person you're caring for in order to take some immensely needed time to focus on your own health and well-being.
-Feeling like you've lost (or are losing) control over your own life and (possibly) not knowing when or how you'll regain control again.
-An increase in headaches, high blood pressure, colds, flues, other viruses, and spikes in existing medical conditions, often brought on due to a weakened immune system, serious fatigue, poor sleep and/or diet, stress, and mental health concerns.
Naturally, these symptoms can be caused by a wide host of sources as well, but if you've started to experience them or are experiencing them more severely since you became a carer, it may be possible that they're the result of caregiver stress syndrome.
Seek medical help and address these serious health concerns as quickly as possible. It is dangerously easy for carers to soon find themselves in need of being cared for if they aren't proactive in terms of taking care of their own health and well-being.
Is caregiver stress the same thing as caregiver burnout?
Full-on caregiver burnout often means that a person has reached a point where they are no longer able to care for someone else and potentially may struggle to meet their own basic care needs.
It is extreme form of caregiver stress and one that is apt to require some serious recovery in order to hopefully regain a greater sense of health, wellness, balance, emotional wellbeing, and positive feelings in one's life again.
Ideally, caregiver stress should be minimized as much as is realistically possible and caregiver burnout should try to be avoided in every safe way possible.
If it does occur, it needs to be addressed and properly managed as swiftly as can be – especially is serious mental health challenges, such as severe anxiety and/or depression are involved.
Taking care of another person's life should not put your own in jeopardy, no matter how much you love and want the best for that individual.
Please note: I am not a medical professional. If stress or burnout of any kind is a serious issue in your life, please seek advice and support from a doctor or other trained medical professional.
Ways to help manage caregiver stress
-Accept that no person is an island unto themselves and that we all need help, support, and encouragement at times. If your family and loved ones are not able to provide this, for whatever reason(s), speak to a medical professional, join a community support group for caregivers, seek support from those in your coven (or circle, grove, etc) if you belong to one, and/or, if financially possible, hire a professional health care worker to periodically look after the person you're caring so that you can get a vitally needed break.
-Acknowledge and allow yourself to feel proud of your accomplishments and the hard work you're doing as a caregiver. If needed or desired, write own three or more compliments to yourself and read or speak them aloud multiple times until you feel the impact and truth of their words.
-Shift the focus onto what you are able to accomplish instead of focusing (excessively) on what you may not be able to do or feel that you're not doing well enough. If possible, delegate some of the areas that you're struggling with, unable to do, or not able to do as much as you'd ideally like to one or more people. This can help you a lot because it means you've still addressed the situation, you're just not the person who is actually carrying out the activity in question.
-Be kind to yourself and do all that you realistically can to take care of yourself, including eating healthily when possible, spending time outside, exercising (if feasible), engaging in calming activities, giving yourself well deserved chunks of "me time" on a regular basis, engaging in low-stress hobbies, and keeping in mind that, at the end of the day, we're all human and that means none of us is perfect or immune to stress.
-Find and use, when possible, medical aids and supplies that help make things easier for both yourself and the person you're looking after. It's just amazing what alleviating or reducing a few caregiving challenges can do for the psyche, emotional and physical well-being of both parties.
-Do not lose complete touch with your usual social circles and activities. Let others, when appropriate, know about what you're going through and why you may not be as present or active as usual due to the fact that you're currently a caregiver.
–Connect with other family caregivers. Chances are plenty of people have been in, or may currently be in, similar situations to your own. Even if they haven't, they may be able to relate broadly to the difficulties, stresses, concerns, challenges, and heartaches of being a caregiver.
Sometimes just having someone say that they sincerely understand your situation, as they provide a compassionate ear, can make a world of difference, restore some of your hope and energy alike, and give you the strength to keep going when things get extra rocky.
-Set realistic short, medium, and long-term goals for both the care of the person (or people) you're looking after and yourself.
-Keep lists, update them as often, and consider periodically providing yourself with small rewards for completing a predetermined number of entries on your lists. This could include things like an hour of "do whatever you want online" time, getting a manicure, taking a hike, going to the movies, or, if possible, sleeping in on a non-workday, for example.
–Ensure that your own health does not fall completely to the wayside. Try to keep up with – or establish a new – healthy living routine, see your doctor regularly, exercise and eat cleanly when possible, get as much sleep as you can (easier said than done, believe me, I know!), make time to focus on serene activities, and try to find ways to engage with your spirituality on a regular basis.
-Knowledge is power and empowerment alike. Research, though, ideally, not to the point of obsessively, the health challenges of the person that you're providing care for.
Read relevant books and magazines, visit blogs and websites on the topic, join Facebook groups, follow relevant hashtags on social media, follow boards and create your own on Pinterest pertaining to the health issues at hand, talk to experts in the field, and fellow caregivers of others with the same or similar health challenges – as well as other patients themselves.
-If possible, discuss your concerns in a caring, nonjudgmental or hypercritical way with the person you're looking after. Naturally, this is not always feasible.
Infants, children, those who are unable to speak, sign or otherwise verbalize; people with memory loss, some brain injury patients, and others who are not able to currently carry out a responsive conversation or who are too young to be put in the position to address and respond to adult concerns will not likely be able to do so, of course.
People who were caring and loving before their health challenges arose or got worse may still be the same way now and as much as you're worrying and stressing about them, they may similarly be concerned for you.
If you feel doing is appropriate, talk to the person you're looking after, express some of your inner feelings and worries, and work together to come up with viable ways to address and tackle the points that you've just chatted about.
-Utilize some of the terrific self-care apps that currently exist, such as those on this list of 16 caregiver apps you should use in 2020.
-Accept help from others who offer it. Assuming the person in question is competent and realistically able to provide help in a way that is suitable for you and the person you're looking after, jump at the offer. We all need breaks, days off, and a helping hand sometimes.
Though modern society in many parts of the world no longer operates on a small tribe, community or extended family basis of individuals who support one another and share the collective load of managing life's many needs, some of us are blessed to still have one or more people in our lives who want to help us and who may offer (or say yes, if asked) to step in and shoulder some of the work involved with being a caregiver.
Keep in mind that help doesn't have to necessarily mean that the other person looks after the individual you're caring for. Help can come in many different and diverse forms.
It could mean someone prepares a week's worth of meals for you, walks your dog, cleans your health, picks up the kids from school, gives you a reiki session or massage, offers to be your workout buddy, lets you know when they're going to the grocery store and asks if they can pick anything up for you while they are there, makes you a care package, send you a "thinking of you" or "just because" card or gift, cut your grass, babysits for a few hours so that you can have some massively needed downtime, picks up your dry cleaning, wraps your holiday season gifts, drives you to and from place of residence of the person you're looking after, or any number of other compassionate, thoughtful gestures.
-Accept and address the fact that if and when the time comes that you are no longer a caregiver, you will likely need to go through a period of adjustment, healing, connecting all the more with yourself again, and possibly grief, too (especially if the person you've been looking after has passed on).
-Establish a healthy self-care routine that you assess and adjust as needed on a regular basis.
What is self-care?
Though the precise specifics of what constitutes self-care will vary to a degree from one person to the next, broadly speaking, self-care means that you consciously acknowledge what you need on physical, emotional, mental, and spiritual levels in order to be as happy and healthy in realistically feasible ways and that you make focusing on those things a priority in your daily life.
Self-care asks that we each take charge of our own well-being as best we can. That we own our limits, make ourselves priorities, and learn to feel less negative about focusing on ourselves and what we require in order to feel positive about who we are and how we function in this world.
It is safe to say that self-care does not come naturally to everyone and even when elements of self-care are intuitive, we do not always choose to listen to what our inner dialogue is telling us we need.
Self-care invites us to make ourselves a priority, to address when we need a break or some help or simply a bit of time to ourselves.
As well, self-care is about empowerment and autonomy. The more we are able to be responsible for our own well-being and happiness, the greater quality of life we stand to experience and the less we're apt to see ourselves as being helpless, not in control of our lives, or as victims of our circumstances.
While self-care has become something of a hashtag and buzzword de jour and not everyone shares the same opinions on what it entails and means (which is 100% okay, of course!), at the end of the day, no matter who you are, what your spiritual journey entails, and what elements comprise your daily life, we all need to look after ourselves in various ways.
Whether you choose to call this self-care or not is up to you personally. Just, I implore you, please make sure that you do take time to focus on your well-being on a regular basis. To honour your spirit, to heal, to recharge, to be calm and centered, and to make yourself as much of a priority as you would you most treasured loved one.
Self-care for caregivers
There are many different ways to practice healthy self-care. While we all share certain universal needs in order to stay alive and as healthy as possible (e.g., clean water, enough food, adequate sleep), what constitutes effective self-care can vary from person-to-person.
In this instance, we're focusing on approaches that may be realistically doable for some caregivers. I acknowledge and understand that the complexities, difficulties and realities of self-care at the best of times, let alone when has taken on the role of being somebody else's caregiver.
Please be kind and compassionate to yourself. Look for small, meaningful ways to fit self-care into your day (objectively, many of us could get in more self-care if we cut down on the amount of time we spend most days watching TV and being on our phones, tablets, and computers).
Aim to be at peace with the fact that your self-care routine does not need to look like anyone else's and that you do not have to justify or explain your approach to self-care (assuming it is legal and does not harm yourself or others).
Experiment, find what presently works for you, routinely update your self-care regiment, and try not to obsess too much about self-care as that can quickly become counterproductive to what you set out to accomplish in the first place.
And remember that self-care is a bit like one of those trifold mirrors with a larger central panel that is flanked by separate, often smaller, panels on both the left and the right sides.
Self-care – can reflect and address certain elements of our past, it focuses substantially on the present, and it helps to set us up in a stronger, better equipped, more positive way for what lies ahead in the ethers of tomorrow.
-Listen closely to what your body is telling you that it needs. Sleep, more (or less) food, fresh air, medical care, more time to rest throughout the day, a chance to finally do yoga or read again for the first time in weeks or months?
If you don't listen to the whispers, chances are they'll grow louder and louder until they're full-on screams that may prevent you from going about your normal daily routine until they've been addressed – or worst still, potentially until you're rundown, sick, or genuinely burnt out.
-Make sure you stay hydrated. Simple as it may sound, drinking adequate amounts of water and other healthy beverages (e.g., green tea) is a key component to one's overall health and well-being, while also supporting daily energy levels, gut health, and the condition of your skin.
-Engage in mindful breath awareness for 5 – 10+ minutes daily.
-Laughter really is an amazing medicine and it's a wonderful component of self-care to boot. Letting yourself laugh, smile, and feel positive – even if those feelings are fairly short-lived – can have glowingly lovely impacts on our psyches, emotions, and daily lives.
Watch funny movies and TV shows, follow some humorous blogs, Facebook groups or Twitter feeds; catch a live comedy show, play humour based board games, call up a friend or relative and relive a funny event from the past, read a book of jokes – you name it! Smiles and laughter are the aim, how you get to that point is up to you.
-Relax, unwind, and help to combat stress by listening to guided meditations (apps such as Calm are wonderful for this), ASMR (which abounds on YouTube and can be found elsewhere online, too, including on the Tingles app), and soothing music.
-Get creative! You don't have to sew the biggest quilt, paint the most impressive picture, or carve a stunning sculpture to connect with your artistic and creative sides. There are countless ways to practice mindful creativity, from adult colouring books to rock painting, whipping up paper flowers to baking, macramé to jewelry making.
Being creative is liberating for the soul and mind alike. It allows us to experience the process of birthing something new into being, lets us channel our energy and focus onto a positive and rewarding task, and is, hopefully, just plain fun.
-Put together a playlist of music that helps to foster positive moods, aids you to unwind or sleep, or conversely, pumps up your energy. Edit periodically, if needed, and don't be shy about updating it either.
-Attend to your personal care and hygiene needs. When you're in the throes of looking after others, it can be really easy to let these areas slide onto the backburner. They're important though, no two ways about it, and can help you to feel more like your usual self.
-Just say no! So many of us – myself included – often struggle when it comes to saying no to other peoples' requests at the best of times. If we're already stretched thin, taking care of ourselves, our families, and one or more ailing loved ones, chances are we don't have a lot of free time or energy.
Learning to say no in a straightforward, cordial way to requests that we can (realistically) turn down without feeling guilty about doing so is one of the most incredible, liberating, and empowering acts we can do for ourselves and our loved ones alike.
The challenges of being an empathic caregiver
I want to take a few moments to address the fact that those who identify as empaths, HSPs (Highly Sensitive People), Earth Angels, and other forms of extremely sensitive, compassionate, and caring people may experience their own added challenges when they take on the role of being a caregiver.
Empaths generally feel the pain, stress, emotions, fears, anxieties, and stresses of those we encounter in even the most casual of settings and relationships.
When we're caring for someone that we hold especially dear to our hearts, these feelings are often amplified all the more and they can quickly and easily become profoundly overwhelming or all-consuming for the highly sensitive individual.
We have an innate desire to help, support, care for and look after those in need, in pain, and who are struggling in any way. Often, we want to alleviate someone's suffering completely (or as much as possible).
The fact of that matter is, however, that frequently the kind of medical challenges that require a caregiver are beyond what even the most empathic of empaths to ever walk the earth is possible of alleviating from another person and this point can cause us great internal strife, stress and difficulty.
As well, medical settings such as hospitals, hospices, nursing homes, and doctor's offices that not only have patients who are battling health issues in them at present, but which also house the lingering energy and emotions of scores of past patients, can be staggeringly challenging for empaths at times.
I am an empath myself and I always engage in serious shielding, grounding, and releasing work whenever I visit such a setting, whether I was there for the sake of my own health or someone else's.
On top of the suggestions laid out in this post, it is vital that empaths routinely create shields and barriers of pure white light or energy around themselves, that they take time to ground and decompress at least once a day (if not more so), that they set boundaries for themselves with the person or people they're caring for, that they allow themselves to feel and experience the full extent of their own emotions, that they ensure they have someone or someplace (e.g., a journal) to express their own feelings and thoughts in, and that they not be afraid to ask for help or time off, when needed, from their role of caring for another person.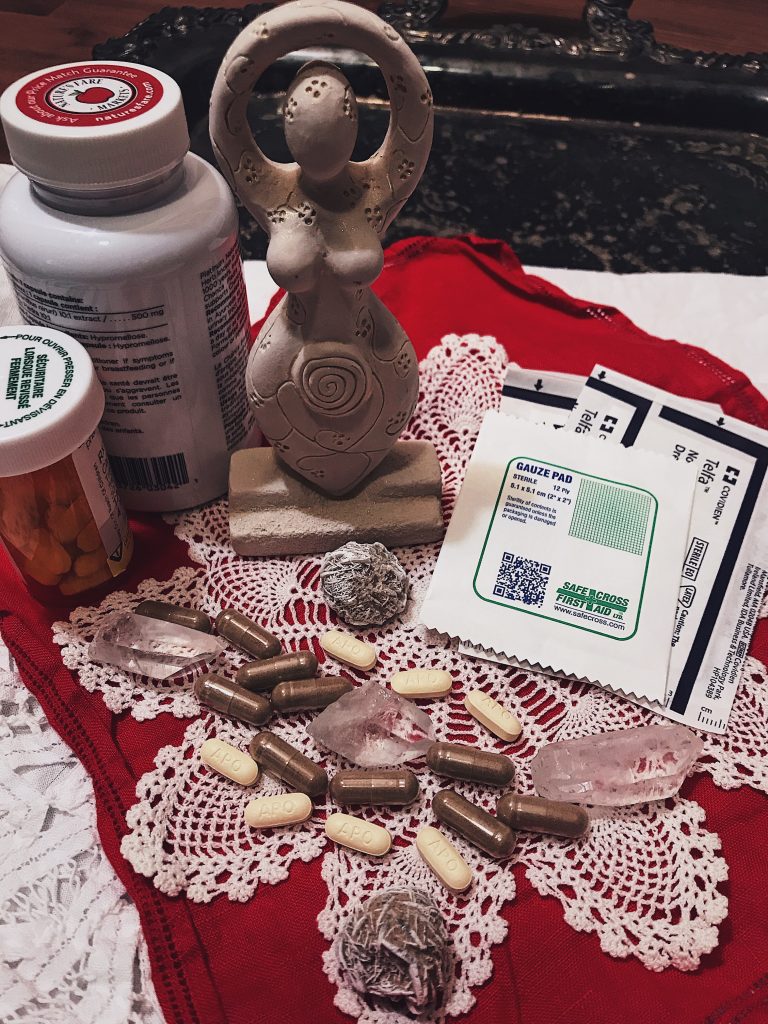 Magickal approaches and handy tips for caregivers
Up until now, a lot of what this post has focused on has been quite broad and applicable to most of the general population.
As I know many of my readers are fellow witches, Pagans and similarly spiritually focused individuals, I'm going to share some of my top tips and magickal ideas for caregivers.
-Listen to your intuition. This is sound advice at all times, but when you're in the position of being a caregiver, it can become all the more important because that wise inner voice may be telling you things not only about what you and your own body needs, but what the person you're caring for requires as well.
I am not, in any way, suggesting that you go against doctor's orders or decide to get all Florence Nightingale on things if you're not a health care professional. Not in the slightest. I simply mean that sometimes our intuition will help to guide us as we care for others, aiding us in anticipating needs, reminding us of critical information, and supporting us as we make a wide array of decisions – not all of which will be a cakewalk – throughout the course of our time as a caregiver.
-Cleanse yourself, both literally and spiritually, on a regular basis. It is darn near impossible to be around anyone who is unwell in any capacity and not absorb at least a degree of the strong, often emotionally charged energy that they are giving off. You need to part ways with that in order to help keep your own spirit strong and healthy.
Smudging, cleaning baths and showers, moonlight cleanses, anointing yourself with charged (skin safe) oils, energy healing, and mindful chanting or drumming to help free stagnant and negative energy are just some of the ways to achieve personal cleansing.
-Start and actively use a gratitude jar. I firmly believe that gratitude is a worthwhile and beneficial aspect of life at all times, both when the chips are up and down alike. So often when things are getting extra rough, stressful or challenging, it can be easy to forget to give heartfelt thanks for the positive in our lives, as the negatives or problems often seem to overshadow them.
In reality, most of us have countless things to be grateful for. It can do our minds, hearts and souls a world of good to take the time on a regular basis to acknowledge those points that we gladly give sincere thanks for.
If a gratitude jar isn't your cup of tea, try a gratitude journal instead, or simply make a point of giving thanks aloud (or in focused thought) to the universe, Spirit, any gods and/or goddesses you work with, or anything else that feels right to your path.
Cultivating gratitude and opting to look at life with an appreciative heart is, I firmly believe, one of the best gifts we can ever give ourselves.
-Create an altar, or devote space on an existing altar, that focuses on healing, hope, positivity, strength, and both life and death. While, hopefully, the latter will not come calling anytime soon, the reality is that death is a natural part of the cycle of existence for us all and it need not be seen as the ultimate fear or end to everything. The more comfortable one becomes with death, the easier it may be to accept when it does occur to someone we care about.
-(Yet, by the same token, try to… ) Do things that foster life. When you're routinely focused on serious medical issues – be they your own or someone else's – it can sometimes feel like life has gotten stagnant or worse, as though we only see the dark sides of existence.
Yet life, in the broader sense at least, continually renews itself in countless ways and the energy of these new starts and vibrant existences is a mighty force in our witchy self-care arsenal.
This could be anything from tending to verdant houseplants to watching for baby birds or other animals throughout the year, spending time on activities that benefit your health to launching a new project, blog, side hustle, community group or anything else that fills your spirit with that unmistakable thrill of life and the possibility of what tomorrow holds in store.
-Perform health positive magick for the person you're a caregiver to. Magickal workings pertaining to health and healing are highly personal areas. I am a firm believer in keeping things relatively general on this front in most cases, unless someone has specifically asked you to perform a particular working on their behalf.
When such is not the case, I focus on workings that ask for the best health and least pain/suffering/discomfort possible.
While I do think that there is merit to healing magick, I tread lightly here as I know firsthand that there are innumerable medical issues that are extremely unlikely to vanish solely on the basis of even the most potent magick.
The last thing I'd ever want was to create false hope in either myself or, moreover, the person I was preforming the working for by claiming healing magick could miraculously cure or alleviate a serious medical issue (because, the fact of the matter is, that's unlikely to happen in a lot of cases).
-Work with crystals that promote healing, serenity, rebalancing, strength, and stamina. Many different crystals and stones fit this bill, but broadly speaking, some strong picks across these different areas include clear quartz, rose quartz, angel aura quartz, celestine, turquoise, pink calcite, amethyst, blue lace agate, jasper, pyrite, selenite, citrine, desert rose, black tourmaline, larimar, and danburite.
-If you look after someone in a different location than your own home, consider carrying a small travel altar with you to work with when feasible. If you're away from your house and usual sacred space for a good chunk of the day, a travel altar can be a wonderful and fulfilling way to connect with your spirituality and to possibly perform certain types of magickal workings.
Remember that anything you bring with you is apt to pick up energy from the environment, so be sure to cleanse, bless and charge your travel altar (and/or anything else of a magickal nature that comes with you) on a frequent basis.
-Work with your ancestors. A lot of the time, when we're providing caregiving to others, it is focused on a member of our family (biological or self-formed). Who better to call on for support, guidance, love, and external energy than our ancestors?
Do not worry if you don't have a family tree so chocked full of names that you know it could give Queen Elizabeth's a run for its money. Whether we know our ancestors' names or not, they know ours and you can connect with them all the same by calling forth those who came before you by words such as "my ancestors" or "the ancestors".
Sometimes, you may find that in doing so names are presented to you in various ways. It's okay if they are not, so long as you still feel or sense the energy of their presence, you can often work effectively with the departed.
-Nourish yourself with kitchen magick. Energy depletion is a very real component of being a caregiver. One way to help replenish some of what we lose is through the food we eat and the beverage we drink on a daily basis. By making kitchen magick a part of our meal preparation, we can help to recharge both or physical and spiritual energy levels at the same time.
-Share your concerns, fears, and other emotions with nature. While talking to humans is undoubtedly important and I'm not suggesting that nature alone could meet all of the ingrained needs that most of us have for person-to-person interactions, you might just be amazed by how incredibly empowering, uplifting, and beneficial it can be to speak openly about what you're going through and feeling at the moment with nature.
While you can do so in a generalized way while outdoors, you may prefer to direct your conversation towards a particular facet of nature, such as the moon, a visible planet, a particular tree (possibly one with ties to healing or serenity), a beloved flower bush, a hearty herb plant, a favourite boulder, a meandering river, the sand on a beach, or another natural setting that feels right to you.
When you've shared all that you have to say with this natural setting and allowed yourself to experience the range of thoughts and emotions that doing so may have brought for (as well as any reply impressions or signs that you receive in turn), give heartfelt thanks to the area for listening to you and consider leaving an offering in the process (such as lovely stone, leaf, piece of fruit, or feather).
-Ground often. And speaking of nature, for the love of all that is magickal, if you're caring for someone else and absorbing their energy, you will want to try to ground on a very frequent basis.
Grounding means to release negative or otherwise undesirable energy from your own body and soul into the earth, which is believed to be able to absorb and dispel this energy easily and effectively.
There are numerous ways to ground, but one of the most straightforward and commonly practiced is to visualize roots stemming from your feet and reaching into the ground beneath them. These roots allow the negative energy that you direct to exist your body and be absorbed by the dirt (or sand, etc) underfoot.
However you choose to ground, it is vital to unpack negative energy and invite serene, positive energy into your life. A buildup of toxic, detrimental, heavy energy rarely serves anyone well and is certainly not apt to allow you to feel as strong and positive as possible when it comes to carrying for both yourself and others.
-Use divination to help give you a clearer picture of your life and your abilities as a caregiver. From runes to tarot, scrying to reading tea leaves, connect with the divination method that feels most natural to you in the context of your role as a caregiver and engage with it on a regular basis.
-Look for, and implement, small, meaningful forms of everyday magick. I'm huge on everyday magick – indeed, I generally do far more of it than highly elaborate workings (it helps me to witch more effectively and enjoyably on a daily basis).
There is no limit to the number of ways you can work everyday magick. Numerous books have been penned on the subject (and no doubt more will be in the future, too), many blog posts and website articles cover it, and it's an increasing popular topic on social media as well – all for good reason.
Look for, research and create your own personally significant everyday magick and allow it to bless your life and give your spirit added strength as you go about your daily routine.
Being a caregiver witch
Nearly all of us embody multiple roles at any given time. We are witches and Pagans, and this part of who we are can be enormous or it can be more of a supportive player. That is up to each individual and their own respective path, plain and simple.
At the same time, we likely have roles within a family, our job or education, our social circle, perhaps within the community (e.g., as a volunteer), possibly in a coven or other spiritually focused group, those that relate to our passions and interests, and various other heading that we fall under.
Generally speaking, while many of us may prefer to identify ourselves by certain roles more than others, I think that a lot of the time, it is important to not let one or two completely overshadow all of the others – even if they're roles we feel very positive about.
Just as when we ourselves are dealing with serious health issues, it can be easy to let the role of caregiver eclipse much our lives and begin to feel like it is dominating a huge part of who we are.
By continuing to engage with our spirituality – as well as other aspects of our lives – we can help to counterbalance this to a degree at least.
We can also find strength and meaning, comfort and hope in our spiritual paths, and that can be invaluable as we care for someone who holds a special place in our heart.
The duration that one may be a caregiver will naturally vary widely. It might be a week or two, a few months, multiple years or longer still.
The road will not likely be easy or straightforward. There will be times of tears and celebrations of the tiniest positives imaginable.
You will be tired and stressed and uncertain. You may feel helpless some days, but I sincerely hope that you also have many times when you feel empowered and capable, when you lean heavily on the strength of your own magickal abilities, your spiritual journey, and the interconnected energy of the entire universe.
Take things one day, one hour, one minute at a time, if needed. Be as kind and understanding with yourself as you are with the person you're caring for, and remember to always tend to your own needs as well so that you can provide for others in as healthy, positive and empowered a way as is realistically possible.