The unofficial start of summer here in Canada – Victoria Day – took place earlier this week.
The third Monday in May turns the weekend it immediately follows into a long one. Historically, this has been the point in the year when many Canadians shake off the last vestiges of winter, look beyond the heavy rains of spring, and jump feet first into summer.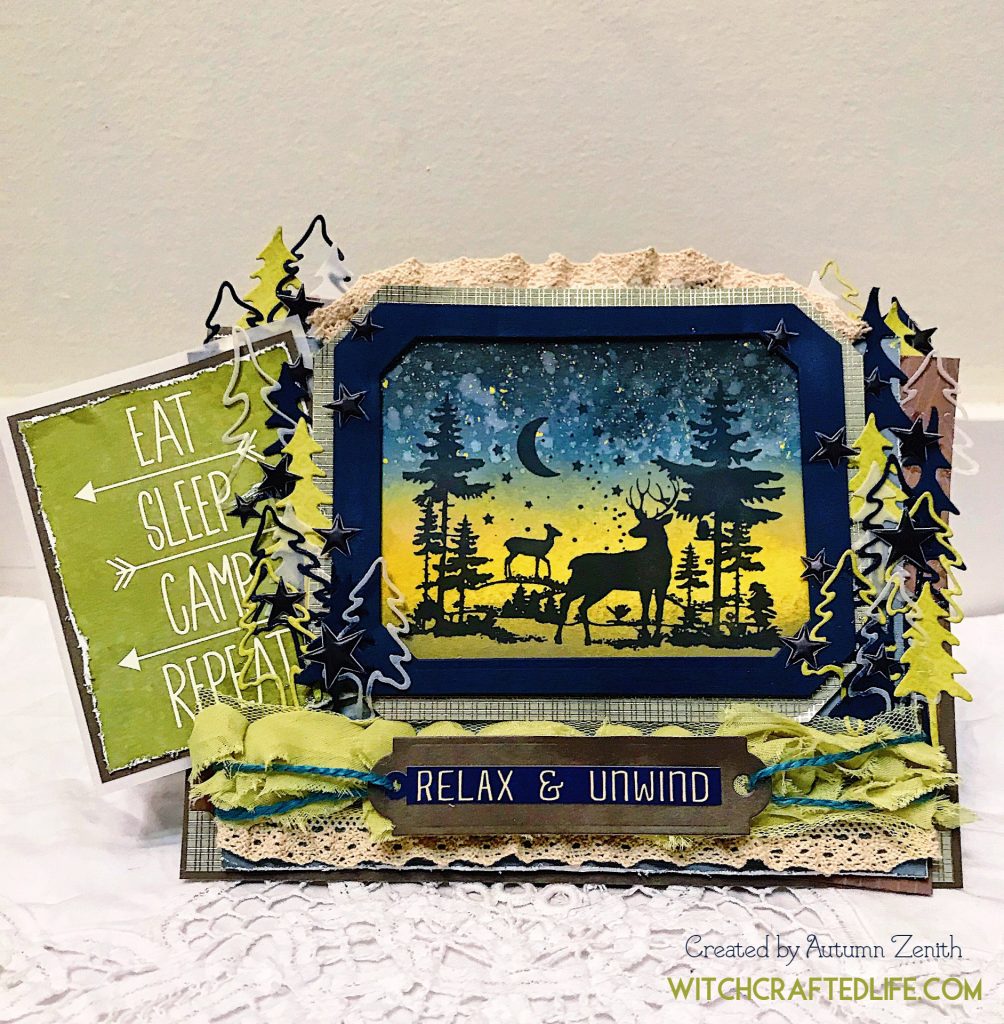 Gazing ahead to that point, back in January, I created this cheerful summertime perfect greeting for a loved one. Tucking it aside until spring was well underway and the Victoria Day long weekend loomed into view once more.
In light of the profoundly devastating and far-reaching Corvid-19 pandemic and the need for self-isolation as a vital defence against this devastating global crisis, the camping-related part of the sentiment on this card may not be possible at present.
However, the general message continues to ring true and when coupled with the tranquil scene of woodland deer surrounded by throngs of lofty evergreen trees, this card is still wonderfully at home during the warmer months of 2020.
And speaking of being home, one can always go camping indoors if they so desire! All the s'mores with none of the mosquitoes, yes, pretty please! 😃
Relax and unwind stamped woodland scene card
The idea for the design of this card came to me as I looked upon the lovely woodland deer scene stamp that is at the heart of this handmade greeting.
I adore how the lofty trees in that image stretch up towards the starry heavens and wanted to extend the forest that I imagine these darling deer are in beyond the stamped image itself.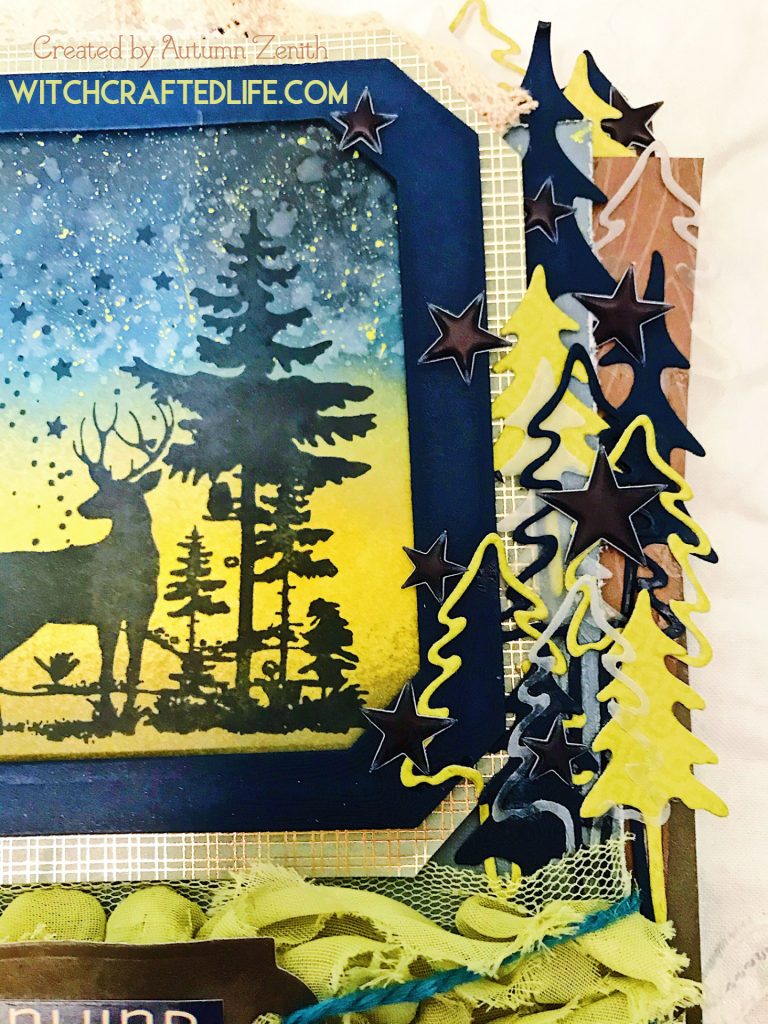 As I wasn't sure if I'd be mailing or delivering this card in person, I didn't go wild on the degree of bulk and thickness of the layers here, but did still include multiple layers (some of which are elevated via foam pop dots).
I played around with adding a third panel to the right-hand-side, but couldn't hit on one that I liked or felt balanced well with the other components here, so in the end, opted to go with just the central panel and the sentiment cut-apart panel on the left-hand side of this summertime card.
Where both myself and the recipient of this card live (BC's gorgeous Okanagan Valley), we have a lot of stunning natural settings, including many woodland areas. Deer are extremely common throughout the area, so this setting is one that is familiar to both of us (and many others around these parts).
By the same token, I think it is a fairly universal scene as well. Even if one doesn't live around deer filled forests, the imagery itself is familiar and appealing, with just a hint of fairytale wonderment to it.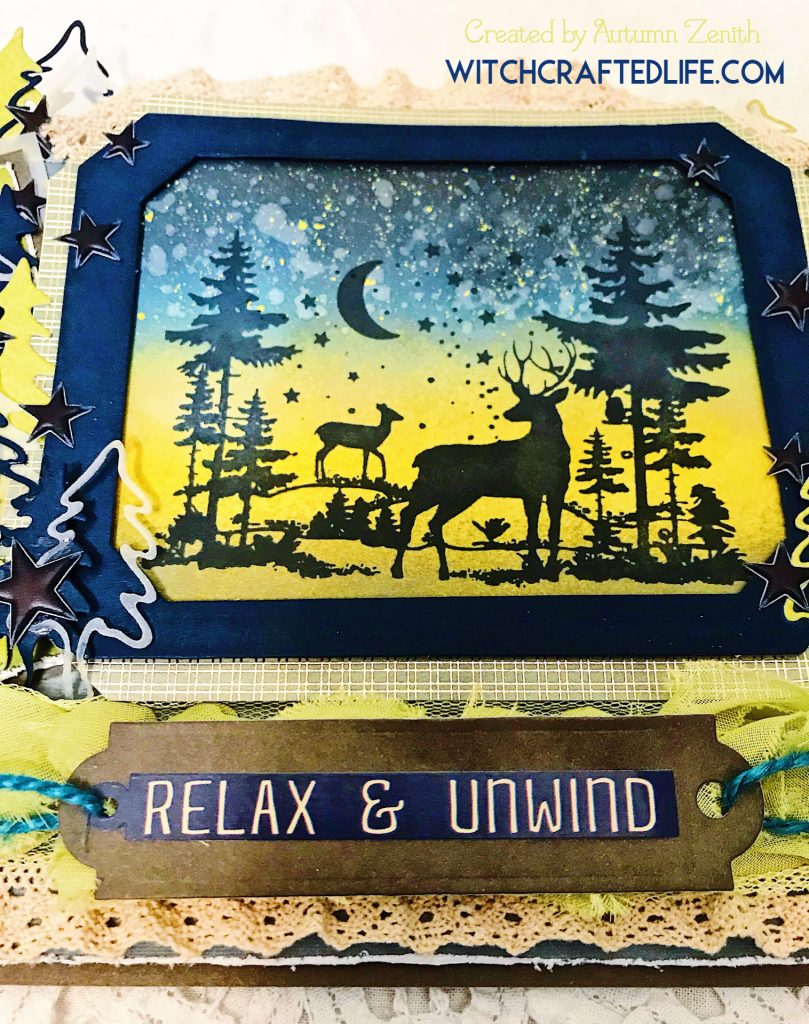 While I created this stamped forest scene card for the warmer months, you could easily take this same kind of stamped image and utilize it for a wide range of events (such as Father's Day, birthdays, thinking of you cards, retirement cards, Canada Day, etc), as well as for each of the seasons.
Paler shades of brown, mint or sage green, pine and maybe a little pink, peach or purple would make this an awesome design for spring. Why not lean heavily on shades of rust, mustard, burgundy and teal or warm brown for fall?
And who wouldn't swoon if they received this card done up in greys, whites, silvers and the palest of icy blues (perhaps with some glitter or metallic cardstock swirled into the mix for good measure) come the chilly day of winter?
Putting this stamped woodland scene summer card together
To create this serene stamped woodland scene card, I began with a base of brown cardstock. The base is scarcely seen, so you could use other colours – from kraft to white to navy blue – here instead, if so desired.
Next, before moving onto the rest of the layers and card elements, I created my central stamped panel by blending various shades of dark blue, golden yellow, earthy green, and black Ranger Distress Oxide Ink together on white cardstock.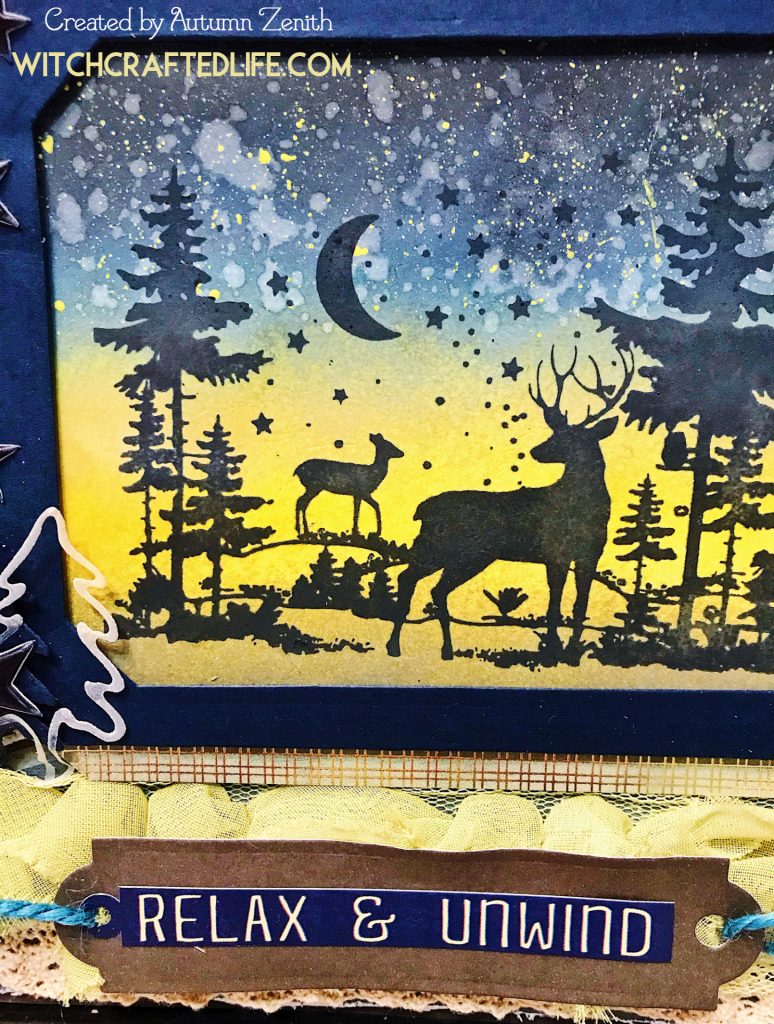 Once I was happy with how my blended ink background turned out (please feel free to let me know in the comments below if you'd be interested in seeing a tutorial of how I create ink blended nighttime sky backgrounds like this), I flicked some water droplets onto the sky portion (but not the rest of the inked panel) using a clean paintbrush and a small amount of water to help give the illusion of a starry sky at dusk.
To further add to the star factor of the sky, using the same paintbrush, I gently flicked some slightly watered-down yellow acrylic paint randomly across the sky portion of my ink blended night sky panel.
Once the ink blended background was dry, I placed it in my stamp positioning tool and, using India Black Ink from Hero Arts (a wonderful dark black dye ink that is great for many different stamping purposes), stamped the woodland deer scene a few times until the image had laid down fully and I was satisfied with the intensity of the black ink.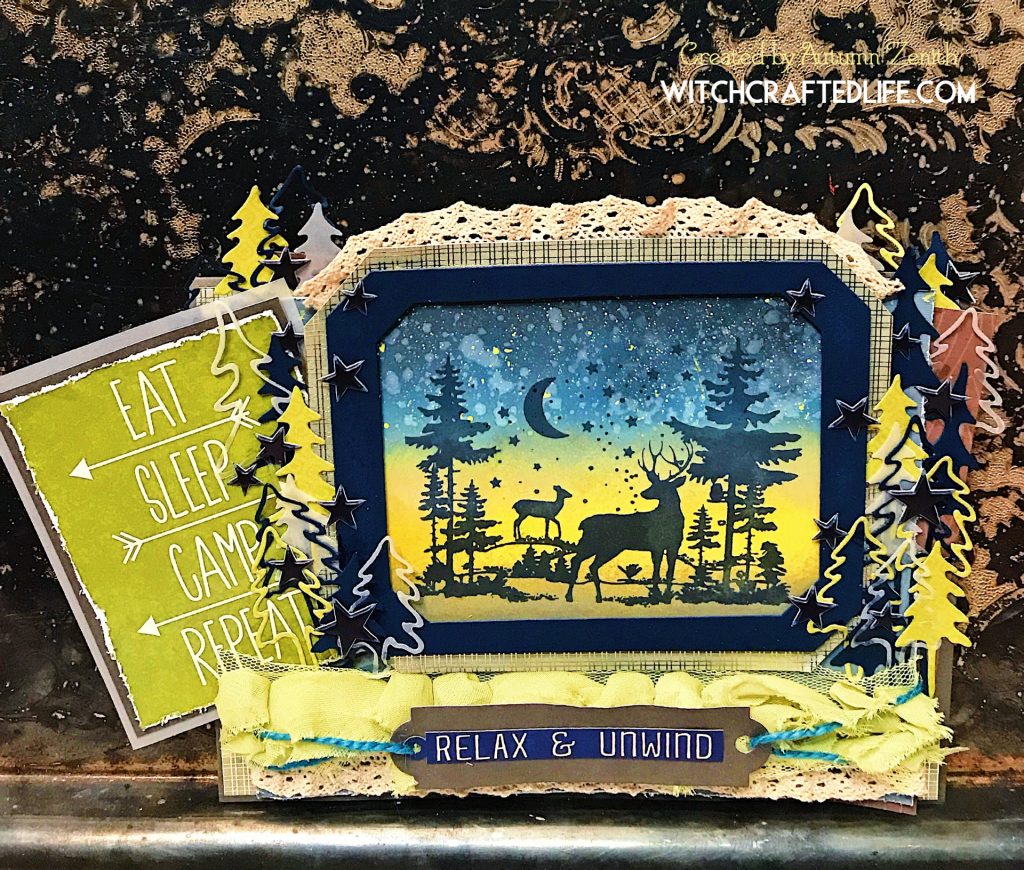 Next, I die cut a navy frame for my stamped image panel using a squared corned rectangular frame die. I didn't have a die of the same shape that was a size bigger, so for my next layer (of sage green and gold plaid print paper), I used a ruler to draw similarly shaped corners, cutting them to shape and size with a pair of scissors.
I layered a piece of the same sage and gold plaid print paper onto my main card panel, followed by a piece of brown woodgrain print paper on the righthand side of the card.
This was topped with a central panel of grey-blue cardstock (best scene below the crochet trim at the bottom of the card), onto which I put my woodland deer stamped image panel.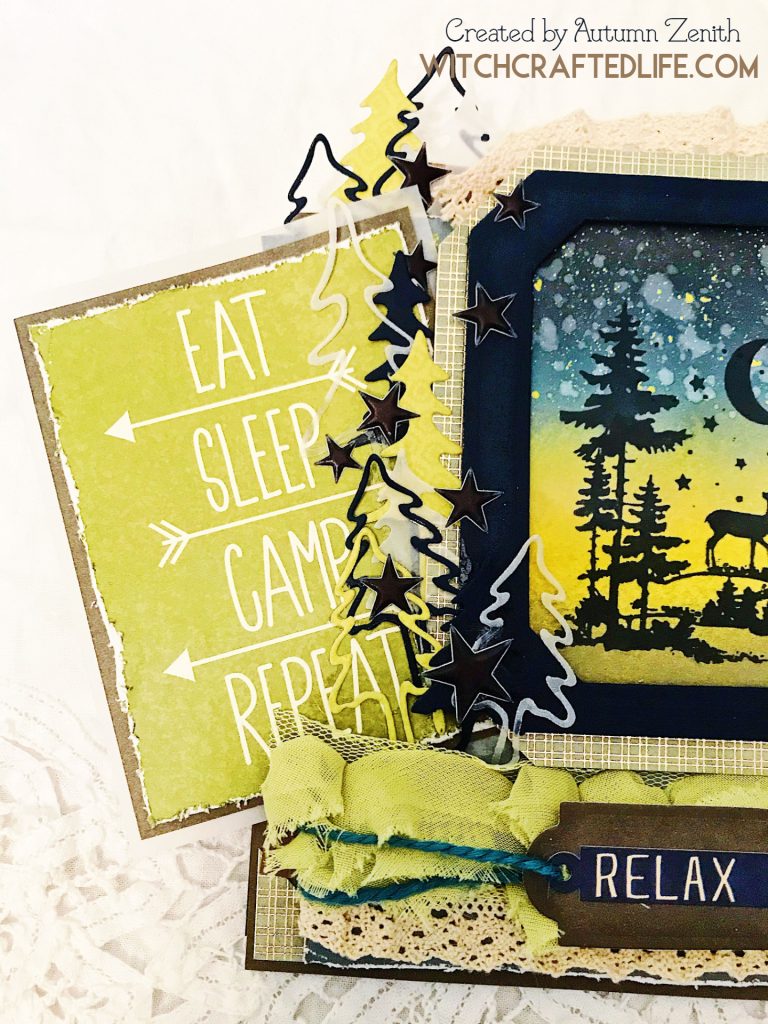 I then added the olive green tulle rose trim and cream crochet trim to the bottom of the card, along with some of the same crochet trim behind the top of the framed panel of the central stamped design.
After that, I die cut a label shaped piece to put behind my (central) sentiment sticker. I ran two lengths of teal coloured rustic twine through the holes on each end of the label and placed that finished piece on top of the olive green tulle trim.
Next, I selected the "Eat, Sleep, Camp, Repeat" die cut sentiment, cut it out, lightly distressed the edges, and backed it with a layer of grey cardstock followed by a layer of vellum. I attached this panel at an angle on the left-hand side of my card and then set about die cutting a cute little forest of trees.
I die cut trees using three different sized tree dies and a mix of navy blue cardstock, green-on-green patterned paper, and classic white vellum.
To add visual interest, I used both the negative and the positives of the trees that I die cut, resulting in a forest comprised of both solid and outline tree shapes.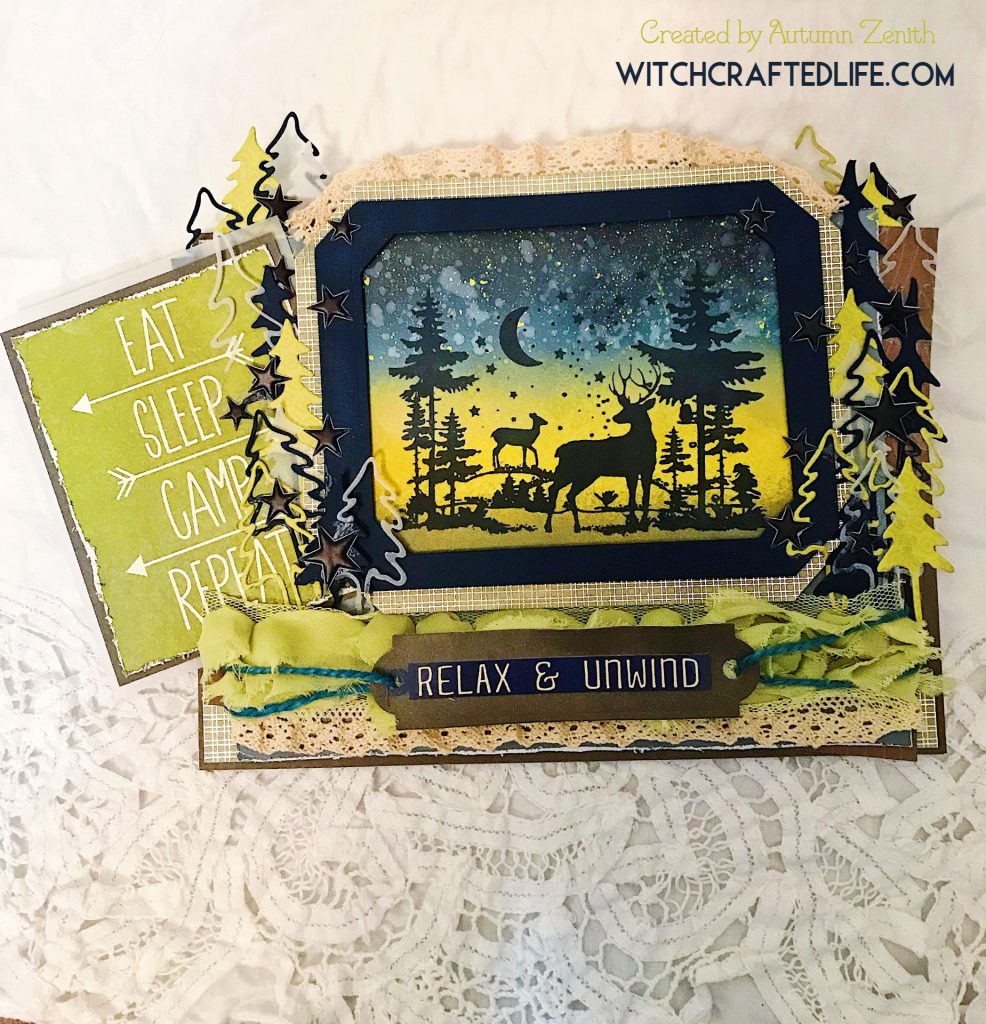 Once I'd arranged all of my trees and adhered them in place, I stepped back and assessed how I thought the card looked. I loved it and could have left it as it was. However, I felt that it needed one more little touch to help bring the whole design together.
A few minutes of embellishment searching led me to a fab sheet of puffy black star stickers from Bella Blvd.
These stickers added extra pizzazz and dimension (while also extending the star element of the stamped image beyond that panel, much as the die cut trees did for the tree portion of it), without stealing the show from any of the other existing card design elements.
And voila, my card was complete! This design might look a bit complex, but rest assured that it really isn't.
It does take some time due to the Distress Oxide Ink blending, stamping, and decent amount of die cutting involved, but nothing about this card is inherently tricky and I found building a forest of die cut trees to be awesomely enjoyable (I can easily see myself doing again in the future on different projects).
Products to help you recreate this summertime stamped forest scene card
-Navy blue, brown, grey, and grey-blue coloured cardstock
-Stamping appropriate white cardstock or sturdy white watercolour paper
-Brown woodgrain print paper – Knock on Wood Armoire paper from Lawn Fawn
-Sage green and gold plaid print paper – Fall Forest Mat Stack 6×6 inch paper pad from DCWV
-Green-on-green print paper (or a light to medium green solid coloured paper or cardstock)
-Vellum – Premium Cardstock Vellum from Core'dinations
-Square corned frame shaped die
-Tag/label die with holes at each end of the shape (or use a hole punch to create the holes)
-1 to 3 different sizes of evergreen tree (or tree species of your choice) shaped dies
-Camping sentiment paper – Cabin Fever from Simple Stories
-Sentiment sticker – Lakeside Element Stickers from Photo Play
-Black puffy star stickers – Oreo Black Puffy Star Stickers from Bella Blvd
-Woodland deer scene stamp
-Ranger Distress Oxide Ink in Black Soot, Chipped Sapphire, Faded Jeans, Forest Moss, Fossilized Amber, and Mustard Seed
-Black ink pad – India Black Ink from Hero Arts
-Yellow acrylic paint – Folk Art Acrylic Paint in Lemon Custard
-Olive green tulle rose trim – Spring 2011 floral ribbon trim from Webster's Pages
-Cream crochet trim – Lost & Found Christmas Trims from My Mind's Eye
-Teal twine – similar style of turquoise jute twine
-Dimensional foam, pop dots, or similar to elevate some of your layers
-Adhesive, such as a tape runner, of your choice (I often use my Scotch Tape Glider)
Card making tips and ideas from this project
-Utilize the outline pieces from your die cut shapes, when applicable, as I did here for the trees.
-When working with multiple and/or layered die cuts, introduce vellum or another standout paper (glitter, mirror, metallic, sequin covered, textured, burlap, corrugated, etc) into the mix for added visual interest and to help the various die cut elements pop all the more.
–Don't be afraid to let a stamped scene be one part of a larger card front, not "just" the whole of it. While stamped scenes can make for awesome card fronts unto themselves, no two ways about it, they can also look terrific as one element of a broader design. Mix things up, have fun, and remember that if you really don't like how something looks, you can always chalk that try up to practice and have a second go.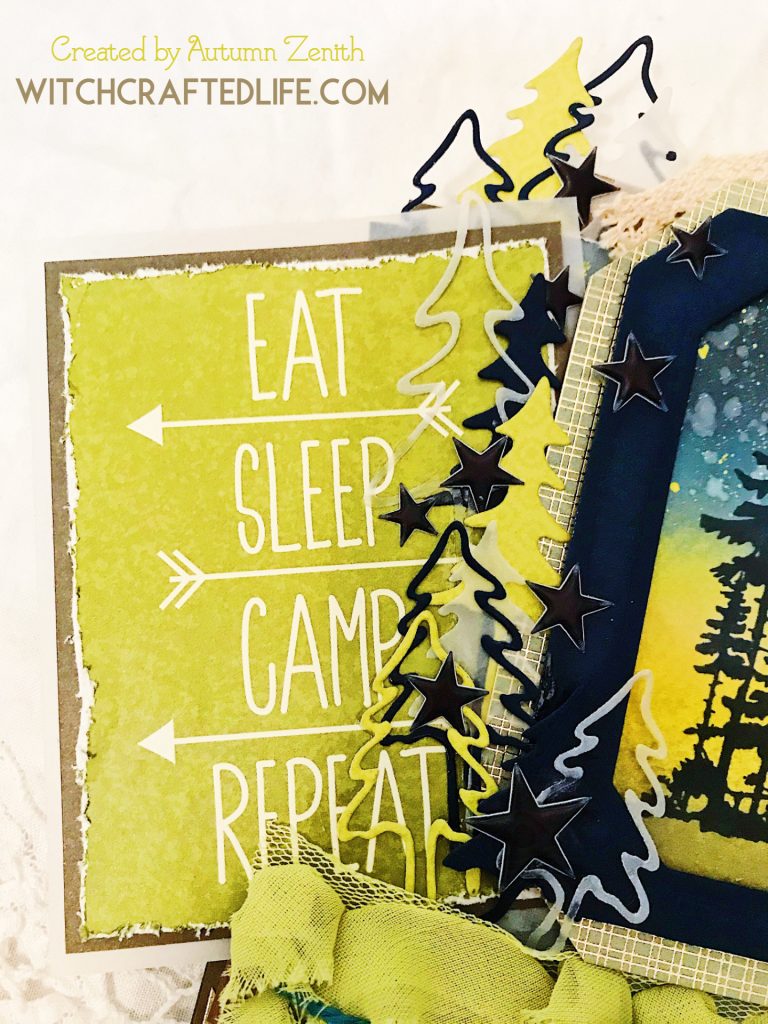 -Combine elements that are traditionally seen as masculine and feminine together for breathtaking results. I wouldn't bat an eye about giving this card to the manliest man I know, but by the same token, there isn't a woman in my life that I wouldn't be delighted to present it to as well.
Here, olive green tulle rose trim and crochet trim are amongst the more feminine style elements, but the card design as a whole isn't overtly feminine, thanks to the colour palette, sage green and gold plaid paper, and universally enjoyed woodland-themed elements at play here.
-No puffy star stickers on hand? No worries! Die cut, punched, fussy cut, or even freehand cut stars, as well as other styles and colours of star shaped stickers would all work fabulously here as well.
If you weren't feeling stars or didn't have any of those items available, you could easily forego the stars altogether or swap in a different shape such as dragonflies, bats (if keeping with the nighttime forest theme), feathers, branches, or small leaves instead.
-If you don't have teal or blue rustic twine to run through the die cut label piece, natural twine (jute), butcher's twine, or a thin width of ribbon would all work great here as well.
–When creating an ink blended background, be sure to take your time and to thoroughly buff each colour so as to end up with a seamless blend between ink shades.
-A stamped scene image like the woodland deer one here often covers a decent surface area and may not stamp entirely evenly the first time. As such, to avoid misalignment when restamping in the same spot, I highly recommend using a stamp positioning tool such as a Misti or the Tim Holtz Stamp Platform.
Summertime needs more handmade cards!

Compared to some of the other seasons, summertime in many parts of the world isn't exactly overflowing with major holidays. Various countries, including the US and Canada, have their nation's birthdays and perhaps another long weekend or two, but for many of us, that's about it.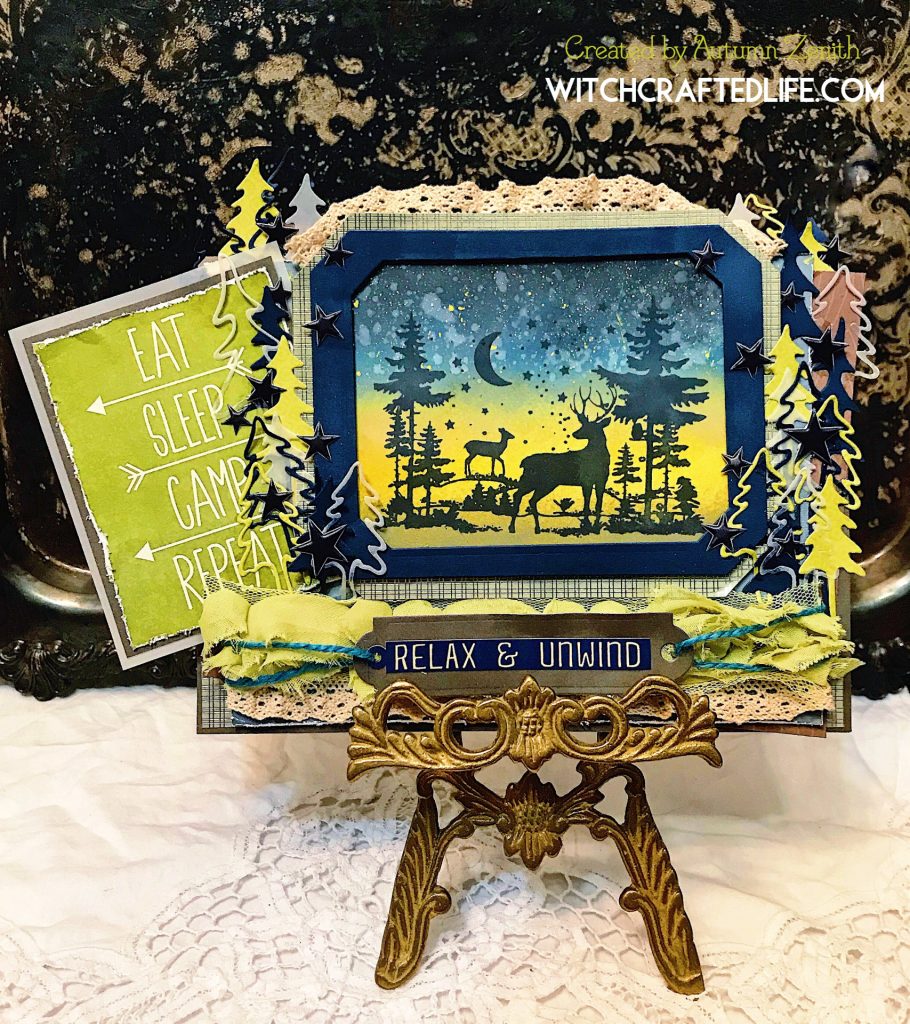 For my fellow witches and Pagans who observe these dates, there is also Litha (the Summer Solstice) and Lammas (at the start of August; it is the first of the three fall harvest sabbats), which are welcome and highly meaningful events that help to up the festivity factor of summertime.
Again though, not a ton of holidays during the summer months, which is all the more reason why I love to come up with fun, creative sunny season makes to send to my friends and relatives around the world.
One certainly doesn't need to have a specific holiday in mind to make a card.
"Happy summer", "Happy Sunshine Season", "Just Because", "Summer Makes Me Think of You", "Remember When", "Time to Relax", and "Summer Lovin'" are just some of the many different ideas you could use as the sentiments or jumping-off points for your summertime cards.
This is the season for punchy, upbeat hues, beach and pool, forest and camping, garden and flower, picnic and barbeque, sports and outdoor games, ice cream and ice coffee, and RV and road trip themed paper crafting products, to name but a few! 🌊🍦🏕️
Let your imagination go wild, have a blast, and send some cheerful greetings out this year (or save them for future years, if mailing it not currently safe in your area) to let your loved ones know that you're thinking of them during the roasty-toasty days of summer. 🌞
Project share
Pin the image below – or any other in this post – to Pinterest, pop it into your Instagram Stories, post in on Twitter or Facebook, or share it anywhere else you wish to help yourself find it again and to inspire others at the same time.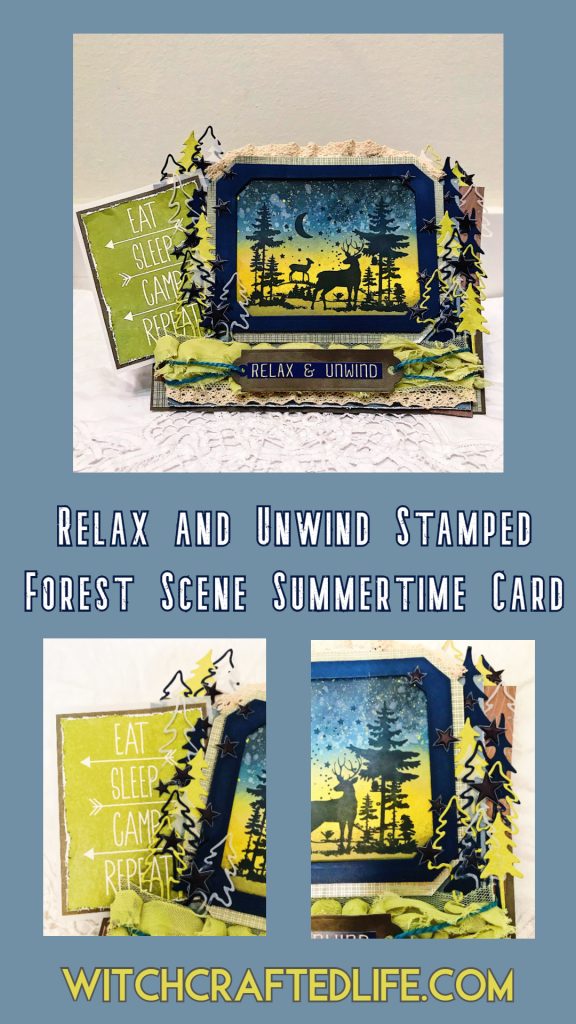 If you make a project based on or inspired by this card – or want to share any of your other handmade crafts with me – please use the hashtags #WitchcraftedLife and #WitchcraftedLifeMakes on social media so that I see can your beautiful creations.