Nearly all of us have certain things that bring us immeasurable joy.
For me – and many the world over – one of the greatest and most meaningful of these fall time.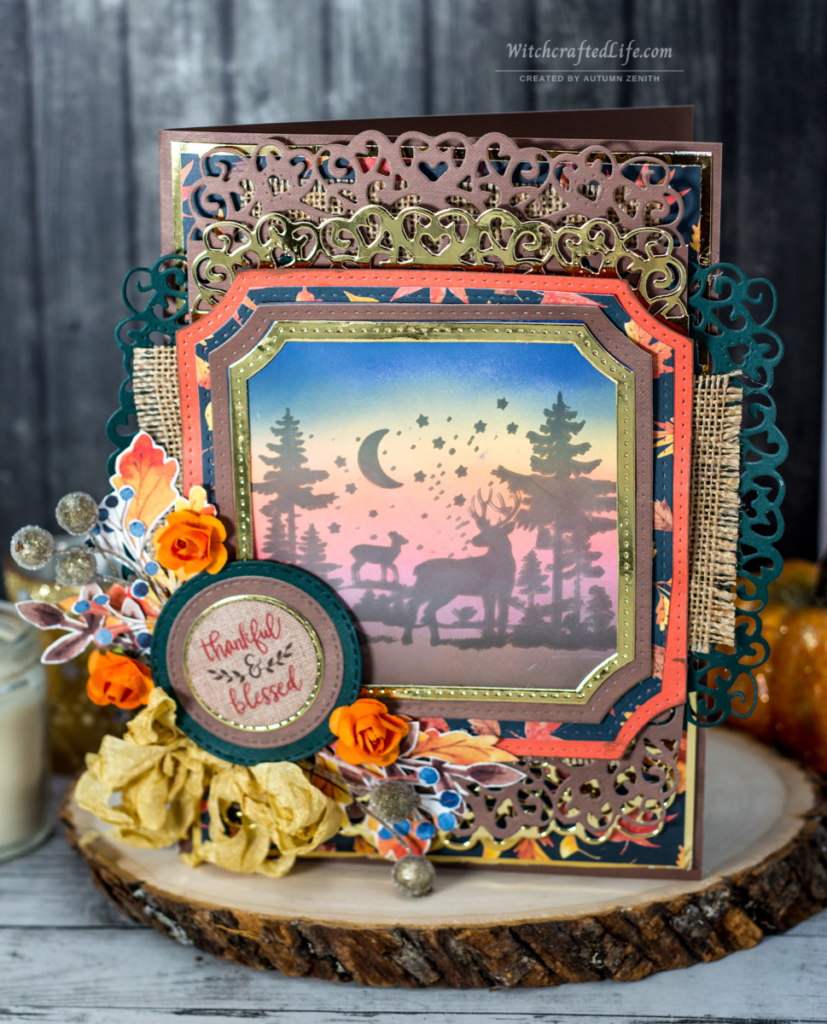 After waiting with patience and mounting excitement for nine whole months, autumn – sweet, enchantingly glorious autumn – has officially returned.
Today is the Fall Equinox here in the Northern Hemisphere. The rebirth of fall, whose conception began with the first stirrings of spring several months prior.
Autumn will remain in place this year until Tuesday December 21, 2021. At which point, the Winter Solstice will overtake fall once again.
Many witches, Wiccans and Pagans who celebrate the sacred sabbat of Mabon chose to do so on the inaugural day of fall.
This is a camp I fall into myself and I take immense pleasure in observing the second of three fall harvest sabbats each year (the other two being Lammas at the beginning of August and Samhain at the end of October).
Most people who know me are aware of the fact that I live for fall. 🥰 It is my seasonal soul mate, the chapter of the year in which I feel most like my truest self, and the point on the calendar that I personally view as the start of my year (after all, Samhain is not called the witch's New Year for nothing!).
Fall sparks something utterly magickal in me. It soothes and uplifts, excites and thrills.
I honestly could not fathom a world without the jewel tones, warm spice aromas, and myriad sights, sounds, tastes and other gifts of autumn.
From today straight on until fall takes its final breath for another year, my heart and face alike will wear a smile so wide it will dwarf that of even the largest jack-o-lantern. 🎃
In the beloved children's book Anne of Green Gables, Canadian author Lucy Maud Montgomery wrote, "I'm so glad to live in a world where there are Octobers."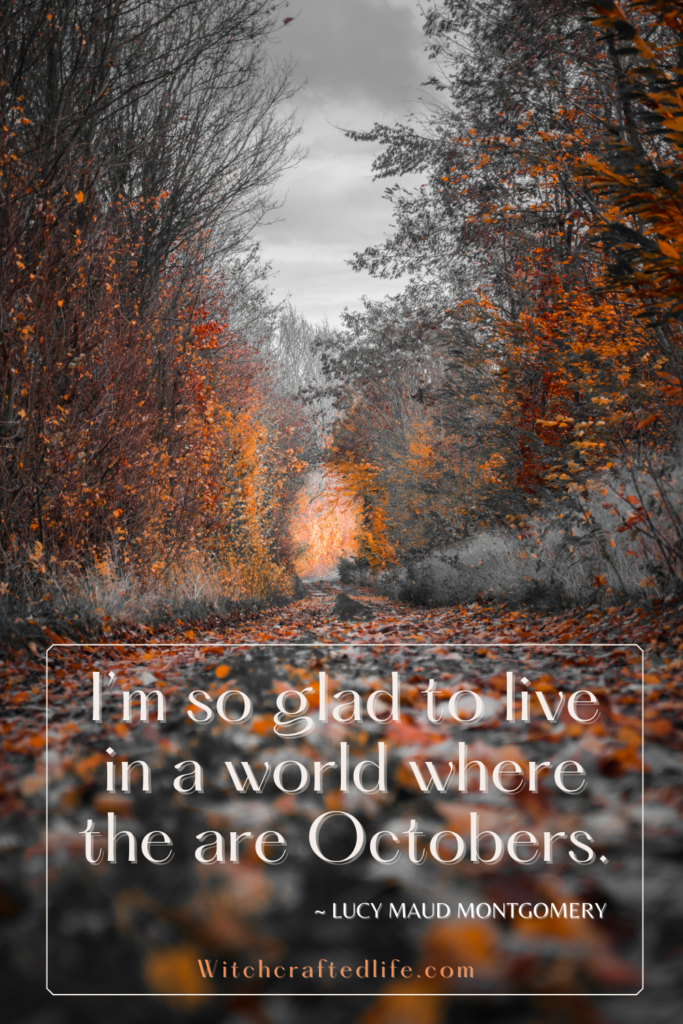 This sentiment is one that most fans of fall time enthusiastically agree with – and which the majority of us who adore this time of the year extends to autumn as a whole.
I am immeasurably grateful to live in a world with fall, and it was a recent reflection on this point that spurs me to create the "Thankful & Blessed" ink blended fall forest sunset scene card that stars in this post.
Thankful & and blessed ink blended fall forest sunset scene card
There is a deeply meaningful element of gratitude inherent to the harvest season, which even in the high-tech world of the 21st century still, thankfully, plays a vital role in helping to feed and nourish the world's legions of inhabitants.
While the origins are fairly different and the Canadian version is not based on the happenings of Plymouth Rock or the early American pilgrims, much like the only other country that we share a border with, Canada observes its own Thanksgiving.
This beautiful celebration of the fall harvest, togetherness, gratitude, and autumn's many blessings transpires each year on the second Monday in October.
As such, this year Canadian Thanksgiving takes place on Monday October 11th.
(Fun side fact, the latest possible date that Canadian Thanksgiving can happen on is October 14th, which just happens to my and Tony's wedding anniversary. This means that every few years we get to celebrate Thanksgiving and our anniversary on the very same day, adding all the more joy to both of these important events.)
The harvest season sabbats of Lammas, Mabon, and Samhain, as well as both Thanksgiving and Halloween are massive influences on my paper crafting – and life in general – the whole year through.
They guided my creative process as I designed the card at the heart of this post.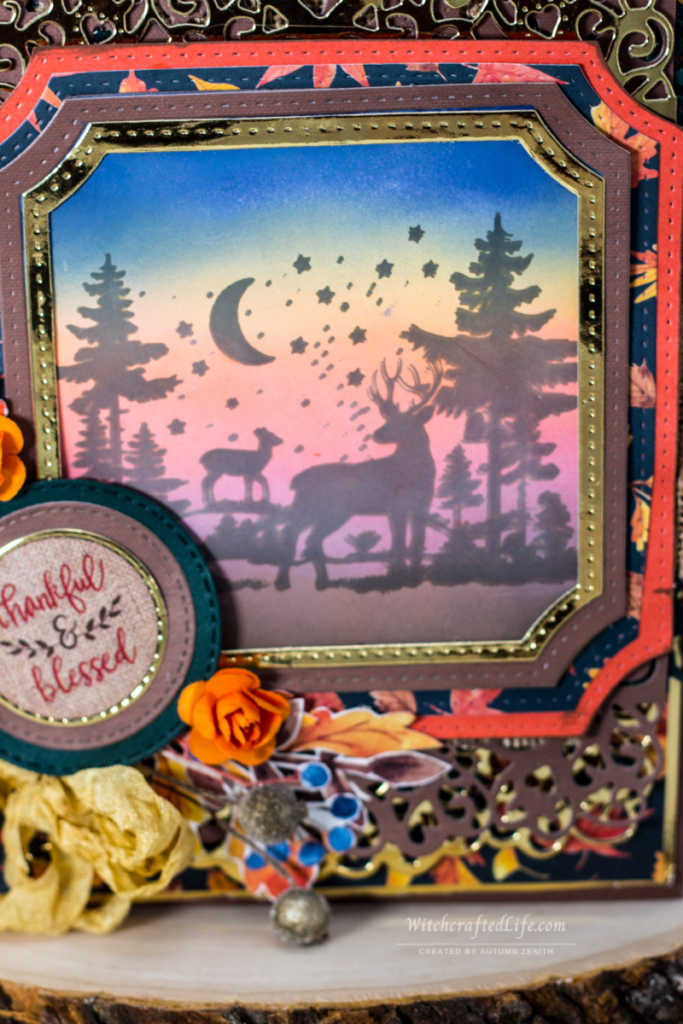 This elegant fall sunset forest scene card would make for an excellent Thanksgiving Day greeting, It also works terrifically for the fall sabbats, as a thank you greeting, or if, as needed, you changed the sentiment up, as a birthday, sympathy, get well, retirement, anniversary card, thinking of you or just because card.
If the woodland silhouette scene stamp here looks familiar, it's because I blogged about a different card (Relax and Unwind Forest Scene Summertime Card) that I made using the same image last year.
I love, love, love the look of stamped, stencilled, die cut, etc silhouette images against ink blended backgrounds and had been itching to use that particular stamp on a fall card ever since I made the aforementioned greeting with it in 2020.
For the colour palette of this greeting, I wanted to retain some of the vibrancy of early to mid-autumn and marry it with the rich, beautiful earth tones of the harvest season.
Inky forest green, warm shades of flax and orange, cocoa brown, gleaming gold, and subtle pops of dusky blue combined to do just that – along, of course, with the multi-coloured ink blended sky.
Fall sunsets come in as many – if not more – varieties as the crispy, crunchy leaves that embody this captivating time of the year.
This one is rendered Tim Holtz Distress Oxide Ink. It was inspired by many (gorgeous!) autumn sunsets that I've witnessed firsthand over the years here in the interior of British Columbia.
Deer are a prevalent feature of life around these parts. Some traverse our property (and town as a whole) the whole year through and I've had the memorable pleasure of seeing scenes similar to the one depicted here in person on numerous occasions.
Such happenings are something that I am tremendously thankful for.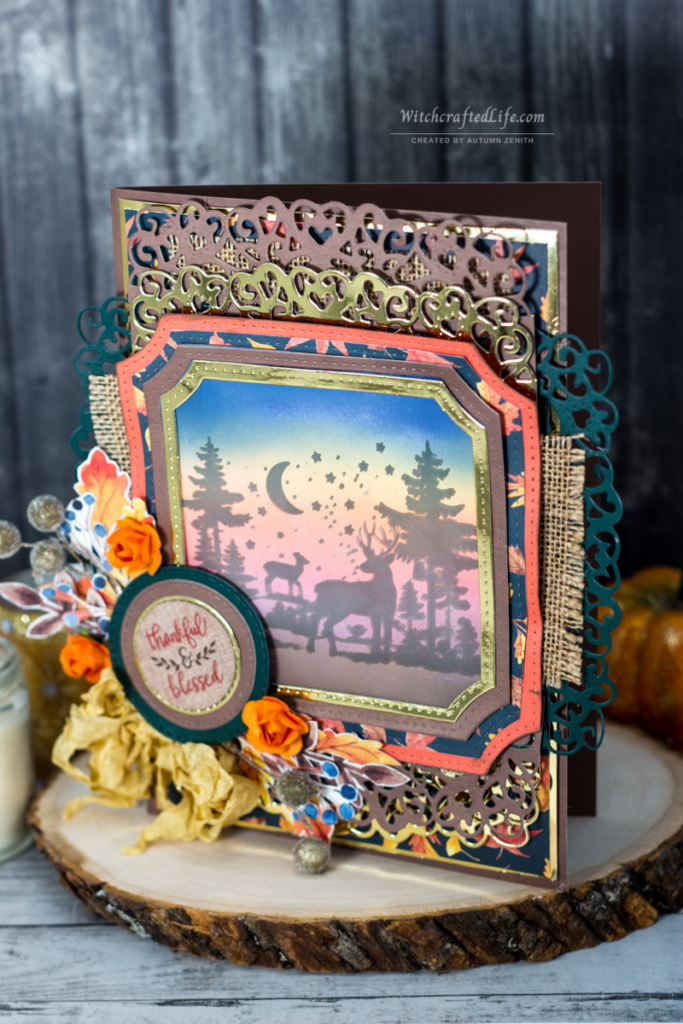 The stamped and ink blended central panel is the star of the show on this card, but a charming fall leaf print paper (which appears on two different layers here) coupled with intricately die cut cardstock layers, and a smattering of festive embellishments catch the eye as well.
Together these elements team up to deliver a serene, richly autumnal greeting that expresses so much of what I adore about fall.
If you are keen to make a fall forest sunset scene card or your own or simply wish to know more about the creative process of how I constructed this harvest season greeting, read on for a supply list and detailed instructions.
Products used to make this elegant handmade autumn card
-Forest (or pine) green, reddish-orange, and dark/cocoa brown cardstock
-White cardstock (such as Neehah Classic Crest 110 LB Smooth Solar White Paper) that holds up well when ink blending)
-Gold metallic cardstock
-Fall leaf print papers (one design was used for layering, a second to fussy cut the fall foliage and berry images from) – Spiced Pumpkin 12 x 12-inch paper pad from Craftsmart (Michael's brand)
-Notched corner stitched edge nested die set
-Small stitched edge nested circle die set
-Elegant heart edge design die
-Woodland deer scene stamp (unbranded free gift with purchase from an online seller; you can find similar looking stamps for sale online here and here)
-Dark brown ink – Acorn Archival Ink from Ranger (this is the ink that you will stamp the woodland deer scene with, so you want it to be a richly pigment, long-lasting ink)
-Dark brown ink – Dew Drop Rich Cocoa Ink from Memento
-Ranger Distress Oxide Ink in the following colours (all used for the ink blended sky): Vintage Photo, Rusty Hinge, Chipped Sapphire, Worn Lipstick, Victorian Velvet, Hickory Smoke, Fossilized Amber, Tattered Rose, Spiced Marmalade, Barn Door, and Carved Pumpkin
-"Thankful & Blessed" sentiment sticker – Celebrate Autumn Element Stickers from Echo Park
-Small orange paper roses
-Earthy gold coloured "sugared" faux berry springs (these hail from AliExpress; craft and dollar stores, as well Etsy, eBay, and as some party supply retailers are also great places to check for this type of product)
-Flax/light gold coloured seam binding – Trophy Gold Seam Binding from Hug Snug
-Natural toned burlap – Burlap Mat Stack from DCWV
-Dimensional foam, pop dots, or similar to elevate some of your layers
-Adhesive, such as a tape runner, of your choice (I often use my Scotch Tape Glider)
How to make a thankful & and blessed ink blended fall forest sunset scene card
Begin by making a side-fold card base from dark/cocoa brown cardstock. Top this with a piece of gold metallic cardstock slightly smaller than your card base. Then top that piece of cardstock with a slightly smaller piece of Craftsmart fall leaf print paper.
Die cut three of the same shaped pieces using the ornate decorative edge die – one each from pine/forest green, dark/cocoa brown, and gold metallic cardstock, respectively.
Adhere a piece of DCWV burlap vertically on your card base. Then layer the three ornate layers you just die cut in the following order: pine/forest green (arranged horizontally), dark/cocoa brown (vertically), and gold metallic (also vertically).
Top the gold metallic layer with a horizontal layer of DCWV burlap.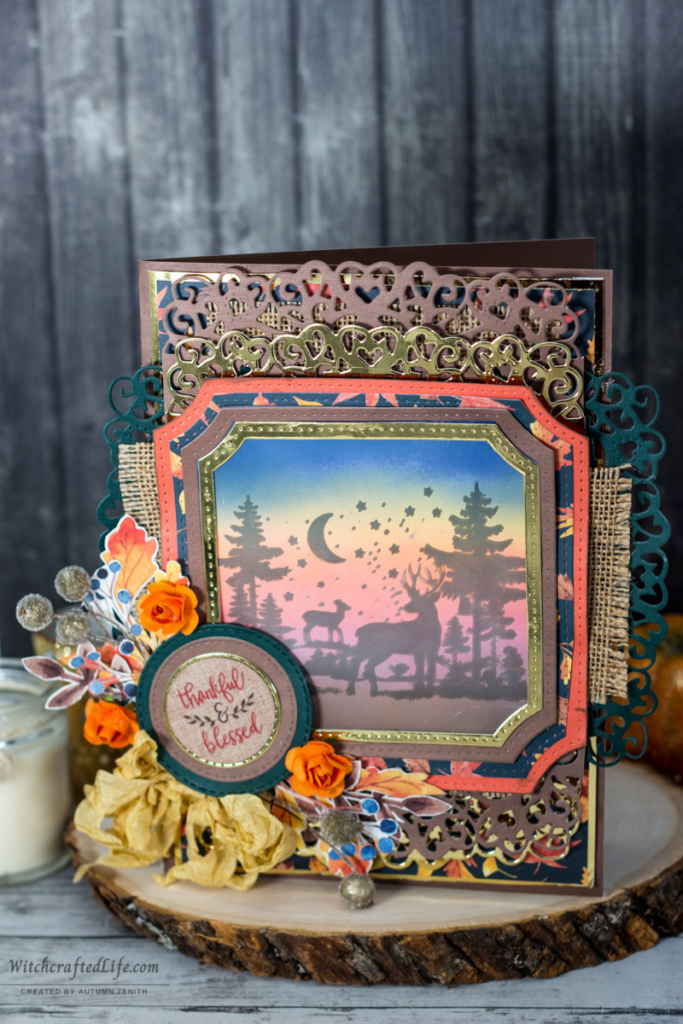 Using the notched corner stitched edge nesting set, die cut one piece each from reddish-orange cardstock, the same Craftsmart leaf print paper used already, dark/cocoa brown cardstock, gold metallic cardstock (create a border shaped piece with this layer), and a white cardstock that holds up well when ink blending.
Layer and adhere the layers you just die cut, save for the last two layers (they'll be added once you've stamped and inked your woodland sunset scene).
Stamp the forest deer scene in Acorn Archival Ink. Allow to dry, then ink blend a fall sunset scene using Tim Holtz Distress Ink (or other suitable ink of your choosing).
Allow this panel to dry, as needed, then top it with the gold border layer that you die cut. Adhere the stamped panel to the middle of your card front.
Fussy cut some fall leaves and berries from Craftsmart paper.
Die cut three different sizes of small stitched edge circles, one each from pine/forest green, dark/cocoa brown, and gold metallic cardstock.
Adhere these layers together and top with the "Thankful & Blessed" sentiment sticker.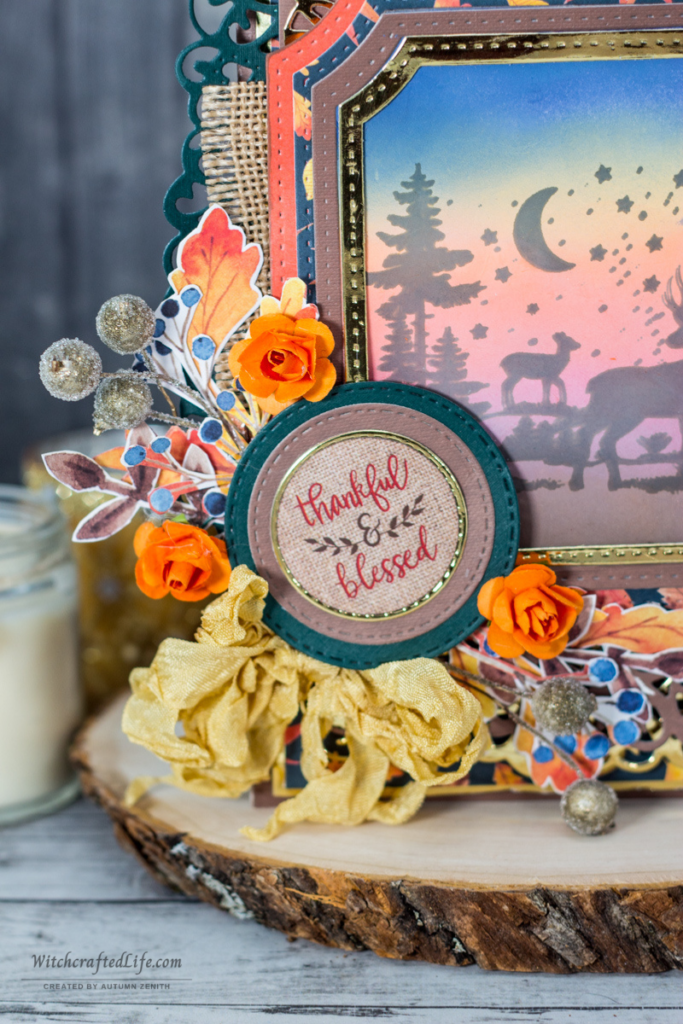 Create a multi-loop bow from the flax/gold coloured seam binding (optionally, you can crinkle and dry your seam binding, if so desired, to give your bow even more of a shabby chic look).
Arrange and adhere bow, "sugared" berry stems, fussy cut leaves and berries, and small orange paper roses on the lower left-hand side of the card. Top with the layered sentiment circle.
And there you have it, one charmingly pretty and very seasonally appropriate ink blended fall sunset scene card to keep and enjoy for yourself or to give away to someone special. Whatever your heart desires.
Welcome fall!
If I could throw autumn a ticker-tape parade to celebrate its triumphant return, I gladly would.
Objectively though, Mother Nature does a marvellous job herself on that front care of the sublimely lovely fall leaves she sends tumbling to the ground throughout the season.
Both literally and proverbially, I roll out the welcome mat for fall time and adore the fact that I'm doing so in unison with countless other fans of this gorgeous chapter of the year.
Last year was, weather-wise, one of the briefest autumns I've ever experienced.
It began, fittingly, right around Mabon, only to come to a screeching halt about a month later, when snowy winter weather made an extra early appearance.
While a few hearty trees held onto their fall foliage a bit longer after the snow started, for all intents, autumn's outdoor aesthetic was over by early November.
This, as you might imagine, made for quite the lengthy winter (we got our final snowfall on April 10th of this year).
It is anyone's guess – especially after the scorching hot summer with its record-breaking temperatures – that we just experienced as to how long fall will hold out here this year.
Naturally, I'm keeping my fingers, toes, and cozy knit scarf ends all crossed for a generous sized autumn.
They're rarer than hen's teeth around these parts, but I have experienced the occasional fall that lingers until late November or even early December before. Suffice it to say, those were extra awesome years as a result! 🥰
As with so much in life, only time will tell as to how long this autumn will grace us with its beguiling presence.
No matter the length of its visit, I will lap up every moment and make the very best of my favourite season. For it truly is one of the things in life that bring me the most joy.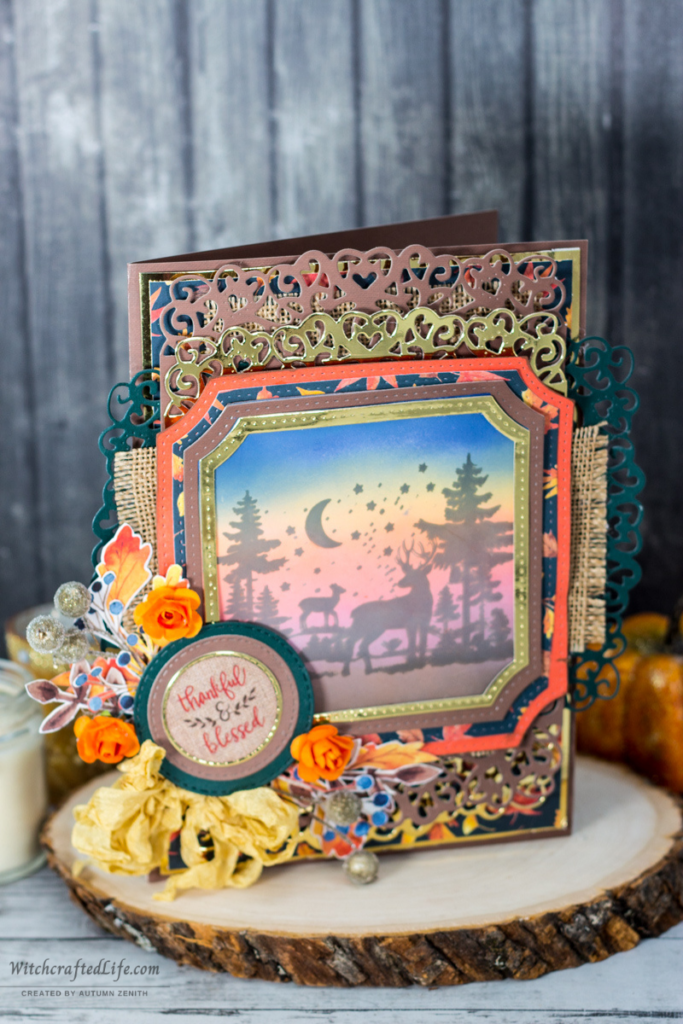 I have a bevy of fall-related content (including plenty of new craft projects) coming down the pipeline over the course of this season. All of which I hope you'll enjoy and find informative, inspiring, or just plain fun – as the case may be.
I encourage you to embrace fall with all your heart as well and to celebrate this enchantingly special season in whatever ways bring you the most bliss.
Wishing you each the safest, sweetest, and most splendidly wonderful autumn possible, dear friends!
And, of course, for my friends south of the equator, may you have an equally fantastic springtime + Ostara celebration!
What are you most looking forward to about this fall (or spring)? Do you experience gorgeous autumn sunsets in your area? 🍂🧡🍂