Who are you thinking about right now? If they don't live in the same house as you, when was the last time you were able to visit with them in person? How about hug them?
Each of our answers to these questions is apt to vary. They hold some universal similarities, however, and attest to the fact that a good many of us, especially those who are presently self-isolating, are missing loved ones, be they near or far right now.
The majority of my own (small) family, lives within about a three-hour radius from our home. As we're all isolating though, we haven't been able to get together for several weeks now and it's anyone's guess as to when doing so will be possible again.
My family is far from alone in this boat. It's a scenario that many of us are experiencing right now and is, for some people, proving to be amongst the most difficult aspects of life as it presently exists.
I'm missing my relatives something fierce and have begun making thinking of you cards to send to some of them, as the pandemic stretches ever onward.
Recently I whipped up this eye-catching, generously sized thinking of you card for a younger member of our family who is the picture of au courant style, modernity, and hip personal taste.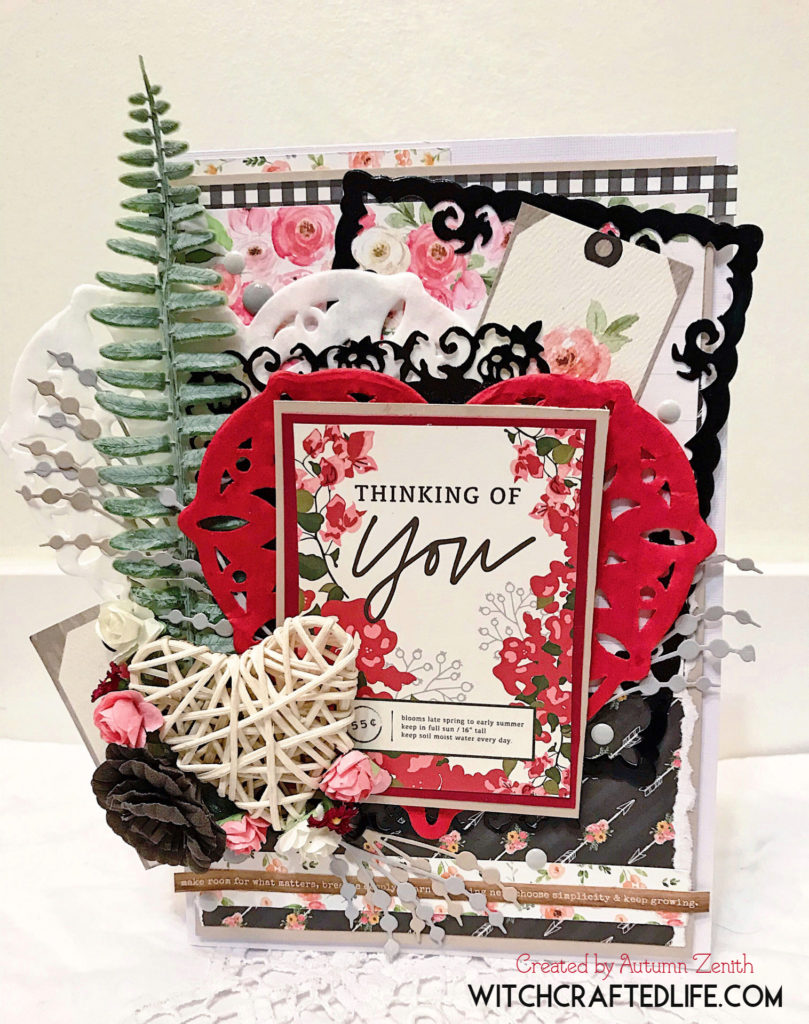 Well before this thinking of you card came into being, the moment I saw Carta Bella's chic, gorgeous Spring Market collection, its imagery and colour palette made me think of this person, so I knew it would be just the ticket for a card destined for them.
Modern shabby chic thinking of you card
What is modern shabby chic?
Glad you asked! 😊
While I doubt there's an official definition chiselled in stone anywhere, I personally tend to view it as a 21st century adaptation of the classic shabby chic style that has a youthful, slightly less vintage centred aesthetic to it.
Feminine details (such as flowers, gingham, ribbon and bows) can still be present, as can pale colours, but this take on shabby chic welcomes you to use darker hues, modern patterns, and fun, quirky details (oversized plastic fern, anyone?) as well.
Were we talking home décor, you might even find some industrial or Scandi details thrown into the mix, and of course they can come out to play on your paper crafting projects as well.
I hesitate to call it the millennial take on shabby chic, but objectively, that would be a fair way to describe it, if one was so inclined.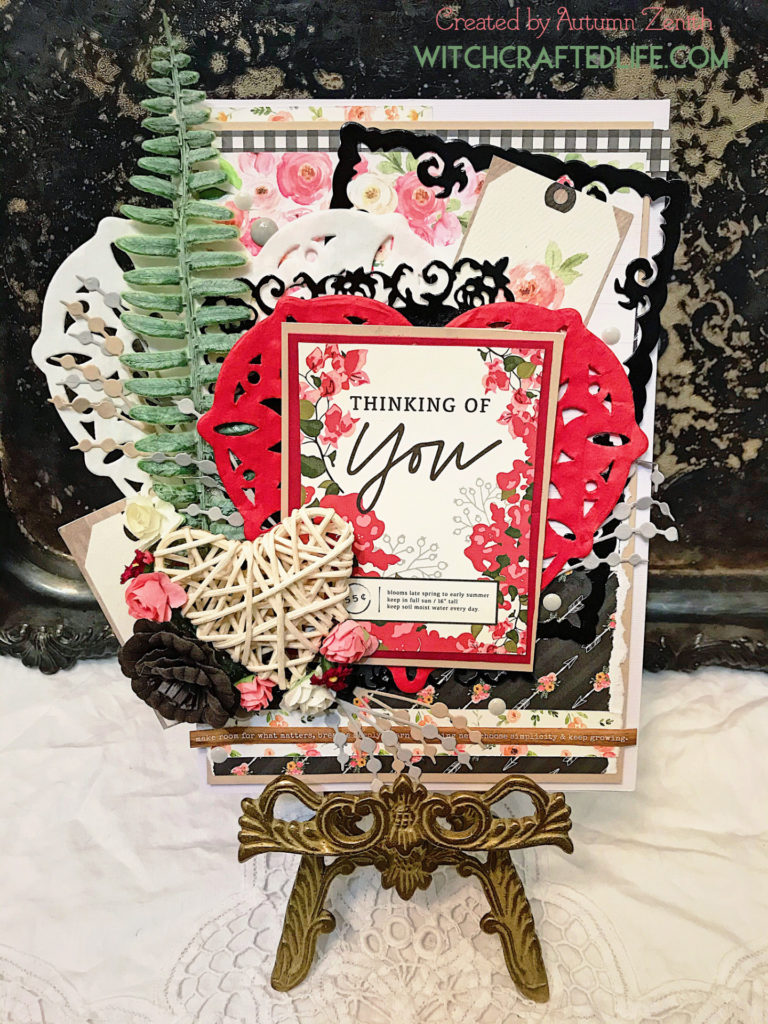 This is a big card. Perhaps the tallest I've ever made. While plenty of store bought cards measure eight inches or taller, we don't tend to see nearly as many oversized cards in the handmade card world.
I tend to favour larger cards to begin with, so upping the height of mine a bit more than (my) usual wasn't tricky at all.
I won't be reaching for a card base this size every day, of course, but every now and then it can be heaps of fun to play with a larger card front that almost feels a bit like a small LO or a good sized mini album page.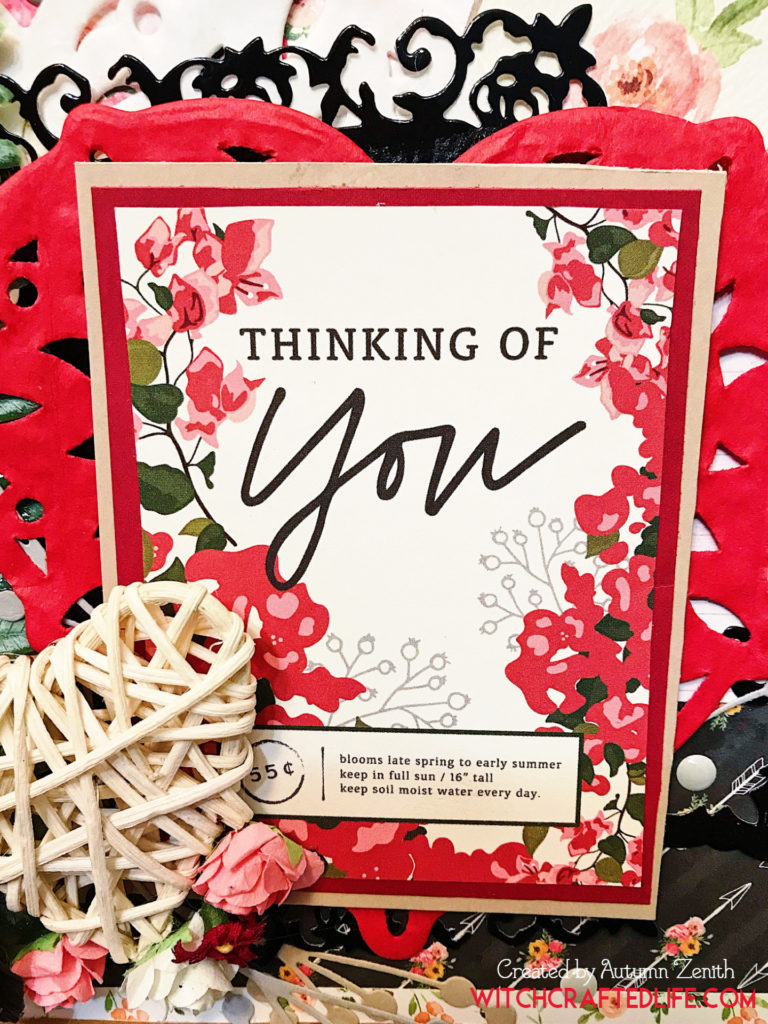 The sentiment cut-apart piece was the jumping-off point for the colour palette and embellishments that I used here. A mix of white, pink, red, soft green, light browns, and eye-catching black, as well as a few hits of light cream peppered throughout the design.
Putting this feminine thinking of you card together
To start with, I created a generously sized card base out of basic white cardstock, followed by various layers of patterned paper and coloured cardstock.
I then mixed harmoniously hued patterned papers from the same collection here to add to the stylish modern feel of this design.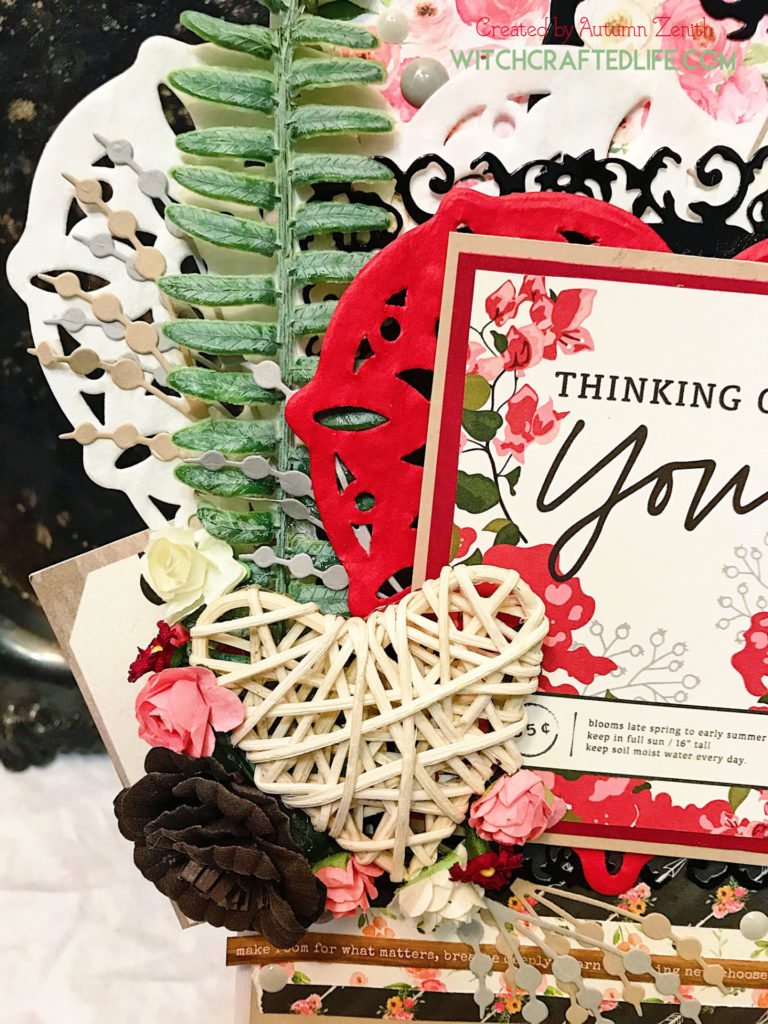 Two heart-shaped doilies (one red, one white), an ornate die cut rectangle and its respective frame (from glossy black cardstock), tags cut out of patterned paper, the sentiment piece, and some die cut grey and light brown branches/springs came next.
Once those elements were in place, I added a green plastic fern leaf, some paper flowers in various sizes and colours, a skinny text print strip (at the bottom of the card), and a few grey enamel dots to pick up the grey that appears in some of the other elements on this card (including the sentiment piece).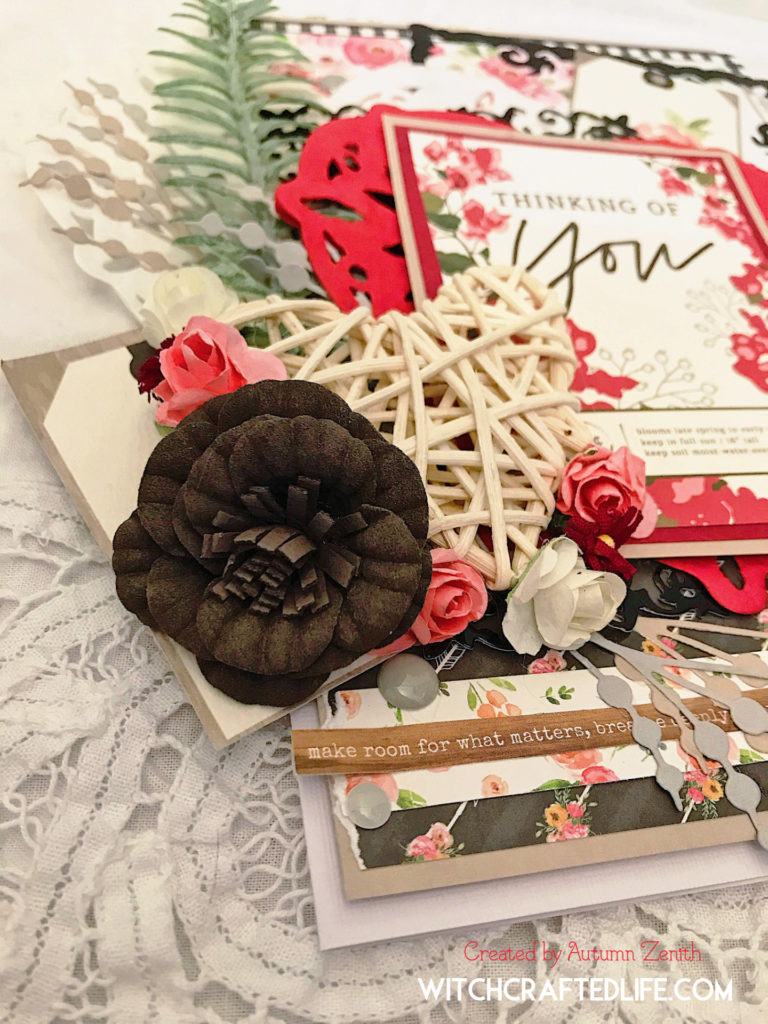 Unlike a lot of my makes, where I scrutinize every last detail, rearrange things multiple times, and generally take hours to create a single card, I took a much more devil-may-care approach, if you will, here and went with my first instincts on the entire design.
I have to say, it was both strange and liberating feeling to put something down and essentially let it live there when all was said and done. While I didn't glue my card elements in place until I was pleased with the final design, again, I did take things easy and let the moment guide me.
This wasn't a card that felt like it needed to be over thought to death and I rather love that about it.
Card making tips and ideas from this project
–Use the negatives (borders/areas left after you cut out a die cut shape) from your die cuts on your projects. While some might not work well in this capacity, others, especially when they create frames or easily recognizable shapes definitely can be used and they are a great way to get extra mileage out of your paper and card stock stash.
-Raid the artificial flower selection of dollar, craft, houseware, and big box stores for materials to use in your paper crafting projects.
Plastic, fabric, and silk versions of leaves, ferns, branches, and blooms can all be put to work on cards, layouts and other projects. Plus, in some cases, you may be able to get more flowers (or leaves, etc) for your money than with similar pre-packaged selections from paper crafting brands.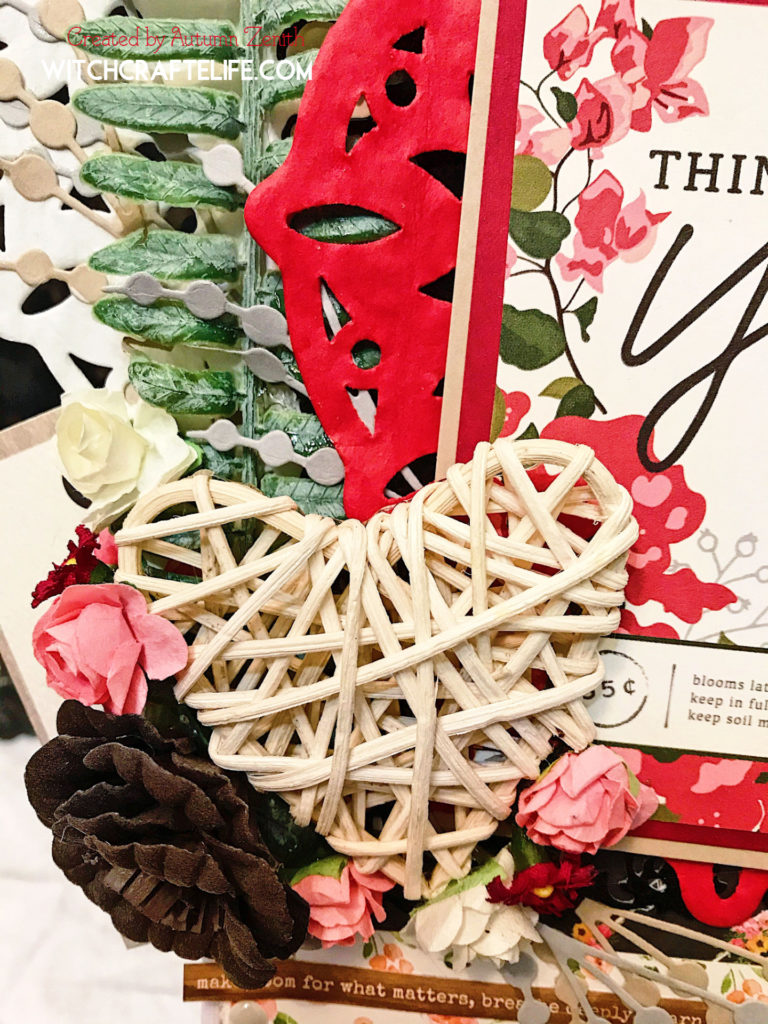 –Let ornate doilies do the job of die cuts. You could easily use ornate (circular, heart-shaped, mandala, etc) die cuts here, if you wished, but as I had two lovely, fancy heart-shaped doilies on hand in colours that worked fabulously with my project, I opted to put them to work on this make.
And remember, you can altar the colour of many white or variously coloured doilies, if needed. I didn't do so here, but had I wanted to, things such as light layers of spray ink, pencil crayons (colour pencils), pastels, chalk, ink, paint, glitter, and embossing power would have been ways of going about doing so.
-Repeat motifs in different sizes and materials. Here, the two heart-shaped doilies are joined by a dimensional cream coloured wicker heart to create that trusty design standard: an uneven number of similar elements.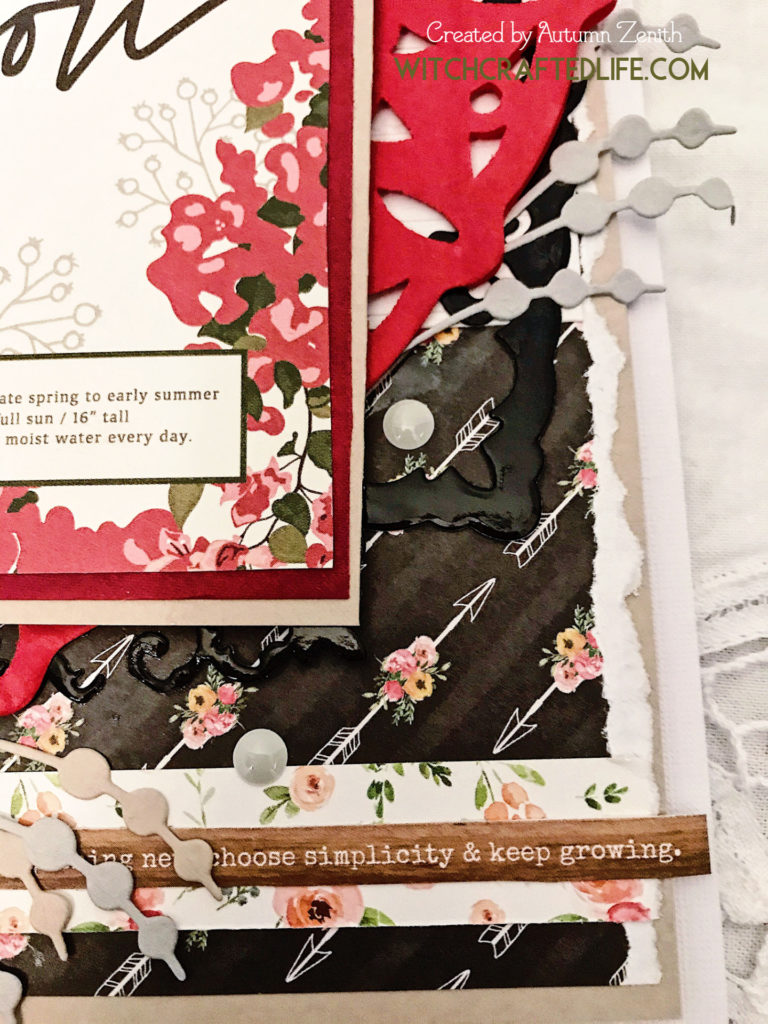 -To convey a sense of shabby chic, tear or otherwise distress some of your papers and/or cardstock, as I did with one of the pattern paper layers.
-A card like this can get mighty busy, mighty fast, so aim for cohesiveness in your colour palette, pattern sizes, and the types of embellishments that you use.
-Sending or hand delivering bouquets or arrangements of actual flowers to perk up their day might not be possible at present, but we can convey a similar sense of floral cheer by including blooms of all sizes, shapes, colours, styles and designs on our cards.
-While I didn't do so here, a card of this nature would take kindly to things such as a splattering of paint, gouache, or spray ink, if you fancied.
Products used to make this layered, contemporary style card
-White, dark red, light grey and light brown cardstock
-Glossy black cardstock – Glossy Black Mirror Card from Tonic Studios
-Various patterned papers – Spring Market 6×6 inch paper pad from Carta Bella
-Floral tag cut-aparts – Spring Market Floral Tags from Carta Bella
-Ornate frame die
-Branch, spring or slender leaf die(s)
-White and red paper doilies (or similar die cut hearts)
-Assorted sizes of black, pink, red, white and/or cream flowers
-Plastic fern, leaf or branch (or similar die cut piece)
-Cream or white coloured woven wicker heart (dollar stores, craft stores, eBay and AliExpress can be good sources for these kinds of woven heart embellishments)
-Grey enamel dots – Classic SS728D Enamel Dot Stickers from Forever In Time
-Dimensional foam, pop dots, or similar to elevate some of your layers
-Adhesive, such as a tape runner, of your choice (I often use my Scotch Tape Glider)
Thinking of you cards are like hugs in our mailboxes
Given that a good many of us are presently in isolation, I realize that popping out to the mailbox (unless perhaps you have one located right near your house; which we do not) isn't the easiest or potentially safest of tasks. As such, ending our handmade thinking of you cards out may not be a breeze right now.
If you are leaving your house, be it regularly or occasionally, that does make things simpler. If not, one option is to make cards and then take photographs or videos of them, sending those pics or vids to the respective recipients of your greetings.
When dashing out to the mailbox becomes feasible again, you can then post your greetings with a heartfelt personal message inside letting that person know how much they are (or were, if it's after the fact) on your mind during the pandemic.
And, if applicable, perhaps inviting them together again once it's safe to do so.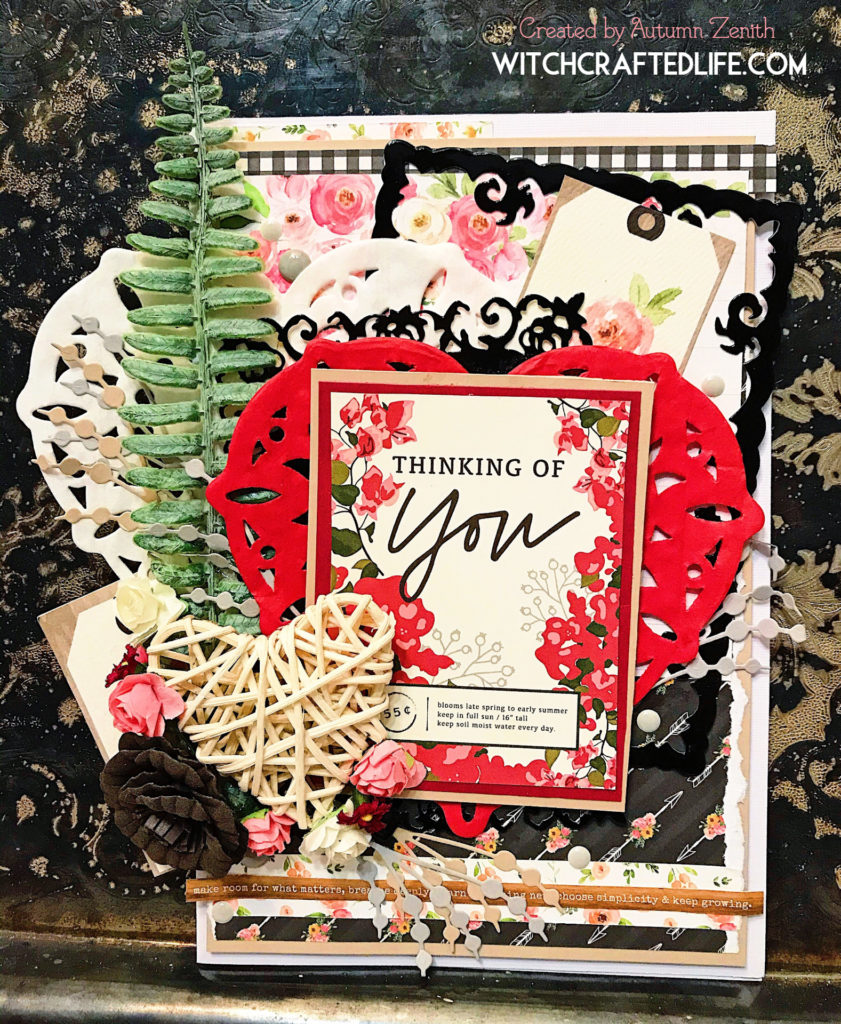 While I do plan to post this card on a future (rare) excursion out of the house, in general, that's my approach between mailbox trips right now.
There are few things more heartwarming or meaningful than knowing you're on the mind of someone who cares about you.
If you have the chance, I highly encourage you to whip up a few thinking of you, missing you, just because or similar types of cards for your loved ones to convey precisely that message.
Your thoughtfulness will brighten their day and hopefully help them to feel like the circumstances that are presently keeping you apart are a bit easier to bear.
Project share
Pin the image below – or any other in this post – to Pinterest, pop it into your Instagram Stories, post in on Twitter or Facebook, or share it anywhere else you wish to help yourself find it again and to inspire others at the same time.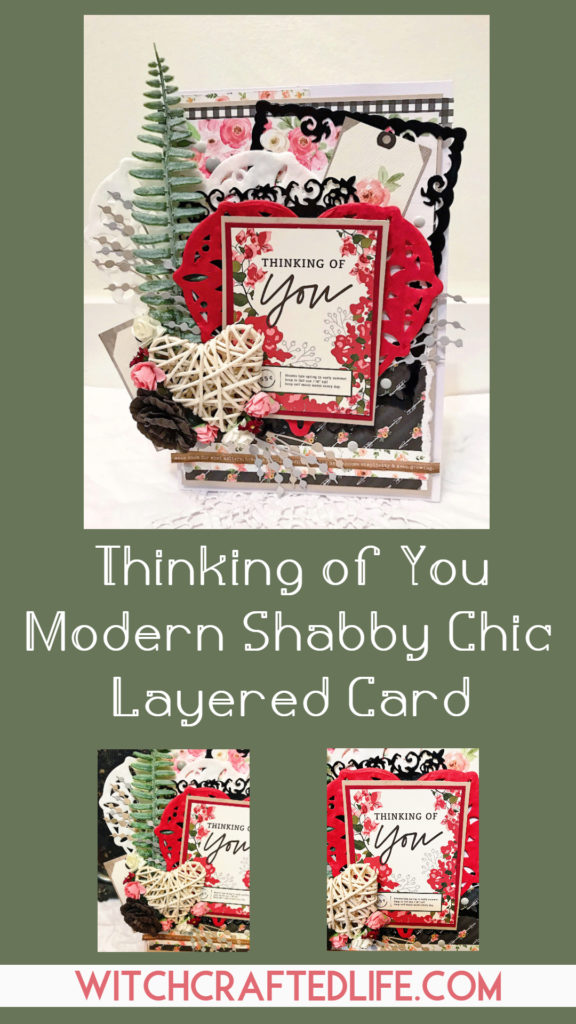 If you make a project based on or inspired by this card – or want to share any of your other handmade crafts with me – please use the hashtags #WitchcraftedLife and #WitchcraftedLifeMakes on social media so that I see can your beautiful creations.