As the heady rush and corresponding jovialness of January 1st tapper off and we settle in for the rest of 2020, now is an excellent time to take a solid look at the coming year.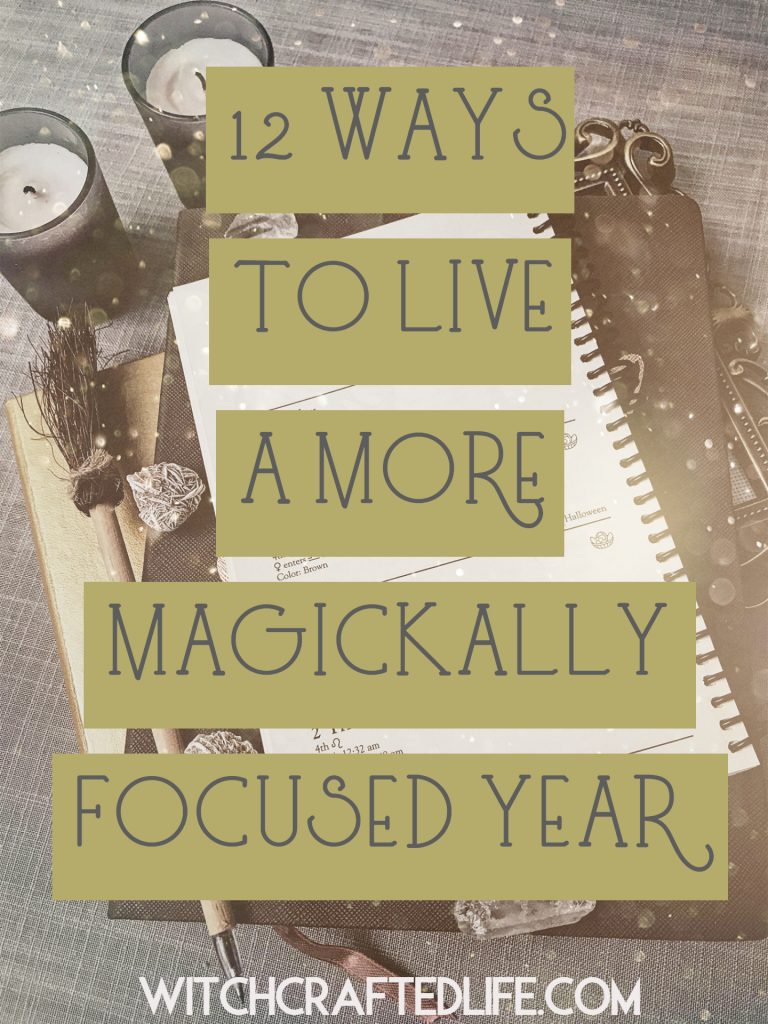 I'm not one for New Year's resolutions. Never have been, doubt I ever will be. If the need to resolve or change something in my life is present, I'll start putting in the effort, leg work, time, intention, and supportive magickal workings to implement that change at any point in the year.
I can see the value in New Year's resolutions and are not dissing them or saying they don't hold merit. I firmly believe that they do for some people, but for those of us of a witchy ilk, we know that we have the ability to change, grow and transform our lives within us 24/7.
One of the best ways to help support ourselves, our spiritual paths and our magick all year round is to ensure that we make these things an important focal point of our lives.
Today, I'm going to be sharing twelve effective ways to help you create a more magickally focused year.
It doesn't matter if you're the witchiest witch who has ever witched, a complete witchy newcomer, or anywhere in between. We can all continue to add to, finetune, and hone the ways in which we actively and consciously work to foster magick in our lives all year through.
1. Stop comparing yourself to others, both inside and out of the witchy/Pagan community
This is a subject that I'm passionate about. If you follow me on Instagram you may have heard me talk about it in depth there before, as it's something that becomes all the more crucial to me the older I grow.
You are you, plain and simple. When and why this stopped being not just "enough", but "good enough" is up for debate.
The fact of the matter is that many of us currently live in a world where we are under more pressure than possibly ever before in human history to "live our best life" 24/7/365 and to make sure that every Tom, Dick and Harry on the planet knows about it.
Enough. Seriously, enough.
Free yourself. Let go of impossible standards, of factors that comprise other peoples' lives not your own, of the sense that you're failing, when chances are, you are not.
Own who you are. Accept who you are. Love and nurture who you are.
Take that energy, that worry, that thought, that anxiety of comparison and transform it in creating a life and spiritual journey that you yourself adore with all your heart, regardless of if it will ever generate a single social media like.
This can be easier said than done, I know, and may not occur overnight. However, you owe it to yourself to start now. Literally right now. Just think about the progress you may be able to make come this time next year.
2. Eat well. Really well.
As adults, we're usually free to eat whatever our budget, health and taste buds permit. There are pros and cons to this, and in the latter camp is the fact that it can be dangerously easy to eat food that barely warrants being called as much.
You've likely heard the classic adage before that our bodies are temples. They truly are, but moreover, they are machines and like any machine that we want to have function at the best level that it possibly can, we need to take care and treat our bodies with love and respect.
One of the best and most effective ways to do this is to eat as well as we can on a regular basis.
The better you eat, the healthier you stand to be, the more energy you are apt to have, and – depending on your own personal diet – the more you may be able to help the planet in the process.
Aim to eat clean, whole, healthy, nutritious foods as frequently as possible. Build (or further cement) loving, mindful relationships with your food. Try to eat on the run as little as you realistically can. Turn off the TV, set the table and eat your meal mindfully. Create and partake of food with those you care about.
Weave kitchen and cottage witchery in your meals. Grow, if possible, some of your own food. Learn about the magickal properties of what you're putting into your body. Share some of your food as offerings to the deities, ancestors, spirits, fae, etc that you work with; use food as part of your sabbat activities, stop eating anything that makes you feel poorly.
3. Tie up loose ends and ditch clutter
You know that mountain of junk mail and old bills on the dining room table or kitchen island? What about those spells you started on your altar, didn't get immediate results with and just sort of let peter out over time? How about the closet cleanout you've been promising yourself you'd do ever since you read Marie Kondo's book?
Yep, that, all that and so much more weighs on us in ways both subtle and more perceivable.
Anything that steals joy, impacts your mental, emotional, physical or spiritual well being, causes you undo stress, and takes away from time and/or mental focus that doesn't have to be a part of your life needs to go.
Trust me, you'll be surprised how much having a clutter-free dining table impacts your happiness levels and how renewed you will feel when you can look around your house, your sacred spaces, and your life as a whole and know that you've unburdened yourself from things that serve no meaningful purpose any longer.
4. Set limits on the amount of time that you spend online – especially on social media
Our time is one of the most precious, sacred and limited resources we will ever have. There is no getting a moment back. As soon as it has passed, it becomes part of the collective memory bank of the universe.
This year, why not set daily limits on the amount of time that you spend online, including on social media, which is one of the biggest time sinks of modern life for countless people the world over.
Personally, while the amount of time I spend on the web varies most days, for about two years now, I've maintained strict limits on the amount of time I spend on social media (which for me, primarily consists of Instagram and Pinterest) each day.
I set the cap at three hours all total per day, but do not feel that I must "use up" all this time. I also intentionally have 1 – 2 social media free days per week and at least one wholly internet free day each week.
I set my own cap at three hours, because that is just over 1/10th of the total number of hours we all have in each twenty-four day. I'm presently okay with allocating that much of most of my days to this activity, but I have no desire – or need – to live on social media around the clock.
My time, just like yours, is invaluable and while I enjoy many aspects of the web and social media, it is vital to me that I spend ample quantities of time focusing on off-line activities as well.
From going outdoors to working at my altar, enjoying time with our dog, reading books, creating craft projects, doing spellwork and rituals, meditating, writing snail mail letters, and much more, it is imperative that the online side of my life never eclipses my offline one (believe me, I've been there before and I've long vowed to never let it happen again).
Only you know what is good amount of time to spend online and on social media is in the scope of your own life.
You may find that a 2 – 4 hours per day feels right for you and still allows you time to focus on other areas of your life (while continuing to do the things we need to accomplish in our days, such as working, tending to our homes and families, and making time for our spiritual well being).
Or you you might prefer 30 minutes, 5.5 hours, or zero time at all. Social media may be exceedingly commonplace, but it that does not mean that it has to be a part of your life. Not for a moment.
5. Read non-witchy books to foster your witchiness
I'm the first person to delve into a great witchy book and am not, in any way, advocating that you don't read such titles.
Instead, I encourage you to also read about other subjects that will foster your path, deepen your knowledge, broaden your mind, and provide you with knowledge and/or helpful skills that you can put to work in your spiritual journey.
Nearly any non-fiction book could potentially relate to at least one person's path, but in general, some topics to consider reading more about are:
-The history and environment of where you live (all the better to know the genius loci in your area by)
-The history of countries that you have ancestral ties to
-Forest bathing
-Forging
-Wildcraft
-Traditional ways of living
-Candle making
-Religions/faiths/spiritualities other than your own
-Cooking and food history
-Astronomy
-The weather
-Earth science subjects
-Animals and insects
-Mycology
-Cemeteries and the broader subject of death in general
-The history of the Burning Times and the persecution of witches in general
-Cunning folk
-Alternative medicine
-How to make your own personal care and/or beauty products
-Herbology
-Substantial living
-Arts and crafts
-Personal growth
-Living mindfully
-Time management
-Paranormal topics
-Philosophy
-Psychology
Reading doesn't have to mean a physical book either, though many of us do prefer this classic information delivery method.
Audiobooks and ebooks are great options, too, and countless titles abound in both camps.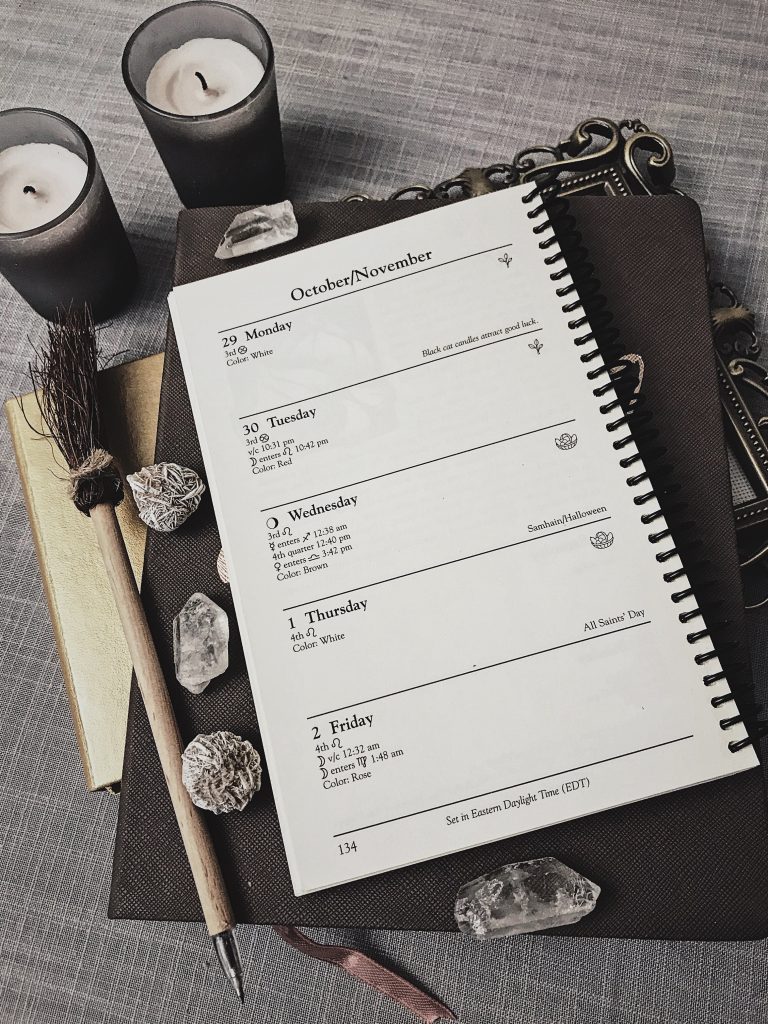 6. Be grateful and count your blessings
You know the fact that you're currently alive? Do you happen to know what the astronomical odds of that happening are? (About 1 in 400 trillion.)
Start with the miracle of your existence and then take time on a regular basis to reflect on the blessings in your life and to give thanks for the positives that you are fortunate to have.
I know that this can be tricky at times, especially if your life is in turmoil right now, but that is often when it is even more imperative that we focus on whatever good/positive things are part of our current reality.
Being grateful doesn't mean that you're accepting your current lot in life and throwing in the towel.
It means that you acknowledge those rays of light that are still managing to shine through the darkness of this bleak and difficult time.
No matter if things are going well or not for you right now, consider creating an altar or designating part of your existing altar (or other sacred space) specifically to giving thanks, keeping a gratitude journal, or meditating on your blessings.
You might be surprised to realize just how many blessings and reasons to be thankful there are in your life already.
7. Cleanse on a regular basis
While it is a good idea to shower or bathe regularly, in this instance, I'm talking about your home.
Whether we live on our own, with a partner, or ten other people, a certain amount of energy naturally accumulates in a house over the course of time. Some it is good, some of it, well, not so much.
The lingering energy of stress, medical challenges, arguments, heartbreak, bad news, and conversely, yes, even the OTT exhilaration of special events and important milestones can all impact the energy flow and levels of where we reside. As do all of those seemingly mundane things, from cooking to putting the kids to bed, that fill our daily lives.
If you're not already cleansing your home on a regular basis, consider doing so once a month (or more often as needed – though if you need to do so on a highly frequent basis, you may need to deal with the root issues that are calling for a cleansing in the first place).
You can smudge, use incense (always ensure fire safety when using any lit item), sweep with a broom or besom, use purposely created cleansing sprays, singing bowls or drum beating, salt, charged water, essential oils (ensure you either wipe them away after or use oils that are safe for pets and children, if there's any risk of little ones coming in contact with the essential oil you've used), crystals, or whatever method suits your needs.
Remember after every cleansing to allow the negative/stale energy that you're riding our house/living space with to escape by opening up a door or window and directing the undesired energy out of that opening (otherwise you stand to have it linger in your home, potentially rendering the cleansing ineffective).
8. Set, and complete, small spiritual-related goals on a regular basis
A lot of times people experience spiritual burnout or begin to feel disconnected from their practice because they think that they need to turn every spell, BOS writing season, sabbat, full moon and visit to their altar into some grand, elaborate production that requires copious amounts of time.
While I believe that it's important to devote larger swaths of time to spiritual-related workings, when realistically possible, if one feels inclined, I also believe that it is vital to engage with our witchery and/or Paganism on a regular basis.
Look for ways that you can set and keep spiritually focused goals that don't require heaps of time or larger goals that you can break down into smaller, easier to tackle pieces.
Examples of small, meaningful goals could include things like doing one spell that requires 30 minutes of time or less a week, planting a some herbs in pots on your deck or a window box, spending 15 minutes three times a week outdoors to mindfully connect with nature in your area and grow more familiar with how each season and type of weather looks and behaves where you live, performing a five-minute tarot or oracle reading, scrying for a few minutes, changing up your altar, creating a no-cook or no-bake dish for a sabbat or other spiritually important event, creating a witches jar or bottle, or putting your crystals out to charge.
There is so much positivity, happiness, sense of accomplishment, renewed energy, and mental clarity – not to mention, creativity and inspiration – that can come from setting, carrying out and completing goals.
Honour yourself and your practice by experiencing these wonderful benefits, while focusing on your spiritual journey at the same time.
9. Figure out what actually works for you and ditch the rest
No matter when you began your magickal journey, chances are that along the way, you've added things to your repertoire that you thought you needed to do (or be), often because just about every witchcraft or Paganism or Wicca 101 book told you to do/be/practice/believe/buy those things.
Even if you were born into a family of witches/Pagans already (aka, hereditary witchcraft), it's highly likely that there are still things you picked up from others along the way that don't actually jive with your own unique spiritual path.
And sometimes, the things that once did the job for us, may no longer serve us in the ways that we want and need them to function in our lives.
This is totally normal and perfectly okay.
When we're just starting out with something that we enjoy and feel passionate about, it's practically part and parcel that we throw ourselves (and often our pocketbooks, too) into trying and buying all manner of things relating to that area of interest.
As time goes on though, we may find ourselves doing or holding onto practices, beliefs, and physical items out of habit or the fear that we won't appear "witchy enough" we don't do or own certain things.
This, I can wholeheartedly assure you, is not the case. In fact, I would argue that the more you concentrate on those areas of your practice that feel most align with your heart and soul at the present moment, the greater your power, energy, and spirituality stand to be.
So if you've been pulling tarot cards and just not feeling it, no matter what you try, or you've been meditating like it's going out of style but feel like you'd rather have a root canal instead, try stepping away from those things and focusing your attention on the areas of your practice that spark joy and which you've had success with instead.
10. (If you celebrate them… ) Get to know the sabbats better
While there is no shortage of witches, Pagans, and even a percentage of Wiccans who do not actively observe some or all of the eight sabbats that comprise the Wheel of the Year, plenty of us do.
If that includes you, why not make this the year that you learn even more about the history, traditions, correspondences, changes in nature, foods and other elements that comprise Imbolc, Ostara, Beltane, Litha, Lammas, Mabon, Samhain, and Yule?
Humbly, I consider myself pretty well versed on the sabbats at this point in my life. I'm the first, however, to actively seek out further information, particularly when it comes to the historical roots of these days that are a sacred and integral part of the lives of many 21st century witches and Pagans.
Think about ways to put the knowledge that you acquire to work in your practice, use them to help you connect all the more with the sabbats, and let them support your magickal workings all through the year, not just on these eight highly meaningful points in the year themselves.
If you do not observe the sabbats, consider learning more about, and deepening your connection, with the days that you personally hold as sacred instead (including, if applicable, the key lunar cycle stages).
11. Hone your intentions
Chances are you've heard or read that intention is at the heart of most successful magickal workings. I don't generally disagree with this statement, but I think it is important that we approach intention knowing clearly and concisely what it is that we're being intentional about in the first place.
Just as a recipe wouldn't be overly successful if someone told you to just add any six ingredients together in whatever proportions floated your boat, so too do magickal working operate most effectively when we lay out specific perimeters in terms of what we want and how we're going to help make those things happen.
It is important to be as specific about our intentions as possible. Be mindful of what it is you truly want and need, what steps you're going to take to try and make those things happen, what you wish to manifest in your life, and how you'll respond if things do or do not go as you'd hoped or intended.
12. Be kind to yourself and others
If there's one thing our world is in serious need of as we enter this new decade of human history, it is more kindness. Towards our planet itself, toward one another, towards animals, towards ourselves.
There are many scientifically supported benefits of being kind. I personally think that there are scores of spiritual benefits that stem from kindness as well.
Kindness is a gift that we have the ability to source from a never-ending well inside ourselves.
This doesn't per se mean that we should spend every second of every day focusing solely on kindness (taking this approach can potentially backfire and cause burnout or even a sense that one is being taken advantage of), but rather that we have it within ourselves to be kind in a multitude of ways all throughout our lives.
Whether one personally believes in the Threefold Law or not, generally speaking, we tend to experience positives in return when we're kind.
Can doing something nice come back to bite us in the behind? Sometimes, yes. That isn't fair, but it's life. Thankfully though, for most of us, such occasions are the exception, not the norm.
Acts of kindness are a vital part of life. I firmly believe that we've made it this far as a species and a planet in no small part because of kindness. It is a fundamental building block, part of the glue that holds society together, and just a flat-out lovely thing to give of yourself.
And speaking of yourself, be sure to extend kindness your own way throughout the course of your daily life.
We're often our own harshest critic and toughest taskmasters. We let our inner monologues say things to us that we'd likely never sit ideally by and take on the chin if someone else said the same words to us.
In many other ways, we can be unwittingly or unintentionally harsh on ourselves, too. Find methods to be kinder to yourself, such as listing at least three things a day that you did which you're proud of yourself for, engaging in acts of self-care, carving out time to focus on your deepest passions, ensuring that you're spiritual needs are being looked after, connecting with nature, making your health a priority, and doing things that are just plain fun.
How to stay magickally focused this year (and beyond)
Much like with New Year's resolutions, which are notorious for starting strong and fizzling out long before the intended goal was reached, it is possible to head into a brand new year with the aim of making it a more magickally focused one and quickly lose steam.
To help prevent this from happening, I encourage you to be realistic. You do not need to do all of the entries on this list, nor do you necessarily need to do more than one of them at a time (though some do have a natural degree of overlap).
Start with the one(s) that speak to you most powerfully or which you've already been meaning to incorporate into your spiritual path to a greater degree. Consider approaching some now and others later in the year.
If, as the year progresses, you feel overworked, overwhelmed or like you do not have enough time, scale back, but stay mindful of ways to apply the guiding principles that appealed to you in the first place to your life and magickal workings.
Consider keeping track (journaling, social media posts, book of shadows/grimoire entries, etc) of which approaches you're currently engaging with and what sorts of results you're experiencing.
Use these ideas as jumping-off points for other ways that you can continue to make this one of your most meaningful and magically focused years.
And remember, to have fun, be realistic, never stop growing and evolving, and to celebrate each day that you're blessed to draw air.
Here's to 2020 and all of the magick it holds in store for each of us!