It's safe to say that spring has officially started to return when I – perpetual lover of all things dark, spooky, and fall toned – delve into colours as vibrant as those featured in today's project share. 😄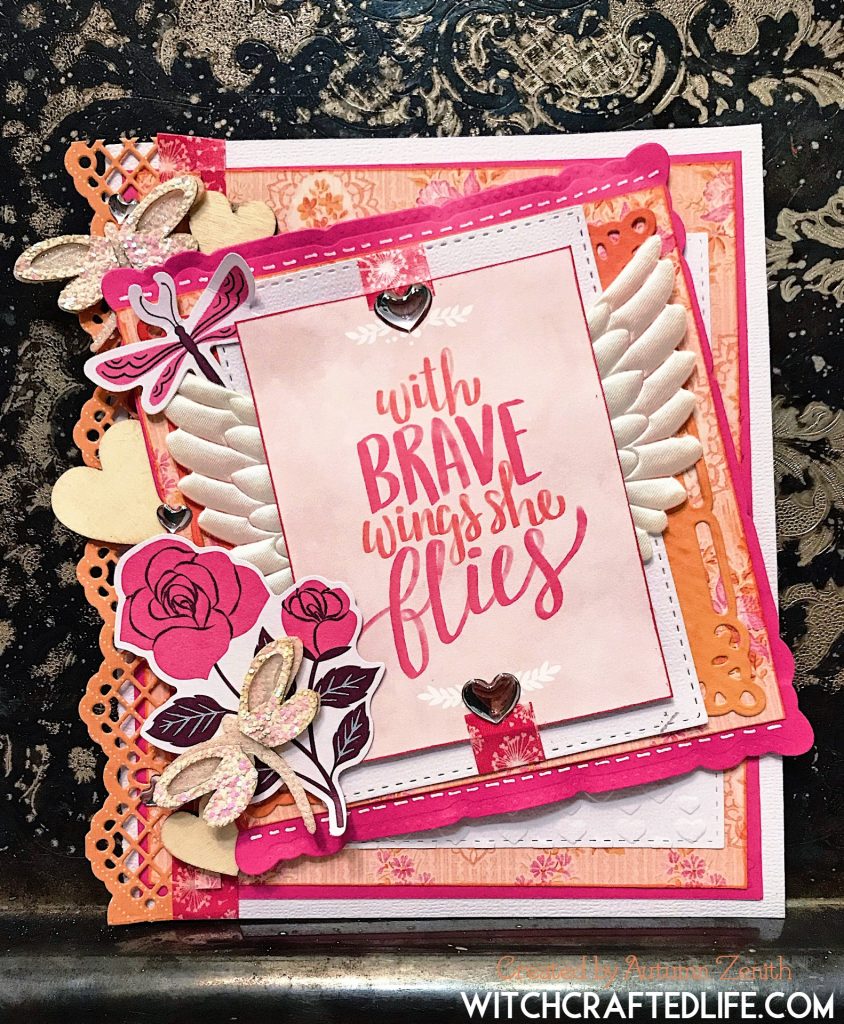 Indeed, the intensity of these juicy hues – which immediately reminds me of classic Popsicles – is as suitable for spring as it is for summer.
Plus, as we'll discuss later on in this post, there are a number of different occasions and events throughout the year for which this design card would also work smashingly.
With Brave Wings She Flies card
At the start of 2020, someone who is immeasurably close to me went through a breakup. While the relationship itself hadn't lasted all that long, it was the first one of serious merit for that person following the very abrupt and unforeseen end of a twenty-year partnership they had experienced with a different individual.
Within minutes of hearing the news about this most recent conclusion of a relationship, I knew that I wanted to make a heartfelt card of support for my loved one.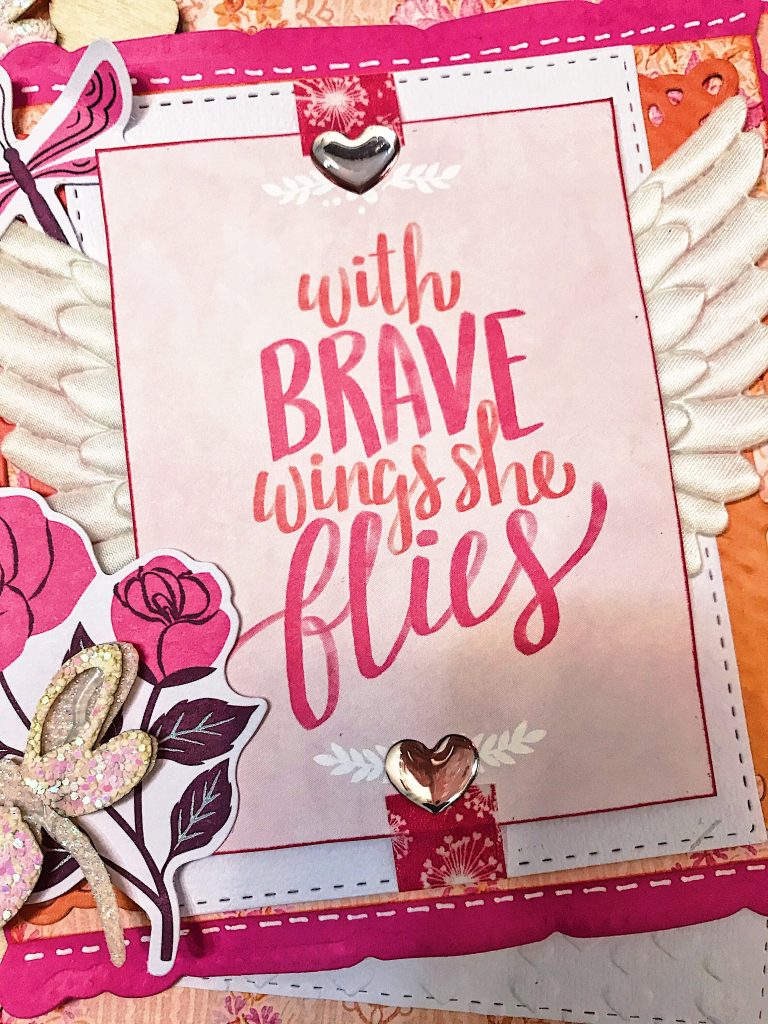 Mere moments later, an image of angel wings sprung to my mind and proved to be the catalyst for the creation of this thinking of you card.
I knew that I had a package of two pairs of fabric angel wings in my stash. They were a circa 1980s or early 1990s Etsy find a while back that I'd been tucking away for just the right paper crafting project.
This was definitely it and once I'd dug them out of a basic of assorted dimensional embellishments, I set about finding a suitable sentiment for my card.
I scanned my stamps, dies and stickers, and there were some lovely options, but none that felt 100% right for this instance.
Next, I turned to my 12×12 inch cut-apart sentiment papers and it was there that this touchingly beautiful message all but leapt off the page at me. Its colour scheme of warm oranges and intense pinks set the tone for the rest of the elements that I used on this project.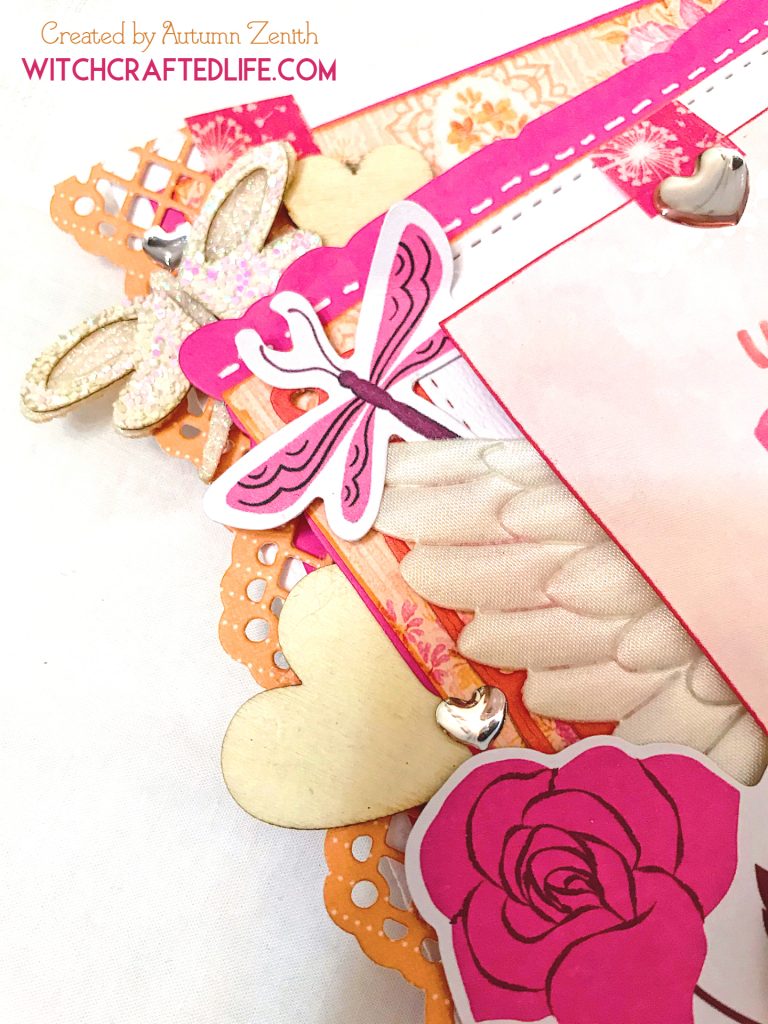 The fact that the orange and dark pink sentiment was grounded in a sea of pale pink worked excellently with the white angel wings, and between the two components, very few other colours entered the picture.
Conveying a strong sense of positivity and support was paramount for me with this card.
To that end, I embraced the strong, energy bolstering hues, used multiple types of heart embellishments (to represent the love and support I have for my recipient), and utilized the inherently upbeat properties of both flowers and dragonflies.
The later of which came in the form of both a paper die cut and pre-made embellishments complete with that most cheerful of crafting ingredients: glitter!
Putting this encouragement card together
As usual for me, I started with a decent sized card base (I didn't measure it before giving this card to my recipient, but I'd guess that it was in my normal 5" x 7" size range). Classic, subtly textured white cardstock did the trick there this time around.
Next, I selected two patterned papers (one floral print, the other tone-on-tone orange) and a solid coloured dark pink (almost fuchsia) cardstock to compliment the colours in the sentiment.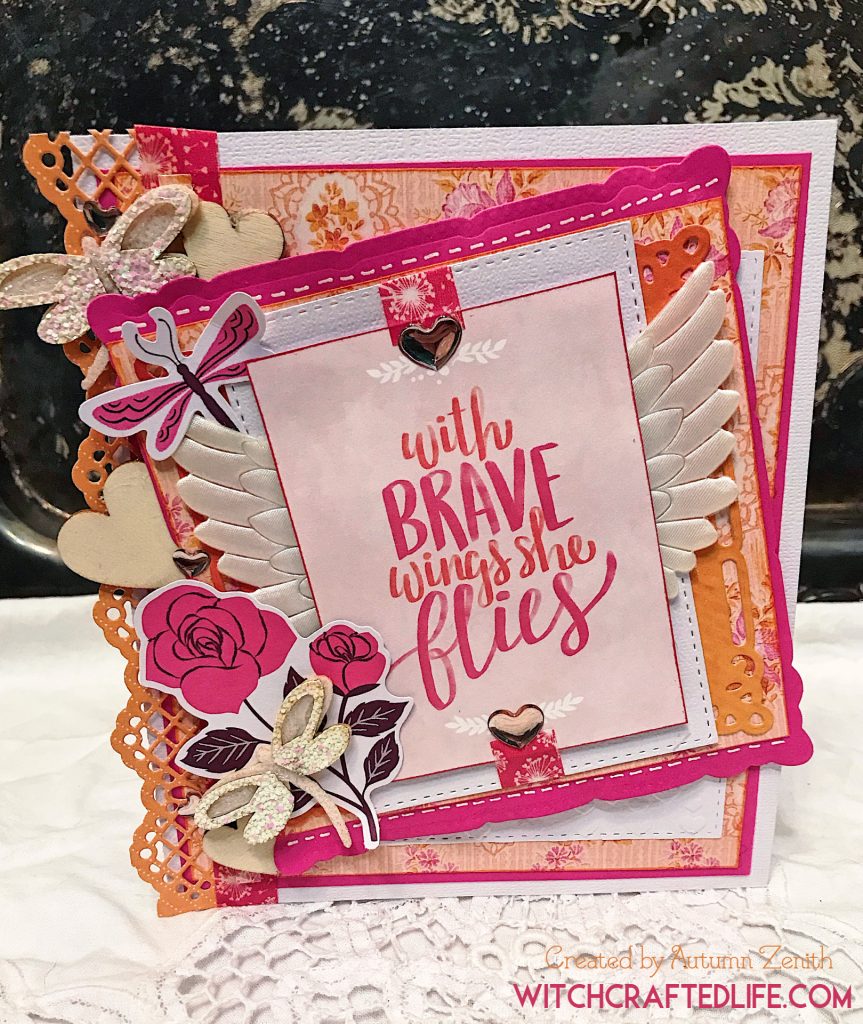 I die cut a rectangle with a standard stitched border die and then embossed it with a cute heart design embossing folder.
This was followed by die cutting two different elegant shaped frames (one from the orange patterned paper, the other from the dark pink cardstock).
Using the backside of the pink floral print paper, which had a different orange print from the paper that I just mentioned, I die cut an ornate border strip.
With these elements ready to go, and having lightly inked a few paper and cardstock edges, I began assembling my card.
I don't own a lot of washi tape at the moment. However, I felt the urge to dig into my tiny collection for this project and was delighted to find a white and dark pink floral print washi that coordinated wonderfully with this upbeat card.
It was put to work alongside the orange die cut border strip, as well as on the top and bottom of the sentiment.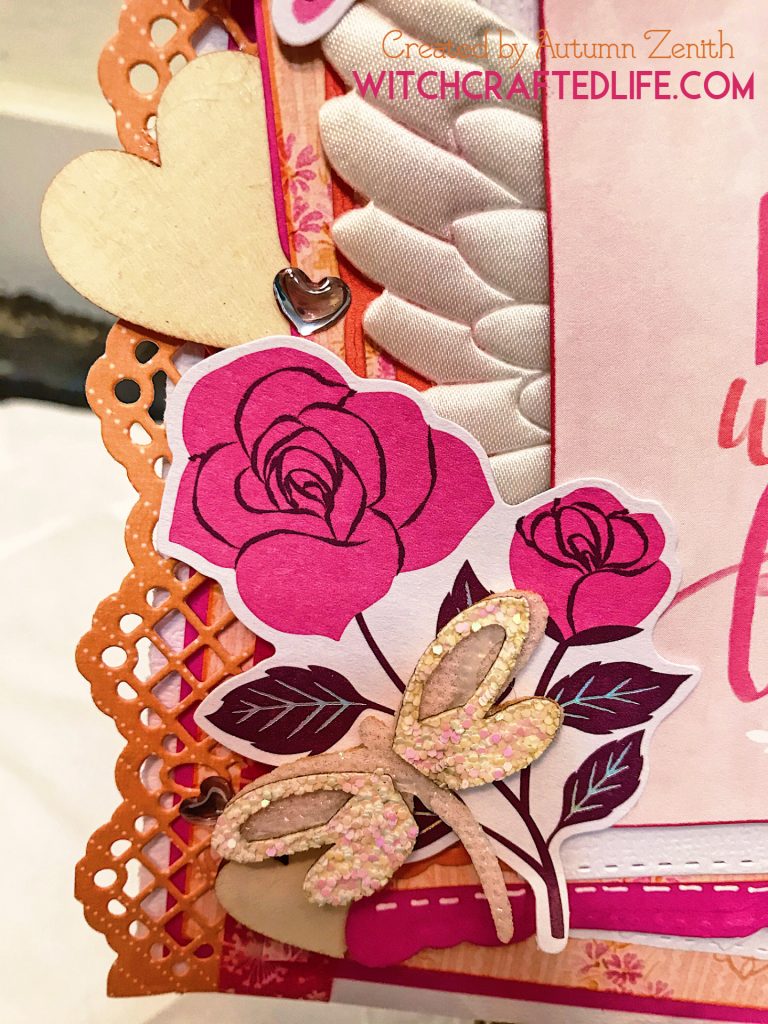 While I wasn't going for an overly thick/dimensional design this time around, I do love including at least a few layers on most of my makes, so once the paper and cardstock elements – plus the washi tape and fabric wings – were in place, I dove into my die cut shapes and found these thoroughly lovely flowers from Schimelle's Head In the Clouds collection.
I partnered these die cut shapes with natural coloured wooden hearts, two sparkly pre-made dragonfly embellishments, and some cute adhesive heart gems that I picked up a while back from Pink and Main.
When everything was in place, I stepped back – something I do with almost all of my paper crafting makes – and assessed if this card felt complete or not to me.
It was close, no two ways about it, but I felt that it needed just a little something more so I reached for my trusty white Uniball pen and drew some faux stitching on the dark pink die cut layer (which echoes the die cut stitched design of the heart embossed white cardstock layer).
That's it, my dears. This card is quite easy to make and took somewhat less time to construct than many of the others that I create.
Card making tips and ideas from this project
-No premade angel wings of any kind (fabric, resin, wood, chipboard, etc)? No problem! You could use pre-made die cut wings (Christmas die cut packs sometimes include angels and angel wings), die cut your own with metal dies or an electronic die cutting machine, fussy cut some from patterned paper, use wing-shaped stickers, shape white feathers to resemble wings, stamp and cut out a pair of wings, or drawn and cut some out freehand.
–Dragonflies are a fun, somewhat unexpected change of pace from butterflies, but if you don't have any dragonfly products to hand, that's totally fine. Butterflies would look smashing here, too. As would ladybugs, some types of birds, and even bumblebees (especially if they were in similar colours to the rest of the card).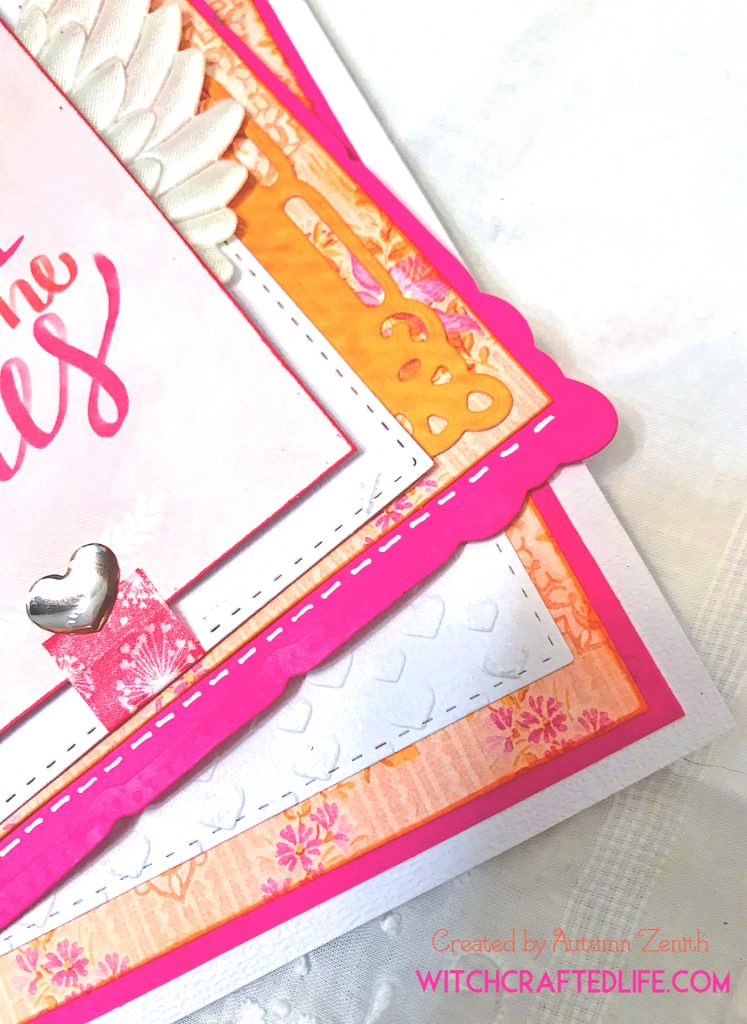 -Tilt some of the elements of your project at an to add visual interest to your design. When doing so, I generally like to keep some elements straight (be it vertically, horizontally or both) and slant others at an angle. This helps to ground the angled pieces and create a lovely sense of balance throughout your design.
-Hand drawn stitching is one of my all-time favourite paper crafting techniques. It's easy, versatile and can really add a lot of pizzazz to your projects. You could, of course, use hand or machine stitching, stitched design run-ons or stickers, or stitching themed stamps here as well. Each would be classic, fun and delightful looking.
-I've touched on this in past project shares and no doubt will again in the future, as it's such an important design element, but don't forget to work in uneven numbers for at least some of your design components.
Here, for example, I used three wooden veneer hearts and two glittery, dimensional dragonfly embellishments. This totals five, which is itself an uneven number. I also utilized one flower-shaped and one dragonfly shaped die cut piece. Once more, this totalled up to an uneven number: seven. As did the three heart-shaped bling embellishments.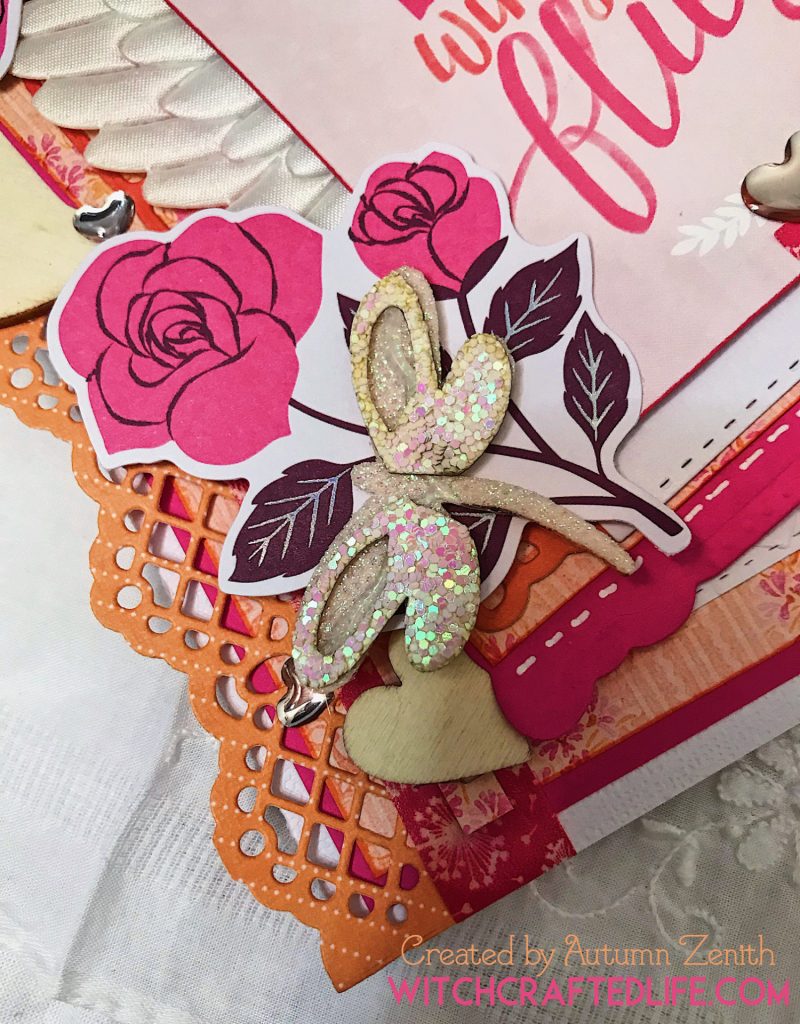 -If you don't have – or don't want to use – washi tape, sub in ribbon, twill tape, seam binding, a border strip, border die cut, long rub-on applied to a slender piece of cardstock or paper, fabric trim, strip of burlap, piece of felt (or other fabric), skinny sentiment strip, or even a row of pre-attached rhinestone gems instead.
–Repeat design elements in different forms throughout the same project. Here, for example, hearts appear three times, stitching elements twice, dragonflies twice, and each main colour at least times. Taking this approach really helps to pull a paper crafting make together and can aid in ensuring the various components involved jive well with one another.
-While not done intentionally, the colour palette here would be a natural fit for someone dealing with breast cancer.
Products used to create this feminine pink and orange card
-Stitched border square or rectangle-shaped die (such as this set of stitched square dies from Lawn Fawn)
-One or two different elegant border dies (or border punches)
-Heart patterned embossing folder
-Dew Drop Memento Ink in Tangelo and Love Letter
-Fabric angel wings (or see alternative ideas above) – somewhat similar looking fabric angel wings
-White and dark pink cardstock
-Sentiment cut-apart or another sentiment of your choice – the one that I used here came from the Paige Evans 01 sheet from Pink Paislee
-Two – three printed papers of your choosing
-Die cut ephemera pieces – Shimelle Head in the Clouds Ephemera from American Crafts
-Wood veneer hearts – similar looking wood veneer hearts
-Dimensional dragonfly embellishments (try dollar stores, craft stores, Ali Express, eBay, and Etsy for similar looking products)
-SMall heart-shaped embellishments – Rose Gold Glossy Hearts from Pink & Main
-Dark pink washi tape (or see notes above for alternatives)
-Dimensional foam, pop dots, or similar to elevate some of your layers
-Adhesive, such as a tape runner, of your choice (I often use my Scotch Tape Glider)
Other occasions that this angel wing design would work wonderfully for
If you like this general design, but aren't feeling the combo of pink, white and orange, why not swap in 2 – 4 other colours that you'd prefer instead?
The following are a few possible options:
-Red, white (or grey) and pink for Valentine's Day.
-Aqua or mint green, light purple, dark purple and soft yellow for a spring, Ostara or Easter card.
-Dusty rose, pine green, burgundy and cream or ivy for a Mother's Day card, anniversary card, birthday card, or thinking of you card.
-Peach, turquoise, and either coral or navy blue for a summertime greeting, birthday card, or party invitation.
-Rose gold, white, black and clear (sequins, acetate, sheer vellum, etc) for a wedding card, anniversary card, love card, or New Year's card.
-White, black, grey and/or silver for a sympathy card.
-Baby blue, soft peach and light butter yellow for a baby shower or baby's first birthday card.
-Orange, silver and black for Halloween (bat or owl wings would make a fun alternative to the angel wings).
-Copper or terracotta, olive green, kraft or soft brown, and teal for Thanksgiving.
-Red, green and white or grey plus (cabbage roses and holy leaves partnered with doves or cardinals could be gorgeous) for Christmas.
-Gold, ivory and chocolate or espresso brown for New Years, Imbolc, or a more masculine design.
These are but a small handful of possible options. The sky is the limit! And there's nothing to stop you from going monochromatic here as well.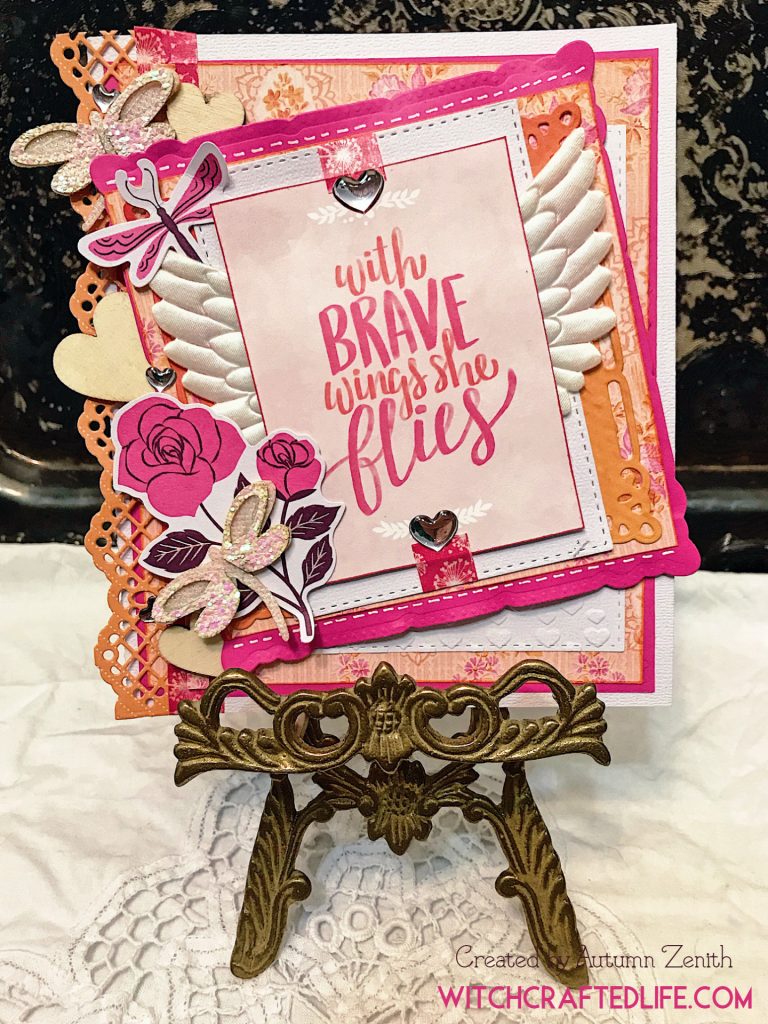 I am happy to report that things have, thankfully, turned around for the better already for my loved one who received this cheerfully hued handmade card.
It helped to brighten their week and bolster their mood, plus it reminded me to utilize wings more often in some of my paper crafting makes.
As for the ultra-bright colours? They're unlikely to become an everyday occurrence here, but they are certainly fun to bust them out every now and then. 😃
Project share
Pin the image below – or any other in this post – to Pinterest, pop it into your Instagram Stories, post in on Twitter or Facebook, or share it anywhere else you wish to help yourself find it again and to inspire others at the same time.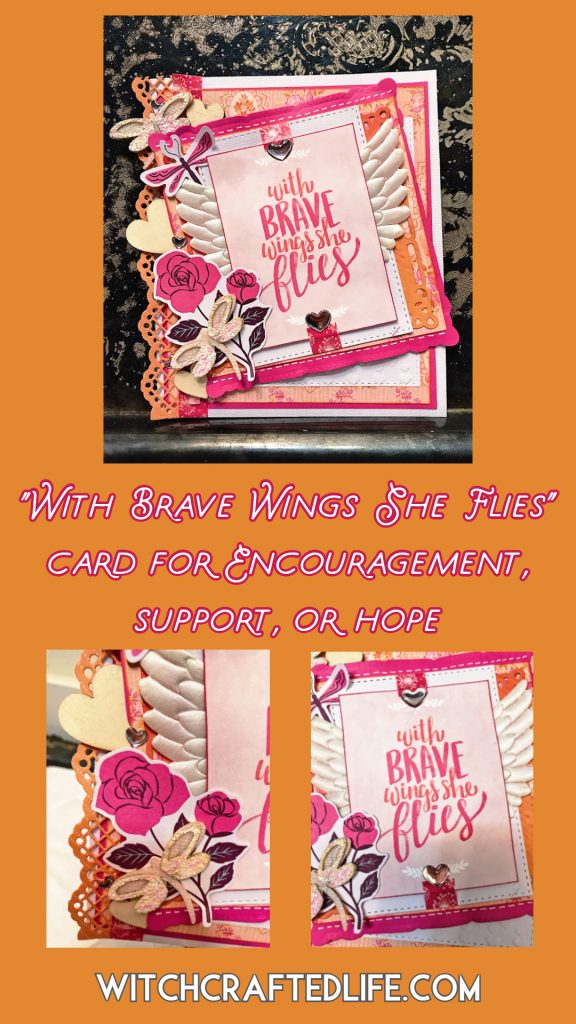 If you make a project based on or inspired by this card – or want to share any of your other handmade crafts with me – please use the hashtags #WitchcraftedLife and #WitchcraftedLifeMakes on social media so that I see can your beautiful creations.