Winter is something that I'm intimately acquainted with. One doesn't grow up in Canada without quickly getting accustomed to multiple months of teeth chatteringly chilly weather.
Famous the world over for its snow, Canada certainly lives up to that reputation in most parts of the country – our wee woodland corner of British Columbia included.
As I pen these words, more than three feet of accumulated flakes are calling our backyard home and there are banks around the neighbourhood that come up to the second-floor windows on some houses.
Yes, it's winter proper still around these parts and that got me thinking about one of my favourite magickal ingredients to gather when we're squarely in the season of the Oak King and summer's radiance seems lightyears away: graveyard snow.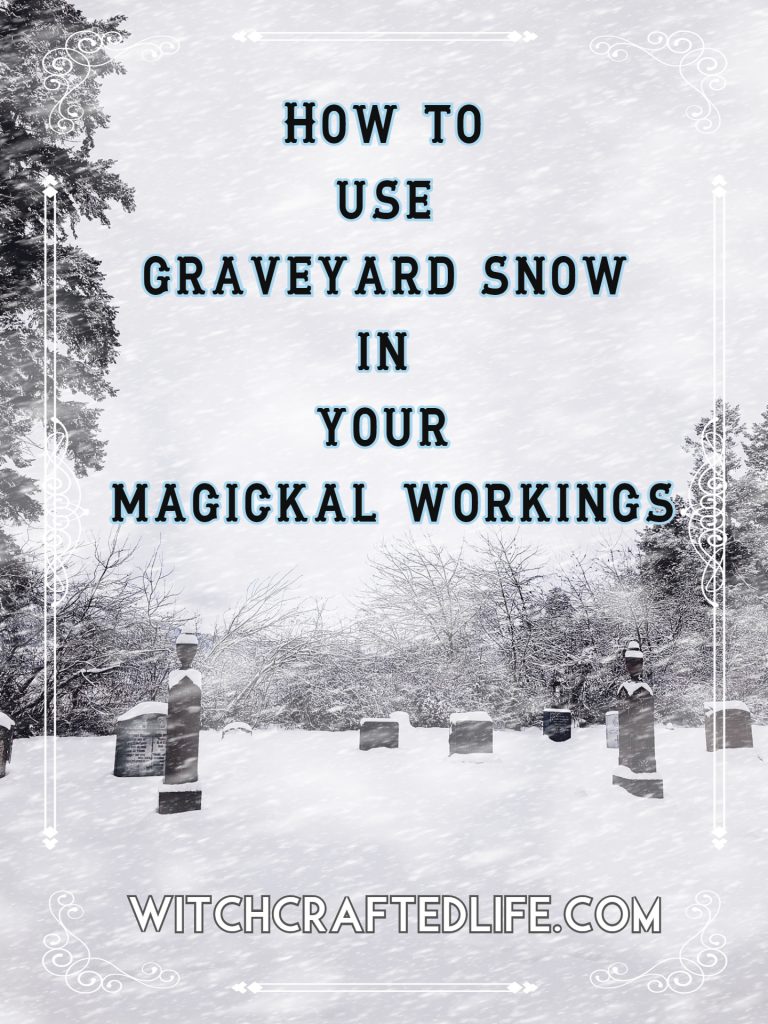 What is graveyard snow?
As its name implies, graveyard snow – or cemetery snow – is snow that has been collected from a burial ground.
In order to do so, you will need to have access to a public graveyard or cemetery, gloves or mittens to keep your hands safe and warm, a waterproof and leakproof receptacle to carry your snow home in (unless you plan to work with it in situ), and possibly a small shovel, spade or other type of scoop to gather the snow with.
If you're only collecting a small amount of snow or your gloves are waterproof, you may be able to easily put the snow into your bucket, container, etc with your hands.
Depending on the layout of the cemetery you're visiting, you may be able to gather snow from the ground, the tops of headstones and other types of grave markers, low hanging tree branches, shrubs, statues or monuments, and gates or fences surrounding the cemetery itself.
When is the best time to collect graveyard snow?
This is largely a personal choice and there is no objectively "best" time to collect graveyard snow.
You may wish to do so on a day whose correspondences tie into those of your magickal workings. On a sabbat (such as Yule or Imbolc – or even, depending on when snow starts falling in your area, on Samhain), a particular stage in the moon's cycle (I'm especially fond of working with cemeteries and materials collected from them during the full and dark moons), or at a time of the day that is conducive to the spell or ritual that you'll be using the snow for.
When taking anything from nature, be it graveyard snow or otherwise, it is always a lovely and appreciated gesture and sign of respect to leave a small offering. This can be anything from a stone to springs of herbs, leaves you've gathered to fresh or naturally dried, preservative-free fruit.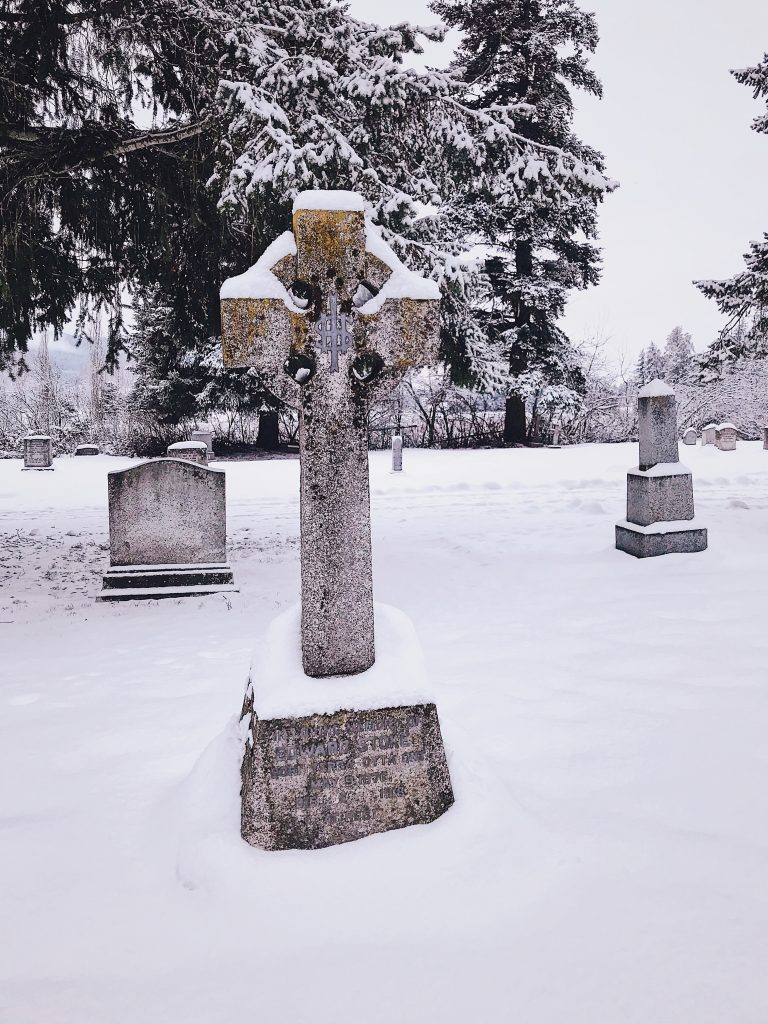 How does graveyard snow differ from graveyard dirt?
Graveyard dirt, a much beloved and fairly commonly used material in the workings of many witches, hoodoo workers, and various other magickal folks is dirt from the ground of a graveyard.
It is employed in myriad types of working, including witches balls and bottles, protection, guarding, strength, luck, prosperity, finality, cursing, and death related spells and rituals, as well as times in the year when the veil is at its thinnest (such as Samhain and Beltane).
Graveyard dirt is believed to be imparted with many important qualities, energies and essences, including those from the departed who were laid to rest in that cemetery.
It is a sacred material and one that should always be gathered with the utmost reverence, respect, and consideration both for those laid to rest in the cemetery and for the natural environment/ecosystem of the cemetery itself.
Graveyard dirt is a fascinating topic unto itself and one I'm that sure I will cover here on Witchcrafed Life in greater depth in the future.
Aside from the rather obvious point that one is snow and one is dirt, graveyard snow differs from graveyard dirt because it is typically charged more with the magickal properties of snow firstly and a fainter – one might say "echo-like" quality of the general surrounding where it fell secondly.
As well, generally speaking, graveyard snow is easier to take without fear of having someone say something unwanted to you while you're in the process of gathering it up. (Though that possibility is there anytime you're removing anything from a cemetery.)
Magickal properties of snow
Snow is a wonderfully magickal natural material and one that, in a lot of cases, you may have access to for multiple months in a row if you live in an area that gets quite cold.
A literal form of the Element of Water, snow is ideally suited to workings pertaining to that element and to the elemental beings associated with water called undines.
It is also great for cleansing, purifying, consecrating, freezing or halting (something unwanted or unneeded), rejuvenating, preservation, and banishing work, to name but a few excellent used for it.
Snow itself is already charged to a degree by the fact that it sits outside under the sun and moonlight. You can charge it further, either in its solid or liquid (melted) form by imbuing snow with your intentions and intentionally placing it in the path of the sun or moonlight.
Specifically, you may wish to charge it under a new, full, or dark moon – such as those that occur either on or closest to a sabbat. I adore gathering and charging snow during the Yule and Imbolc seasons, respectively.
If you've gathered snow (and/or ice or icicles) that fell during a snowstorm or blizzard, keep in mind that the snow will be charged with the energy, intensity, and strength of storms and storm clouds.
You can keep snow that you've gathered in suitable containers (such as glass jars with lids) for quite some time. It can also be frozen in a freezer-safe container for later use throughout the year. I adore using snow gathered at Yule in some of my Litha workings.
Bringing the extreme of one season into that of another in a magickal context is a powerful and meaningful way to honour both, remind ourselves that the Wheel of the Year is ever turning, and to unite the energies of two sabbats that are on opposite ends of the calendar from each other.
The magick of snow is a wonderous thing! Snow helps to create light in the dark heart of winter. It is strong and powerful, yet ethereal and temporary at the same time (save for in extremely cold climate such as at poles and atop certain lofty mountains).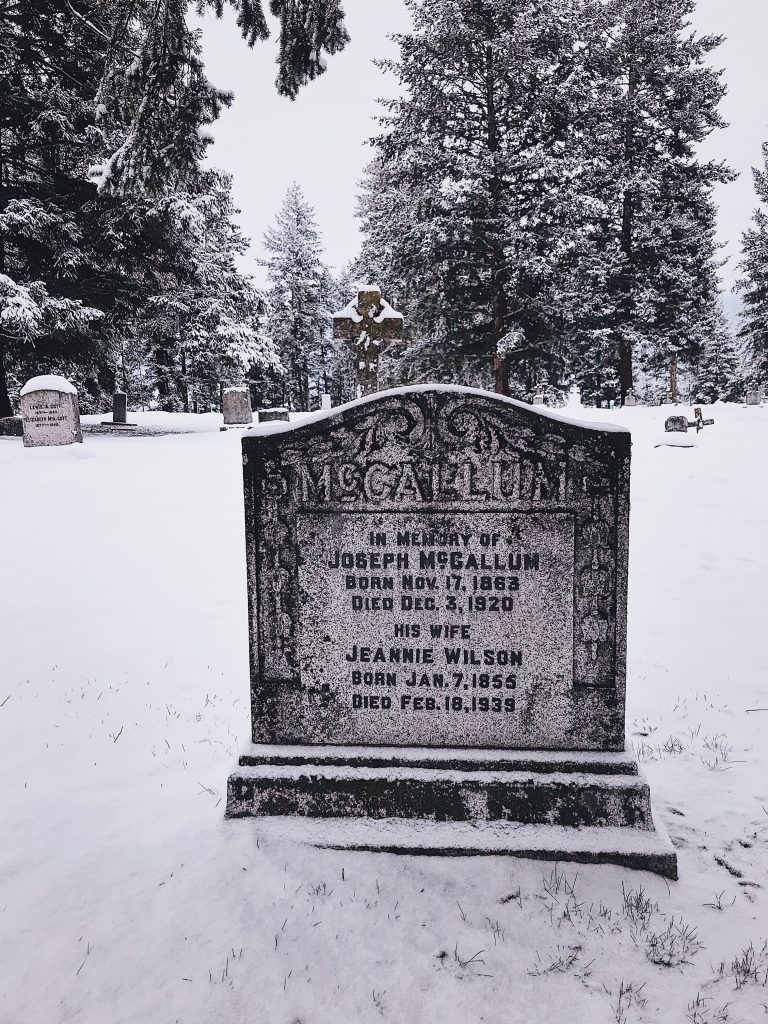 How to use graveyard snow in your magickal workings
You can utilize graveyard snow in most instances of snow magick, but given the energy of where it was collected from and the connection to the other side that anything from a graveyard stands to have, you may wish to use graveyard snow for darker, heavier, or more serious spells, rituals, cleansings, and other purposes.
The following are some ways of using graveyard snow in your magickal workings.
(Note that the snow is generally melted before being used.)
–Anoint yourself with melted snow. Ensure that the snow is clean and free of debris (run into through a coffee filter, cheesecloth, or linen napkin first if needed). Apply it to areas of your body that need rejuvenating, help with healing (do not apply snow to any type of injury or wound that would be harmed by cold or water), cleansing, unblocking, freezing of negative habits (for example, to your fingers if you wanted to "freeze" nail biting in its tracks), or as a general energy field pick-me-up during the sluggish days of winter.
-Apply melted snow as a protective barrier around your doors and windows. Lightly spray or dab melted snow to these areas, asking for protection and safety for your home itself and all who reside within. Ask that anything or anyone who may wish you or your home harm be frozen in their tracks before they reach your threshold.
–Bless your sacred space with melted snow. If you can do so while further snow is falling outside at the same time, this helps to bless both the inside and outside of your sacred space with the strength, energy, protection, and timeless beauty of snow and winter (or summer, if you live south of the equator).
-Build a snowman or other snow figure (for example, that of an animal you connect with on a spiritual level) as a protector of your property. Draw symbols, sigils, or words (or tuck pieces of paper or bark with such things on them) into your figure. Ask that it, and the strength of winter's fortifying chill, help to guard your home and keep it clear of unwanted visitors or troubles all season long.
-Cleanse your crystals with (clean) melted snow. Those that you associate with darker workings, death, rebirth, protection, winter, Yule, Imbolc, and even snow itself (for example, snowflake obsidian) are all crystals that can benefit in particular from a lovely snow cleansing.
-Cleanse yourself during a snowfall at a graveyard. If you're able to visit a cemetery while it's snowing, consider utilizing that opportunity to allow the snow to cleanse your spirit, bless you with the clarity and strength of winter, and energize your magickal mojo this winter. (Naturally, be safe and always wear weather appropriate clothing when you're out in the snow).
-Create a snow altar. If you've gathered enough snow or are using a mix of graveyard snow and snow on your own property, you can create an outdoor altar. This altar will be temporary and anything placed on it that you wish to preserve needs to be water-safe or waterproof.
-Create a focus charged cleansing spray with snow as the primary component. Add other ingredients that work for your needs, such as herbs, essential oils, salt, mini pinecones or pine needles (for additional winter energy and the magickal properties that these natural materials house), or water-safe crystals or stones.
Use the spray to cleanse your home, the inside of your vehicle, your (water-safe) magickal tools, your candles, stone or crystal runes, or your clothing (again, ensuring it will not be damaged by water).
I like to cleanse my winter boots, coats, scarves and gloves with protection focused melted snow cleansing water to help keep me safe, warm, and guarded against the more dangerous elements of wintertime during the icy cold months.
–Draw sigils in the snow. The choice of sigil(s) is up to you and will relate to your workings, needs, and the fact that most things drawn in (or made out of) snow have an inherently temporary nature to them.
–Include snow in a ritual cleansing, banishing, releasing, or purification bath. While it would take a great deal of melted (and warmed!) snow to fill a bathtub, you can easily add a cup of snow to your bathwater. You may wish to charge and/or bless the snow first, though this is a personal choice.
–Let snow help to melt your troubles away. Gather some snow and focus the intent of something you'd like to clear your mind or life of into the snow. In a calm setting, light some candles and/or incense and concentrate on the bowl of snow, channeling what you're looking to rid yourself into the snow as it melts. Once the snow has melted, dispose of it outdoors away from your property, if possible.
–Melt snow and use it in a spell jar, bottle or vile. Combine it with other ingredients that are relevant to your magickal needs. For extra charm and beauty, biodegradable glitter, if it is suitable to your spell or other type of working, can be a really lovely addition to these kinds of jars.
–Provide an offering of snow on your altar (indoors or outdoors) or other sacred space that you use for your magickal workings. If you work with deity and are in need of assistance, guidance, strength or support this winter, consider researching gods and goddesses associated with snow and inviting one or more of them to assist you, leaving a snow offering for them in the process.
As the snow was collected from a cemetery, it can make for an especially apropos and respectful offering to place on an ancestor altar or to otherwise offer to your ancestors and/or any other entities, spirits or beings from the other side that you presently work with.
–Save some snow to use when you plant your spring garden. If you're a gardener or otherwise grow fresh herbs, flowers, tomatoes, etc, consider storing some melted snow to use as a blessing and strengthening helper of winter on its successor season, spring, when you plant the seeds of your garden for this year.
-Water scry with melted snow. Scrying in its multitude forms is one of my personal favourite forms of divination. Water scrying, especially when it applies to studying and discerning meaning in the ripples and movement of water is technically called hydromancy.
It is a wonderfully accessible form of divination that only needs a suitable bowl or chalice, water (melted snow in this case), and the focused thought and attention of the person doing the scrying.
Use melted snow to scry during the winter months, particularly during the sabbats, esbats, and anytime you feel a sense of clarity is strongly needed in your life. Consider making note (such as in your magickal journal or Book of Shadows) of what presents or reveals itself to use during your scrying season.
Important note: while none of the magickal uses for snow listed above involve ingesting snow, if you opt to eat or drink snow, ensure that you gather pristinely clean snow and that, for safety sake, you boil it first.
If, even after boiling and cooling, the snow tastes off, chemically, or otherwise strange in any way, immediately stop consuming it. Your health and safety must always come first when working magick.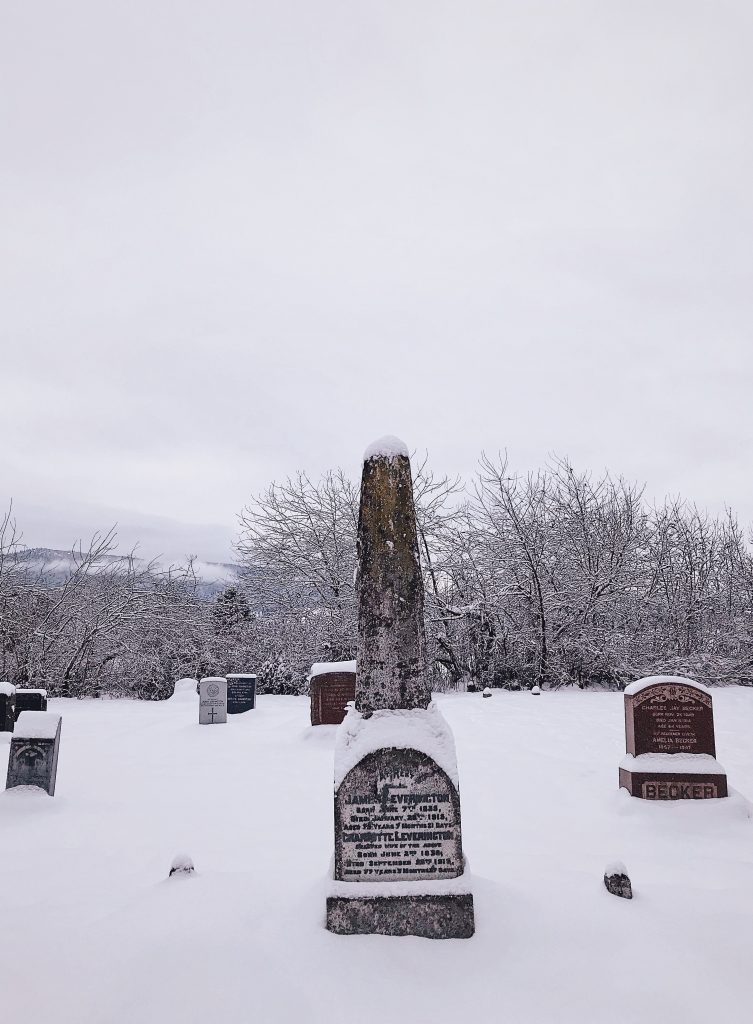 The versatility of graveyard snow
Much like snow in general, graveyard snow is a multi-purpose, wonderful magickal ingredient. If you have access to both snow and graveyard, it is well worth seeking out and utilizing.
You might even want to gather some from atop graves themselves and other portions of snow from different parts of the graveyard, separating the two and using the former in workings that pertain more to death, banishing, protection, spirit work, psychic abilities, hedge riding, astral projection, dreams, and ancestor work.
Whereas burial in a graveyard is generally quite long-lasting for most bodies, snow is a temporary visitor in our lives each year. The potent combination of these two factors and the energy that each brings to the table makes graveyard snow a stellar choice for witches and magickal workers of all sorts who are fortunate to have access to it.