Did you know that there are currently 263 days to go until Samhain/Halloween returns?
I'm one of those people for whom October 31st is so much more than "just" a single day or brief chapter of the fall.
It is #Halloween365 year-round in my house, my heart, my wardrobe, my spiritual path, and most definitely my paper crafting!
To me, themes and imagery of Halloween, Samhain, and autumn time align with my deepest self, and I am often at my happiest when I get to connect with All Hallows' Eve in ways that are personally meaningful.
If I'm able to share those with others – be they kindred #Halloweeneveryday team members or not – I'm on cloud nine.
Recently I created this fun shaker card which taps into some of the spookiness of Halloween, while still being appropriate at other times of the year – especially if the recipient is a fellow Samhain adoring witch.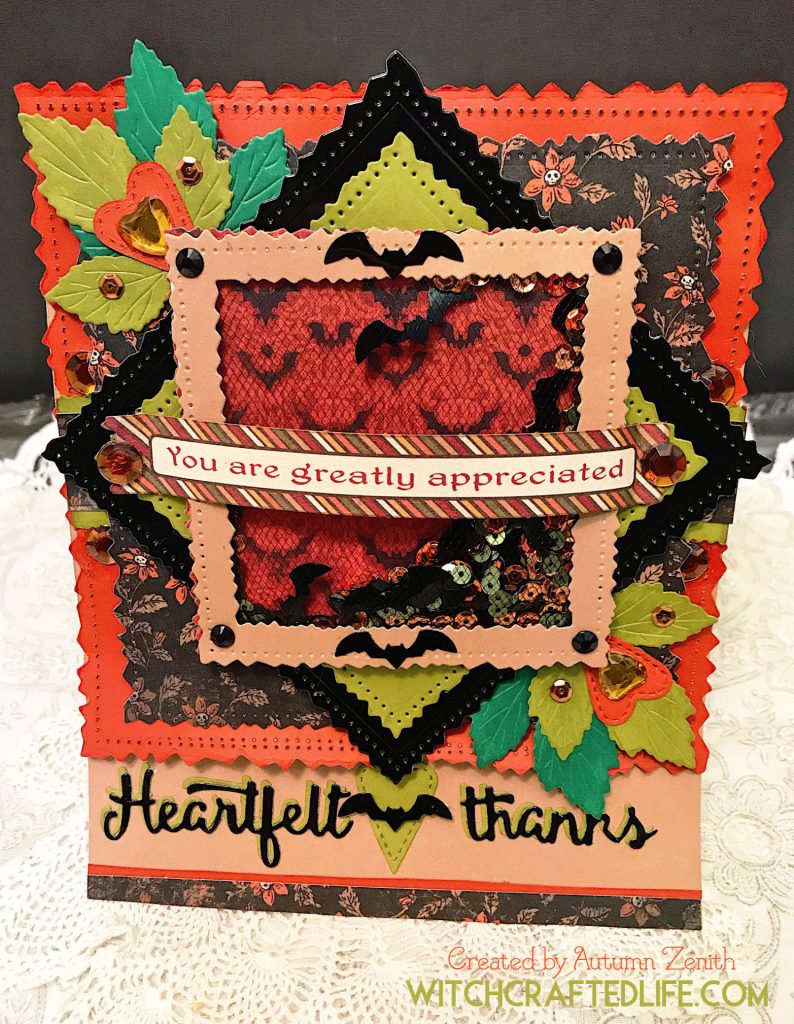 Heartfelt Thanks Bat Sequins Shaker Card
While many people are busily whipping up cute, sweet and beautiful Valentine's Day cards, I'm busily digging through a plastic storage tower for a little container of bat-shaped sequins.
I smile to myself as this point hits me, Halloween patterned papers sprawled across my desk as, outside, it snows for the umpteenth time this winter.
I enjoy a good Feb. 14th project, too, please don't get me wrong. At the moment though, my mind is delightfully focused – as per usual – on the end of October.
Like a lot of my paper crafting projects, the idea behind this card came about quite organically. I often pull out various supplies and let them speak to me, if you will, playing around with combinations and ideas until I hit upon one that seals the deal.
I knew that I wanted to create a thank you card with strong components of both gothic and Halloween styling and that a shaker card was the order of the day.
As is usual for me, I started by making a good-sized card base. In this instance, I used that beloved favourite of paper crafters everywhere – kraft cardstock.
The card base for this project measures just over 7 inches tall and 5.75 inches wide (excluding the portions of the design that extend beyond the card base itself.
Layers upon layers upon layers
I love layers. Seriously love them. I genuinely struggle most of the time if I have to make a project with just one or two layers.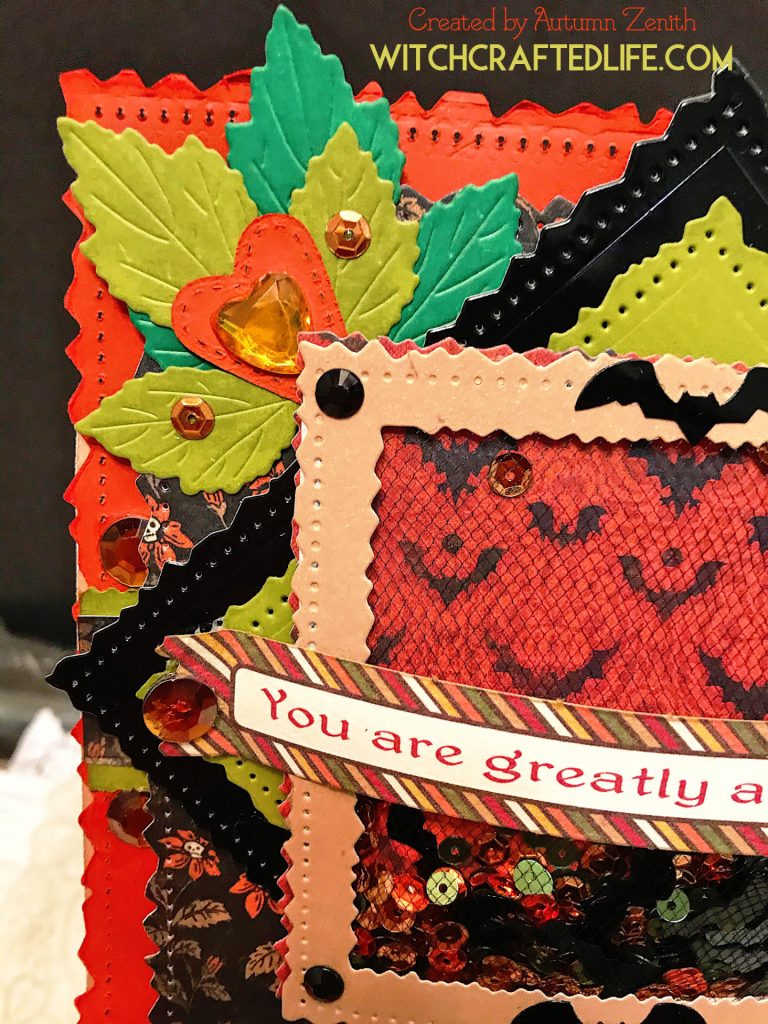 That doesn't mean that everything I create is twelve layers deep, but chances are, there are at least a few layers to give the project a sense of depth, dimension and increased visual interest.
This bat filled shaker card was no exception.
Putting this Halloween Thank You Card Together
After creating my card base from kraft cardstock, I die cut two deckle-edged squares. One in dark rusty orange, the other in a fabulous Halloween floral print piece of paper from DCWV that features teeny skulls in the center of each bloom.
I then used two smaller dies from the same nested die set to cut out the middle layers here. These are the green and glossy black cardstocks you see here (if I could buy stock in Tonic's glossy black mirror card, I happily would!).
Using the same sized die and a smaller sized die from that set, I created the kraft cardstock frame for the shaker element of this card.
Before I layered the middle layers onto the orange cardstock, I used pinking shear scissors (a nod to the deckle edging of the die cut pieces) to trim a strip of green cardstock. I topped this piece with a strip of the same skull flower paper used in the background.
Once the middle layers were in place (elevated with foam squares), I created the shaker element of this card.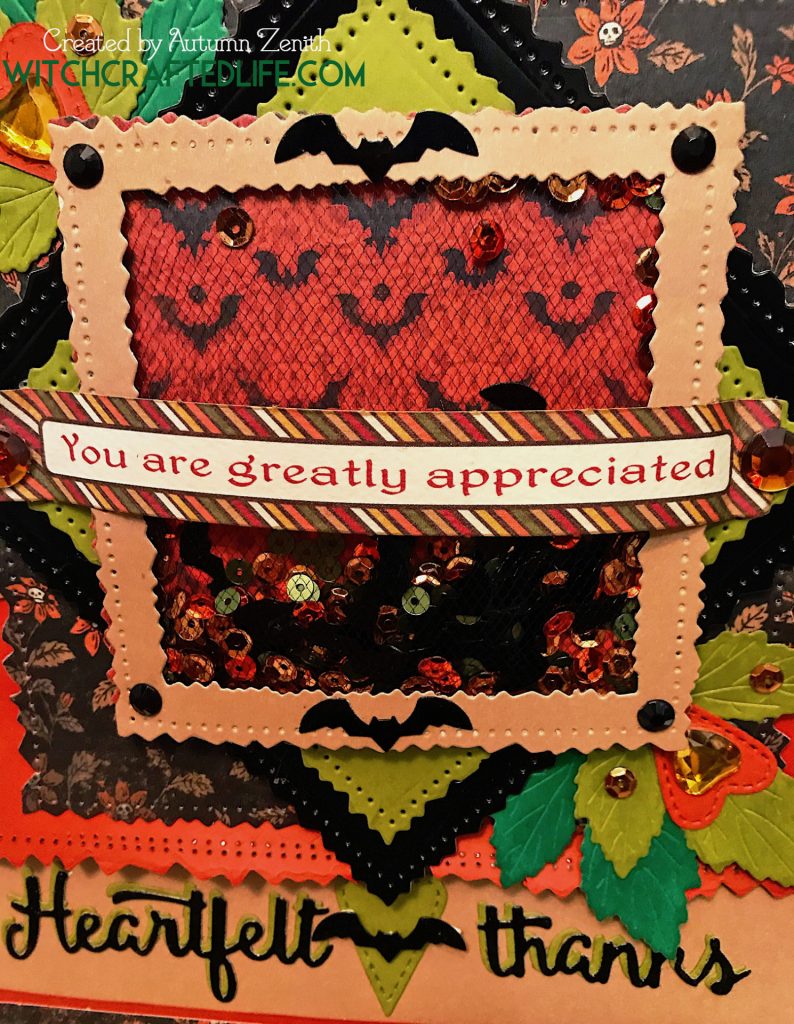 The background orange and black bat print paper that I used for my shaker is from the same DCWV Curiosities 6×6 inch mat stack.
I love using mesh, lace and tulle for shaker cards, so I opted for some finely woven black mesh as the "window" part of my spooky shaker.
Into the shaker card went a mix that I created of olive green, terracotta red, and classic gold sequins, to which I added the star of the show, black bat-shaped sequins.
I attached the shakers window to the middle layers with foam dots. I then embellished the frame of the shaker with bat-shaped black sequins and small black rhinestones (gems), as well as a sentiment strip that was capped off on each end with an ambery gold hued rhinestone.
To give the sentiment strip a greater sense of dimension, I gently curved it in the middle before applying it to my project.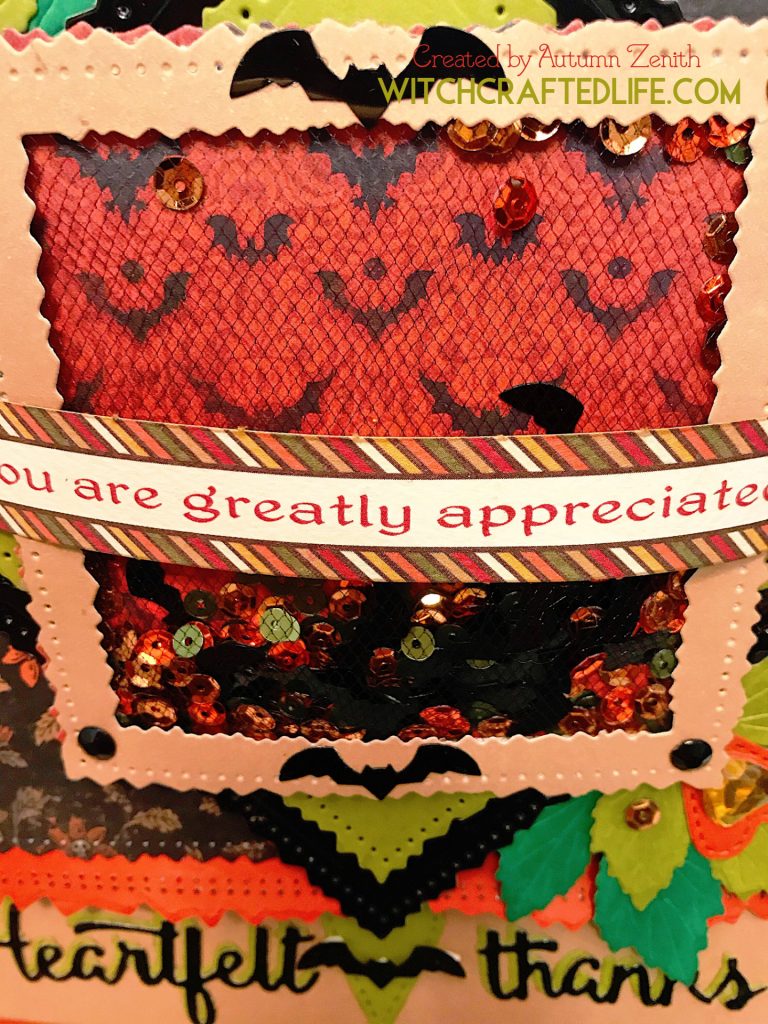 Next, I repeated the skull flower paper with a thin band at the bottom of the card. Immediately above this, I placed an even smaller band of the same dark orange cardstock I used earlier.
After that, I die cut leaves in two different colours of green cardstock along with a stitched heart die cut from the same orange cardstock I'd already used.
I ever-so-lightly inked my leaves in shades of ink just a whisper darker than their respective cardstock colours. I then clustered the leaves and hearts, topped each heart with an ambery gold heart-shaped rhinestone, tucked round rhinestones in the same colour around the horizontal strips of paper in the middle of the card, and set about die cutting the "thank you" part sentiment.
To do this, I used a "heartfelt thanks" word die and cut out two matching sentiments. One in glossy black mirror cardstock, the other in the same olive green used elsewhere on my card. I intentionally offset the two colours to create a layered shadow effect.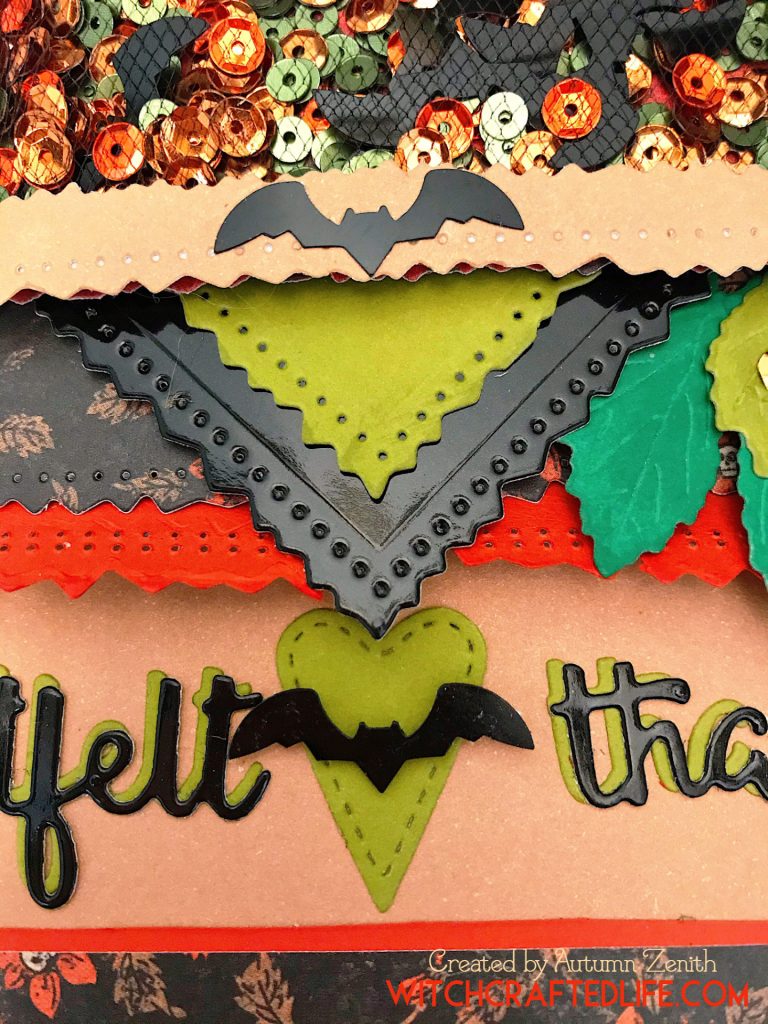 I also die cut a stitched heart from the same green paper, which I placed between the two words and topped with one final bat sequins.
For one final hit of sequins, I placed individual orange and gold coloured sequins on four of the green leaves, alternating (diagonally) the colours on the top and bottom sets of leaves (which, I had arranged in the same way, with alternating colours on both sets).
I created my message space inside the card and with that, this festively fall time inspired make was complete, ready and waiting to fly like a bat in the night to its recipient.
Card making tips and ideas from this project
-Use glossy (and/or metallic) papers and cardstock in selective areas to add sheen and really help a project pop.
-Ink or otherwise colour, such as with pencil crayons or markers, your die cuts for greater depth and, in some cases, to help them look more lifelike.
-Repeat the same sequins that you used in your shaker elsewhere on your card.
-When working with bold, eye-catching colours, ground them with a neutral shade. In this case, I used kraft, but white, cream, light brown, or even black could have worked here as well (had I gone with black, I likely would have swapped the glossy black cardstock for a different paper or cardstock).
-Turn square-shaped dies into diamond-shaped ones by rotating the angle of the square when you adhere it to your project.
-Not all leaves need flowers and vice versa. While we often associate the two as going together like peanut butter and jelly, either can look spectacular in its own right – especially if you use two or more colours to help them stand out all the more.
-Curve your sentiment strips. Whether they're premade or handmade, cardstock, paper, vellum, cork or another type of pliable material, curving your sentiments lends a great sense of dimension to your make.
-Use a patterned paper as the background for your shaker – especially if you've primarily, or solely, used solid colours elsewhere on your project.
Patterned paper from smaller sized pads, such as 6×6 inch and 8×8 inch pads, with their inherently smaller sized prints often work especially well for the relatively modest sized amount of space available behind your sequins or other shaker elements (this background are is also a fun spot to place part, or all, of your sentiment – provided it can be read when the card is at rest).
-If you don't have glossy paper or cardstock, but want the look for your sentiments or other elements of your project, top them with clear embossing powder (Wow Clear Embossing Powder is a good option), Glossy Accents, or a similar clear glaze product that dries to a translucent finish.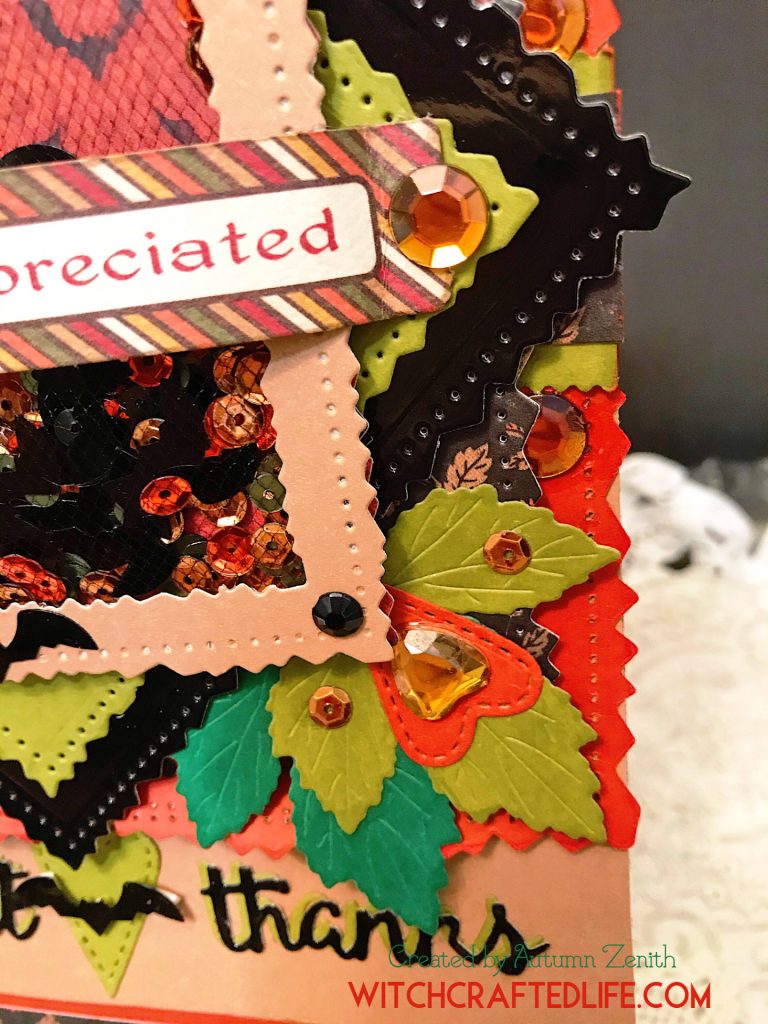 Products to help you recreate this Bat Sequins Shaker Thank You Card
-Cardstock in kraft (you could use taupe or light brown instead), dark orange, olive green, and medium green.
-Glossy black cardstock – I used Tonic Studio Glossy Black Mirror Cardstock
-Bat and skull flower print papers – I used two prints from the 6×6 inch DCWV Curiosities Mat Stack
-Sentiment strip – I used a die cut piece from Gracious Elements Die Cuts by Authentique
-Corresponding ink in a shade just slightly darker than that of your cardstock leaves – I used Morocco and Pistachio from Tsukineko's Memento line of ink pads
-Ink to edge some of the paper and cardstock layers – I used Cottage Ivy and Toffee Crunch from Tsukineko's Memento line of ink pads
-Pinking shears or pinking edge decorative scissors – I used Fiskars Paper Edgers in Mini Pinking
-Set of deckle-edged square shaped nesting dies
-Thank you sentiment mental die (or use stamps, stickers, rub-ons, or sentiment die cut pieces instead)
-Leaf-shaped metal dies
-Stitched heart-shaped metal die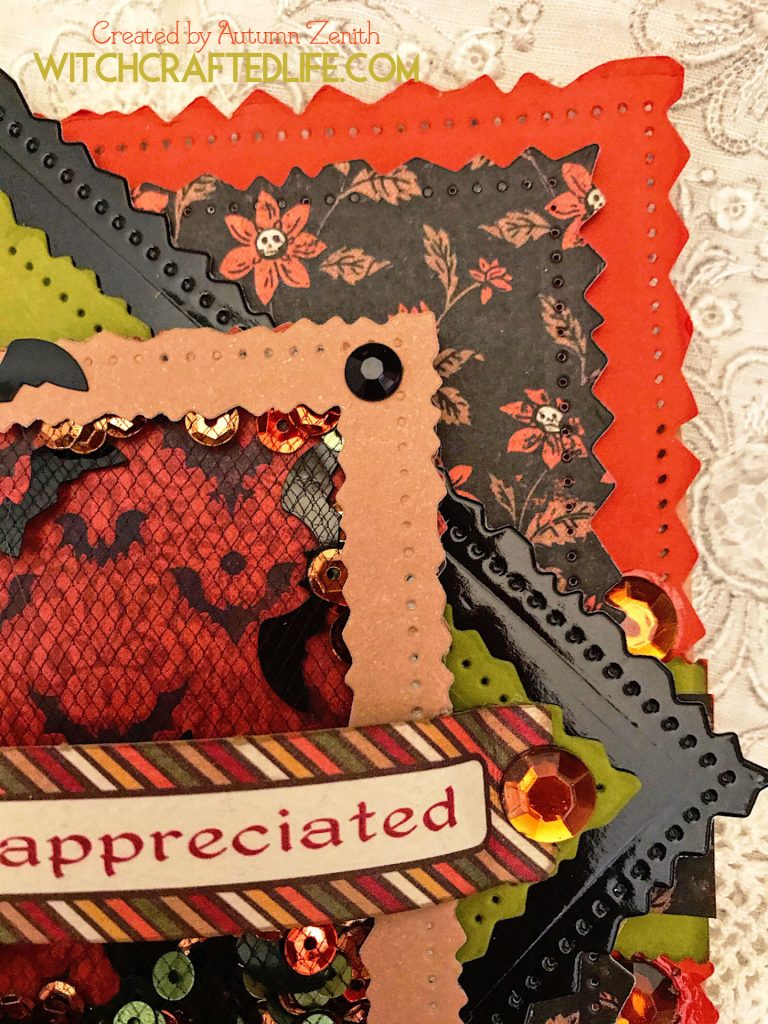 -Round and heart-shaped dark golden yellow rhinestones (gems) – mine are from the "Crafts" brand sold at Dollarama stores
-Small black rhinestones (gems)
-Black tulle
-Green, orange, and gold round sequins
-Black bat shaped sequins
-Dimensional foam, pop dots, or similar to elevate some of your layers
-Adhesive, such as a tape runner, of your choice (I often use my Scotch Tape Glider)
Halloween cards, not just for Halloween
Naturally, there are some recipients who would be more welcoming of an October 31st themed card in the final weeks of winter than others.
I personally feel it is important to be respectful of peoples' taste, beliefs and interests (if such information is already known to you) when creating projects that you'll be giving away.
Many individuals live for Halloween and if you fall into that camp, chances are some of your nearest and dearest already know this about you and may quickly understand why there's holding a bat themed card before the Easter Bunny has come calling yet.
If you have people in your life who adore fall, Halloween and/or Samhain, consider adding a fabulous touch of autumn to their day outside of October by creating a sweet, spooky, silly, or otherwise sensational All Hallows' Eve related make for them at this point in the year.
Naturally, you can replicate or take inspiration from this design and use other types of materials here as well. This same general design could be used for a ton of different occasions – Valentine's Day included.
All cards are card maps unto themselves.
And if you didn't want to go this overtly Halloweeny, you could use a small dose of October perfect products instead. Say pumpkins, a scarecrow, a black cat, bats flying across a full moon, bare-branched trees, a Victorian-style gate, or a pair of pointy-toed witches boots, for example.
If you prefer to make and give Halloween cards when jewel-toned leaves are falling, that is completely okay, too. You could either put together a card like this now and tuck it away for later or save the project idea in your inspiration file or on Pinterest to create come autumn.
Crafting is a year-round activity that grants us the ability to connect with any holiday or special occasion that we desire whenever the urge strikes.
If you want to make Christmas or Yule cards in June, go for it! Canada Day or Independence Day cards in November, why not?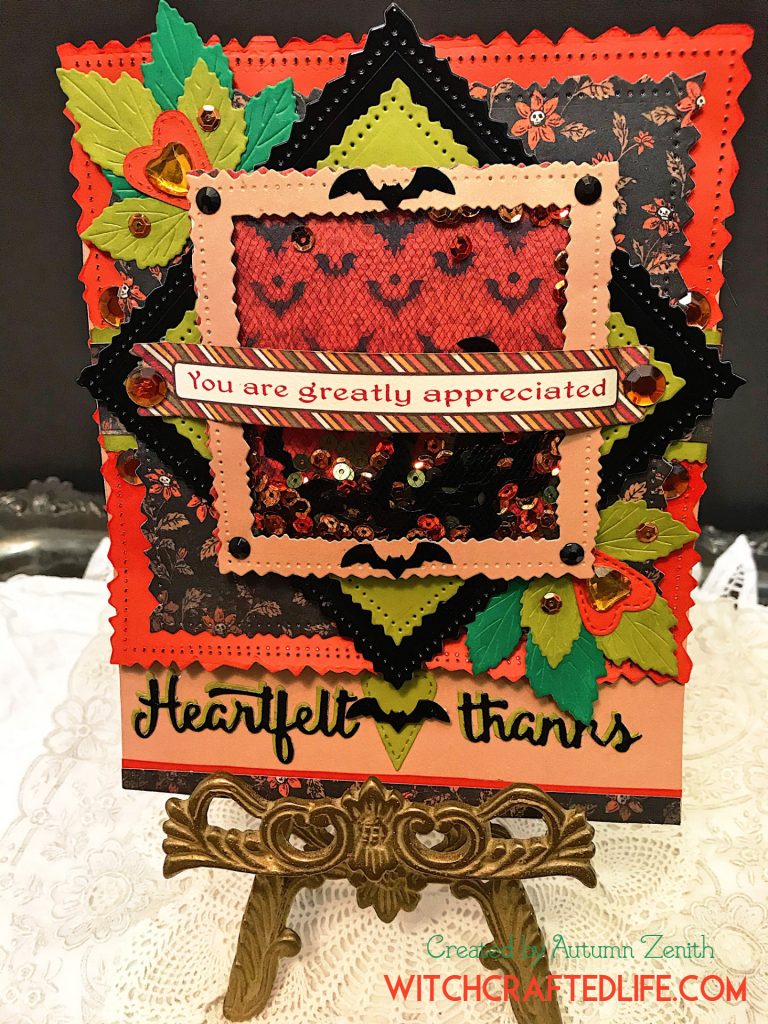 Or, as in this case, Halloween paper crafting projects in February. Have at it!
Life is too short and the giving of cards to those we care about too important not to create what we want, when we want – no matter the current season.
Show me your paper crafting makes!
If you make a project based on or inspired by this card – or want to share any of your other handmade crafts with me – please use the hashtags #WitchcraftedLife and #WitchcraftedLifeMakes on social media so that I see your beautiful creations.
Project share
Pin the image below – or any other in this post – to Pinterest, pop it into your Instagram Stories, post in on Twitter or Facebook, or share it anywhere else you wish to help yourself find it again and to inspire others at the same time.