There are times in most every blogger's life where you have an idea for a post, love it, but think to yourself, "well, I don't need to pen that right now, surely I can save the idea and come back to it again in the near future".
And, generally, that is true. I started to have that train of thought myself when the idea for today's entry hit me, then I had to laugh. Sure, I could hold off, but I'd be doing so for another four years! 😃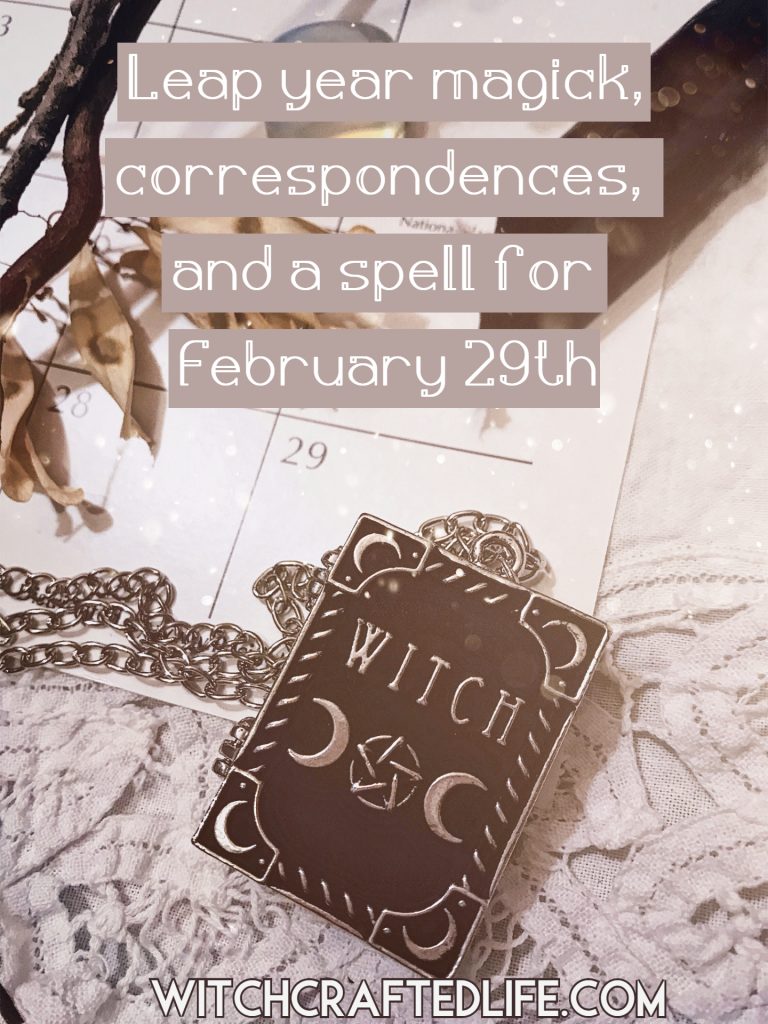 You see, we're just nine days away from February 29th, which makes 2020 a leap year. And while I consider myself a patient soul, four years is just a tad too long to wait on such a fun, date-specific post.
So without further ado, let's hop right into and get to working some Leap Year Magick!
Why do we need Leap Years?
Perhaps no other day is more mysterious, unique and even chic than February 29th. It's like that ultra-cool, super elusive celebrity – or relative – who only makes rare guest appearances once in a great while.
Yet what is a Leap Year and why do we need one?
Thousands of years ago, the ancient Egyptians (though I personally suspect even earlier societies took note of this fact as well) observed that it actually takes the earth a tad more than 365 days to revolve around the sun.
How much longer, you may ask? Roughly 1/4th of a day per longer per year.
The earth circles the sun once, approximately, every 365 days, 5 hours, 48 minutes, and 45 seconds. The technical term for the duration of the year when it is measured this way is a Solar Year or a Tropical Year, which astronomers measure beginning on the spring equinox.
Hence, in the context of the current Gregorian calendar that much of the modern world uses, we need leap years to help ensure that earth's revolutions and our calendar itself remain in synch.
If we didn't add an extra day into the calendar every four years, we would lose about six full hours from our current calendar each year.
That might not seem like too big of a deal at first glance, but over time, the missing hours would quickly compound into days and weeks. In fact, it would only take a hundred years for the Gregorian calendar to end up about twenty-four days short! (In other words, the better part of a full month.)
The extra day – which is technically called an intercalary day – that we require to help keep our calendar system working effectively is tucked onto the end of every fourth February, as February is the shortest month of the year.
It is generally believed that the ever-industrious Roman general Julius Caesar was the first person to introduce the concept of a leap year into the calendar system, though the process involved with the frequency of said leap years would take many hundreds of years more to develop more closely into that which we now use today in the 21st century.
And did you know, those who are born on February 29th are known as Leaplings? These folks only get to technically celebrate their February 29th birthday every time a leap year appears, but many opt to observe it on either February 28th or March 1st on leap year-less years.
February 29th is a liminal day
Occurring as it does once every four years, February 29th is a rare day. It exists, that much is true, but the fact that it does so on such an infrequent basis makes a highly charged, unique and powerful day that exists both in situ and betwixt the realms.
It is a liminal time, not completely unlike periods such as those surrounding Samhain and Beltane, respectively, when the veil is especially thin.
February 29th is a day and time on the edges and periphery. A brief period of once-ever-four-years time that quickly transforms into the more commonplace occurrence of March 1st.
What kind of magick should you do on the Leap Year?
Any kind your heart desires! Though, that said, now is a phenomenal time to set long-term spells, manifestations, and plans into place.
Some examples of these kinds of long-term magickal workings include the following:
-Banishing work.
-Beginning a new journal, Book of Shadows, Grimoire or other personally meaningful spiritual or magickal related record.
-Breaking bad/negative/unwanted habits.
-Bringing your deepest, most poignant dreams into reality.
-Burry, in either a more literal or a figurative or representative way, aspects of your life, magick practice, and spiritual journey that no longer serve you well or which are holding you back from blossoming in the ways that you need and want.
I am especially fond of doing banishing work involving written messages or intentions and burying them outdoors at either 4 am or 4 pm on February 29th (the hour of four-o-clock corresponding to the fact that leap years generally transpire once every four years).
-Committing yourself to thoroughly learning a subject, art, technique, etc that pertains to your magickal practice.
-Engaging in long-term shadow work.
-Fertility magick.
-Health, wellness, and fitness-related workings and goals.
-Launching new projects, such as a business, blog or website, volunteer endeavour, or doing home renovations.
-Long-term goal setting, specifically if you have any goals or plans that may take up to four years to complete (though this is not mandatory and shorter, though still significantly lengthy goals can be set into motion now as well).
-Love magick to help you find, if desired, a long-term partner (you can also perform friendship magick to help bring new long-term friends into your life as well – keep in mind that love magick does not have to strictly be romantic by any means; plutonic love is highly important in most peoples' lives as well).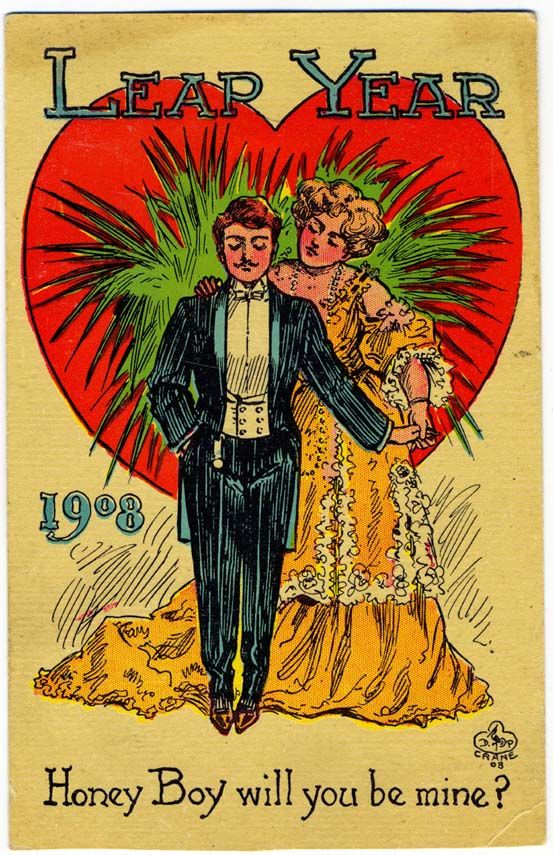 And speaking of love and romance, historically, in certain parts of the world – particularly in Ireland, was an old tradition that women could reverse the standard practice of the day and, on February 29th, ask their beloved to marry them instead of waiting for their honeys to do the proposing (as seen in the vintage image above).
-Planting/starting a new garden or a brand new section of an existing garden.
-Starting something new that will require one or more years of your life.
-Workings pertaining to courage, tenacity, bravery, and fortitude.
Shorter-term magick for the leap year
With February 29th being such a relatively rare day, it is an ideal time to engage in magickal workings of any length.
If you're feeling drawn towards shorter-term magick and spiritual undertakings, here are some useful suggestions that you may wish to put into practice specifically on the last day of this February.
-Astral projection and lucid dreaming.
-Courage magick to help you do something that you've been struggling to muster the gumption needed to undertake.
-Curse and hex breaking (or placing, if that's up your alley).
-Doing twelve-month tarot and oracle card spreads to help provide you with a clearer picture of your life over between now and next February.
-Ethically gathering/sourcing natural materials from the outdoors to use in your witchy workings for the coming year.
-Finding lost objects. February 29th is "hidden" for a few years at a time, when it reappears, jump at the chance to use its powerfully unique energy to aid you in locating missing or lost items.
-Hedgeriding.
-Negative energy reversal work.
-Protection and invisibility/cloaking magick.
-Realign – or begin realigning – areas of your life that may be off-kilter, out of whack, topsy-turvy or otherwise not aligned as you'd ideally like.
-Seeking spirit allies, both animal and non-animal related.
-Shamanic work (done respectfully and mindfully of the traditions and beliefs of the culture whose practices you are enacting or drawing inspiration from).
-Strengthening psychic abilities.
-Take a leap of faith in yourself, your abilities, a new job, someone you trust, a new opportunity – just about anything, really. If ever there was a day for such a leap, February 29th is definitely it! 😊
-Work with the current astrological chapter of the year, Pisces, a water sign, and the twelfth sign of the zodiac (the annual cycle of which begins anew with Aries, which generally begins on or right around March 20th).
-Working with the faery folk in your immediate area and letting them know that you're thinking of them at on this naturally enchanted day.
Are leap years lucky or are leap years unlucky?
Some people, both inside and out of the Pagan and witchy world, believe that February 29th is a wonderfully lucky day.
Just as, others – perhaps more so in the past – such as the Scottish and Greeks of yore, saw it as an unlucky date. Indeed, the Greeks thought it was unlucky to marry point blank during a leap year, but especially to do so on February 29th itself.
I'm always leery of dubbing a particular date as being inherently lucky, but can't help thinking that the rarity and charged liminal energy of February 29th lends itself to potentially increasing one's luck, good fortune, and all-around positivity on that specific date.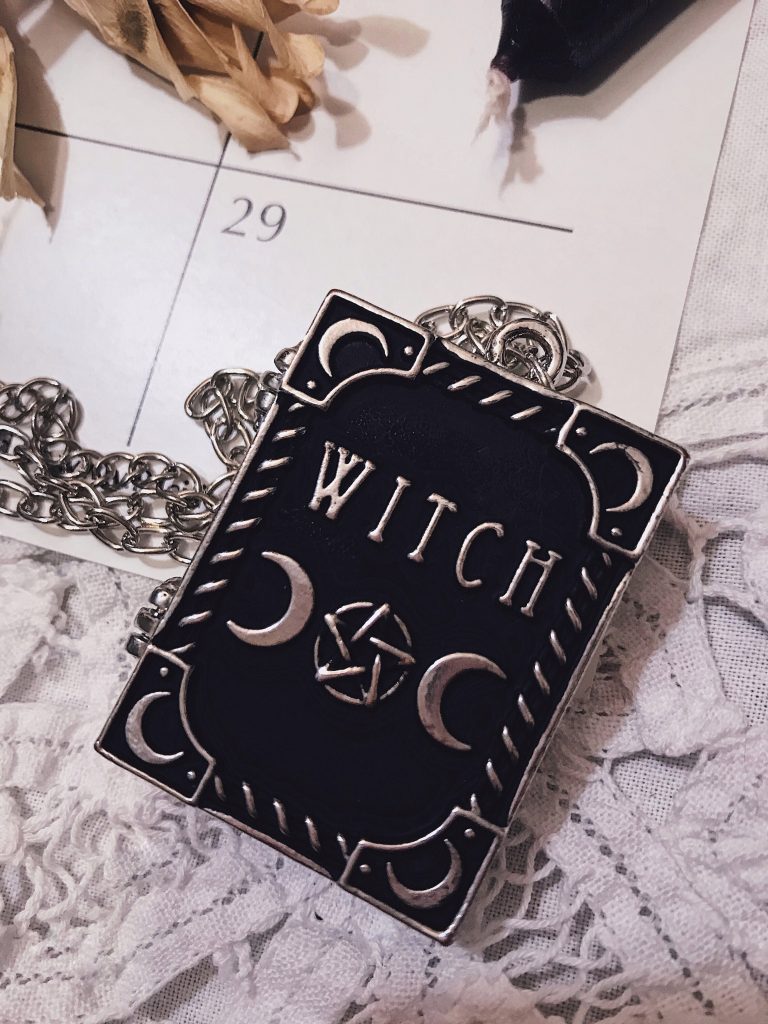 Leap year magickal correspondences
Generally speaking, a lot of the correspondences that apply to February 29th are ones that hold true for the month of February as a whole.
As well, you may find that things and correspondences which are especially rare or hard to come by – much like the rarity of leap years themselves – feel right for your workings and sacred space on this special day.
The following is a list of magickal correspondences for February:
-Trees: Cedar, pine, rowan, cypress, and laurel.
-Herbs, spices, and flowers: Hyssop, bay leaves, anise, myrrh, sandalwood, frankincense, pine needles and pine resin, cinnamon, nutmeg, ylang-ylang, mint, rosemary, balm of Gilead, sage, thyme, basil, tansy, wisteria, jasmine, heliotrope, palmarosa, lemon balm, primrose, heather, snowdrops, and patchouli.
-Colours: White, blue, violet, purple, grey, light yellow, pale green, pink, red, brown, silver and gold.
-Crystals and stones: Clear quartz, diamonds, rose quartz, citrine, amethyst, fluorite, silver, pyrite, angelite, aquamarine, ruby, garnet, jasper (including dalmatian jasper), ammolite, bloodstone, turquoise, black tourmaline, onyx, and selenite.
-Animals: Sheep, cows, foxes, rabbits, hares, bears, deer, otters, groundhogs, prairie dogs, eagles, robins, owls, chickadees, blue jays, and unicorns.
-Gods and Goddesses: Brigit, Kuan Yin, Diana, Eros, Persephone, Aphrodite, Demeter, Venus, Selene, The Muses, Mars, Pan, Boann, Shakti, Branwen, Parvati, and Bast.
Nature spirits: The fae, including faeries who are connected to the home, one's property and garden.
-Foods: Those associated with Imbolc and the end of the winter, with an emphasis on warm spices, fresh citrus fruits, grains, seeds, breads, potatoes, and most types of fresh and dried green herbs.
-Magickal supplies: Candles, salt, dried herbs (including those listed above), tools made out of silver and silver-tone metals, altar tiles, crystal wands, and ogham runes.
-Elements: Air and water, though fire is an important element for February as well, particularly as it relates to Imbolc.
-Astrological sign: February 29th falls during the time of Pisces, whose ruling element is water. Pisces is ruled by Neptune and is represented by a fish.
A leap year spell to help you get over hurdles in your life
What you'll need
-A large bay leaf (use more than one leaf if needed) or another type of dried leaf that is suitable for writing on
-An environmentally friendly writing material, such as Natural Earth Paint or vegetable ink, or if that is not possible, a permanent marker in the colour of your choice (I'd suggest picking one that aligns with the intentions behind your spell)
-Optional, an eco-friendly offering to leave in the area where you perform the working outdoors. Things such as lovely rocks, attractive leaves, springs of herbs, and pieces of fruit are often good choices.
How to perform this spell
Select a natural spot that safely allows for you to throw something into it without damaging the natural environment. (I CANNOT STRESS THIS POINT ENOUGH – PLEASE BE SUPER SAFE!)
This could be a small hill, a river, a gully, an abandoned/no longer used well, or another suitable spot in your area.
If possible (though it is not imperative), prior to 4 am on February 29th, gather the materials listed above and visit the spot you've selected. Ensure that you are dressed warmly, if the weather is less than favourable.
Arrive at the spot a little before 4 pm (if possible), take several deep, soothing breaths in and out, and focus on your surroundings. As you do so, think about an area in your life that you've been struggling to overcome or more past.
This could be just about anything. From ditching an unwanted habit to working up the courage to ask for a raise at work to finally standing up for yourself with your in-laws.
Once you clearly know what you're focusing on, write the name of that issue on the leaf or leaves that you brought with you. A single word or just a few words will likely suffice here, no need for lengthy paragraphs in such a small space.
Hold the leaf (or leaves) in your hands and (if doing so is safe in the area that you're visiting) close your eyes. Focus your energy on the leaves and envision the strength that you need to overcome this issue in your life entering your body, as you transfer the energy, fear, stress, anxiety, and so forth from yourself that may be holding you back into the leaf or leaves.
Safely approach wherever you are going to throw the leaf/leaves. Right before you toss this trouble away from yourself, say the following words (or ones of your choosing):
"I am projecting that which holds me back away from my body, my spirit, and my life. I tap into the energy of this liminal, rare leap year day and ask that it help give me the courage and strength to overcome this hurdle that I've been dealing with once and for all. So mote it be."
Scrunch up the leaf/leaves and throw them away from you. As they weigh very little, they may not travel far, so you might have better luck dropping them, rather than throwing them.
Step back, take a few more deep breaths, and concentrate on the natural energy of your surroundings, as well as that of February 29th. When you feel ready, thank the environment and Leap Year for assisting you (if you brought an offering to leave, do so now) and carry on with the rest of your day.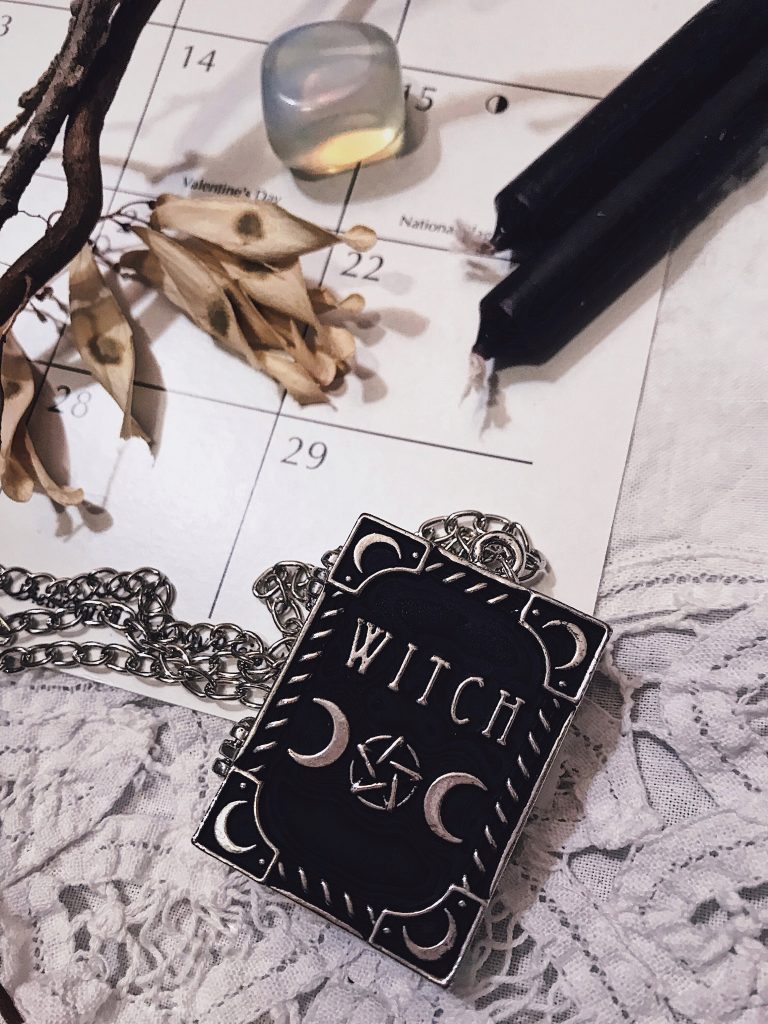 What does the leap year mean to modern witches and Pagans?
Like so much in our individual practices, this will vary from person to person. For some, it may just be an extra day at the end of February. For others it is a time to engage in long term magickal workings, take chances and proverbial leaps in our lives, focus on the magick of a day whose presence is only felt and experienced once every four years, and celebrate the rarity of February 29th.
I get downright giddy when we get treated to an extra day. It feels so deliciously secretive – even if most people know about leap years. Perhaps then, it is one of those secrets that we wear on our sleeves. They're private, but not as concealed as we might have the rest of the world believe.
Whatever the case, I'm on board with the leap year big time and am delighted that the idea for this post struck me just in the nick of time (and that I jumped on the opportunity to pen it when I did).
I encourage you to look for ways to tap into the energy, strength, unique qualities, and hurdle busting properties of the leap year on this special day that we won't experience again for another four years.
What are your magickal plans for February 29th?