Before this week draws to a close, we will have ushered in the official start of spring. A new season looms and its presence is inspiring many of us in myriad ways.
Winter is still holding on for dear life here in our woodland corner of British Columbia, but even with the lingering mountains of snow and nights that dip below freezing, it is nearly impossible not to sense spring's return and to beam like the very sun itself over that fact.
The first two months of 2020 were heavy ones for our household and family. So much so, that in some respects, it feels like we've lived two years since the ball dropped on New Year's Eve and the first year of the new decade sprang into being.
Amongst the thorns and uncertainties, challenges and obstacles of life, there have been numerous positives too, however, and I am wholeheartedly grateful for each of them.
Spring began to gently stir back around Imbolc and while it has yet to awake fully yet here, I know that we're not too far away from that point.
As much as I adore the darker half of the year that houses fall and winter, I'm quick to usher in springtime all the same – even if it often feels as though it only lasts for about 5.74 seconds here in Canada. 😃
This year, I'm getting a head start on my seasonal paper crafting projects and am delighted to share the first one of 2020 here with you today.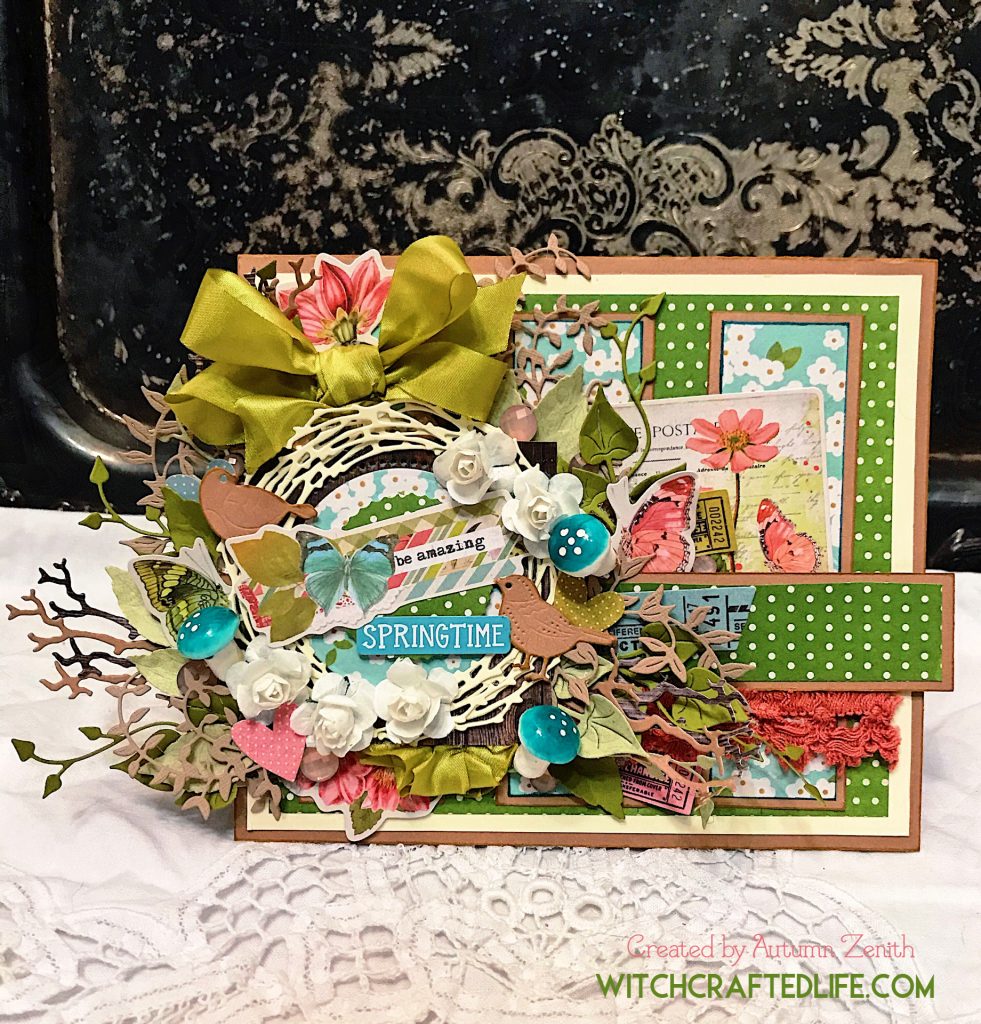 Shabby chic Be Amazing Springtime bird's nest card
In for a penny, in for a pound, I'm keen on saying and that motto often applies with my seasonal paper crafting projects.
Once the creative springtime ball got rolling, there was no stopping me with this card. Flowers, leaves, whimsical little toadstools, butterfly ephemera pieces, soft hues paired with earthy kraft brown, tiny birds, and the piece de resistance (to my mind at least), the die cut bird's nest.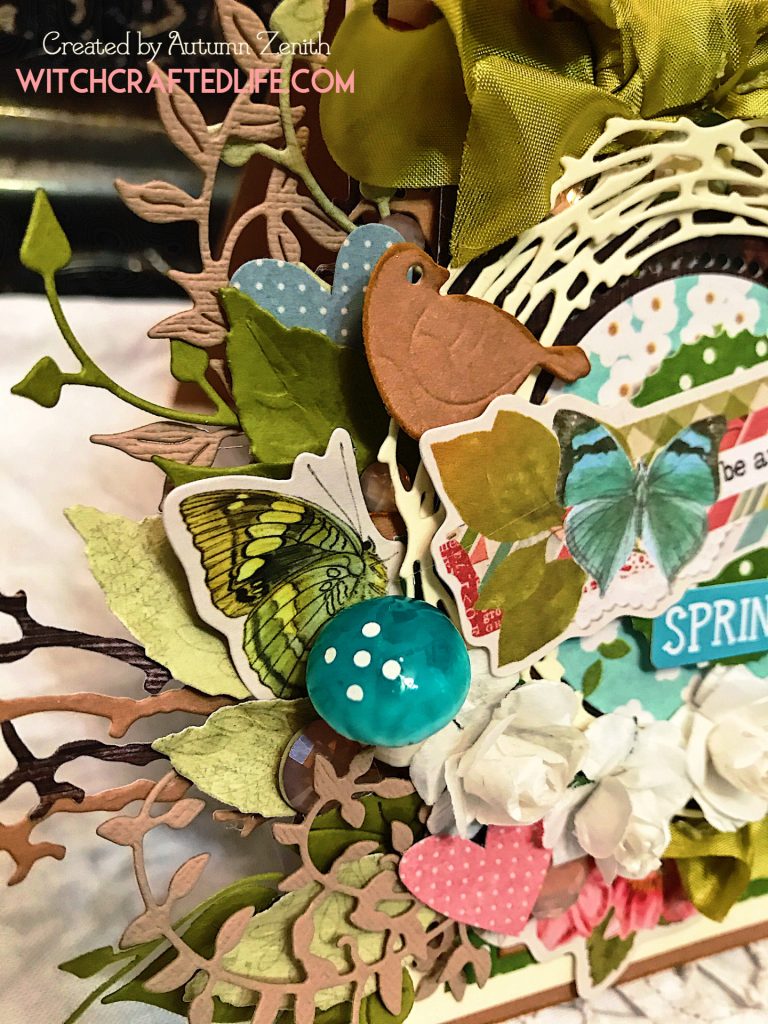 I had the upcoming sabbat of Ostara in mind as I was creating this card, but did not include direct mention of either it or Easter, as I wanted this to be a card that I could send to a wide number of possible recipients (not all of whom observe one or both of those special days).
Yet by the same token, this design is 100% suitable for either occasion and the sentiment I stamp or write inside can easily be tailored to suit Ostara or Easter.
There's nothing to say this card couldn't be used for Beltane, too – especially if you live in a part of the world where spring doesn't tend to appear in full force until around the start of May.
Or, perhaps with a different sentiment on the front, for Mother's Day as well. (Adjust the colours if needed to reflect your mom or grandma's personal favourites.)
Stop and smell the roses while you craft
Fun fact, like most of the cards I make, this one took several hours to complete. I am a methodical crafter and will often spread the creation of a single project out over the course of multiple days (especially since it isn't always feasible for me to craft for extended periods of time in one go).
I delight in the process. In mixing and matching possible products to include, in how I arrange the end results, in seeing something tangible materialize before my eyes.
This card was no exception and while it was completed in a single day (a rarity, I assure you!), the journey from bringing my (plastic) bone folder down on the kraft cardstock base to the very last embellishment was a soothing, wonderful pleasure.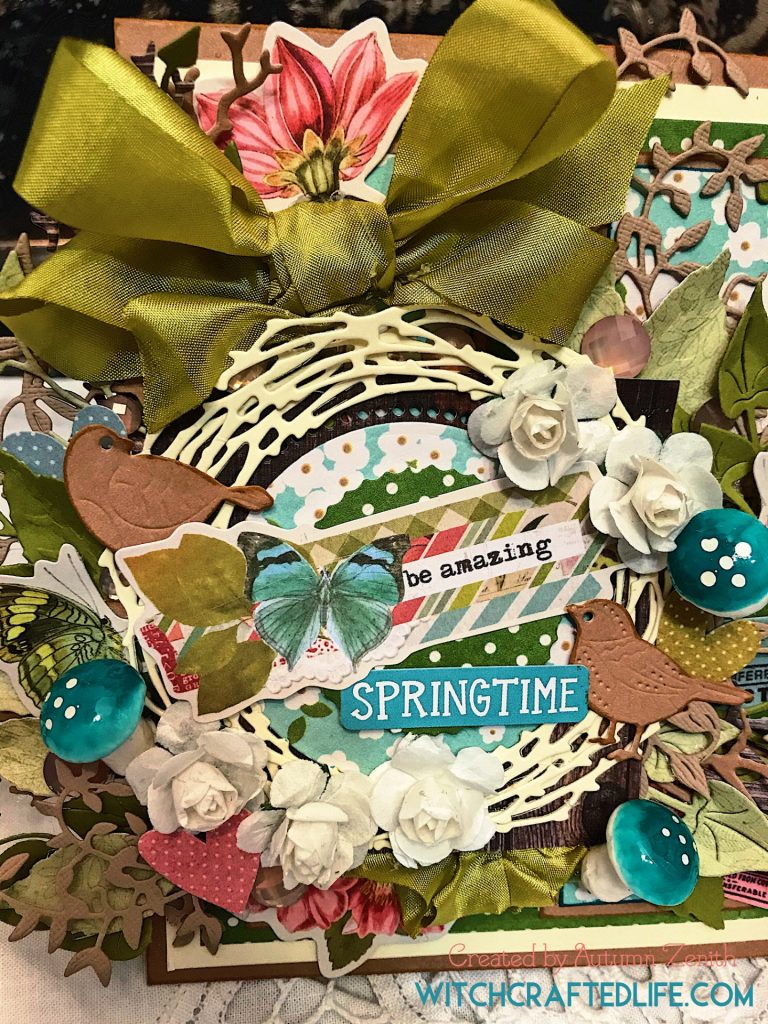 There is no right or wrong speed to craft at, of course. Some people seem to have an almost superhuman ability to create multiple detailed projects in a single day, others, like myself, work at a slower pace and may spread their work out across multiple crafting sessions. Plenty fall squarely in the middle.
Whatever speed or pace you tend to craft at, I encourage you to actively remember to savour the act of creating. Try to ensure that crafting continues to feel like you're making artwork (which you are!), not simply working at breakneck speed on one project before plowing straight on to the next without taking time to delight in the creative process and the end result that you've spun into being with your own hands.
With spring's return looming in the Western Hemisphere, now seems like an especially apt time to stop and smell the roses as we delve into a new season of crafting and enjoying the fabulous passion that is paper crafting.
Putting this beautiful springtime card together
A base of classic kraft cardstock – a perineal favourite of many a paper crafter the world over – kicked things off for this card.
Next, I layered a piece of cream/ivory cardstock slightly smaller than the size of the kraft base atop the base itself. This was followed by, once again, a slightly smaller layer. In this instance, a piece of cheerful green and cream polka dot print paper.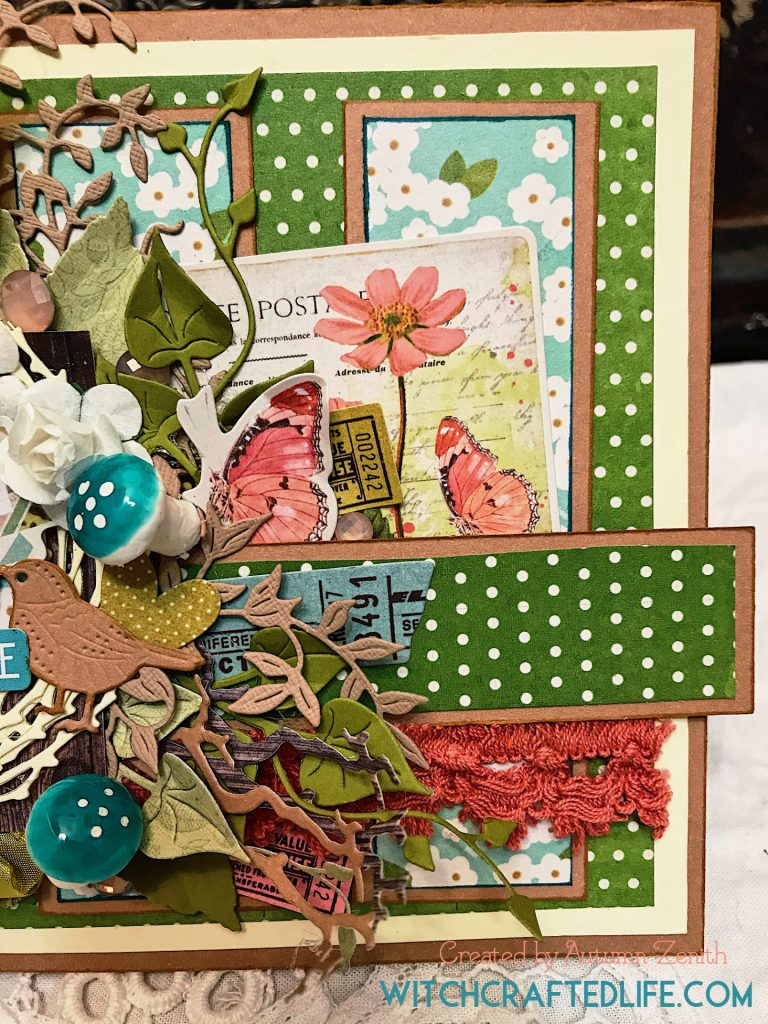 I then cut three equal-sized elongated rectangles of the same kraft cardstock that I used for my base (note that the third rectangle is largely obscured by the embellishment on the left-hand side of this card), each of which I topped with equal-sized rectangles of a sweet, springtime perfect floral print paper. The edges of both layers were lightly inked to help them stand out all the more.
Next, I cut another (longer) strip of kraft cardstock, which I inked the edges of and topped with a piece of the same green and cream polka dot paper that I used before. Before attaching this strip, I dug through my stash for some pretty pink trim, which I tucked beneath this horizontal strip.
With what I like to call my "base components" in place, I set to work die cutting up a storm, selecting premade die cut ephemera pieces, choosing embellishments, and arranging the layout of my final design.
The nest/wreath was cut from the same cream cardstock that I used for the second base layer and is comprised of two layers of the same die cut, to give greater depth to the bare branches that comprise its classic shape.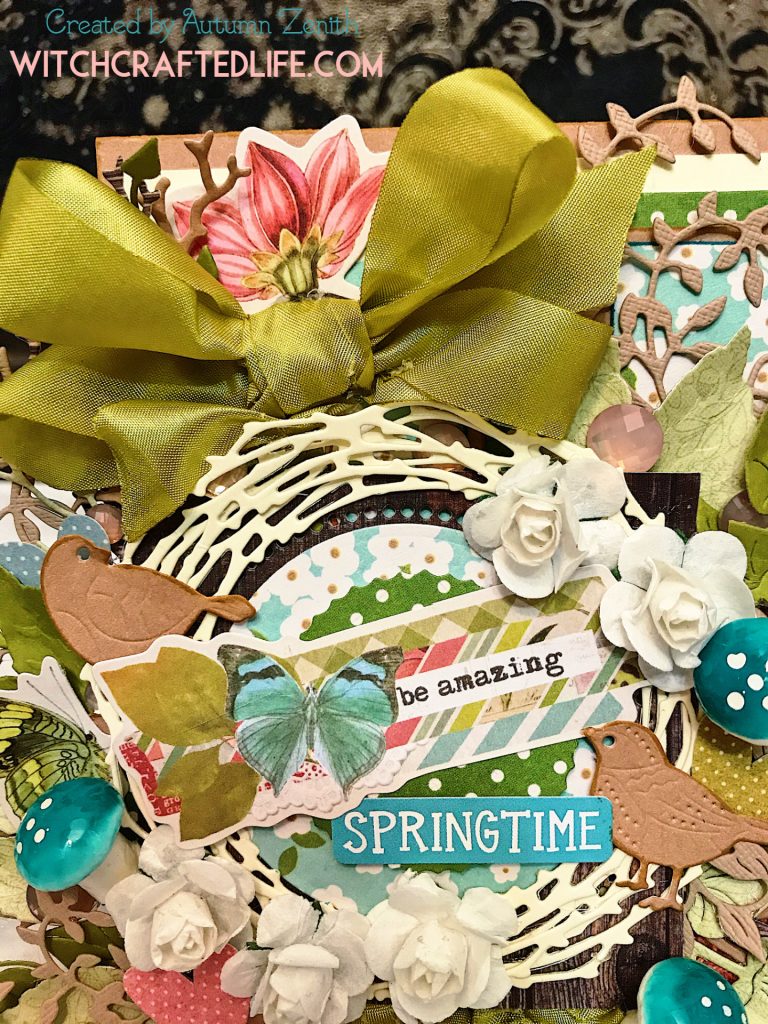 While similar in tone, I did not repeat the same kraft cardstock again the branches or leaves, opting instead for a very pale milk chocolate tone coupled with some branches cut from a dark brown woodgrain print paper.
For the die cut leaves and some of the vines, I used both a medium green cardstock that teeters on olive and a tone-on-tone green print paper.
As soon as I settled on the use of a wreath meets nest component for this card, I knew that birds were going to be involved. Two cute little avian friends appear here, both die cut from the same kraft cardstock and lightly inked just on the edges to add subtle depth and to make them stand out a bit more from their surroundings.
In the center of the nest/wreath area, I placed a simple die cut circle of the same floral print paper that I used on the three background strips.
I then placed these components on a piece of woodgrain paper (the same one that I used for some of the die cut branches) that I die cut a mini hole circle from.
After all of my manual die cutting was complete, I created a bow from olive green seam binding, selected the pre-made die cut shapes I'd be using, plucked some lovely little white dimensional flowers from my stash, determined what I'd be using for my sentiment here, added some super cute teal and white faux toadstools along with some pale pink faceted bling, and that was that! 😊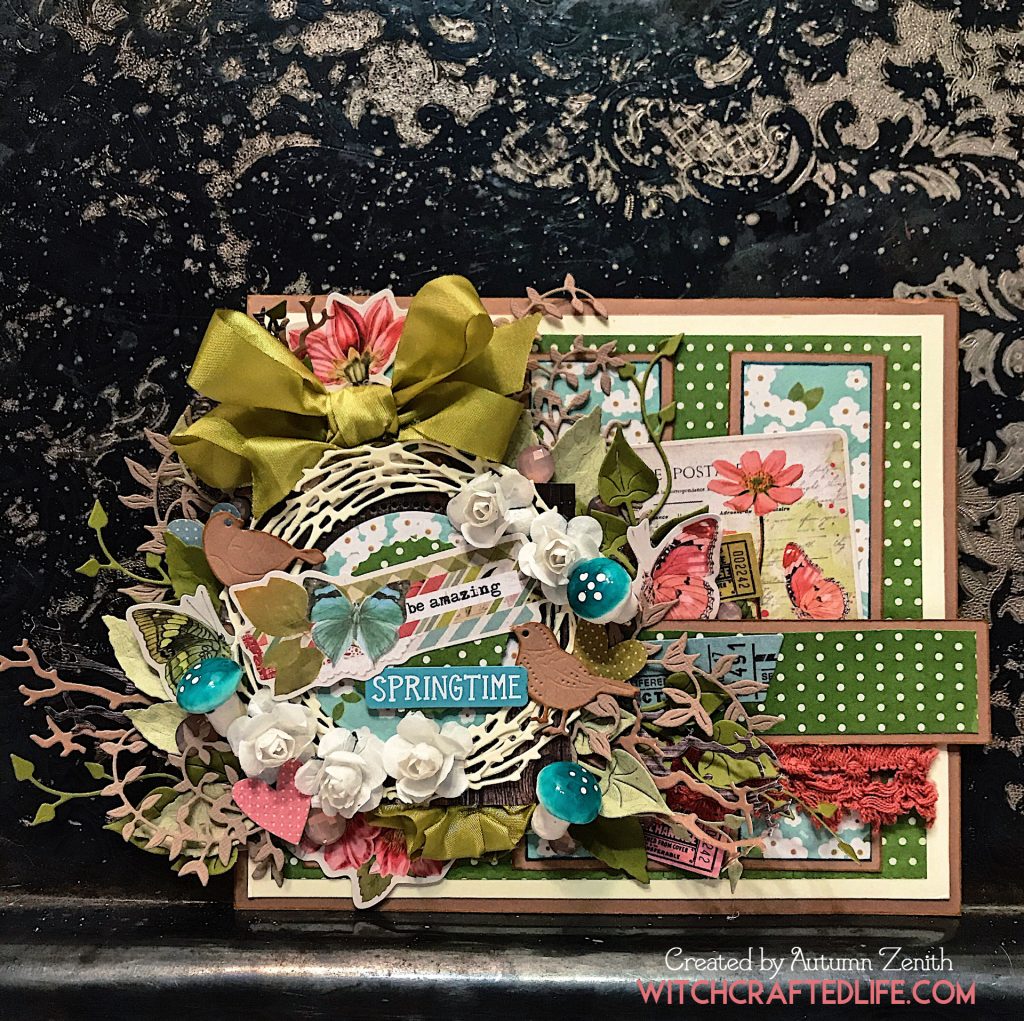 While this card may, at first glance, look a bit fiddly or difficult to make, IMO, it really isn't. Plus, so much of the fun of designs like lies in building up the layers and playing around with the arrangement of your design elements until you hit on a winning composition.
Card making tips and ideas from this project
-Layer or otherwise combined two (or more) of the same die cut shape in both a light and a darker tone to help give a greater sense of dimension as well as a potential sense of shadows.
-Base your cardstock colour choices off of the colours in the patterned papers that you plan to use (or vice versa) for added cohesiveness throughout your finished project.
-Use dies that are intended to be wreathes to make nests and vice versa. This die was designed to be a wreath, but it works like a charm as a nest, too (you could also cut more layers and curve them upwards on the edges to add to the sense of the dimensional quality of most real life nests).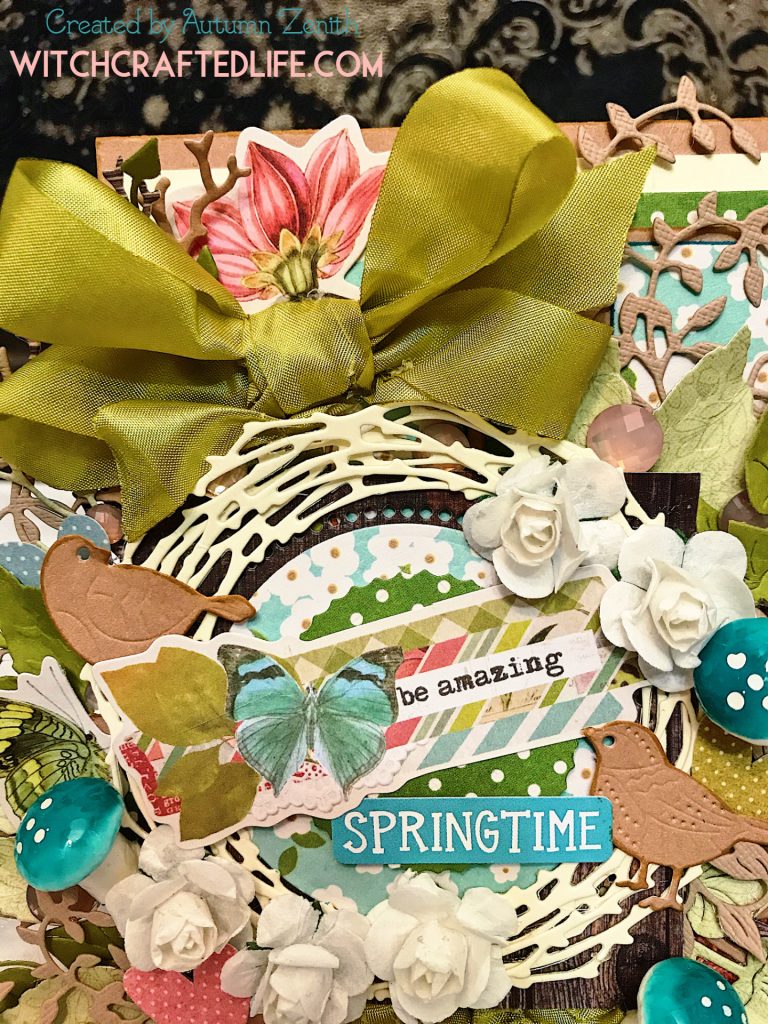 –Not everything has to match perfectly, just stick with similar tonal ranges and colour families, striving for a general sense of harmony throughout each of the colours used on your projects.
-While I was fortunate to have some olive green seam binding to hand, it's worth keeping in mind that seam binding, twill tape, and certain other kinds of trims and ribbons can often be dyed with various mediums such as spray inks or ink pads to match or coordinate with the colours of your projects. Just make sure they're dry as a bone before using them on your makes.
-Going "off card", especially with foliage related elements, is a stellar way to not only increase the overall size of your project, but to help create a more dynamic and visually appealing design.
-As upbeat and springtime-y as many of the colours that I used here are, we're currently in the early throes of the season and so I wanted to ground a more Ostara/Easter appropriate palette with earth tones. This was chiefly accomplished via the cream, olive green, and browns.
If this was a summertime card, I might have opted for brighter or starker colours, such as white, aqua, yellow, or larger swaths of upbeat shades of blue.
Come fall time, this same design could be gorgeous with rusty oranges, dusty peach or rose, teal blue or forest green, and a dark brown cardstock base.
And for winter, shades of icy blue, white, grey and silver would no doubt turn heads!
-If you didn't want to use birds here, you could make opt for any number of other critters instead from bunnies (perfect for both Ostara and Easter) to ladybugs – or simply forego animals/insects altogether.
–Use dies to create shapes or designs other than what they're intended for. Here a wreath die helps to create a nest, but that is just one of an endless number of examples of when a die could do double (or triple, etc) duty in terms of the shapes and images it may be able to help you create.
-Blend nature themed and vintage inspired pieces together. The pair is a winning combo that has strong visual appeal and which helps each of these different components to highlight and enhance the presence of the other.
–Opt for uneven numbers of embellishments for greater visual interest. In this instance, I used five white flowers, three teal mushrooms, and two kraft birds partnered with a single nest. These elements themselves then become an uneven number of three groups of standout embellishments.
-Don't be afraid to arrange your design elements – including your sentiment – at an angle. Doing so is often eye-catching, engaging, and one of those awesome paper crafting tricks that can help take your makes to the next level.
Products to help you recreate this Be Amazing Springtime bird's nest card
-Kraft, cream, green, and light brown cardstock
-White and blue floral print paper and green + cream polka dot print paper – both are from the Garden Party 12×12 inch pad from Pebbles (6×6 inch version available here)
-Dark brown wood print paper and green tone-on-tone patterned paper – both are from the Cider Woods 6×6 inch Mat Stack from DCWV
-Various small leaf and branch dies (included in the ones I used here are the Tim Holtz Alterations Small Tattered Florals Thinlits Dies from Sizzix)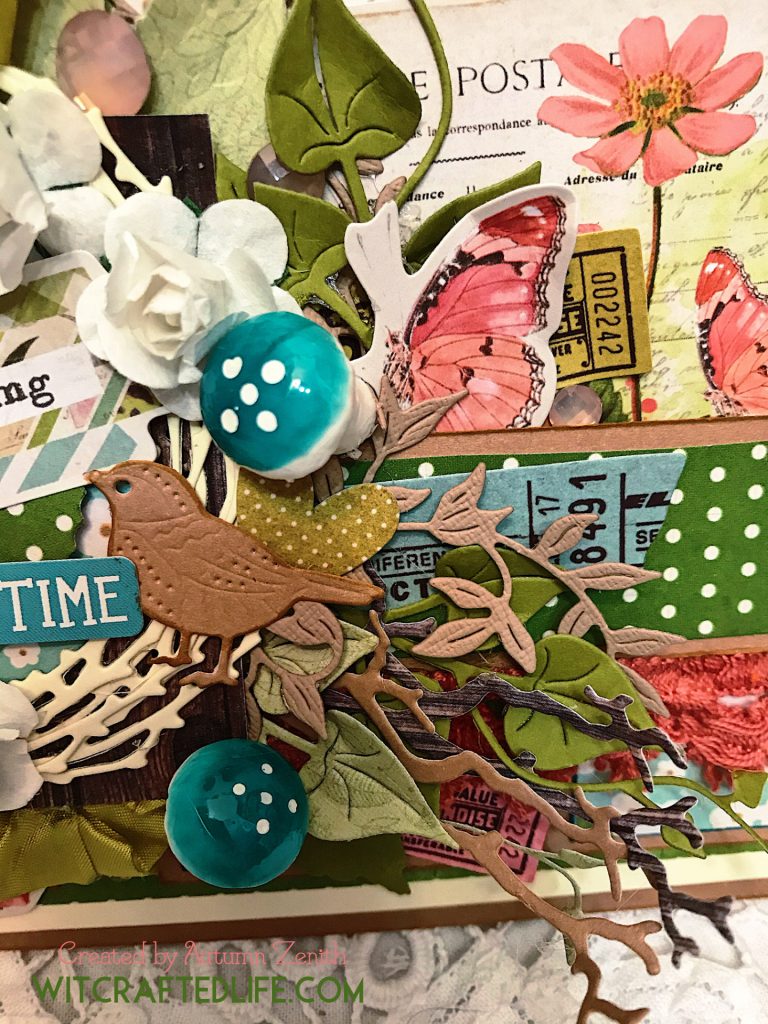 -Circle die or punch
-Teal and brown ink – Tsukineko Memento Dew Drop Ink in Peanut Brittle and Teal Zeal
-Assorted vintage style ephemera die cuts – Simple Vintage Botanical Die Cut Ephemera from Simple Stories
-Small white paper or cream paper flowers (premade or store-bought; foam flowers can be used as well)
-Teal or other coloured miniature toadstools (check hobby shops, eBay, Etsy, craft stores, and shops that specialize in dollhouse supplies to find these kinds of tiny 'shrooms)
-Pink trim – Lost and Found Christmas trims from My Mind's Eye
-Olive green seam binding – Lost and Found Christmas trims from My Mind's Eye
-Springtime sentiment sticker – Spring Fling Element Stickers from Echo Park
-Light pink stick-on gem embellishments – Pretty Pale Say It In Crystals from Prima
-Dimensional foam, pop dots, or similar to elevate some of your layers
-Adhesive, such as a tape runner, of your choice (I often use my Scotch Tape Glider)
Here's to an amazing spring!

As rocky and curveball filled as the first couple months of this year have been on certain fronts, I'm sincerely grateful for each moment they housed and am really looking forward to everything that I sense spring holds in store for us.
I generally celebrate Ostara on the Spring Equinox (which, for those north of the equator, falls on March 19th this year,) with the season of this sabbat extending for multiple days on both sides of that beautiful date.
Gradually, much like the returning season itself, elements of Ostara are weaving their way into my life, my witchy workings, and my paper crafting alike, so be sure to stay tuned here for more festive springtime makes between now and the Summer Solstice.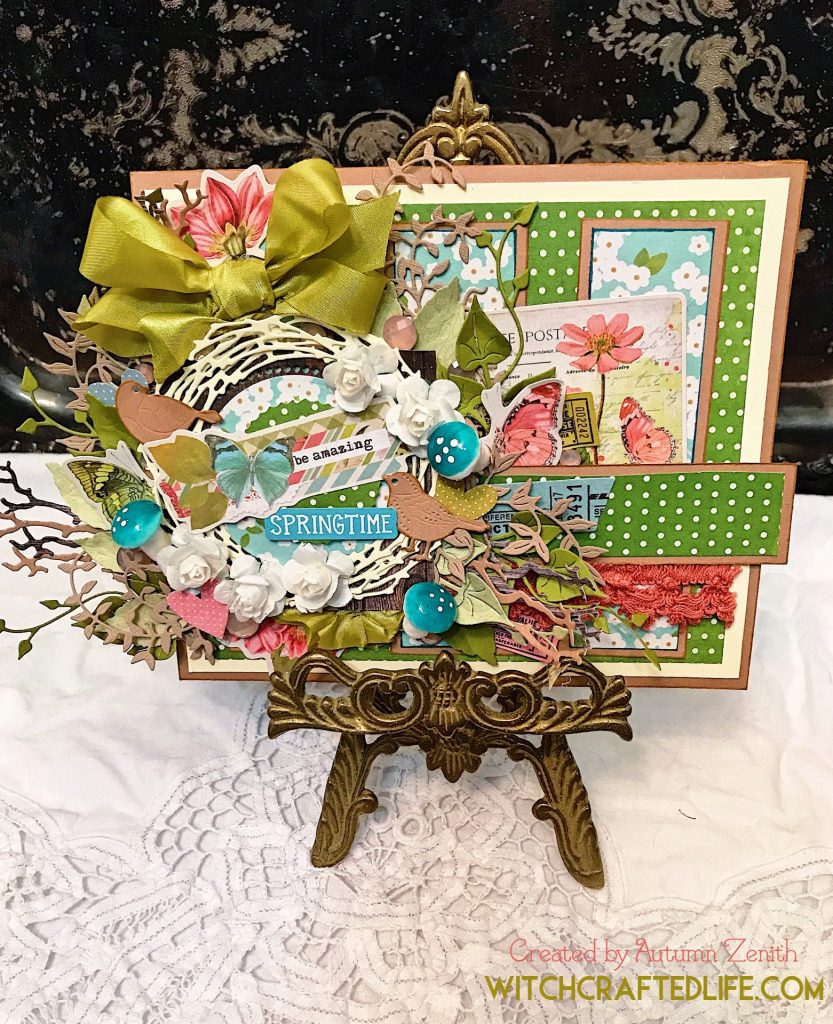 With all my heart, I hope that spring is a time of warmth, renewal, abundance, optimism, positive happenings, fresh starts and beloved longstanding favourites alike for each of us.
And, may it bring all of my fellow paper crafters and creative folks of kinds ample time to create a garden's worth of exciting new projects!
Project share
Pin the image below – or any other in this post – to Pinterest, pop it into your Instagram Stories, post in on Twitter or Facebook, or share it anywhere else you wish to help yourself find it again and to inspire others at the same time.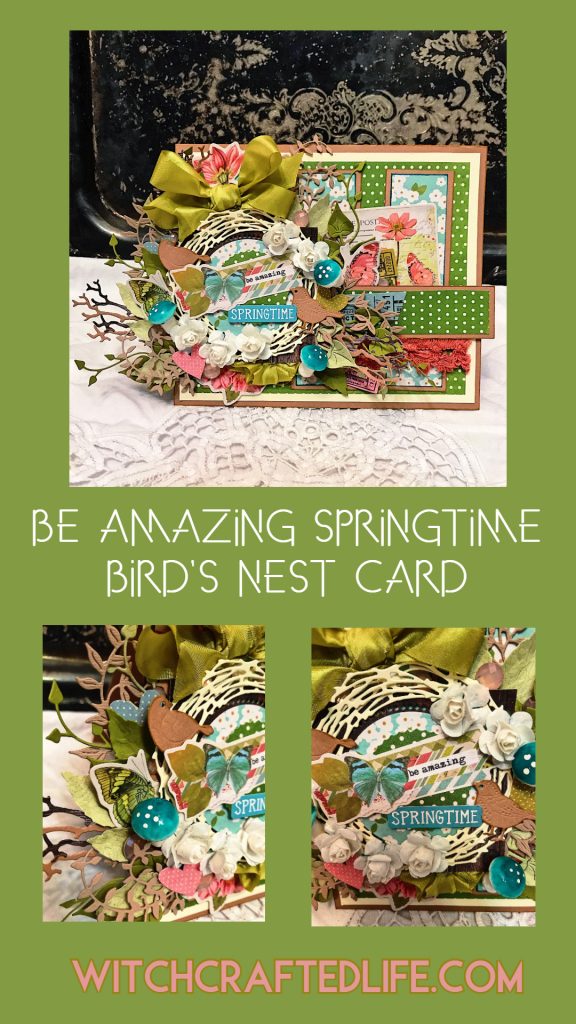 If you make a project based on or inspired by this card – or want to share any of your other handmade crafts with me – please use the hashtags #WitchcraftedLife and #WitchcraftedLifeMakes on social media so that I see can your beautiful creations.