As the first several weeks of this year have unfolded, I've frequently found myself thinking about the closing scenes from the 1990s classic, Fight Club.
Specifically, when Tyler Durden (played by Edward Norton) says to Marla Singer (Helena Bonham Carter) that she met him at "a very strange time in my life.
Initially, this line swirled around in my head in relation to mine and my husband's lives, which have been quite interesting as of late to say the least! (In no small part because Tony, my husband, has been dealing with some serious medical issues that have required multiple surgeries throughout February and March.)
However, with unsettling rapidity, it became clear that these iconic closing words were suddenly applying to the world at large as well.
Things are truly strange across the globe at the moment. Newly generated uncertainty, fear, and very real medical issues have injected themselves into each of our lives to varying degrees.
Without the slightest whisper of a pun intended, things are deadly serious right now the world over and we must all do whatever can to stay as safe and healthy as realistically possible.
While, at the time of writing, Canada is not yet in official lockdown (isolation), early on last week Tony and I put ourselves on voluntary lockdown.
Between the fact that he's recovering from surgery and I'm immunocompromised due to some of my chronic illnesses, we simply cannot play fast and loose with our lives (none of us can!).
However, as much as we could discuss this Coronavirus situation at great length, that is not the primary purpose of today's post.
No, right here and now, a few days after the Spring Equinox, as the lingering elements of one season gradually wrap up and the second chapter of the Wheel of the Year begins, I'm launching the first edition of a new reoccurring post series on Witchcrafted Life.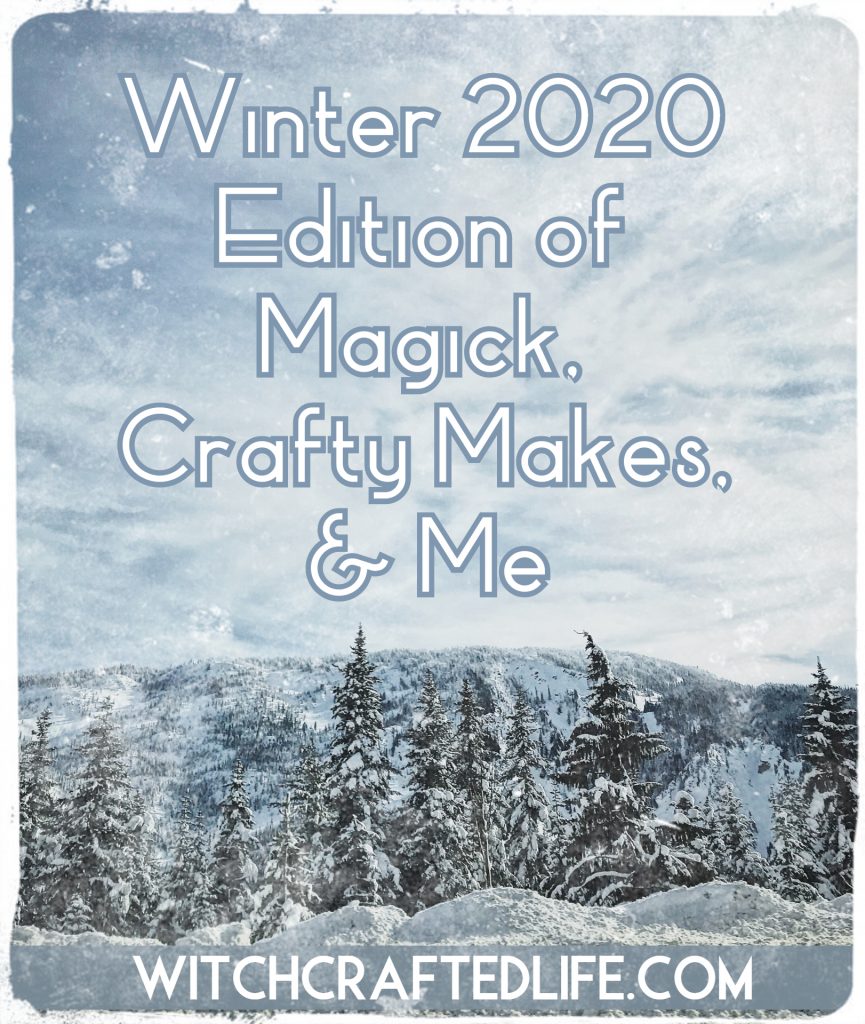 Winter 2020 edition of Magick, Crafty Makes, & Me
Going forward with this series, I will aim, when possible, for each entry to appear slightly before the next season begins. As the idea just came to me, however, that isn't possible this time around.
So just what is "Magick, Crafty Makes, & Me", you may be asking.
Great question! It is a new quarterly blog post series here that will feature three different areas of discussion:
-Magick: This section will look at some of the most engaging, interesting, or just plain cool online content that I've come across in recent months pertaining to witchery, magick, Paganism and related topics.
Please note: I realize that not all Pagans are witches or otherwise magick workers and vice versa, of course, but hope that one can look upon the general spirit of this word in this context, more than if each link itself specifically deals with the subject of magick.
-Crafty Makes: This section will feature will likewise feature some fab online content, however, it will pertain to paper crafting and the occasional link to a different type of crafty or artistic project as well.
-Me: Last, but not least, this area will be a brief overview of some of what's been shaking in my own life recently, plus a handful of links that have struck a chord with me personally (but which may not be strong fits for either of the above categories).
Chances are that many of the links I feature in this series will be fresh ones that were released in the last few months. Sometimes, though, I will include older interesting content that I've only just recently discovered (and think you're apt to likewise enjoy or find informative as well).
So, without further ado, let's jump right into the inaugural edition of Magick, Crafty Makes, & Me.
Magick, Witchcraft, Paganism, and Spirituality
-An ever-increasing number of us are dealing with a slew of very real, complex and sometimes challenging thoughts and feelings regarding the health of our planet. We Need to Talk About Ecological Grief addresses some of the topics pertaining to this area and is sure to provide both a sense of not being alone in your concerns and plenty of food for thought at the same time.
-Crafty folks and fans of time-honoured arts everywhere, who also have an interest in magickal topics are sure to delight in the post Button, Scissor and Needle Magick from the frequently updated website, Otherworldly Oracle. (I also adore their recent look at the Magick and Beauty of Facial Wrinkles)
-From one of my all-time favourite websites (point blank – not just pertaining to spiritual matters) comes this lovely piece detailing 17 Signs that You're an Old Soul.
As a soul born so old, I teeter on calling myself an ancient soul, posts like this resonate deeply with me, just as I'm sure they will for many other aged souls and those who are close to such individuals.
-Not, perhaps, since the horrors and challenges of WW2 has the planet so collectively been in need of the comforting powers of a good cuppa. And for those of us who are of the witchy persuasion, each cup of tea can be a way to inject and connect with magick all the more in our daily lives. Thus Willow's terrific infographic look at Tea Magic: Types of Tea and Their Magical Uses is all the more welcome and beneficial during these highly challenging times.
-S. Elizabeth, a contributing writer at Haute Macabe (and author of the blog These Unquiet Things) has just announced the release of her new book, The Art of the Occult, and it sounds like it is going to be every sublime thing you'd imagine based on its immediately engaging subject matter.
–The Magic is Gone: a captivating book review by Peter Marshall of Sir Keith Thomas's serious tome of a 1970s classic, Religion and the Decline of Magic.
In this review, the author specifically focuses on the question "were humanist free-thinkers the engineers of magic's decline?" and will quickly has you pondering the same question.
-There are countless ways to help usher in, honour and continue to celebrate spring both during and long after the start of the season. One traditional and very charming approach is laid out in Folkloric Dolls: Bulgarian Martenitsa Welcoming Spring.
-Witchcraft and magick need not be overly complex or time-consuming practices in many instances – especially when it comes to everyday witchcraft. The Witch's Guide has a lovely recent post detailing Simple Ways to Add Magick to Your Morning Routine, which helps to remind us all just how easy and wonderful it is to start our days off on a magickal note.
–Your Witchcraft Practice is Valid is the post that witches far and wide, old and new to the craft alike need to hear, take to heart, and help promote the message of.
Card Making, Scrapbooking, Paper Crafting, and Other Crafts
-Crafters of every sort who work with stamps are apt to enjoy this wonderful post on how to make your own DIY Vintage Foam Stamps care of Diana at Dreams Factory. (While there, she has a terrific post on How to Make Avocado Dye for Paper that you'll want to check out as well.)
-Fellow Canadian scrapbooker Tracy McLennon has curled Rinea Foil Paper to look like spirals of gift wrapping ribbon and the results are downright jaw-dropping!
-Speaking of foiled things, foil has made major waves in the paper crafting world over the past few years, as an ever-increasing number of companies offer products for both hot and non-heat related foiling.
If you're looking to learn more about this beautiful paper crafting technique, be sure to dive headfirst into Scrapbook.com's in-depth article on the subject: Crafting with Foil: The Only Guide You'll Ever Need.
-If you're itching for a rustic, super easy to make décor craft that works as splendidly for various holidays as it does the rest of the year, may I suggest KariAnne's beautiful DIY Wood Bead Garland with Heart project.
-I'm head-over-heels in love with Heather Nichols's Quick & Easy Witches Shoe Shaped Halloween Tags over on YouTube (coordinating blog post here). For all my fellow Pagan paper crafters, these are bound to appeal to you not only for October, but the whole year through.
-Looking for a thoroughly darling spring paper crafting project? May I suggest this charming Paper Flower Filled Spring Rainboot project from Michelle Zerull that was posted on the Echo Park blog.
-On the hunt for an eye-catchingly unique card making project this spring? If so, this step-by-step photo tutorial post on How to Make String Art Cards might be right up your alley (you could also use this string weaving technique for tags, scrapbook pages, junk journals, mini albums, and other types of paper crafting projects, too).
-This elegantly gorgeous Easter Centerpiece project that Vera Shelemekh shared on the Graphic 45 blog works marvellously for Easter, naturally, but could easily be adapted for Ostara, Beltane, or countless other occasions (fall time holidays included).
What's shaking in my life and on my radar
While this month (and year) has seen its fair share of challenges to say the least, it also housed a positive date for us as well. My husband and I observe the day that we first met, back in 2004, with as much gusto as we do our wedding anniversary.
To differentiate between the two anniversaries, we call the March date that we met our "loveiversary" and celebrated this year's with a low-key, at home observance.
As I've already discussed some of what's been going down in our lives earlier in this post, I'm going to hop right into sharing a few links on various topics that have struck a chord with me as of late.
-A fascinating story that details the little known war effort contributions made by Canadian Inuit people during WW2, which highlighting the war effort work of Qapik Attagutsiak, who at 99 years old, is the last living Inuit contributor to this important cause: Front Line Hero.
-As serious as everything that's happening at present is, sometimes it can help to embrace the lighter and/or more creative side of dark times. On that front, I especially enjoyed Jessie Gaynor's The First Lines of Ten Classic Novels Rewritten for Social Distancing.
-Few people get straight to the heart of the matter, regardless of the subject, like Canadian astronaut Chris Hadfield. He brings that same no-nonsense pragmatism and insight to his brief two-minute-long YouTube video (shared here above): An Astronaut's Guide to Self-Isolation.
-It's going to take a whole lot of willpower not to live off of Rhian's swoon-worthily delicious looking Gluten-Free Vegan Hot Cross Bun Loaf from Ostara straight on to Litha (heck, who are we kidding, all year long!).
–Original Catfluencer: How a Victorian Artist's Feline Fixation Gave Us the Internet Cat. The 19th century + cats, need I say more? 😃
-There is NEVER an appropriate time to belittle, bully or otherwise be unkind to someone about any element of their appearance, but during the midst of a global pandemic, it all the more inappropriate and out of line, as Renee Engeln PhD, discusses in Stop Body Shaming During the Outbreak.
-While various parts (our street included!) of the world are still carpeted in plenty of lingering snow, many others are experiencing the beauty and warmth of early spring already. If, like me, you're an avid fan of witnessing seasonal blooms spring to life, you may enjoy this (serenely beautiful illustration filled) post that explores why Not All Cherry Blossoms Are The Same.
If you'd like to stay abreast of what's transpiring in my life, be sure to follow me on Instagram. I generally post there multiple times a week, regularly covering the types of topics that this post series focuses on (witchery, paper crafting, and what's going on in my daily life), plus plenty of nature shots, seasonal content, history and vintage related images, pics of our precious pup, Annie, outfit photos, and lots more.
Strange times make strong souls
While some of you have known me elsewhere online for anywhere from a few months to many years, if we're just meeting for the first time here on Witchcrafted Life, which launched on January 1, 2020, then it's safe to say that the Fight Club line I touched on at the start of this post definitely applies both within and outside of my own life.
These are strange times, no two ways about it. They're dark as pitch, profoundly uncertain, and going to altar life as we know it on this planet for a very long time to come.
Yet, each challenge we come up against and are able to survive in the face of has the ability to make us stronger, wiser, braver more resilient, and, hopefully, even more compassionate beings.
Seek silver linings, take comfort in the simple joys of life, do anything you safely can to help others (including providing space to listen and support those who are suffering in countless ways right now), remember that you are stronger and more resilient than you may ever fully realize, and hold fast to hope no matter what.
Want to contribute to this fun new post series?
If you run a blog, website, YouTube channel, or podcat pertaining to Paganism/witchery or paper crafting and have a standout story that you think would be a good fit for the next edition of this post series, please don't hesitate to email me or leave a comment below with the URL to that story or video.
I'm delighted to get the ball rolling on this blog's first reoccurring post series and look forward to sharing all kinds of inspiring content from across the web here with you via each quarterly edition of Magick, Crafty Makes, and Me.