You will have to experiment and try things out for yourself and you will not be sure of what you are doing. That's alright, you are feeling your way into the thing. ~ Emily Carr
The card in today's post is definitely one that I feel falls under the header of what (fellow) British Columbian and world-renowned early 20th-century artist Emily Carr was speaking about in the quote above.
I'm not going to lie, this isn't my absolute favourite card I've ever made. However, I do not dislike it and the more time that passes since I created it, the more this spring themed project is growing on me.
Thus far, I don't have a lot experience when it comes to using pencil crayons with stamped images – let alone ones on black cardstock.
In setting out to do so here, I knew that I wanted to go for a soft, chalkboard-like look to the way the pencil crayon colour lay on the black cardstock. Happily, I feel like that was achieved.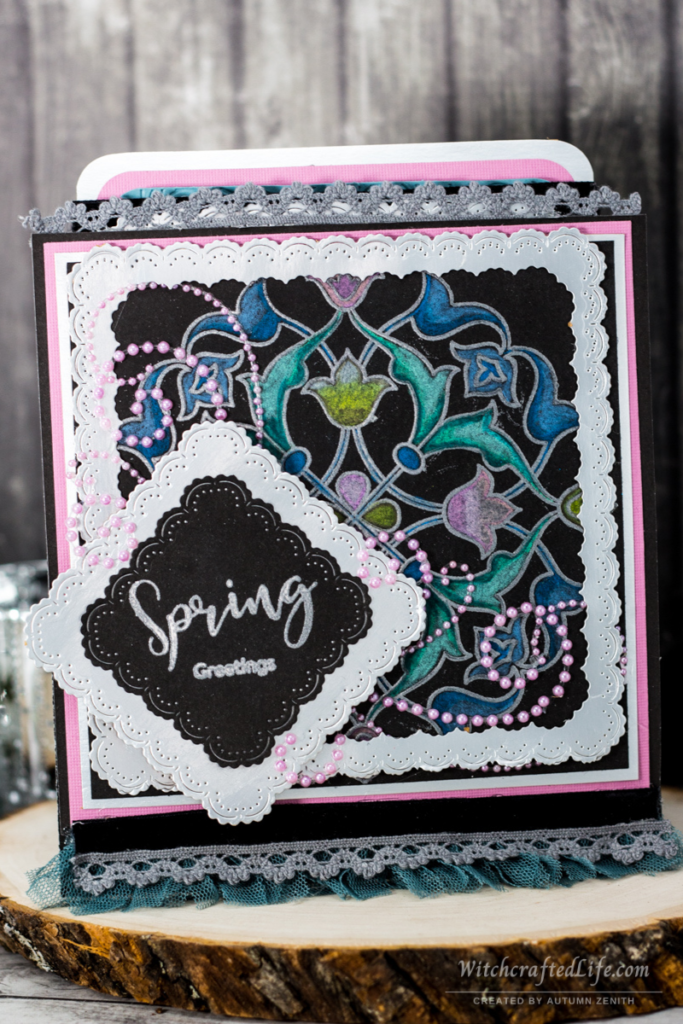 The inspiration for this card lay in springtime itself (with the colour palette here tapping squarely into Springoween) and in various Victorian design elements.
Make no bones about it, I am not saying this card is not authentically Victorian looking. It most certainly is not. But it was inspired by various styles, colours, and textures of that era.
Actually, when all was said and done and I stepped back to look at this card (something I do with all of my paper crafting projects, as I find it helps me gauge if I need to change and/or add anything before calling a given project complete), I was struck by how it looked both a bit 19th century and somewhat 1980s at the same time.
Hey, why not? 😄 I adore both of those time periods and am all for a fun, creative merging of the two.
This card was an experimental one for me and that's totally okay. Not everything we create is destined to be our personal favourite, but that doesn't mean we can't learn and grow (our skills) from it. Nor, just as importantly, that our recipient won't appreciate the end result just as much as if it was our all-time favourite make.
Victorian Inspired Pencil Crayon on Black Cardstock Spring Greetings Card
On top of the inspiration mentioned above, the stunning Arabesque Medallion Stamp from Altenew (a wonderfully kind gift from a fellow paper crafting friend in the States) was a jumping-off point for this card.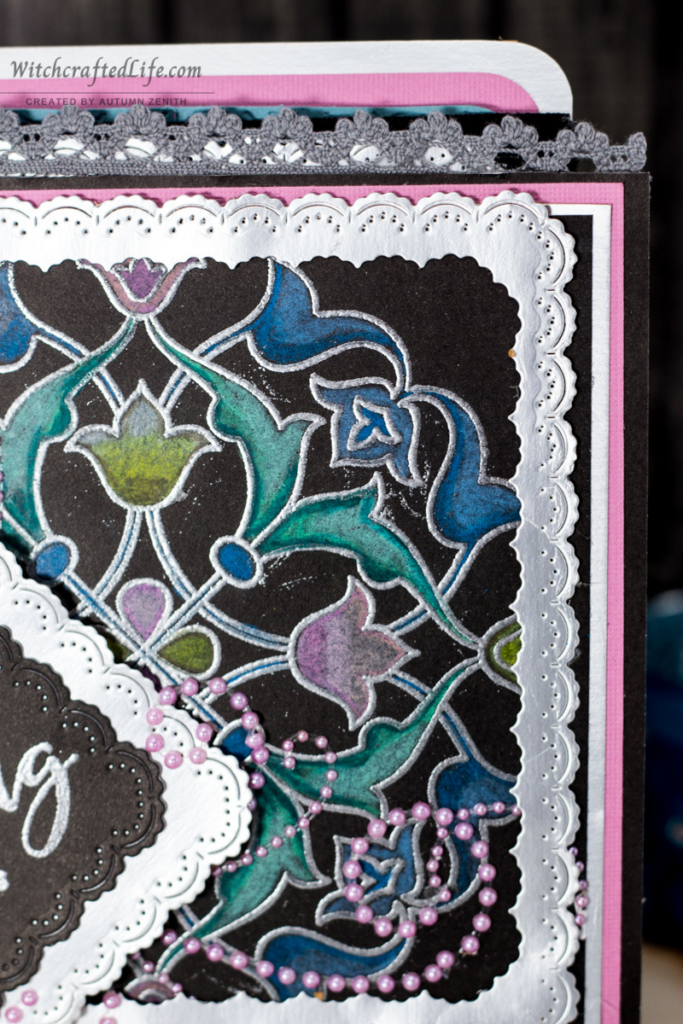 The flowers in its design s struck me as being perfect for spring and were all but begging to be coloured with pencil crayon. Who am I to argue? 😊
The sentiment stamp that I used here is not part of the Altenew Arabesque set. It is from a run-of-the-mill quality AliExpress spring-themed stamp set.
Unfortunately, as with many fine/small sentiment stamps (especially inexpensive ones), the size and intricacy of the stamps that I used for the embossed sentiment have a somewhat blurry end result. This is particularly noticeable in the portion of the sentiment that says "greetings".
I'm not wild about that fact, but it looks a touch less pronounced in person, so I can live with it. I just wanted to mention that point here so that you don't think my photos themselves are out of focus. 😄
And, in the same vein, I am aware that despite prepping my black cardstock, a little bit of stray silver embossing powder stuck to the cardstock surrounding the Arabesque Medallion Stamp design.
Not much though, luckily, which is great. And honestly, in an appreciated bit of happenstance, it actually seems to help telegraph the look of chalk on a chalkboard all the more.
Also in person, the tulle trim and the colour of the (pencil crayon coloured) leaves in the stamped image are closer in tone than they rendered in these photos.
As I wanted to ensure that the stamped image remained the star of the show on this card, I didn't embellish it nearly as much as I do many of my other cards.
Instead, I opted for numerous layers of cardstock, three different trims, and a pretty pink pearl flourish.
Even with the colouring, this card was quite quick to make (about three hours from start to finish) and I did sincerely enjoy colouring on black cardstock.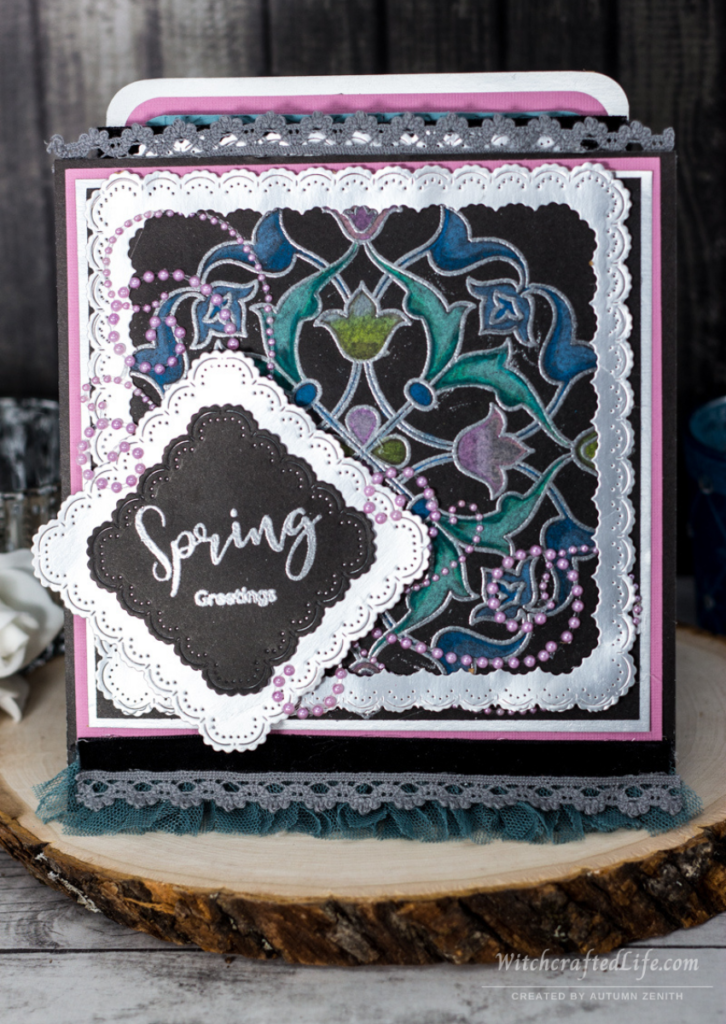 While not the first time I've done so, it's been a number of years since I last partnered the two and this project helped to remind me of just how enjoyable an act that can be.
(Note: I did not use a colourless blender pencil, gamsol, or any other blending products with my pencil crayon colouring here. I simply laid down and lightly overlapped, in some areas, the colours and left them at that to heighten the chalk colouring look I was aiming for.)
Products used to make this elegant stamped and embossed spring card
-Black cardstock
-Pinky-light purple cardstock
-Light blue cardstock
-White cardstock
-Silver metallic cardstock
-Nested scalloped edge rectangle shaped die set
-Corner rounder punch – 10mm Corner Rounder Punch from X Cut
-Assorted colours of pencil crayons (I used Prismacolor Premier Pencil Crayons on this project)
-Large floral medallion design stamp – Arabesque Medallion Stamp from Altenew
-Springtime sentiment stamp
-Watermark (or other embossing suitable) clear ink – Watermark Stamp Ink Pad from Versa Mark
-Silver embossing powder – Silver Embossing Powder from Ranger
-Heat embossing tool
-Pink pearl flourish – Self Adhesive Pearl Flourish from Zva Creative
-Dusty teal-grey coloured tulle trim – Trendsetter Designer Trim from Webster's Pages
-Grey crochet trim – Artsy-licious Kohl Splendid Ribbon from Chatter Box
-Narrow black velvet ribbon – Artsy-licious Kohl Splendid Ribbon from Chatter Box
-Dimensional foam, pop dots, or similar to elevate some of your layers
-Adhesive, such as a tape runner, of your choice (I often use my Scotch Tape Glider)
How to make a springtime card using coloured pencils on black cardstock
Begin by making a card base from black cardstock. Cut successively slightly smaller pieces of pinky-purple, black, white, and black (again) cardstock, respectively. Adhere together and then adhere to the card base.
Cut pieces of white, pinky-purple, and light blue cardstock a little smaller than the width of your card base. Round the corners of each of these pieces, then adhere them one on top of each other. Adhere this layer to the back of your card base (aka, the back of the card).
If you wish, you can then cut a larger piece of cardstock or patterned paper of your choosing to cover the back of the card and (somewhat) camouflage where the cardstock is attached.
Alternatively, you could place the rounded corner layers beneath the first cardstock layer on top of your card.
Next, cut a piece of black cardstock slightly larger than the Altenew Arabesque Medallion Stamp.
Prep the black cardstock for embossing by using an embossing bag or similar antistatic tool.
Stamp the Arabesque Medallion Stamp in watermark ink. Top with silver embossing powder and heat emboss.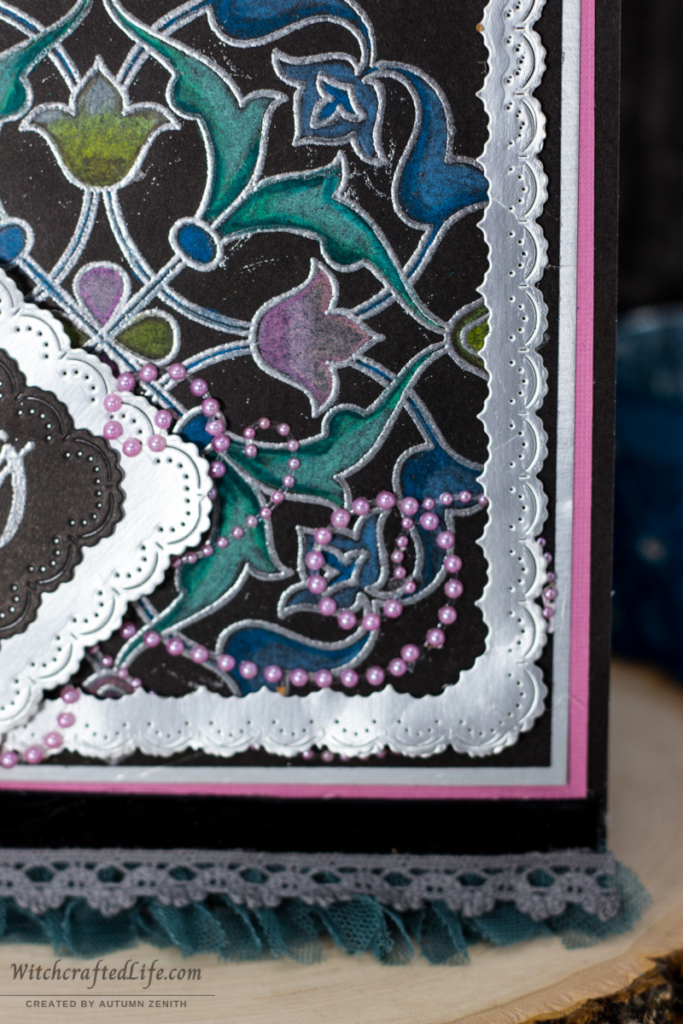 Using a selection of at least two different shades (one lighter, one darker) per colour, select pencil crayons in springtime-y shades of blue, pinky-purple, yellow, and green.
Colour in portions of the stamped and embossed Arabesque Medallion Stamp design as shown in the photos throughout this post, or however you desire.
Once you have completed your colouring, die cut a frame from silver metallic cardstock that leaves most, or all, of your stamped and coloured image visible. Adhere the frame to that piece of black cardstock and then attach the two combined layers to your existing cardstock base layers with foam squares, foam tape, or dimensional pop dots.
Adhere a pink pearl flourish to the lower left-hand side of the card design.
At the top of the card base, adhere a piece of silver metallic cardstock die cut with the same frame die that you used to surround your coloured image (you only need to die cut one of the four sides of the die here) and a strip grey crochet trim.
Towards the bottom of the card base, adhere a piece of grey-blue tulle trim topped with a strip of narrow black velvet ribbon and a piece of the same grey crochet trim.
Using two of the smaller sizes from the nested die set, die cut a piece of black cardstock and a piece of silver cardstock. Adhere together. Position both so that they create a diamond shape, as shown.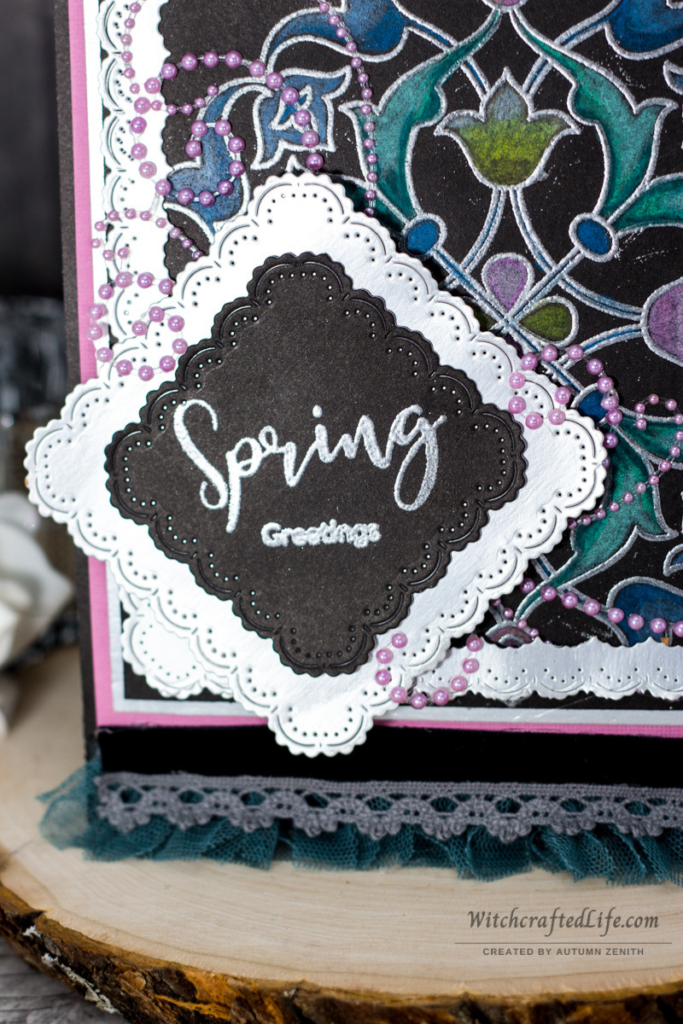 Prep the black cardstock for embossing, stamp your sentiment using watermark ink, and emboss with silver embossing powder.
Attach your sentiment "diamond" to the lower lefthand corner of your card using dimensional foam or a similar dimensional adhesive.
If you wish, arrange some of the pink pearl flourish so that it overlaps with the sentiment piece.
And there you have it, one eye-catchingly unique springtime card design created using a stamped and coloured image on black cardstock.
Making springtime cards while the sun shines
Much as the classic expression "make hay while the sun shines" reminds us to seize and utilize the moment, so too does each season encourage us to celebrate it with creative projects of all types.
I've felt even more pulled towards creating springtime cards this year than I have in ages. However, as the current season is starting to wind down, I'll soon be shifting my paper crafting focus to summer and fall makes.
And, honestly, it wouldn't hurt to get a jump on my winter holiday season projects, too – though I might be getting ahead of myself a tad there! 😄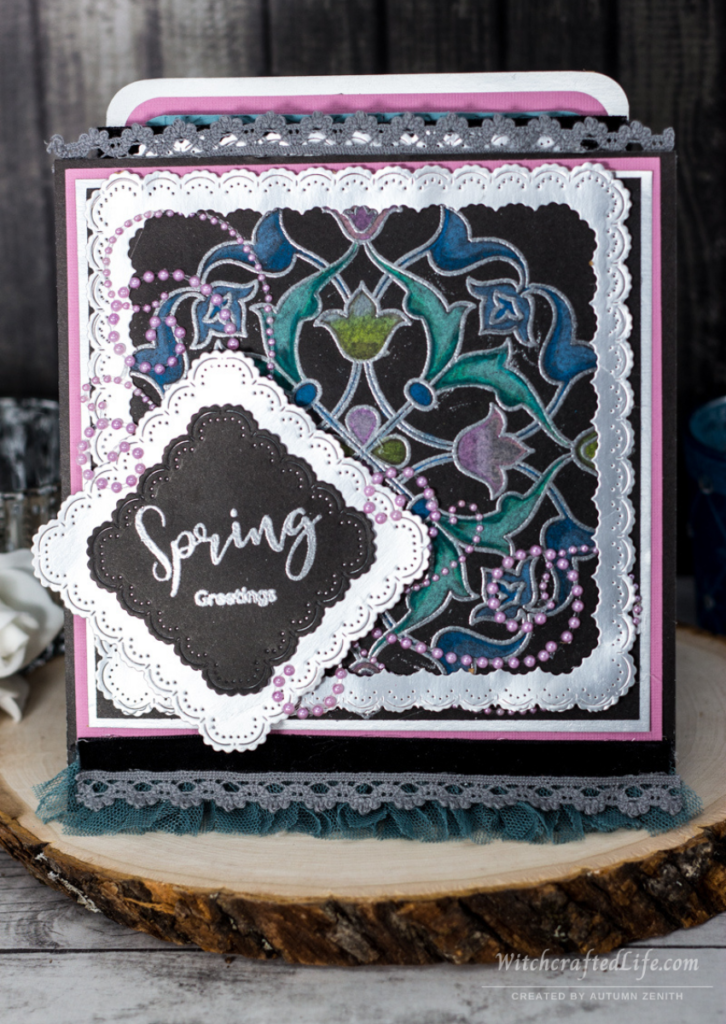 And, while I'm at it, this summer I'm planning to embrace Emily Carr's words all the more and dip my toes into the pool of experimentation on a regular basis.
Why not hop in with me? The water is warm and, at the end of the day, even if an experiment is a total write-off, chances are you learned something and may have developed some of your paper crafting skills further in the process.
That is a win in my books, regardless of how your project turns out. (Plus – and trust me on this – we are often far harsher critics of our own skills and projects than most others ever would be of our work.) 🌼🖤🌼