This month I have been lapping up Carl Zimmer's highly acclaimed – and wonderfully interesting – book, She Has Her Mother's Laugh: The Powers, Perversions, and Potential of Heredity.
A skilled science writer, Zimmer brings life and interest to each of the 600+ pages in this informative look at various elements of inherited and environmental genetics.
It is a stellar read and one I highly recommend to anyone with an interest in fields such as heredity, anthropology, social sciences, or genealogy.
While this post is not a book review, it was my recent reading of She Has Her Mother's Laugh that reminded me of a topic I've been keen to write about for quite some time now.
Specifically, how to incorporate your generational designation into your witchcraft and magickal workings.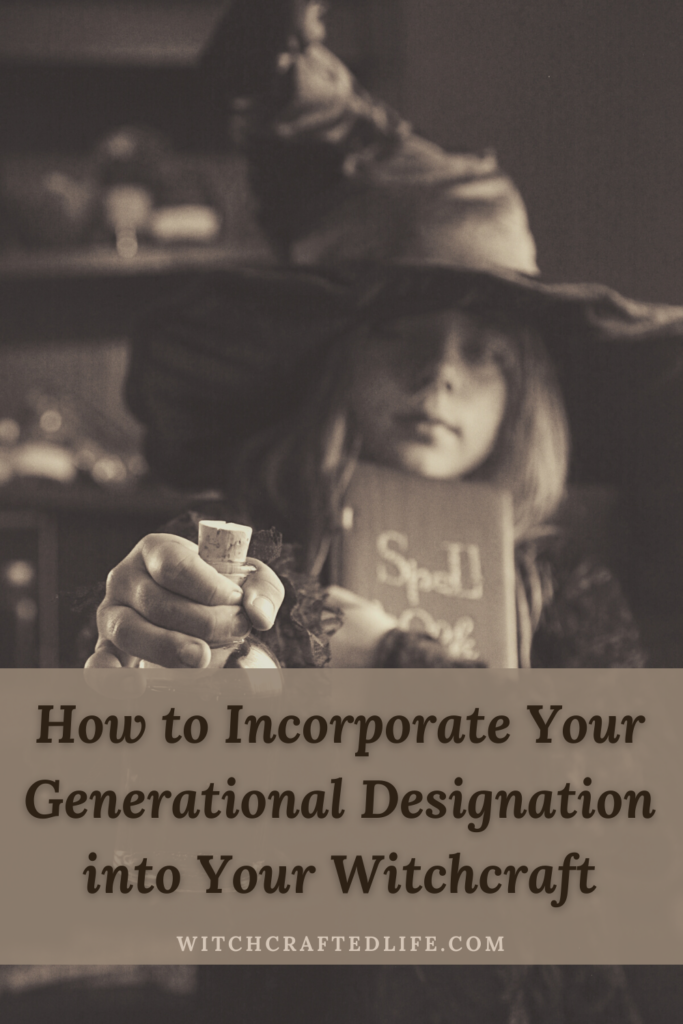 What is a "generational designation"?
This is a term that is often used to describe the demographic cohort to which a person belongs. Or, in other words, the societal generation that one is born into.
Societal generations encompass those living and born during a specific time period that generally spans about 15 – 30 years.
When discussing generations from a kinship perspective (that is to say, familial generations), generations are measured in similar lengths of time, typically ranging from about 20 to 30 years.
This span is considered to be one in which, especially historically speaking, an individual could go from their own birth to adulthood and the (potential) birth of their own offspring.
While one's familial and societal generations overlap in the sense of that each of us belongs to both of these categories, for the sake of this post, we're going to focus on your generational designation.
A brief look at the history of societal generations
Whether they applied specific names to societal generations or not, chances are humans have been viewing past, present, and future generations as being at least marginally different in some respects from one another for a very long time now.
However, the act of defining a generation and designating a specific name for it is a relatively modern concept.
Before to the 20th century, and especially prior to the Industrial Revolution, the pace at which society and technology (not to mention areas such as science and medicine) advanced was, generally speaking, slower than it has been over the past 200 or so years.
People and their lives often experienced less pronounced change from one generation (be it kinship or societal) to the next.
The continuation of certain elements of daily life, personal and cultural beliefs, and the pace of advancement are likely contributing factors to why few societal generations prior to the 20th century were not designated with specific names of the sort that are now part and parcel to modern sociology (e.g., The Greatest Generation, Baby Boomers, or Generation Z).
Social generations are groups of people who were born in the same general time period (again, usually a range of 15 to 30 years).
These individuals are further united by certain shared cultural experiences, both at a personal level and, to a degree, those which transpired during their lifetime (though as the latter applies to everyone alive, irrespective of their societal generational, at the time when a cultural event occurs this is less of a defining factor).
Many factors contributed to the emergence of societal generational groupings. Delving deep into the intricacies of such is beyond the scoop or focus of this post.
However, it is safe to say that in addition to industrialisation, other factors included modernisation, elements of the enlightenment era, societal changes and advancements, economic growth and mobility, and (I would go so far as to argue) a more pronounced period spanning youth and adulthood (aka, one's teenage years).
There is something very natural about viewing humanity through the lens of societal generations. Though it is important to remember that, ultimately, the creation of these groups is fundamentally a humanmade perspective and one that is, by no means, set in absolute stone.
As well, it is not uncommon for there to be varying degrees of overlap between generations, including a span of 5 to 8 eight years as one generation melds into and is ultimately surpassed by the next.
Only time itself will tell if we continue to assign names to societal generations as life proceeds on this planet in the decades and centuries to come. I suspect that we will, but – as with so much – only time will tell.
For now, the practise going strong and shows no sign of slowing down.
A list of named generations
While there is often some degree of debate as to the start and end dates of various generations, broadly speaking, the following is a general outline of the named generations of the 20th and early 21st centuries as they have been applied in a Western context.
-The Lost Generation: Coined from the writing of Gertrude Stein. Also known as the "1914 Generation", "The Generation of 1914″, and "The Great War Generation", this cohort encompassed those born from the early 1880s to the early 1900s.
These individuals reached adolescence and early adulthood during the time of WW1 and the 1920s.
A key defining feature of the Lost Generation (whose name stems Stein's epigram to Ernest Hemingway's 1926 book "The Sun Also Rises", in which she stated "You are all a lost generation") is that they experienced, and often were intimately involved with in any number of capacities, the First World War.
-The Greatest Generation (aka, the G.I. Generation): This societal generation covers those born from the early 1900s to around 1927.
Individuals born into the Greatest Generation endured the Great Depression and either both World Wars or, if born after WW1, "just" WW2.
This group is sometimes further broken down so as to distinguish between those born early on in the generation and those who came along later. Earlier members of the Greatest Generation are commonly referred to as the Interbellum Generation.
The term "The Greatest Generation" was popularized and further cemented in societal history by journalist Tom Brokaw's eponymously named book.
-The Silent Generation: This group encompasses those born between the mid to late 1920s and 1945. Such individuals are sometimes referred to as the "Lucky Few".
A large percentage of military personnel who were involved with the Korean War, and many (though not all) who fought in the Vietnam War were born into The Silent Generation.
Individuals born during the last few years of the Silent Generation are sometimes referred to as the "Sandwich Generation" or "Sandwich Group".
-The Baby Boomers: Long before the term "Boomer" took on the contemporarily derogatory connotation that it now houses in various settings, the "Boomer" in "Baby Boomers" referred to the pronounced boom in birth rates that occurred in the immediate aftermath of WW2.
Baby Boomers, who are also sometimes known as the Me Generation, were born between 1946 and 1964 or so.
Many of us who are presently in our 30s or 40s – myself included – are the children of Baby Boomers.
Similar in some respects to how the Lost Generation can be further broken down into two groups, so too is the Baby Boomer generation. With those being born between the years of 1954 to 1964 sometimes being called Generation Jones.
Various factors are thought to contributed to this term, including the concept of "keeping up with the Joneses", which was a common societal theme in much of the Western World during the relatively prosperous post-WW2 years of the 1950s and early 1960s.
-Generation X (aka, Gen X and Thirteeners): This generation followed the Baby Boomers and was quite prolific in number itself, though not to the same degree as the Boomers themselves.
Gen Xers are those born between about 1965 and either 1979 or the early 1980s (depending on your source, this could be anywhere from about 1980 to 1985).
While this term can also be applied to some Xennials and early Millennials as well, Gen Xers are also known as the Latchkey Generation.
This is in reference to the fact that some members of this generation experienced reduced adult supervision over previous generations, at times returning home after to school to an empty house that they had to unlock themselves (as, presumably, no adults were home at the time).
The concept and cultural experiences of Gen Xers were further cemented in Canadian author Douglas Coupland's excellent 1991 novel, Generation X. With Coupland himself being credited for coining the name Generation X.
-Xennials: A microgeneration, Xennials are those born between the late 1970s and mid-1980s. They share much in common with Generation X, but also grew up experiencing certain elements that are now seen as being characteristic of the Millennial generation.
It was with no small amount of joy that I received the news that the word Xennial had been included in the 2020 Oxford Dictionary of English, as this is the societal generation that I identify with the most (having been born in 1984 and personally identifying more, in many respects, with Gen Xers than with Millennials).
Another term for Xennials is the Oregon Trail Generation in reference to the extremely popular commuter game, The Oregon Trail, that was a common feature of some Xennials' childhoods.
Despite this alternative name, those born into the microgeneration of Xennials often had a relatively analog childhood that shifted into a digital era during their teens or young adult years, and it is this "bridging of the generations" that helps to make those of this era their own generational demographic.
-Millennials (aka, Generation Y or Gen Y): If we encompass Xennials into the birth year range as well, those born into the Millennial generation span the period of approximately 1981 to 1996.
As some Xennials, myself included, identify with their own microgeneration, however, this range could in some contexts be shorted to (again, approximately) the years of 1985/86 to 1996.
Data released by the Pew Research Center shows that as of 2019, Millennials edged out in number over Baby Boomers (with some 71.6 million Boomers and roughly 72.1 million Millennials, respectively).
-Generation Z (aka, Gen Z, Zoomers, iGeneration, or Centennials): The second most recent generation, Gen Z encompasses people who were born between the mid to late 1990s and the early 2010s (some sources cap Gen Z at the year 2012).
Today, the eldest Zoomers are young adults, whereas those born at the tail end of generation are presently in elementary, middle, and high school.
Generation Z is sometimes further broken down to differentiate between those born earlier and later in this generation.
Later born members of Gen Z are known by various names including Zillenials, Zennials, MinionZ, and The Snapchat Generation.
-Generation Alpha (aka, Gen Alpha): A standout designation for Gen Alpha is that it is the first societal generation comprised solely of individuals born in the 21st century.
Generation Alpha, which is named after the first letter of the Greek alphabet, is the newest generation and is projected to reach (or exceed) two billion members globally by the year 2025.
As Gen Alpha is the current generational designation for young children born from about 2010 – 2012 onward, its duration has not been officially established yet.
Following conventional generational timeframe guidelines however, it is likely that Generation Alpha will be succeeded by the next generation around the late 2020s or very early 2030s.
By the time Generation Alpha reaches adulthood in 2030s, it is estimated the world population will have reached or surpassed nine billion inhabitants.
-Cuspers: Those who have a keen interest in astrology or who were born on a date that coincides with sun's transition from one astrological sign to the next may be familiar with the Zodiac Cusp Theory.
While some astrologers put more weight on the concept of Cusp Theory and how it may or may not influence peoples' lives, it is an established part of astrology at this point and something that many a Cusper prides themselves on.
We also see the word Cusper used in terms of societal generations. In this context, it refers to those who were born at the end of one generational time period and the cusp of the next.
Much as in the example above of Xennials, Cuspers in general often encompass life experiences and societal designations inherent to both generations that they were born on the cusp of. They may identify more strongly with one generation than another or feel like their life and experiences reflect a fairly even-handed mixture of both generations.
Note: These generational designations are not universal to all cultures. Names, date ranges, shared experiences and other factors all combine to create various other generational designations in various parts of the world.
For example, a microgeneration called the "Born-Free Generation" exists amongst South Africans who were born between the years of approx. 1994 and 2000.
If your own respective generation was not included here, please know that the overriding concepts and suggestions outlined in this post apply every bit as much to you as well. 💗
Identifying with your generational designation
Many of us are already familiar with what generational cohort we belong to. Some people pride themselves on using their generational designation as a defining factor of who they are, others pay little to no attention to such, and some fall in between.
There is no right or wrong here and one is not obliged to wave the flag of your generation wherever you go.
As with much in life, this is an area where doing what feels right and natural to you is usually the best path to follow.
Historians, sociologists, and genealogists (amongst others) find generational designation to be a helpful and important classification tool in various respects.
As humans, we are often drawn to defining ourselves in terms of various groupings, and generational designations are just one of many ways we've opted to do so over the course of our collective history.
There are exceedingly few individuals alive today who were born prior to the Silent Generation, and with each passing year, less and less members of both that generation and the Greatest Generation are still with us.
As such, it is safe to say that the majority of those reading this post belong to one of the generations that span the Greatest Generation right on up to, potentially, Generation Alpha (or at the very least, Genertion Z).
Statistically, the majority with be Baby Boomers, Gen Xers, Xennials, Millennials, and Gen Zers.
This should go without saying, but (especially given the shade that is often unjustly thrown at various generations, such as Boomers and Millennials) no one generation is inherently better, superior, or "cooler" than the others.
Each generation has strengths and shortcomings, heroes and villains, triumphs and failures. We are all human and most of us do the best that we can with the knowledge, resources, and societal context available to us in the moment.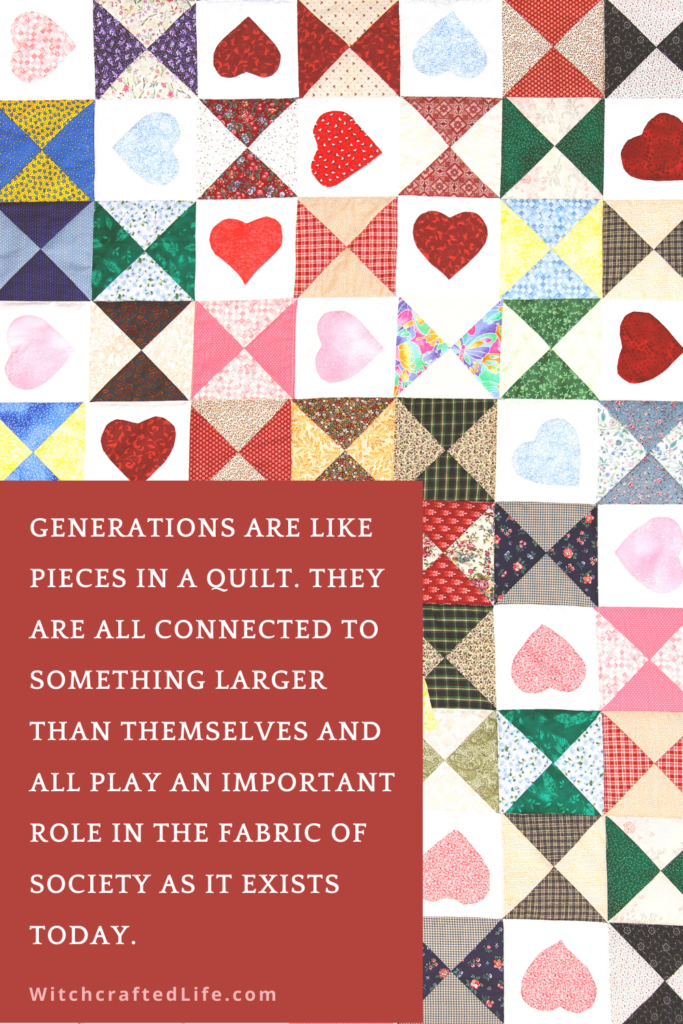 Generations are like pieces in a quilt. They are all connected to something larger than themselves and all play an important role in the fabric of society as it exists today.
What generation do you belong to? Do you feel a strong connect with it or do you feel as though your life and inner self relate more to a previous or later generation?
The topic of generational designation is a highly fascinating one and I encourage you to seek out reputable books, magazine articles, online content, TV programmes, podcasts, and so forth that explore this subject further.
How to incorporate your generational designation into your witchcraft
Now that we have briefly explored the topic of societal generations of the 20th and early 21st century, let's take a look at some of the ways that we as witches and Pagans can incorporate our generational designation into our witchcraft.
Objectively – and yet, to my mind, rather surprisingly – this is not a topic I have seen other witches, Wiccans or Pagans discuss much over the years.
I have long been weaving my generational designation into my own witchy workings, however, and thought that doing so would appeal to many of my readers as well. Thus, the creation of this blog post. 😊
For the sake of the following suggestions, it is helpful to determine which generation (or generations, if you identify as a Cusper) you belong to based both on the year you were born and the general characteristics + experiences shared amongst members of your generation.
Here are twelve ways to weave elements of your generation into your witchcraft.
1. Read, or revisit, books that were new during the generation that you were born into. While, these days, a near endless stream of new witchery, Paganism, and spiritually focused books hits the shelves each year, such was not always the case.
What was the first book you remember reading about witchcraft, Wicca or Paganism?
Was it by Scott Cunningham, Raymond Buckland, Silver RavenWolf, D.J. Conway, or someone else entirely?
Do you still own a copy today? If not, could you track one down online or off?
How has your practice evolved and changed since you first read that book?
If you didn't grow up reading the witchery and Pagan related titles of your generation at the time, why not investigate some books from that era that would be of interest to you now and see if you can buy or borrow them.
A lot a has changed in the world of Neopaganism and witchcraft in just a few short decades, but plenty is still much the same. Connecting with books that were popular when we were growing up can give us an eye-opening look into some of the ways in which these areas continue to evolve and develop with each passing year.
If you have a book that you especially enjoy or find interesting, consider performing a working, divination ritual, guided meditation, etc that it suggests.
2. Connect with a standout cause of your generation. From the (US) civil rights happenings of the 1960s to things such as plight of the rain forest and devastating AIDS challenges of the 1980s, every generation has experienced certain standout problems and put forth efforts to tackle them that help to went on to help define that era.
What were some of the most pronounced challenges for your generation back in the day? What causes continue to be championed by those in your age group nowadays?
Looking at these areas through the lens of your spirituality, are ways you can support, bring awareness to, or otherwise assist with one or more important cause?
3. Create a magickal meal using foods of your generation. Many, if not most, of us instantly get nostalgic when we think back to some of the foods that were commonplace when we were growing up.
Whether they were homemade by mom, dad, grandma, an older cousin, or another loved one, served at our favourite local eatery, savoured at sleepovers with our childhood besties, or dishes we made ourselves as we began to cook and back, these foods hold special, meaningful places in our hearts and minds – not to mention our stomachs – alike.
Prepare a meal using kitchen witchery that focuses on some of the foods that either helped to define the culinary landscape of your generation and/or which were your personal favourites when you were growing up.
As you tuck into your meal, reflect back on the role those foods have had on your life over the years, the people who made them for you or with whom you shared those dishes in years past, and the ways that these ingredients or recipes continue to shape your culinary activities to this day.
4. Decorate an altar with items from your generation: While one could certainly create an altar to honour a time period itself, in this instance, I'm referring more to utilizing items that are characteristic to your generation or which were especially important to you when you were younger.
Our altars should always reflect our true selves, our beliefs, and our traditions. Even if you weren't a witch yet when you were growing up, there's no reason why you can't include some of the things you adored back then on an altar today.
From toys to books, tarot decks to travel souvenirs, family photos to home décor pieces, there's no shortage of possible items from your generation that you can include on an altar.
If you have, or able to source, pieces from that era itself, all the better, but if not, no sweat! Newer iterations convey the same concept and work every bit as well.
5. Do shadow or other forms of retroactive healing work pertaining to your youth. Almost everyone has experienced difficult, painful times in their life.
Whether on a personal level or in terms of some of the struggles that impacted a broader range of people at the time, if you are feeling called to do so, consider undertaking a healing journey to help further process, come to terms with, and, hopefully, move beyond some of the challenges that rocked your existence when you were younger.
Shadow work and intensive healing work is not something to be undertaken lightly. You will want to ensure that you're presently emotionally, mentally, physically, and spiritually well enough to take on the myriad emotions and memories it may bring to surface and to find healthy, responsible ways to deal and move beyond these things.
Successful shadow work and retroactive healing (much as with things like ancestral and generational trauma awareness and healing) are amongst the most liberating, empowering, and eye-opening acts we can preform for ourselves, frequently proving to be life-alterteringly positive in the long run.
6. Incorporate music from your generation into some of your rituals. Or have it playing in the background while meditating, resonating through you earbuds on a nature walk, or as the auditory ambience to a delicious meal.
Many of us already listen to some of our favourite songs from when we growing up, but there's a difference between having such tunes as part of a larger playlist and purposely selecting and mindfully connecting with them.
Consider making one or more playlists (or cue up relevant records, cassettes, or CDs if you are an analog music fan) of songs that were meaningful to you when you were younger.
Explore how they make you feel today vs when you were coming of age? What thoughts and emotions do they trigger?
In addition to listening to these types of songs, you can also sing, hum, or chant them yourself (happily, the lyrics to countless millions of songs can easily be found online these days) or perform them on a musical instrument, if that's a skillset you possess.
You can also select lines or passages from songs to use as personal mantras, as part of the spoken portion of a spell or ritual, (printed or handwritten) displayed on your altar or elsewhere in your home, included in a spell bottle or mojo bag, broken down into a sigil, or even tattooed onto your skin, if a particular verse resonates deeply with you.
As well, you could design a piece of jewelry, garment, craft project, or home décor piece that either incorporates elements of a song that matters to you or which was inspired by a particular tune.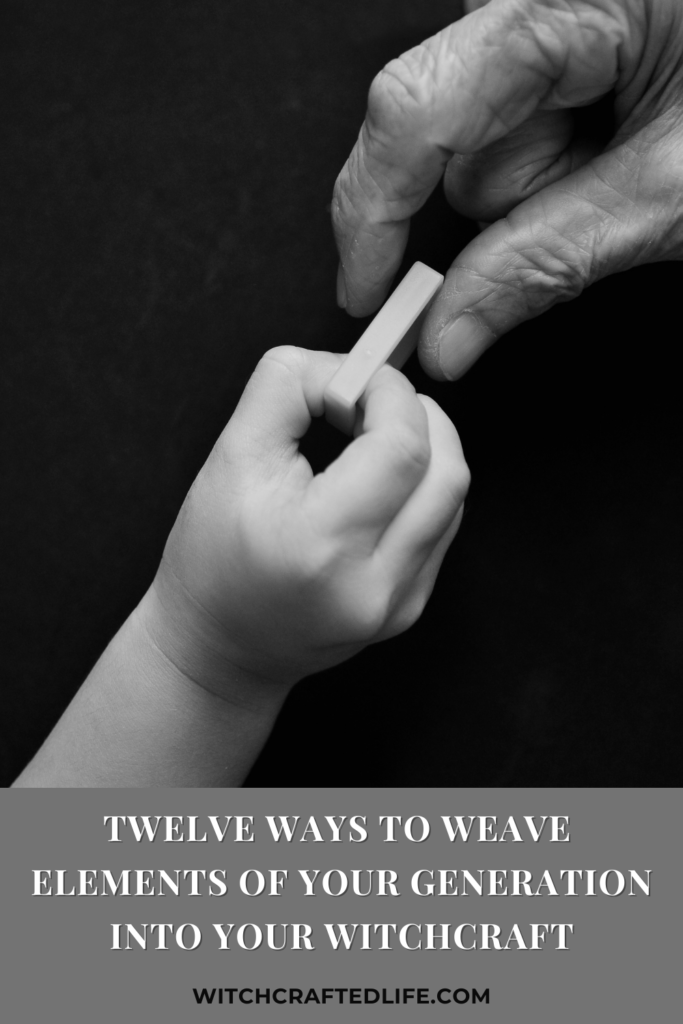 7. Make a tarot or oracle deck with imagery the evokes your generation: From photos to clip art, original illustrations to magazine images, there are plenty of ways to gather relevant images if you want to make your own tarot or oracle card deck.
How cool would a deck of all, say, 1950s or 1980s images be? You could seek out images that directly represented the various cards in a standard tarot deck or let your imagination soar free and create an oracle deck with images and related associations that hold meaning for you personally.
This can be a wonderfully fun, creative project and one that produces an item that then allows you to quickly connect with your generation anytime you please.
Plus, I find something highly meaningful in the act of utilizing elements of the era that gave us life to help us navigate the waters of the present day.
Note: If working with antique or vintage images, I would highly suggest photocopying or scanning and printing them, so as to preserve, and hopefully not damage, the originals.
8. Perform a working using only items that would have been available when you were in your teens or early adult years: Depending on when you came of age, that list may differ little from today or the two may be quite far removed.
For example, if the internet wasn't around at that time, do not refer to it for any aspect of your working. Likewise, if there were no metaphysical shops around when you were growing up, try to use tools and ingredients that you could have purchased, wildcrafted, or made instead at the time.
By performing a magickal working as it would have been plausible at an earlier point in time, you are honouring the past and reminding yourself in the process that spellwork rarely needs to be fancy or elaborate to be effective.
9. Devote a part of your BOS, Grimoire, or other magickal journaling book to your generation: Reflect on your youth and on society as a whole at that time. How did those decades shape the person, and witch/Pagan, that you are today?
(If you're not a heredity witch) Did you feel that you were a born witch? Where there any clues in your youth that you were headed on a path to becoming a witch?
Did the era that you came of age in support, hinder, or have little discernible impact on your ability, and ultimate decision, to become a witch, Wiccan, or Pagan?
Did you know any fellow witches or Pagans when you were younger? Who do you view as being amongst the most famous (or infamous!) witches/occultists of your generation? Have any of those people influenced your own spiritual path and if so, how?
These are just a few of the thoughts and questions you may wish to ponder or incorporate into your writing as you delve into exploring your generation in your magickal book.
10. Discuss how witchcraft and/or Neopaganism has changed since you were a youth with any young witches/Pagans in your life: Many of us feel fortunate that things like witchcraft and Paganism are becoming more accepted and understood by mainstream society.
Not everywhere, or by every person, of course, but thankfully we are seeing a general trend in that direction.
Yet, as little as ten or twenty years ago (and certainly further back in time still) this was not always the case by any means and many of us had to practise our witchery differently to protect ourselves and/or families.
If you have young witches or Pagans in your life, share about the experiences that you and other witches of your generation went through, how public views on witches have changed since then, how the internet and social media has impacted the craft, and any other comparison you desire.
In turn, ask these youngster how they think witchcraft/Paganism is perceived today, how they feel when practising or learning about these areas in the 21st century, and then mutually discuss where you see witchcraft and Paganism heading in future generations.
11. If you work with a coven or other group of magickal/spiritual practitioners, devote part (or all) of a meeting to sharing memories and other tales from each person's generation: This could be incorporated with some of the other suggestions above (such as generational kitchen magick or songs from different eras) or carried out as a standalone happening.
You could also ask each group member to bring a meaningful item from, or which represents, their youth and have the group cleanse and bless each item with the energy of the group itself.
12. Incorporate generational witchery into your ancestor work: Honour and celebrate the generations of your loved ones who have crossed over or who are of a generation other than your own.
For example, at Samhain you could prepare a dumb supper (aka, a silent supper) using only foods and recipes that would have been available to some of your ancestors at a given point in their lives.
Likewise, you can leave offerings of foods, beverages, or other items that would have been commonplace during your ancestor's lifetime, play music from their generation when contacting or otherwise working with your ancestors, or make a point to actively learn more about what life was like for some of the family members that came before you.
And, while on the subject of ancestry and witchcraft, be sure to check out my post on 5 Ways that Ancestral DNA Testing Can Benefit Your Witchy Life.
Generational designation witchcraft is for everyone!
Like many witches and magickal practitioners, I have plenty of tried and true traditions, techniques, and methods that I turn to in my workings.
However, by the same token, I love to continually expand my practise by trying new things or approaching established ones from fresh perspectives.
There is a seemingly limitless number of ways to do this, both in general and when it comes to working with one's generational designation.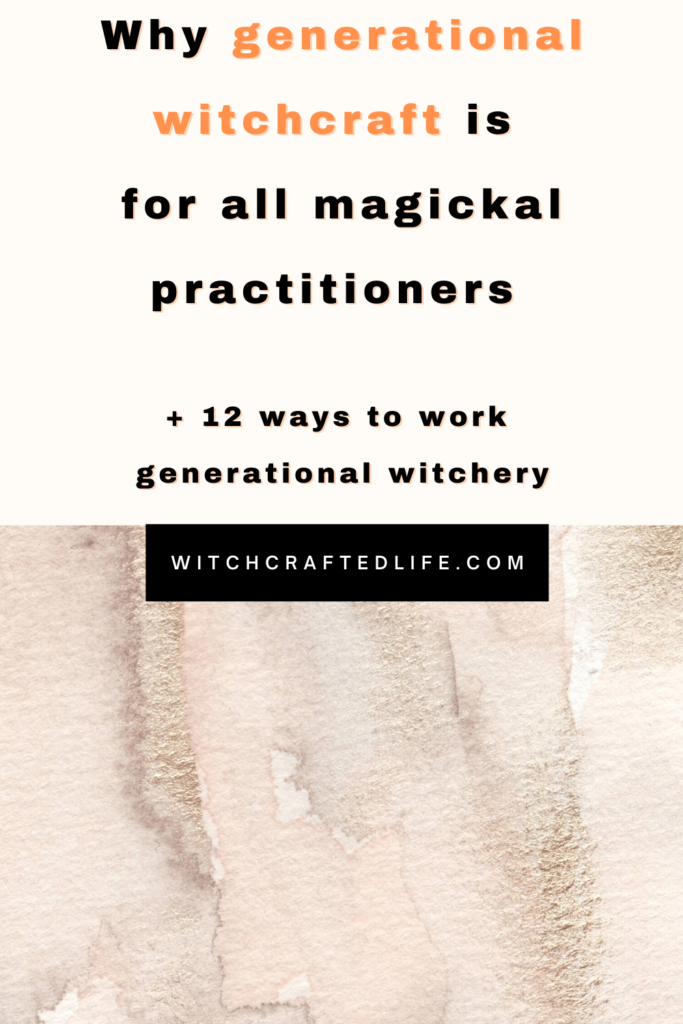 While incorporating generational groupings into witchcraft may never become as popular, say, as things like herbology, candle magick, or doing tarot spreads, I hope that reading this post has inspired you to give generation related witchcraft a try.
This is a fun, personalized, creative, and engaging form of witchery that is open to every human on the planet, as, rather beautifully, we are each born into at least one generation. 👶🔮💖