With May well underway, we are now less than half a year off from Halloween's return. 🥳
This fact makes me giddier than if I had a sugar rush from eating a dozen deluxe caramel apples. 😄
And it means that as we embrace the t-minus six months point until All Hallows' Eve, I'll be ramping up my Halloween papercrafting all the more.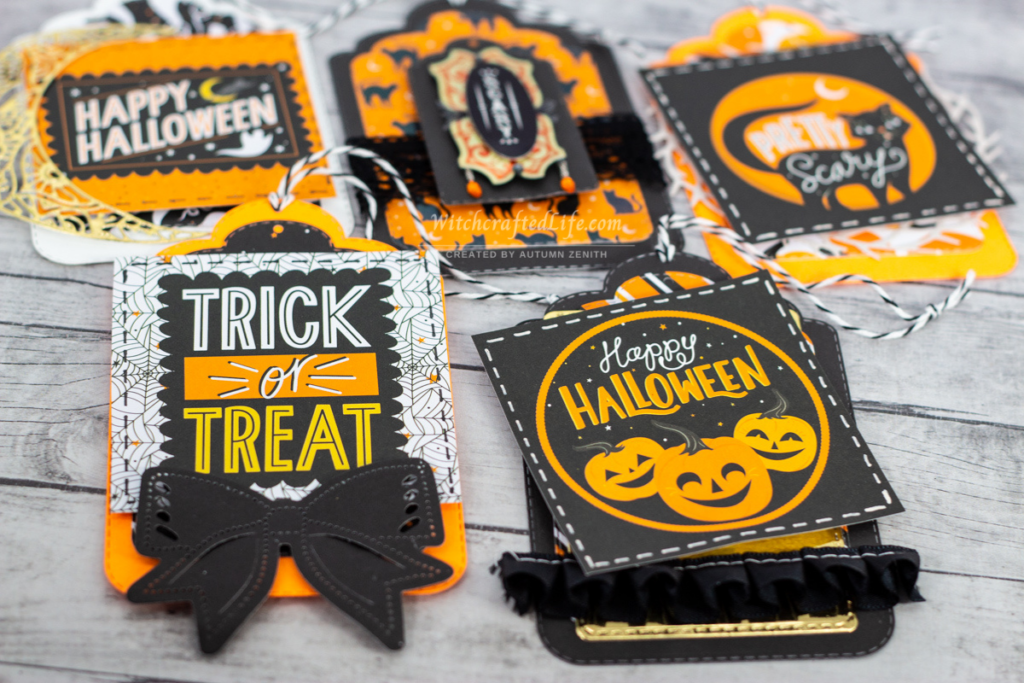 For today's #MakeHalloween365 project, I'm sharing a set of five super cute, fun, and very easy to make Halloween gift tags that I created a bit earlier in the year.
This set of Halloween gift tags was included as part of some October 31st related happy mail that I recently posted to a dear friend on the other side of the country.
We're both die-hard Halloweenoholics, and I love knowing that just like myself, she adores receiving spooky season mail at any point in the year.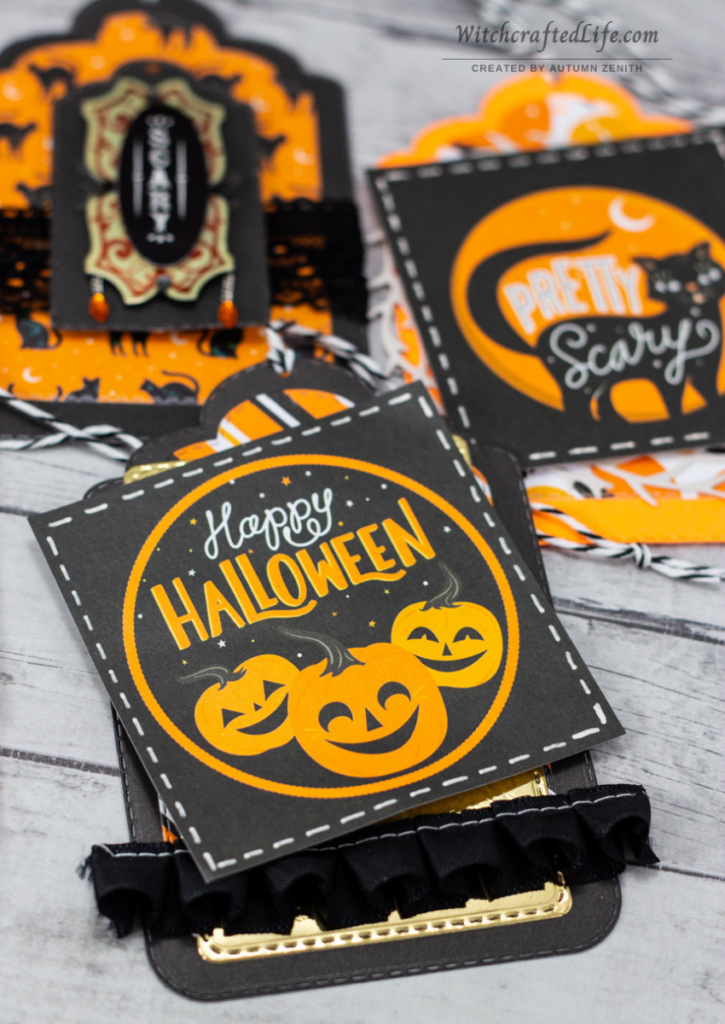 This sweet, festive Halloween tag set was intentionally left on the simple side, so that my friend could, if she so desires, use them as tags on presents for other people.
If one wanted, they could add some bling, enamel dots or other embellishments, (3D) bows, charms, or various other components here, too. Again though, I was aiming for eye-catching, but not overly complex.
As much as I adore an in-depth project with oodles of layers and details, sometimes it is both refreshing and enjoyable to put together quicker makes like these five tags.
The whole set took me less than 1.5 hours to whip up. Which, let me tell you, is mighty speedy in terms of how long it usually takes me to complete a papercrafting project.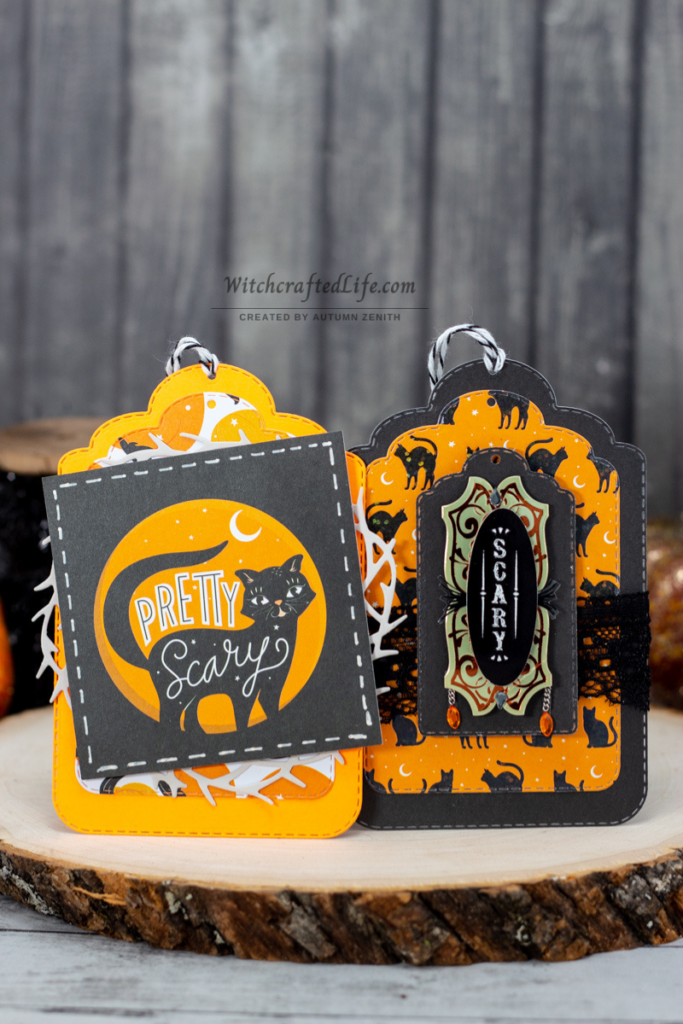 Not everything we make needs to be uber elaborate or take scads of time. This is something I have to remind myself of a touch more often. 😄
The jumping off point for this set was four cut apart squares on a 6"x6" piece of Recollections Halloween paper.
I knew that I wanted a set of five tags, however, but did not want to repeat any of the same images.
Thus, for the fifth gift tag, I opted for a dimensional Halloween word sticker from Jolee's Boutique, which I feel fits in well with the general colours and themes of this gift tag set.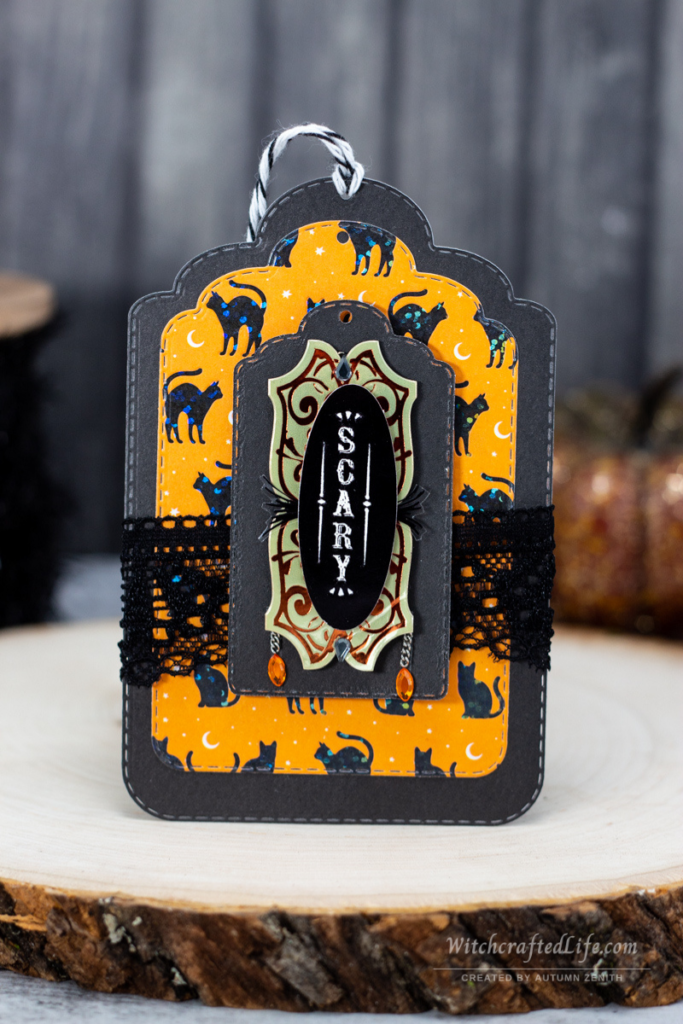 You could easily skip making the 5th tag and stick with four tags instead, if so desired. Or, conversely, you could keep going and create additional gift tag designs as well.
Projects like this are tons of fun and a perfect way to put our stashes of Halloween papercrafting supplies to good use!
Products used to make these cute Halloween gift tags
-Black cardstock
-White cardstock
-Vibrant orange cardstock
-Gold metallic cardstock
-Assorted Halloween papers – Halloween Party 6"x6" Paper Pad from Recollections
-Stitched edge tag nesting die set
-"Scary" Halloween word sticker – Large Doily Medallions from Jolee's Boutique
-Intricate design crescent moon die (or other crescent moon die of your choosing)
-Flat bow die
-Bare branch wreath die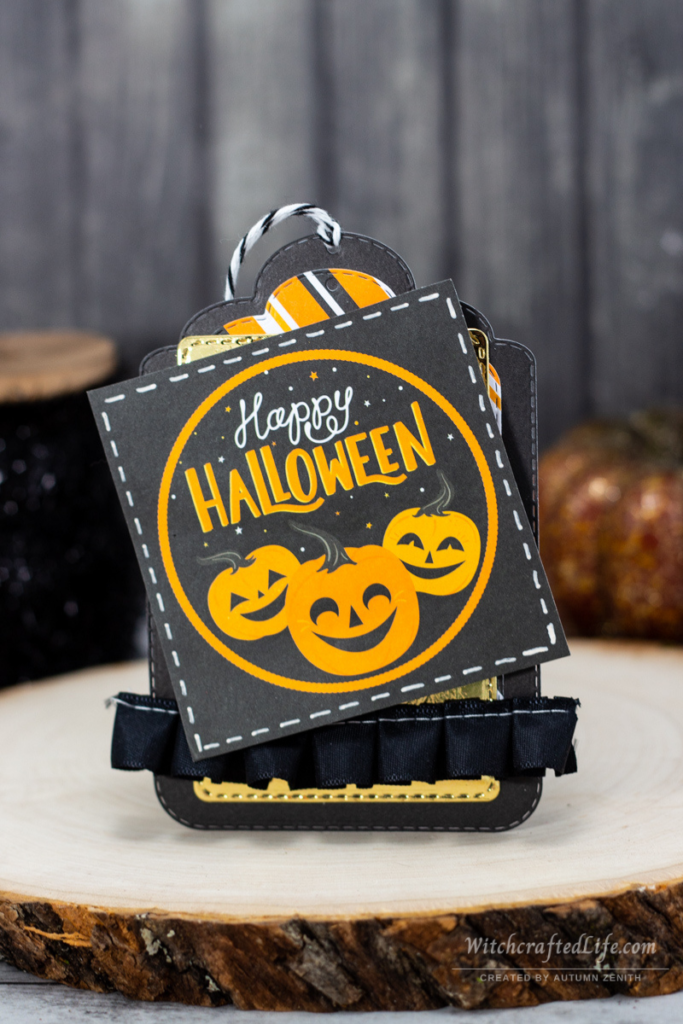 -White gel pen – Uni-Ball White Gel Ink Pen from Signo
-Black pen – Uni-Ball Air Black Pen from Signo
-Pleated black ruffle trim
-Black lace
-Black and white baker's twine
-Glue gun and glue sticks
-Dimensional foam, pop dots, or similar to elevate some of your layers
-Adhesive, such as a tape runner, of your choice (I often use my Scotch Tape Glider)
How to create this charming 5-piece set of Halloween gift tags
As each of these tags are very similar to one another, I'm not going to bore you all by repeating what would essentially be the same instructions multiple times.
Instead, I'll outline the general steps involved with each and refer you to the numerous project photos peppered throughout this post for precise specifics on each individual tag.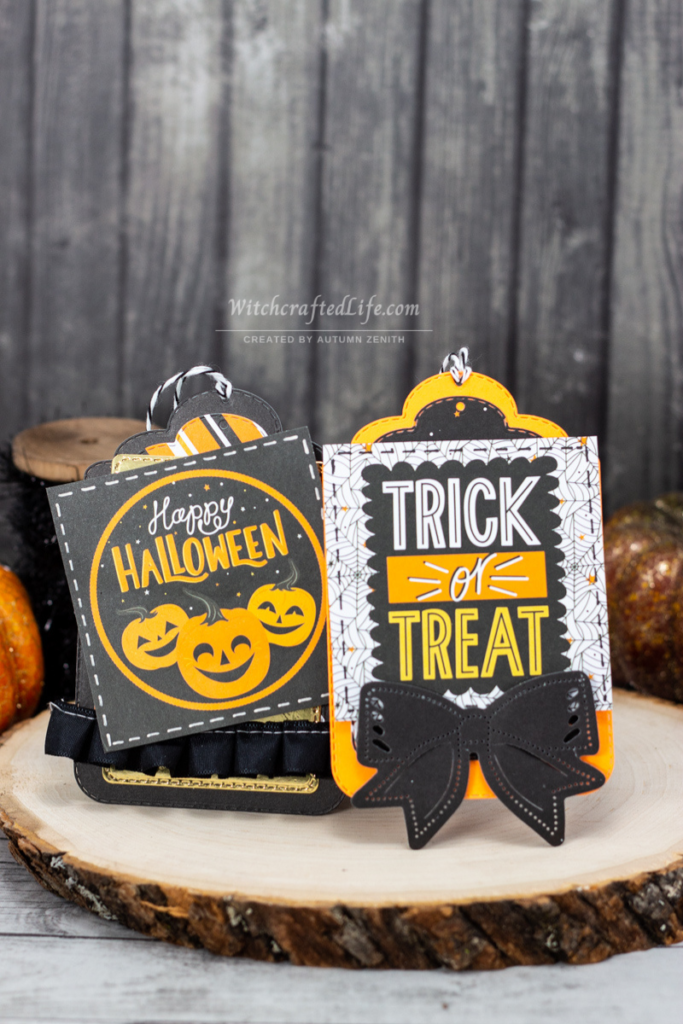 To begin with, die cut five matching stitched edge tags. Two from white cardstock, two from black cardstock, and one from orange cardstock.
Next, using a slightly smaller sized stitched edge tag die, die cut four tag shapes from (four) different pieces of Halloween paper from the 6"x6" paper pad, along with one tag from metallic gold cardstock.
Adhere the one patterned paper, or gold cardstock, tag shape to each tag base.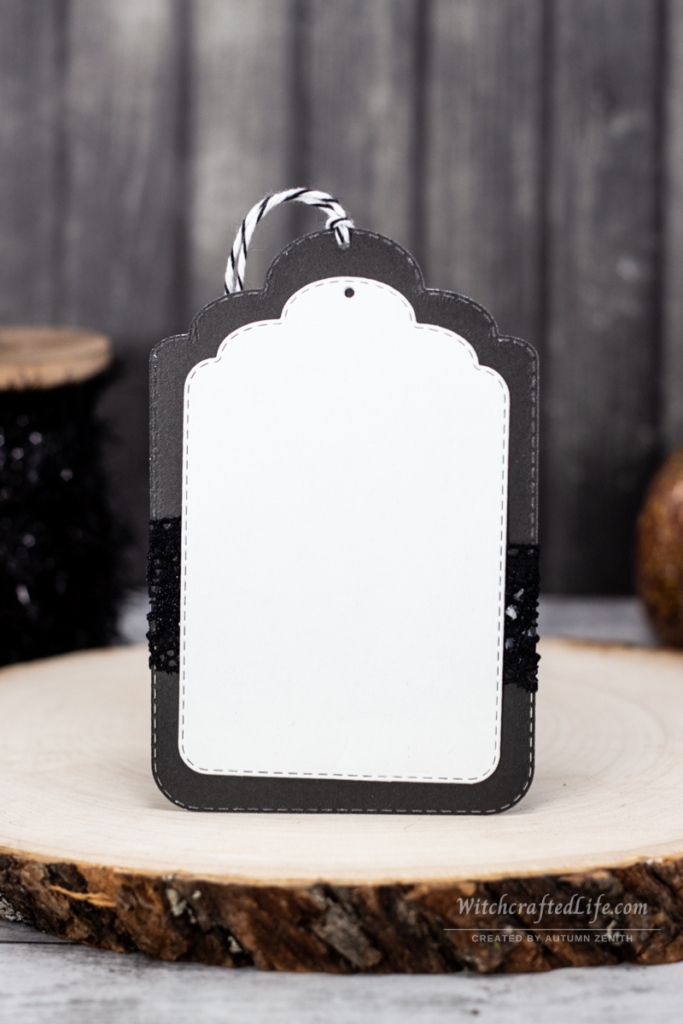 Die cut five tags of the same (smaller of the two dies) size from white cardstock. Adhere a blank white tag to the back of each tag. This then enables you, or your recipient, to write a message on the back of each of these gift tags, if they wish to do so.
On the gift tag with the gold metallic cardstock tag layer, adhere a strip of pleated black ruffle trim.
Die cut a crescent moon from metallic gold cardstock, a bow from black cardstock, a bare branch wreath from white cardstock. Attach these die cut pieces to their respective gift tags.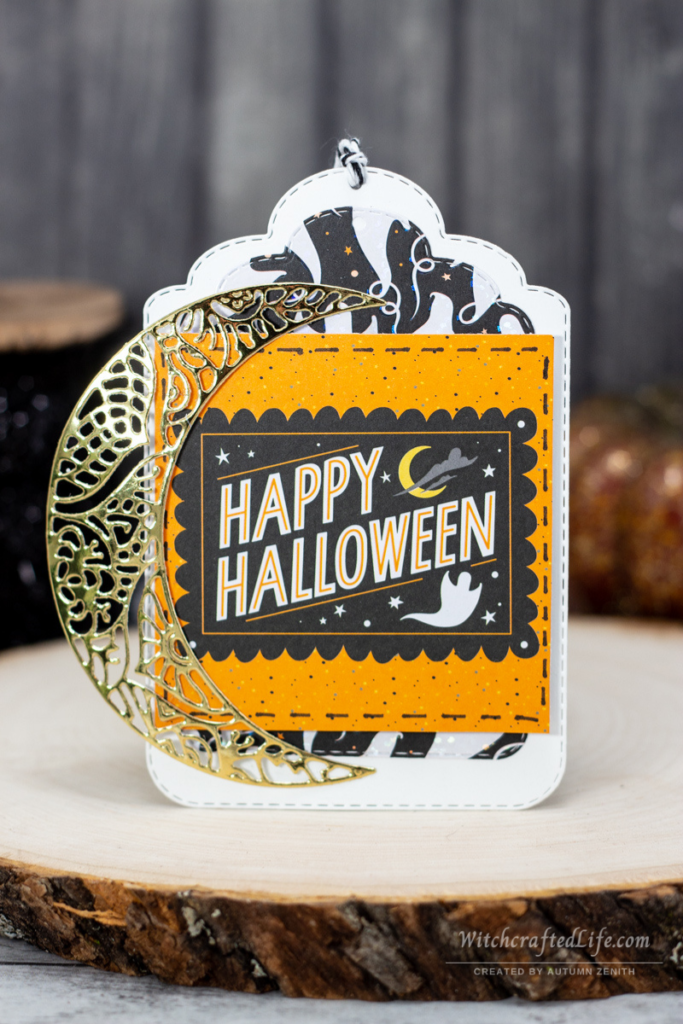 Cut out the Halloween image pieces from the same 6"x6" Recollections Halloween paper pad.
Using either a black ink or white gel ink pen (and, optionally, a ruler to help keep your lines straight) hand draw stitching around the edges of each of the four Halloween paper pieces.
Using foam dots, adhere each of the four Halloween images to its own respective tag.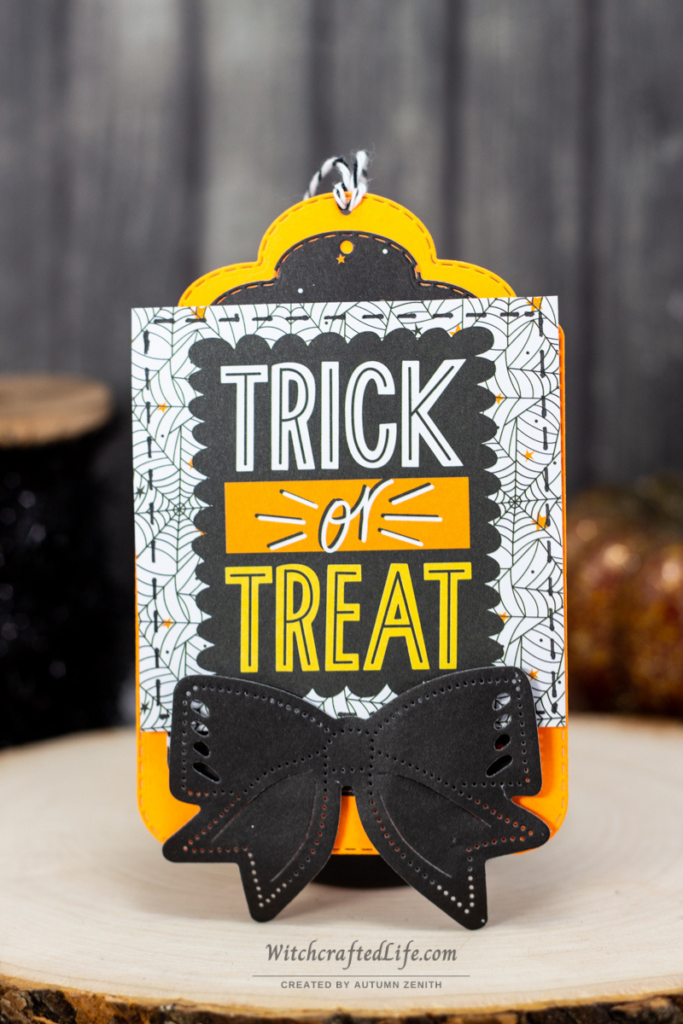 For the fifth tag, die cut a smaller sized (third) stitched tag using black cardstock.
Attach a piece of black lace to the tag base, top with the small black tag, and top that piece with the Jolee's Boutique "Scary" sticker.
Note: this is the only tag out of the five that calls for a third size of tag to be die cut.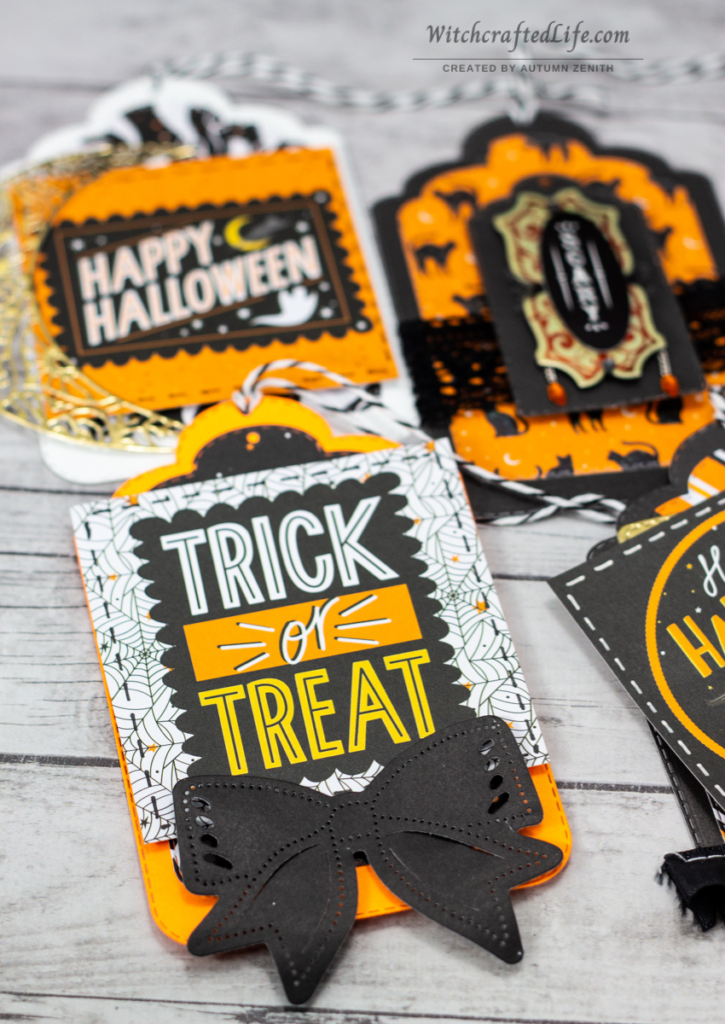 Attach a loop of black and white baker's twine through the small hole at the top of each of the gift tags.
And just like that, your fast, easy, and frighteningly cute five-piece Halloween gift tag set is done.
The versatility of handmade gift tag sets
Handmade tag sets like these have a multitude of uses. Naturally, using them as part of your gift wrapping is a great way to put them to good work, but it's not the only one.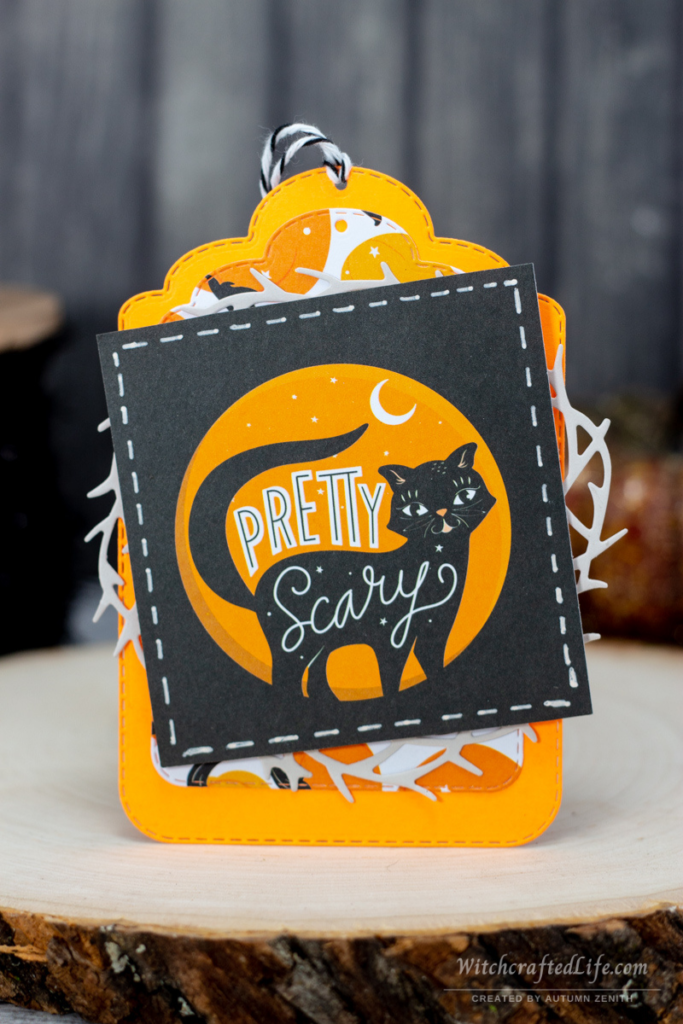 You could skip adding the white cardstock layer on the back and instead adhere one or more of these tags to a scrapbook layout, Project Life page, card, larger tag, mini album, Memorydex card, tag flip, pocket letter, or other paper crafting project.
Or why not attach all five tags to a length of trim or sturdy string and hang them as an adorable mini garland?
You could also include them in a Halloween paper crafting swap or some happy mail, gift them to your child's teacher, or pen a note on the back of each and slip into your little one's (or significant other's) lunches throughout the month of October.
And, of course, they make for delightful pieces of festive Halloween décor sprinkled throughout your house or clustered together, such as on a Halloween tiered tray or a lovely dish.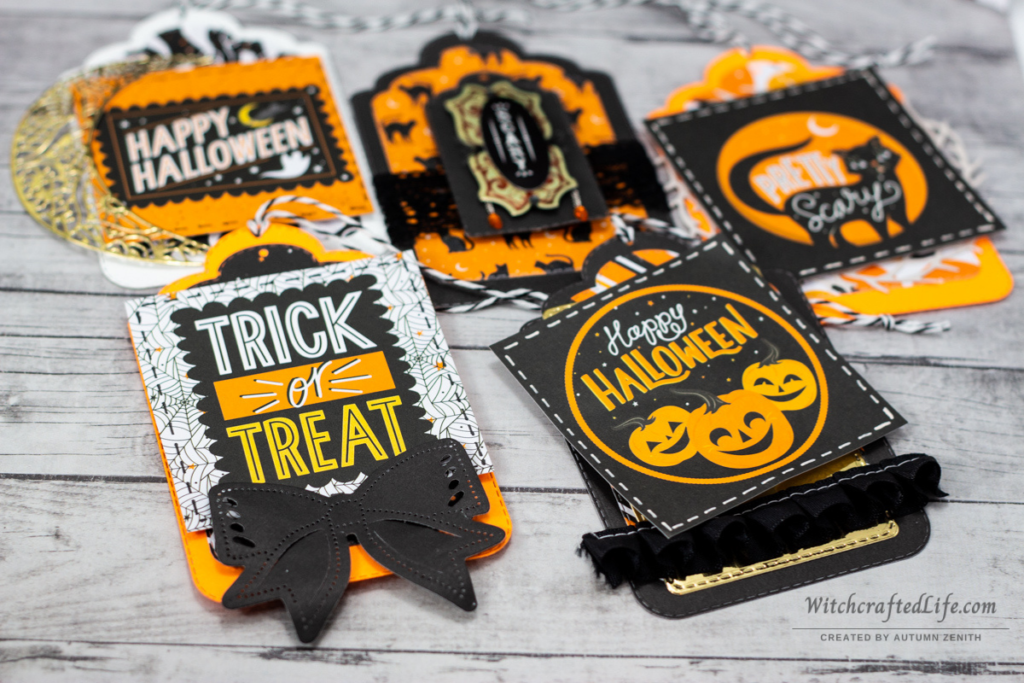 Plus, if you needed to make a larger number of tags like this, they are quick and easy, so whipping up ten, twenty, thirty-one – you name it – shouldn't take an immense amount of time.
I really enjoyed making this fun set of Halloween gift tags and hope that you do as well, if you give a similar project a go.
Be sure to tag your own creations with #MakeHalloween365 when you share them online so that we can all be inspired by your fa-boo-lous Halloween crafts.
Here's to less than half a year to go until All Hallows' Eve returns. I can scarcely wait! How about you? 🎃📅🖤