Gradually gentler weather is inching its way into our world once again. Snow can still be found lurking in shady hiding spots and atop local mountains around our wee town, but spring has begun to break free from its long hibernation, tinging the world with soft, fresh, thoroughly welcome hues again in the process.
Like many of us, I'm drawn to the sweet, tender shades of the current season when paper crafting during the spring months (which I got the ball rolling on a few weeks ago with my Be Amazing Springtime Bird's Nest Card).
With that very palette in mind, as my paternal grandma's birthday rounds the bend next month, I recently set to work creating a card for her special day.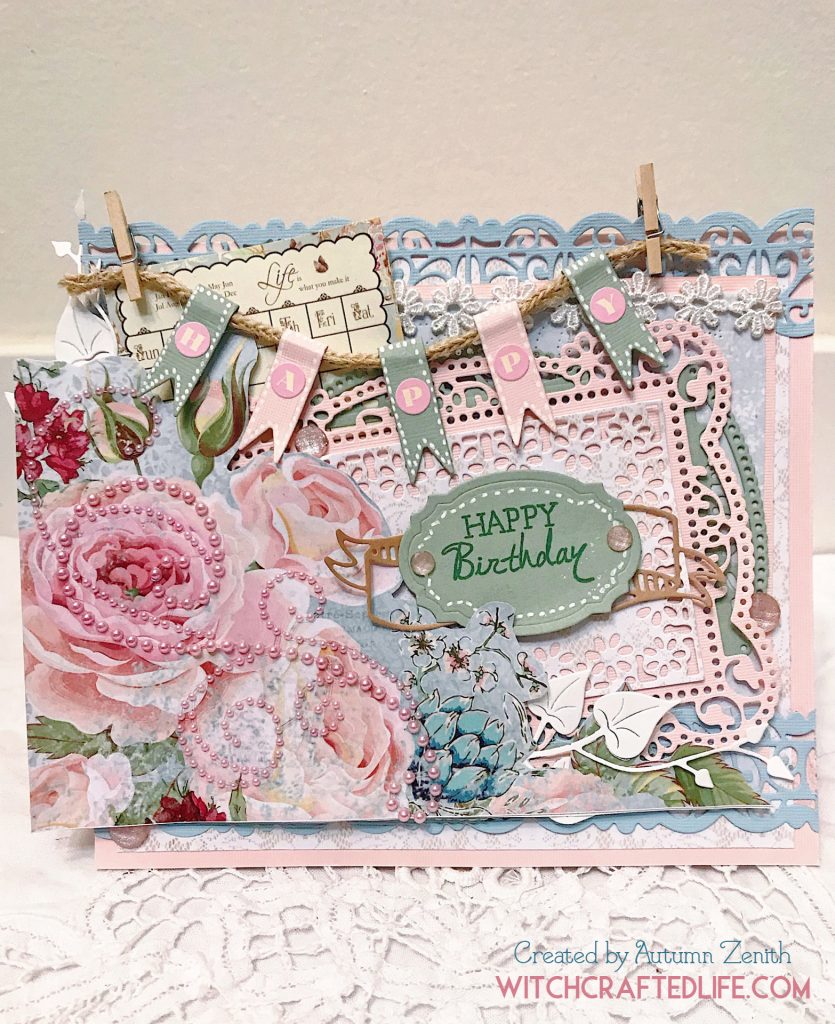 Shabby chic springtime happy birthday card
My grandma is a lovely woman who has had a lifelong passion for crafting (particularly knitting, sewing, and fabric doll making) and beautiful home décor.
Years before the term "shabby chic" entered mainstream vernacular, she had peppered her home with elements that would now fit squarely under that banner – along with ones that were rustic country and American primitive.
I learned about Victoria magazine, how to make a sublime English trifle, the best way to hang laundry on an outdoor line, and when a raspberry is perfectly ripe for the picking all from my grandma.
I attribute several of my own lifelong interests and passions to her as well – not the least of which is my unending love of, and interest in, the 19th and early 20th centuries.
Growing up, my grandma's house was full of soft, sweet, thoroughly feminine touches. There was white wicker furniture on the covered deck, cabbage rose print bedding, a pale blue bathroom, crisply pressed table linens in Easter worthy shades, and much more.
My grandparents moved from that house over twenty years ago now. Some of those same elements went with them to the home they relocated to after retiring. Naturally though, a fair number changed with their new abode, downsizing, and shifting interests.
Still, when I think of my grandparent's home as it looked in my early youth, the colours that I used in this birthday card are amongst those that jump out at me first. As such, I was eager to incorporate them in my grandma's birthday greeting this year.
As much as I would have loved to go for an even more dimensional card, Canada Post has a rather irksome letter mail height limit of just 2cm (not inches, centimetres!) under which letter-sized mail must fit. If it goes over that thickness, you're looking at parcel rates, which even at a national level are nothing short of comically steep in this country.
Therefore, if I know a card that I make is going to be mailed off (be it within Canada or abroad), I try to keep it on the flatter side.
This doesn't automatically mean that I can't still involve multiple layers, embellishments and plenty of engaging details. Thankfully that remains possible for many different types of cards.
Putting this feminine spring birthday card together
Funnily enough, I had originally taken some of the elements used on this card out to make a different birthday card that day. As soon as this design started to take shape, however, I knew that it was destined for my grandma.
I began with a sheet of lightly textured pale pink cardstock for my card base. This was then topped with a beautiful piece of white on cream lace print paper.
Another layer of the same light pink cardstock, pale blue printed paper that I embossed (though the embossing ended by being so obscured here, I won't even mention the folder in the product list), and various ornate die cut frames and border pieces were the next to be added.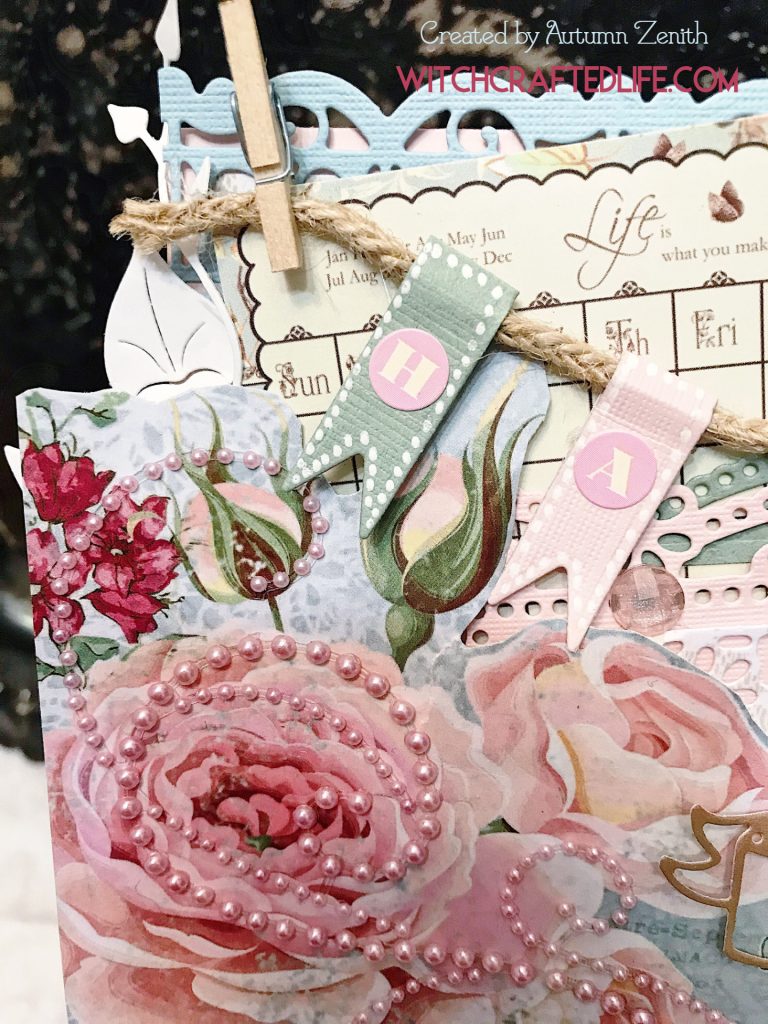 I then fussy cut the large piece of floral print paper from a gorgeous sheet of Prima paper and positioned it to intentionally overhang a wee bit off the left-hand side of the card.
Next, I dug around in my stash for a vintage-y looking piece that tied into the theme of birthdays and found it in the lovely Webster's Pages mini calendar page that I tucked behind the flowers (and banner).
After that, it was on to the banner. A few die cut banner pieces created from pale sage green and the same light pink cardstock used before, each of which I added faux stitching to with a white Uniball pen.
I topped each banner flag with a round pink and white Jenni Bowlin alphabet sticker to spell the word "happy" and strung them on a length of rustic braided garden twine that I attached to my card with mini clothes pegs.
If you don't have banner flag/pennant dies, you can cut as many matching shaped and sized strips of paper or cardstock as you need by hand instead (I've done this many times for various projects over the years).
I wanted a bit more texture on this card, so I included a springtime perfect piece of classic daisy chain style white trim. To complement this trim and to help the fussy cut floral panel stand out a bit more, I die cut some leaves with trailing vines from basic white cardstock.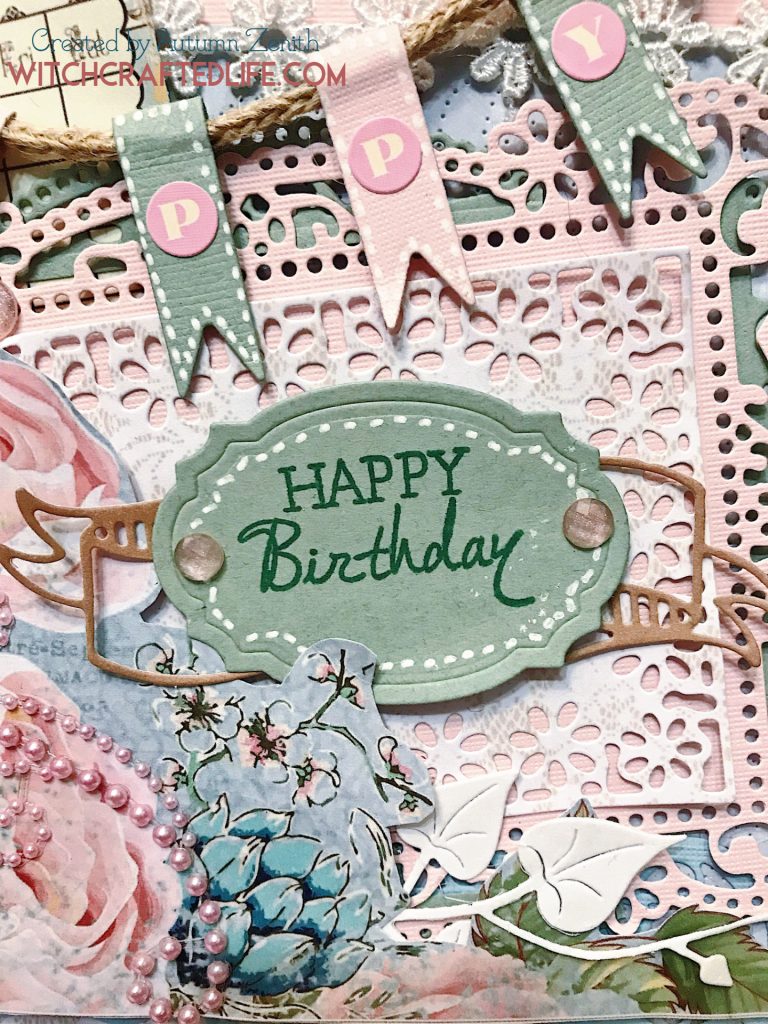 Next, I die cut the banner outline from pale brown cardstock and the decorative label shaped piece from light sage green cardstock. I stamped my classic sentiment of "happy birthday" in dark green ink and added some faux stitching around it with a white Uniball pen.
A few soft pink Prima gems nestled here and there, a flourish of pink pearls atop the fussy cut flower panel, and some strategically placed Glossy Accents on various parts of that panel finished off this pastel hued birthday greeting that I suspect many shabby chic lovers would enjoy receiving.
Card making tips and ideas from this project
-Obvious though this may sound, card bases do not have to be white, kraft, or black. They can be any colour that works for your project and are a great way to help set the tone for the rest of the palette that you'll build on top of it.
-Look for trims that match or complement your die cuts and vice versa. Here, the white fabric trim goes awesomely with the border on the rectangular die cut piece that I used behind my sentiment.
-If you're working with a large area of patterned paper (in this case, the fussy cut floral panel), try to match/harmonize as many of the other elements used on your card to that panel. This is what I did with my choice of light pink, blue, and green cardstocks.
–Hand drawn stitching works fabulously for small pieces and fiddly shapes that might be tricky to machine stitch on without potentially damaging (or if you don't have – or don't want to use – a sewing machine).
If you don't already have a good quality white gel pen, I suggest investing in one if possible. They're hugely useful for drawing stitches by hand on a huge range of different cardstocks and papers.
-I used rustic garden twine here for the string that the banner flags hang from, but you could easily swap in baker's twine, hemp cord (natural or dyed), yarn or wool, a skinny piece of ribbon, beading chain, or a strip of paper or cardstock instead.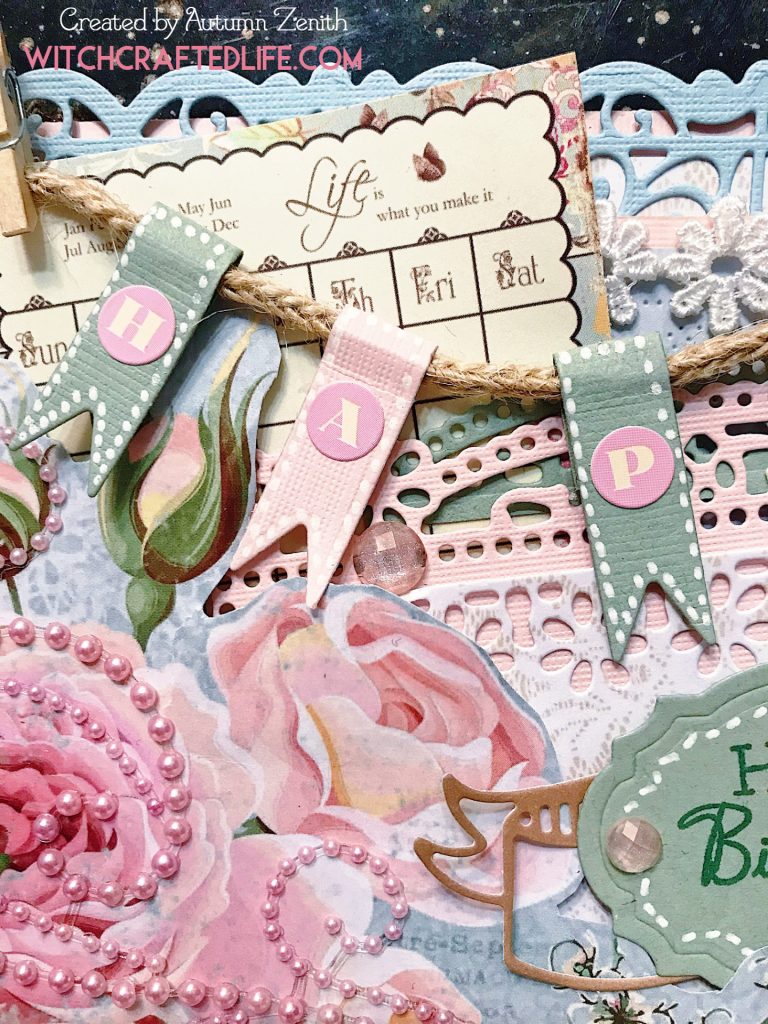 -Mini clothes pegs/pins are one of my favourite embellishments (they last appeared here in my Only Love Lets Us See scrapbook layout). They're tons of fun, can be found from various online and offline sources (from eBay to Etsy to some dollar stores and craft stores), and add heaps of charm to any most any project.
-Let a little bit of your card base show. A design this full and eye-catching isn't exactly overflowing with empty space. To help the eye rest and the design stops short of being too busy, I often like to ensure that a wee bit of the card base is visible in at least two areas of my design. In this case, that occurs at the top and bottom of the card.
Repeating the same pale pink colour of cardstock in the center panel of the card also helps to give a sense of open or white space, as it tricks, so to speak, the eye into thinking that it's part of the largest area of the card (the base), when in fact it's one of the last layers.
Products used to make this pastel floral birthday card
-White, light pink, light blue, light sage (or similar toned) green, and light brown or kraft coloured cardstocks
-Floral print paper – Rose Avenue Suite Collection Paper from Kaisercraft (the white + cream lace print paper that I also used here is the pattern on the back of this sheet)
-Happy birthday sentiment stamp
-Dark green ink pad – Ranger Archival Ink in Library Green
-Various decorative frame metal dies (or border punched pieces)
-Elegant border die (or punch or premade fancy border strip)
-Mini calendar page – Mini Calendar Cards from Webster's Pages
-Mini alphabet stickers – Butterfly Pink Stickers from Jenni Bowlin
-Natural braided twine (see tips above for alternative product ideas that you can use here, too)
-Pink pearl embellishment flourish (this one is from Zva Creative – Prima and Recollections have released similar ones over the years as well)
-Light pink faceted adhesive gems – Midnight Garden Say It In Crystals from Prima
-White floral design trim – Vicki B. Wraps from Bo Bunny
–Ranger Glossy Accents (optional)
-Dimensional foam, pop dots, or similar to elevate some of your layers
-Adhesive, such as a tape runner, of your choice (I often use my Scotch Tape Glider)
Keep your recipients in mind when creating cards
While it's definitely useful to have some general purpose cards on hand for birthdays and various other occasions that work well for a wide range of recipients, whenever possible, I truly love tailoring my projects to the person (or people – say a couple or family) who is going to be receiving it.
That's exactly what I did with this cheerful, confectionary hued birthday card for my dear Grandma.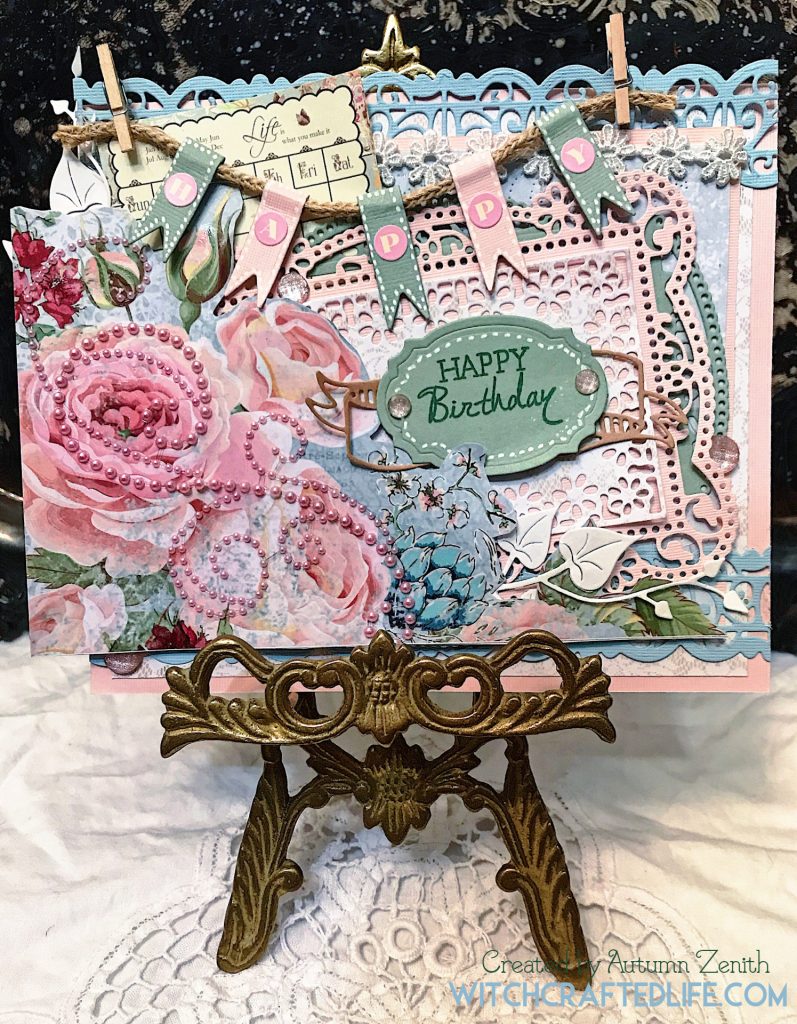 The past couple of years have not been the easiest for my grandparents, including on the health front, and I really wanted to convey my wishes for a positive b-day celebration and year ahead (which is why I purposefully used the word "happy" here two times).
I sincerely hope that my grandma's birthday abounds with happiness – just as trips to her house did for me when I was growing up – and that this pastel floral card helps to make her special day all the more so.
Project share
Pin the image below – or any other in this post – to Pinterest, pop it into your Instagram Stories, post in on Twitter or Facebook, or share it anywhere else you wish to help yourself find it again and to inspire others at the same time.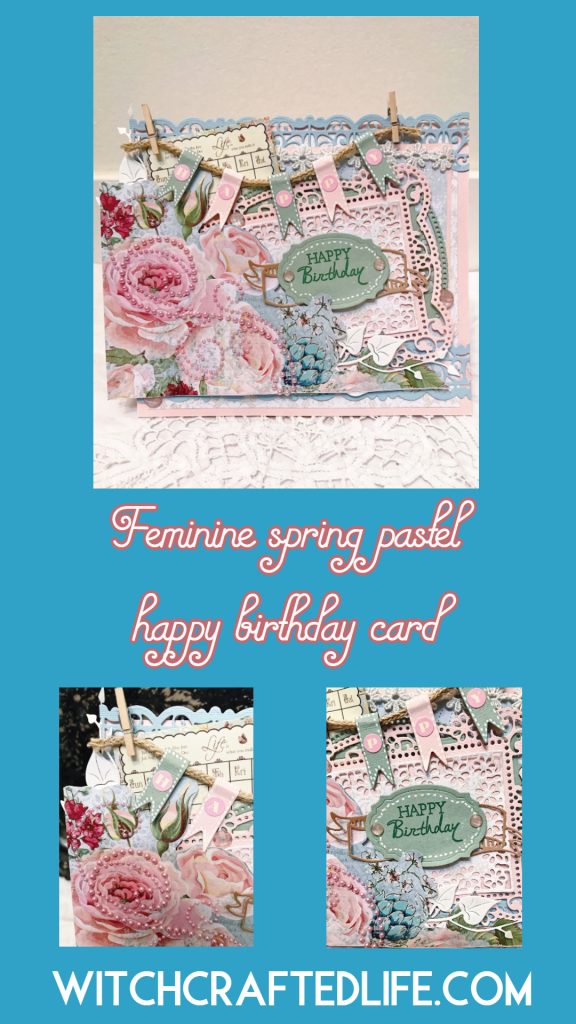 If you make a project based on or inspired by this card – or want to share any of your other handmade crafts with me – please use the hashtags #WitchcraftedLife and #WitchcraftedLifeMakes on social media so that I see can your beautiful creations.