In my previous project share post (this elegant springtime birthday card), I briefly chatted about my maternal grandma for a little while, as that card was created for her birthday this month.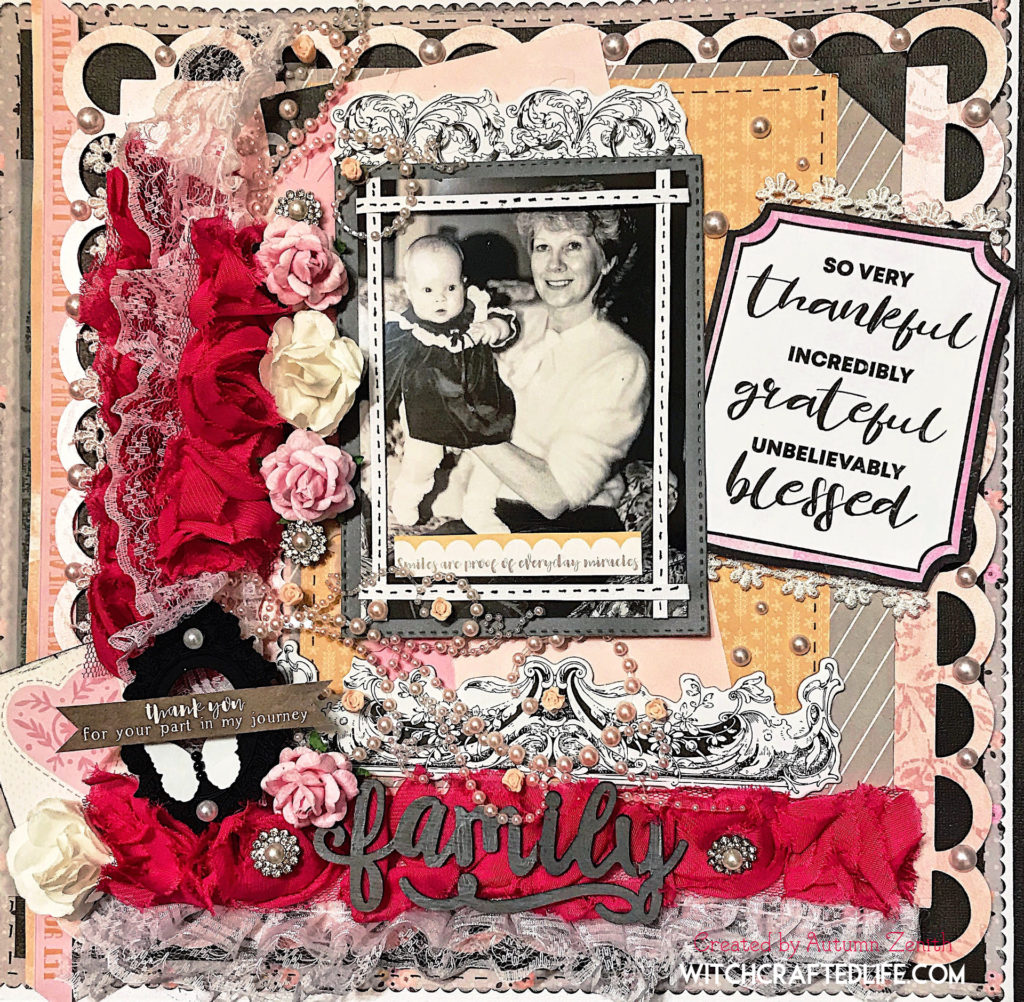 With light, airy, classic springtime hues still running through my mind – and across my desktop – I decided that I'd blend that seasonal palette with some of my beloved shades of black, grey, and white to create a scrapbook page starring a photo of myself as a baby with none other than my lovely grandma herself.
(Before I go any further, I just want to mention that I'm less than thrilled with the photos – taken at night under indoor lighting – that my iPhone 7 captured of this layout. My phone often struggles with pale coloured images in lower light/non-natural light settings. My apologies that these images are as clear, crisp or true-to-life, colour wise, as I would ideally like them to be.)
Thank You for Your Part in My Journey Scrapbook Layout
If you've read my inaugural blog post or my more recent get to know me post (or are otherwise aware of what happened), you may know that in October 2016, my husband and I experienced a total loss arson home fire.
This life-altering event destroyed a great deal, amongst which was every photo – both physical and digital that we owned at the time – save for those that were already uploaded somewhere online, such as on a blog or social media account.
I mention that here today, because losing more than three decades worth of photos in a single blow does, as you might imagine, have a serious impact on one's ability to scrapbook a lot of events from their life prior to that point.
Thankfully, between those images that were online and relatives who have since shared scans and physical copies of some pictures, I've been able to put together a small collection of pre-fire photos again. And I now add to my new digital post-fire photo album with each passing week.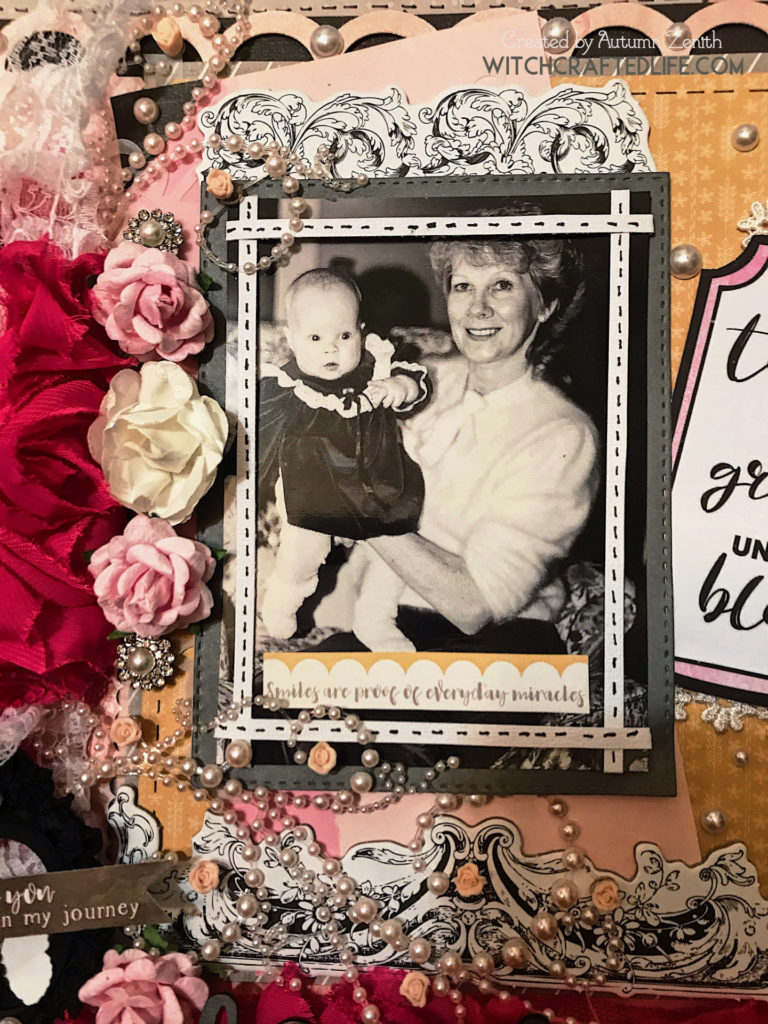 The image quality of the photo that I used here was not the exactly the best. It was a scan of a coloured photo from the mid-1980s that had been stored in one self-stick type photo albums that as many a scrapbooker knows, are anything but archivally safe.
Its washed out, yellowed tones almost made the image itself hard to see, so I converted it to black and white before having it printed at Walmart (prior to the current days of being in self-isolation due to Covid-19).
I've not been overly impressed with Walmart's photo quality in recent years, but for the low prices they offer and with an image where gallery worthy colours or image sharpness are not an absolute must, I will sometimes use their printing service.
All that to say, having selected my image (which, I should note, I printed prior to planning this specific page, as I do like having at least a few un-scraped photos to hand for when the desire to create a new scrapbook layout strikes), I set to work deciding on the colours, papers, embellishments, etc that I wanted to use for it.
Once I had a general "scrapbook kit" for my page ready to go, I shifted my focus to what I wanted to convey with this page.
Much like with my cute Only Love Lets Us See layout about our dog Annie, this page does not include any printed or handwritten journaling. The image and corresponding pre-printed word elements do the talking in this instance.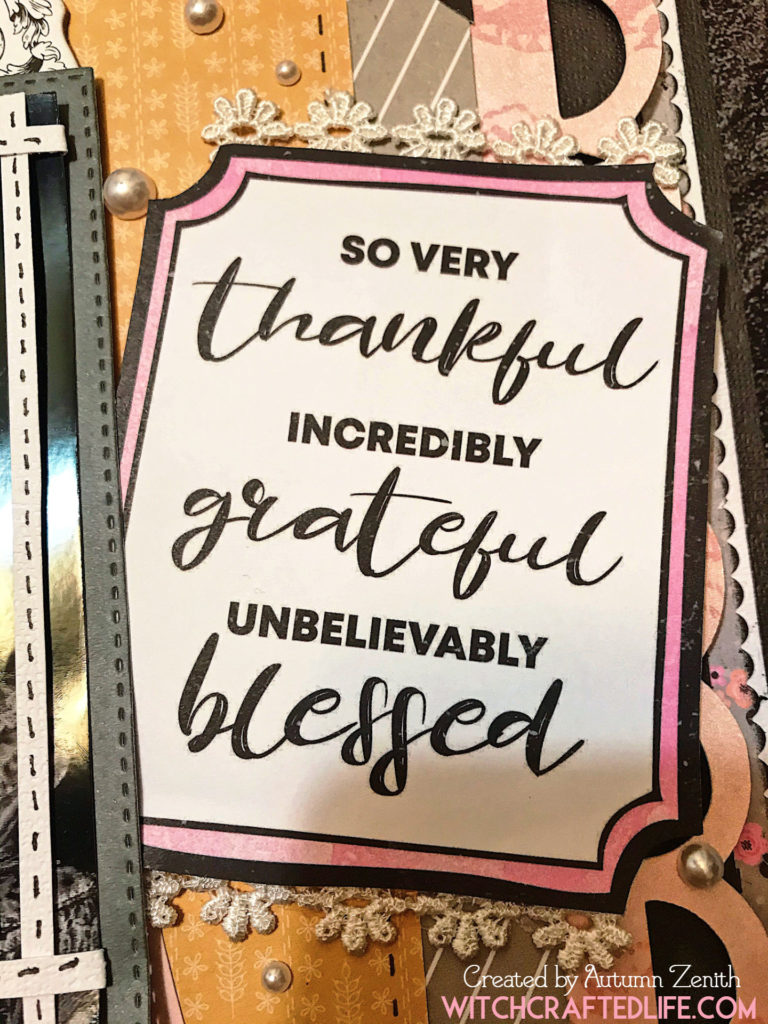 The title here is a bit ambiguous, but in a good way, I think, as it allows the viewer to decide which of the three main text elements they want to interpret as the title. For me personally, the title resides mostly in the smallest of the three: the notch-ended banner strip atop the black frame that says "Thank you for your part in my journey".
I realize that the wording of this sentence might make it sound like this layout was created in memory of someone who had passed. Thankfully such is not the case with my grandma, who is very much continuing to live life to the fullest as we speak.
Instead, it is meant to convey my sincere thanks for the role that she has played – and continues to play – throughout my 35 years and counting on this planet.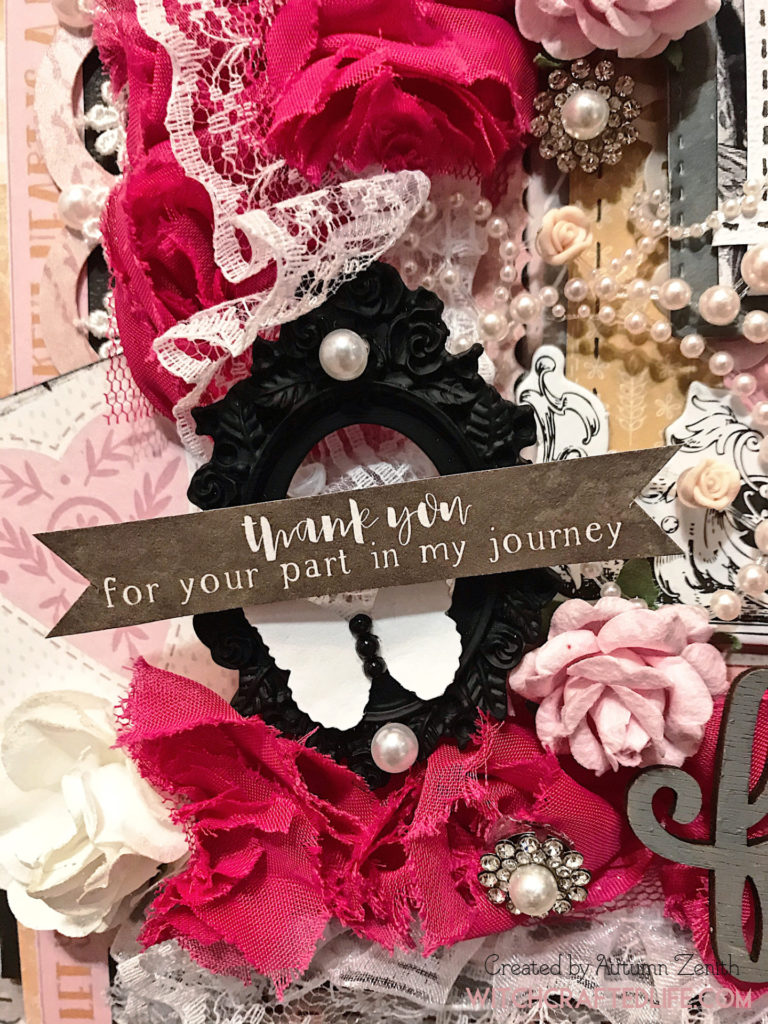 While we've had our ups and downs over the decades, I love my grandma dearly and cherish the memories of growing up with her being, in some respects, like a second mom to me at times.
Putting this scrapbook page together
For the colour palette of this grandparent themed scrapbook layout, I looked to both details of the photograph itself, along with colours and patterns that were popular during the 1980s, when this photo of baby me being held by my grandma was taken.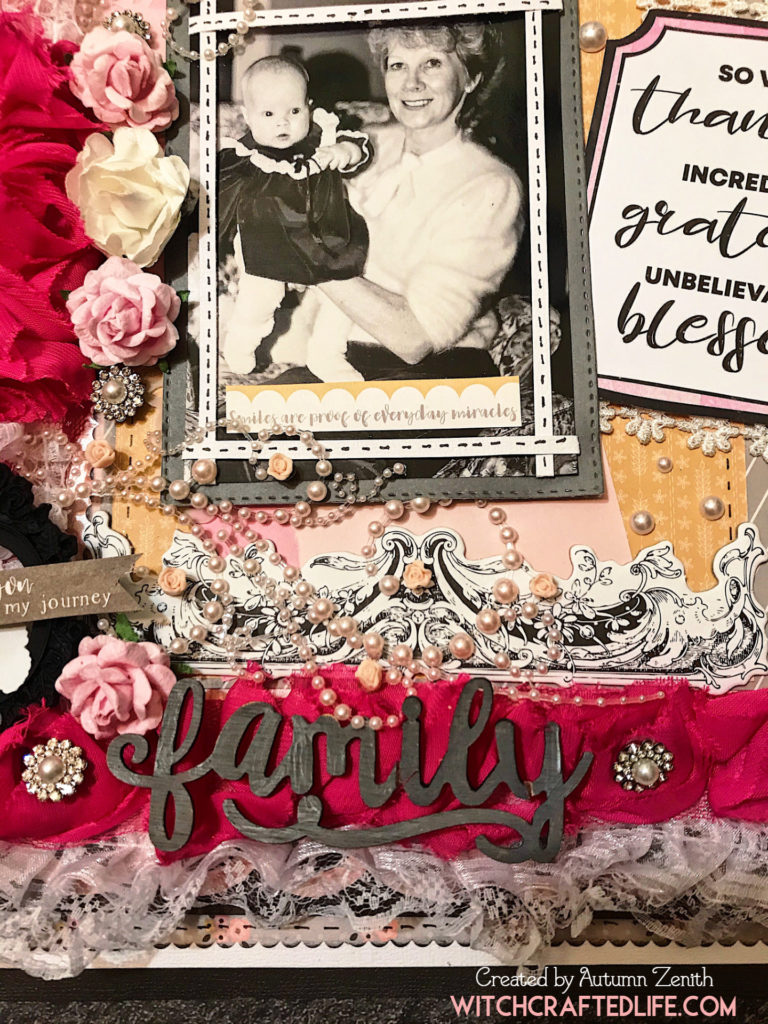 In the photo, you can see a little bit of the velour floral patterned living room seating set that my grandparents had at the time (chances are, if you grew up in the 1970s, 80s, or early 90s, you or someone you knew had a similar type of floral print couch; they were ubiquitous with living room furniture throughout those years).
I used that as the jumping off point for the inclusion of floral elements on this page.
The cute ruffles on my dress were the impetus for the frilly white lace that I included, and the dark pink tulle rose trim ties into both the ruffles and the flowers.
I remember there being muted yellow tones (along with creams, oranges and browns) in the above mentioned living room furniture, so I included some tone-on-tone wheat hued paper here as well.
But perhaps I'm getting ahead of myself a tad. Let's start with the base layer and work our way up, shall we? 😊
A sheet of textured white cardstock got the ball rolling on this scrapbook page. I topped it with a piece of patterned paper that stars a grey and white polka dot background with a subtle (what might be called "ditsy" in the UK) floral pattern in shades of purply-pink and peachy-pink.
Using decorative scalloped edged scissors, I added a scalloped border to the whole of this piece of patterned paper, which I then inked the edges of with classic black ink. And for a further pop of visual interest, I added a hand drawn black stitched border around the edges of the paper.
I topped this with a layer of textured black cardstock, which itself was topped by an elegant, subtly pearlized piece of peachy-pink tone-on-tone scalloped edge paper. I accented the scallops with pearls, which appear again on this layout later via the pre-made pearl flourish.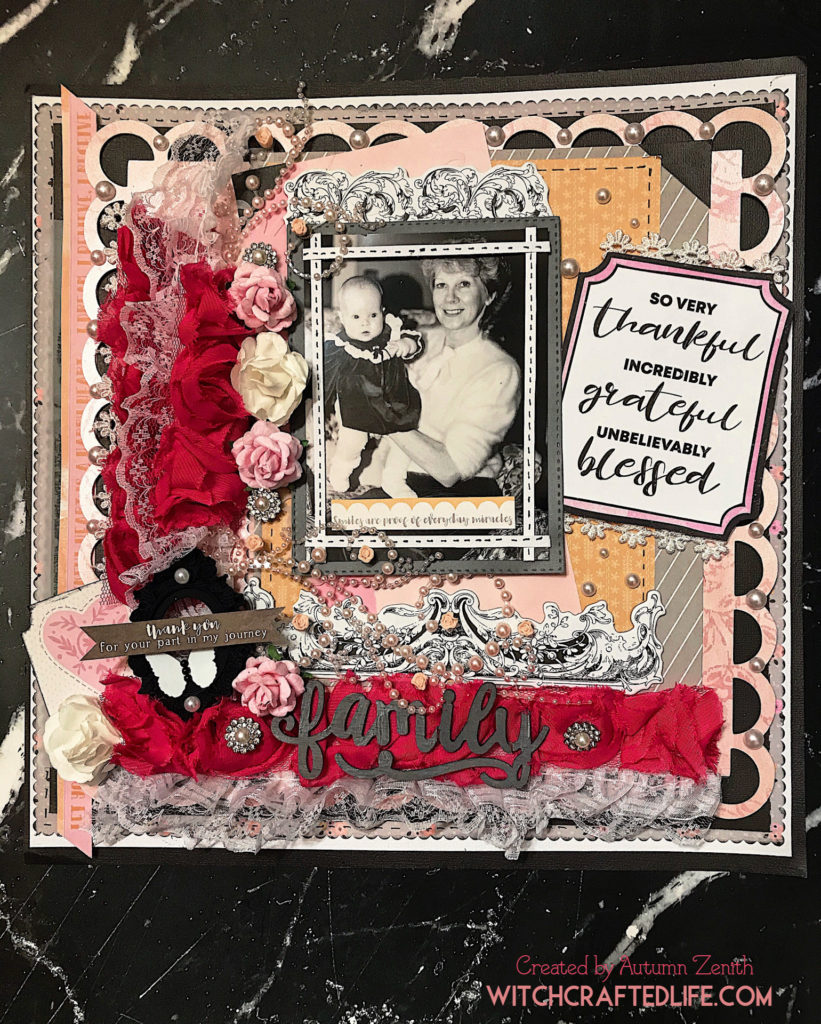 Next came a piece of grey and white diagonally striped paper that, while timeless for sure, screamed 1980s to me – especially in the context of this page. This was topped with the wheat colour paper, a smaller piece of two-tone pink paper that I placed at an angle beneath my photo, a strip of text print paper running vertically along the left-hand side of the page, and a vertical piece of plain vellum to the left of that element.
I matted my photo on a die cut rectangle of medium grey cardstock and created a charming little border for it from thin pieces of white cardstock, which I draw hand stitching in black on (for added cohesiveness with the hand stitching on one of the background layers).
A sweet little sentiment strip that says "Smiles are proof of everyday miracles" was placed directly atop the bottom edge of the photo.
After that, I selected the "So very thankful" cut out element, which I placed at an angle and bordered on the top and bottom with some cute daisy flower trim (which makes an appearance again on the other side of the page beneath the vertical layers of white lace and pink tulle flowers).
I knew that I wanted the word "family" on my layout, but wasn't finding a sticker, die cut or stamp that I loved for use on this page, so I took a natural coloured wood veneer piece and painted it with grey paint from Martha Stewart's line (her acrylic paints are top-notch; I'd buy every colour she sells, if I could).
Once this piece was dry, I set to work arranging the various trims, embellishments, black plastic frame, pearls, rhinestone flatback pieces, hand-cut black photo corners, scrolling black and white chipboard pieces, and the paper flowers that were used on this shabby chic, highly feminine scrapbook page.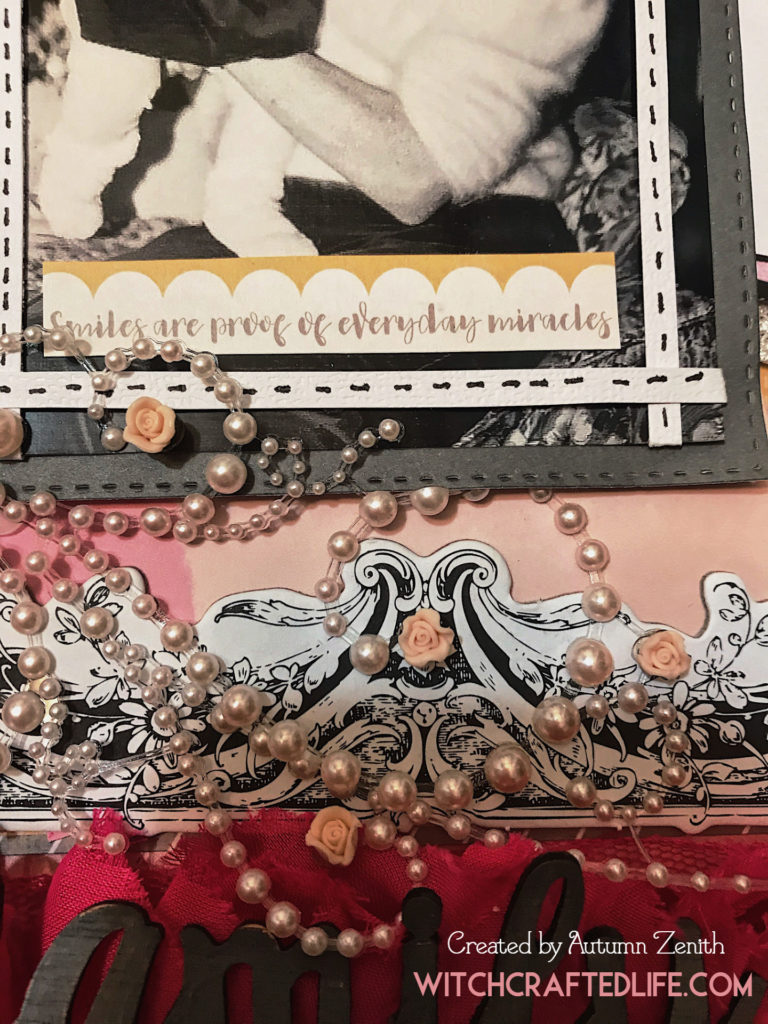 This page has a fair number of elements and it did take several hours to complete, but it wasn't difficult to make, and I'm thrilled with how it turned out.
Much like myself, my grandma is a total girly-girl who adores frills, flowers, lace, pearls, bling and the like, so I feel that this page does a great job of celebrating a number of things we're both wild about, while moreover honouring the wonderfulness of the special bond and love that we share.
Scrapbook page tips and ideas from this project
–Turn to the era that the photo(s) on your layout was/were taken during for design inspiration, be it colours, patterns, themes, embellishments, or any other element of your layout.
-New or old, don't be afraid to convert photos to B&W. This can be especially handy if photos are aged damaged, faded, or if the colours in them clash heavily with the layout you're envisioning.
The majority of both free and paid photo editing apps and software programs (as well as plenty of online photo editing sites) allow you to convert a photo to black and white in a snap.
-Inject one hit of standalone colour that harmonizes with the others that you're using on your page. In this case, that colour was the soft wheat coloured patterned paper. It's as good as a neutral and gets alone nicely, without stealing the show from, the abundance of pink, black and white on this layout.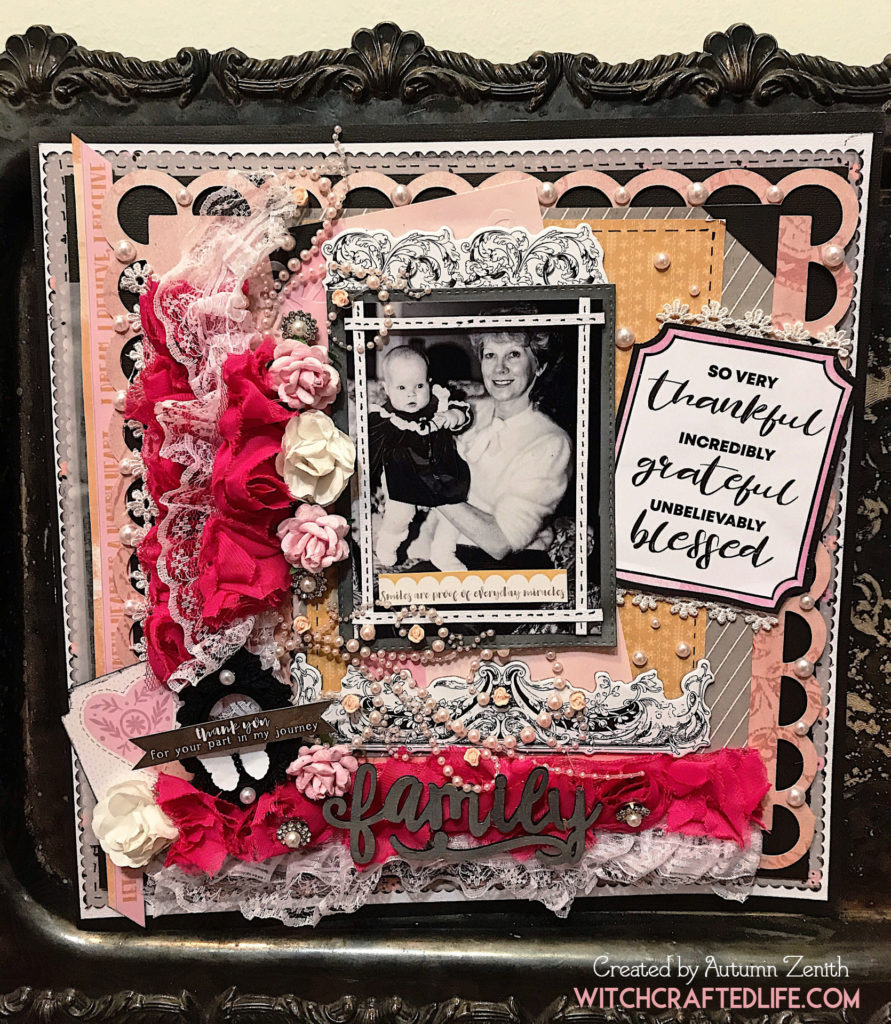 -Play around with using two or more sizes of a design element, such as the small and large scalloped edges here.
-Combine hand drawn stitching with machine stitching and/or die cut stitched edges (such as those on the grey cardstock that I backed my photograph with).
–Work left to right. While this is not a universal rule, of course, many languages are read from left to right and as such, a lot of peoples' brains are accustomed to finding designs that likewise work from left to right to be highly visually pleasing.
By creating an L-shape with my rows of ruffled lace, dark pink flower trim, and various other embellishments on the left hand side of the page, I help to organically guide the viewer's eye from left to right (while also having these elements work like something of a broader frame for my photo).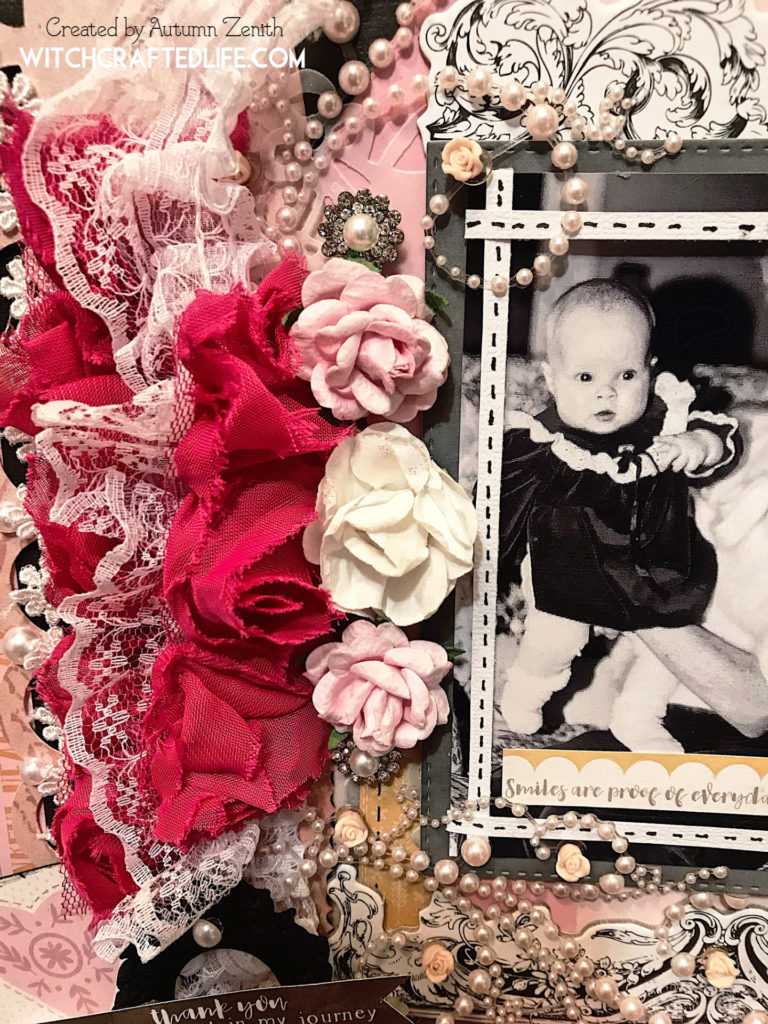 -Don't be afraid to altar wood veneer pieces. Paints, markers, embossing power (carefully – wood burns very easily!), glitter, flocking, stickers, rub-ons, microbeads, tissue paper, ribbon, twine, embroidery floss, and more can all be used to help change the colour or pattern of wooden die cuts.
Products used to create this grandma and granddaughter scrapbook layout
-Black, grey, and white cardstock (textured or smooth)
-Plain vellum – Premium Cardstock Vellum from Core'dinations
-Grey and pink mini floral print paper
-Pearlized pink scalloped edge paper
-Grey and white diagonal striped paper
-Light yellow/wheat coloured tone-on-tone paper – Fall Farmhouse 6×8 inch paper pad from Simple Stories
-Two-tone pink paper – Color Fresh Note It from Heidi Swapp for American Crafts
-Cut out sentiments – Blessed Collection Miracles from Kaisercraft
-Thank you cut out sentiment – Spoonful of Soul Bite Size Bits from Jillibean Soup
-Black ink pad – Cat's Eye Archival Ink in Wicked Black from Colour Box
-Scroll design chipboard die cut pieces – Giving Thanks Chipboard Elements from Teresa Collins
-Pink and white paper roses – Garden Blooms from Blue Fern Studios
-Black plastic decorative frame (these can sometimes be found in the jewelry making section at craft stores and dollar stores, as well as on sites such as eBay and AliExpress)
-Pre-made pearl flourish – Boutique Fleur floral pearl embellishment from (Michael's house brand) Recollection's
-Silvery white coloured flatback pearls – Self Adhesive Pearls from Studio G
-Tiny white butterfly embellishment (handmade or storebought)
-Wood veneer die cut "family" word piece
-Grey acrylic paint – Multi-Surface Satin Paint in the colour Arrowhead from Martha Stewart
-White daisy flower crochet trim – Vicki B Wraps from Bo Bunny
-White ruffled lace trim
-Dark pink tulle flower trim – Bloomers Spring 2011 Trim from Webster's Pages
-Black ink pen – 0.5" Pigma Micron Pen from Sakura
-Rectangular stitched border die (used on the grey cardstock behind the photo)
-Scalloped edge scissors
-Dimensional foam, pop dots, or similar to elevate some of your layers
-Adhesive, such as a tape runner, of your choice (I often use my Scotch Tape Glider)
Fewer photos, more scrapbook pages!
While its true that the number of photos – let alone those from my youth – that I have is fairly small these days, I find that, in some respects, there are some positives to working with a tinier pool of images.
A desire to scrap as many of them as I can becomes easier to manage and put into action when I have a mere handful to choose from, not overflowing albums (or multiple file folders, USBs, etc) to search through. I can see what I have at a glance and print in small batches or as needed on a project by project basis.
Having so few photos from my childhood, it matters to me all the more that I scrap quite a few of them, as all of my pre-fire scrapbook pages about my early years were destroyed (along with all of my other scrapbook pages as well).
At the same time though, losing all of our photos has really inspired me to take, print and scrap plenty of pictures from our life these days as well – especially those from our travels and photos of loved ones that they share with me.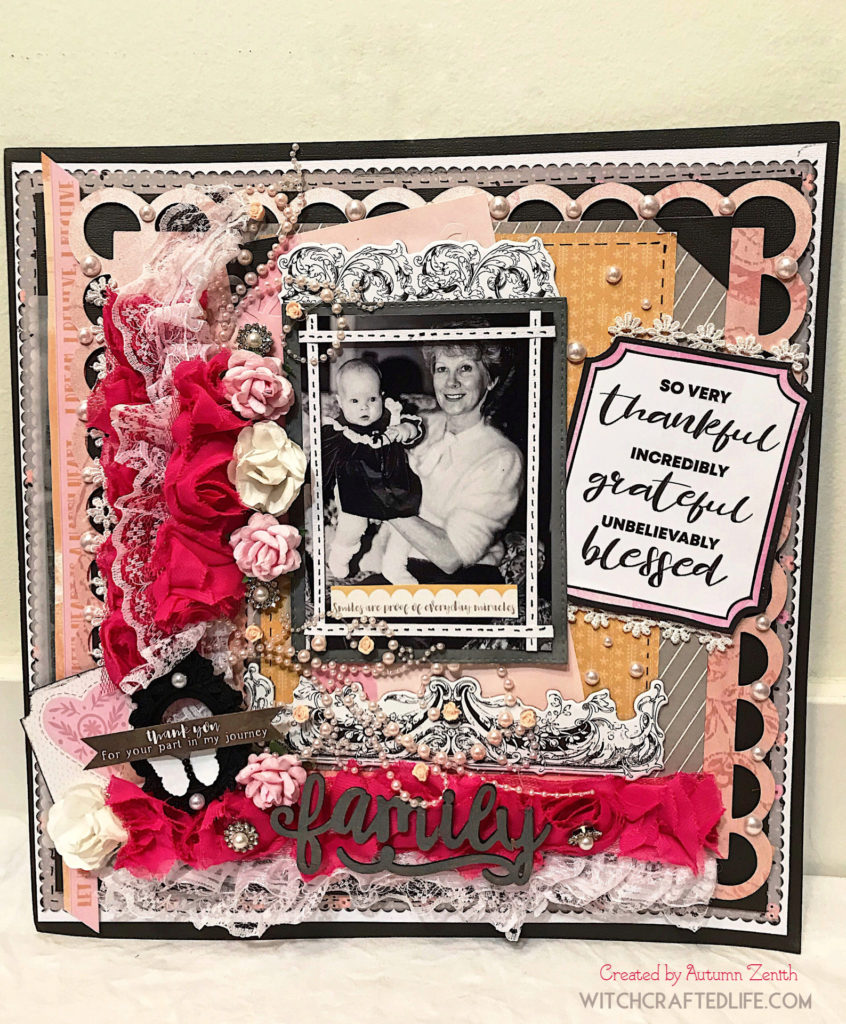 What we experienced is a part of my journey. It is not loving, sweet, and wonderful like my grandma, of course, but it is engrained in the narrative of my existence all the same.
And while I would never in a billion years have chosen to experience that nightmarish ordeal that we did, I am sincerely grateful for the lessons, blessings, and ultimately new paths that it led me down. One of which is this very blog itself.
If that isn't a silver lining, I don't know what it is.
Hmm, I suddenly feel the urge to create a scrapbook page about that very topic coming on… 😃
Project share
Pin the image below – or any other in this post – to Pinterest, pop it into your Instagram Stories, post in on Twitter or Facebook, or share it anywhere else you wish to help yourself find it again and to inspire others at the same time.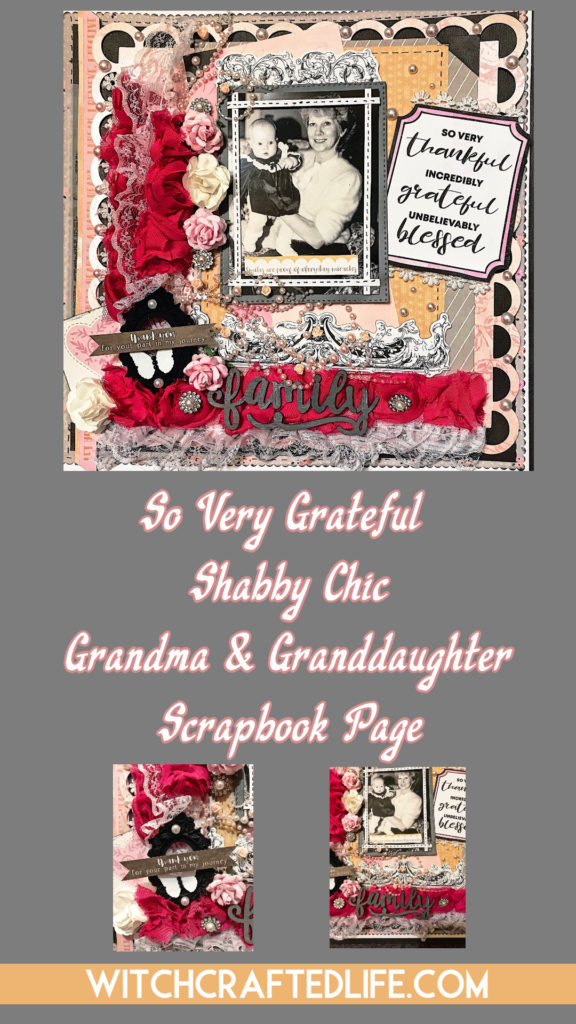 If you make a project based on or inspired by this scrapbook page – or want to share any of your other handmade crafts with me – please use the hashtags #WitchcraftedLife and #WitchcraftedLifeMakes on social media so that I see can your beautiful creations.