Presently, snow lays deep and heavy, a blanket that warms the earth but rarely us humans. For many of us, winter is far from over. Its crystalline beauty and dark hours filling our days for at least a few weeks longer.
In this world of sub-zero temperatures and slippery sidewalks, it can often be hard – at least if you live, as I do, in an area that experiences long, cold winters – to feel or see a sense of spring's return yet.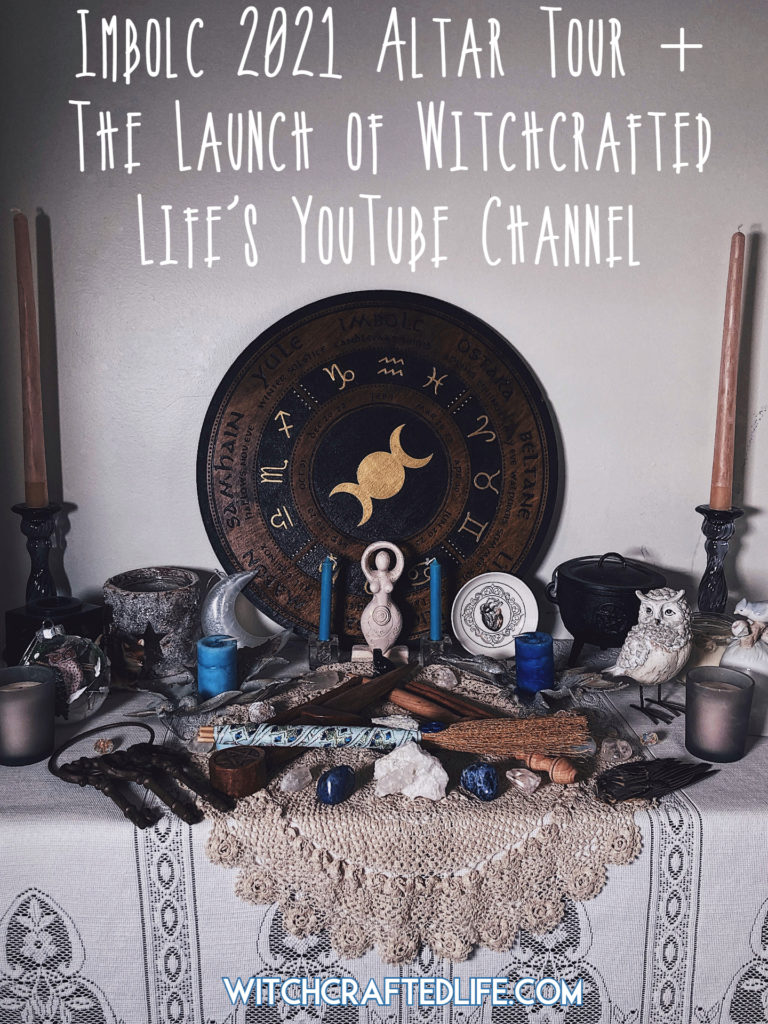 Yet, the catalysts for this exciting happening are brewing. As she wears a mantle of white, deep inside Gaia's womb, the seeds of spring are being nurtured.
Each day brings slightly longer minutes of daylight. The frozen ground is still to the eye, but beneath its surface, a microcosm of activity is happening that will help ensure fresh blooms, green grass, and food for humans and critter alike in a matter of months.
Imbolc – the first of the eight annual Pagan sabbats that comprise the Wheel of the Year – is rounding the bend again.
(Read more about the origins and meanings of Imbolc in my post on Dairy Alternatives and Menu Ideas for Imbolc.)
It will grace us with its presence on February 1st, a stirring and meaningful reminder that spring is not actually a million miles away at this point – even if it can feel that way sometimes.
Inspired by my dear friend Willow from the stellar witchery blog Flying the Hedge, who has long posted about her own sabbat altars, today I'm going to give you a tour of my Imbolc 2021 altar.
But first…
The Launch of Witchcrafted Life's YouTube channel
Soooo, I did a thing this week. 😊
Every now and then, usually seemingly out of the blue, I get what I like to call a sudden surge of moxie when it comes to the internet.
A mighty force comes over me and my usually ridiculously shy, introverted nature receives a spark of extra boldness and extroversion.
These sparks are few and far between, but I've long learned it's best not to ignore them for they can lead to some pretty incredible things in the long run. 😃
This time around, the spark placed on my heart the fact that the time had come to launch a YouTube channel to accompany this blog and my current social media accounts.
I could list a million and one reasons, many of which are solidly legit, why I could have ignored the spark, put it to the side, debated at length with it in my mind.
But I didn't do that.
I didn't listen to the fear or the trepidation. I didn't even focus (too much) on the fact that I am not a huge fan of how my own voice sounds.
You see, I have a somewhat nasally sounding voice that is present in almost all of the women (of multiple generations) on the paternal side of my family. I also think my voice sounds many years younger than my age, though perhaps now that I'm in my mid-30s, that isn't actually such a negative point any longer. 😄
Nope, instead, in the wee hours of the morning, having just set up my Imbolc 2021 altar a few minutes prior, I whipped out my cell phone and shot a short video of said altar.
Is this video award-winning quality? Lol, no, not in the slightest. But it real and sweet and the first step on this exciting new journey.
What can you expect from Witchcrafted Life's YouTube channel?
Much like this blog (and my Instagram account), Witchcrafted Life's YouTube channel is going to be a mix of posts pertaining to witchery and Paganism, as well as paper crafting and other creative pursuits.
It is possible that additional types of content might appear there as well, but at his early stage in the game, I'm letting things unfold organically and trying not to stress or over-plan things too much.
On my YouTube channel, I plan to post crafting related video tutorials, project shares, occasional hauls, happy mail, reviews, an array of witchy and Pagan related topics, and likely other things, too, as time goes on.
I would be honoured and sincerely grateful if you subscribed to Witchcrafted Life's YouTube channel.
Thank you with a very grateful heart for doing so. 🙏🏻💗
I should note that this YouTube channel is not aiming to replace my blog or Instagram, but rather to accompany them and serve as an exciting additional way for me to share, support, teach, and hopefully inspire others all the more. 
My Imbolc 2021 altar
(Further information about this altar…) I have multiple altars in my house. This one is located in what was originally designed to be a very small closet in the (likewise, quite small) room that serves as both my craft room and my primary witchy/sacred space.
This altar focuses on the Wheel of the Year, with a new set up generally being created for each sabbat (or, less often, for each of the four seasons).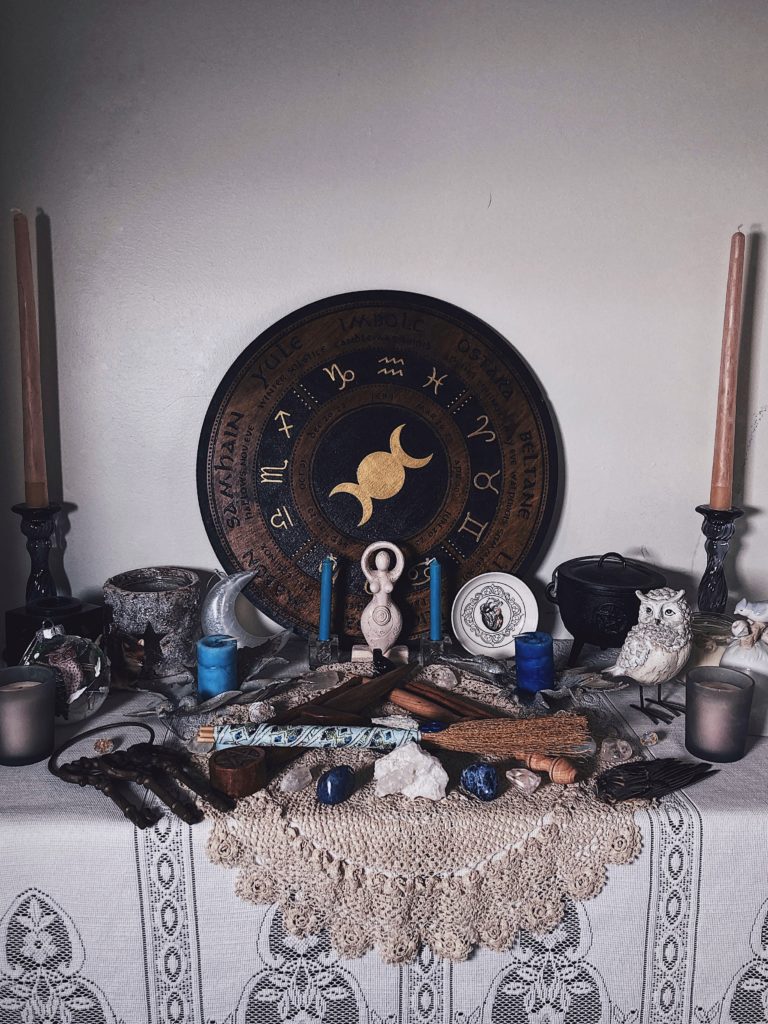 It houses a mix of certain items that are mainstays on this particular altar, coupled with pieces that are swapped in and out for each sabbat or season.
Beyond what I shared in this short video tour of my altar, let's delve into some of the Imbolc correspondences at work on this altar. 
Imbolc correspondences
With my wand, besom, and athame, I formed the shape of a triangle in the middle of the altar.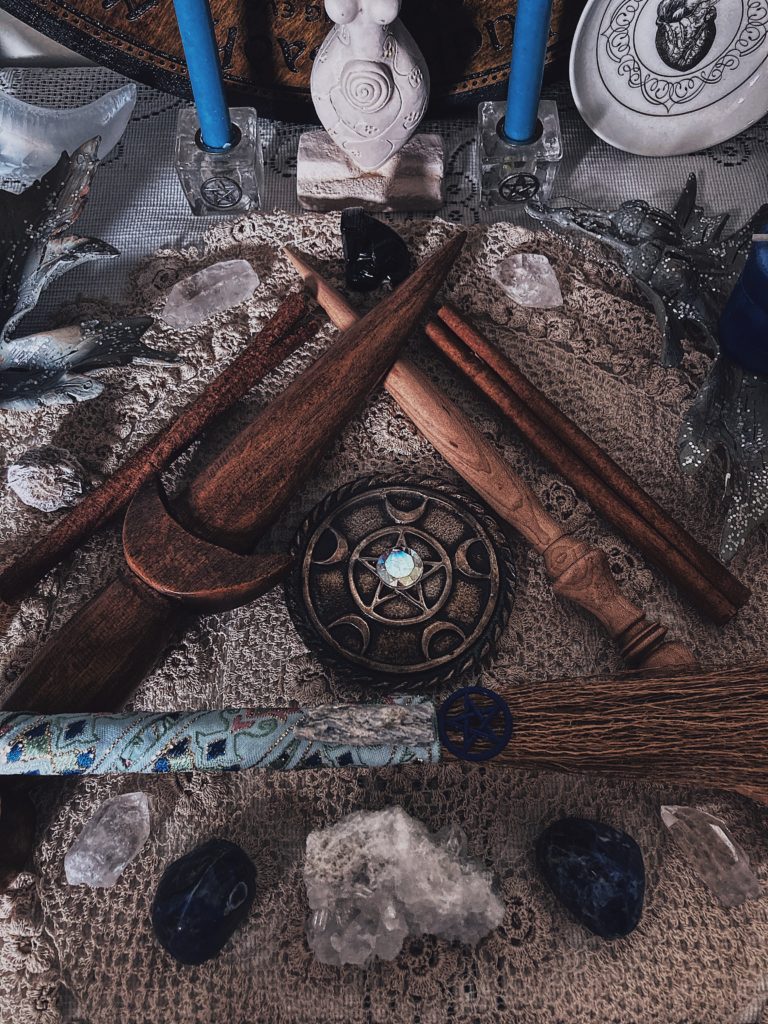 These sacred magickal tools are ones that I use all throughout the year.
Triangles are considered to be one of, if not "the", strongest and most powerful shapes.
After the year we just collectively endured, I felt like I needed to fortify both my Imbolc altar and my life + witchery all the more this sabbat.
As well, triangles are intimately connected to the four elements (earth, air, fire, and water), which – along with spirit – I make a point to specifically recognize and honour at the sabbats.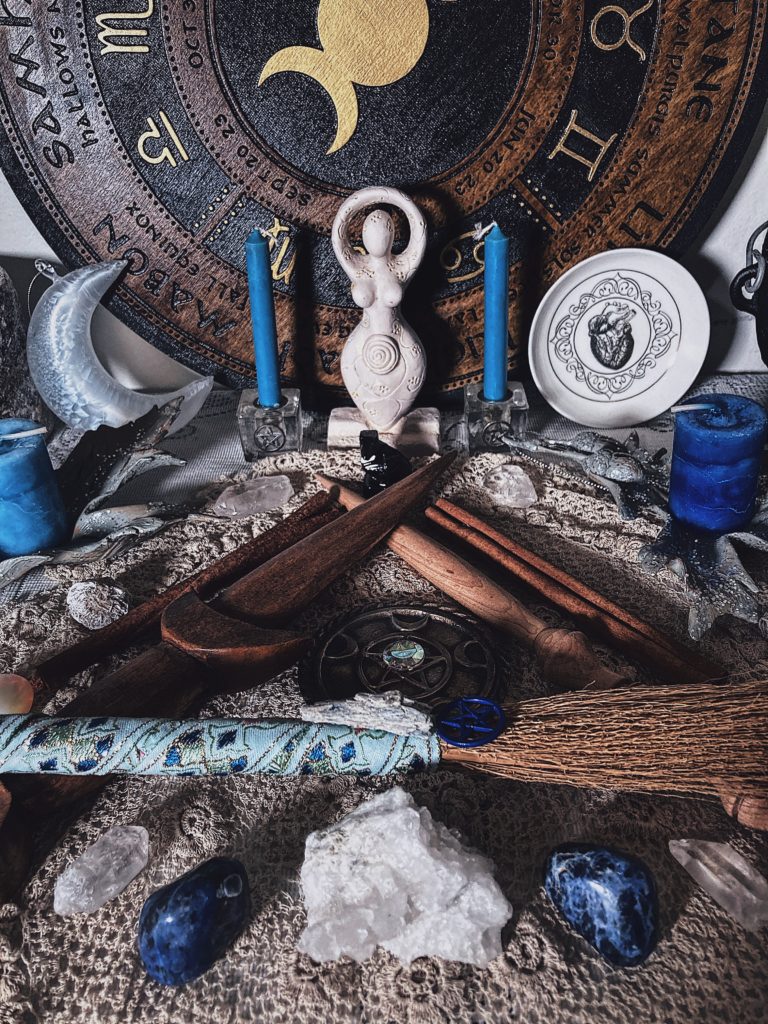 Triangles are also comprised of three sides or parts, with three being an extremely powerful number in witchery – not the least of which comes via the archetype of the triple goddess.
Spirit, is honoured here in multiple ways, with the aged silvertone metal pentacle offering plate in the middle of the triangle being one of the key ways on this altar.
Birds appear on this Imbolc altar in multiple forms.
Two owls (owls are rife with magickal and spiritual connections such as clarity, the ability to see and survive in dark times, the ancients, ancestry, wisdom, strength, and the darker half of the year) appear on my Imbolc altar.
One in the form of a beautiful transparent ornament filled with glittery "snow", the other sweet little owl figurine.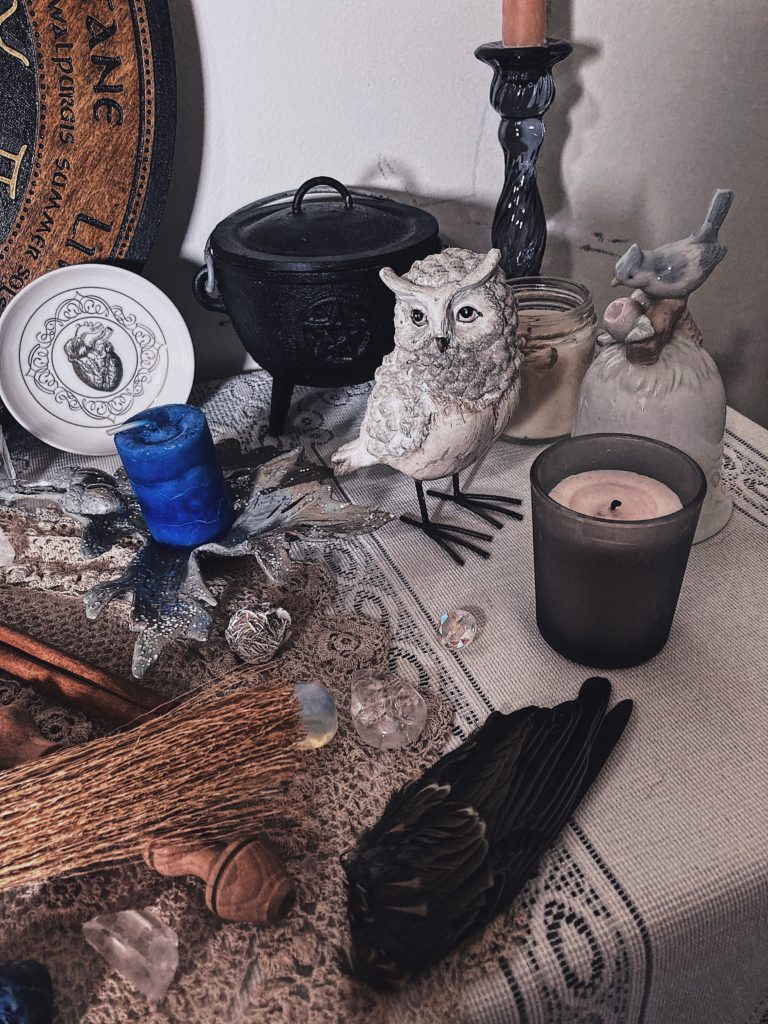 Both of these items are gifts that I received over the years from cherished family members (who know that I have an unending love of owls and things that depict them), so they mean all the more to me.
Atop the ceramic bell on the righthand side of the altar sits a sweet little blue jay.
Blue jays are smart, focused, hard-working animals. Spiritually, the can represent many things, such as commitment, fortitude, bravery, assertiveness, faithfulness, opportunity, resourcefulness, and making the best of whatever life hands you.
If those aren't traits and approaches we can be served well by at present, I don't know what are!
Last summer, while on a nature walk with Annie, I found the partial remains of a bird that had clearly been struck by a vehicle. Most of the poor dear had been completely obliterated, but one of its wings remained intact and I immediately felt a strong inner voice telling me to bring it home.
After properly cleaning and decontaminating it from any possible parasites, I held a vigil for the bird's lost life, promised this part of its earthly body a safe and loving home, and have been working with the wing in various witchy ways ever since.
In the deep, icy cold heart of winter here in Canada, we don't tend to see a ton of different animals. However, amongst those that we do, birds, deer, and foxes are some of the most common.
Deer are not directly represented on my Imbolc altar this year. Foxes, however, are in the form of an adorable little vintage fox figurine.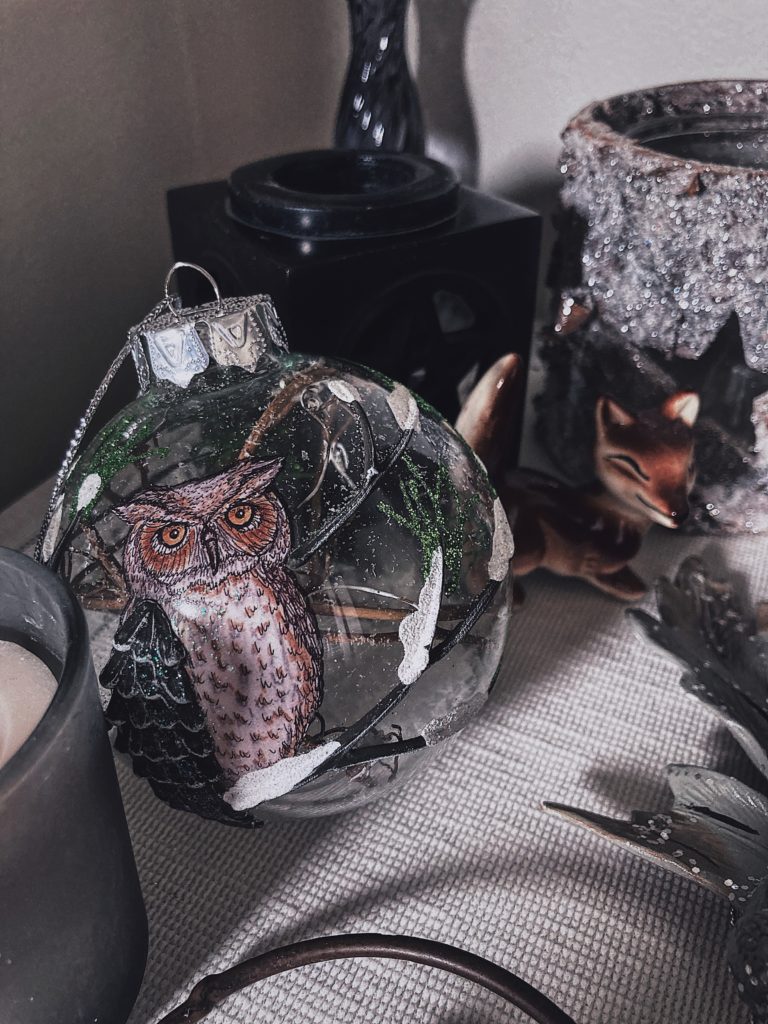 Much like owls, foxes are an extremely magickal and spiritual animal who have been revered, honoured, and sometimes even worshiped since time immemorial.
Foxes can represent a wide range of things such as cleverness and intelligence, strength, agility, guidance through tough times or decisions, privacy and secrecy, and a connection to liminal times and periods, such as dusk or just before dawn, as well as the periods surrounding sabbats and shifts in the seasons.
In terms of colours for my Imbolc altar this year, I opted primarily for shades of white, silver, grey, blue, and earthy brown.
These hues are ones that directly represent those that fill our snowy Canadian landscape at the moment, and which I personally associate a great deal with Imbolc.
Magickal correspondence for blue include: Serenity, stability, peace, hope, patience, stillness, devotion, truth, honesty, and healing.
Magickal correspondences for white include: Peace, hope, acceptance, strength, possibility, newness, honour, beauty, versatility, and timelessness.
Magickal correspondences for silver and grey include: Introspection, serenity, acceptance, history, ancestors, femininity, the moon, intuition, openness, and creativity.
Magickal correspondences for brown include: Grounding, stability, strength, dependability, resourcefulness, nature, and home.
These colours appear throughout the items on my altar, including the candles, crystals (clear quartz, sodalite, desert rose, and moonstone), the ribbon and charm on handle of the besom, the crescent moon ornament, and various candleholders.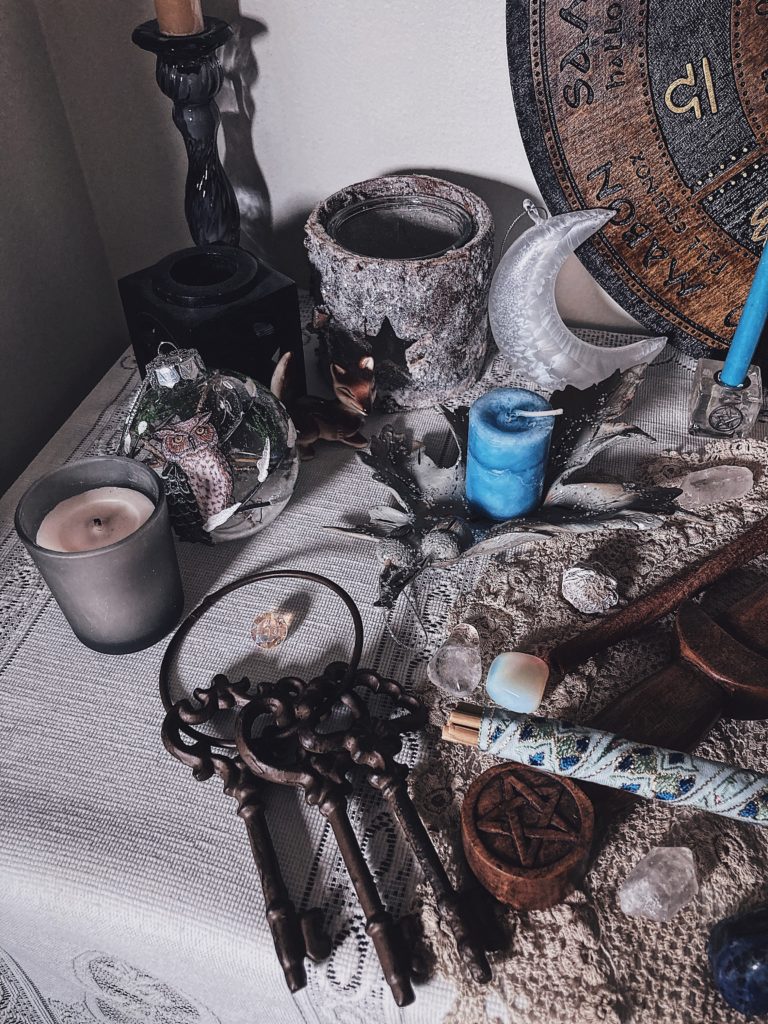 Candles are a must for me on just about any sabbat altar I construct, but are an especially apt addition at Imbolc.
Yule helped to start the ball rolling on the return of longer periods of daily sunlight, but it is at Imbolc that we really begin to focus on the returning light and the ways in which it will help to generate spring's rebirth.
As well, we turn to the light and heat of things like candles, oil lamps, and bonfires as meaningful representations of the inner light and strength it can take to power through another long winter.
In terms of crystals, I incorporated the following four stones into my Imbolc altar:
–Clear quartz: Each of the elements, the soul, energy, psychic abilities, light working, protection, clarity, tranquillity, harmony, versatility, strength, healing, positivity, abundance, hope, banishing negativity, and balance.
–Moonstone: Water (which we have plenty of in the form of snow and ice in early February), ancient wisdom, spirituality, abundance, clarity, personal growth, insight, giving, peace, nighttime, serenity, timelessness, femininity, mothering, child birth, new beginnings, and, naturally, the moon.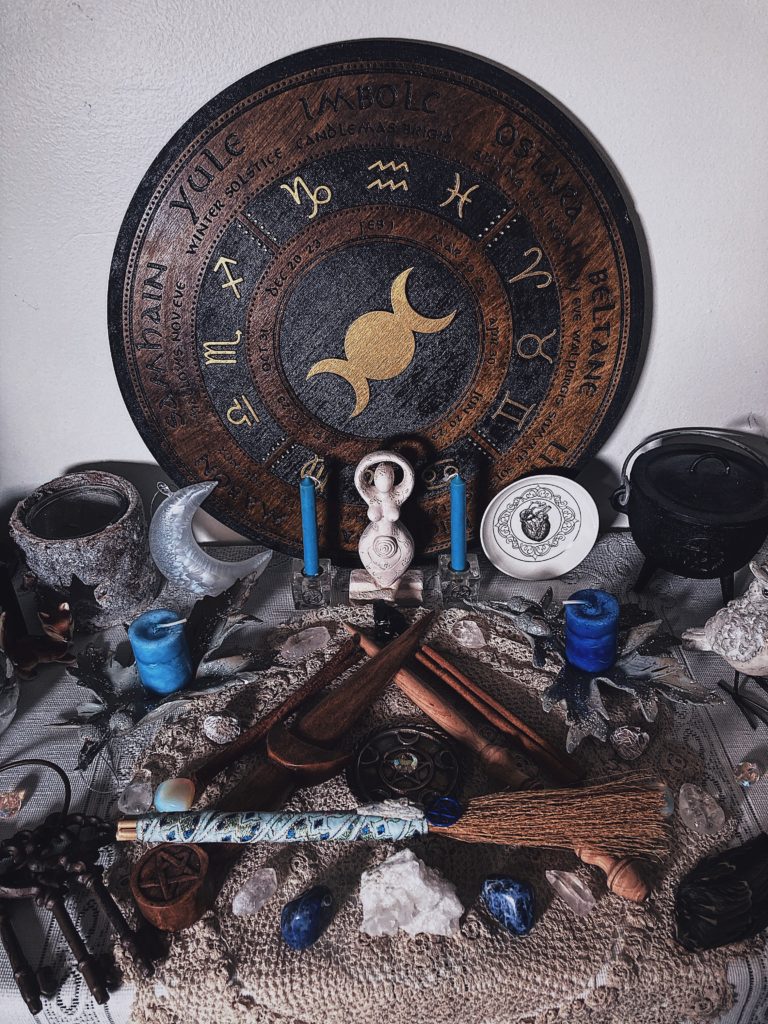 –Desert rose selenite: Earth and air, grounding, aligning (including of the chakras), dreams, light working, harmony, fortitude, creativity, stability, newness, past and future lives, insight, safety and security, wisdom, creativity, awareness, deepening one's abilities, motivation, and bolstering self-esteem and positivity.
–Sodalite: Water, intelligence, psychic abilities, equality, trust, clarity, intuition, perception, emotional balance, calming, restfulness, meditation, bolstering self-esteem and self-acceptance, and restfulness.
These stones were selected first and foremost for their properties and meanings, which I feel align well with Imbolc as well as the current troubled times our world is enduring. Their colours have the lovely added bonus of working well in the context of winter and Imbolc.
I will conclude this tour of my Imbolc altar by mentioning the gorgeous circular wooden Wheel of The Year plaque that rightfully nabs the limelight here.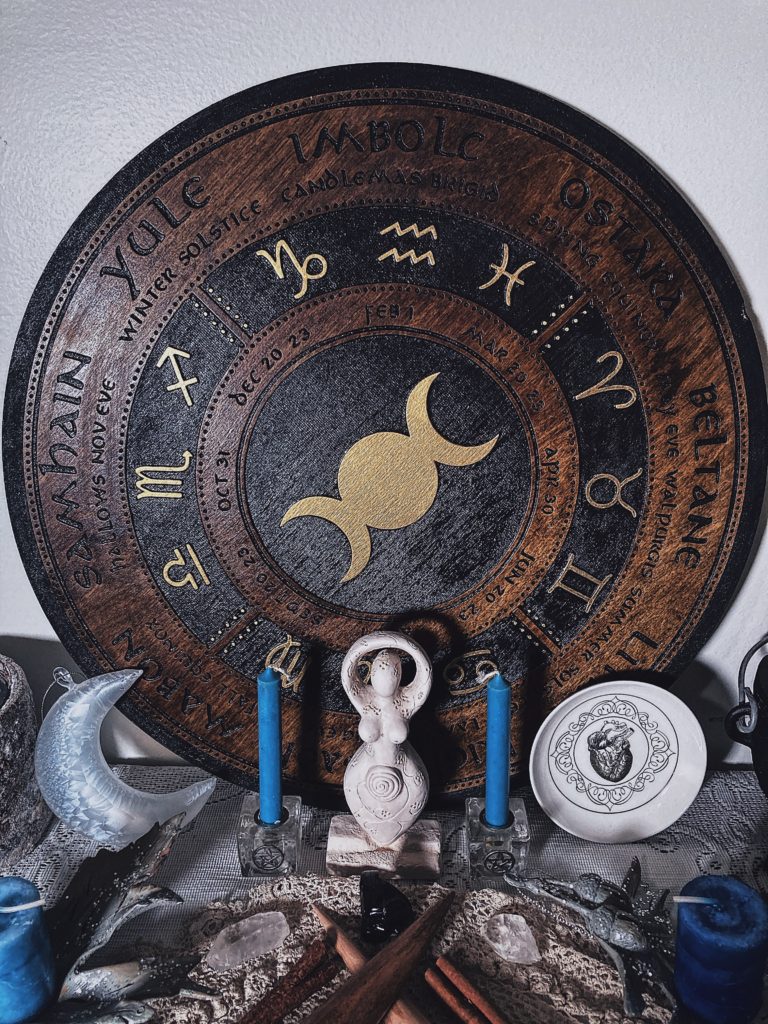 It was purchased about four years ago from a fantastic European seller of handmade magickal, altar, and ritual products called Pandora Witch Shop.
I cherish the eight-times-a-year act of literally turning this circle, or wheel, to align with the next sabbat. And cannot recommend picking up one of Pandora Witch Shop's offerings for yourself highly enough, if the idea of doing so resonates with you as well.
Imbolc (and Lammas) blessings from my heart to yours
Whether you observe Imbolc or not (which, it is important to note applies primarily to the Northern Hemisphere, as many Pagans and witches who live south of the equator celebrate the first of the harvest sabbats, Lammas, at the beginning of February), it can be beneficial to take some time to celebrate the start of February.
We're not quite through winter yet, but we're not at the start of this chilly season anymore either.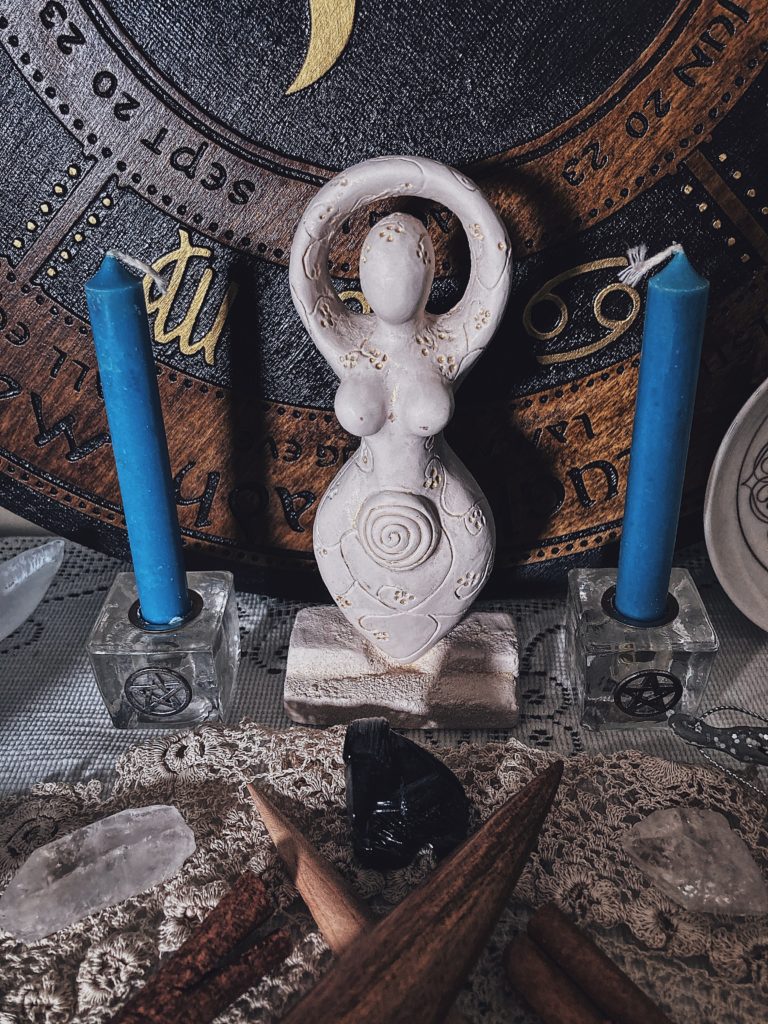 February 1st is an excellent time for grounding, balancing work, goal planning (or checking on how your current goals are doing), embracing coziness, savouring the peacefulness that winter can impart, new plans, and beginning to prepare for spring.
On the new plans front, I'd say the launch of Witchcrafted Life's YouTube channel definitely qualifies! 😃
I'm elated about this new start and look forward to hopefully sharing many fun, informative, and inspiring videos there with you as time goes on.
From my heart to yours, happiest blessings for a serene, beautiful, regenerative, and very safe Imbolc season, dear friends! 🕯️💛🕯️