When the last of the New Year's balloons have come down and our trees have either been packed up for another year, put out to the curb, or recycled, it can seem a touch strange to keep sharing holiday season projects well into January.
Perhaps, not strange so much, but a bit like said projects have arrived so late to a party that the whole event is already over.
And yet, as us paper crafters know, there are rarely hard and fast rules regarding when we can share the projects we make.
Easter cards in September? Have at 'er! Halloween layouts in April? Why not! New Year's cards in July? Go for it!
In some instances, we may not have time in the moment to share a given project. Or doing so may simply slip our mind – especially in the midst of the holiday season hustle and bustle.
At others, there may be pragmatic reasons why we refrain from posting a particular project at its most logical point on the calendar.
For me, a big one is that sometimes I do not want to share a project that's being sent to someone that I know follows my blog and/or Instagram, until after I'm sure they've received that card (or tag, etc).
After all, unintentionally spoiling the surprise of a handmade greeting winging its way across the world to a dear friend or family member is not high up on my list of reasons to post a project. 😄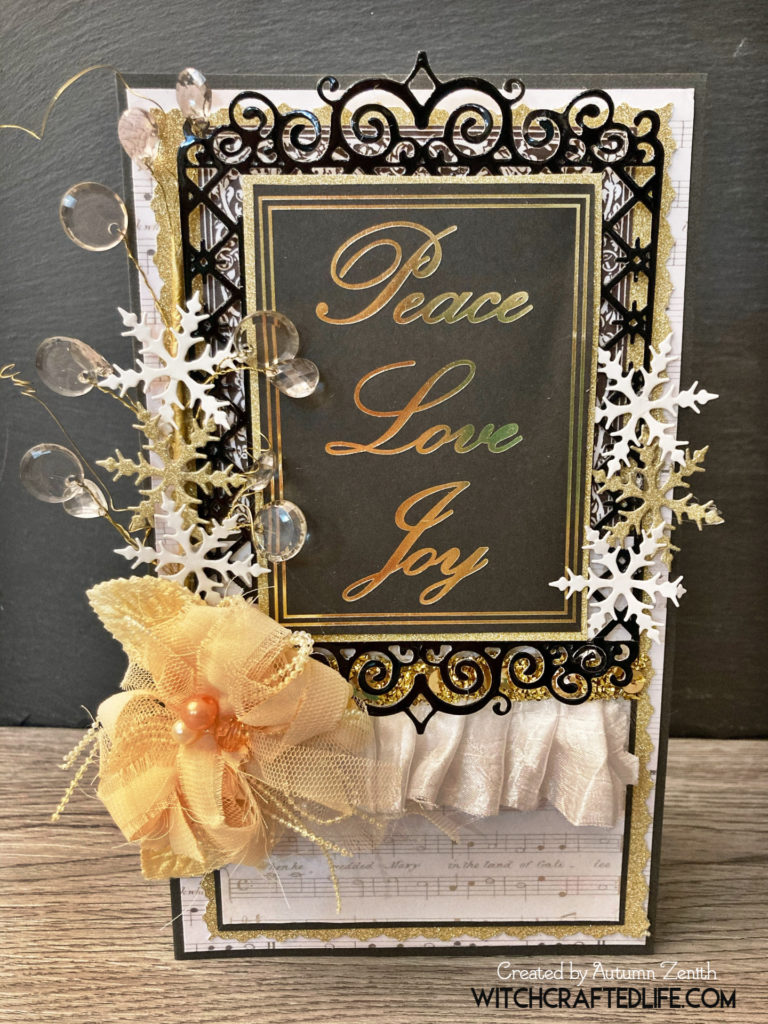 Thankfully, I usually have the option of holding on posting. And in the case of today's project share, that was precisely why I waited until mid-January to blog about this festive make.
Elegant gold and black peace, love, and joy holiday season card
This particular card was made for a dear, sweet and special online friend of mine. We've grown close over the past couple of years and share many similar interests in common – from an undying love for fall time to a passion for fashion.
Indeed, my friend is one of the most stylish women I know and I the moment I set about creating a Christmas card for her, I knew that I wanted it to reflect the elegance, glamour, and sophistication that her sartorial choices exude.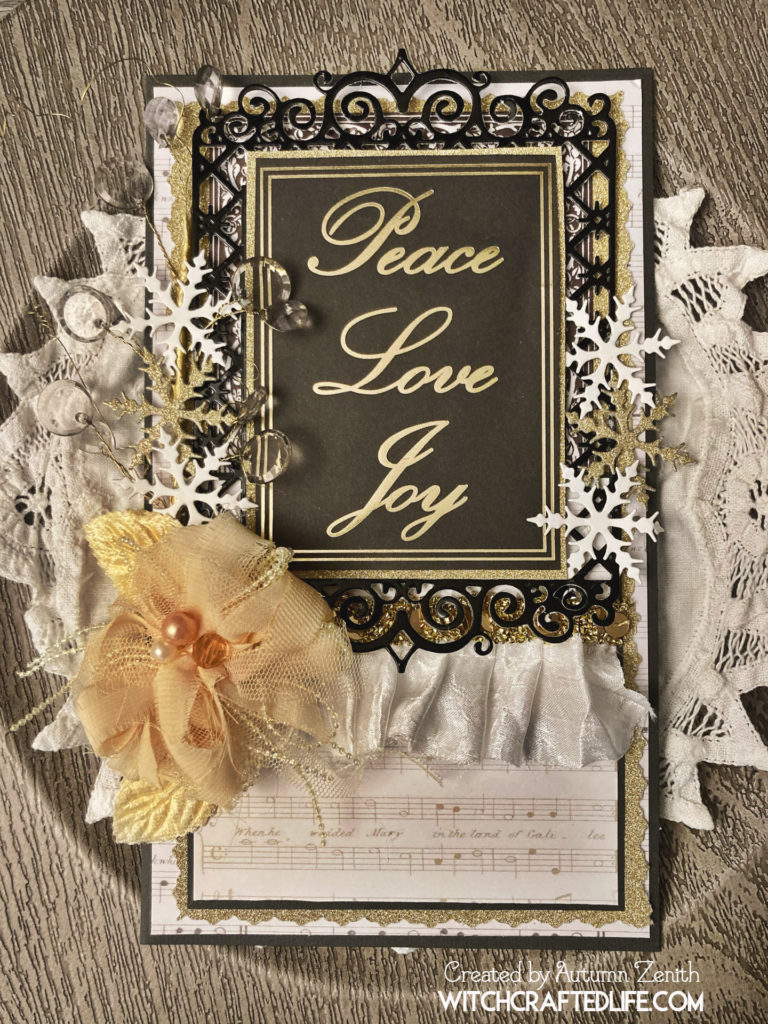 Care of some of the photos she posts online, I've been treated to glimpses of what my friend's seasonal décor looks like, too. It echoes the chicness of her wardrobe and is nothing short of gorgeous.
Indeed, some of the fall and winter décor snaps she's shared a were big inspiration catalyst in terms of the design of this wintertime greeting.
(Plus, as touched on in my Festive Red, Black and Green Merry Christmas Card post last month, I leaned heavily on the use of black in my holiday season cards this year.)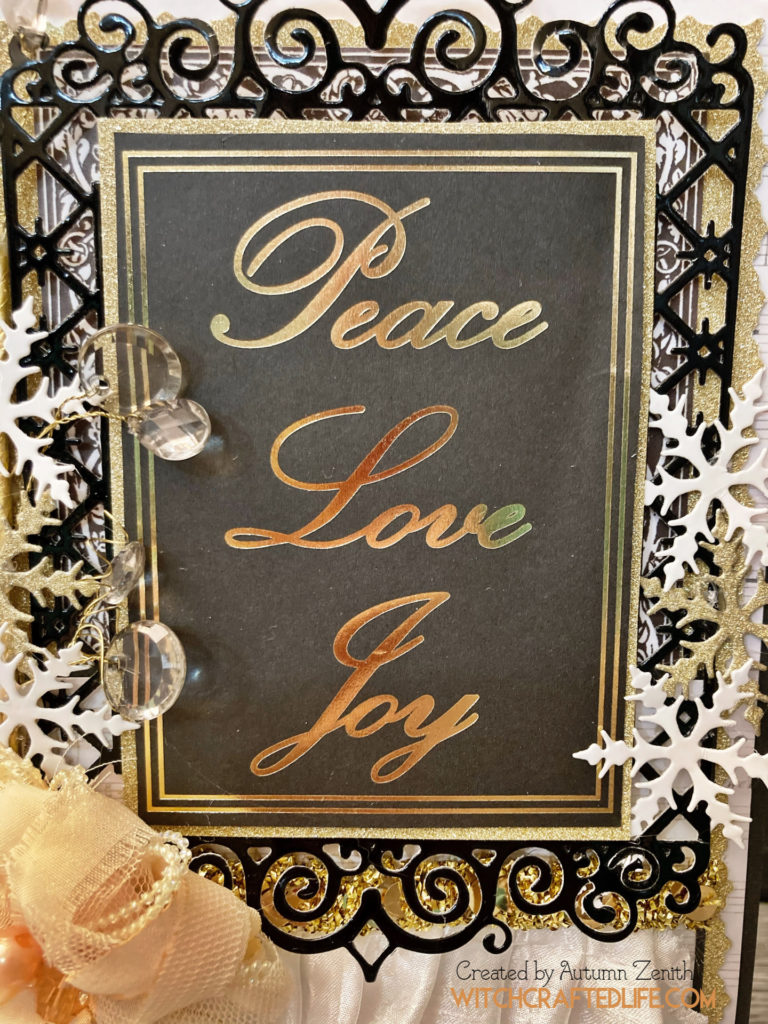 While this project was created and sent out as a Christmas card, there is nothing so inherently Christmassy, IMO, to its design that one couldn't give it as a New Year's or general wintertime card.
Honestly, it could even work as a winter wedding, anniversary, birthday, or thinking of you card – to name but four other possible uses.
And, you know, come to think of it, if a hit or two of, say, red or pink were to be injected – such as a red bloom in place of the dark cream coloured and perhaps some hearts instead of, or along with, the snowflakes here – you could even use this card for Valentine's Day.
Putting this chic handmade wintertime greeting card together
This elegant Christmas card began with a base of dark charcoal grey paper. One could easily have used black here instead, and I debated it, but ultimately went with dark charcoal, as I wanted a subtle tonal contrast in a design that centred around a limited colour palette.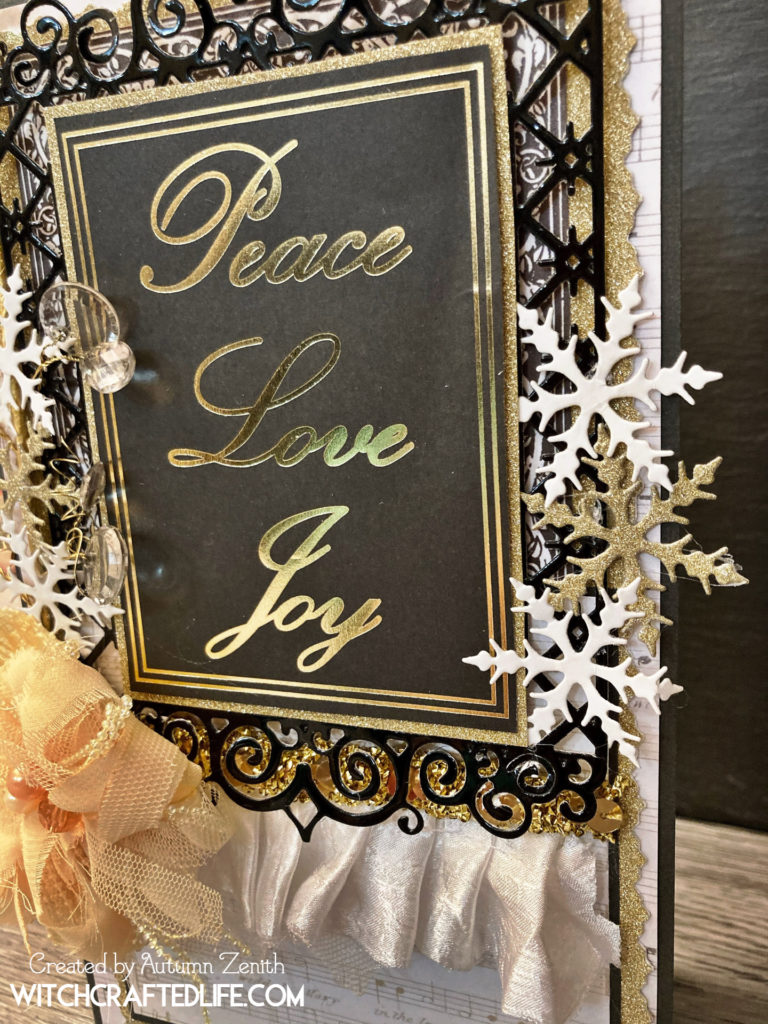 Next came a layer of classic sheet music print paper (I feel like I say this often about various products, and I do, but I am a huge fan of music print paper and am always looking to up my stash of it). This was topped with a tall rectangular piece of gold glitter cardstock which I trimmed on all four sides with a pair of Fiskars decorative edge scissors.
I then backed a piece of the same sheet music print paper with cardstock and adhered it to the bottom half of the glittery gold cardstock. A cream and black print journaling card went above it, with a layer of white ruffle trim and a skinny band of gold sequins trim covering the join between those two sections.
Next, I die cut an ornate decorative frame from shinny black cardstock (another absolute favourite paper crafting supply of mine, which I'd happily buy stock in, if I could 😃). This was topped by the "Peace, Love, Joy" sentiment, which I popped a layer of charcoal grey cardstock and a layer of the same glittery gold cardstock behind for extra shimmer and pizzazz.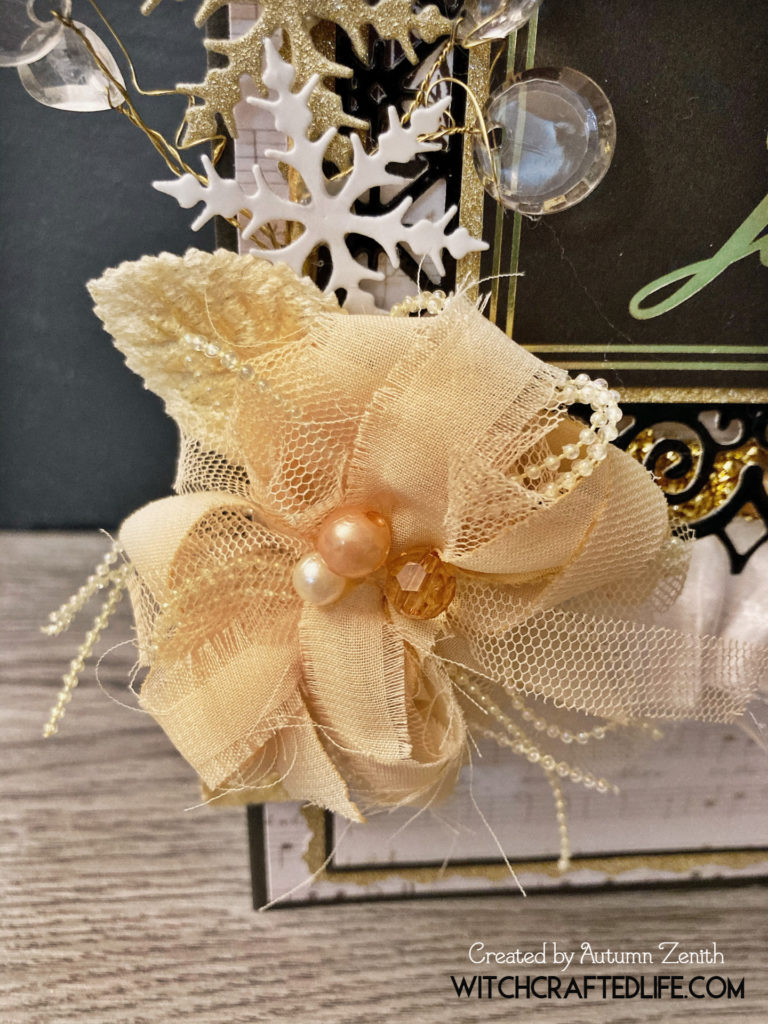 After that, I attached the lovely shabby chic dark cream coloured Prima Marketing tulle flower and two cream coloured velvet 7 Gypsies leaves to the lower left side of the design.
For additional embellishments, I die cut some snowflakes from both basic white and (again, the same) glittery gold card stock, which I paired with a gorgeous wire and plastic embellishment branch, which is also from Prima Marketing.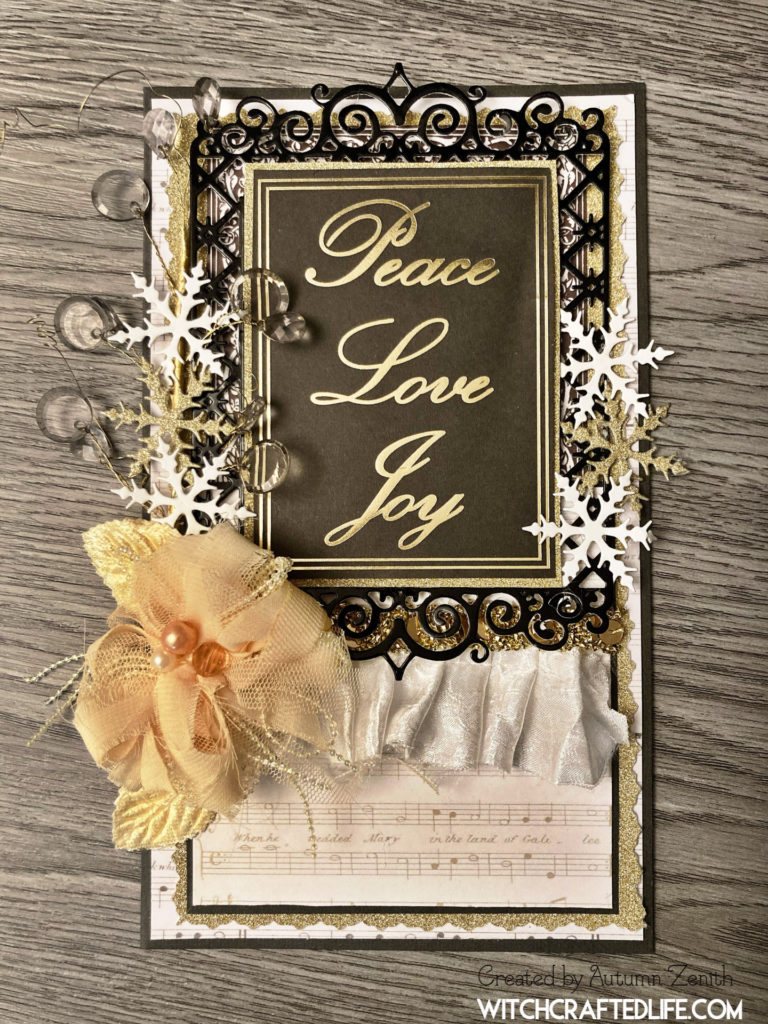 As this card was being mailed outside of the country, I had to keep Canada Post's weight and (laughly small) height limits for letter mail in mind, but still wanted this card to have a deliver an impact to its recipient.
I hope that between the classy gold, cream and black colour palette and the embellishments that I used here, my intentions rang true for my friend when she opened this festive greeting. 🖤
Card making tips and ideas from this project
-Winter holiday time cards or other craft projects do not need to include traditional shades of red, green, or blue to abound with the spirit of the season.
You can go monochromic or create a palette of colours that sparkles with festive cheer, while not necessarily being the first ones that spring to mind when someone says "Christmas", "Yule", or "New Year's".
I'm more than a little bit enamoured with the colour scheme here and can easily see myself utilizing it again for future holiday season projects.
A few other holiday season card colour palette options you could reach for, if you want to shake things up a bit, include the following:
-Purple, silver (or grey) and white
-Pale pink, champaign, and chocolate brown
-Aqua, lilac, silver, and white
-Maroon, aged gold, and pine green
-Orange, peach, silver, and white
-Sage, puce, beige (or cream), and brown
-Magenta, silver, black and/or white
-Yellow, gold, and white
-Pumpkin orange, olive green, gold, and brown or burgundy
-Hot pink, lime green, and silver (I should mention that, objectively, splashes of red can look fab with this palette)
-White vellum, solid white, silver or grey
-Teal, cream, and brown
-Pastel pink, white, silver, and baby blue
-Gold, burgundy, and black
-Brick, navy blue, and dusty rose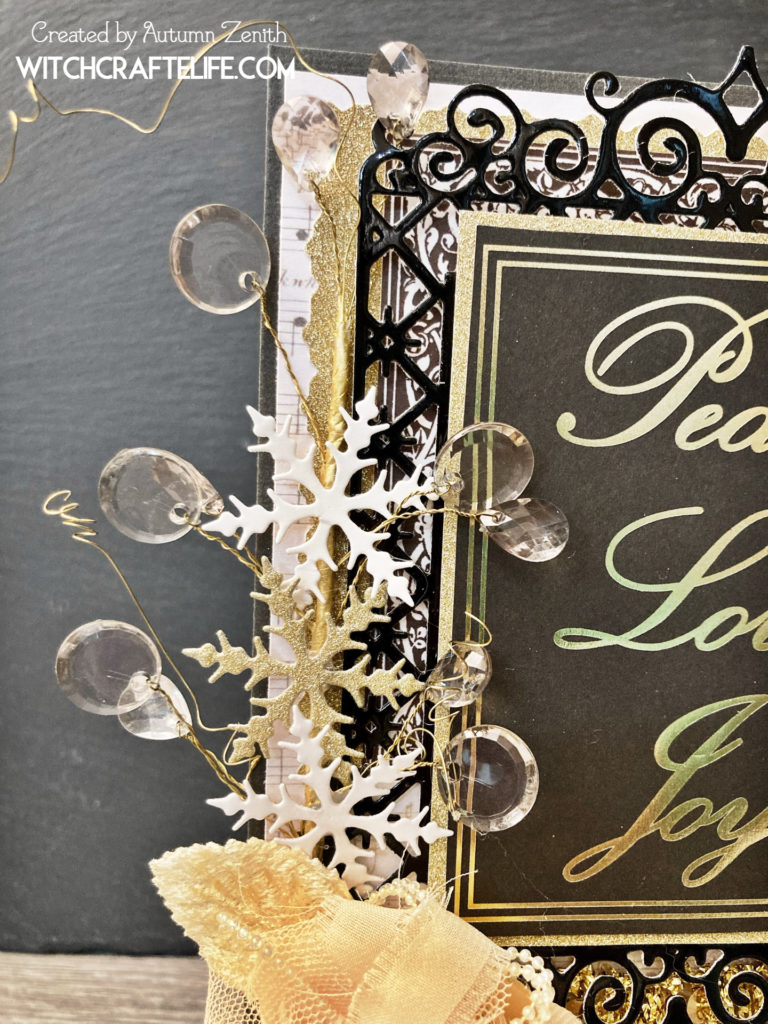 -Use multiple versions of the same metallic colour throughout your project. In this instance, gold was the sole metallic colour used on this card and it appears in three different forms: the gold glitter cardstock, the gold sequins trim, and a wee bit also shows up in the gold toned metal of the Prima wire spring embellishment.
Depending on your project, you can aim for each of the metallic items used to have a very similar tone to them, or vary things up for more of a mixed metal look. The fact that they're all shades of the same metallic colour will generally still telegraph a sense of cohesiveness, even if each tone varies a bit.
By the same token, have fun and utilize different textures and materials. From paint to glitter, embossing powder to metal charms and buttons – not mention cardstocks and ribbons – the sky is the limit when it comes to the metallic products you can use on your papercrafting projects.
-Bust out your decorative edge scissors. I've said it before, but I'll say it again: old school as they may be, I adore decorative edge scissors. They're no less versatile and appealing as when they were highly in vogue during the 1990s and on into the early 2000s.
I keep a small pencil holder with several of my most frequently used pairs of decorative edge scissors on my work desk and reach for them often for cards, scrapbook pages, and other paper crafting projects alike.
If it has been a hot minute since you last used your decorative edge scissors, why not bring them out of retirement this year and have fun playing with one of the OGs of the paper crafting world?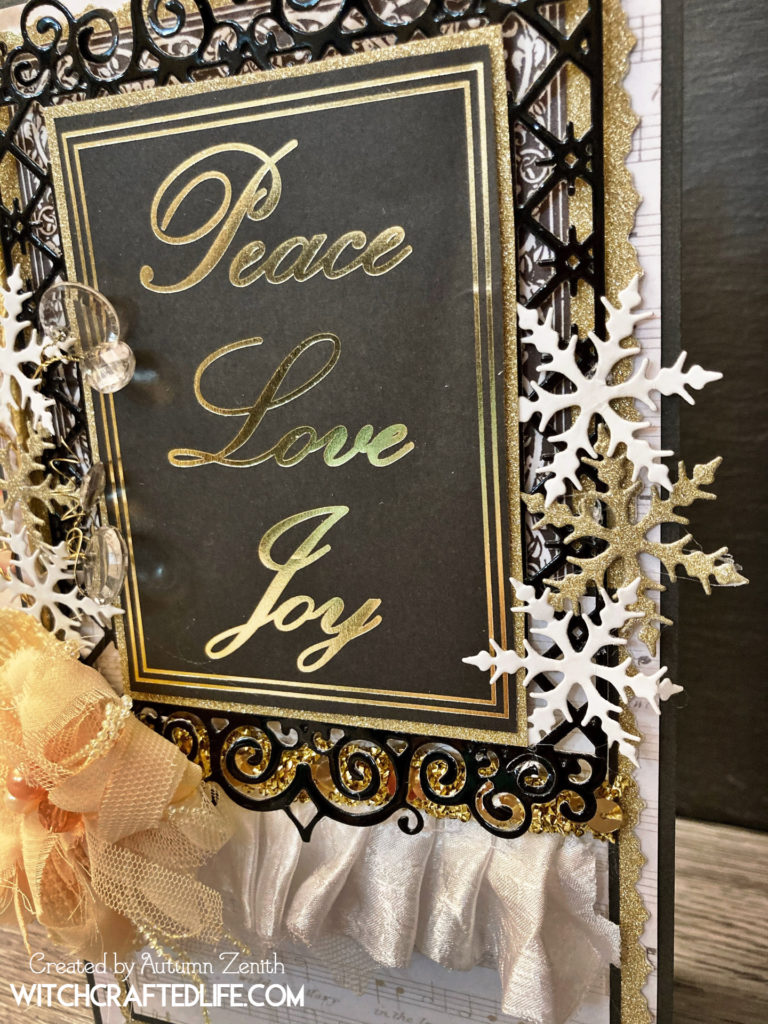 -Though not a hard and fast rule, oftentimes, if you're trying to create a more refined card (or LO) design, sticking with neutrals and perhaps one or two small accent colours can be a really effective approach.
While there are various textures and prints involved here, for example, each colour (black, charcoal grey, white, cream, and gold) is a neutral. This reads as elegant and well-coordinated, but far from stuffy or drab – quite the opposite, I'd venture to say.
Products used to make this glamorous gold and black holiday season card
-Charcoal grey and white cardstock
-Gold glitter cardstock
-Glossy black cardstock – Glossy Black Mirror Card from Tonic Studios
-Sheet music print paper – Christmas Edition Collection Christmas Melody Paper from Kaisercraft
-Rectangle shaped ornate frame die
-Small(ish) sized snowflake die
-Decorative edge scissors – Paper Edgers Heartbeat Scissors from Fiskars
-Sentiment piece – Glisten Collection Incandescent from Kaisercraft
-Black and cream journaling spot – Sepia Journaling Frames from Creative Imaginations
-Metallic gold sequins trim (I purchased this one at a Dollarama store in our area)
-White ruffled trim – Parisian Anthology Ruffled Darlings Ribbon Strips from Pink Paislee
-Dark cream tulle flower – The Gatsby Collection Reception Flowers from Prima Marketing
-Cream velvet leaves – Brown Velvet Leaf from 7 Gypsies
-Wire and plastic branch embellishment – Candy Gems Blue Berry from Prima Marketing
-Glue gun and glue sticks (to adhere the larger/heavier embellishments)
-Dimensional foam, pop dots, or similar to elevate some of your layers
-Adhesive, such as a tape runner, of your choice (I often use my Scotch Tape Glider)
The festive season doesn't have to end in early January
Granted the heyday of the winter holidays might wrap up in many (though certainly not all) parts of the world after the first week or two of January.
This doesn't mean, however, that you can't keep the festive spirit going strong well beyond that stage in the calendar (a point that I touched on recently in my previous project share post as well).
If you have holiday season projects that you haven't shared yet, why not post them in January or February?
Longing for Christmas, Hanukkah, or Yule again already? Whip up some projects that celebrate your favourite (or the most infamous, as the case may be! 😄) memories from the latest holiday season.
And if you're feeling extra ambitious, you could even get a major head start on your festive greetings for the next holiday season by creating a few cards almost a year in advance.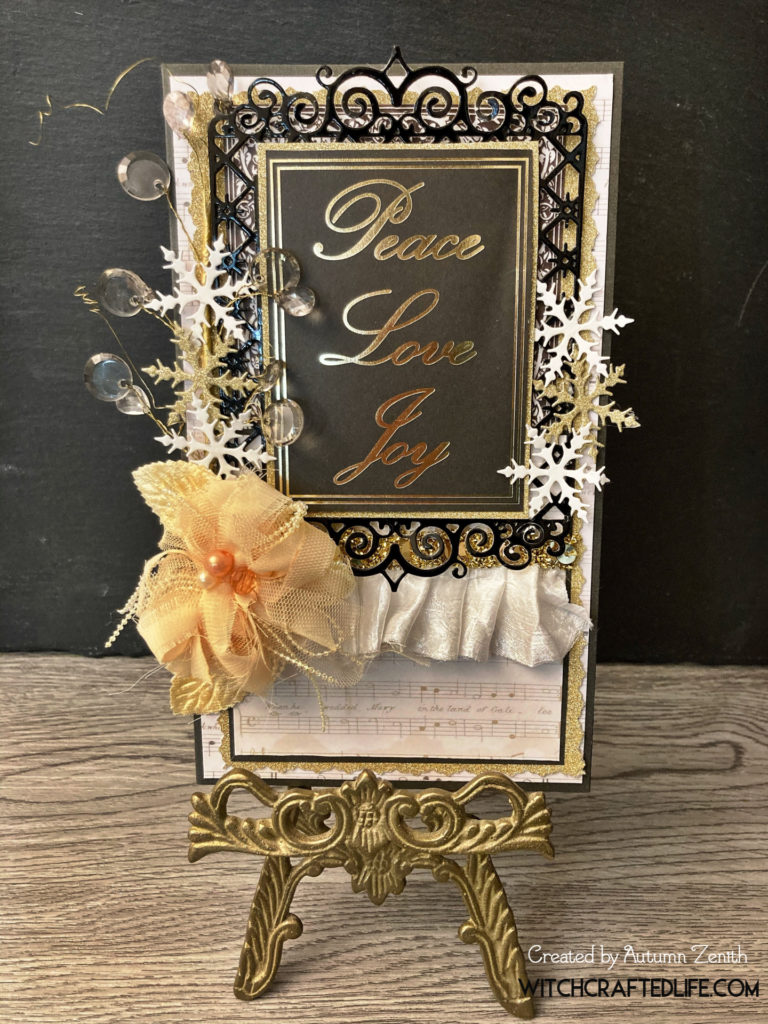 As much as I wish I was that on the ball when it comes to making my Yule, Christmas, and New Year's cards, the realist in me knows that's unlikely to happen anytime soon.
A layout or two devoted to this meaningful and joy-filled time of the year? Now that might just be realistic.
In the wake of the immense surge of energy, merriment, seasonal cheer and festive happenings that call December and early January home, our daily lives can seem a little lackluster or at least lacking for holiday cheer after the lights, ornaments and trees have come down.
Rest assured that this is a natural feeling and something many of us experience. I've learned over the years that we can help counterbalance it though via various means, one of which is crafting winter holiday projects weeks or even months after Santa has returned to the North Pole.
This January, keep the winter holidays that you observe going a little longer by creating a project that celebrates the festive season and reminds you all the more of why this time of the year holds such a special place in our hearts and craft rooms alike. 🎄❤️🎄
Project share
Pin the image below – or any other in this post – to Pinterest, pop it into your Instagram Stories, post it on Twitter or Facebook, or share it anywhere else you wish to help yourself find it again and to inspire others at the same time.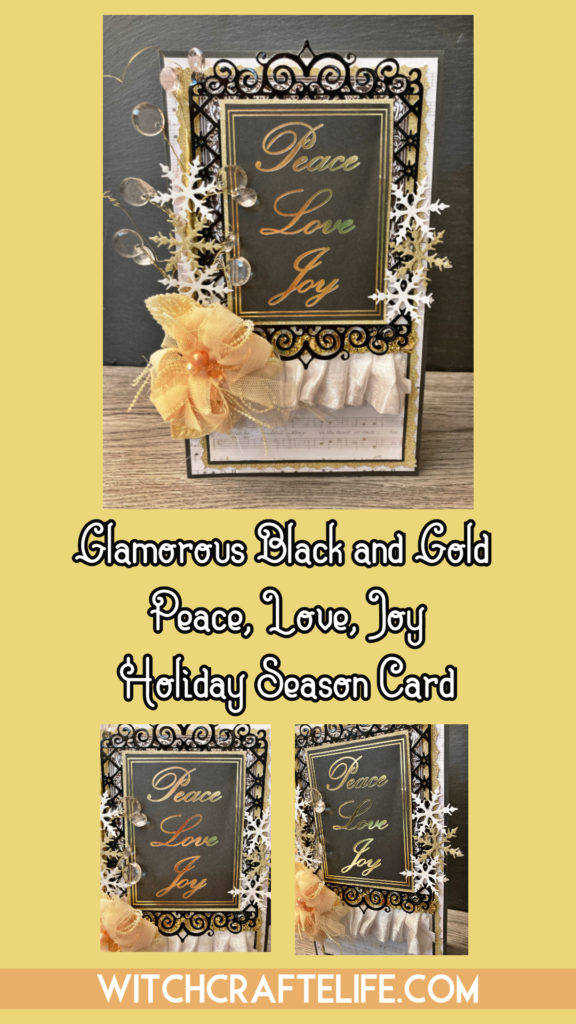 If you make a project based on or inspired by this card – or want to share any of your other handmade crafts with me – please use the hashtags #WitchcraftedLife and #WitchcraftedLifeMakes on social media so that I see can your beautiful creations.