The history of humanity – how we came to be who we are today and the extensive, incredible journey that led us to that point – has fascinated me for as far back as I have memories.
From the moment I first learned about the ancient cave art sites (such as Lascaux in France and Altamira in Spain) as a child, I've been captivated by these tangible examples of early human creativity that have survived not just for centuries, but for tens of thousands of years.
I am not an anthropologist, paleoanthropologist, or scientist of any kind. Therefore, I want to preface this book review by saying that while the study of Ice Age and other early human civilizations is an area that I've long read extensively on, I am by no means a professional level expert on the subject.
The reason(s) that a particular subject jumps out at us, is relevant to our lives or otherwise matters to us are as limitless the total page count of the all the books the world over. My interest in the topic of the earliest known human art and use of symbols is manifold.
I find myself pulled like a magnet to the study of the first modern humans, who they were, what they might have thought and believed, how they communicated, how they survived, buried their dead, the kinds of art and (possible) proto-alphabetical records their left, and a great deal more.
As an artist and a writer, I feel an especially deep connection to those first souls who decided (having reached a point cognitively to be able to so) that they had things they wanted to say, record, and impart to others in a way that was far more permanent than just verbal sounds or words, hand signs, or other temporary forms of communication.
Why people drew and carved in caves (and other more permanent locations or materials, such as on rocks and shells), what they were trying to convey, who they were, and what legacy they might have been trying to pass on through their work has largely been lost to the hands of time.
But science, research, and continued discoveries in fields such as anthropology allow us to gradually part the curtains of the past a little wider and, if we're lucky, develop a deeper and more meaningful understanding of our collective ancestral past in the process.
In today's post, we're going to delve into The First Signs: Unlocking the Mysteries of The World's Oldest Signs by Genevieve von Petzinger.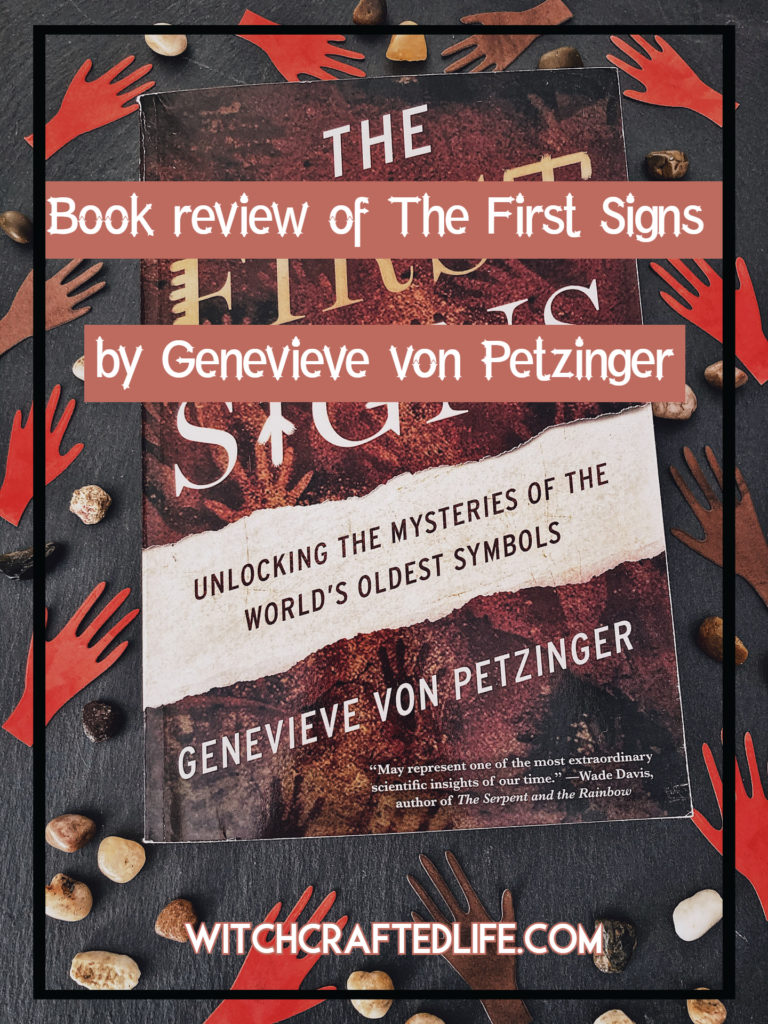 This book, penned by a paleoanthropologist who is an early human rock art researcher (as well as a fellow Canadian), sets out to explore not only figural, animal, and handprint/outline cave art, but also the fascinating and often mysterious signs that appear either solo or in conjunction with other types of Ice Age art at myriad locations across modern-day Europe.
Book specs
Name: The First Signs: Unlocking the Mysteries of The World's Oldest Signs
Authors: Genevieve von Petzinger
Page count: 320
Publisher: Atria Books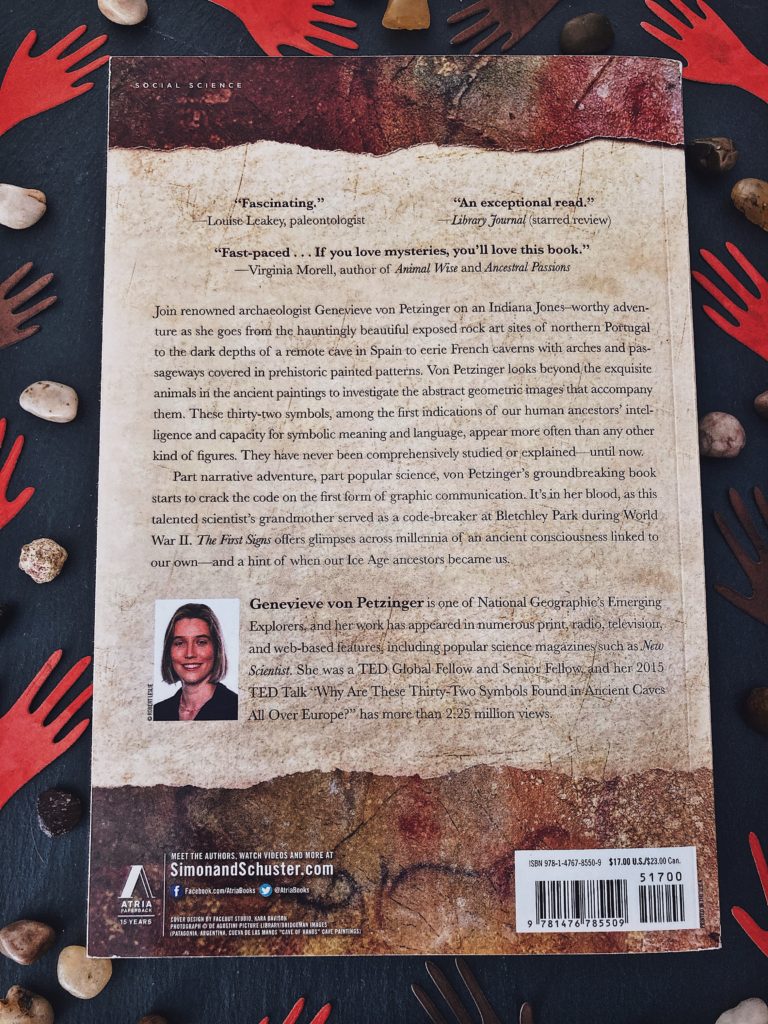 Binding: Softcover (also available in hardcover)
What drew me to a book about Ice Age cave signs
In addition to the reasons mentioned above, this book instantly appealed to me because I'm highly fascinated by the use, creation, application, practical, spiritual, and artistic applications of different types of signs and the important roles they have played throughout the course of human history.
As a Pagan witch, I work with a wide array of meaningful signs in my witchery, magick, and daily life. These include things such as different rune systems (witches runes, elder futhark runes, ogham runes, etc), planetary symbols, sigils, and various others.
To differing degrees, almost all of us use symbols in our daily lives. Many modern symbols are largely universal in their meaning (for example, hearts and crescent moons) and often transcend language.
Others are more specific to small groups, communities, professions, or other subsections of the population. Some, such as many sigils, for example, are incredibly personal. Their meanings may only be known and understood by one person or a very small number of individuals.
We each recognize, know and understand a vast array of symbols – from the suits on a deck of playing cards to doves representing peace to crosses often pertaining to Christianity – and likely have personal favourites, too.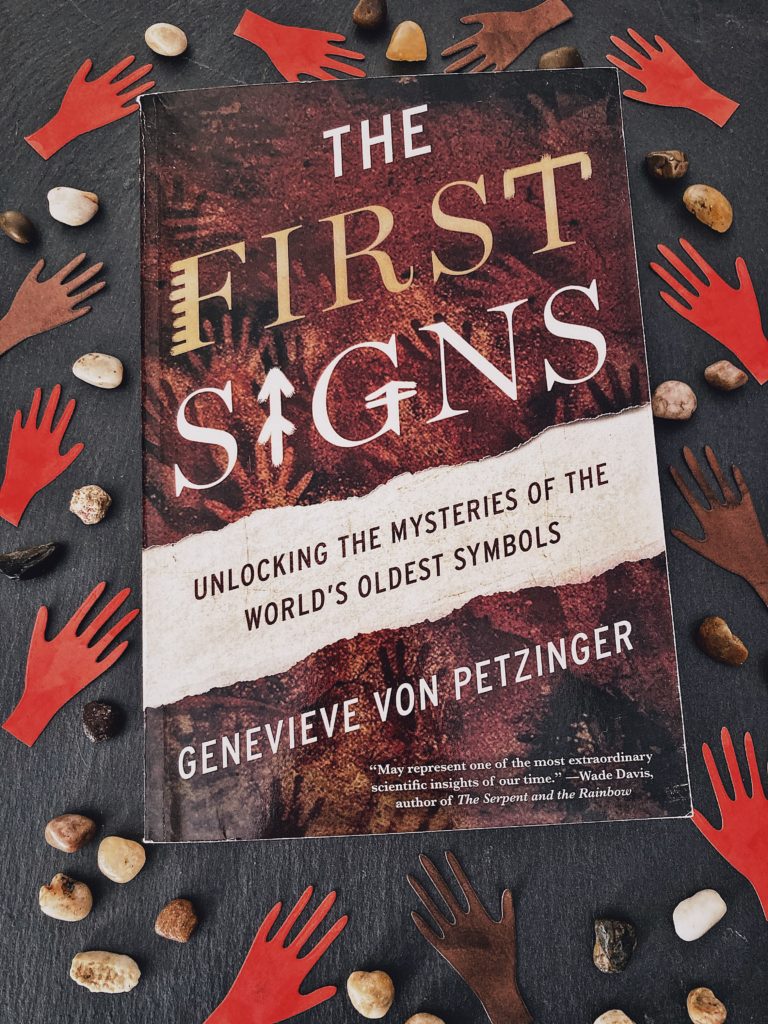 The First Signs: Unlocking the Mysteries of The World's Oldest Signs is a scientifically focused book. It is not a title that specifically focuses on Paganism (be it old school or contemporary), witchcraft, or magick.
Contextual references to traditional shamanism are made at points, but the subject is by no means at the heart of this book
I am interested in learning more about early signs for a number of reasons. One of which is that I personally believe that at least some of the earliest recorded signs (and other forms of cave and rock art) likely pertained to some of the oldest spiritual beliefs and practices known to humankind.
As much as I consider myself a traditional witch and my practice pulls heavily from older traditions, belief systems, bodies of knowledge, and related areas, I'm not looking to be an Ice Age Pagan Witch. Nor am I making any claims that a person we would now place under such a header even existed at the time.
Those who were healers, (early) cunning folk, medicine men and women, and (what we'll broadly classify, for the sake of simplicity here) as shamans very likely did exist, however.
The degree with which they were in contact with the spirit world, their gods and goddesses, and the role that spirituality played in their lives are areas that we may only ever be able to guess at from this point in a future that is greatly far removed from the world and inhabitants of the Ice Age.
A good book with a rather misleading title
On the left-hand page immediately opposite the title of contents, readers of The First Signs: Unlocking the Mysteries of The World's Oldest Signs are immediately greeted with a black and white illustration of 32 different geometric sings from Ice Age Europe.
This intriguing visual list coupled with the book's title would naturally lead many to believe that von Petzinger had penned a detailed look at each and every one (or at least the vast majority) of the aforementioned symbols.
And that, therefore, the book would take you through these mysterious and thought-provoking signs either individually or perhaps in groups of similar-looking signs, exploring known and hypnotized possible meanings of, and relationships between, these and other signs.
Going into The First Signs, based in no small part on the wording of the title, that was the kind of book I was expecting and hoping for.
In reality that is not, for the most part, the type of book that unfolds before you as you explore the sixteen chapters following that tantalizingly illustrated list of 32 signs.
A list, which, it should be noted, von Petzinger mentions in her highly viewed TED TALK (shared below), Why Are These 32 Symbols Found in Ancient Caves All Over Europe (which, while insightful and informative, does not really delve into answering the very question it proposes either, unfortunately).
Make no mistakes about it though, this is a solidly informative and engaging book. And one does not need to have a background of knowledge on the topic beforehand in order to dive right into reading it.
The First Signs covers a lot of ground across the space of some 300 pages and the author's passion for – and extensive knowledge on – the subject is evident from the very get-go.
In the course of her career, von Petzinger has built an impressive and highly beneficial database that contains a record of over 5,000 signs that have been found (all total, not 5,000 different signs) at about 400 different Ice Age era sites and counting across Europe.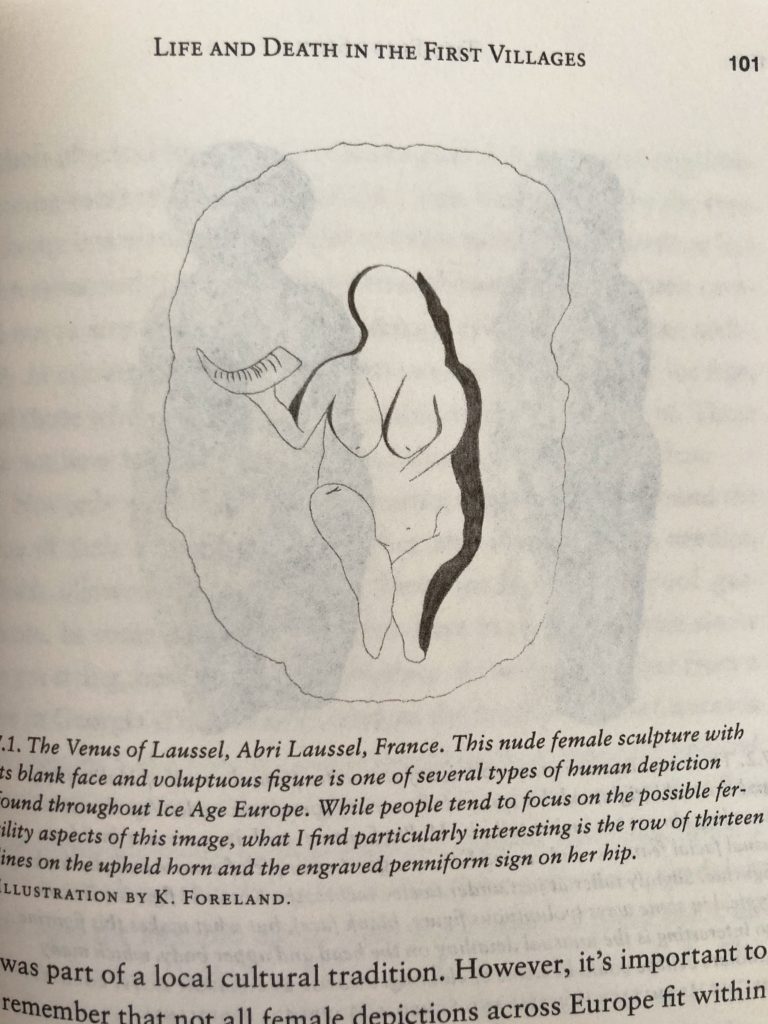 Throughout this book, she discusses that database, takes us along with her on captivating journeys to various European cave art and symbol sites, delves into possible links between topics such as early signs and human language, how cave art and signs were created, emerging theories in the field, and much more.
While many of the signs that appear in the list at the start of the book are mentioned throughout, again, not all of them are explored in depth. And in a lot of respects, it is only from page 161 onward that we start to get a more focused look at some of the symbols.
The proceeding pages and some of those that continue to follow from that point onward instead lay out a broader picture of cave art and signs in general, the field of cave imagery study, locations of cave signs, and various other pertinent topics.
That isn't to say, of course, that some of the signs themselves aren't mentioned until you get more than halfway through the entire book. Rest assured they are, but, again the general topic of Ice Age cave art and signs coupled with various current thoughts on the field are covered more extensively.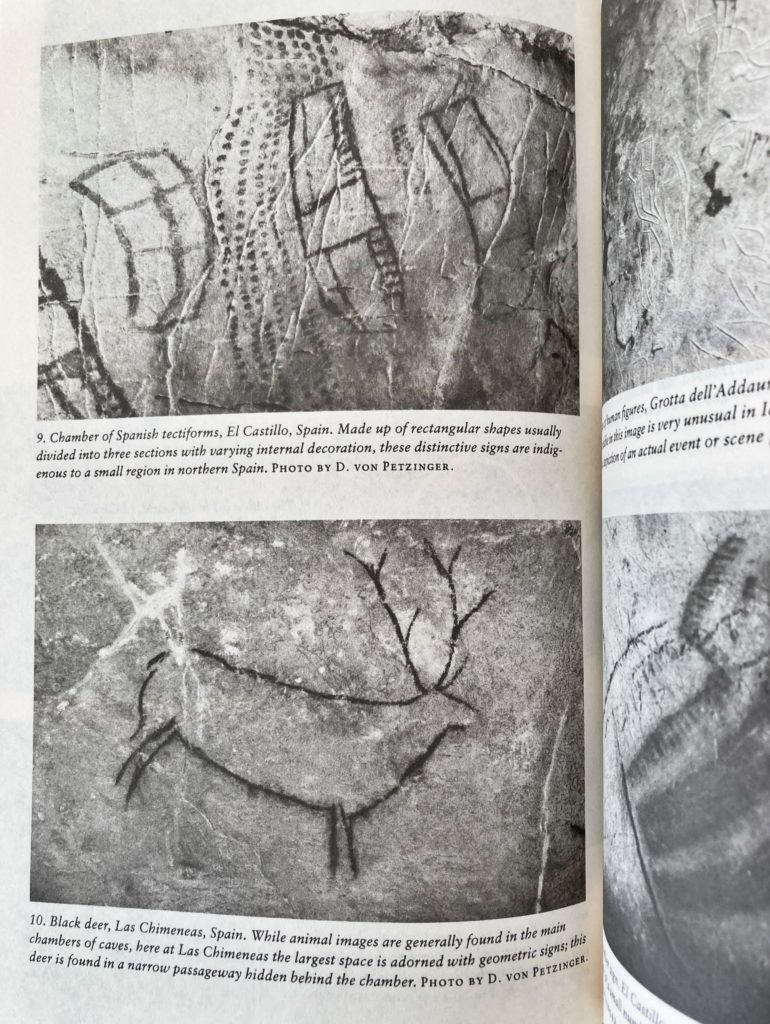 As well, it should be noted that this book houses a number of black and white photos, but no colour images. Rendered in black and white on non-glossy paper, some of the images feel more like photos from a book that's 50 or 60 years old, not a title that was published in 2016.
Nevertheless, I enjoyed the interspersed photos, though would have liked it there were even more of them and they were in colour (on glossy paper).
When did humans first start using hand-drawn signs?
In all reality, we will almost certainly never be able to pinpoint the precise moment in human evolution when this monumental event transpired. Chances are, it happened fairly organically and over the course of time.
We know that our very distant ancestors began using stone tools at least 2.6 million years ago and that sometime between then and 40,000+ years ago, purposely created signs began to appear in caves across Europe.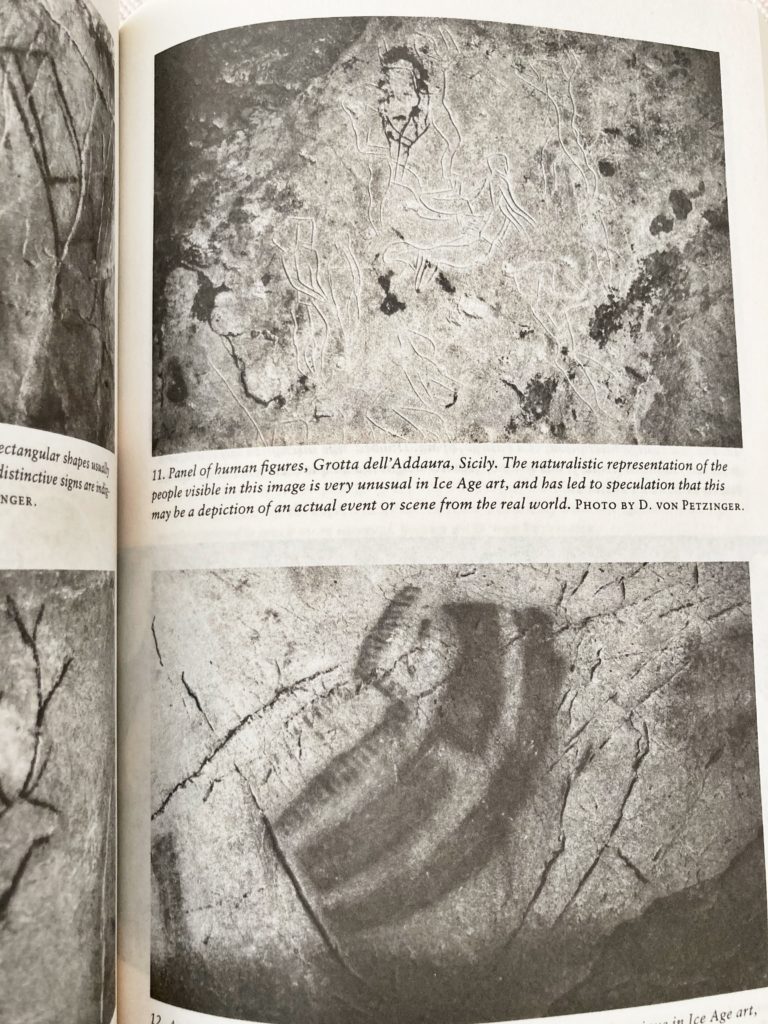 The First Signs looks at the use of Ice Age signs from about 10,000 to 40,000 years, as that is when the earliest known signs that we are aware of – and which can be dated using current technology – have been traced back to.
So what were some of the earliest markings that we know to have been manmade signs?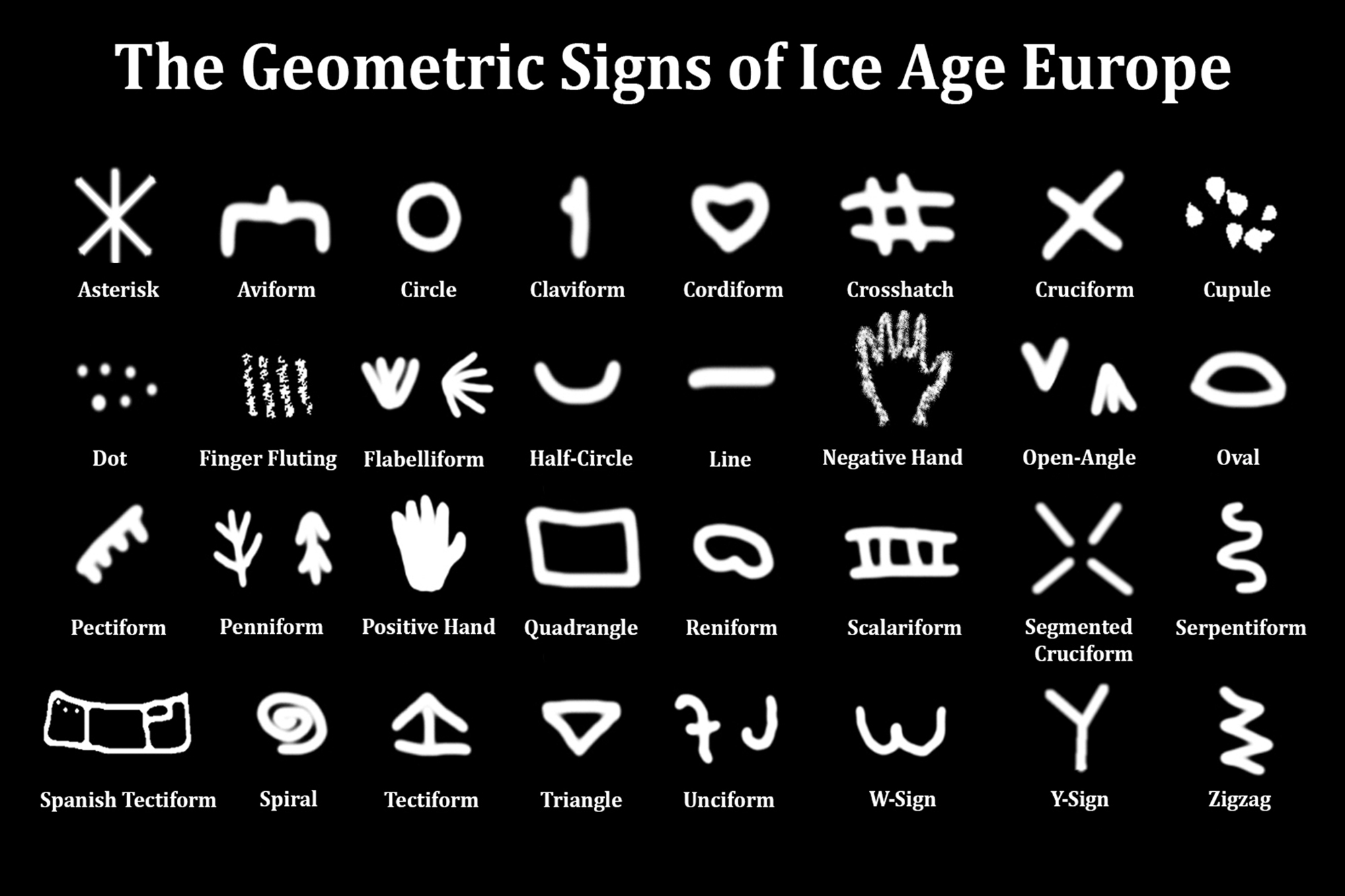 As you can see in the image above, a wide array of different signs were used. As von Petzinger discusses in the book, sometimes they appear alone or with a small number of others.
Yet there are also instances were multiple signs appear in the same location (though whether they were made by the same people/person at the exact same point in time is itself tricky to say for certain).
What were Ice Age signs conveying?
Were these signs purely decorative? Were they tally marks? Images seen by those in trances, representations of the local geography, records of the living or the dead, clan marks, relative to their spirituality, a means of marking the passing of time and/or astronomical events, records of battles that were fought (and possibly won), forms of visual prayers or other forms communications with the divine, teaching tools, the earliest seeds of what would later become the first known written languages, something else entirely, or all of the above?
The First Signs attempts to tackle this mystery in various ways, but as there is truly so much we do not know – and may never know – it may leave you with more questions than answers.
Which, sometimes, is not a bad thing. Thoughts are like tributaries of an endless river, some converge, others branch off in different directions, but in some ways, they're all connected and you never know what exciting new path one might lead you down.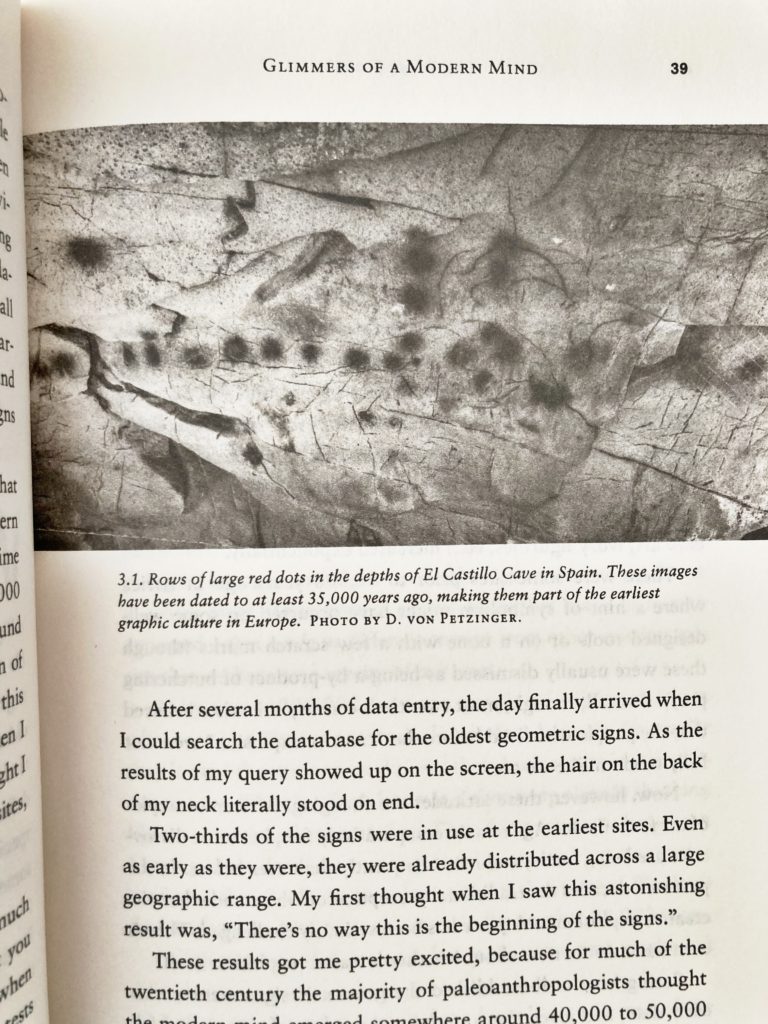 Ice Age cave art and early signs stir something extraordinary intrinsic in me. I have guesses as to what certain signs may have meant (and firmly believe that in some cases, one sign may have represented different things across multiple groups of early humans and time periods), others certainly seem vaguer and harder to discern.
It is easy to impose our own takes on these signs (and cave art in general), to look at them with 21st century eyes when they were created by people who – while intellectually as capable and advanced as we are today (a point that the author discusses throughout the book) – lived in a world that was radically different from ours in a lot of ways.
Simple as these shapes and scenes may seem to us now, at the time, they were revolutionary. Life as we know it on this planet changed forever from that point onward thanks to the advent of graphic communication.
Without the ability to express concepts through pictures, signs, and (in time) written languages, we would not have the works of Chaucer, Shakespeare and Keats. There would be no textbooks, no newspapers, no Ikea instructions, no cookbooks, no love letters, no written records of births and deaths.
An immeasurable number of things – right down to this very blog post itself – would not exist if our ancient ancestors hadn't started to draw signs and create art on cave walls.
The First Signs does an excellent job of acknowledging how vital to the progression of human society these early signs were.
This aspect is one of my favourite points about this informative book, which takes us on a treasure hunt across the span of time back to a world that while far removed and certainly different, wasn't perhaps quite as dissimilar to ours today as one would first believe.
How The First Signs by Genevieve von Petzinger rates with me
I highly admire the author's drive and desire to deepen our collective understanding of Ice Age rock art and signs. Few others have thus far come close to putting as much focus on those signs throughout their careers as she has, as the art itself (such as animal and human figures) has often been the star of the show.
While I do wish that this book would have devoted multiple pages (if not entire chapters) to exploring, questioning, and hypothesizing about each specific sign in greater detail, as far as covering the broader topic of Ice Age cave and rock signs goes, von Petzinger does a first-rate job.
This book has deepened my desire, borne in early childhood, to visit one or more sites where cave art and signs still exist to this day, tens of thousands of years after our distant ancestors created these images that were, most likely, highly meaningful to them.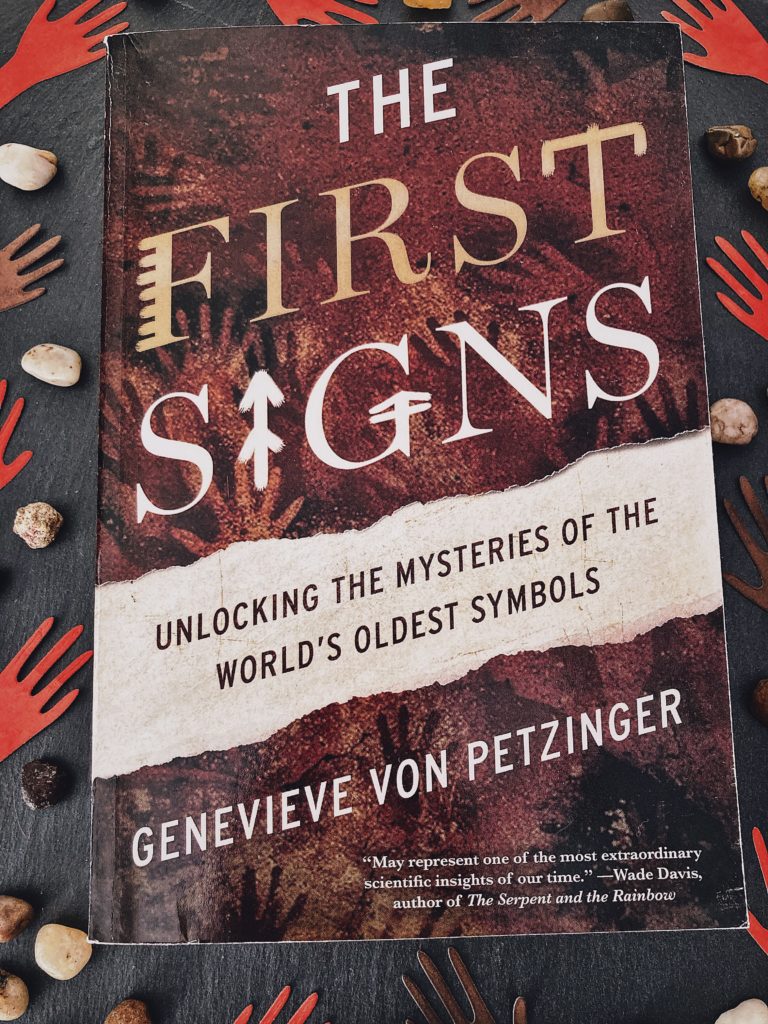 As I read The First Signs, I looked at the ancient, beautiful shapes shown and reflected on them spiritually, scientifically, pragmatically and imaginatively.
These signs are incredible. They got the ball rolling on a future that would likely have been inconceivable in many was to those who made them and helped us to develop into the society that we are today.
Would I love to see a follow-up book from von Petzinger that goes into greater detail about what the signs themselves might actually mean?
Absolutely, but this book itself is a solid, captivating read which poses numerous excellent questions, will likely broaden many peoples' knowledge on the subject, and which is apt to have you looking at and thinking about Ice Age cave signs in ways you may have never done before.
Working on a scale of 1 – 5, with five being the highest possible rating, I would give this book 4 stars out of 5.
★ ★ ★ ★ ☆
Does the subject of early human graphic communication intrigue you as well? If you've read The First Signs, what is your take on it? 🤚📖✋