There are paper crafters (and crafters in general) out there who make scores of holiday projects, posting them all in November and/or December.
I admire these folks greatly. Marvel at how they seem to have found the secret to cramming a hundred hours more into each day (lol!), and accept that I'm unlikely to ever belong to their ranks.
My projects and posts happen if and when they can, and I see no issue with continuing to share holiday-themed makes in January. Or at any other point in the year, for that matter.
It can be fantastic to focus on topical content during a given season or holiday, and I am certainly in favour of doing so when possible.
However, that doesn't mean that one has to hold rigidly to only posting Christmas content, for example, before the ball drops on New Year's Eve.
As most of our holiday décor is still up at this early stage in January (I adore festive decorations and tend to let them linger well after a particular holiday or sabbat has officially transpired), I feel even more at peace with sharing the lovely handmade card in today's post. 😊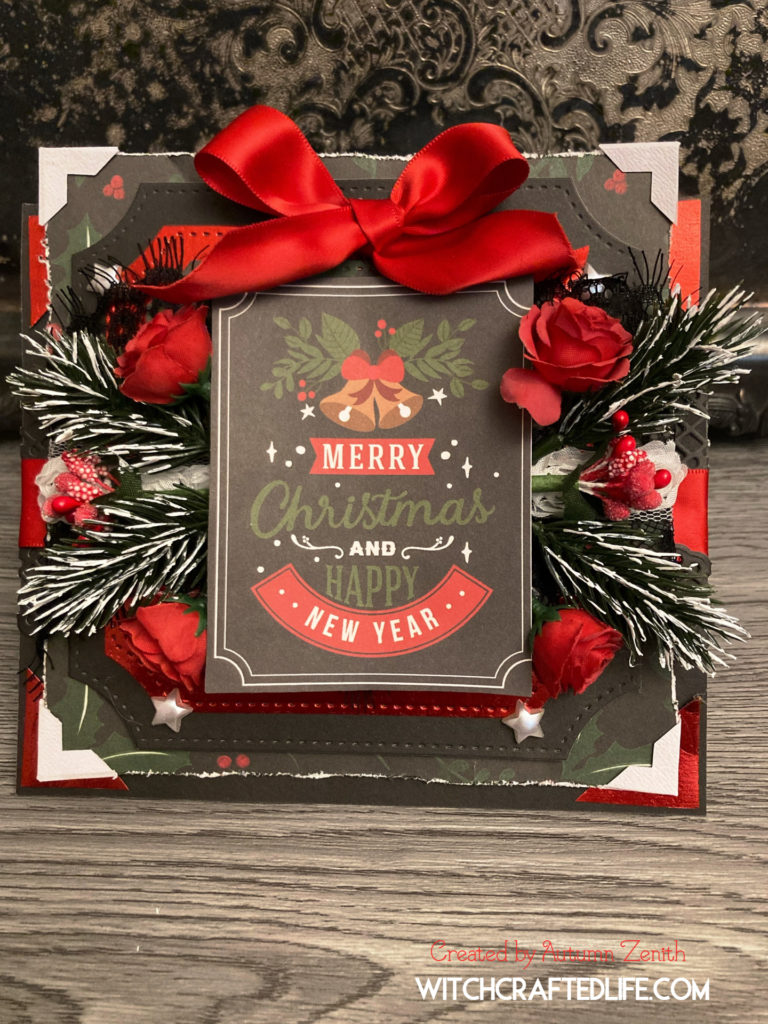 The colour palette that has called to me most this holiday season – red, green, and black – was at its festive zenith in the card highlighted here, which we gave to my mom as her Christmas greeting from us this year.
Elegant snow frosted pine branch Christmas card
I could easily and happily work with this dark, sophisticated, and subtly yesteryear-esque colour scheme not only come each winter holiday season, but the whole year through as well.
Swap the green for grey and you have three of my most frequently worn colours as well. (I adore wearing certain shades of green, especially those on the darker end of the spectrum, but don't own a lot of clothing in such hues at the moment.)
Then turn to the red to burgundy, swirl some dusty rose and aged metallics into the equation, and you have the main colours in our current home décor.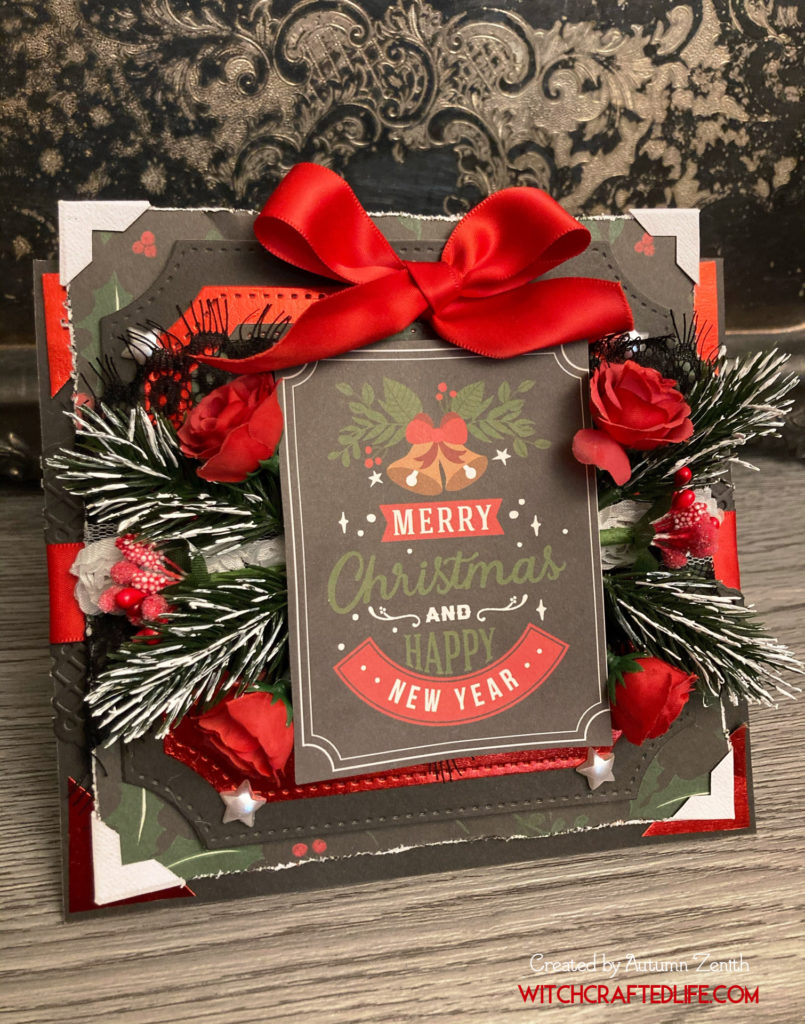 I knew that I wanted to lean heavily on red, green, and black for my mom's Christmas card. Yet, at the same time, didn't want it to run the risk of having it read as dreary or overly sombre.
To that end, I made sure to include plenty of splashes of red, as well as some white, and to use a classic pattern (holly leaves and berries) on the sole printed paper that appears on this card.
While there are various snow texture products on the market (such as Aleene's Glitter Snow and True Snow, respectively, and Snow-Tex from DecoArt), I don't have any in my stash at present.
Instead, I created the look of white snow adorned pine branches by turning to a bottle of trusty, inexpensive white acrylic craft paint.
In my opinion, white paint is one of the most versatile, handy, and helpful products any paper crafter can have in their arsenal.
I reach for white acrylic paint all through the year and after frosting these faux pine branches, might need to add a new bottle of it to my crafting shopping list for 2021.
Thankfully, this product doesn't break the bank and can be found everywhere from dollar stores to Michael's, Walmart to art supply shops here in Canada. (I usually opt for Plaid brand white acrylic paint, which currently retails for less than $4.00 at Walmart.)
The dark green little plastic pine branches are likewise usually not very tricky to find. If your local craft, hobby, dollar, or big box stores don't sell them, check out spots such as eBay, AliExpress, and Etsy, where you should be able to find similar products.
Alternatively, if you have some festive décor that might be on its last legs but which contains usable faux pine/evergreen, you could pluck off said branches and put them to work on holiday season papercrafts.
I love this card. It's one of my favourite makes of any kind from 2020, and was, come to think of it, my last project of that year.
As is often the case when I create a card (or tag, etc) that is destined for someone else, but which I utterly adore, I did debate keeping this festive make to use in our seasonal décor. 😄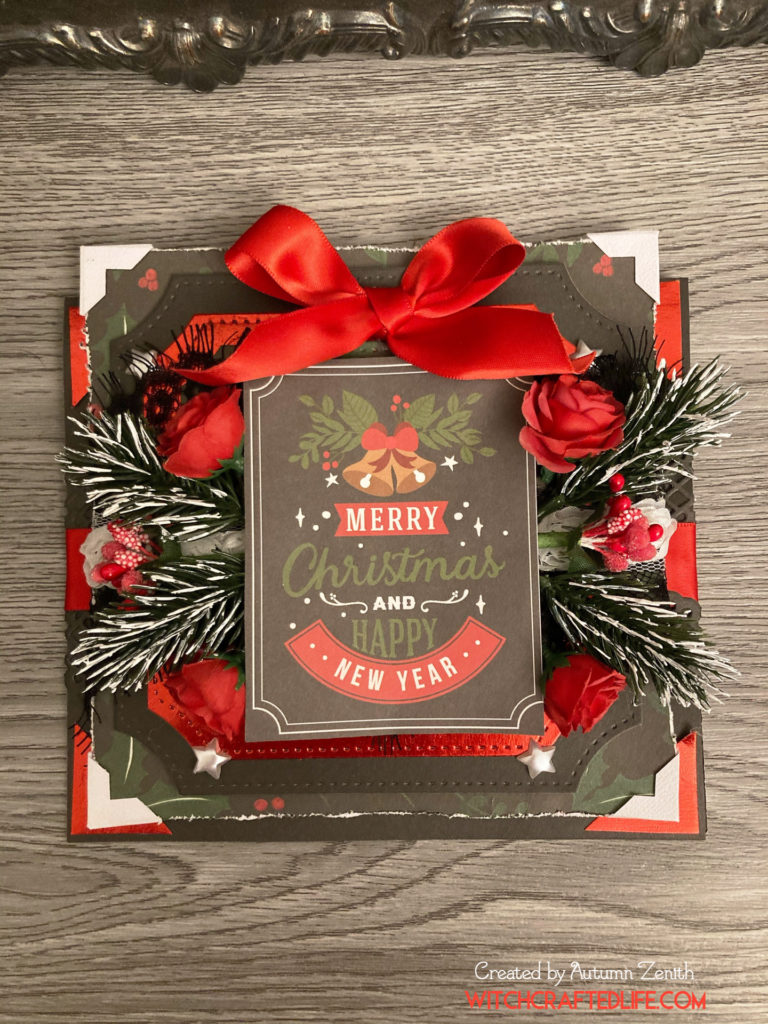 However, that thought was short-lived, as I had created this card from my sweet mama and was adamant that it zip off to her house.
After all, as I like to tell myself, I could always make something similar looking for our holiday décor. Especially since I highly doubt my passion for the pairing of red, green, and black is going to wane anytime soon. 😃
Putting this elegant shabby chic Christmas card together
A good sized card base of basic black cardstock got the ball rolling here. It was topped with small triangular pieces of red metallic cardstock in each of the four corners, a piece of holly leaf and berry print paper (which I lightly distressed the edges of and gave punched photo corners made from textured white cardstock to as well), and two die cut pieces of cardstock. One black, the other metallic red.
My sentiment greeting was next up to bat, landing in the middle of this design. I purposely went with die cut layers below it that echoed the notched corners included in this festive illustration.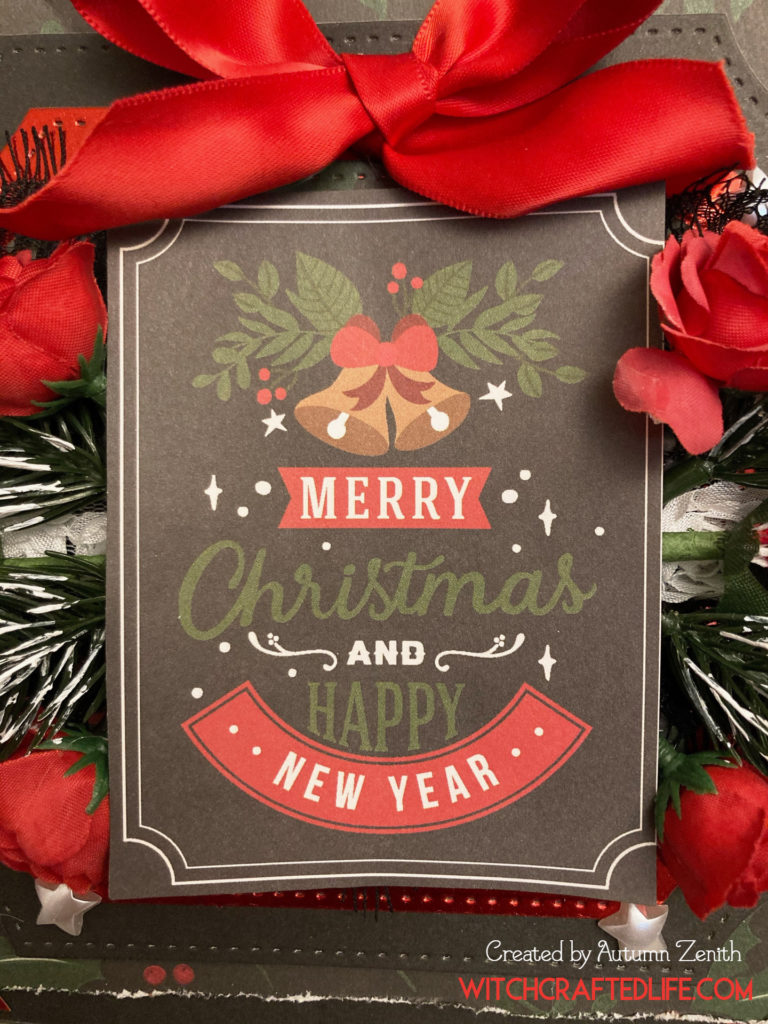 Sandwiched between some of the layers of paper and cardstock, I put a black die cut lattice design piece, as well as a piece of vibrant red satin ribbon.
That same Christmas season perfect red ribbon then appeared in the form of a bow (to mirror that in the sentiment illustration itself) near the top of the card.
As well, right below the sentiment, I place a piece of black eyelash trim lace and also ran a strip of white tulle rose trim for a subtle pop of white between the layers of this design
Next, I arranged some springs of red foam faux berries, red fabric roses, and green plastic pine branches. Using a cotton bud (a small paintbrush would work well, too), I lightly applied white acrylic craft paint to the edges of the pine branches.
I debated topping the roses and berries with "snow" as well, but decided I preferred the look of leaving them au naturel.
As the last and final touch on this project, I placed four small white pearlescent star flatback embellishments near each of the four red roses. Opting for this particular embellishment because of the stars present in the illustration of the sentiment.
(You may have guessed this by now, but I love to include repeating motifs, colours, designs, etc in plenty of my papercrafting projects.)
Cardmaking tips and ideas from this project
-Let a little (or a lot!) of the elements on your card extend past the edges of the card base itself. This is amongst my favourite card making techniques, as I find it helps to elevate a project and create more visual interest.
In this case, the distressed piece of printed paper, as well as the snow dusted pine branches, inch slightly over the edges.
–Don't hesitate to double (or triple, etc) up on photo corners or other corner elements. Here, white photo corners sit happily atop triangles of metallic red cardstock, each belonging to a separate layer of this design.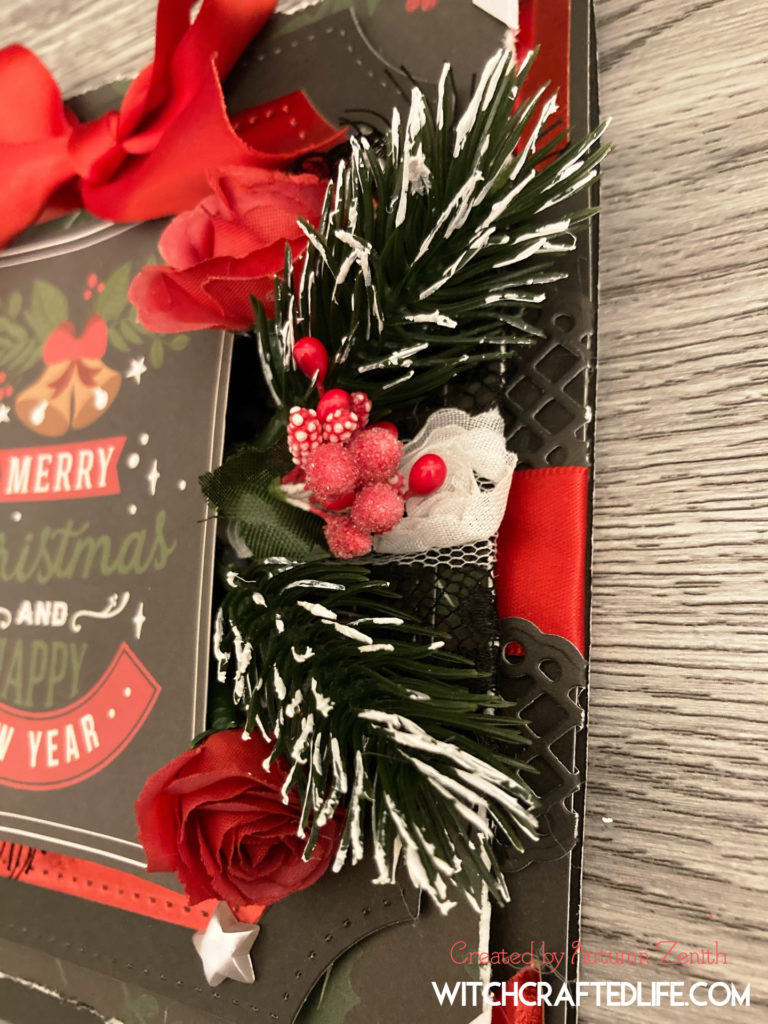 -If you do not have premade red roses (be they fabric, paper, foam, etc), you could crate some from punched or die cut red paper or cardstock. Conversely, you could sub in a different flower or type of embellishment entirely.
Small bow, bell (including jingle bells), other types of greenery, or even (representations of) birds such as cardinals, owls, or partridges, for example, would all be at home on a festive project like this.
-While the "snow" is a charming and wonderfully eye-catching addition here, it isn't strictly required. You could easily skip it or, alternatively, adorn the branches with glitter or flocking instead.
Or, make cardstock branches and emboss them with white, cream, or pale silver coloured embossing powder to get a similar snowy effect.
-Look to the illustrated/patterned elements – including premade sentiments – of your card when deciding on the elements to use for a given project.
The charming sentiment piece – taken from a cut-apart sheet of paper – here inspired no less than four components of this design. The notched corner die cut layers, the red bow, the arrangement of the pine branches, and the sweet little pearlescent white star embellishments.  
Products used to make this festive red, black, and green Christmas card
-Notched corner nesting die set
-Lattice border strip die (or similar style of border punch)
-Photo corner punch – Photo Corner punch from Martha Stewart Crafts
-Black and white cardstock
-Metallic red cardstock
-Holly leaf and berry print paper – Here Come Santa Claus Holly Berries paper from Echo Park
-Sentiment paper – My Favourite Christmas – Christmas Squares paper from Echo Park
-Black eyelash fringe lace
-Red satin ribbon (you could use organza, twill, seam binding, etc here as well)
-White tulle rose trim
-Red fabric roses
-White pearlescent plastic star embellishments
-White acrylic craft paint – 2894 White Wicker Multi-Surface Satin Acrylic Paint from Plaid's Folk Art line
-Glue gun and glue sticks, or another type of sturdy adhesive to hold the larger embellishments in place
-Dimensional foam, pop dots, or similar to elevate some of your layers
-Adhesive, such as a tape runner, of your choice (I often use my Scotch Tape Glider)
A huge thank you! 💗
Before wrapping up today's entry, I want to extend my heartfelt thanks to everyone who wished Witchcrafted Life a happy 1st birthday on my previous blog post, as well as via email and DM.
Your support of my wee corner of the web, the work that I share here, and the inclusive community that I strive to create around this space means an immeasurable amount to me. 🙏🏻
I am grateful to my core for each of you. Your kindness and encouragement all through WCL's first year of life and now as we embrace its second is like rocket fuel for my blogging soul, powering me onward with vim and vigour, and helping me to reach new creative heights along the way.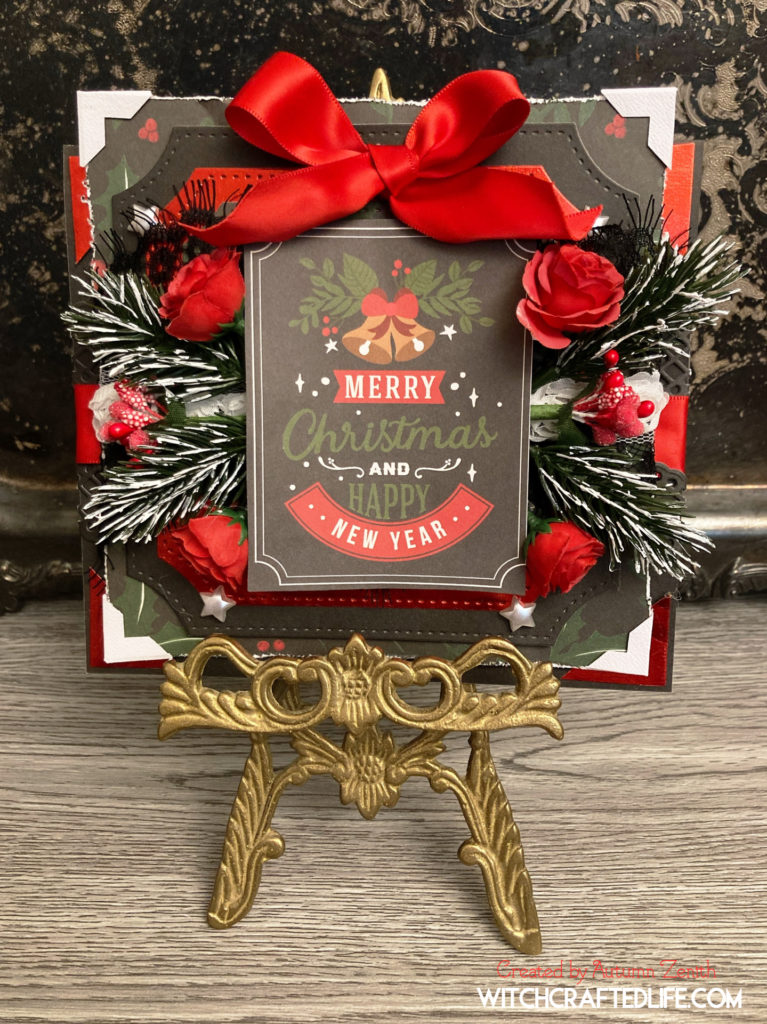 I have one more Christmas 2020 card project to share here in the not-too-distant future (it's another of my fave makes from last year, which wound its way to a treasured friend in the US), a more broadly themed winter project or two, and hopefully, at least one Valentine's Day project.
If it is able to appear here in February itself, that's great, but if it ends up being posted closer to the Ostara/Easter season, you know what? That's a-okay, too.
After all, the "freely share a project after a given event has transpired" approach is not limited to winter holiday season makes by any means. 😃
What's on the crafting agenda for you as we embrace the start of 2021? Do you strive to post all of your makes for a given holiday before/right the big day or are you happy to share them anytime you please? 💚
Project share
Pin the image below – or any other in this post – to Pinterest, pop it into your Instagram Stories, post it on Twitter or Facebook, or share it anywhere else you wish to help yourself find it again and to inspire others at the same time.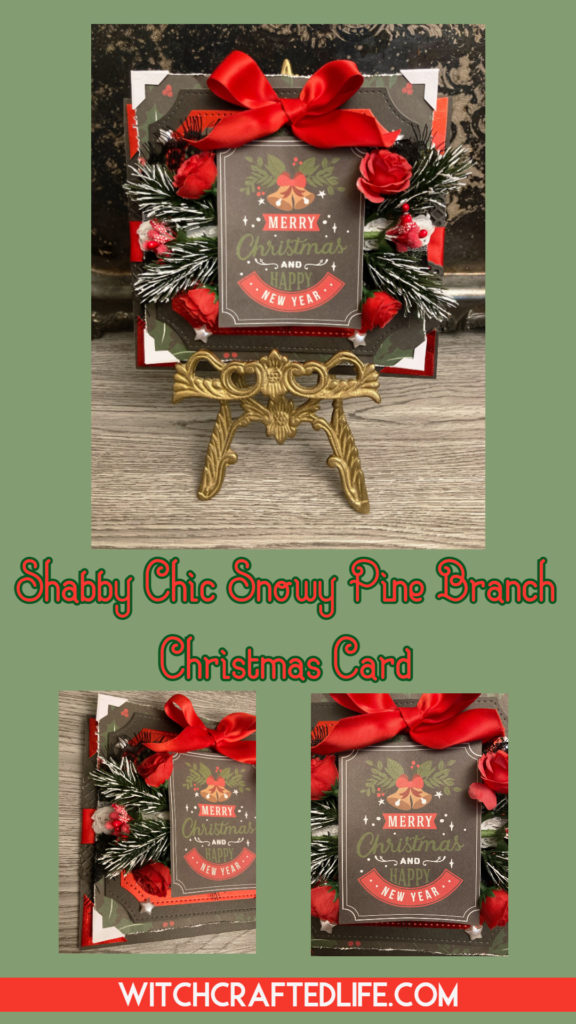 If you make a project based on or inspired by this card – or want to share any of your other handmade crafts with me – please use the hashtags #WitchcraftedLife and #WitchcraftedLifeMakes on social media so that I see can your beautiful creations.