Do you have a favourite holiday season colour palette? One that you turn to, like a trusted friend, year after year as December returns and the world fills with festive cheer once more?
There are several Yuletide season colour schemes that I especially adore. One of my absolute favourite is red and black, often with green, burgundy, grey, silver, white, or even gold swirled into the mix.
This partnering of colours is anything but new. However, it has been enjoying something of a moment in recent years due in large part to the rise in popularity of rustic and cabin chic holiday décor.
I'm delighted about this fact and adore walking into stores and seeing an array of winter holiday decorations in this bold, beautiful palette.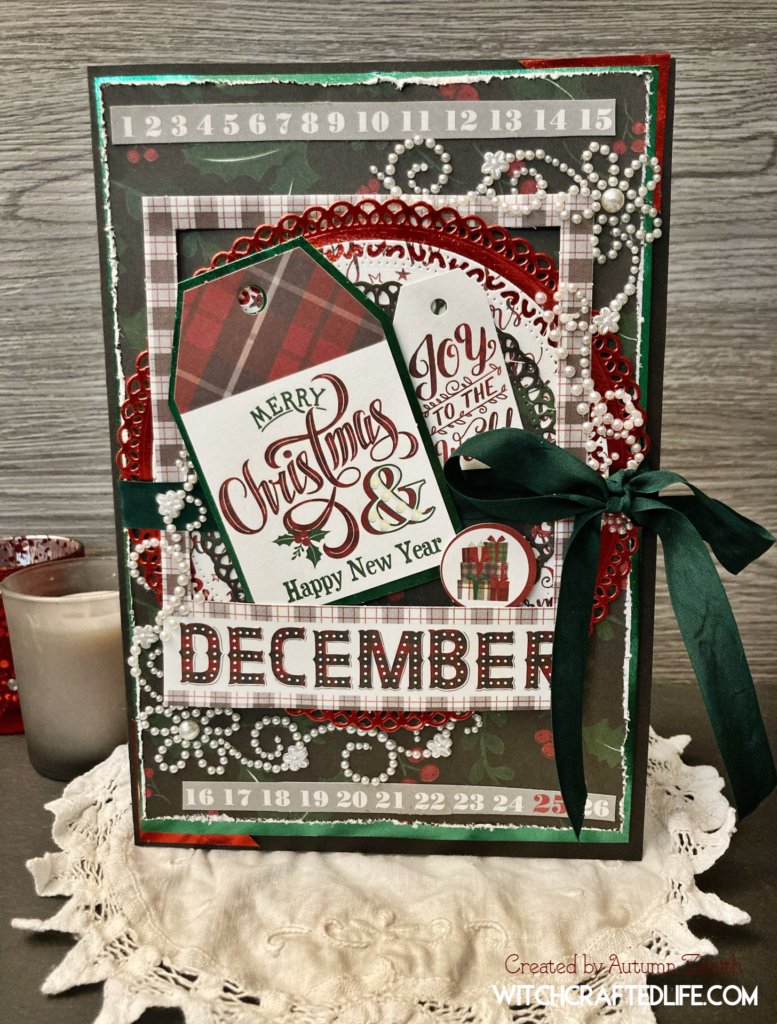 For the first Christmas card that I made this year (just a couple of weeks ago – like many paper crafters around the world, it often seems that my holiday card making begins in late autumn 😄), I turned to this eye-catching colour palette.
Festive red, black, and green Merry Christmas card
Naturally, I couldn't help but give it a bit of a shabby chic spin in the process.
Not excessively so in this case. Just a touch of distressing to some of the edges, plenty of layers, a lovely piece of forest seam binding, and some charming pearl flourishes to give an air of both chic and shabby.
I wanted to introduce some elegance as well, coupled with materials that were reminiscent of glowing Christmas lights.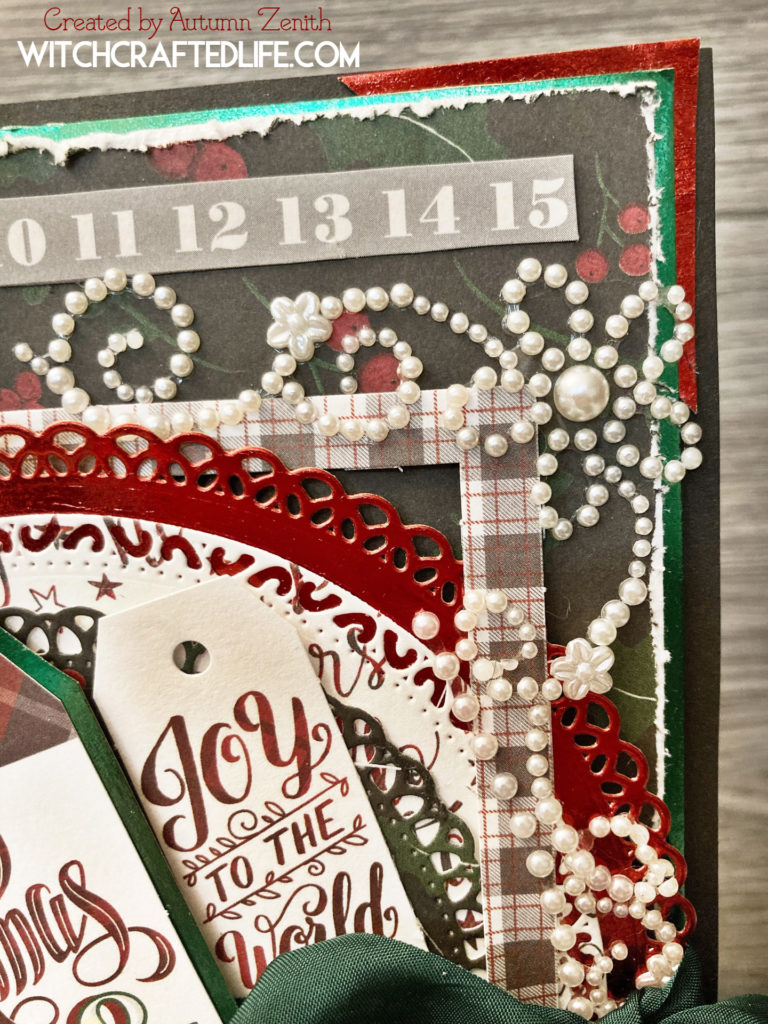 Metallic cardstock did just the trick. I had been tucking a few sheets of gorgeous red and green metallic cardstock away for the holidays and put some of it to work on this Christmas season greeting.
I shalln't bemoan the subpar overhead lighting situation that I currently photograph my projects under again (my frequent readers might, quite justifiably, start pelting snowballs at me if I do). Suffice it to say though, it did not do the sheen of said metallic cardstock justice.
In real life, it glistens and catches the light far more – and I can easily imagine how dazzling it might look illuminated by Christmas lights themselves or perhaps the gentle flickering glow of a holiday season candle.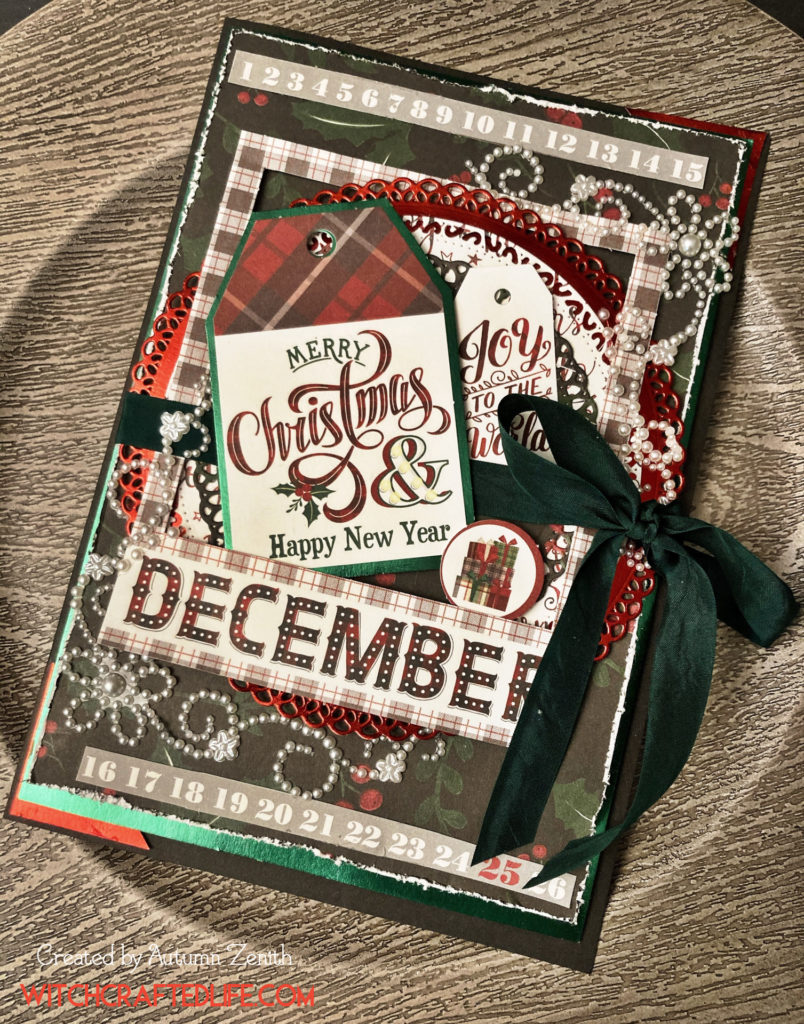 This card is being mailed off to a close family member, so (again, broken record and all that jazz 😄) I kept the bulkiness at play here to a relative minimum.
Interestingly, I rarely – save for times when I'm using a card map/sketch or another form of direct inspiration – plan my cards out in advance.
Sure, some are conceived of ahead of time (and I do usually go into a project with a colour palette and a general idea in mind), but plenty of them come together when I sit down to craft.
This fun, festive make was no exception and I let the background holly berry print paper help to inspire much of the rest of the design.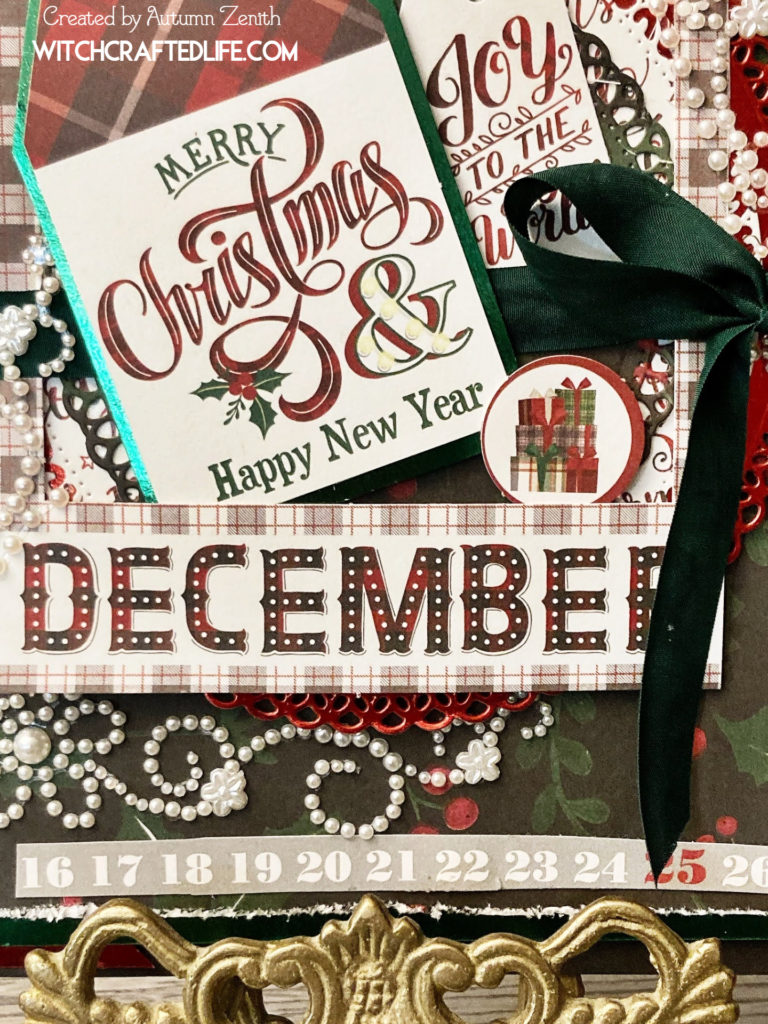 One detail that I'm especially fond of here is the skinny calendar date border strips.
They began life as one longer sized piece of paper that I cut into two, attaching one half to the top of the card and the other (which houses the date of December 25th highlighted in red) on the bottom.
I really like calendar, advents and other similar items that focus on the days of the year, so this lovely border strip was right up my alley.
Putting this shabby chic Christmas card together
This dark coloured, yet lively and upbeat Christmas card began with a card base made from plain black cardstock. Two small triangle shaped pieces of red metallic cardstock were added to diagonally opposite corners, then came a layer of metallic green cardstock followed by a piece of holly berry print paper, which I distressed the edges of with my Tim Holtz Distressing Tool.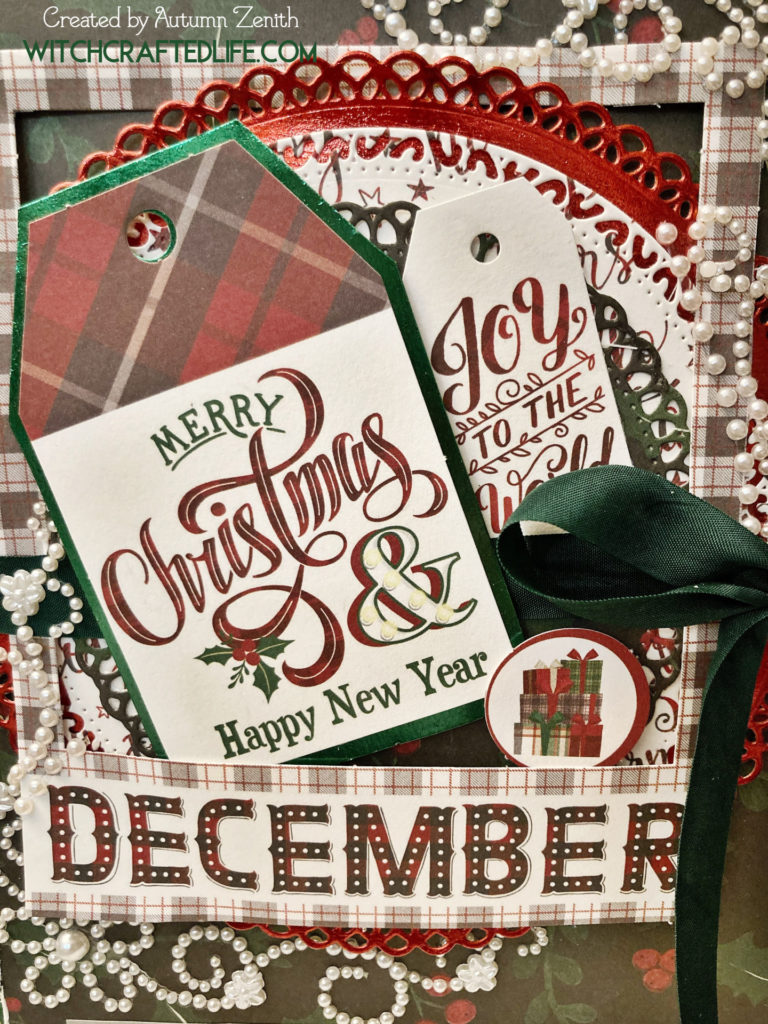 I then die cut three different circles with decorative edges. One each from both of the metallic papers and a third from a fun holiday season word print paper from Photo Play.
On to these went the "December" die cut frame, the two tags (the larger of which I backed with green metallic cardstock), a cute little circle die cut shape with an illustration of gifts on it, a piece of forest green seam binding, and two floral design pearl flourishes.
Along the way, I added the calendar date strips to the top and bottom of the card.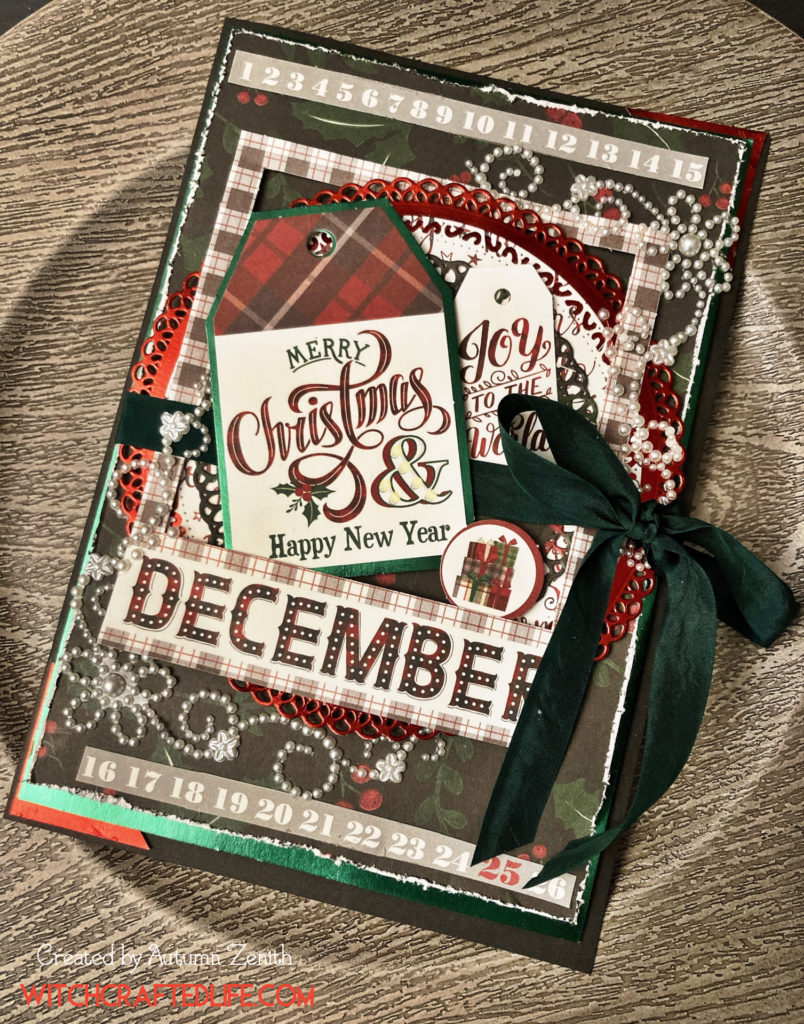 And just like that, my first festive greeting card of 2020 was complete.
This Christmas card came together so quickly that I was able to produce a second (different) one in the same day, which is very uncommon for me. Stay tuned, dear friends, to see that make in my next project share post. 😃
Card making tips and ideas from this project
-Christmas and holiday season cards – much like our party attire for this time of the year – is a perfect excuse to pull out all the glitz and glam.
Have fun with metallics, sparkly materials, sequins, metal embellishments, even small decorative glass tiles (mirror squares) can work fabulously in a festive context. Likewise, so can flocking, felt and other fabrics. Anything that looks and feels lux is bound to fit in with decorative spirit of the holidays.
–Don't shy away from black in your holiday season makes. While black can certainly read as anything from somber to spooky in some settings, it is also as classic as classic can be and makes for an excellent accompaniment to many different holiday season hues.
If red and/or green aren't your jam, why not give it a spin with silver and white, aqua and coral (very 1950s!), rose gold and cream, grey and purple, or champaign and burgundy?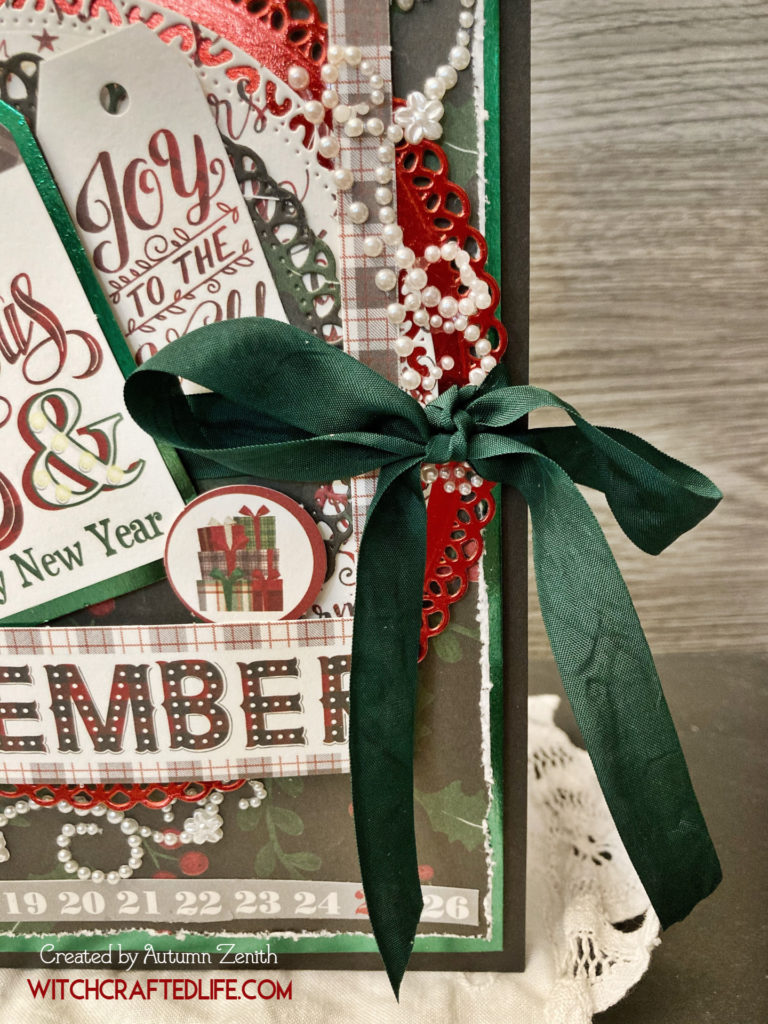 -Bows and Christmastime go together like Santa and the North Pole. Reach for, or create, one – be it made from ribbon, twine, burlap, fabric, paper, or any other material you'd like – to use on your next holiday season project?
-Cut apart pre-made embellishment pearl or gem flourishes. I do this frequently myself (including on this project) and find it's a fantastic way to stretch this handy paper crafting product further.
Make sure to put any unused portions of the flourish back onto the acetate or other plastic packaging that it came on, so that it holds up well until you're ready to use the remaining portion.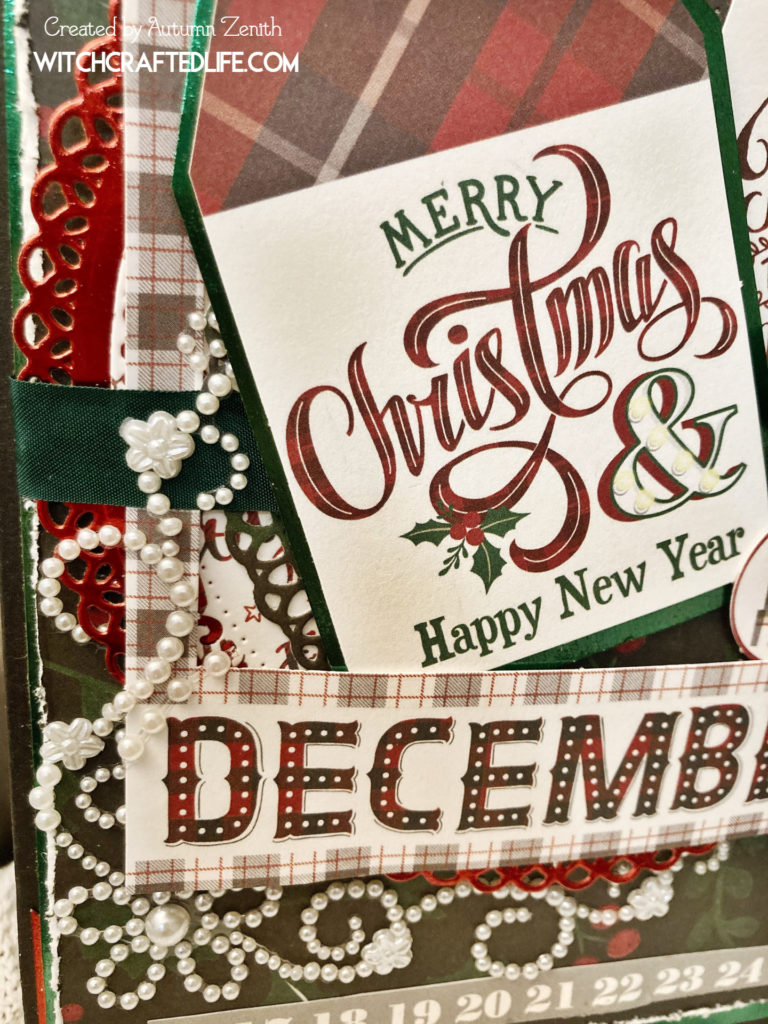 –Border strips aren't just for scrapbook pages and mini albums. They often feature smaller sized designs and prints which can lend themselves surprisingly well to cards and tags, too.
They are also a great way to add an extra layer or two with minimum bulk, which is extra handy if you plan on mailing your finished greetings.
-If you want to layer a die-cut (or other shaped piece) but don't have a die that creates a larger image, simply trace your die cut onto a piece of paper or cardstock with the add of a ruler.
Be sure to leave a small allowance around the sides as a border, that way your newly designed base layer is visible once you adhere the two layers together.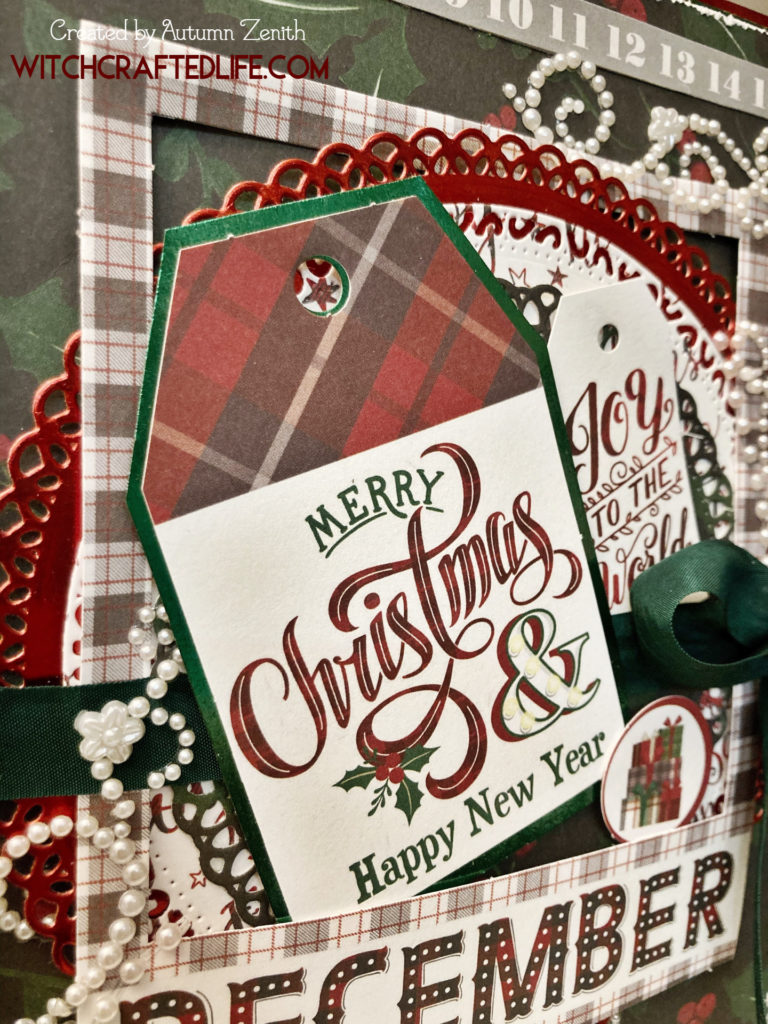 That is precisely what I did here with the metallic green cardstock that I put behind the "Merry Christmas & Happy New Year" tag shaped die cut piece.
Products used to make this elegant Christmas card
-Red and green metallic cardstock
-Black cardstock
-Set of nested circle dies or three different sizes of circle dies that coordinate nicely
-Black, red and green holly berry print paper – Holly Berries paper from Echo Park
-Festive word print paper – Mad 4 Plaid Christmas Cheer paper from Photo Play
-Calendar number print border strip – Tis the Season Peace and Joy paper from Echo Park
-Grey plaid "December" die cut frame, sentiments tags, and small circular shaped die cut piece – Mad 4 Plaid Christmas Ephemera Die Cuts from Photo Play
-Pine, forest or other shade of dark green seam binding (or ribbon)
-Off-white coloured decorative pearl embellishment flourish
-Dimensional foam, pop dots, or similar to elevate some of your layers
-Adhesive, such as a tape runner, of your choice (I often use my Scotch Tape Glider)
Let your holiday season colours shine!
Some years, I've often to keep the same general colour theme running throughout most, if not all, of the cards I make for the holiday season.
At other times a single colour or two might appear consistently across each of them. And at others still, each card has its own distinct palette, though themes or sentiments may remain similar.
I like to craft intuitively and follow my creative muse wherever it leads me in the moment. This year, Ms. Muse is beckoning me strongly towards the colour black in the context of my winter, Yule, and Christmastime makes and I'm delighted to comply.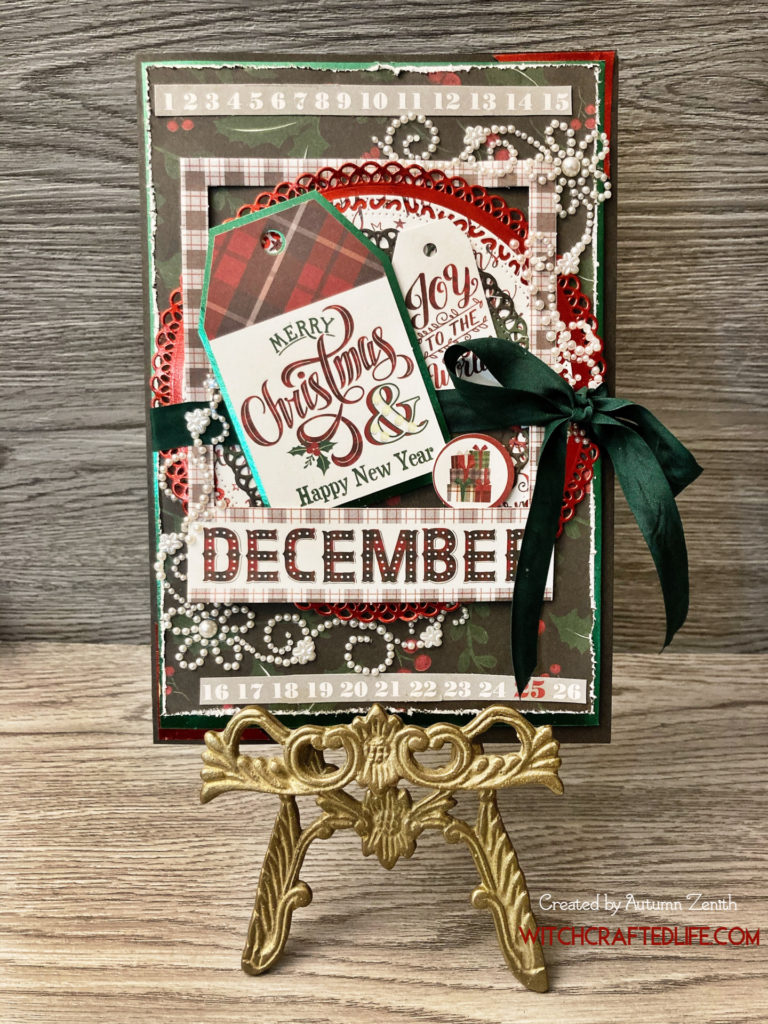 Black is a very befitting colour for the darkest, chilliest months. It can symbolize, with reverence, the passing away of the year that just was, while also representing the vast expanse of yet-to-be-experienced future that lies ahead of us in the coming year.
Of course, if black isn't your cup of tea, that is totally okay. Focus on the colour(s) that light your proverbial fires or which you know are firm favourites of those you're sending holiday greetings out to this year.
Playing and experimenting with colour combinations can be one of the most enjoyable and creatively expressive ways aspects of paper crafting.
In a season where almost any colour combination can take on a festive spirit with the right flourishes, there's no limit to the limit of December appropriate colour combinations you can dream up.
Right here and now though, my trusty stack of black cardstock is whispering my name again and as there's less than a month to go now until Christmas, I best heed it's call and getting cracking – or should I say, crafting! 😊
Joyful countdown to the winter holiday season and the happiest of festive crafting sessions, everyone! 💚🎄❤️
Project share
Pin the image below – or any other in this post – to Pinterest, pop it into your Instagram Stories, post in on Twitter or Facebook, or share it anywhere else you wish to help yourself find it again and to inspire others at the same time.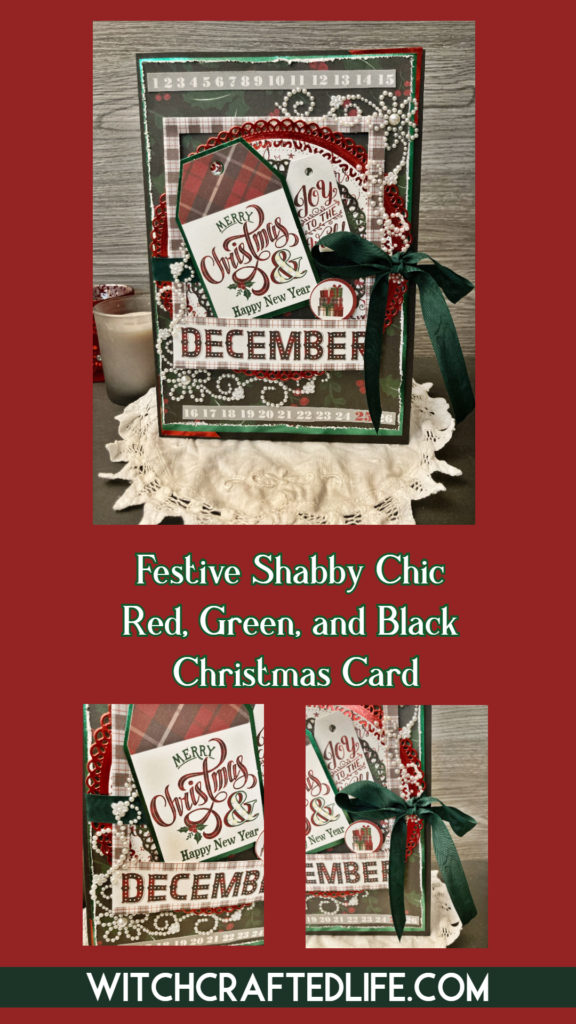 If you make a project based on or inspired by this card – or want to share any of your other handmade crafts with me – please use the hashtags #WitchcraftedLife and #WitchcraftedLifeMakes on social media so that I see can your beautiful creations.