It was around Remembrance Day last month when the idea for this post leapt out at me with all the energy of our dog playing a spirited game of tug o' war.
Now, I am by no means the first person to create lists akin to this one, but just because something has been done before, doesn't mean that one can't create their own iteration of it as well. 😃
I've always loved greeting cards. As a child, I went through a period of collecting inexpensive greeting cards from local shops. I was especially drawn to those with heartfelt, witty, or otherwise interesting sentiments and beautiful images (florals were a particular fave).
In time, I gave away most of those cards to friends and relatives. Yet my love of cards and both the literal messages they house and the messages we can convey by bestowing a card on someone else never left me.
In the ten years and counting now since I began paper crafting, I've created many cards, tags, scrapbook pages, and other projects that I've given away as gifts.
A good many of them contained some form of greeting or sentiment. From the ultra simple (i.e., "Happy Birthday" or "Congratulations") to pieces of original poetry and everything in between.
As a writer and a logophile (aka, a lover of words), I enjoy putting thought into the messages and sentiments in my cards – be they handmade or store-bought greetings.
I began mailing out my own Christmas cards in my teens and have done so almost every year since.
I often custom tailor the sentiment in my cards to their respective recipients, but for things like Christmas, Yule, and New Year's cards, it's not uncommon for me to write a special greeting each holiday season that I use on a number of peoples' cards.
Plenty of us do the same thing. It's fun, speeds up the card writing process, and can be a lovely way to share our heartfelt wishes to multiple people we care about.
Sometimes there's no beating a true classic. For those who observe such holidays, being wished a hearty "Merry Christmas", "Blessed Yule, or "Happy Hanukkah", for example, in the context of a festive greeting can often say everything we wish to convey.
At other times though, you may want to expand on these timeless classics, put your own original spin on things, or express a message that holds particular meaning for you and your recipient.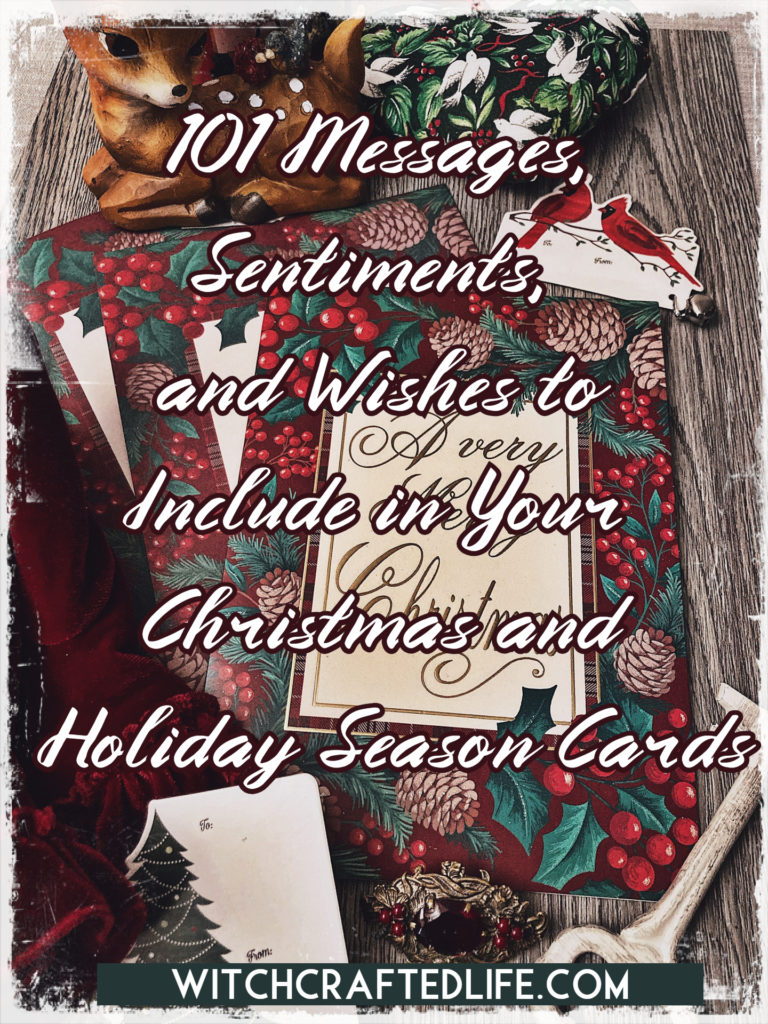 In this post, you will find 101 different sentiments, messages, sayings, and wishes to use in your holiday season cards.
With the exception of the quotes included in this list, all of the entries here are ringal ones that I've written myself.
It's virtually a given though that some of them will have been said verbatim or nearly so by other people throughout the course of history.
That is totally okay! You don't have to reinvent the wheel when penning your holiday card sentiments.
Whether you are a fellow card maker or not, this list is equally open and accessible to anyone who gives or mails out holiday season cards.
(Note: In the phrasing below, I have primarily used plural pronouns such as "our". By all means, use singular pronouns if they apply to you instead.)
General holiday season greetings
1. From our hearts and home to yours, may your holiday season abound with wellness, joy and good cheer.
2. Love and warmth, peace and happiness to you and yours during the holiday season.
3. You make the holidays extra merry and bright!
4. Hope that your Christmas/Yule/holidays/etc is marvellous in every way!
5. Peace and warmth, happiness, and festive cheer to you all through the holidays.
6. Blessings of the holiday season to you and yours.
7. Wishing you all the cheer and happiness of this wonderful time of the year.
8. Warmest greetings and happiest wishes for a fantastic festive season.
9. Though far away in distance, you are always close to our hearts and wished the very merriest of Christmases/holidays.
10. Wishing you a bright, beautiful, and thoroughly enjoyable festive season.
11. Know that you are in our thoughts and heart, and wished every joy imaginable this holiday season.
12. May the spirit of the season touch your heart, brighten your days, and bring you abundant happiness.
13. Love and the merriest of wishes coming your way!
14. The holiday season is sweeter, happier and more meaningful because you're in our lives.
15. Wishing you a very merry Christmas and a truly wonderful New Year.
16. May your holidays twinkle and shine.
17. Here's to a very merry Christmas, a fabulous New Year, and the prospect of a great 2021 (or whatever year will be the next) ahead.
18. Wishing you a holiday season that overflows with sweetness, serenity, and reasons to smile.
19. Love, peace, and joy to you all holiday season long.
20. No matter the miles between us, you are always close in our hearts and wished a joyful holiday season.
21. Wishing you a safe, peaceful, happy, and blessed holiday season.
22. You are loved beyond measure and wished a holiday season that makes your heart overflow with festive happiness.
23. Love and thanks, cheer and joy to you this holiday season.
24. Merry Christmas and Happy New Year to one of the best people/families I've ever known.
25. More love than there are snowflakes, cheer than there are candy canes, and blessings than there are pine trees the world over coming your way this festive season.
26. Happiness to you and yours during this blessed and beautiful time of the year.
27. Merry Christmas, Happy New Year, and prayers/blessings for a safe, healthy, prosperous, and joy-filled 2021!
28. Hope your holidays are chocked full of reasons to smile (thinking of you is definitely one of mine!).
29. May the magic of the holiday season fill your heart and home with oodles of cheer.
30. The holidays simply would not be the same without you! Thank you for being in my/our lives the whole year through. Merry Christmas and much love.
Holiday season greetings from, and inspired by, Christmas song lyrics
31. Have a holly, jolly Christmas. It's the best time of the year!
32. All is calm, all is bright. Merry Christmas/happy holidays and a joyful New Year.
33. I'll be home for Christmas. You can plan on me. Please have snow and mistletoe, and presents by the tree. Can't wait to spend the holidays with you this year!
34. May your holiday days be merry and bright.
35. I'm dreaming of a white Christmas. Just like the ones I used to know. Here's wishing you a white Christmas and all the joys of this beautiful time of the year.
36. Jingle bells, jingle bells, jingle all the way! May the joy and spirit of the holidays ring out for you all season long.
37. Santa Claus is coming to town and I hope he brings someone as nice as you everything your heart desires this holiday season.
38. You know Dasher and Dancer and Prancer and Vixen, Comet and Cupid and Donner and Blitzen, but did you know that I'm thinking of you and wishing you a holiday season that shines with more happiness than Rudolph's nose?
39. Have yourself a merry little Christmas. Let your heart be light. From now on (let's hope that in 2021/next year) our troubles will be out of sight.
40. And so I'm offering this simple phrase to kids from one to ninety-two, although it's been said many times, many ways… Merry Christmas to you!
Holiday season messages for family members
41. No matter how old I get, you'll always be Santa Claus in my eyes. Merry Christmas, Dad/grandpa.
42. Thank you for all the ways in which you have helped to make the holidays extra special throughout my life. Merry Christmas/happy holidays and all my love.
43. Having a mom/dad/sister/brother/daughter/son/etc like you is the best Christmas/holiday present I could ever ask for.
44. Thank you for always making the holiday season extra wonderful. May yours be every bit as fabulous!
45. No matter how old I get, I never stop feeling like a kid at heart because of how wonderful you always made the holidays. I love you very much and hope you have an awesome festive season.
46. Christmas is what it is to me today because of you. Thank you, much love, and happiest of festive wishes.
47. You are so important to me/us. May you stay safe, well, and happy this holiday season and always.
48. Thank you for the traditions and the memories, the smiles, the laughs, the delicious cookies, and for every meaningful way you've always made the holiday season so special. Love and best wishes to you, mom/dad/grandma/grandpa/etc.
49. The holidays are all about celebrating those we hold most dear. No one means more to me than you do, and I am sending you my very happiest wishes for an incredible festive season.
50. I am very thankful to have an amazing [type of relative] like you. Thank you for bringing cheer and joy my way not only during the holiday season, but all year through.
51. My heart overflows with gratitude because you're in my life. Thank you today, tomorrow and always for being the awesome person that you are. Happy holidays and tons of love!
52. You are a blessing beyond measure. Thank you for all that you are and do, and for making my life better because you are in it.
53. So grateful for you, that we are a family, and that we have each other. Happiest holiday wishes!
54. Happiest holiday season wishes to the world's best mom/dad/grandma/son/niece/etc!
55. Missing and loving you very much. Here's to hoping we'll be able to see each other again in the coming year.
Romantic holiday season messages
56. There's snow-one for me but you. Happiest holiday season wishes, my love.
57. The holiday season would not be the same without your love and presence in my life. Thank you, darling, for all that we share and all that we are together. I love you beyond measure.
58. Santa brought me exactly what I wanted this year: getting to spend Christmas/the holidays with you, sweetheart.
59. I love you more than Santa loves milk and cookies. (Trust me, that's a lot!)
60. Thank you for spending not only Christmas Day, but every day with me. I'm truly blessed to share my life with you.
61. You are my reason for the season.
62. Christmas is merrier and brighter because we're together.
63. You light up my life, make me merry everyday, and are such a joy to be with. Thank you and happiest holiday season wishes!
64. You're all I want at Christmas – and the whole year through.
65. My love, my life, my everything, merriest Christmas wishes!
Holiday season sentiments for pet owners
66. Santa Paws is coming to town. Hope he brings you everything you heart desires this Christmas.
67. Purry Christmas and a very meow-y New Year!
68. Happy howl-iday wishes from our dog house to yours!
69. May your holidays be as joyful as a dog with a bone/cat with a ball of yarn.
70. Nothing warms the heart quite like the love of a treasured pet. May you and yours have a blessed and beautiful festive season.
Holiday season messages across the miles
71. No matter the distance, no matter the years, at Christmas, we are together in spirit and heart.
72. Though we cannot celebrate together this year, please know that you are thought of and missed dearly, and wished a safe, wonderful holiday season.
73. Love, joy, serenity, wellness, and the very sweetest of holiday season wishes coming your way.
74. As you look at the twinkling lights of the season, know that I am doing the same, and thinking of all the ways you brighten and enrich my life the whole year through.
75. It has been too long. Let's make sure the New Year is extra happy by getting together soon.
76. Near or far, you are always in our hearts and wished the very happiest, loveliest and sweetest of festive seasons.
77. There is no distance so far as to keep you from my heart. Happiest holidays to a truly wonderful friend/person.
78. Until I hitch a ride with Santa, know that I'll be missing you something fierce and wishing you an awesome holiday season from start to finish.
79. Tree? Check! Lights? Check? Candy canes? Check? You? Missing! Oh no!!! The holidays just aren't the same when we're apart, but I hope they are still fantastic for you this year.
80. My Christmas wish, sent out across the miles, this year is that you have a safe, peaceful, and very merry holiday season.
Holiday season sentiments for difficult times
81. Sharing in your hope, praying in unison with you, and holding strong to the belief that better days will soon return.
82. My thoughts and heart, support and understanding are with you this holiday season.
83. Please know that you are thought of often and wished the best and merriest Christmas possible during these challenging times.
84. This Christmas/holiday season is not easy or low stress for you. I see and understand that, and want you to know that I am always here for you in any way I possibly can be.
85. Amongst the challenges and sorrow, may serenity and warmth be yours this holiday season.
Christmas and holiday season quotes to use on greeting cards
86. "Our hearts grow tender with childhood memories and love of kindred, and we are better throughout the year for having, in spirit, become a child again at Christmastime." ~ Laura Ingalls Wilder
87. "Christmas isn't a season. It's a feeling." ~ Edna Ferber
88. "I wish we could put up some of the Christmas spirit in jars and open a jar of it every month." ~ Harlan Miller
89. "Christmas will always be as long as we stand heart to heart and hand in hand." ~ Dr. Suess
90. "The best of all gifts around my Christmas tree: the presence of a happy family all wrapped up in each other." ~ Burton Hills
91. "I will honor Christmas in my heart, and try to keep it there all the year." ~ Charles Dickens
92. "Christmas waves a magic wand over the world, and behold everything is softer and more beautiful." ~ Norman Vincent Peale
93. "From home to home, and heart to heart, from one place to another. The warmth and joy of Christmas brings us closer to each other." ~ Emily Matthews
94. "Christmas is like candy; it slowly melts into your mouth, sweetening very taste bud, making you wish it could last forever." ~ Richelle E. Goodrich
95. "It is Christmas in the heart that puts Christmas in the air." ~ W.T. Ellis
96. "Christmas is not a day. It is a state of mind". ~ Mary Ellen Chase
97. "Christmas may be a day of feasting, or of prayer, but always it will be a day of remembrance – a day in which we think of everything we have ever lover." ~ Augusta E. Randel
98. "Blessed is the season which engages the whole world in a conspiracy of love." ~ Hamilton Wright Mabie
99. "Christmas is a day of meaning and traditions, a special day spent in the warm circle of family and friends." ~ Margaret Thatcher
100. "Christmas is not a time nor a season, but a state of mind. To cherish peace and goodwill, to be plenteous in mercy, is to have the real spirit of Christmas." ~ Calvin Coolidge
101. "What is Christmas? It is tenderness for the past, courage for the present, hope for the future." ~ Agnes M. Pahro
Naturally, you can reword or otherwise tweak the holiday greeting card sentiments in this post to suit your own desired messages.
Whether you use them as is or give them your own unique spin, these greetings are here to help ensure that year after year, you're able to find just the right message of festive cheer to send out in your holiday cards.
Which reminds me, be sure to pin this post to Pinterest or otherwise bookmark it, share it on social media, or print if off so that you can refer to it again in subsequent winter holiday seasons.
What else can you include in your holiday season cards?
Factoring in things like weight and envelope dimensions, there are various lightweight items that one can include with their Christmas or other holiday season cards.
These include, but are not limited to, the following:
-Letters
-Photos
-Recipes (handwritten or printed)
-Original pieces of art or prints
-Artwork drawn by your child(ren)
-Stickers, stamps, or seals
-Lyrics to a Christmas song you and your recipient both enjoy
-Tasteful holiday season jokes, puns, comics, or other humorous anecdotes
-A written holiday season song or movie playlist
-Your own creative take on the lyrics to an existing holiday season song
-Anything from a few lines to multiple pages recounting some of your favourite holiday season memories and/or traditions
-Flat (or at least relatively thin) holiday decorations or ornaments that are apt to hold up well in the mail without protective padding. Those made from paper, cardstock, very thin wood, and metal often do best in this regard
Tips for writing Christmas cards and other holiday season cards
-Set aside a solid chunk of time or allocate a bit of time over multiple days (for example, an hour per evening) to focus solely on writing out and addressing your holiday cards. Naturally, the more cards you're mailing or otherwise giving, the more time stands to be needed.
-If there are others, including kids, in the house who would be able to lend a hand, feel free to recruit them. I grew up helping my mom stamp and address our family's Christmas cards and look back on those memories with great fondness.
-I personally prefer to stamp all my envelops and mail them off myself at home instead of getting postage for each card at the post office during the busiest mail time of the year.
You're the same way, consider buying enough stamps (national and international alike, if applicable) for all of your cards, plus a few extra – you just never know when the need for mailing out additional cards may arise.
-Use a good quality pen or very fine tipped marker (felt pen) with exceedingly little bleed. Classic colours like black and blue never go out of style, but for extra festive fun ink colours such as green, red, gold or silver can be very charming, too. Just insure that your ink doesn't smudge (test in out before writing your card sentiments) and that the ink colour is easily legible.
-If writing is physically challenging for you, consider employing the help of a friend or family member, printing personalized sentiments off the computer and pasting them in your cards, or opting from store-bought cards with a beautiful, funny or otherwise meaningful sentiment inside of them already.
-Make sure that before you start the card writing process that you have current mailing addresses for everyone on your holiday card list.
-You may find it easier to write out the sentiments in all your cards, then address and apply postage to each after you're penned your greetings. Or you may prefer to write out, address, seal, and stamp each card on a card by card basis.
I personally veer towards the later, even though it can sometimes take a smidge more time. I tend to favour this approach as it really helps to cut down on the risk of accidentally misaddressing a given card and having the one I intended, say, for my family physician go to my ninety year old grandma.
-Many postal systems around the world have cut off dates that holiday mail needs to be sent by in order to arrive before Christmas.
If such is applicable to you, check with your local post office in November or early December and try to get all of your holiday season cards in the mail prior to this cut off date (ideally, I try to create a buffer zone of at least a week or more before the cut off date just to be extra safe).
-Before you seal the envelope, have you included any extras such as a family Christmas letter, photos, or a small ornament inside?
-Enjoy the holiday card filling out process. Put on festive tunes or a Christmas movie you enjoy, light a lovely candle in a wintry scent (say, pine, cinnamon spice, or cranberry), and make a generous mug of your favourite tummy warming cold weather drink, then settle in and start the fun of this classic holiday season tradition.
Tidings of comfort and joy
These days it is not uncommon for holiday greetings to be exchanged via email, text message, WhatsApp, DMs or similar digital avenues.
Almost all of the 101 holiday season sentiments and messages in this post can be put to good use in those capacities as well.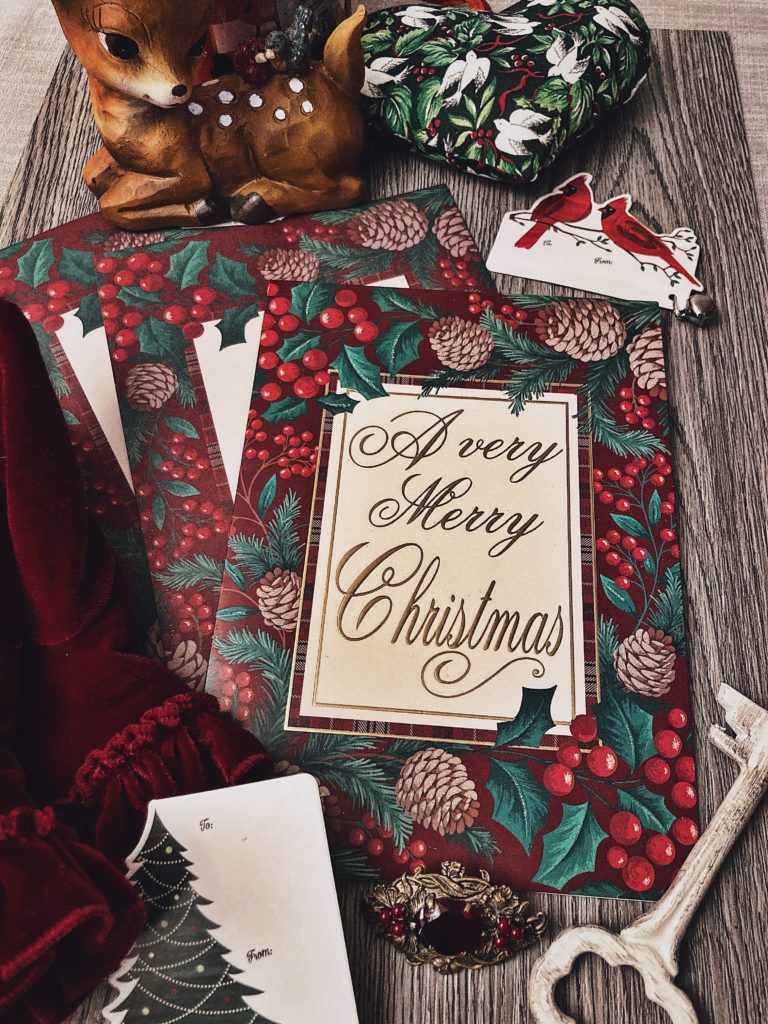 However, if you have the time, resources and ability to do so, there is much to be said in favour of sending (or hand-delivering) paper Christmas or other holiday season cards.
With more and more mail going digital these days and far fewer people writing letters than even just a few short decades ago, receiving a handwritten holiday greeting in the mail (or in-person) holds more meaning than ever for some of us.
In the wake of a year that has been extraordinarily challenging for many and different in myriad ways for most of us, the time-honoured act of sending and receiving holiday season cards becomes all the more meaningful.
A festive greeting, written by hand, stamped and sent across the miles lets others knows we're thinking of them, conveys the spirit of the season, and is a way of bestowing joy on those we hold dear.
Happy holiday season wishes, one and all! ⛄❤️🎄