Many of us are blessed to have one or more people in our lives that we know inside and out, backwards and forwards. From their quirks to their shining strengths, their laugh to their smile, we know them and they, most likely, know us just as well in turn.
This kind of deep, strong-as-steel connection is one of life's great joys.
I'm fortunate to have multiple people with whom I share this kind of bond. One of them is my beautiful sister. She's six years my junior and is a person I love more than words could ever fully convey.
It's always a delight when I learn something new about her, as we're very close and I have a good sense of her interests, passions, talents, hobbies, and dreams.
Earlier this fall, my mom mentioned in passing that my sister really, really likes moose.
Wait, what? How on earth did I not know that already? 😄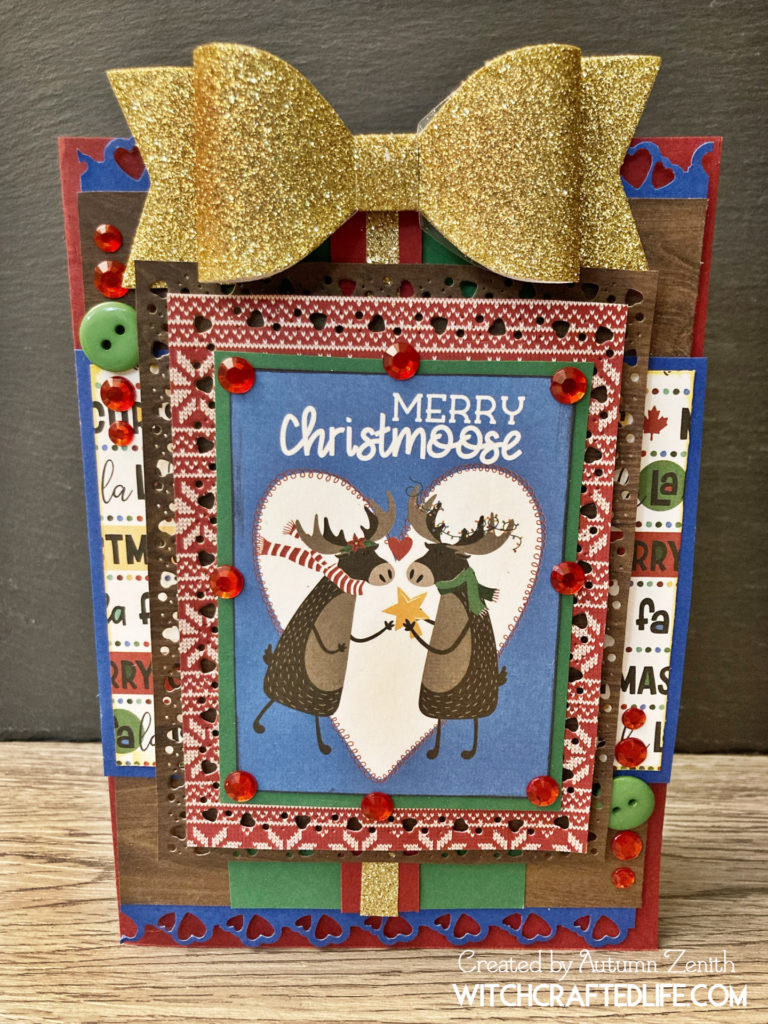 Far from minding that I didn't know as much, I was thrilled to discover something else that my sister is a big fan of.
And before that conversation with my mama had even wrapped up, I was already sketching out my sister's Christmas card for this year in my head.
Rustic Woodland Inspired Merry Christmoose Card
A while back, I picked up some of the papers from Photo Play's ridiculously cute O Canada Christmas by Becky Fleck collection, and distinctly remembered one cut apart sentiment square with a darling moose couple on it.
As this card is for both my sister and her boyfriend, it seemed like an even more perfect image to use as the jumping-off point for this festive greeting.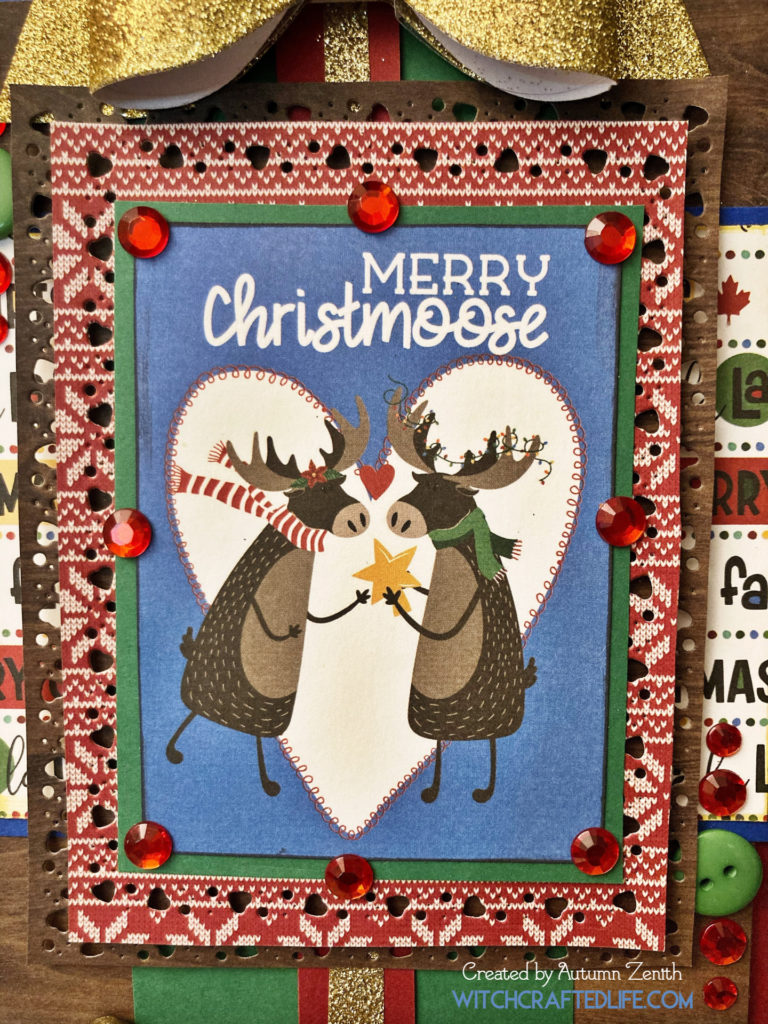 The presence of moose instantly lent my card a woodland vibe – which I was more than happy to lean into.
At the same time though, I wanted the overall design to have some holiday season glitz and pizzazz to it.
With that in mind, I use a large sparkly gold bow coupled with some remarkably similar looking glitter washi tape from 3M, and laid out my background cardstock and paper pieces to resemble a wrapped present.
Hopping back to the woodland inspired them, the lovely dark brown paper layers are both cut from the same piece of woodgrain print paper.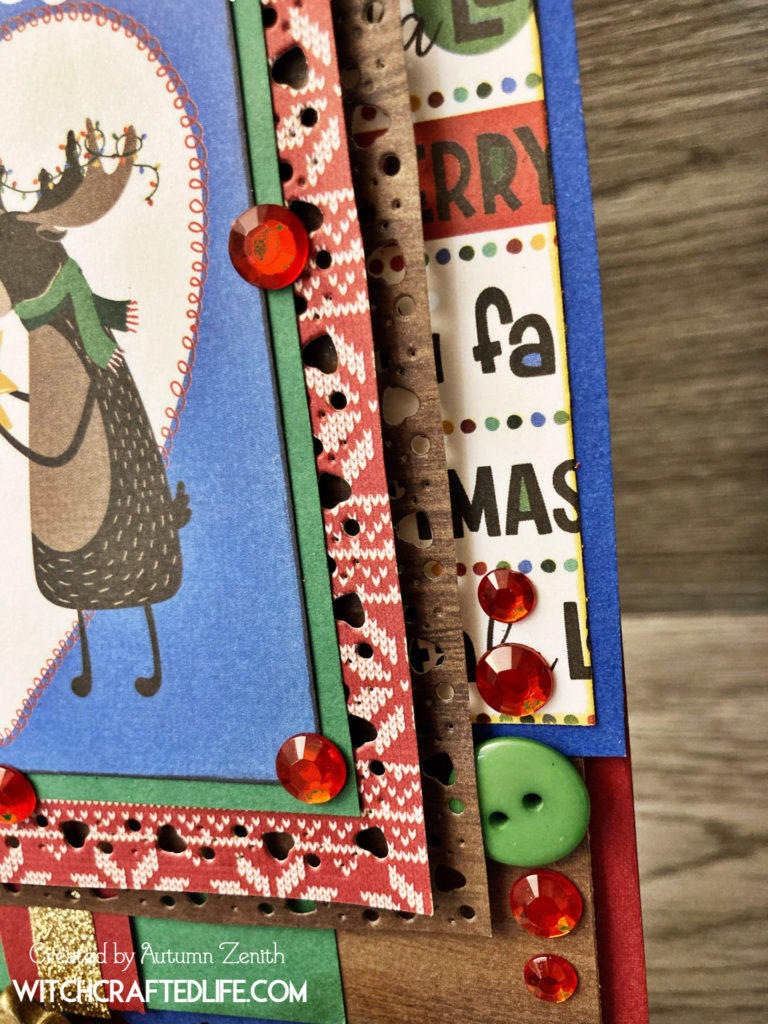 I wanted to repeat the heart that appears behind the charming mouse couple, so I used both a heart border design die set and a classic Fiskars heart shaped border punch.
Some fun and festive printed papers, two matching green plastic buttons, and some holiday season perfect red stick-on rhinestones helped this Christmas card come together.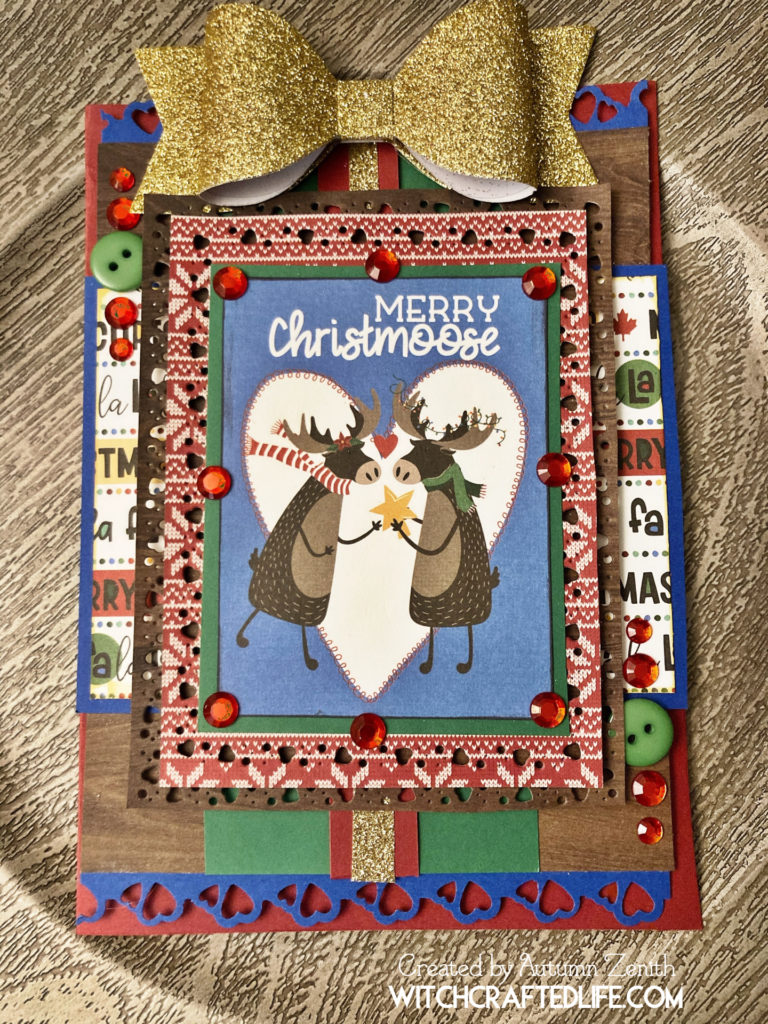 It's a sweet, cheerful design that is teems with holiday spirit – and, extra importantly, includes not one, but two moose care of the central panel.
This was such an enjoyable card to whip up. It's not OTT fancy or intricate, nor does it need to be.
Rustic woodland style often emphasises a few key elements, letting each both speak for itself and compliment the others to a tee (or would that be to an "M" in this case? 😃).
Putting this fun woodland inspired Christmas card together
To begin with, I created a good sized card base from dark red cardstock. This was topped with a large piece of brown woodgrain paper, to which I added a heart design punched border made from blue cardstock to both the top and bottom of the woodgrain piece.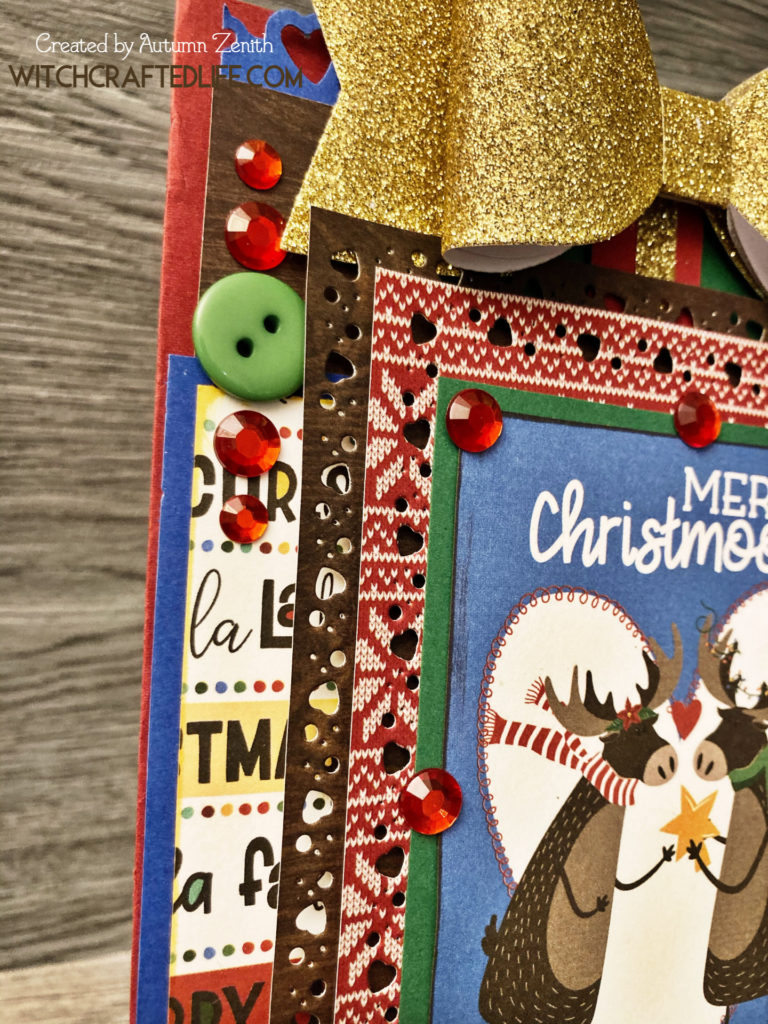 Next, I backed a piece of cute and colourful Christmas word themed paper from the same Photo Play collection with more of that blue cardstock.
Beneath that piece of word themed paper, I placed vertical pieces lengths of solid green and red cardstock, as well as a long strip of sparkly gold washi tape.
After that, I die cut a piece of the same brown woodgrain paper and a piece of lovely fair isle sweater inspired print paper with a heart edged border set of dies. I then lightly inked the edges of my central moose design panel, backed it on green cardstock, and placed a few red rhinestone embellishments around the main panel.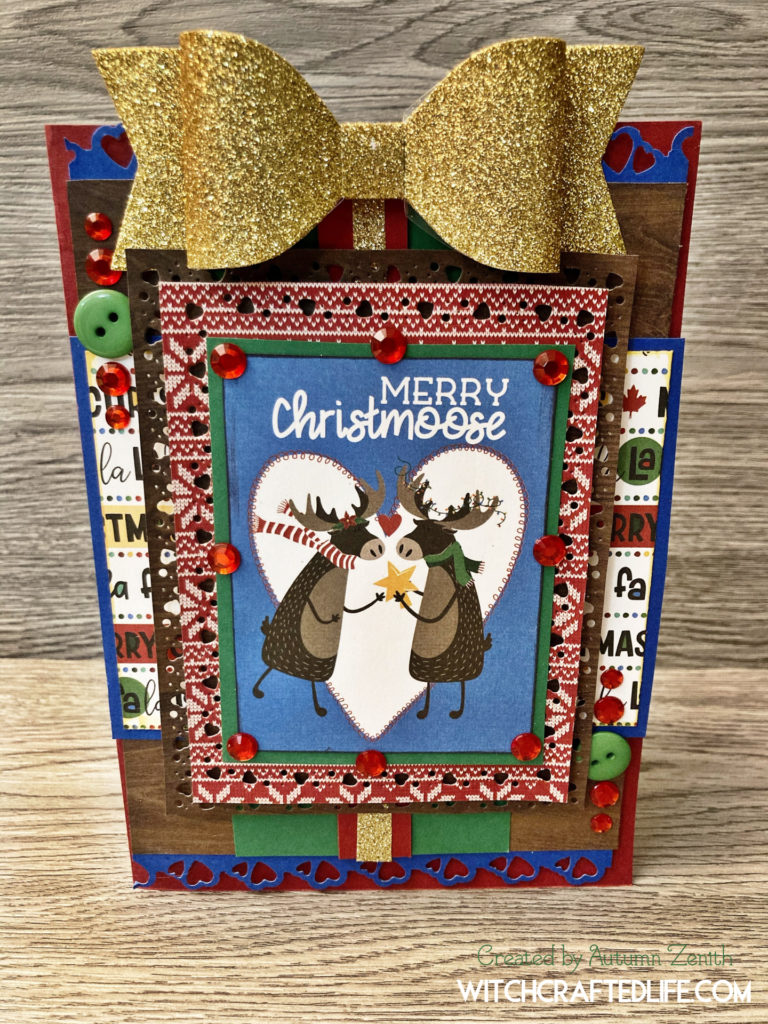 For the finishing touches on this sweet Christmas card, I added the large pre-made glittery gold bow (it was sold in the gift wrapping section of a nearby home décor store a few years back), as well as the green buttons and the red rhinestones that flank them.
And just like that, faster than you can say "Which way to the North Pole, eh?", this wonderfully Canadian Christmas greeting card was complete.
Card making tips and ideas from this project
-We often tend to focus on neutral coloured cardstock and/or printed papers, which is fabulous at times, of course, but there is much to be said in favour of solid coloured cardstock as well.
It's classic and versatile, while also (often) being relatively easy on the ol' pocketbook.
On this card, I used three shades of rich, Christmas season perfect cardstock (dark red, green, and blue, respectively), with the brown woodgrain print paper almost serving as a fourth swath of solid colour.
Not only can using coloured cardstock add visual interest and weight to your designs, but it can be a super way to put some of those scads of scraps a lot of us have kicking around to good use.
-Bust out the border punches! I know I've said it before, but I'll happily say it again: border punches are awesome!
Sure, manual and digital die cutting machines can be the cat's meow (err, moose's throaty bellow in this case? 😄), but that doesn't mean that our border punches should be relegated to the back of our craft rooms, never to be seen again.
They're no less versatile and enjoyable as when they were all the rage (gosh, do I miss those days sometimes!), can be used on pieces of paper and cardstock of many sizes, and just look terrific, if you ask me.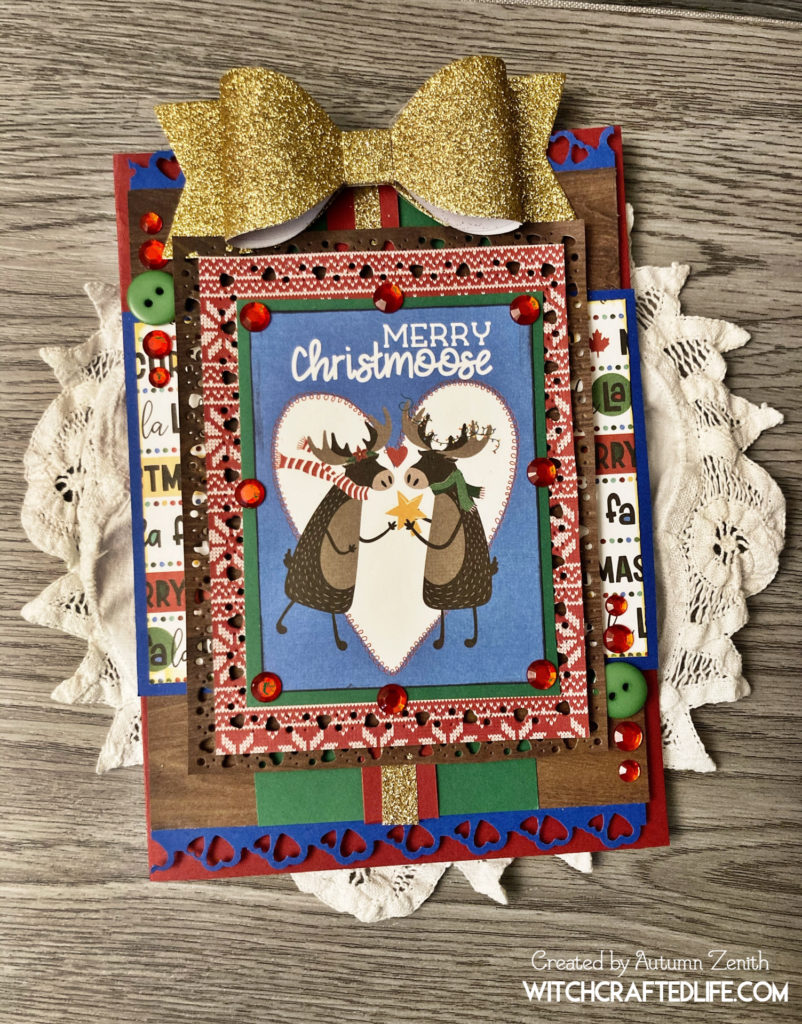 -Keep an eye out for possible paper crafting supplies in other areas of the store while out shopping. As mentioned above, this sparkly gold bow hailed from the holiday season wrapping section.
Gift wrapping items, certain baking and cooking supplies (from printed muffin liners/wrappers to cupcake toppers, mini metal tartlet pans to printed paper drinking straws are just a few of the wonderful kitchen supplies that can be put to use in your papercraft projects), party decorations, seasonal décor, and even some kids toys are all possible spots to find items to use on in your card making, scrapbooking, and other forms of paper crafting.
–Create the look of a wrapped gift on your card – complete with a bow or two, to really drive home the look of a wrapped present. This easy design approach telegraphs oodles of celebratory cheer and can be used for a wide array of occasions.
Birthdays, weddings, anniversaries, Mother's Day, Father's Day, and the winter holiday season are just a few of the possible times when this fun idea can suit the event splendidly.
Products use to make this cute moose themed Christmas card
-Dark red, green, and blue cardstock
-Dark brown woodgrain print paper – Mademoiselle Collection Mahogany from Kaisercraft
-Fair Isle sweater print paper – O Canada Christmas Home for Christmas paper – from Photo Play
-Christmas word print paper – O Canada Christmas Polar Games paper – from Photo Play
-Moose sentiment paper – O Canada Christmas Merry Christmas paper – from Photo Play
-Set of rectangular shaped heart border nesting dies
-Heart design border punch – Hearts border punch from Fiskars
-Yellow ink – Street Light Surface Ink from Pink & Main
-Dark brown ink – Dewdrop Rich Cocoa Ink from Memento
-Big glittery gold bow (fabric, cardstock or paper, as desired)
-Green plastic buttons – GOR 356102 Charm Pack from Santoro London
-Red rhinestone embellishments
-Glittery gold washi tape – from 3M
-Dimensional foam, pop dots, or similar to elevate some of your layers
-Adhesive, such as a tape runner, of your choice (I often use my Scotch Tape Glider)
Wishing you a very merry Christmoose season
Finding out that my sister is keen on moose made my heart smile. Naturally, I don't plan on incorporating moose into every card I create for her from here on out.
However, knowing that this generously sized member of the deer family is an animal she likes, expands the "theme pool", if you will, of inspiration to draw from when making cards for her. 💗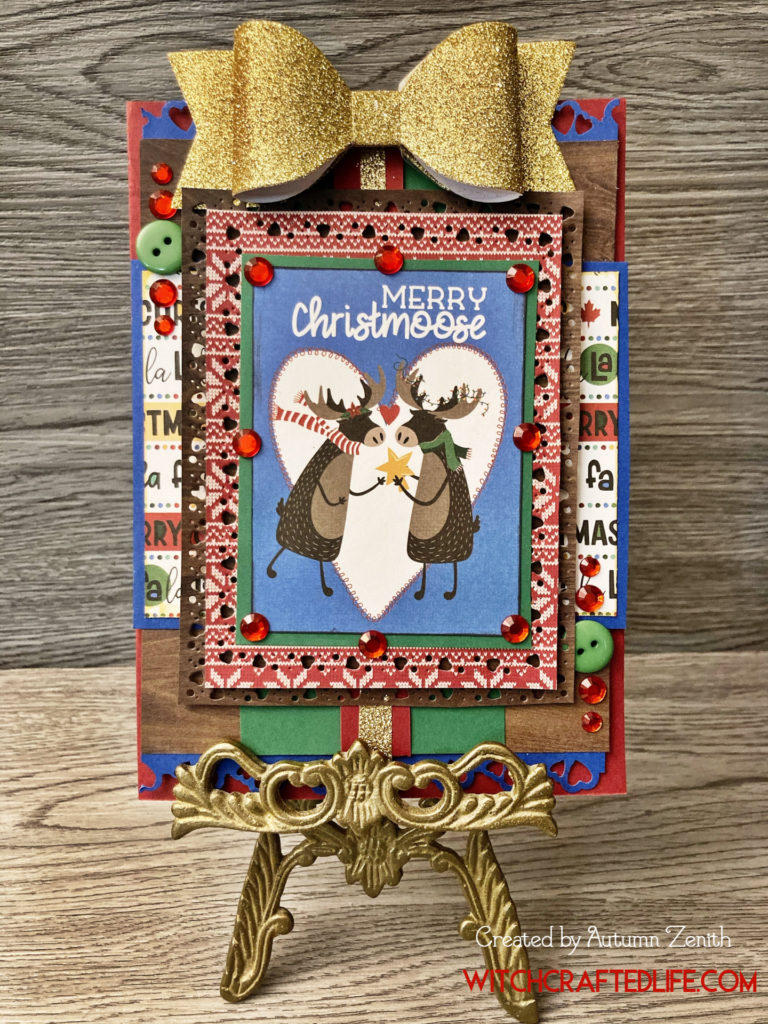 Hard as it is to believe, at this point in December there's only half a month left to go until Christmas.
With snowy weather having begun here back in mid-October, it seems like the led up to Yule and Christmas has been longer than usual.
It's all perception, of course (extra days didn't magically sneak on to the calendar 😄), but nevertheless, it definitely feels like high time to usher in the winter holiday season once more.
If you celebrate any holiday(s) this month, chances are your festive season may differ in certain ways from years past.
There is little that this brutal pandemic hasn't touched in one way or another. The impact it has left on society will be felt long after it has (finally) abated from our world.
Yet, thankfully, even in the darkest of hours, the holidays themselves continue to stand tall. Comforting, familiar beckons reminding us of both happier times past and those that may, hopefully, still lie ahead of us.
As for many folks, mine and my family's holiday season won't be quite the same as usual this time around.
Gratefully though, it will still house cherished traditions, celebratory meals, curling up with beloved Christmas movies, and wondering if maybe, just maybe, we really can hear the prancing and pawing of each tiny hoof overhead come the night of December 24th.
Another tradition that we're holding strong to this year is the sending out of holiday season cards, both handmade and store bought.
This meaningful form of communication is a timeless way to convey our love and best wishes to those near and far, just as it is for countless others around the globe.
While it isn't possible for me to send each of you a festive greeting (I would love it if I could, though – just think of how many cards that would give me the opportunity to create! 🥰), I can wish you the absolute safest, happiest, and sweetest of holiday seasons.
Not to mention, a very merry Christmoose! 🎄🦌❤️
Project share
Pin the image below – or any other in this post – to Pinterest, pop it into your Instagram Stories, post in on Twitter or Facebook, or share it anywhere else you wish to help yourself find it again and to inspire others at the same time.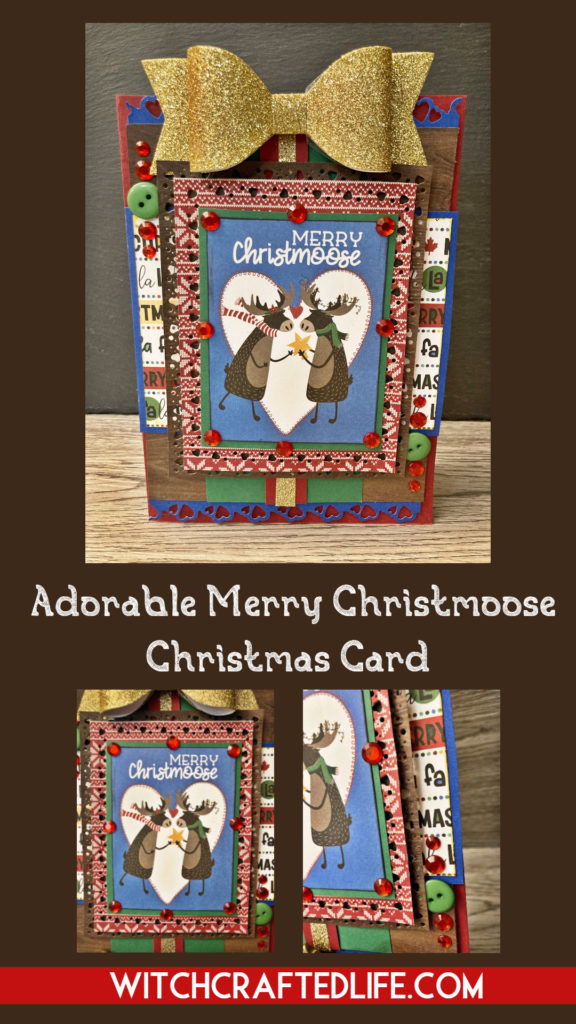 If you make a project based on or inspired by this card – or want to share any of your other handmade crafts with me – please use the hashtags #WitchcraftedLife and #WitchcraftedLifeMakes on social media so that I see can your beautiful creations.