A distinctly icy nip has returned to the air and in true Canadian fashion, fall is rapidly winding down and giving way to another long winter.
The first signs of autumn – let alone those of winter – are often all it takes to get many of us thinking about and focusing all the more on hygge.
As I wrote two years ago in a guest post for The Witch of Lupine Hollow, called Creating a Sense of Hygge Through Scent:
At hygge's core lies an aim to feel snug and warm, safe and at (inner) peace. It's a beautiful and important approach to life, and one that is especially inclined to appeal to witches and Pagans, as these are concepts we often work mindfully towards to begin with.
Hygge (pronounced hoo-gah) holds within its being a desire to foster a greater sense of security and happiness, to make self-care and love both priorities, and to put the breaks on the frenetic, draining pace of so many aspects of how we live nowadays.
In recent years hygge has travelled far beyond the borders of Denmark and spread across both the globe and the literary world.
A slew of books have now been published for an English speaking audience on hygge and related concepts, as have untold numbers of online articles, blog entries, and social media posts.
Hygge is hugely appealing. It is relatively simple, open to just about anyone, and is a deeply meaningful way to feel all the more attuned with the seasons + one's innate sense of wellbeing.
I've read several books (some borrowed from the library) on hygge, lagom, cozy living and similar topics.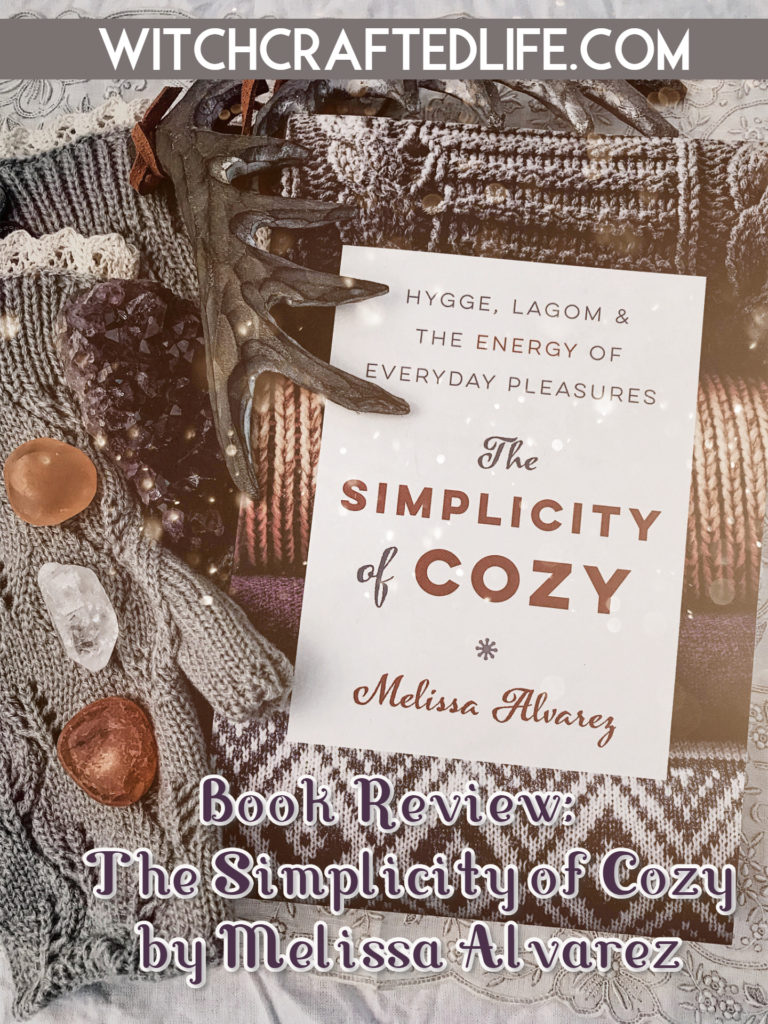 In this post, we're going to shine the spotlight on one of them: The Simplicity of Cozy: Hygge, Lagom, and The Energy of Everyday Pleasures by Melissa Alverez.
I purchased this book myself in the fall of 2018, a few months after it was released, and have been eager to share my thoughts on it ever since.
To ensure the content was fresh in my mind before discussing it here on Witchcrafted Life, I recently gave The Simplicity of Cozy a second reading.
Book specs
Name: The Simplicity of Cozy
Author: Melissa Alvarez
Page count: 240
Publisher: Llewellyn
Binding: Softcover
Perhaps a bit too simplistic…
This book is one that I consider an easy, light read.
The Simplicity of Cozy is spread across 240 pages comprising a total of eight chapters, plus a conclusion section and bibliography, respectively, at the end of the book.
Those chapters are as follows:
1. Hygge and More Cozy Cultural Ideas
2. Create Coziness for Deeper Meaning
3. Making Cozy Personal
4. Embrace the Moments of Your Life
5. Become More Mindful
6. Spend Time in the Natural World
7. Emotional Coziness
8. Improve Your Spiritual Wellness
In the first chapter Alvarez guides us through a number of different concepts pertaining to coziness, mindfulness, and resourcefulness/being content from around the world.
Amongst which one finds the ideas of koseli and friluftsliv from Norway, mys from Sweden, and shinrin-yoku (forest bathing) from Japan, as well as a handful of others – most of which are of European origin.
Throughout the remainder of the book, mentions are periodically made to the various cozy concepts described in the first chapter, but a specific emphasis on or further information about each one – let alone hygge itself – is not as abundant as some readers may expect or desire.
The introductory write-up on the back of this book describes The Simplicity of Cozy as being "a beginner's guide to self-care that presents a variety of topics relating to and supporting cozy living, including mindfulness, simple ritual, home environment, relationship connections, and being in nature."
To my mind "beginner" is the operative word here.
The author of this book, Melissa Alvarez has penned several other titles as well, some of which pertain to areas such as raising one's frequency, Laws of Attraction/Nature, and psychic abilities.
Knowing this fact, it's easier to understand why a lot of this book is written with a certain general, positive spiritual focus to it.
However, I found a lot of the writing to veer on the blatantly obvious, and at times repetitive, side.
Now, I adore Melissa and her writing. I've read some of her other books, including her excellent Llewellyn's Little Book of Spirit Animals (which, prior to this blog's inception, I gave a glowing review to on my Instagram account), and tried hard – both times – to really get into, and connect with, this particular book.
Try as I may though, when all was said and done, I struggled to accomplish that goal.
I felt that so much of what the author said here was as common sense as common sense can be. And that while the concept behind this book had a great deal of potential, in some ways, the end result missed the mark.
Now, please don't get me wrong. I don't dislike this book, I just would have preferred it if the author focused more on each of the cozy concepts from around the world that she mentioned and didn't restate the same basic ideas quite so much throughout the book.
Is this The Simplicity of Cozy actually about hygge and similar concepts?
That might sound like a harsh question to pose and it is not my intent for it to come across that way. It's a somewhat natural question though, especially given that the broader concept of ways to create a cozier, more spiritually attuned and mindful life tend to greatly overshadow a laser focus on hygge (et al) itself in this book.
If you're looking for a book that is straight up about hygge, objectively, this is not likely the title for you.
There are other books out there – such as The Little Book of Hygge by Meik Wiking, How to Hygge by Signe Johansen, and Hygge: The Danish Art of Happiness by Marie Tourell Soderberg, to name but three – that focus more comprehensively on hygge itself.
If, however, you're searching for a beginner's book to the general idea of coziness, ways to live a cozier life, how to weave coziness into your daily existence, and broad-spectrum advice pertaining to spiritual wellbeing and personal happiness, then this book may appeal to you.
It's worth noting that while this book is Llewellyn publication, The Simplicity of Cozy is not a title that focuses on witchcraft, Paganism, or Wicca.
The broadness of spiritual concepts and general advice presented in The Simplicity of Cozy are ones that transcend most cultures and spiritual paths.
I suspect that everyone from Christians to Buddhists to atheists could derive benefit from/enjoy this title, as again, it is not Pagan or witchcraft centred.
How The Simplicity of Cozy rates with me
I had high hopes for this book and, I'm not going to lie, I was actually wishing it was going to be a more of a straight-up Pagan or witchery related look at hygge and the like.
No dice there, I'm afraid. That alone doesn't impact my rating of this book though, especially since neither the title nor the blurb about The Simplicity of Cozy on Amazon indicates that it would marry hygge and witchcraft.
Part of the reason why I reread this book was to see if, two years on I'd have different feelings or viewpoints on it.
By and large, that wasn't the case. While I did enjoy certain chapters (particularly chapter 6, which focuses on nature), others felt like I was wadding through ice-cold molasses to get through them, simply because I found they were overly basic and even disjointed at times.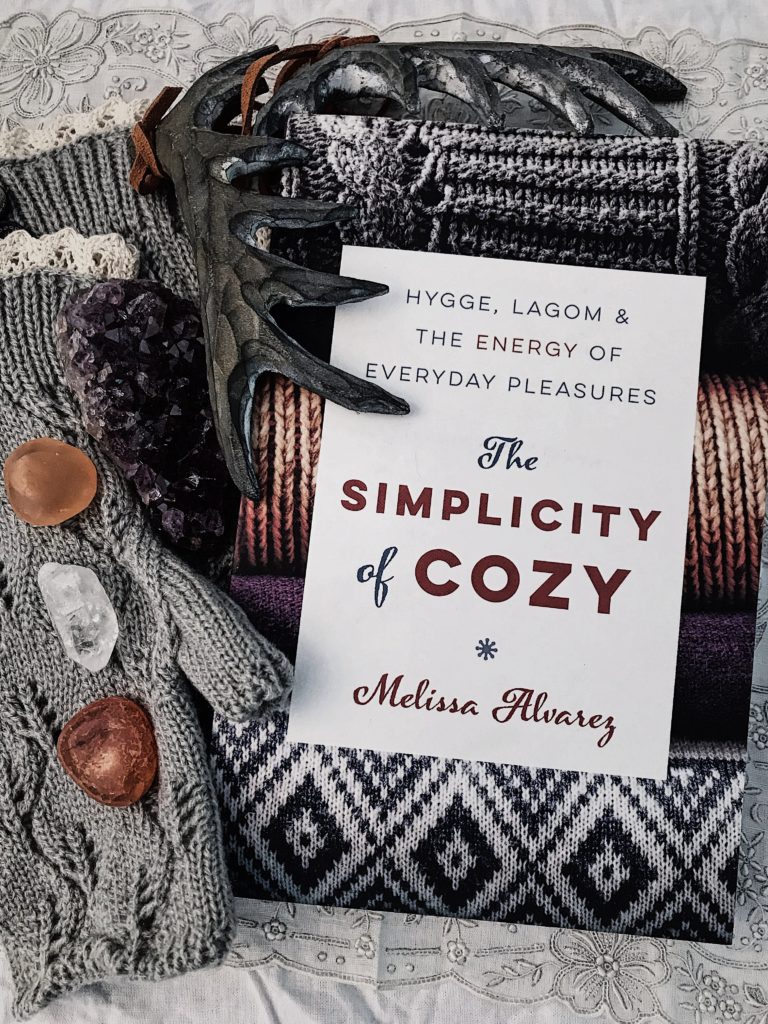 That said, I do think that Alvarez was on the right track in a lot of ways though. She does indeed explore various areas pertaining to coziness and wellness, how to feel and be happier in our daily lives, ways to rid ourselves of negativity, and how to achieve greater peace of mind through raising our self/spiritual awareness.
Her tone is friendly and understanding, never preachy or judgemental, which I really appreciate. And the lightness, if you will, of the writing here makes it a great book for if you want an easygoing read that doesn't require every ounce of your focus or energy.
However, there is a lot of rehashing within The Simplicity of Cozy, both in terms of the author's own writing in this book and in general within the sphere of titles on coziness.
And while the concept of coziness may, in and of itself, not be the absolute deepest well in the world in some respects, I felt like the author could have gone further in-depth and been more specific at times.
Still, when all is said and done, there is certainly merit and appeal alike to this book. It's a lovely beginner's guide to some elements of hygge (and lagom, etc), the spirituality of simplicity, and moreover to coziness itself.
So in that respect, the mark was not missed and if you enjoy or are keen to read more on these topics, you might find you connect with The Simplicity of Cozy.
As for myself? I'm grateful to have read this book twice, but don't foresee dipping back into it too often in the future.
I feel I've gleaned and absorbed what I could from it, and will now let it reside, cozily, in the hygge related section of my bookshelf.
Working on a scale of 1 – 5, with five being the highest possible rating, I would give this book 3 stars out of 5.
★ ★ ★ ☆ ☆
If you've read The Simplicity of Cozy or are interested in this book, please let me know in the comments below. I'd love to hear your thoughts on this coziness related title.