The first snowfall of the season came tumbling down on October 23rd. An arctic cold front delivered it to our region of BC, and in doing so, immediately merged fall with winter – at least on the weather front.
As autumn began here in earnest during the final days of September, that means its duration as a snowless season was only about a month long. 😱
While snow has not fallen daily since then, we have had numerous flake filled days and there's a you-can-bet-on-it certainty that scores of others lay ahead of us as we inch ever closer to wintertime proper. ☃️
It is not uncommon for fall to be quite brief around these parts, but this was an especially short crunchy leaf season.
No matter what Mother Nature may be up to, I love to continue honouring and celebrating fall straight on until the Winter Solstice.
In reality, this is something I do the whole year through as well. 🎃
There is never a month (or even a single week of the year) when I don't think about fall, weave it into my daily life in a multitude of ways, and eagerly look forward to the next autumn all throughout the other three seasons.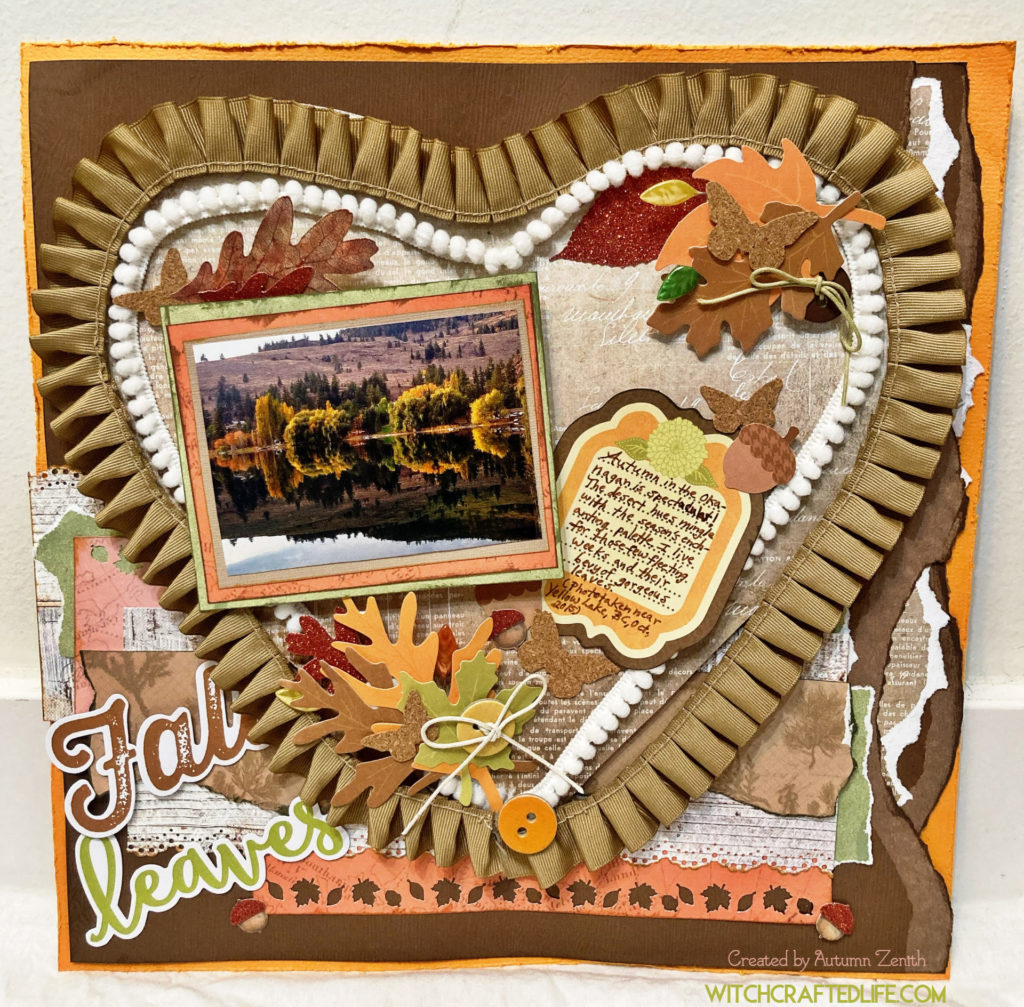 The scrapbook page that I'm sharing here today isn't a new project. It was made in 2017, a little over a year after the fire – with a photo that was taken two years prior, back in 2015.
While my current craft stash is relatively modest in size, compared to where it was at about three years ago, it has definitely grown in leaps and bounds (as craft stashes are apt to do! 😃).
At that time, while I had (thanks to some money that I received as a gift for Christmas 2016) my current Sizzix die cutting machine already, I didn't yet have many dies yet.
Now, I don't use dies (or embossing folders, etc) on all of my projects, but I sense that had I made a page similar to this now in 2020, some die cutting would have been involved.
There are a few other things I might have done differently, too, but that is the nature of crafting. Our skills, styles, preferred aesthetics and various other factors often change or are honed further as time goes on.
I adore this page though, please do not get me wrong. In it, I see elements of numerous layouts and cards that I made pre-fire. As well as a certain emerging fine-tuning, if you will, of my paper crafting style that has typified the majority of the projects that I've made in more recent years.
Fall leaves shabby chic scrapbook page
The photo featured on this page was taken at a small lake on the way to a larger lake (named Yellow Lake) in the Southern Okanagan.
I adore the way the still water beautifully reflected the surrounding fall foliage as well as the arid surrounding hills that exemplify the desert landscape of this corner of British Columbia.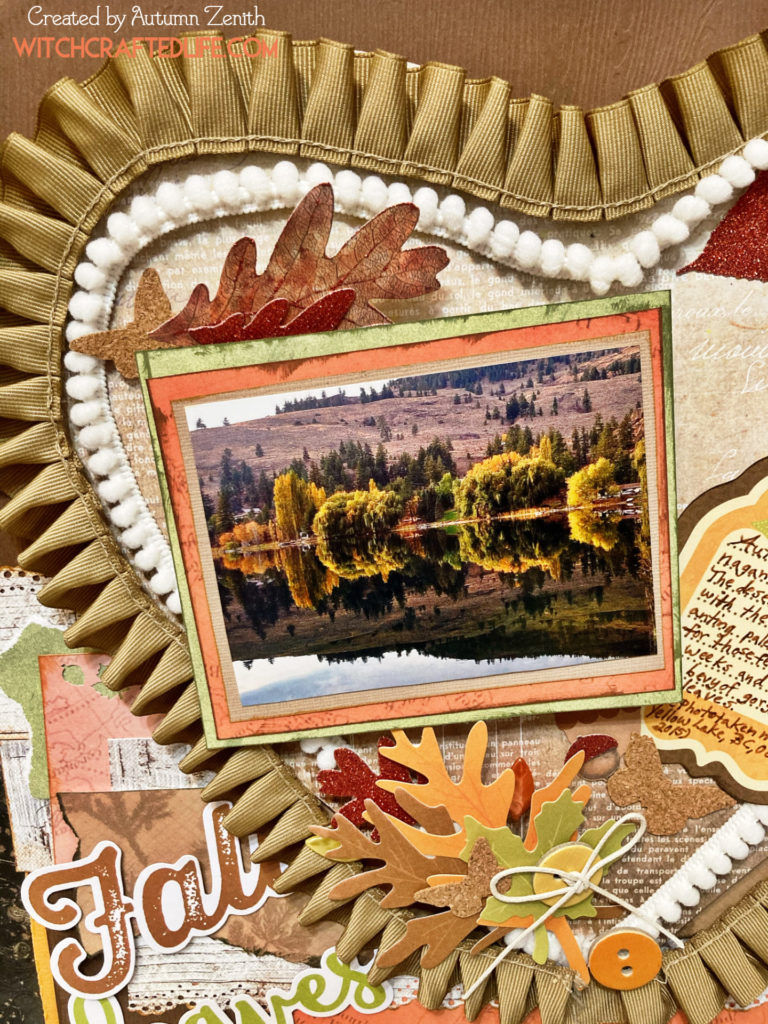 To me, this photo perfectly captures what fall often looks like around these parts and I was keen to memorialize its timeless loveliness in a scrapbook page.
While a die cutting machine wasn't involved here, as touched on above, another of my favourite craft products was: paper punches.
Two of them, to be exact. One for the charming leaf boarder, the other for the doily-esque border.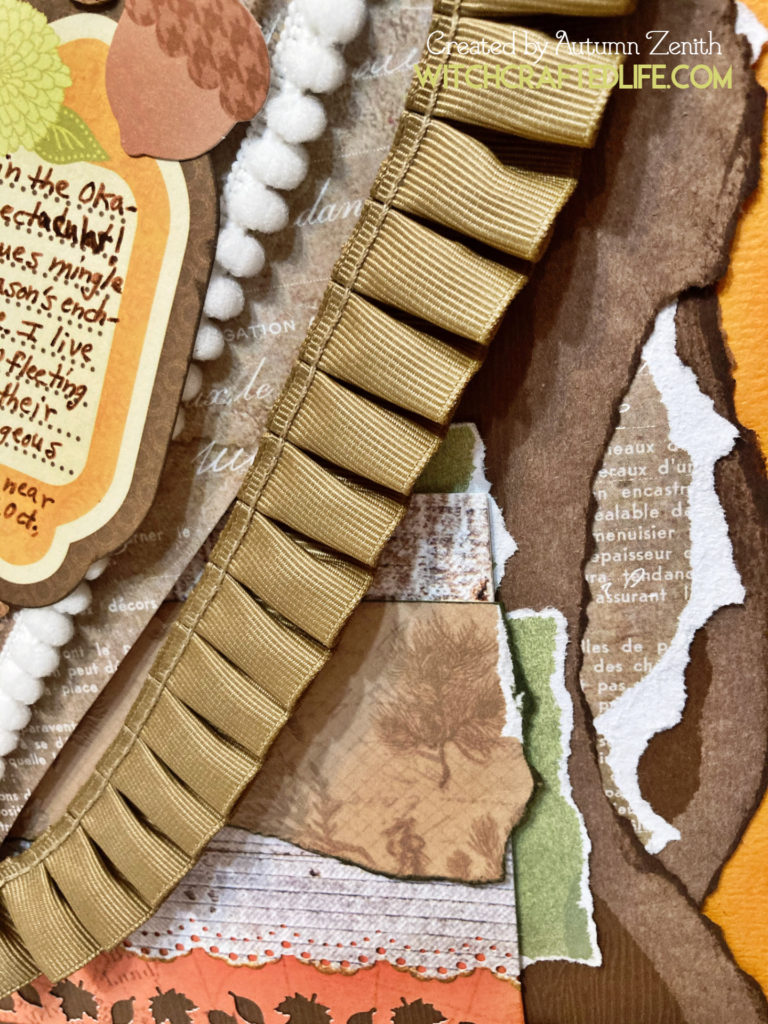 The colours in this photo were the jumping off point for this layout's autumnal palette. I pulled shades both earthy and rich in brown, orange, green, and marigold yellow from the picture, pairing them with splashes of complementary shades, such as dusty peach and dark red.
Another of my faves (as you might of guess, I have plenty of those! 😃) paper crafting products came out to play on this fall time layout: pleated ribbon.
My stars, how I adore pleated ribbon! 😍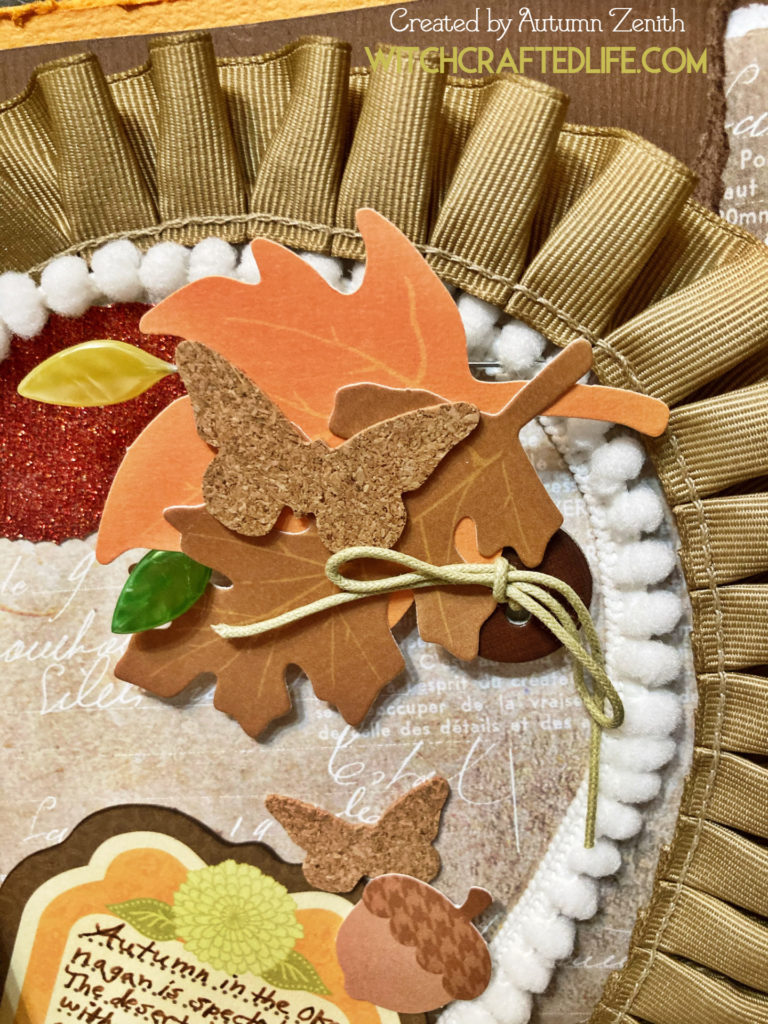 I well remember when it was having a serious moment in the paper crafting world a few years back (aided by the offerings at the time from brands such as Webster's Pages, Teresa Collins, and Melissa Frances).
Plenty of us still reach for this type of ribbon and it has become easier to find in recent years, thanks in part to community marketplaces websites such as Etsy and AliExpress.
There is so much versatility housed in pleated ribbon – which as the large heart shape featured on this layout demonstrates, can be positioned in various arrangements of your choosing.
Everything from circles to squares, ovals to hearts, diamonds to triangles can be made from pleated ribbon – as can gorgeous rosettes and rolled flowers.
If I could, I would have a vast rainbow of pleated ribbon in all manner of colours and fabrics (satin, grosgrain, cotton, etc). My current stash of pleated trim isn't anywhere near that extensive, but it does house several colours at present.
I reach for them regularly, doing so most recently for my Blessed Harvest Season Card.
I tend to find that I'm especially drawn to pleated ribbon for fall and winter projects, but it really is a year-round material in my books.
How to create this charming fall leaf scrapbook layout
This page begins with a base of golden-orange coloured textured Bazzill cardstock, which was then topped with a piece of woodgrain textured cardstock that I tore and inked the edge of one side.
Some lovely text print paper and another layer of the same woodgrain cardstock were added on top of the base cardstock layers, as were the myriad of distressed, punched, and hand-torn papers on the bottom half of the layout.
Next came the center heart area. I used the same text print paper for the background of the heart, which was then topped with my matted photo, various die cut shapes and assorted embellishments, and finished off with a border of both adorable white mini pompom trim and elegant matte gold hued pleated ribbon.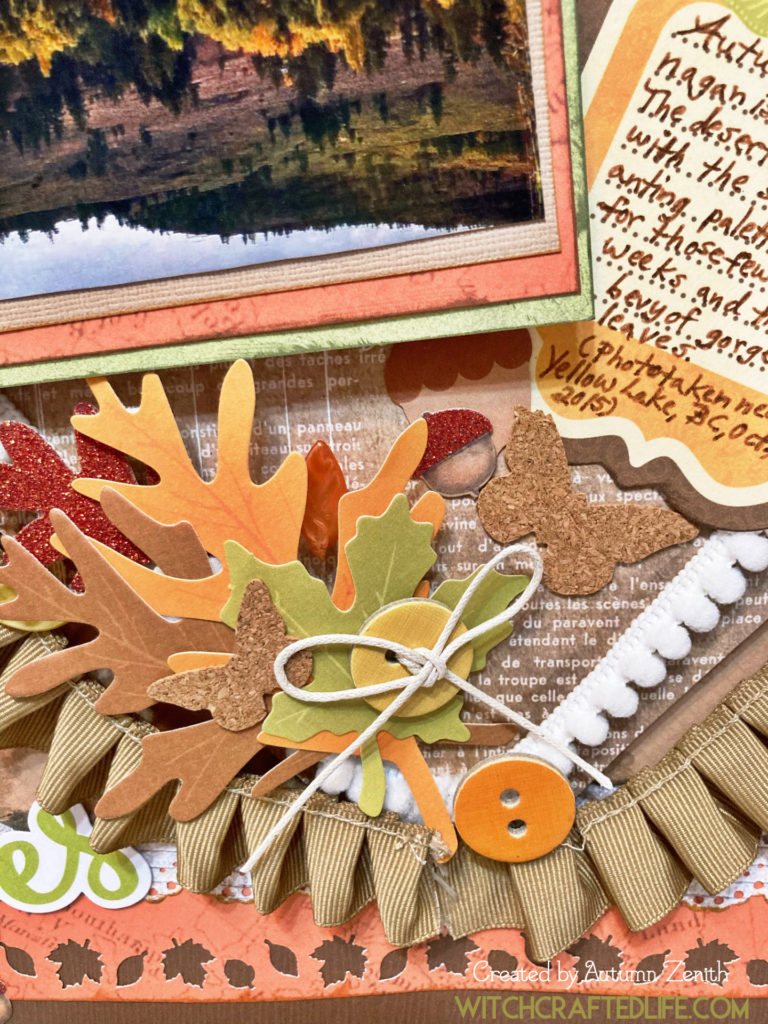 The title words, a journaling square, and a few more embellishments here and there finished off this festive fall time scrapbook page.
I feel like, in the three years since I made it, some of the embellishments may have shifted a little – including one of the chipboard buttons. That's okay – especially since I can't recall exactly where the wandering button may have originally been placed. 😄
(I also noticed that the white pompom trim inched away a little bit from its original placement squarely against the gold pleated trim on one side. That I will fix now that I'm aware of it.)
Scrapbook page tips and tricks from this project
-Keep an eye out for pre-embossed cardstock and paper. These products are a stellar way to cover larger areas with embossed cardstock, the dimensions of which may exceed that of your die cutting machine.
Numerous brands offer pre-embossed cardstock and papers. I'm a big fan of the books of embossed cardstock that you can sometimes find from the Recollections brand at Michael's stores.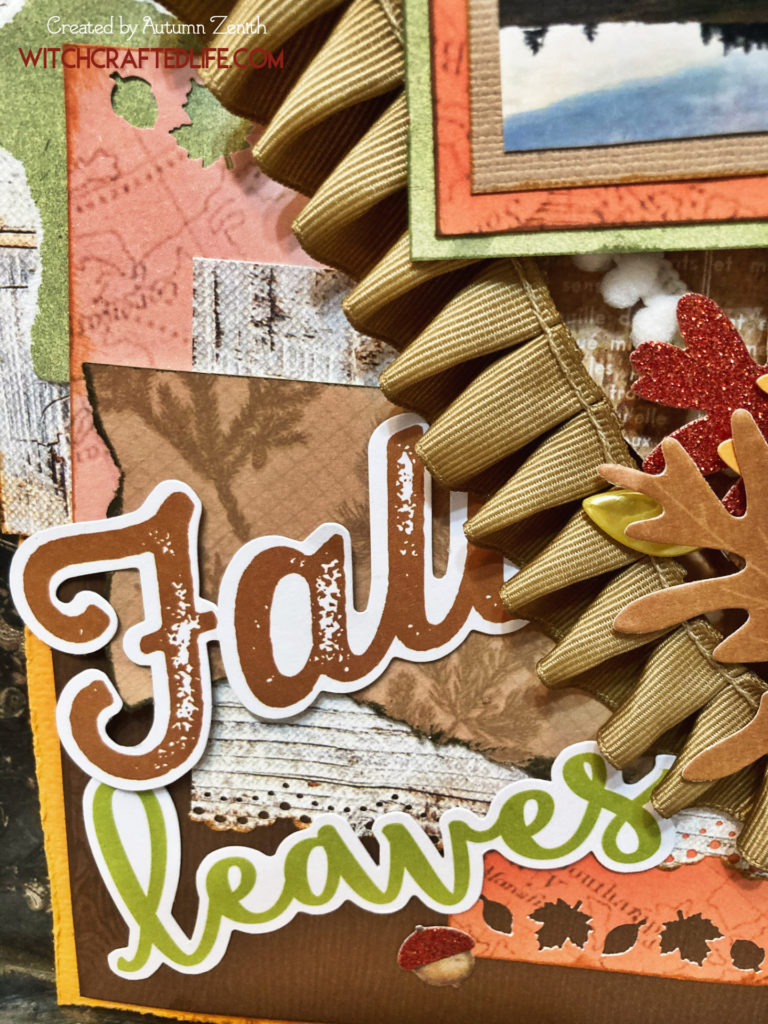 -When tearing/distressing the edges of your paper or cardstock, consider inking some and leaving others bare – especially if the exposed edges are all the same colour or in a complimentary tonal range.
I really like the hits of white of the un-inked torn edges here. They're a lovely contrast to the autumnal hues of the rest of this fall time layout.
–Go big or go home with trims sometimes! It's safe to say that one of the first things you're apt to notice about this scrapbook page is the large heart-shaped frame of pleated ribbon (inside of which is a border of mini white pompom trim) and that is exactly what I was aiming for.
We often think of ribbon and trim as being items we use in small, complimentary doses on our projects. They can – and do – certainly shine in this capacity, but they can also be the star of the show sometimes.
If you've got a ribbon or trim that you adore and want to use abundantly, I say have at it! The more the merrier! Carpe diem! 😊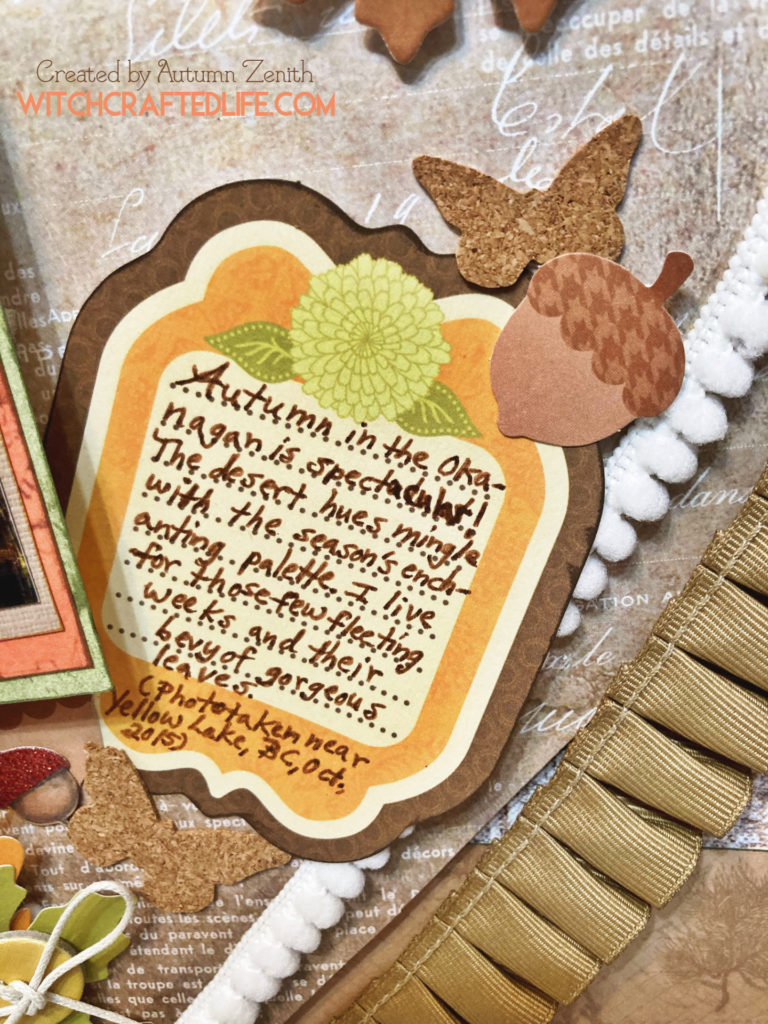 –Cork is a wonderfully versatile material that often plays excellently with fall toned products thanks to its neutral brown colour.
The charming, relatively flat cork butterflies here are premade stickers. If you didn't have a similar product to hand, you could die cut, stamp and cut out, or even free hand trim some shapes of your own from cork instead.
Products used to make this fall leaves shabby chic scrapbook layout
-Golden orange coloured textured cardstock – Orange Juice cardstock from Bazzill
-Sandy brown textured cardstock
-Dark brown woodgrain embossed cardstock – Chestnut Woodgrain cardstock from American Crafts
-Peachy-orange coloured cardstock – You Are Here Orange/Pink Map paper from Simple Stories
-Brown and white text print paper – French Riviera Collection Respirer l'air de la Mer by Frank Garcia
-Green tone-on-tone leaf print paper
-Brown tone-on-tone leaf print paper – Wild At Heart 12 x 12 inch paper pad from First Edition Paper
-Brown wood grain print paper – Wild At Heart 12 x 12 inch paper pad from First Edition Paper
-Journaling spot + assorted die cut leaves – Samantha Walker Orchard Harvest Die Cuts from Creative Imaginations
-Small acorn die cuts and red sparkly leaf die cuts – Tim Coffey Fall Die Cut Shapes from K&Company
-Leaf border punch – Falling Leaves border punch from EK Success
-Doily edge border punch – Doily Lace border punch from Martha Stewart
-Cork butterfly stickers – DIY Shop Cork Butterfly Stickers from American Crafts
-Chipboard buttons and twine – Spring Market Buttons and Twine from Webster's Pages
-Leaf stick pins – HF-277 Leaf Stick Pins from Little Yellow Bicycle
-White mini pompom trim
-Gold pleated ribbon
-Memento Dew Drop Ink in Rich Cocoa (brown), Olive Grove (green), and Peanut Brittle (caramel-y brown).
-Dark brown fine liner pen or marker that doesn't bleed much (for journaling)
-Dimensional foam, pop dots, or similar to elevate some of your layers
-Adhesive, such as a tape runner, of your choice (I often use my Scotch Tape Glider)
The journaling on this layout says: "Autumn in the Okanagan is spectacular! The desert hues mingle with the season's enchanting palette. I live for those few fleeting weeks and their bevy of gorgeous fall leaves."
Not every project share has to be a brand new creation
There are many perks to the internet and social media. However, IMO, one of the downsides to the "share now, immediately rush towards the next project/post" mentality that frequently accompanies life online is that it becomes all too easy to forget that not everything we share publicly has to be brand spanking new.
I would argue that for paper crafters like myself who are not able to craft daily or weekly (or sometimes even monthly), tapping into previously unshared (or even revisiting favourite past shares) projects can be an especially handy + fantastic way to flush out your supply of available content.
It can also be a godsend if you'd like to post for a specific holiday/reason, but don't currently have a new project ready to go for that event.
Few amongst us would deny that it's fantastic to share our latest makes. I adore doing so myself and most of the projects I've posted here so far were made in the past twelve months.
I see no reason though why I have to limit myself to recently created makes, however – especially given that this blog was just launched on January 1, 2020 (and did not I share my paper crafting projects on social media before that time).
Much as how a photograph you like/care about can usually be shared long after it was taken, again, by all means, if you have some older projects that you'd like to share, I actively encourage you to do so.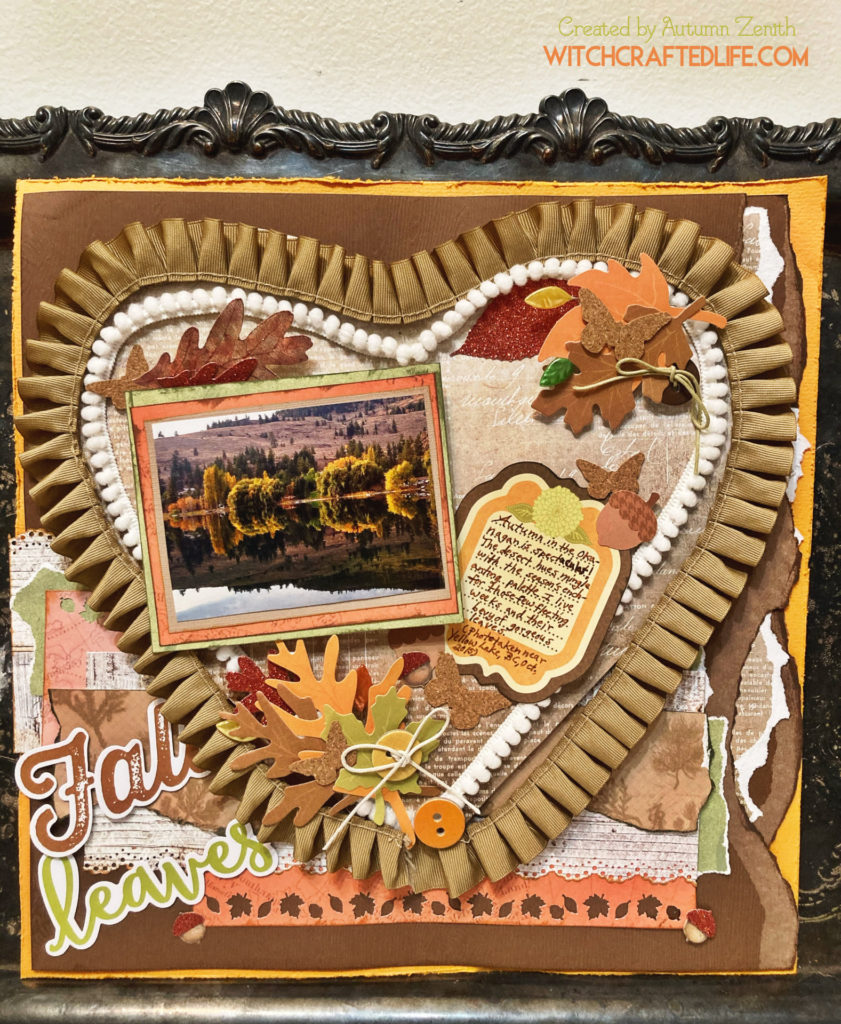 Whether older or newer, chances are that this will be my last fall related project share for 2020. With just a few weeks left to go in a year that few of us are ever going to forget, I hope to get in some winter and holiday season makes.
Fall is forever in my heart and always close at hand when I craft, though, so there's a high chance you won't have to wait until August or September 2021 to see more autumn/harvest season/Halloween related projects from me here. 😊
Do you ever post older projects on your blog and/or SM or do you prefer to stick with sharing your most recent makes?
Project share
Pin the image below – or any other in this post – to Pinterest, pop it into your Instagram Stories, post in on Twitter or Facebook, or share it anywhere else you wish to help yourself find it again and to inspire others at the same time.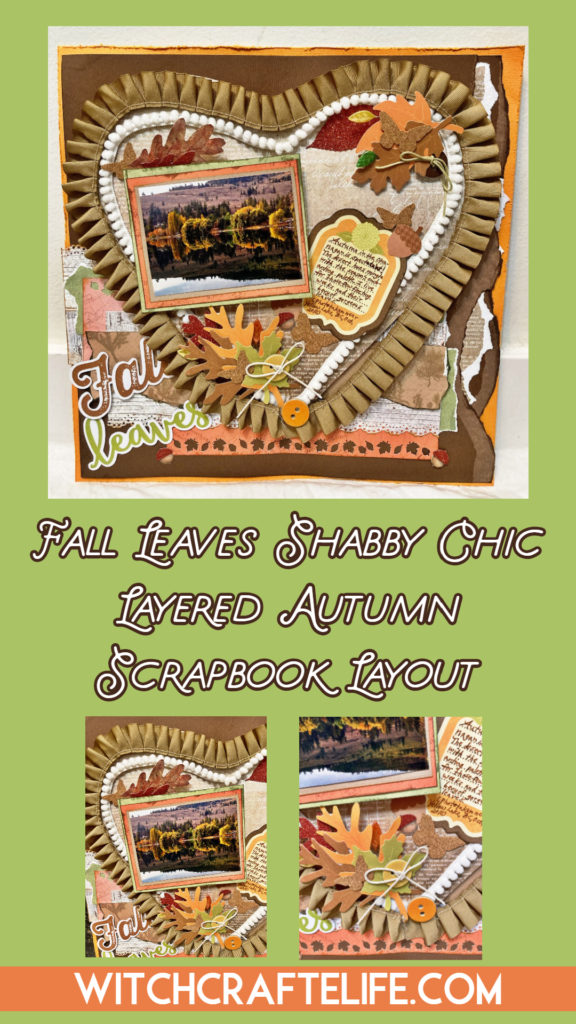 If you make a project based on or inspired by this scrapbook page – or want to share any of your other handmade crafts with me – please use the hashtags #WitchcraftedLife and #WitchcraftedLifeMakes on social media so that I see can your beautiful creations.