Like jack-o-lanterns whose once upturned grins start to slide south as the 11th month of the year unfolds, so too does autumn begin to wane as November returns.
Yet, it is important to remember that no matter the weather (be it sunny, cold, rainy, grey, snowy or all of the above!), November is still fall time. Indeed, it is the last full month of this enchantingly lovely season.
Interestingly, back in the days of the ancient Romans, the month that we now know as November was the ninth on their calendar and was called novem – the Latin word for the number nine.
In the aftermath of the glowing blue moon, the thrilling energy of both Halloween and Samhain, and the warmer days of early fall, it's easy to feel a little melancholy. Or to think that the best that autumn has to offer is behind us already.
Such thoughts and feelings are normal – fear not. I'm here to tell you, however, that while it might not have the lingering heat of September or the distinctly spooky air of October, there are still plenty of reasons to adore November.
Whether you need some convincing of this fact or are already smitten with the penultimate month of the year, read on to discover – or be reminded of – thirty reasons (one for each day of this month) why November is anything but lacklustre and why it deserves a special spot in all of our hearts. 🧡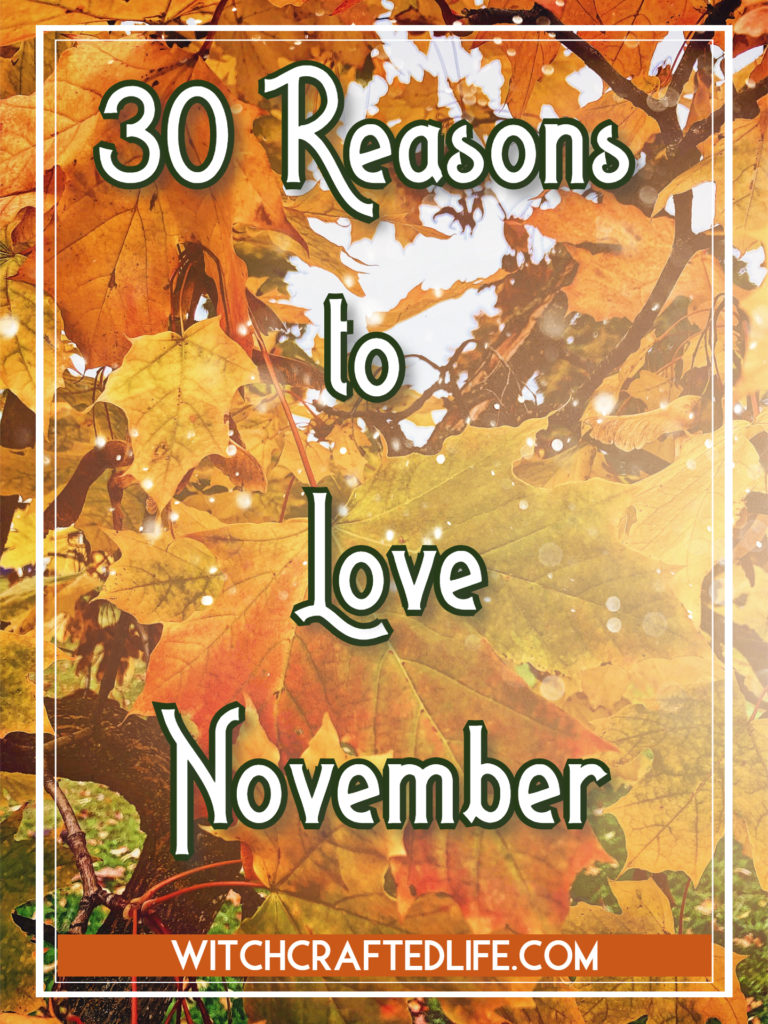 (Note: To my lovely readers who live south of the equator, this list is geared more towards those of us in the Northern Hemisphere. If you reside on the southern side of the world and would like to share some of the ways that you enjoy celebrating November, please feel free to share them in the comment section of this post.)
30 Reasons to Love November
1. Sweater weather: Let's face it, unless you're fortunate to live in a particularly toasty climate or your area is experiencing an abnormally warm November, this is the time of the year when many of us dive headfirst into our thickest, coziest layers of woollens, fleeces, velvets, corduroy, and other plush fabrics that help to keep the icy bite of mid to late autumn at bay.
2. Stunning fall colours: Now, admittedly, November's foliage and the landscapes it calls home isn't always as richly vibrant and jewel toned as that of September and October in many areas. However, unless your corner of the world is already buried under copious amounts of snow, there may still be plenty of lingering fall hues to delight in.
Around these parts, November tends to be the month of earthy brown, inky red and burgundy, and aged pumpkin hued leaves that continue to cling to their branches a wee bit longer. Trampling merrily over them is a special joy unto itself and one of the elements of November that I look most forward to each year.
3. Scoring great deals on Halloween décor, costumes, and perhaps even (more) candy in the days immediately following October 31st: This can be especially exciting for those of us who fall into the #Halloween365 camp, live for Halloween, and/or who like to use Halloween decorations as part of year-round home décor.
It can also be a fantastic way to snag next year's costume a seriously discounted price, thus helping to ensure you're amply prepared well in advance of the next frightfully fun All Hallows' Eve.
4. Native American Heritage Month: Starting in 1990, November has been designated as National Native American Heritage Month in the United States.
It is a month to honour, celebrate, and learn more about America's indigenous peoples and their wonderful cultures, beliefs, traditions, crafts, music, food, and history.
(For my fellow Canadians, we have a month that focuses on First Nations Peoples history as well. It is called National Indigenous History Month and takes place annually in June.)
5. November has a poetic soul: Dark, moody, and draped in the fading hues of autumn, November is a contemplative month with a great deal of beauty to the gradually dying embers of its seasonal fire.
Use November's soulful loveliness to help inspire you on multiple fronts, from writing to photography, art to crafting, home décor to menu choices.
6. Decorating for the winter holiday season: If you celebrate any holiday(s) during the winter months, chances are you'll be eager to get a jump on putting out your seasonal décor nice and early. Especially if, like me, you're one of those people who can never get enough of making our homes extra festive as often as possible.
Some years I begin decorating for Yule and Christmas (I observe both; secularly in the case of the latter) on November 1st, others, it's closer to the 30th, and there's certainly been plenty of points in between, too.
There's no right or wrong date to start decorating for the winter holiday season, just what works best for your life and feels like it is in keeping with the rhythms of the seasons for you personally.
7. Crackling fires: Indoors or out, November is the time to pile up some logs – or switch on the gas powered flames – and cozy up with a roaring blaze. The welcome warmth is especially lovely against the backdrop of November's chill.
It also helps to remind us of the fact that until very recently in human history, fire was an essential component to ensuring that our ancestors did not, quite literally, run the risk of freezing to death come the icy days of late fall, winter, and early spring.
Plus, extra bonus points if marshmallows are involved in your November fire! #smores 😃
8. Ice skating season: If you are a fan of lacing up a pair of blades, now is a fabulous time to connect with this much adored pastime/sport.
You need not be able to spin a perfect triple axle to enjoy ice skating. Simply gliding across the ice, living in the moment, and – if outdoors – savouring these precious days of mid to late fall weather is worthy of an Olympic gold medal unto itself.
9. National Caregivers Appreciation Month: The subject of caregiving and the tireless, compassionate work of carers the world over is near and dear to my heart (and is a subject I explored in detail in my post, Magickal Approaches and Self-Care Tips for Caregivers).
It behoves us all the acknowledge, thank, and try to support those who are take on this important job, and to try and ensure that carers get the support and vital self-care time they need.
This November, why not look into ways you could possibly help to make life easier or more manageable for carers in your own life or local community, or volunteer, where applicable, to take on certain caregiving roles yourself?
10. US Thanksgiving: Up here in the woodsy wilds of Canada, we celebrate our Thanksgiving on the second Monday in October.
Our neighbours to the south do so on the last Thursday in November, and I've always adored that they have a major holiday during the 11th month of the year.
It seems so logical to honour the harvest season well into November and US Thanksgiving certainly helps to do that in its own meaningful ways.
Even if you don't call America home, there's no reason why you can't opt to enjoy a meaningful late harvest season feast, if so desired (any excuse for a pumpkin pie is A-okay in my books! 😄). Or simply take some time to give the deepest of thanks for the blessings and gifts in your life this autumn.
11. Remembrance Day (Canada and other Commonwealth countries), Armistice Day (various countries), and Veteran's Day (USA): As these important days share much in common, including the date of November 11th, I am listing them as one "reason" here in this post.
Each of these annual events honours those who have served their countries during WW1, with Remembrance Day extending this same veneration to those who were involved with other battles such as WW2 and the Korean War.
Canada, like most other European and Commonwealth countries around the globe, does not have a separate day to honour all those who have served their countries, as America does via Memorial Day.
This is primarily why, outside of the US, November 11th extends to pay tribute and give thanks to the valiant men and women who have fought for our freedom throughout the 20th and early 21st century.
12. Halloween and Samhain are just eleven months away: Not everyone eats, breaths, sleeps, and lives for October 31st all year round, but for those of us who do, often the best way to help cope with the passing of one Halloween/Samhain is to set our sights squarely on the next.
Of course, as detailed in my post 31 Way to Celebrate Halloween All Year Long, you can engage with the spirit and joy of All Hallows' Eve throughout the entire year, too – November very much included.
13. Friday the 13th: This November houses a Friday the 13th, which is the second of two such Fridays in 2020 (the first was in March).
While Friday the 13th has garnered something of a reputation as a day of superstition, bad luck or misfortune, not everyone – myself and plenty of fellow Pagans/witches included – view it as such.
Quite the opposite. We see much to celebrate about the 13th day of the month falling on Frigg's day and often rush to work with the potent energy of this relatively rare calendar event (the next one of which will take on August 13, 2021).
14. World Kindness Day: And speaking of Friday November 13th, that is precisely when this year's World Kindness Day takes place.
This special day invites people across the globe to mindfully engage in acts of kindness and compassion, be they random or otherwise.
I'm of the mind that there's almost no such thing as too much kindness and love that plenty of others feel that way, too.
If you ask me, kindness is one of the key reasons our species has managed to survive as long as we have – and goodness knows after the year we've all had in 2020, we could all do with some extra kindness (giving and receiving alike) at the moment.
15. The start of holiday season baking: Without fail, my paternal grandma always begins her plum pudding and fruitcake making in early November. In doing so she is carrying on a centuries old tradition across many nations in which certain holiday season foods are started several weeks in advance of Yule and Christmas.
If December includes sweet treats and/or other special foods that you could begin on advance, why not utilize some of November's easygoing days to get a jump start on your baking, cooking, or candy making?
Freezing or otherwise safely storing those foods that are not doused in alcohol (such as my gran's traditional plum pudding), which you'll be tucking into come the winter holiday season.
16. National Origami Day (in Japan). This annual event transpires on November 11th and is a time to celebrate, enjoy and, if so desired, create some lovely origami pieces of your own.
While, like many youngsters, I dabbled a touch in origami as when I was little, I make no claims of excelling at this impressive folded paper art form and haven't tried my hand at it for quite a while now.
Perhaps this National Origami Day, I'll pick up some lovely squares of folding paper and see if I can master a few more designs than back when I was in grade school.
If you're intrigued by origami and/or are a fellow paper crafter, why not give this incredible Japanese art form a go yourself as well?
17. The return of plenty of our favourite TV and on demand service shows: Granted, and fully understandably, in the face of the global pandemic this year, not as many series will be returning with new seasons this fall, but thankfully some are still able to do so.
No matter if your fave shows are back this fall or not, November – with its ingrained chill and sense of wanting to curl up inside as the mercury plummets ever further outside the front door – is just the ticket if you've been needing an excuse to have a movie or TV show marathon, binge that series you've been meaning to catch for ages now, or simply hunker down with a beloved favourite and your go-to TV watching snacks.
18. Occult Day: Shrouded rather aptly in an air of mystery, various online sources list November 18th as being Occult Day. A date on which to celebrate and connect with all things occult and esoteric, if so desired.
Just when and where this annual event got its start may be lost to the ethers of time now. However, for anyone whose spirituality relates to such or who otherwise has an interest in these kinds of subjects, this date is an excellent point in November to connect with the enigmatic, ancient, and magickally charged realm of the occult.  
19. Fall scents aplenty!: Be it the unmatchable aroma of nature itself during the heart of autumn, seasonal candles, scrumptious fall foods, or other scented products that celebrate everything from apple pie to pumpkin spice, candy corn to fall leaves, November is the ideal time to lap up as many of this season's sublime olfactory delights as we possibly can.
20. NaNoWriMo: National Novel Writing Month, often referred to as NaNoWriMo, has been a literary world institution since its inception in 1999. This month encourages creative writers to take on the challenge of writing an entire novel – or at least 50,000 words of it – in a single month, if possible.
While I am not a novelist myself (my writing as an adult has been almost exclusively of a non-fiction and poetry nature), I have many friends around the world who are, some of whom have participated in various NaNoWriMos, and I have a great deal of admiration for anyone who takes on this lofty goal.
21. Cooler weather: While some folks absolutely thrive during the hottest months of the year and genuinely mourn for the end of summer weather, plenty of us prefer our temperatures a little lower and eagerly welcome the nippier days of fall back into our lives.
Even if you're more of a sunshine season fan, the refreshing coolness of November can still be a welcome pause before we launch into the bone-chillingly heart of wintertime proper.
22. The Frost Moon: November's full moon goes by many names, with the Frost Moon and Beaver Moon being two of the most common.
The first honours the fact that frost is often present in many parts of the world come November, the latter – that industrious beavers frequently build their winter damns throughout the second half of autumn.
This year, the Frost Moon/Beaver Moon – which, both interesting and logically, the ancient Celts sometimes called the Dark Moon – takes place on November 30, 2020.
Like each full moon of the year, it is a poignant point in the month that invites us to connect in meaningful ways with the power, ancient beauty, and inherent magick of our cherished Luna.
Some of the other names for November's full moon include the Snow Moon (though this name is also used at times for some of the winter full moons), the Trading Moon, the White Moon, and the Tree Moon.
23. Making holiday season crafts: Like many a crafter, year after year, I vow to start whipping up my homemade holiday season cards and other projects months in advance.
In reality, life has other plans and so that rarely happens. This means that November is quickly designated as the unofficial Christmas, Yule, and New Year's card making season at my house.
Not only cards, but other festive projects from wreaths to ornaments also tend to happen in November. And as much as I would love to be able to knock out a lot of my winter holiday season makes ages in advance, I've come to rather adore that so much crafty goodness often happens this month.
If you're a crafter or otherwise a creative soul, and if the circumstances of your life permit, November is a stellar time to deep dive into churning out some fabulous new projects for the coming winter festive season.
24. Follow the leaves' lead and just let go: This year has been heavy. Not "box of old college textbooks heavy", but heavy as the weight of the planet itself.
In ways both consciously and subconsciously, 2020 has hit most of us hard. It has turned plenty of lives upside, caused profound loss and pain, and forever shaped the trajectory of human history.
This November, as those stunning fall leaves many of us swoon up a storm over come tumbling down, follow their lead and look for areas of your life, your actions, and your thoughts that you can safely part ways with.
Let go. Just let go.
We do not have to hold onto everything that crosses our paths or our mind.
You might just be amazed by how liberating and beautiful a thing it is to let go and move forward with less of that weight holding you back.
25. Wearing all the opaque tights: Okay, probably not at the same time – though that would certainly help to ensure you stayed warm this month! 😄
No, I mean one pair at a time.
Bare legs are great, no two ways about it, but I'm definitely one of those folks who prefer their gams to be wrapped in hosiery. Few things compare, in my books, to a fabulous pair of thick (usually, but not always) black tights on that front.
They're practical, stylish, versatile, and virtually guaranteed to never go out of fashion.
26. National Peanut Butter Lovers Month: If you are able to safely consume peanuts, then this entry might just be one of your favourite reasons to melt faster than PB on warm toast for the month of November!
Hearty, delicious and endlessly versatile, it's easy to see how and why peanut butter landed a whole month of appreciation.
Whether you prefer yours crunchy or smooth, partnered with jelly, bananas, chocolate, or eaten straight from the jar, why not celebrate one of the tastiest foods ever invented and spread – pun intended – the love for peanut butter around this month?
27. Foggy days: Granted, fog is rarely the ideal atmospheric condition for things like driving, bird watching, or skiing in. However, if you're able to safely enjoy it and don't find that it's cramping your plans, the wispy, elegant tendrils – or ample lashings – of fog that sometimes call November home can be a welcome and very beautiful sight to behold.
28. Small Business Saturday: While Black Friday and Cyber Monday often gets the lion's share of the limelight when it comes to shopping related happenings in November, there's another commerce related date this month that you should know about: Small Business Saturday.
This annual event encourages consumers to support small and/or local businesses both in their own area and further afield, and takes place on the Saturday immediately following Thanksgiving in the States. Thus, Small Business Saturday 2020 falls on November 28, 2020.
Countless businesses have been profoundly impacted – and often not in a positive way at all – by the global pandemic that has rocked our world this year. If you have the means and wish to do some shopping this year, consider allocating some of those funds to small businesses.
Now, more than ever, the revenue that most small businesses are able to generate can quite literally make or break them. Let's all do our part and help those whose livelihoods stem from their small businesses stay afloat during these profoundly challenging times.
29. National button day (USA): While this day – which falls on November 16, 2020 – stems from America, one can certainly hop on the celebratory bandwagon no matter where in the world you live.
I've loved buttons my whole life and have enjoyed both (casually) collecting and (frequently) crafting with them since childhood.
Buttons are a common go-to item for me when paper crafting, doing needlework, or otherwise whipping up various handmade products – just as they are for scores of us around the world.
Buttons also play a role in some of my witchy workings and (usually displayed in pretty jars or dishes) as part of our home décor as well.
No matter if you craft with or collect buttons, nearly all of us use this wonderfully handy invention on a regular basis via our wardrobe.
Buttons as we know them today in terms of shapes and functions, date back to at least 13th Germany, though their origins stretch considerably further in time (it is believed that earlier buttons were usually more ornamental or used as seals).
So why not use National Button Day as a great excuse to sew or craft with buttons, display some of your faves, or slip on a garment whose buttons you particularly adore?
30. The return of holiday season music: I will readily cop to playing Christmas tunes prior to November 1st, but like many of us, tend to amp up the amount of airplay they get come the 11th month of the year.
Whether you're cueing up your favourite festive song playlists, delighting in hearing a treasured tune overhead while out shopping, or attending live holiday season musical performances, November is the ideal time to reconnect with all of the holly, jolly music that stirs up sweet nostalgia and makes our hearts smile warmly in the process.
Is November the best month of the year?
Objectively, it is very difficult to quantify or determine if one month of the year is vastly better than others.
Each has its joys and charms, challenges and perks, reasons to smile, and rightful place in the annual turning of the Wheel of the Year that has gone on since time immemorial.
November is certainly no exception there, as the entries in this post help to demonstrate.
Most of us have a favourite month or two (or twelve!).
For me personally, that month is October. I genuinely feel a sense of sorrow and loss when it passes us by for another year – capping off, enchantingly, with Samhain/Halloween on October 31st.
I used to get very down when October ended – a sort of heavy mid-fall funk falling over me for a spell. I still experience that to a lesser degree sometimes.
However, over the years I've come to adore and appreciate November in countless ways and to wholeheartedly delight in the wonders of this splendid month.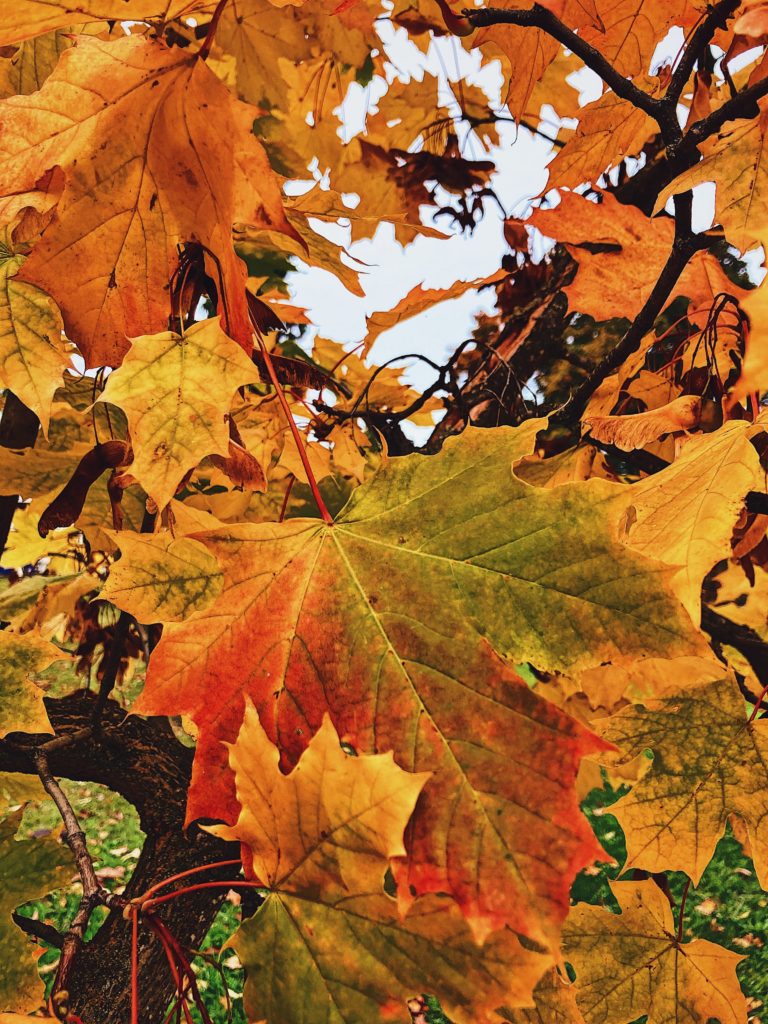 After all, for a Canadian lass like me, the fact that November is still a full month of autumn is worth cheering for on that fact alone!
We're in for a long stretch of sub-zero temps, mile high snowfalls, and plenty of icy morns and even chiller nights over the next few months.
Just as a good many people in various corners are the globe are as well, of course.
Before we turn hot cocoa into a food group unto itself, bundle up like arctic explorers, and deck the halls with mistletoe and holly once more, let's celebrate the often overlooked and underappreciated perks and joys of November.
It might not have October's pizzazz and haunting spirit, but it is still a gorgeous chapter of the year and one that allows us to savour our treasured fall for a few more weeks.
If that isn't worth raising a pumpkin spice latte in celebration of, I don't know what is!
Which of these reasons to love November is your favourite? What are some others that never fail to make you happy to see the 11th month of the year return again? 🥧🍁🦃