Hark, what is this? Can it really be? Yes, dear friends, after many long months of patience, September has finally returned.
The month that ushers in fall – sweet, enchanting, utterly gorgeous fall time – is upon us again and I know that I am far from alone in jumping with enthusiastic joy over this fact! 🎉🎃🙌🧡
Naturally, to get the ball rolling on the seasonal crafting front, I couldn't help but share a handmade Thanksgiving Day card here with you today.
While it is not as widely known internationally as its US counterpoint, Canada has its own Thanksgiving Day as well.
Our nationwide harvest season celebration shares many traditional foods in common with the US day of thanks, and both take place in the autumn, but beyond that, the two have fairly different origin stories.
Interestingly, and quite logically given that we're two different nations, Canadian Thanksgiving has nothing to do with Plymouth Rock or the early American pilgrims.
While various harvest and fall celebrations had previously been observed by various groups of both First Nations Peoples and early settlers alike, the first official Canadian Thanksgiving did take place until November 6, 1879.
It would take the better part of another century though until, in 1957, a date (the second Monday in October) was set and Canadian Thanksgiving was officially declared a national holiday.
If you're keen to learn more about this subject, I highly suggest checking out Canadian Encyclopedia's in depth post on The History of Canadian Thanksgiving.
Canadian Thanksgiving is still about six weeks away, falling as it does on Monday October 12th this year.
That doesn't mean though – in true paper crafter fashion – that I'm not already whipping up cards and other projects pertaining to the first non-Pagan holiday of the season.
You can bet your last slice of pumpkin pie that I am! 😄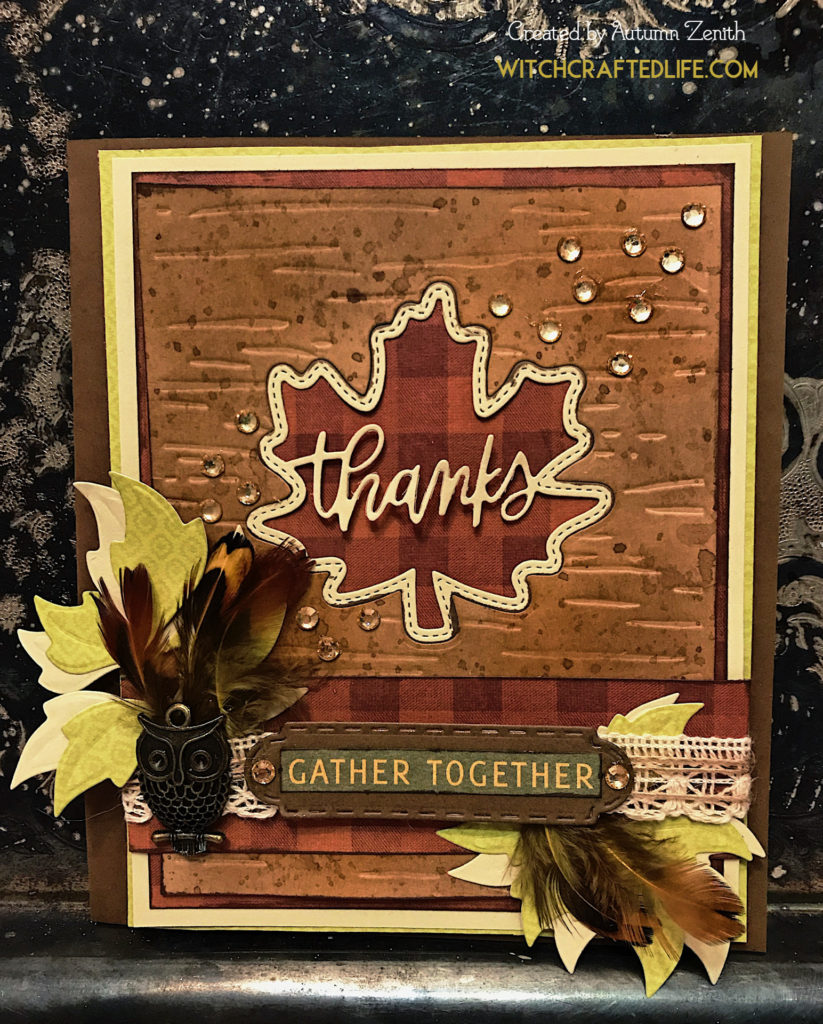 To get the ball rolling on what I plan to be an autumn chocked full of festive seasonal project share posts, I'm kicking off September with this charming greeting that is most likely going to wing its way across BC to some of my relatives.
🍁 Rustic woodland inspired "Thanks" maple leaf Thanksgiving Card 🍁
Canada Post has a rather low height (thickness) cap on what they consider lettermail. Anything above two tiny centimeters (not inches, centimeters) is viewed to be a parcel, not a letter, and one is charged exorbitantly for it.
This can make sending a thicker (dimensional) card, even a national level, cost prohibitive. As such, I try to be very mindful of keeping the depth of the cards I plan to mail out on the flattish side.
(One exception there would be if I was mailing a card as part of a larger package for which the card itself would have little to no impact on the dimensions and shipping costs of said parcel.)
I've talked about this issue with Canada Post's lettermail size cap before, but as someone whose cards are often teeming with depth and dimension, I cannot help but feel the need to touch on it when I share flatter cards here. 😄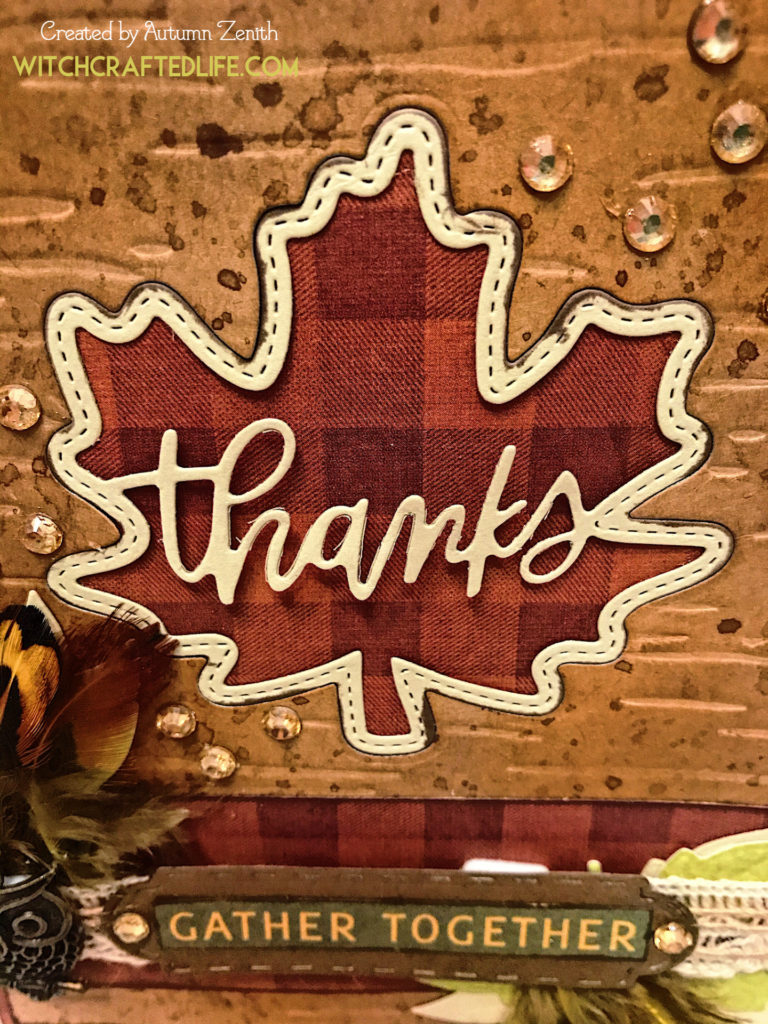 The starting point for this card design was the beautiful stitched maple leaf die from Pretty Pink Posh that leaps out at you from the center of this design.
I'd been itching to create with it since the moment it landed in my stash last year (if memory serves me right).
What better time than fall, with its magnificent rainbow of crunchy leaves and sense of gratitude that this season stirs in many of us, to do just that.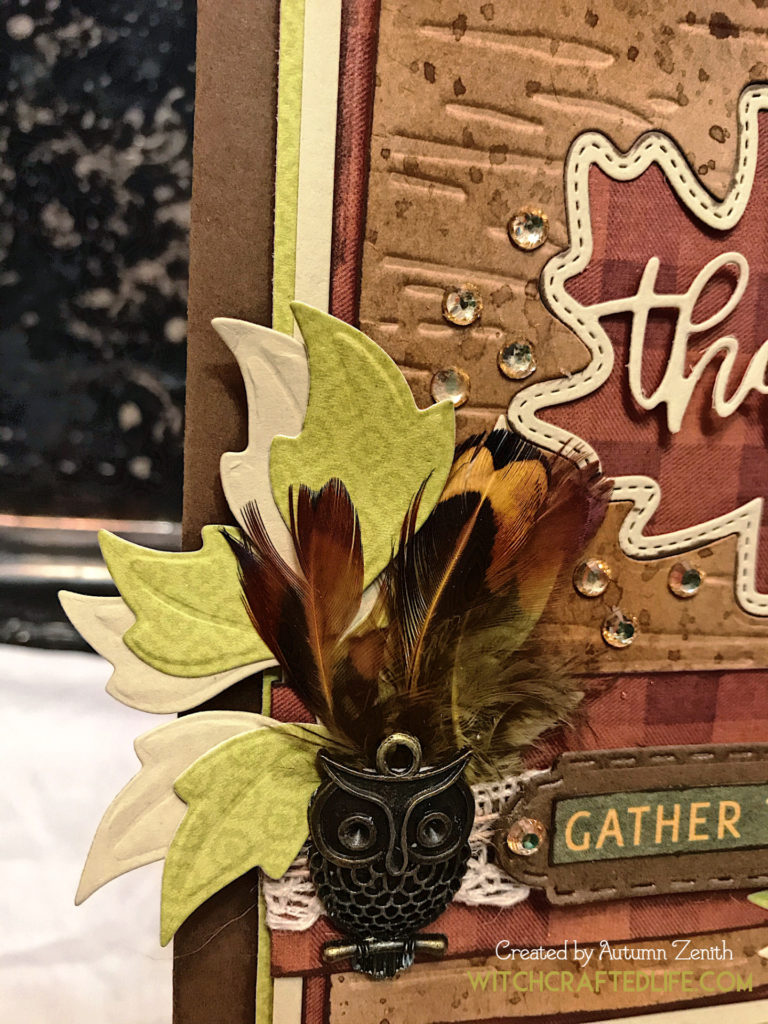 While Thanksgiving itself is a rather North American tradition, celebrating and honoring the harvest season is something countless cultures have done in various ways since time immemorial.
Whether you do so in a Pagan/witchy context (such as via the fall sabbats of Lammas, Mabon and Samhain), that of another spiritual path, or secularly, fall is an awesome time to open our hearts fully to the season and to reflect on all that we have to be thankful for in our lives.
This year, perhaps more than ever for many of us, each blessing, gift and positive we're fortunate to have has taken on even deeper significance.
I wanted to convey a sense of timeless with the design of this card. It isn't the most embellished, thickest or fanciest card I've ever made, but it's far from lackluster, if I may say so myself.
From the inked and embossed background to the stitched die cut "thanks" maple leaf, the real feathers to the cute owl charm, this card still manages to have a fair bit going on.
Yet, I think, it also has a serene, easygoing woodland inspired vibe to it that suits the tranquility of a peaceful autumn day to a tee.
Putting this woodgrain embossed Thanksgiving Day card together
Before sitting down to craft this Thanksgiving Day card, I had a pretty clear picture of how I wanted it to turn out in my head.
Happily, the end result was just as I'd hoped it would be and, I've got to say, I rather love this festive make.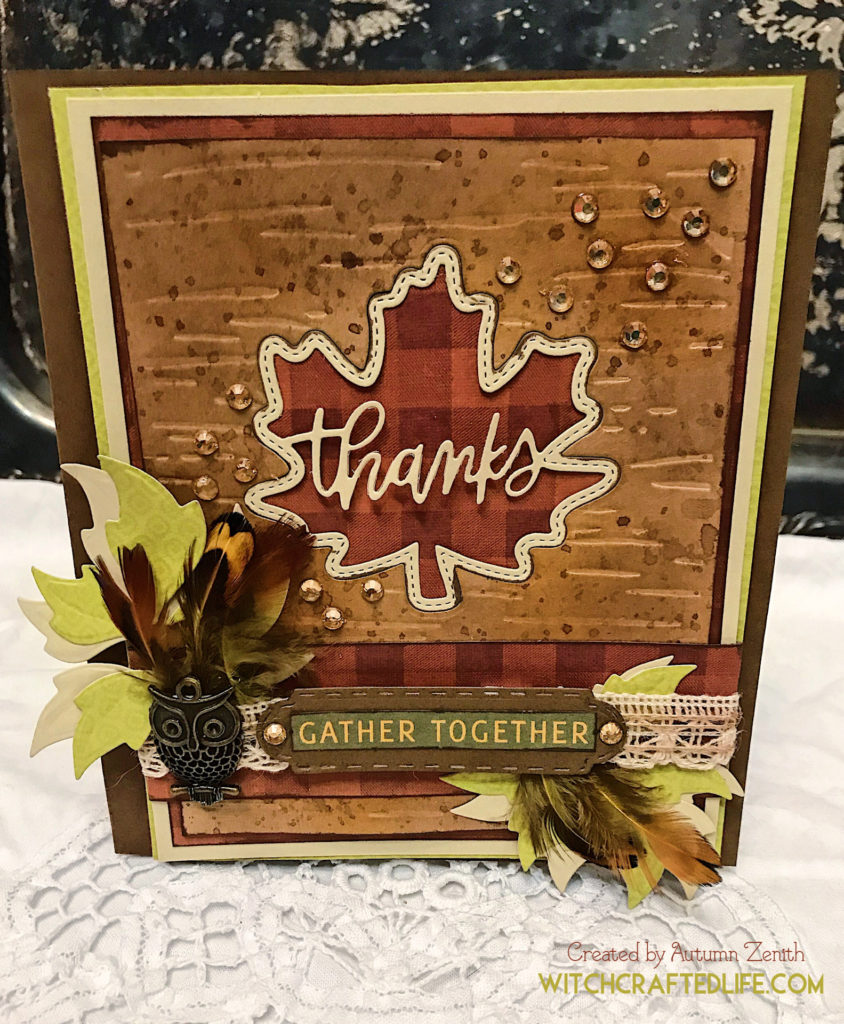 To begin with, I made a base from cocoa brown cardstock. Next came a layer of tone-on-tone green printed paper, a layer of cream cardstock, a layer of plaid print paper, and the star layer – the embossed and die cut main panel.
To create this panel, I first die embossed a piece of earthy brown cardstock using a wood grain embossing folder.
This was followed by inking of the edges of the panel, inking lightly across the whole panel, and spraying some diluted brown paint splatters randomly across the whole thing to give it even more of an aged, rustic quality.
Once my panel was dry, I die cut out the "Thanks" maple leaf outline. For the body of the stitched "Thanks" die cut, I used cream cardstock to help it stand out against the darker browns of this card design.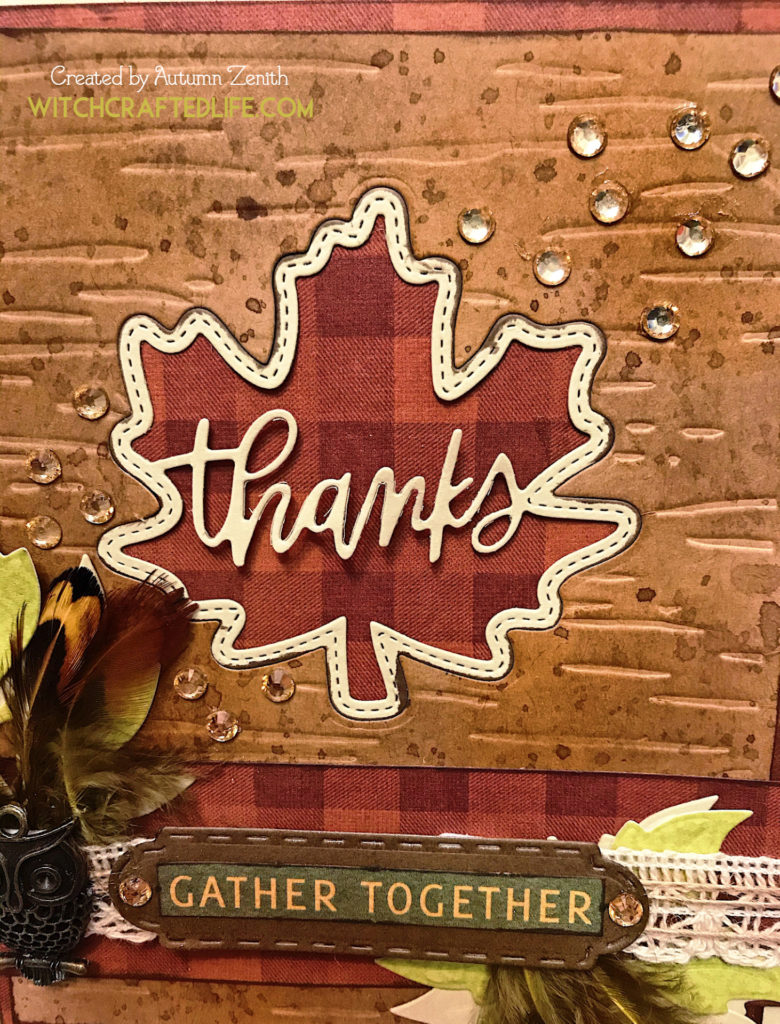 I know I'm not alone in associating plaid with all things fall, nor in adoring using it on seasonal crafting projects, and adore seeing how others utilize plaid in this context, too.
With those layers in place, I attached a coordinating strip of plaid paper, topped that paper with a layer of two different trims, die cut some leaves in the same green paper and cream cardstock used already, created a stitched die cut sentiment label, layered a few pretty fall hued feathers, and finished by affixing a cute aged brass style metal owl charm to one side.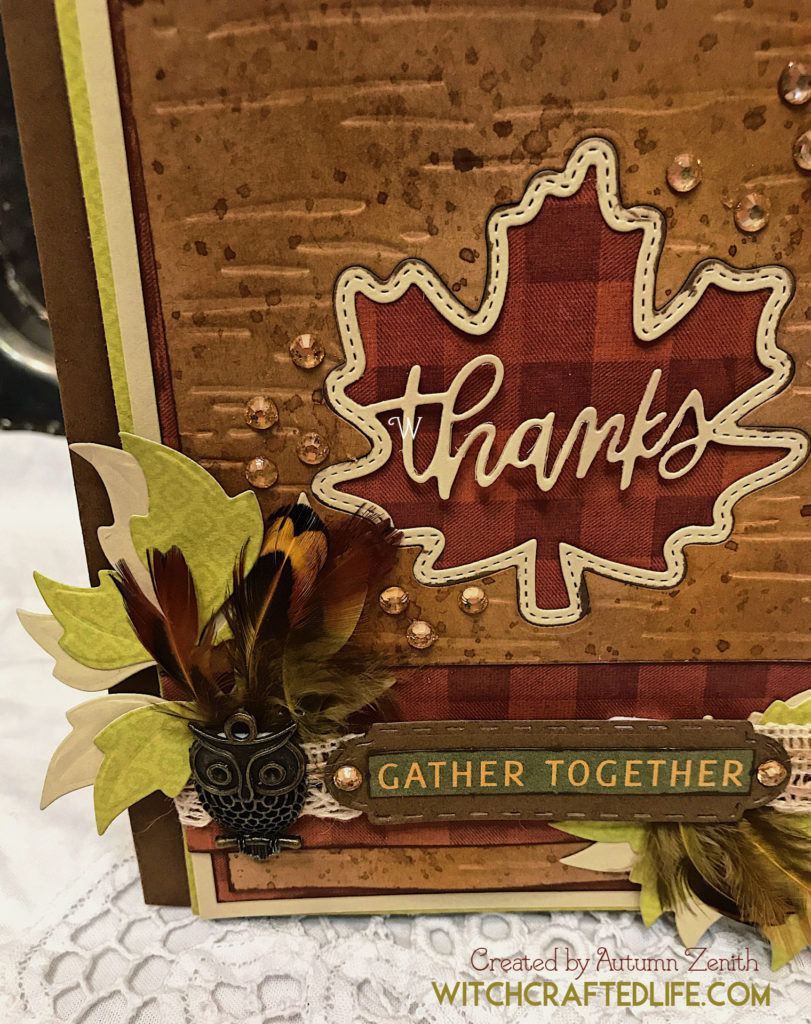 There's just something about owls, much as with plaid, that sings out with the spirit of fall time to me. 🦉
A smattering of clear rhinestones arranged in a diagonal direction completed this fast, fun, and thoroughly festive Thanksgiving Day card.
Card making tips and ideas from this project
-Don't hesitate to apply multiple techniques to the same panels/sections of your cards. Embossing, inking, paint splattering, and die cutting – plus the clear rhinestones that top it – all came out to play on my central panel here.
There are many other techniques that you could similarly utilize as well, such as watercolouring, chalking, stamping, hand colouring, stencilling, texture paste, rub-ons, border and shape punches, and much more!
-Brown toned paper and cardstock are both a great way to convey a sense of nature, as well as a nod to vintage items. This can be all the more true if you ink, distress, tear, or otherwise "age" your paper or cardstock.
Brown is also a very grounding, soothing colour and it is one that partners awesomely with a wide range of fall time hues.
-Combine bird embellishments with feathers. The pairing is a terrific, whimsical combo, with each one supporting the other wonderfully.
While real (found or bought) feathers work great in that respect, die cut feathers, feather stickers, stamped feathers and other alternatives to actual feathers can be every bit as fabulous as well.
–If you're working with a large embossed area on a card that you're making, consider keeping patterned papers on the lowkey side.
Subtle patterns and small to medium sized pieces/areas of them can help prevent the lovely qualities of the embossing from getting lost or overwhelmed on a given design.
-No metal bird charm? No problem! You could easily swap out the metal owl charm here for a wood, cork, plastic, felt, foam, die cut, or sticker bird shaped piece instead, if you'd like.
–When you're aiming for a rustic look, turn to neutrals, earth and fall tones. Distressing, inking, splattering, and the use of nature-themed elements really help to convey this feel as well.
-Treat yourself to a woodgrain embossing folder. If you enjoy embossing and like (love!) the look of woodgrain, I highly recommend picking up at least one embossing folder in this classic pattern.
Numerous brands such as Sunny Studios, Creative Expressions, Sizzix, and Darice sell them, and most are fairly reasonably priced.
I find that my woodgrain embossing folder is amongst the folders that I reach for most often all throughout the year. It can work in the context of any season or holiday, as well as a myriad of other events and occasions – very much including when it comes to making cards for guys.
Products used to make this rustic woodland Thanksgiving Day card
-Cocoa brown, light brown (or kraft), and cream card stock
-Green tone-on-tone print paper
-Brown plaid paper – Cider Woods 6X6 inch paper pad from DCWV
–Stitched edge Maple Leaf Thanks Die from Pretty Pink Post
-Leaf dies
-Tag or banner die (used for the "gather together" sentiment area of this card)
-Woodgrain embossing folder – Birch embossing folder from Tim Holtz for Sizzix
-Thanksgiving Day sentiment – Gracious Elements from Authentique
-Cream crochet trim
-Rustic skinny natural coloured twin (it tops the crochet trim on this design)
-Brown ink pad – Rich Cocoa Dew Drop Ink from Memento
-Brown acrylic paint – Real Brown Satin Acrylic Paint from Folk Art
-Small clear acrylic rhinestones, dew drops, or enamel dots (you could also use sequins here as well)
-Metal owl or other bird charm (a crow, raven or turkey would all be fan here, too!)
-Small earth toned feathers
-Dimensional foam, pop dots, or similar to elevate some of your layers
-Adhesive, such as a tape runner, of your choice (I often use my Scotch Tape Glider)
Gearing up for Thanksgiving
Card making and paper crafting in general aren't the only areas of my life where I begin to prepare for Thanksgiving well in advance.
Come the start of August, from Lammas onward, everything from my seasonal home décor to the recipes I prepare for our daily meals to many of the spiritually focused activities I engage in becomes focused on the harvest season.
Autumn is, by a wide mile, my favourite and most beloved time of the year (just as I know it is for many of you as well).
Fall time is when my soul sings in ecstasy, and I feel most alive, most spiritually attuned, and happiest.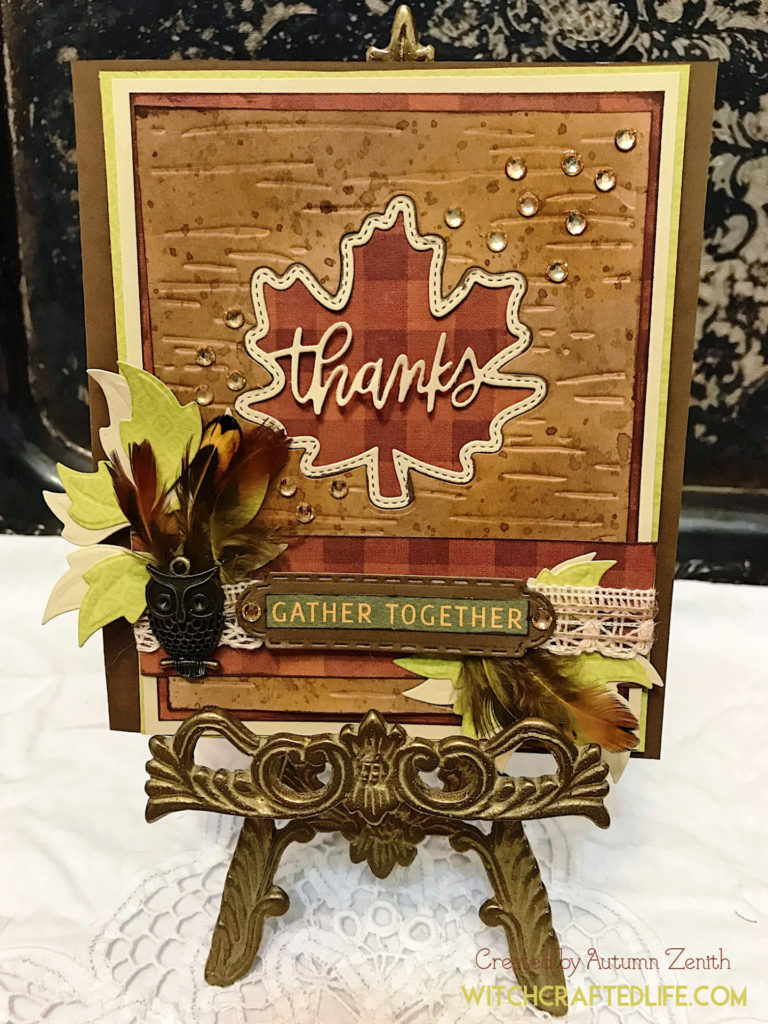 That said, paper crafting is definitely a bit part of this season for me and one that I have been known to get a jump on well before the first ear of corn or pumpkin has appeared in the local farmer's fields.
I can't help it – and why should I? 😃
When we adore something – especially something that only happens for 1/4th of the year – we owe it to ourselves and to that season to celebrate it every chance we get.
That is exactly what I plan to do again this year, both online and off. I've got a slew of diverse, thoroughly festive project shares and other types of posts planned for this fall and can scarcely wait to share them all with you.
May the coming autumn (and spring, for those south of the equator) months be a time of abundance, serenity, wellness, positivity, joy, and ample time to engage in all of our favourite seasonal activities! 🍂 🍁 🍂
Project share
Pin the image below – or any other in this post – to Pinterest, pop it into your Instagram Stories, post in on Twitter or Facebook, or share it anywhere else you wish to help yourself find it again and to inspire others at the same time.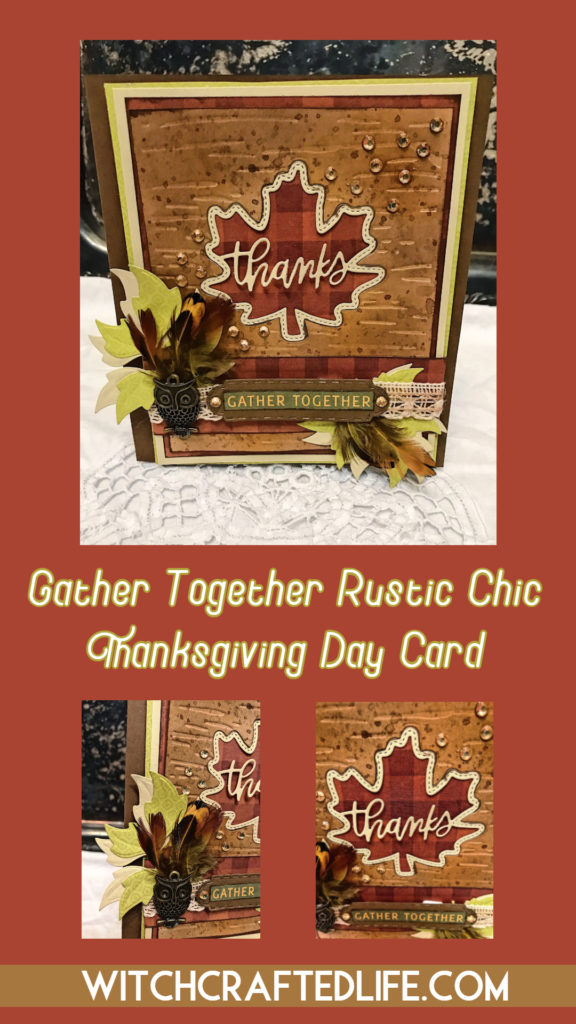 If you make a project based on or inspired by this card – or want to share any of your other handmade crafts with me – please use the hashtags #WitchcraftedLife and #WitchcraftedLifeMakes on social media so that I see can your beautiful creations.