For a good couple of years now, my husband and I have been using Apple Music as the primary source of our personal digital music collections.
I have various playlists that I've put together so far (unsurprisingly, I'm sure, the playlist that I made for Halloween is my favourite 🎃), as well as a main catalogue on songs which houses all of the music I currently have in my account.
If one opts for the random shuffle approach to listening (which, I'm convinced the algorithm for is anything but truly random – though that's neither here nor there at the moment), you just never know what will start playing next. That is the very nature of the word random after all! 😃
As a great fan of Christmas music, particularly that of the vintage and classic variety, my music library is chock-a-block with holiday season tunes. Periodically, one of these will start playing as part of my random mix.
Sometimes, if it's not exactly the twelfth month of the year at the moment, I'll hit shuffle again. At others, I will let it play, a smile – and often nostalgia – inducing hit of holiday cheers months before or after Christmastime itself.
There are a few artists whose holiday tunes I almost never skip, no matter the season or how many times I've listened to them over the years.
Bing Crosby's Christmas songs fall into that camp.
While I'm a major fan of a good many performers from that era and the holiday season songs that have become the festive soundtrack for generations of Christmas observers ever since, none of them serenade my heart nor cement my love of Xmas music quite like that of Mr. Crosby.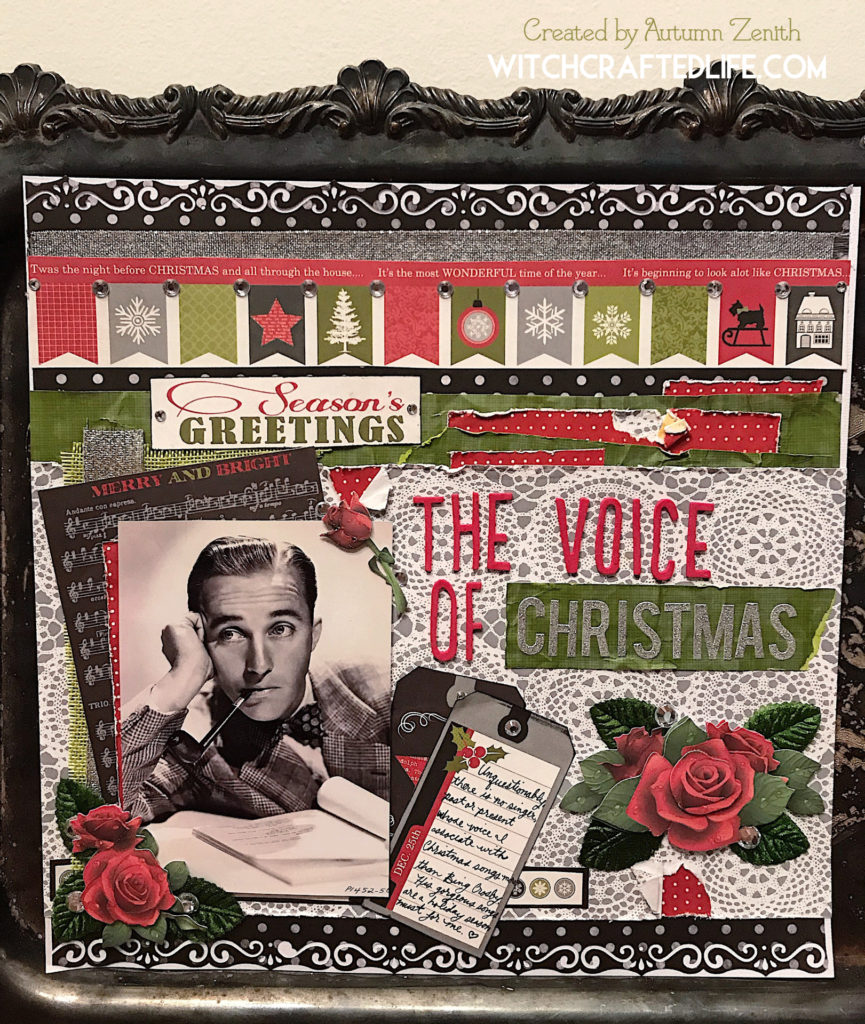 As an ode to that fact, and for a delightfully fun Christmas in July scrapbook project, I created this layout dedicated to Bing's smooth-as-eggnog, unmistakable, utterly beautiful voice and the canon of festive songs that it delivers to our lives via the power of recorded music year after year.
The Voice of Christmas scrapbook page
Like many of us, I grew up listening to Bing Crosby's Christmas music and watching his holiday season films, particularly White Christmas. A movie that I adore immensely.
Most of the Christmas music that was played in my family back then was classic, hailing from the 1940s, 50s and 60s. Little has changed still for me, as I reach for these same beloved holiday tunes year after holly and ivy filled year.
To channel the timeless spirit of this chapter of the year (which, for me as a Pagan witch, is a non-secular event that I celebrate with my husband and loved ones; Yule is the main spiritually centred December holiday for me personally), I wanted to use timeless colours and imagery.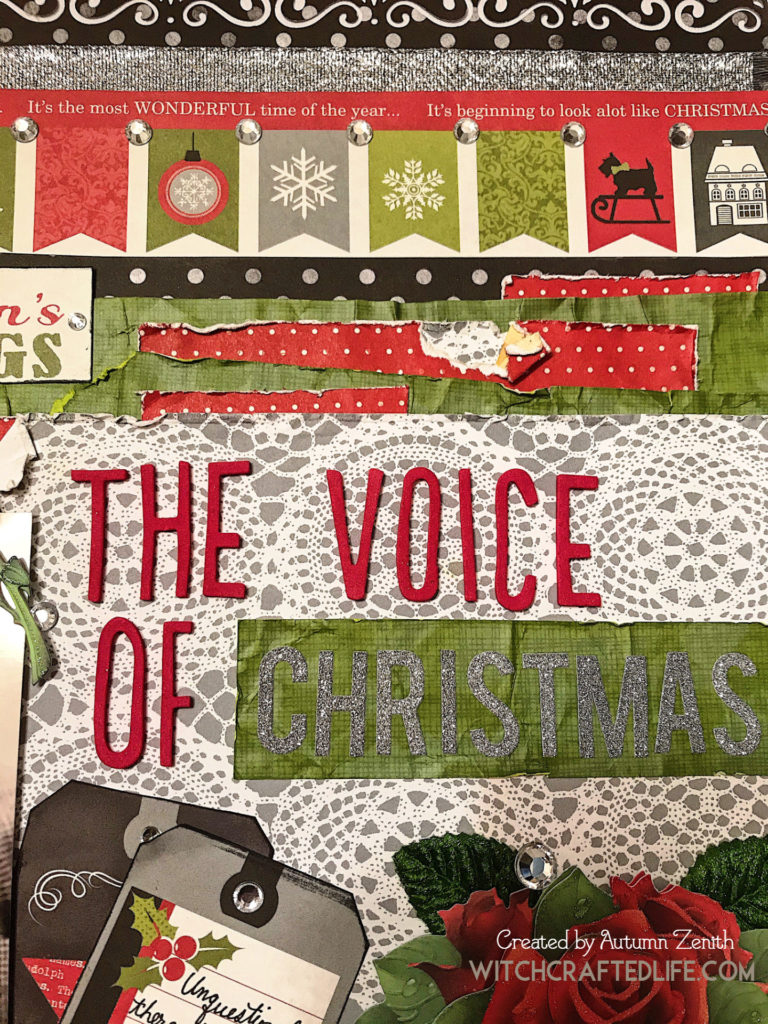 Perhaps no other Christmas season palette is more iconic than red, green and white, so this is exactly what I reached for. To help marry old and new, however, I opted for some hits of zingy lime green, as well as various splashes of grey and black.
Rose are my very favourite flower, and though they may not be as iconic a holiday season plant as say, poinsettias, I think that they can work superbly as part of one's festive décor and papercraft projects alike.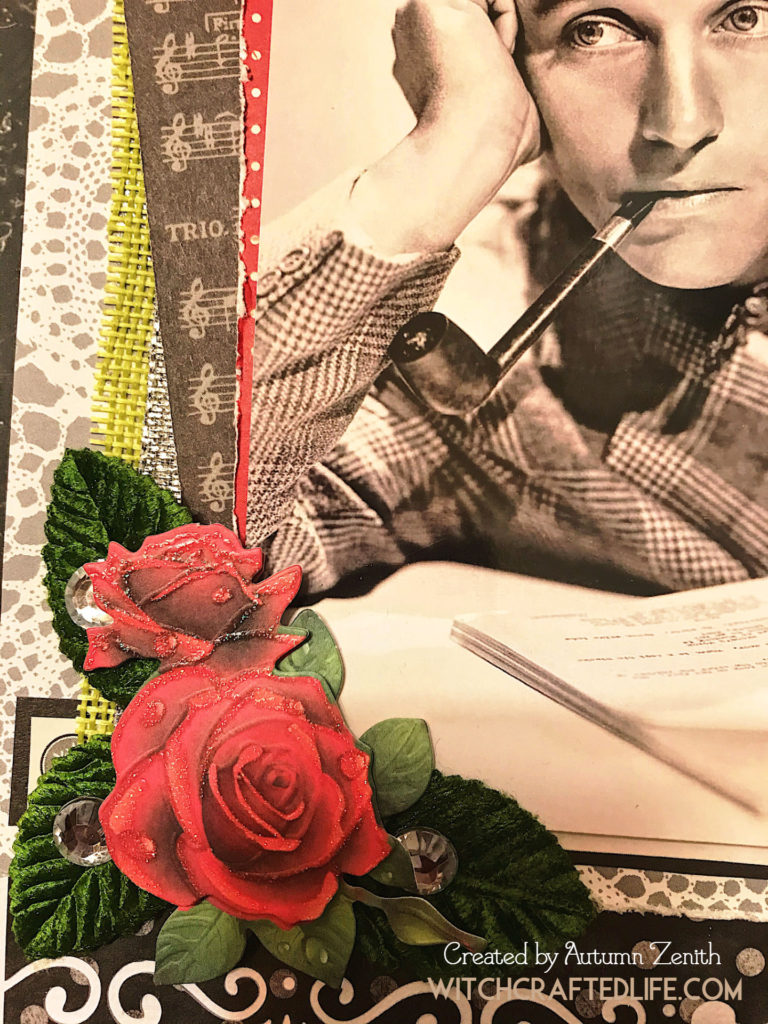 Particularly if depicted in red, burgundy, cream, or white forms. I opted for classic red here, to ensure the overall Christmas theme remained strong and cohesive.
(There is technically a flower called the Christmas Rose, aka, Black Hellebore, yet despite its name, it is not all that rose looking. The real deal – in paper form at least – was the order of the day for this Christmas in July scrapbook page.)
How to create this festive Christmastime scrapbook page
Unlike a lot of my layouts, cards, tags and so forth, this page isn't chock-a-block with layers. It still has some of course (this is me we're talking about, after all! 😃), but in terms of the sheer dimensionality of this design, it stacked as high as a multi-tiered cake.
For my base layer, I used a sheet of basic white cardstock. Next, I selected a charming sheet of polka dot print paper. Polka dots are a timeless pattern that had a major heyday during the mid-twentieth century, so they felt especially at home on a scrapbook page about Bing Crosby.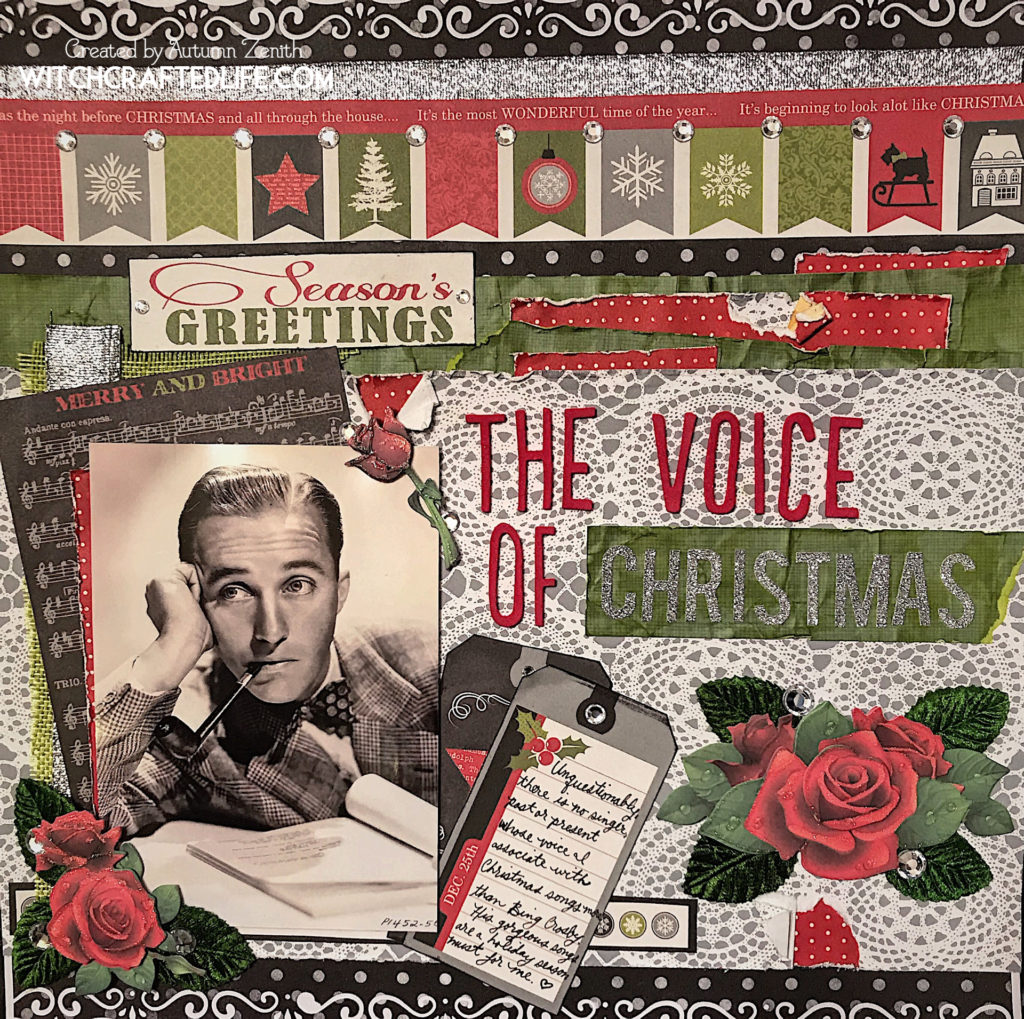 Using an EK Success border punch, I punched the top and bottom of that sheet of paper before adhering it to the white cardstock base.
After that I added various patterned papers, including the white on grey doily print paper, the green paper with its sisal grasscloth-like texture, the white and red Swiss dot print paper (again, a nod to the middle of the last century), and the Christmas image filled border strip near the top of the page.
I also included some sparkly silver ribbon (the sparkle is hard to see in these photos, but it's there, I assure you), before arranging my photo where I wanted it to reside on this page and placing a few layers – including some lime green burlap – behind it.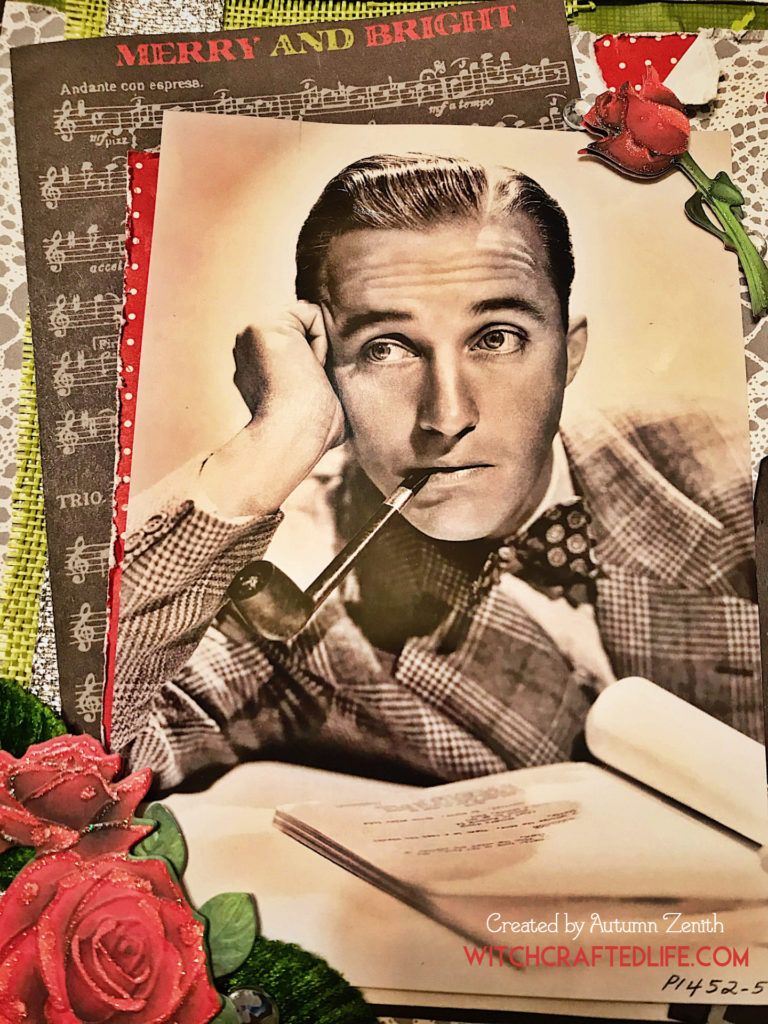 The photo itself was a web find, which I had printed off quite a while ago now and tucked away for the day when I knew I'd make a scrapbook page devoted to my love of Bing's classic Christmas music.
A smattering of embellishments, including some lovely sparkly red rose shaped dimensional stickers, green velvet leaves, two tags (one with my journaling on it), the "Season's Greetings" cut apart piece, the title area, and plenty of clear dimensional rhinestones throughout the layout completed this festive page.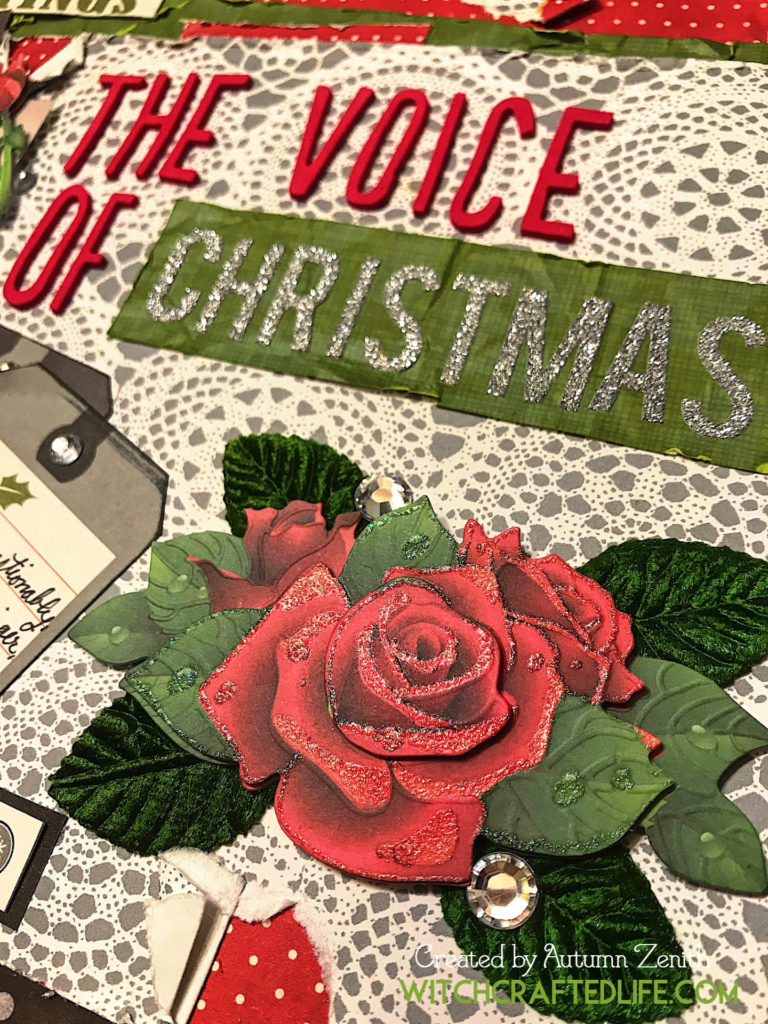 As I rarely forego at least a wee bit of distressing on my paper crafting projects, there are inked, torn, and distressed edges throughout, as well as some intentional crumpling of the green grasscloth-esque paper.
This layout came together quite quickly, in less than four hours (which, for me, is pretty darn speedy for a LO! 😃).
Scrapbook page tips and tricks from this project
-Holiday themed layouts do not need to rely solely on festive papers and other design elements. Most of the ones that I used here were not sold specifically as Christmas items, yet they look every bit the part thanks to their colours, patterns, and shimmer.
Don't be afraid to use non-holiday themed products on festive makes. I've created multiple layouts, cards and tags over the years for different special occasions and holidays that didn't use a single product that was sold specifically for a respective event, yet the end result looked the part to a tee.
-Combine fabric (in this case elegant dark green velvet) leaves with floral stickers, die cuts, or fussy cut blooms for visual interest, contrasting (or complimentary, as the case may be) texture, and a further hit of dimension on your project.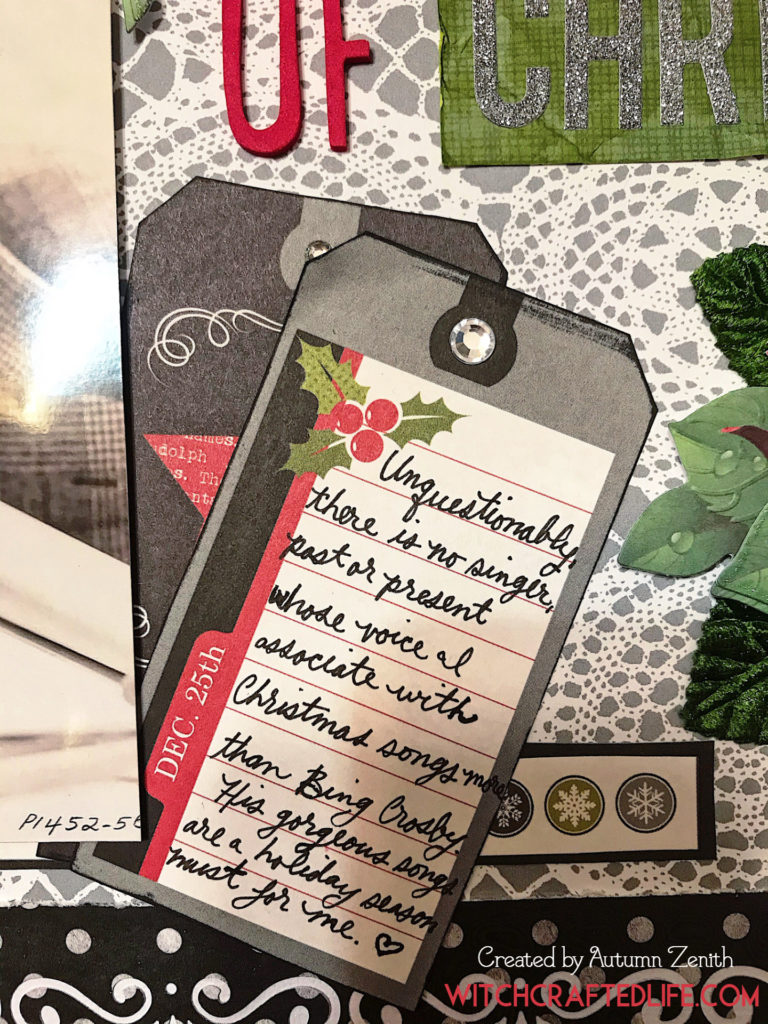 -If you like your (cursive) handwriting, consider using it on holiday themed pages, as well as those that focus on vintage or antique elements, as it can up the old school look of your page.
However, if you're not wild about your own handwriting, consider printing your journaling from the computer in a lovely, legible cursive font instead.
-You don't always need to mat your photo. I left mine un-matted here, as the background layers, including the green burlap, behind it and the red rose stickers that I used as a form of photo corners help to frame this eye-catching black and white photo on their own.
-Use multiple sizes of the same colour(s) of rhinestone gems throughout your project. To keep the focus elsewhere on this page (including the gorgeous red rose stickers), I opted for clear rhinestones in two different sizes.
I placed these in a number of spots around the layout, including tucking some of them around the red rose stickers and green velvet leaves, as well as on the tops of the two tags.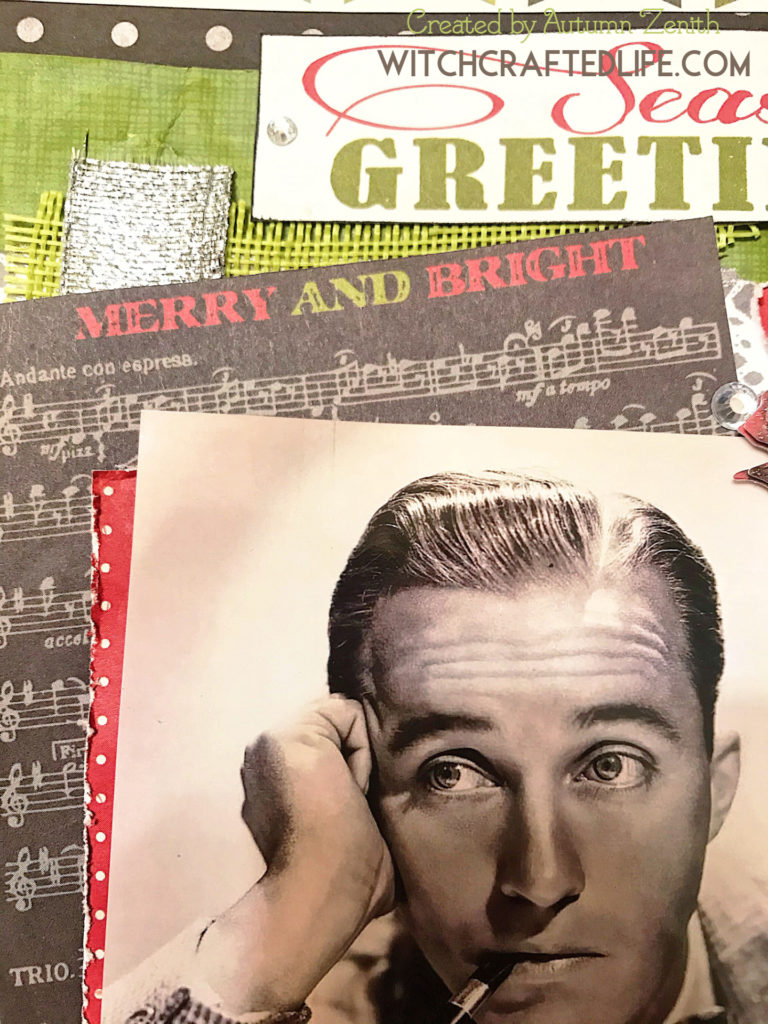 –When creating pages about, or which pertain to music-related subjects, try to incorporate a direct representation of something musical. Here, I went with a festive Christmas music piece of paper as one of the layers behind my photo.
Many brands have released lines with sheet music papers (both Christmas and non-Christmas related alike) over the years. As well, numerous free printable sheet music pages exit online, as do versions you can purchase from various sellers, including some on Etsy.
You could also use real sheet music, if you had some that you were willing to sacrifice (or wanted to scan and print or make a photocopy of on scrapbook suitable paper).
As well, items that depict or in the shape of items such as music notes and treble clefs, records and cassettes, musical instruments, microphones, and Christmas carollers are all fantastic ways to drive home a music theme on your paper crafting projects.
Products used to create this Bing Crosby Christmas music scrapbook layout
-White cardstock
-Black cardstock
-Black and white polka dot print paper
-Grey and white doily print patterned paper – Silver Lace paper from Recollections
-Green grasscloth print paper – Green Faux Canvas paper from Recollections
-Red and white Swiss dot (mini polka dot) print paper – Kiss the Cook Quilt 12×12 inch paper from Bo Bunny
-Various Christmas print papers and tags – 'Tis the Season Peace & Joy 12×12 inch paper from Echo Park
-Lime green burlap
-Black ink pad – Dew Drop Tuxedo Black Ink from Memento
-Yellowy-green ink pad – Dew Drop Pear Tart Ink from Memento
-Red rose dimensional stickers – Red Roses Glitter Floral Stickers from Forever in Time
-Dark green velvet leaves – Meadow Green Velvet Leaves from 7Gypsies
-Red alphabet stickers – Rosy Foam Thickers Letter Stickers from American Crafts
-Silver alphabet stickers – Marquee Love silver letter stickers from Heide Swapp
-Sparkly silver ribbon – from Offray
-Clear adhesive rhinestones
-Decorative border punch – Flourish Scroll border punch from EK Success
-Black ink fine liner pen for journaling – Micron 0.35mm pen from Sakura
-Dimensional foam, pop dots, or similar to elevate some of your layers
-Adhesive, such as a tape runner, of your choice (I often use my Scotch Tape Glider)
The journaling on this layout says: "Unquestionably, there is no singer, past or present, whose voice I associated with Christmas more than Bing Crosby. His gorgeous songs are a holiday season must for me. ❤️"
I'm dreaming of a white Christmas
Sizzling hot as these dog days of summer spent in a house without central air conditioning are, I'm not actually pining (Christmas tree pun intended) away for winter to come barrelling into town again quite yet.
For now, I'm content to whip up Christmas themed scrapbook pages, and who knows, maybe even an early holiday season card or two.
Creating this merry make devoted to Bing Crosby – who, you might be interested to know, was the fourth of seven children and whose birth name was Harry Lillis Crosby Jr. – naturally called for a generous done of his fabulous tunes.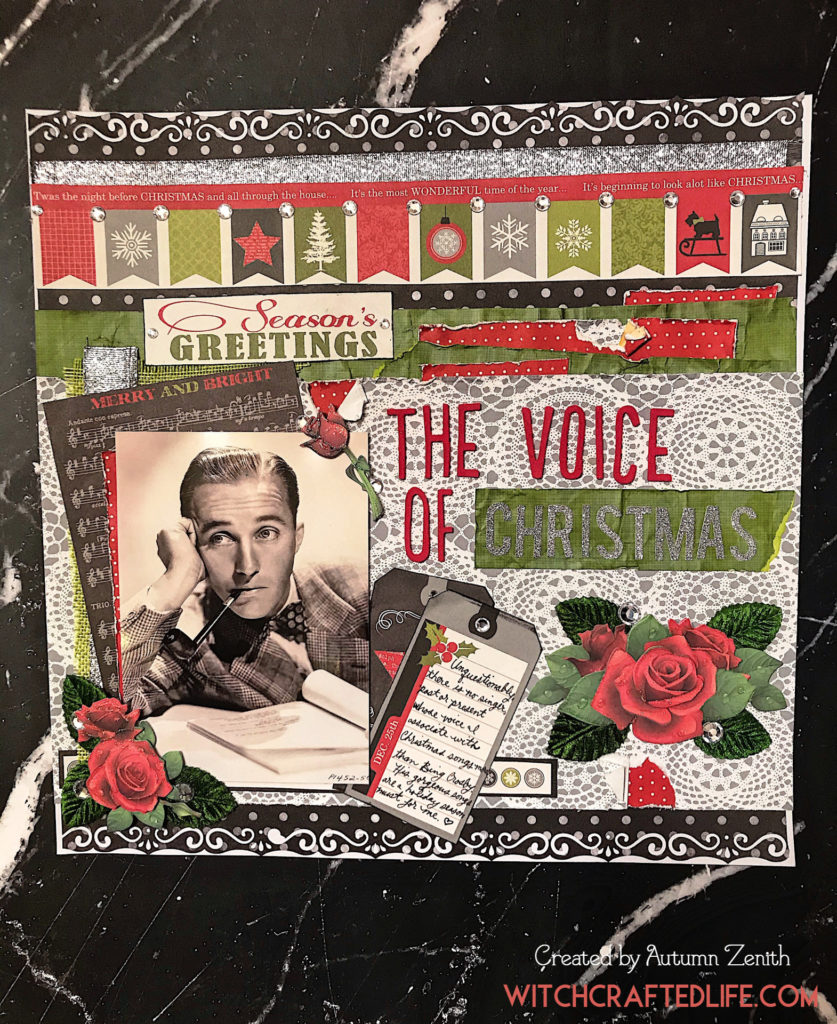 In this case, shuffle mode had the day off, as I joyfully cozied up with song after song from a man whose voice really is, in my books, that of the Christmas season.
By the end of the afternoon, I was ready to trim a tree, decorate some sugar cookies, wrap a slew of presents, and hang up a glowing bevy of lights.
Alas, as much as I'm a fan of getting an early start on the holiday season, July is still a tad too early to do so at our house.
Instead, I'll bide my time, content to make Xmas crafts, listen to Bing's swoon-inducing songs, and rewatch White Christmas for what, at this point, must surely be at least my sixtieth viewing.
All the while, dreaming of the next holiday season and all the festive paper crafting and mid-century vintage Christmas music it will entail.
If you celebrate Christmas, who is the musical voice of the season for you? 🎵
Project share
Pin the image below – or any other in this post – to Pinterest, pop it into your Instagram Stories, post in on Twitter or Facebook, or share it anywhere else you wish to help yourself find it again and to inspire others at the same time.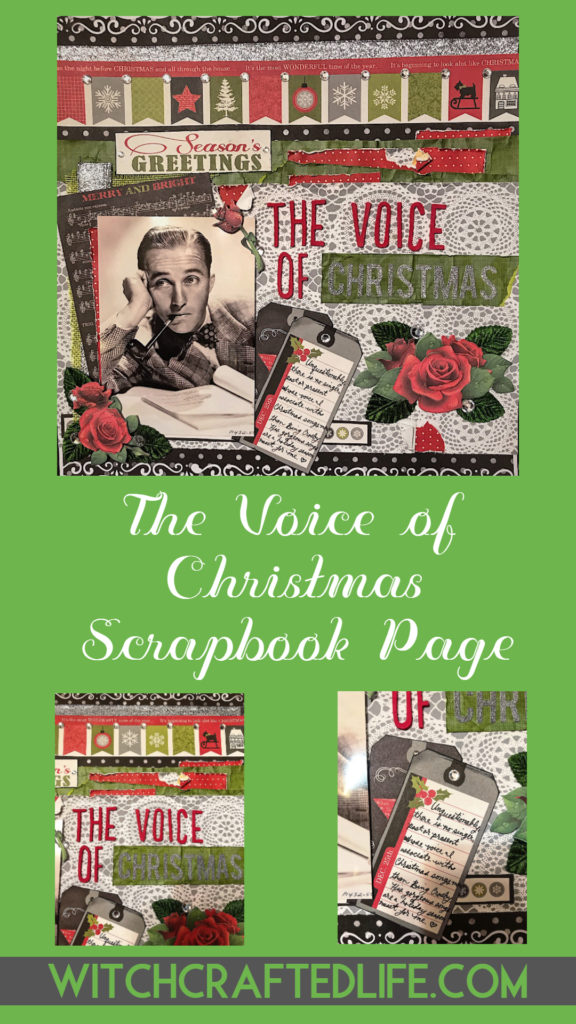 If you make a project based on or inspired by this scrapbook page – or want to share any of your other handmade crafts with me – please use the hashtags #WitchcraftedLife and #WitchcraftedLifeMakes on social media so that I see can your beautiful creations.