Before we hop into the heart of today's post, I want to take a moment to extend my deepest thanks to everyone who has expressed their support, understanding, encouragement, and shared excitement regarding my decision to switch my focus on YouTube.
As I recently said to my lovely friend Sue from The Witch at One and Seventy, I honestly feel in my heart of hearts that one of the reasons why I was put on this earth was to be an ASMR creator.
There are not a lot of things in my 36 years of life that I would make such a bold declaration about.
As such, it really drives home all the more just how much this matters to me and why I must give creating ASMR videos a fighting chance.
Now, on with the show for today!
Now truth be told, I debated whether or not to pen this post, as it is centred around the latest video that I put up on my YouTube channel prior to announcing that I will be changing my YT focus.
However, these mini brooms are oodles of fun to make and I know plenty of my readers are fellow fans of Halloween (and/or witchy) crafting. Plus the video is already up on YouTube, so I figured, why not? 😃
5 DIY Ways to Make Quick and Cute Mini Brooms
Unlike most project shares that I've posted here to date, I am not going to provide you with detailed written instructions on how to make these adorable little mini brooms, as they are shared in my video.
Nor have I taken styled/polished shots of my finished examples.
That said, I do have the following iPhone images, which detail the exact materials involved with each of these five different mini broom projects. (That info is provided in the video as well, but I thought it would be handy to have a quick visual reference to it in photo form as well. 😃)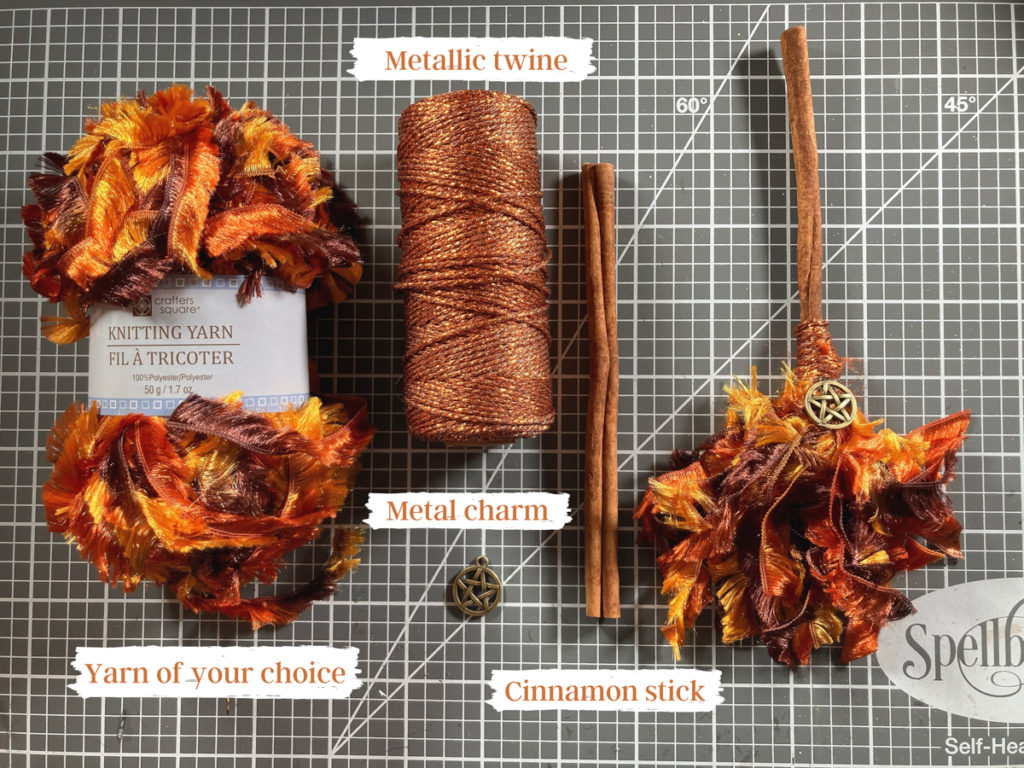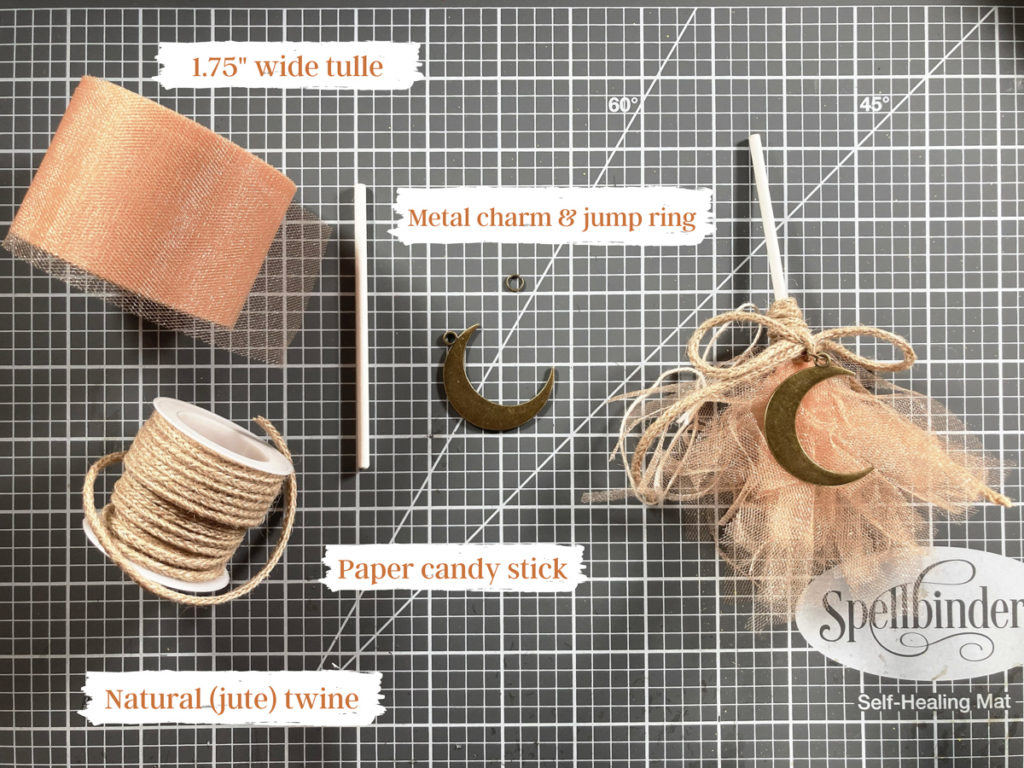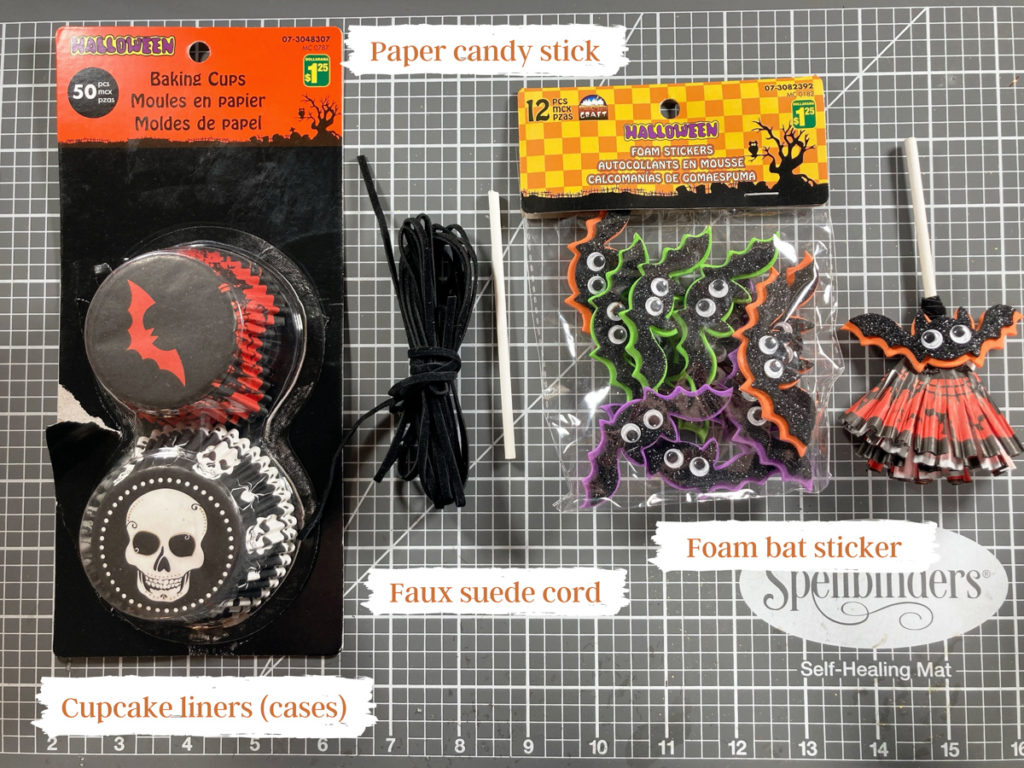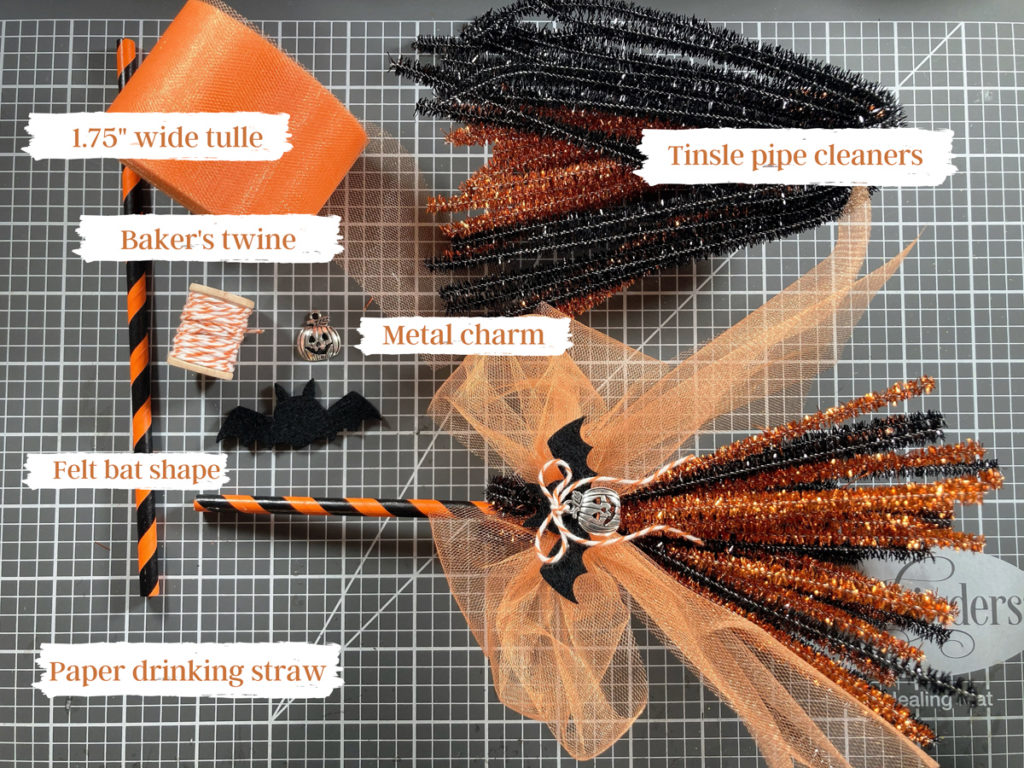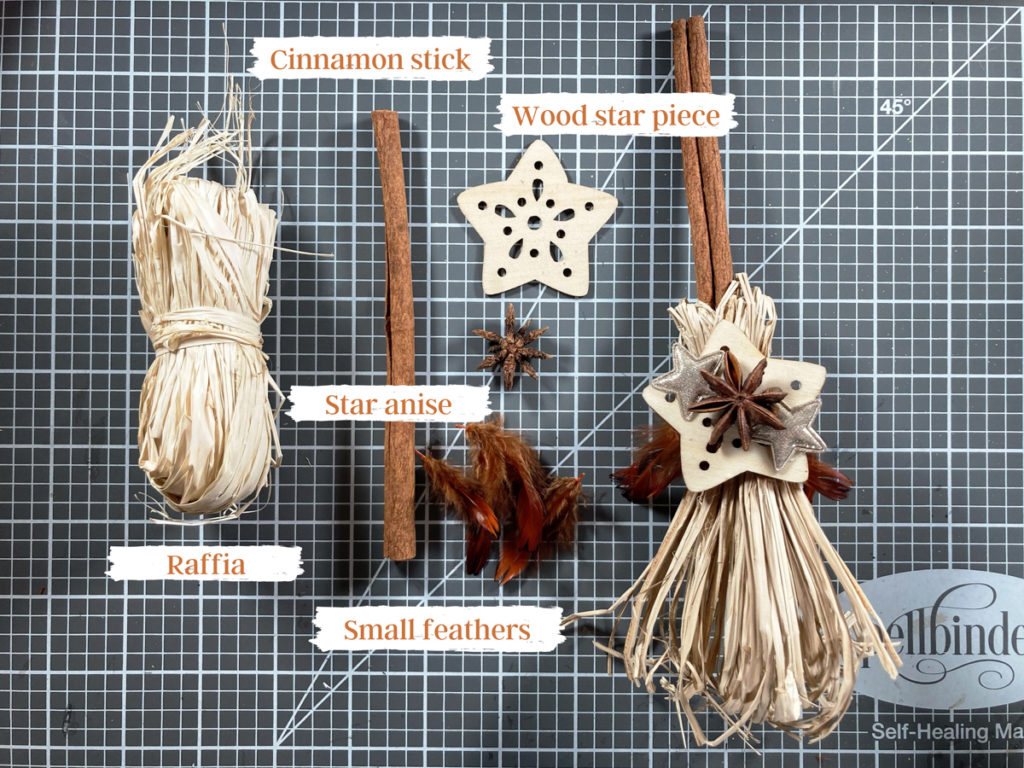 Reasons to make your own DIY mini brooms and besoms
There are many reasons and occasions to make sweet little brooms like the five highlighted in this video. Some of which include:
-Fall time
-Thanksgiving
-Halloween
-The autumn sabbats of Lammas, Mabon, and Samhain (or any of the sabbats or monthly esbats)
-Thank you and thinking of you gifts
-Weddings and handfastings (especially if a traditional broom jumping is involved)
-As gifts for witchy and/or Halloween adoring friends and relatives (not to mention, if applicable, one's coven members)
-For use one one's altar, as part of a ritual and/or spell, or to otherwise adorn your magickal environment with
-As adornments for wreaths (I'd keep them indoors or otherwise fully protected from the elements though, as these mini brooms are not water or weatherproof, though you could certainly create them with different materials that would make them more weather resistant)
-Hung as decorations on a seasonal tree, be it for Halloween, Yule, Christmas, Valoween, etc
-As some, or all, of the dangling decorations on a home décor mobile or wall hanging
-Multiple mini brooms attached to a string/chord/ribbon/etc and used as a garland
-As placeholders or otherwise utilized as table décor
-Included in a tiered décor tray
-Sent in happy mail (especially around Halloween time)
-As part of gift wrapping (for example, you could attach a small tag to your DIY mini broom with a message for your recipient on it)
Other materials you can use to make handmade mini brooms
Likewise, the sky is the limit when it comes to different and/or additional materials you can use when making your own mini brooms.
The following is but a handful of possible options to use when creating mini brooms and besoms:
-Actual broom straw or broomcorn
-Suitable dried grasses and/or herbs (such as sturdy sprigs of rosemary, lavender, or heather)
-Dried corn husks
-Gift wrapping ribbon
-Crepe paper
-Tissue paper
-Cardstock
-Paper (including scrapbooking paper, mulberry paper, and wrapping paper)
-Embroidery floss
-Ribbon, lace, and trims of all sorts (pieces of sequins trim used for the "straw" of a mini broom looks gorgeous!)
-Strips of fabric (including muslin), burlap, or thin cork
-Larger feathers (to use as the "straw" of the broom)
-Suitable found (aka, wild crafted) sticks and small branches
-Crystals, seashells, acorns, small pinecones, dried flowers, artificial flowers, wax seals, beads, charms, cabochons, die cuts, stickers, chipboard pieces, mini sized Halloween decorations, and small bells all make for delightful ways to embellish your mini brooms
Let your imagination run wild when designing mini brooms. 🧹
By following the general techniques used in this how-to craft video, you can utilize a wide range of different materials to create small, versatile brooms that work great for many occasions.
Keeping my existing YouTube content up as I move forward on the ASMR front
Following my previous blog post, I received some email and DM questions regarding my existing YouTube channel. One of which was if I was/am planning to keep my existing video content up.
As things stand at the moment, the answer there is a resounding "yes".
I can't promise that I will leave those videos up on an ASMR channel forever, but for the time being they are staying put.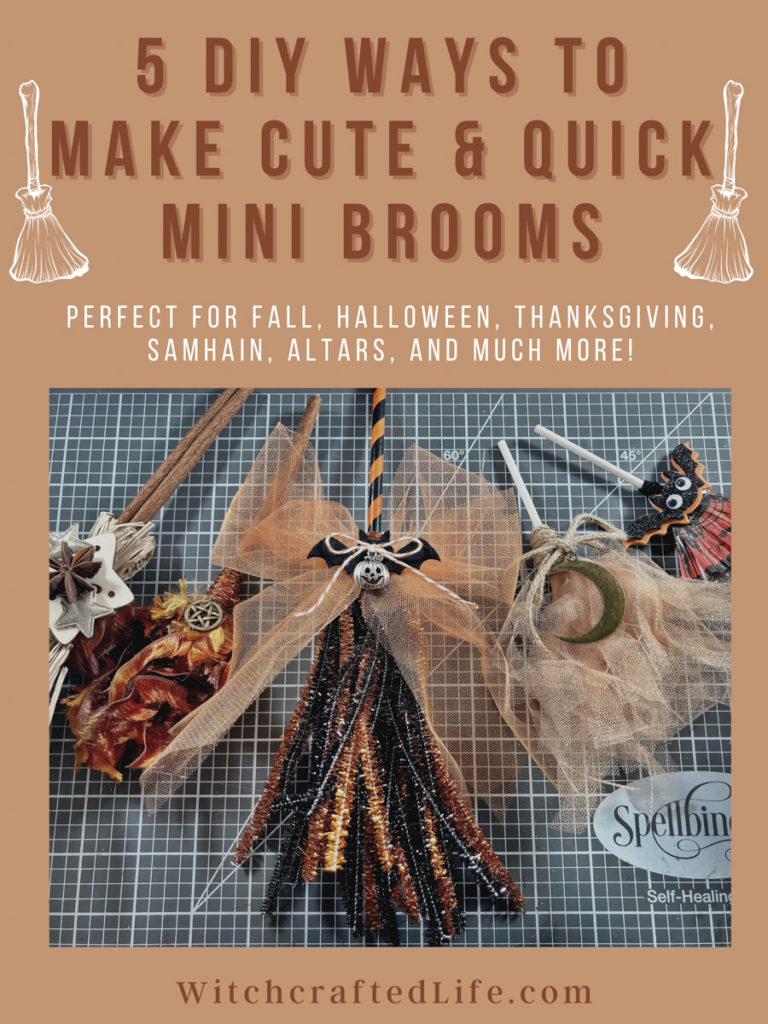 Once I start publishing ASMR content a little later on this year, I will likely just add wording such as "Non-ASMR video" to the titles of my existing YT content.
Delightfully, a video such as the one shared in this post could easily be filmed as an ASMR video, too.
This ties into what I was saying in my last post about how it is likely that some of the content I would have put up on a non-ASMR channel may very well appear on an ASMR one all the same. 😃
I'm really happy about that fact and plan to weave both witchery and paper crafting alike into the larger body of ASMR videos I create.
Thank you again, everyone. I really cannot stress just how much your support and kindness mean to me and this powerful, long-held dream of mine. 💕🙏💕