It is with a beaming heart that I bring you today's post.
In the fifteen months since this blog began, I have had the pleasure of reviewing several books on an array of Pagan, witchy, wellness, and history related topics.
Writing each of those posts and sharing my thoughts on various titles with all of you has been a wonderful joy.
However, no book review post shared here thus far has been quite as meaningful, happy, or exciting an experience as this entry.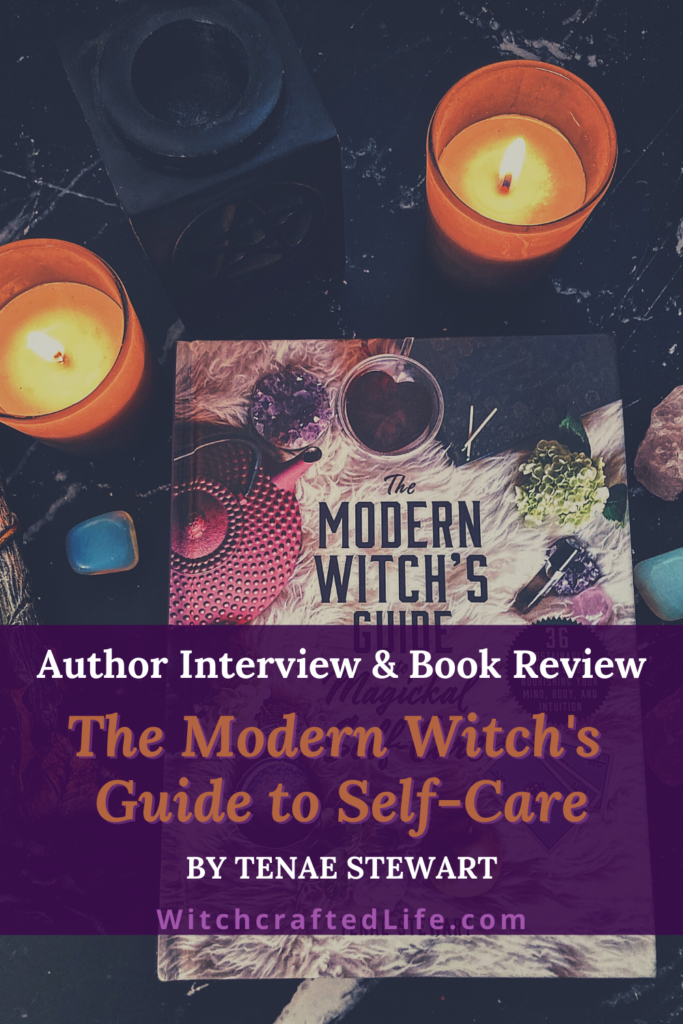 The Modern Witch's Guide to Magickal Self-Care was penned by my dear friend and fellow witch, Tenae Stewart.
I had been reading Tenae's blog (The Witch of Lupine Hollow) for quite some when our paths first directly crossed on Instagram a few years ago.
Aside from being passionate witches with a desire to support others in their own magickal journeys, Tenae and I quickly discovered that we had much in common (including, under different circumstances, both losing homes in devastating fires).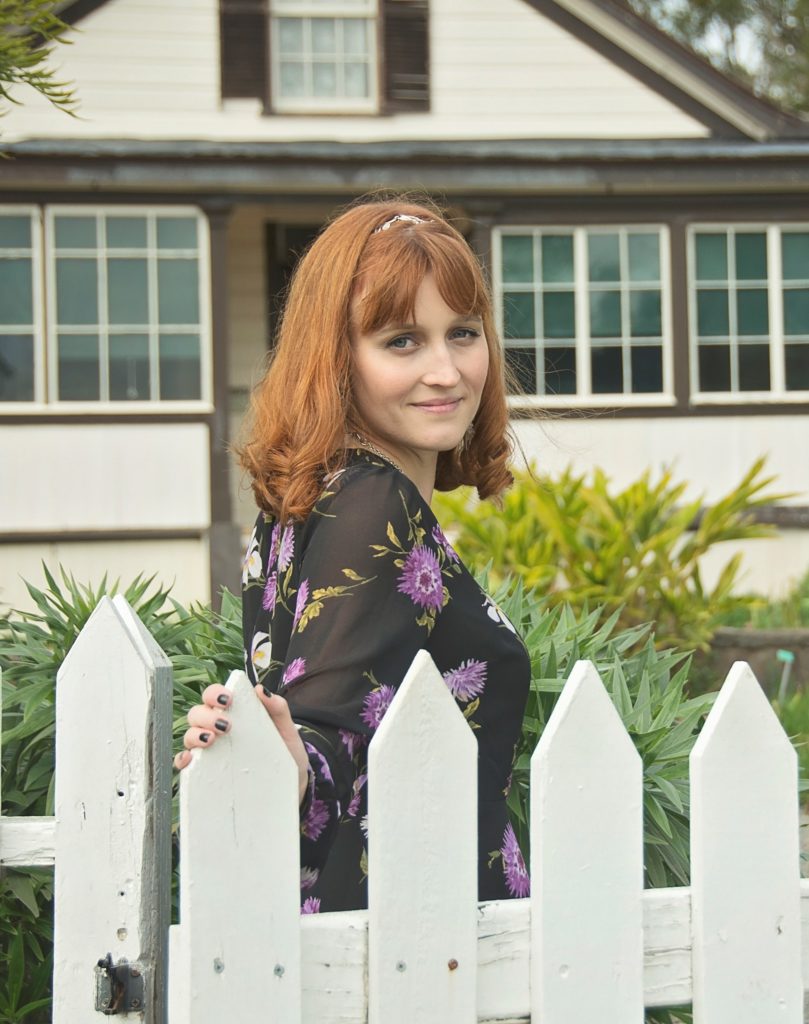 A friendship struck up quickly and for a time, I had the pleasure and honour of being a guest writer for Tenae's site.
As Tenae's focus shifted somewhat online, that position ceased organically. Happily, our friendship only continued to flourish and when Tenae shared with me that she would be writing her first book, I was elated for (and very proud of) her.
Released in the autumn of 2020, Tenae's inaugural book is a beautiful, insightful, and highly informative journey into the connections and overlap inherent to the realms of self-care and witchery/spirituality/magick.
Self-care is a topic that is very near and dear to Tenae's heart and which she had been writing about online for some time prior to this book's release.
To my mind, she was a truly natural fit for a book like this. The end result (which I will review here before sharing ten interview questions that I recently asked to Tenae) is a by far one of the most helpful and engaging on the market today about this important area of wellness.
Book Specs:
Name: The Modern Witch's Guide to Magickal Self-Care: 36 Sustainable Rituals for Nourishing Your Mind, Body, and Intuition
Author: Tenae Stewart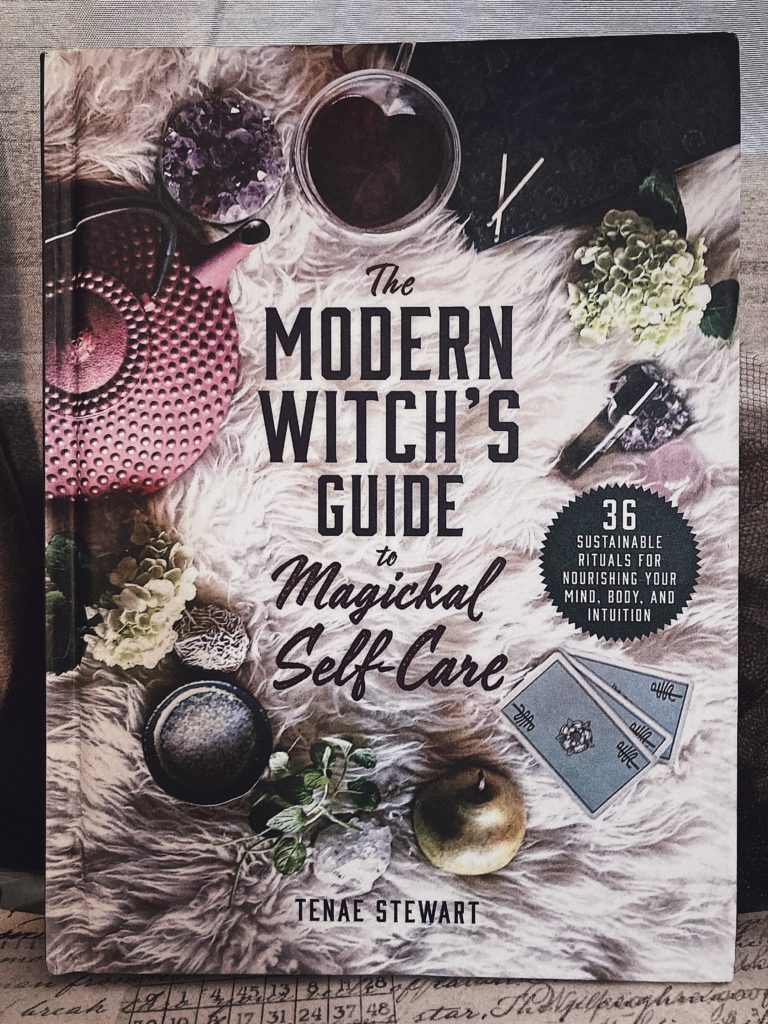 Page count: 240
Publisher: Skyhorse
Binding: Hardcover
A welcoming, knowledgeable exploration of Magickal Self-Care
Before I hop into discussing The Modern Witch's Guide to Magickal Self-Care, I want to emphatically state that my friendship with Tenae did not in any way influence my review or the rating I assigned to this book.
Nor did the fact that I had the honour of being asked to read this book before it went to print and, in turn, to pen one of the review statements provided on the back of The Modern Witch's Guide to Magickal Self-Care.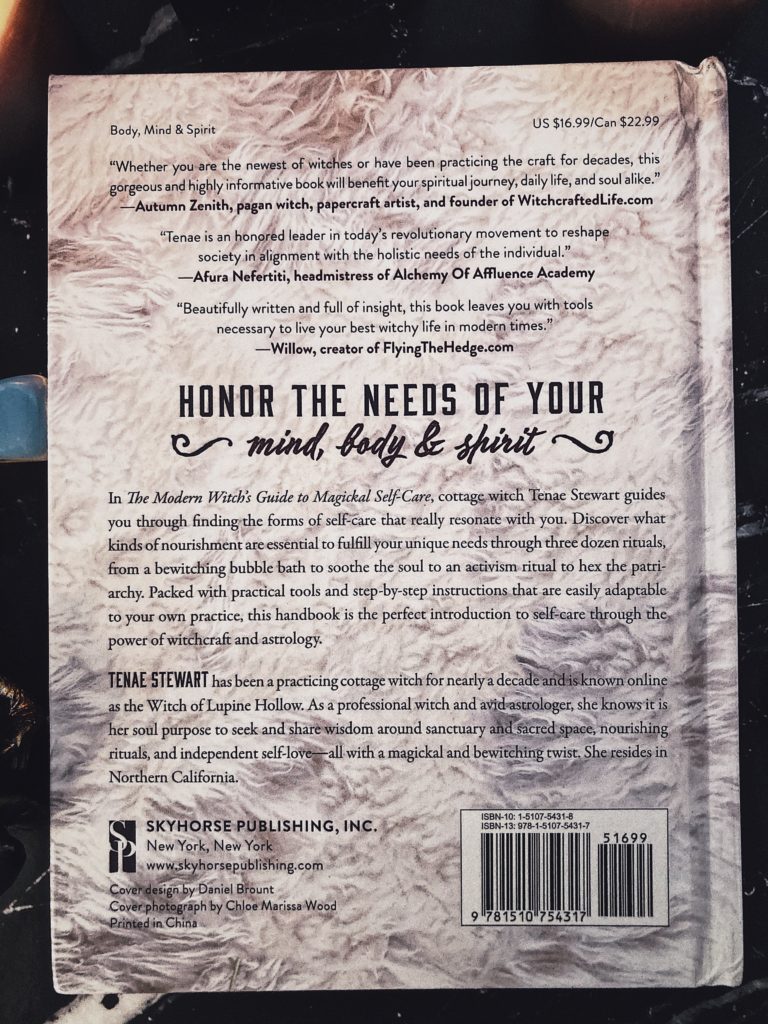 Rest assured that no matter if someone is a total stranger, a close friend, or anywhere in between, I will always provide wholly unbiased and honest reviews.
One of the first thoughts that struck me when I finished reading The Modern Witch's Guide to Magickal Self-Care was how it was hard to believe that this title is "just" 240 pages long.
Let me be clear, I am saying that as a very positive thing.
This book, which is divided into ten different chapters, is solidly packed with insight, guidance, support, journaling prompts (such as those pictured below), and a vast array of knowledge pertaining to spirituality and self-care.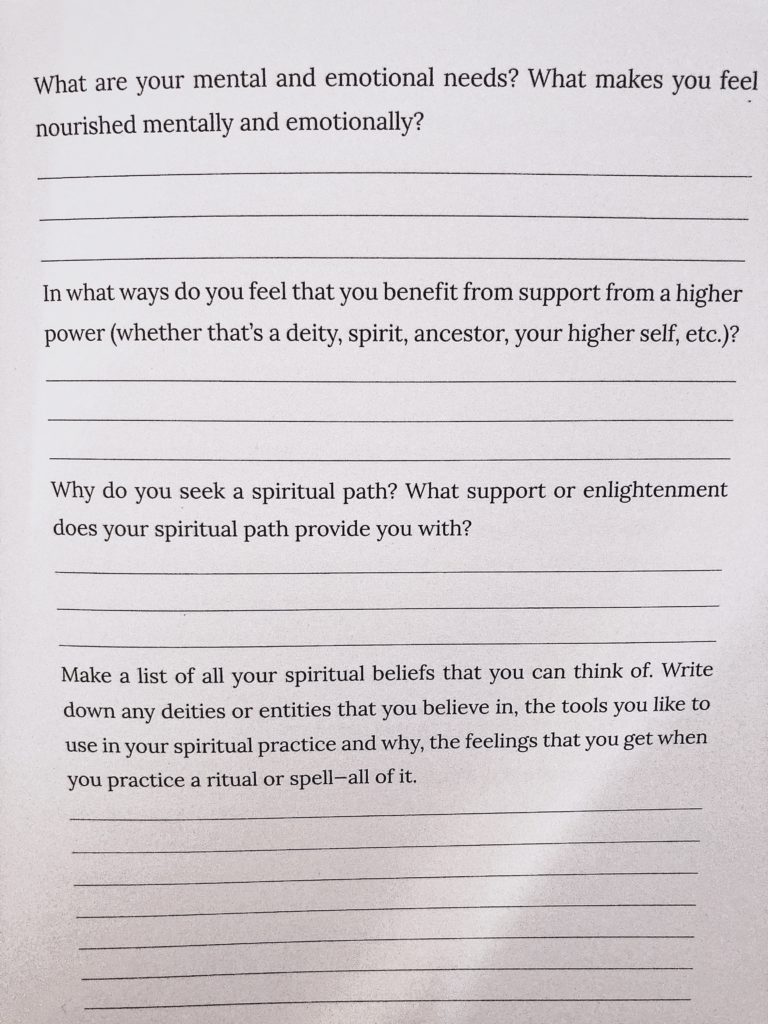 While Tenae is a fellow witch and this book has definite witchy/Pagan currents running throughout its whole. However, I did not feel that it was glaringly or overpoweringly witchy to the point of not being of potential interest and benefit to those who may be more broadly spiritual or who beliefs lie elsewhere.
In The Modern Witch's Guide to Magickal Self-Care, Tenae guides readers through some of the steps they may wish to take as they start (or deepen) their self-care practice.
Rituals and spellwork, astrology, divination, nature (including the phases of the moon), The Wheel of the Year, and kitchen witchery are amongst suggested ways to embrace self-care in your daily life.
The magickal self-care methods set forth in this book are not overly complex or challenging. They have a friendly, approachable, down-to-earth quality that makes them both accessible and appealing.
Tenae encourages readers to take inspiration, if so desired, from her suggestions, but encourages us to create our own unique and highly meaningful spiritual self-care practices.
And not only that, but she acknowledges that life is not always sunshine and roses and that, sometimes, it can be downright difficult (if not impossible) to make self-care and/or our spirituality the number one priority in our life.
This is something I feel witchcraft/Pagan authors sometimes fail to address in their books, which can then have a tendency to make it seem as though most witches spend unending amounts of time fully immersed in the witchiest of activities ever invented, rarely if ever putting the wand and herb jars down.
In reality, this simply is not true for most folks. By addressing the fact that we will have off days, down times, rough patches, and hardships to handle in life our lives, Tenae's suggestions and guidance become all the more grounded in both real-world flexibility and practicality.
Her tone is wise and empathetic, understanding and supportive. At times Tenae shares elements of her own life and spiritual path to highlight the self-care approaches she lays out.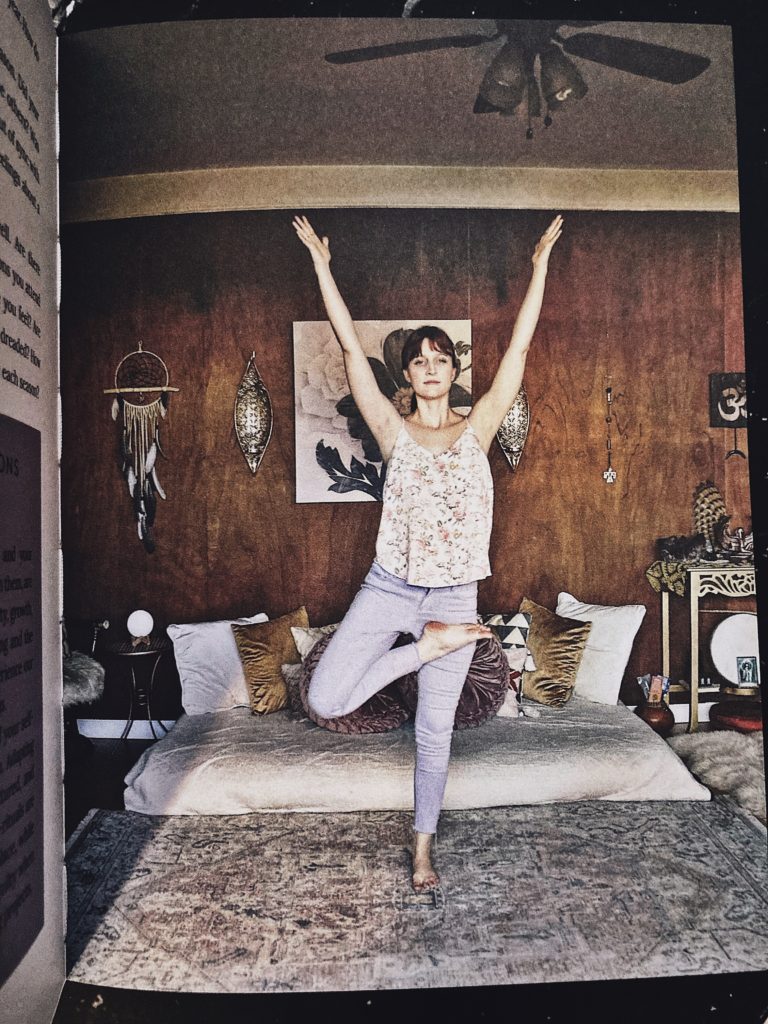 Much as with the gorgeous colour photos of Tenae herself that are peppered throughout this book, so too are these intimate connections with the author a welcome and inspiring element of The Modern Witch's Guide to Self-Care.
How The Modern Witch's Guide to Magickal Self-Care rates with me
Self-care is something that I believe in deeply and happily promote whenever possible.
I am no stranger to books on self-care, be they of the magickal/witchy or more mainstream variety and have read quite a few titles in this field over the years.
The Modern Witch's Guide to Magickal Self-Care stands out amongst the pack.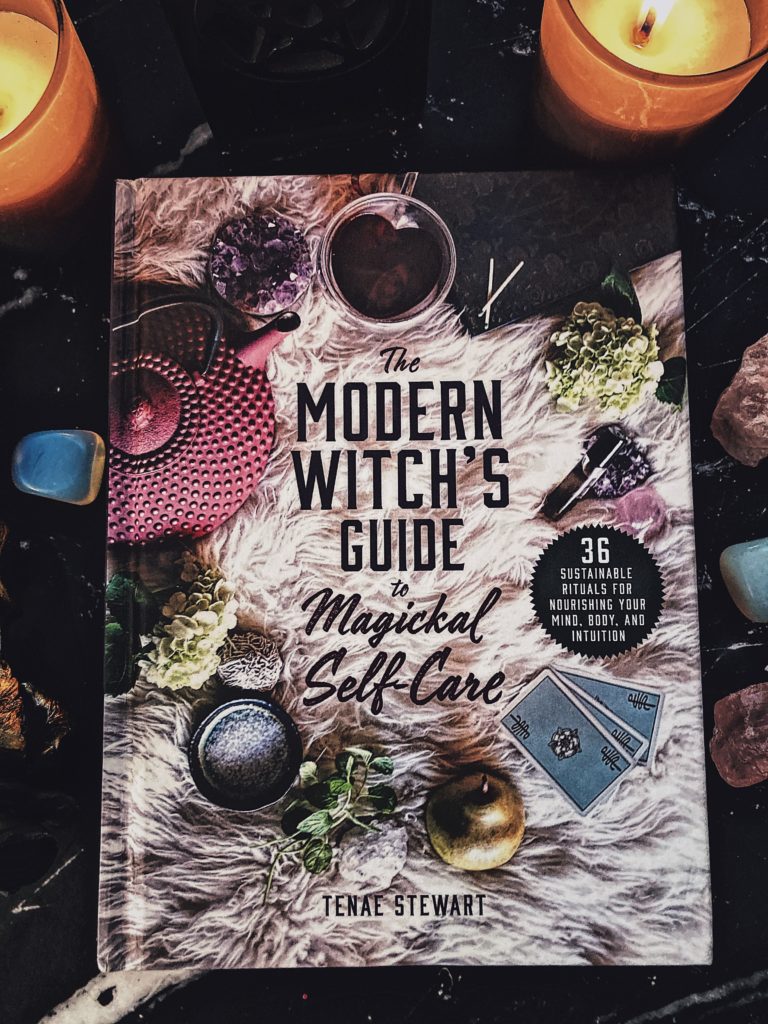 Approachable and teeming with diverse, inspiring, genuinely useful ideas to help you build your magickal self-care practice, this book stepped up to the plate and hit a home run straight out of the ballpark.
If self-care as it pertains to your spirituality, or really, even just in general, is something that you make a point of focusing on or want to become better-aquainted with, I highly recommend picking up a copy of The Modern Witch's Guide to Magickal Self-Care.
I've read this book three times already, taking Tenae's well-informed insight and handy suggestions to heart each time I connect with this title, and am sure I will continue to revisit The Modern Witch's Guide to Magickal Self-Care often in the months and years to come.
Working on a scale of 1 – 5, with five being the highest possible rating, I would give The Modern Witch's Guide to Magickal Self-Care 5 stars out of 5.
★ ★ ★ ★ ★
Interview with witchy author, spiritual coach, and self-care expert Tenae Stewart
Recently, I posed ten interview questions pertaining to the topics covered in The Modern Witch's Guide to Magickal Self-Care with Tenae.
Her answers, much like her book itself, abound with terrific insight and attainability and drive home all the more why Tenae is one of modern witchcraft's brightest leading lights.
In your own words, could you please describe who you are, a bit about the path that led you to witchery, what areas of witchery/Paganism you are currently focused on, and the witchcraft-related world that you're built online?
My name is Tenae Stewart and I'm a practicing cottage witch, an astrologer, a spiritual coach, and a published author.
I started practicing witchcraft about ten years ago, although I had been interested and read a lot about it before that. My magick has always been very grounded in the seasons and moon phases, but as a cottage witch, the center of my practice is my home, sanctuary, and sacred space.
Creating spaces that feel magickal, that honor the seasons, and that express who I am is a cornerstone of my witchcraft and self-care practices.
I also work with astrology, tea and herbalism, oracle cards, spirit guides, and a few other modalities of magick and healing.
In my work, I help modern witches embody simplicity in their magick, rituals and self-care practices so they can create rituals that fit effortlessly into their real, daily lives. I really believe that when we can simplify our practices and focus on what is most fulfilling to us, that we can have the magickal experiences all the time that many of us desire – and that we deserve.
Time, space, and energy are major obstacles to many witches who wish they could practice more consistently and confidently. I help them find the time and space within their real lives to have that, without sacrificing any of their obligations.
I work with modern witches on many different aspects of their practices but the core of what I do is focused on the seasons, moon phases, and astrology, as well as intuitive practices like dream work and divination.
When did you really start to make self-care a key component of your life and magickal journey?
I think that it always was, although I didn't really have those words to describe it until the past few years. But the key moment was after I lost my home in a wildfire in late 2015.
I had actually not been practicing witchcraft for about two years at that time, as I had given it up when I transferred to university, thinking I no longer had the time or energy to practice, (something I hear so often from my clients and community).
But after the fire I realized that I really needed that spiritual anchor once more and that I needed a soft, supportive, nourishing practice to carry me through the grief and trauma I was navigating at that time. That was when I recommitted to my path, reclaimed my inner witch, and started on the path that led me to doing this professionally.
To your mind, what are the core pillars of a successful self-care practice?
I work with five essential core pillars of a magickal self-care practice, what I call the Pillars of Divinity because they incorporate elements of both the divine masculine and divine feminine. These pillars are the mind, body, intuition, nature, and devotion and they're designed to help us create self-care practices that are holistic and that nurture all aspects of ourselves.
A well-rounded practice includes elements that nourish our mind and mental health as well as our physical body, which are both sometimes left out of spiritual practices. Simultaneously, it also includes practices that help us connect with our intuition, (which might be divination, dream work, meditation, etc), and that help us connect with nature through the seasons, herbalism, getting outside, etc.
Finally, one of the most important elements is devotion which is where we reflect on what matters most to us in life and in our spirituality and then be sure we are taking regular, intentional action on those things. This might be the worship of a deity, which is what a lot of people think of when they hear devotion, but it might also be health, self-love, activism, a relationship, or anything else that really lights you up.
I also believe that shadow work is an essential component of both magick and self-care and always recommend witches start there when beginning a new practice or ritual!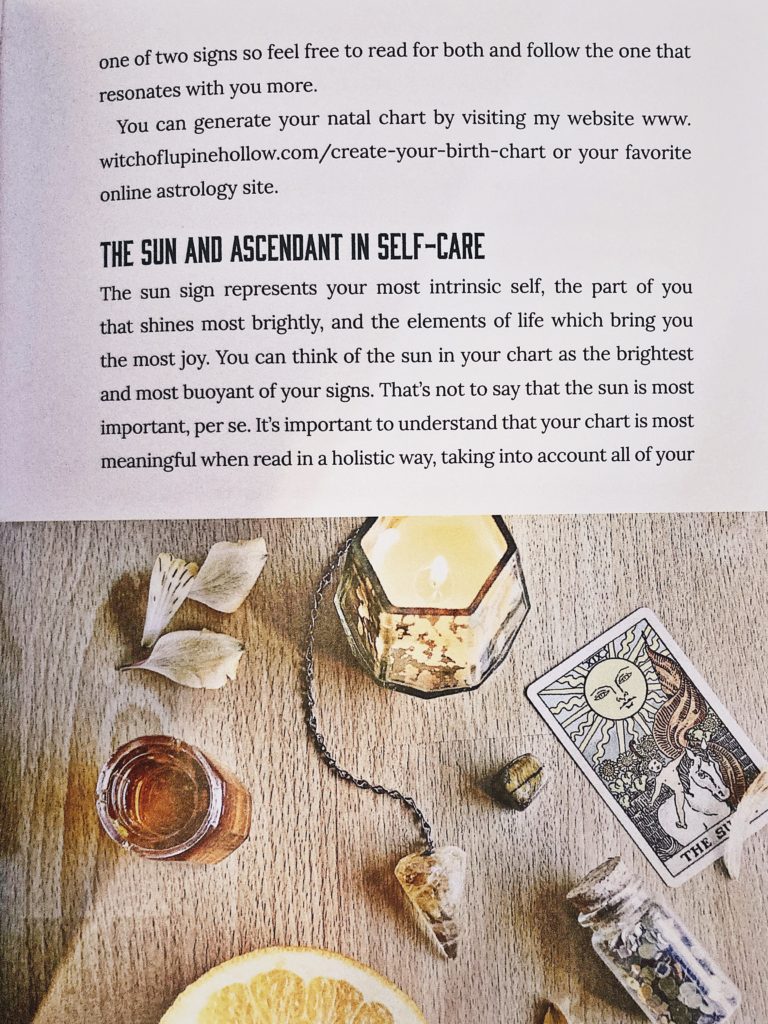 Astrology is very near and dear to your heart, and it figures extensively throughout your book. Is there anything pertaining to self-care/self-love and astrology that you'd like to share here, which did not appear in the book?
I did touch on this in the book but it's always worth emphasizing – one of the most important parts of your chart for understanding your self-care needs is the moon.
Your sun sign is the sign you probably know easily off the top of your head and it is an important part of who you are – in fact, it's the source of your joy and that makes it an important part of your self-care too. But the moon represents your inner self, the part of you that you don't always share with others and that can feel very personal and private.
Understanding the sign and house that your moon activates will help you create a self-care practice that is deeply nourishing, not just surface level.
Why do you think that some people have an aversion to the concept of self-care? Do you feel that, as you touched on in the book, a modern sort of "bubble bath" mindset that the media has perpetuated in regard to self-care is part of the reason why self-care is off-putting or seen as too "woo-wooish" to some folks?
I actually think that the "bubble bath" mindset has made self-care somewhat appealing to the general public but less so in spiritual communities because it seems surface level or inauthentic. Sometimes in the spiritual community, whether that's specifically witchcraft or more "woo" in general, we have a tendency to think that if it's not deep, dark shadow work or an outright confrontation of society, that it's not worth doing.
There has been a big backlash in recent years against the "love and light" folks who have committed some really rampant and harmful spiritual bypassing. And it is true that just taking a bubble bath is not going to solve anything in the larger scheme, nor is it necessarily inherently magickal.
However, I do think that there is a balance to be struck – as long as we are also doing the shadow work and taking the bigger actions, then pampering our bodies and finding truly deep relaxation are going to support those larger goals as well.
In your book, you often address those who are newer to self-care and/or may be struggling on this front (and/or with their spirituality in general). This is awesome, of course, and will be of help to many people. What advice or suggestions would you give, however, to someone who is a self-care veteran and who is presently doing great from a spiritual standpoint?
This is a great question! I think that we have a tendency as self-care veterans or as advanced practitioners of witchcraft to think that we always need to be learning and growing and, of course, there is some truth to that.
It's important to always be learning new things and not to get stagnant. And yet, I think there has been a bit of a capitalist infiltration of our thought process in this way, because if things are going great, we don't always know how to believe or accept that. We both doubt ourselves and our own fulfillment and think we always need to be productive.
I know that when my rituals have been at a place where I'm being super consistent with them and they feel really inspiring, sometimes I don't really know what to do with myself because I think I need to be always figuring something out.
So for those who are veterans and who do feel great about their spiritual and/or self-care practices, I would encourage you to really revel in it – relax into the peace instead of trying to fight it. There will always be time to shift and learn something new in the future!
While your book has not been out for very long yet, a tremendous amount has changed in the world since its publication. If you were writing the book today, in the midst of the pandemic, would have changed anything or included information that isn't present in this edition?
Yes, I finished the manuscript just a few weeks before the pandemic lockdowns began in my area, so the book really is not informed by the current state of the world. Although, I do think the timing of its release could not have been more serendipitous with so many people in need of more self-care and mental and emotional support than ever.
I don't think I would have changed anything, per se, but if I were writing the book now, I would certainly speak to the added challenges of shared spaces, isolation, and how those things can shape and influence both our need for and ability to practice self-care.
And to that end, what advice would you give to fellow witches and spiritually focused individuals in general as we continue to face this ongoing global challenge?
The biggest thing is just that we need to continue to be gentle with ourselves, to remember that we are living in unprecedented times, as much as we are all a bit sick of hearing that.
Our self-care is extra important right now but sometimes it's also self-care to skip your rituals for a week and to just forgive yourself for needing that time and space.
Where do you see the field, so to speak, of self-care going in the next five years? What about in twenty-five years from now?
I think we're going to continue to see a lot of growth and focus on self-care, especially as we begin to emerge from the pandemic, with all the conversations going on right now about maybe continuing to work remotely and the changing landscape of work and healthcare.
I think we'll see more and more intimate opportunities to connect with one another and to nurture ourselves socially, as we've all seen how detrimental isolation can be, even when it's absolutely necessary.
Twenty-five years from now… if we continue on the trajectory of the last five years, I think we could see self-care, spirituality, and intuitive work taking the center stage alongside traditional mental and physical healthcare, especially for women+ and femmes.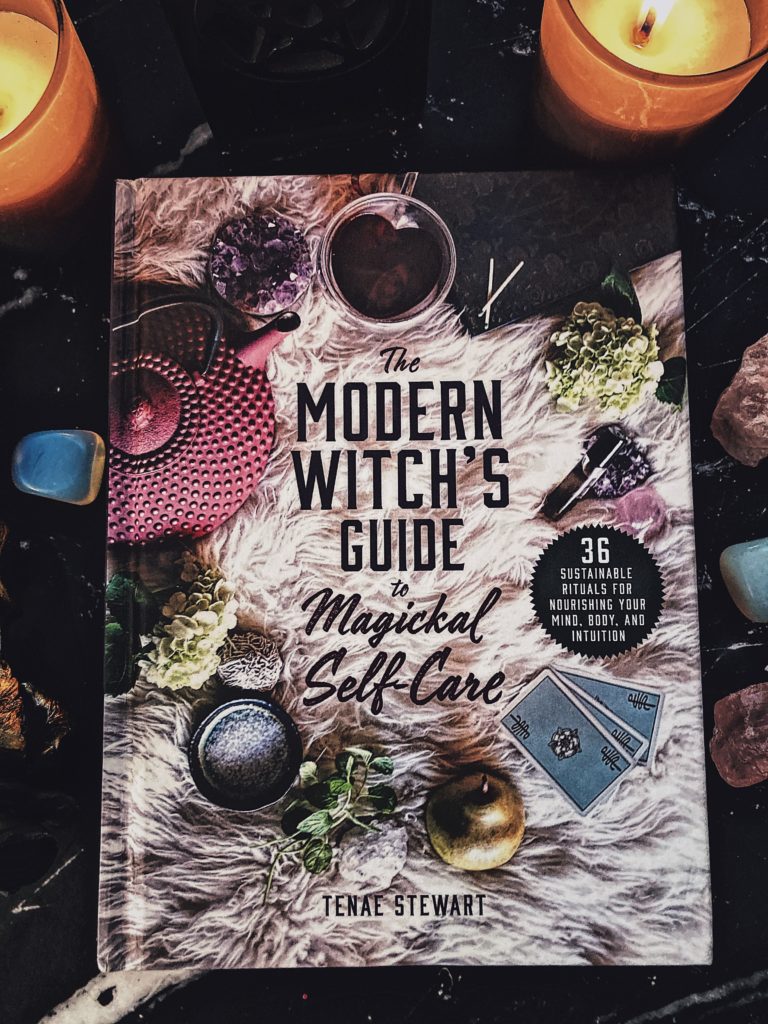 Can you share five simple, effective things with us that most people could do right now to incorporate more self-care into their daily lives?
1. Reflection. We cannot create effective practices unless we know what is currently working for us and what is NOT.
2. Light a candle. Candlelight adds so much magick and softness to any ritual, no matter how small.
3. Look up at the moon. An awareness of the cycles of the seasons and the moon phases is an ancient, natural way of tracking our own cycles. Looking up at the moon and noting what phase she's in is such a powerful way to also check in with yourself.
4. Track your time. Knowing how long it actually takes you to get ready in the morning or how you can best utilize your lunch break, for example, is so helpful in creating practices that fit into those in-between moments in our lives.
5. Plan for changes. No one practice is going to be effective forever. Plan to adapt your rituals and practices on at least a seasonal basis, even if they seem perfect right now – things change!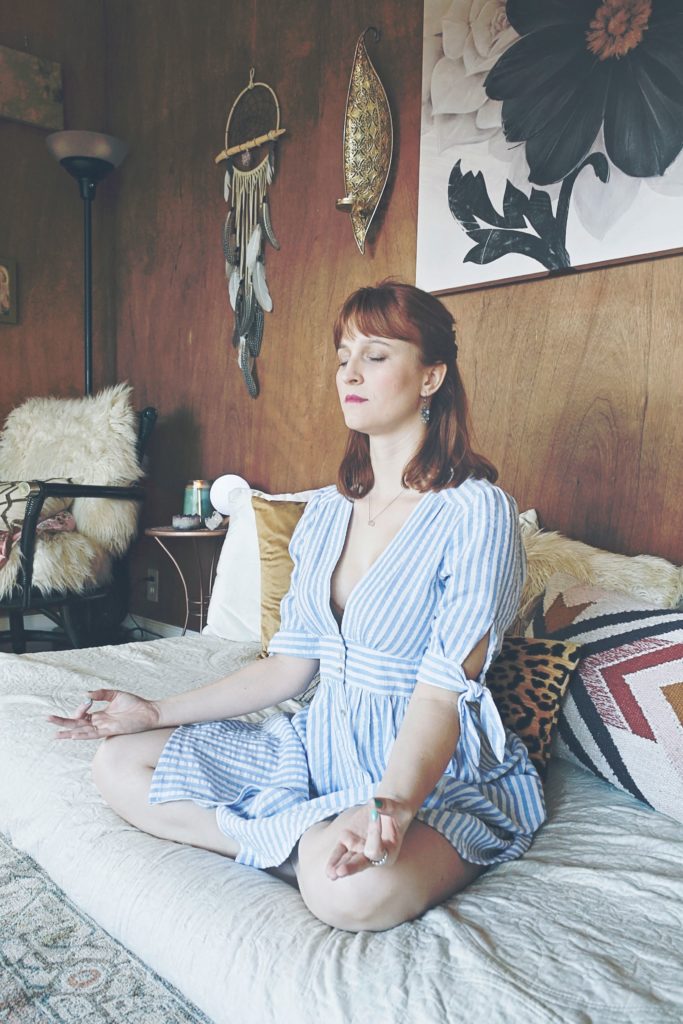 Thank you very much for sharing your time, insight, and magick with us, Tenae. The spiritual community is blessed to have you and your work in our midst. 💗
If you would like to get to Tenae further or to work with her in a professional capacity, you can connect with her via:
–Website: The Witch of Lupine Hollow
–Podcast: Empowered Modern Witches Show
–The Empowered Modern Witches Facebook Group
And, as a final and very exciting note to cap off this book review + author interview post with, my heart is once against overflowing with happiness as I share with you that Tenae will be writing a second book.
The Modern Witch's Guide to Natural Magick is slated for release in the spring of 2022.
Rest assured, dear readers, that you can bank on me – a devoted practitioner of nature magick – being amongst the first in line to read and, hopefully, review this title as well.
I can hardly wait! 😃
Have you read The Modern Witch's Guide to Magickal Self-Care? How does self-care factor into your spiritual path? 🕯️📖🧘🏽