There are various dates on the calendar that many of us automatically associated with sweet treats.
For example, birthdays, Valentine's Day, Easter, and Christmas – to name but a few.
However, for all the candy, cakes, pies, cookies and so forth both created at home and sold commercially for those events, perhaps no other day of the year is more connected to sugary eats than Halloween.
(In those countries and amongst those individuals who observe All Hallows' Eve, that is.)
When you think of sweet foods and Halloween, what springs to mind first for you?
Miniature candy bars? Toffee apples? Lollipops? Marshmallows? Candy Corn? Festively shaped sugar cookies? Gummy sweets? Caramel Corn? Pumpkin spice cupcakes?
There are no right or wrong answers here. The foods – be they sweet or savoury – that you associate with October 31st are apt to include certain widely popular choices as well as those that are more unique and personal to each of us, our families, and the culinary traditions that we hold dear.
While ice cream may not be the first sugary delight that leaps out at you when you think of Halloween (or perhaps it is – in which case, chances are we'll be fast friends! 😃), there's no saying this beloved dessert can't be a part of your October 31st feast.
Assuming, of course, that one enjoys and can safely eat ice cream (be it dairy, nut milk, coconut milk, soy milk, oat milk, rice milk, frozen banana, etc based).
Living in an area where snow on, or prior to, Halloween is by no means unheard of, ice-cold treats aren't always my family's first pick.
However, we have reached for this delicious dessert some years – especially those Halloweens that were a touch warmer.
The flavour commonly known as "Tiger Tail" – a mix of orange and black licorice flavoured ice creams swirled together in the same container – being one of our faves due to its festive colour palette.
The web abounds with tons of fun, creative, and lip-lickingly scrumptious fall and Halloween ice cream recipes.
If you are a fellow ice creamoholic (or are simply in the mood for some ice cream this month), I highly recommend seeking some of them out.
I enjoy a great dessert as much as the next person, but have never had the biggest sweet tooth. Instead, generally opting for the savour/salty option if presented with a food from each camp.
That said, I have a perpetual passion for ice cream that nothing – not even two decades and counting of extensive medically necessitated dietary restrictions – can diminish.
As the long-standing fondness for ice cream across the globe clearly proves, I am by no means alone on this front. 😊
A lovely online friend of mine has mentioned a time or two about how much she madly adores ice cream as well and that got me thinking…
Or, I should say, that got the hand crank on the old-fashion style ice cream maker that is my imagination churning. 😄
Why not make and send her an ice cream themed Halloween card?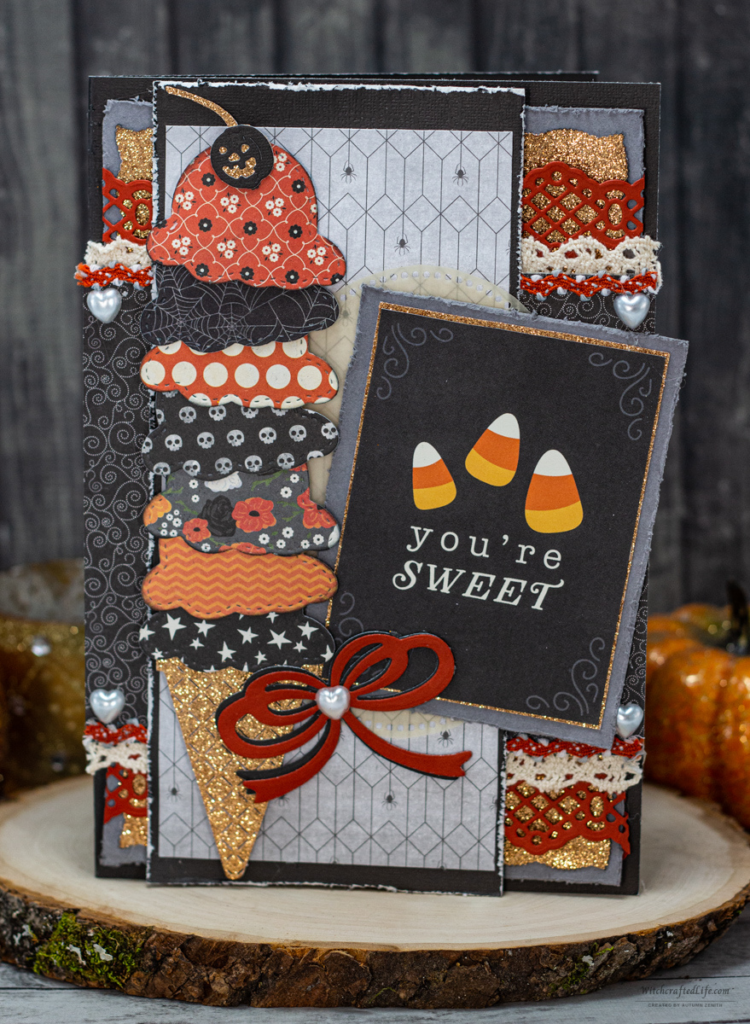 I have to say, I fell in love with this idea the moment it struck me and am delighted with how my vision for a Halloween ice cream card came to fruition.
Adorably Spooky "You're Sweet" Halloween Ice Cream Cone Card
Presently, I can't claim to have a lot of ice cream related products in my paper crafting stash.
However, I knew that I had a cute little ice cream cone die that would be the perfect fit for the card design that was brewing in my head.
I began by die cutting several scoops of ice cream from various papers in a 6"x6" paper pad from Pebbles called Thirty One, and went with some gorgeous coppery-brown coloured glitter paper for the cone itself.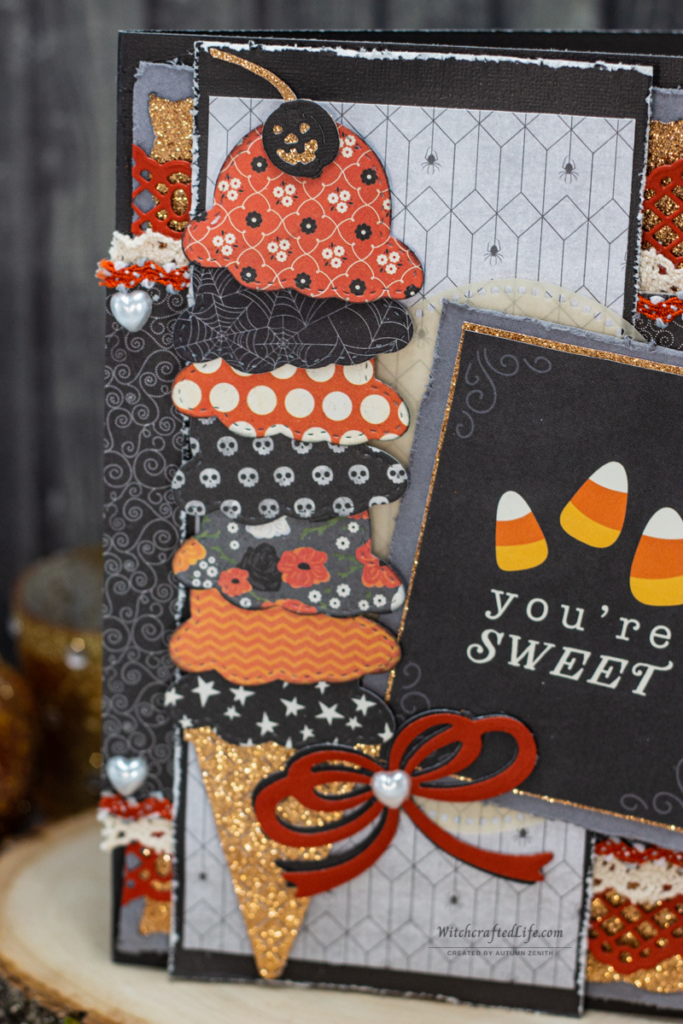 Aside from how nicely it colour coordinates with the festive Halloween print papers, I specifically selected this colour of cardstock so that the die cut ice cream cone would better resemble a waffle cone.
At first, I thought I would top the cone with a traditional cherry. I quickly realized though, that I don't appear to have a cherry die or punch in my stash. (Strange, really, as I adore cherries and items depicting them.)
No sooner had I discovered that point than the idea of placing a wee little jack-o-lantern pumpkin "cherry" atop the scoops hit me. 💡
I used my tiniest jack-o-lantern die, cutting the shape from black cardstock and backing its facial features with the same copper coloured glitter cardstock (from which I also freehand cut the shape of a cherry stem).
The friend that I posted this card off to is a really kind, terrific person for whom the description "sweet" applies in spades.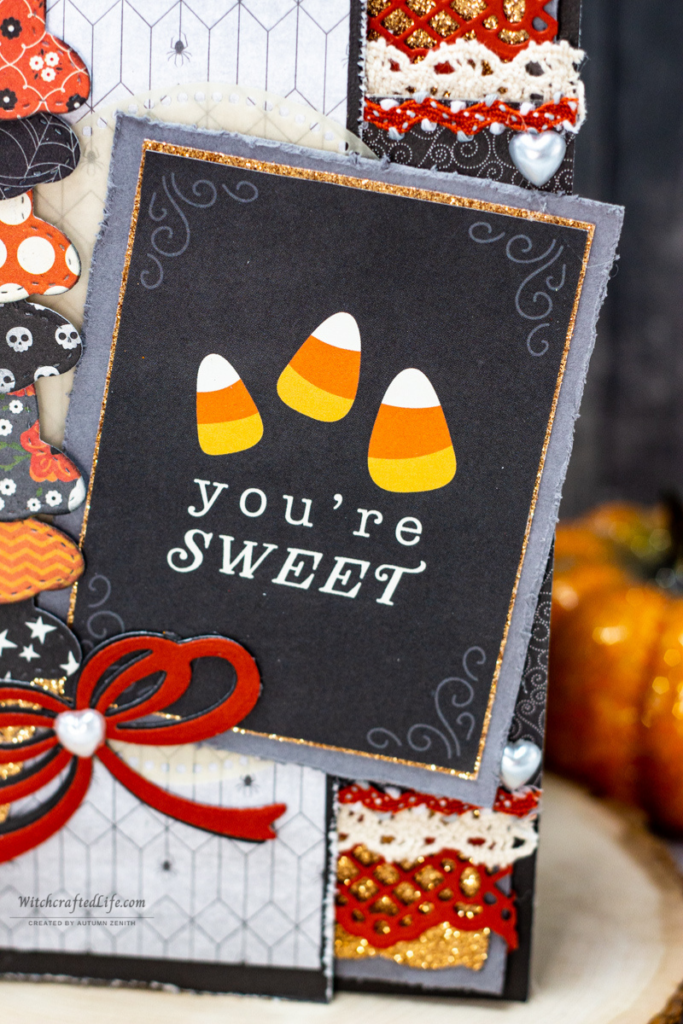 As such, I dug around through my Halloween papers to find a sentiment that would convey both that message and tie into the inherent sweetness of ice cream itself.
Various layers of cardstock and paper, two different trims, and a quartet of pretty little pearlized white heart embellishments joined my All Hallows' Eve themed ice cream cone to create the card featured in this post.
It was a ton – and I mean an absolute ton – of fun to create this delightfully spooky season greeting for my very sweet friend.
I hope that receiving it will be the cherry on her October – and likewise hope that you will give making your own Halloween ice cream card a go as well. 😃
Products used to make this super cute Halloween ice cream card
-Black cardstock
-Grey kraft cardstock – Grey Kraft Cardstock from Recollections
-Dark orange/terracotta cardstock
-Cream/ivory coloured vellum – Ivory Vellum from Paper Reflections
-Copper coloured glitter cardstock – Heavyweight Glitter Cardstock from Darice
-Dangling spider print paper – Spook Hill 8"x8" paper pad from Recollections
-All other patterned papers used throughout this project – Thirty One 6"x6" paper pad from Pebbles
-"You're Sweet" cut apart sentiment – Midnight Hauntings Midnight Sentiments paper from Pebbles
-Ice cream cone die
-Dotted edge oval die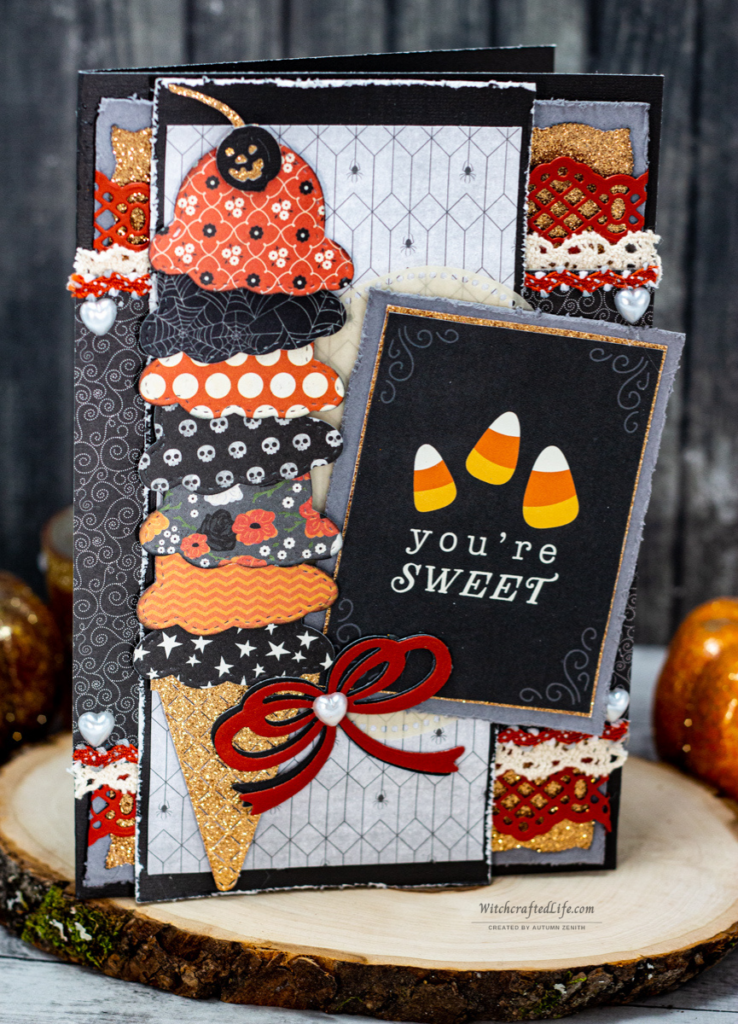 -Elegant border edge die
-Flat (non-3D) bow die
-Tiny jack-o-lantern die (alternatively, you can die cut, punch out, or hand-cut a small circle shaped piece instead and draw or carefully cut out a jack-o-lantern face on it)
-Decorative edge scissors – Sunflower decorative edge scissors from Fiskars
-Black ink pad – Wicked Black Archival Dye Ink Pad from Color Box
-Orange and pale grey trim (from Michael's unbranded line of budget-friendly products)
-Cream/ivory crochet trim – Cotton Lace Trim Ivory 2 from MultiCraft
-Small white pearlized plastic flatback embellishments
-Dimensional foam, pop dots, or similar to elevate some of your layers
-Adhesive, such as a tape runner, of your choice (I often use my Scotch Tape Glider)
How to make this darling Halloween ice cream cone card
Begin by making a card base from black cardstock (charcoal grey would work really nicely here, too).
Top your card base with a slightly small sized piece of grey kraft (or any medium grey) cardstock, destressing the edges on all sides. Adhere to card base.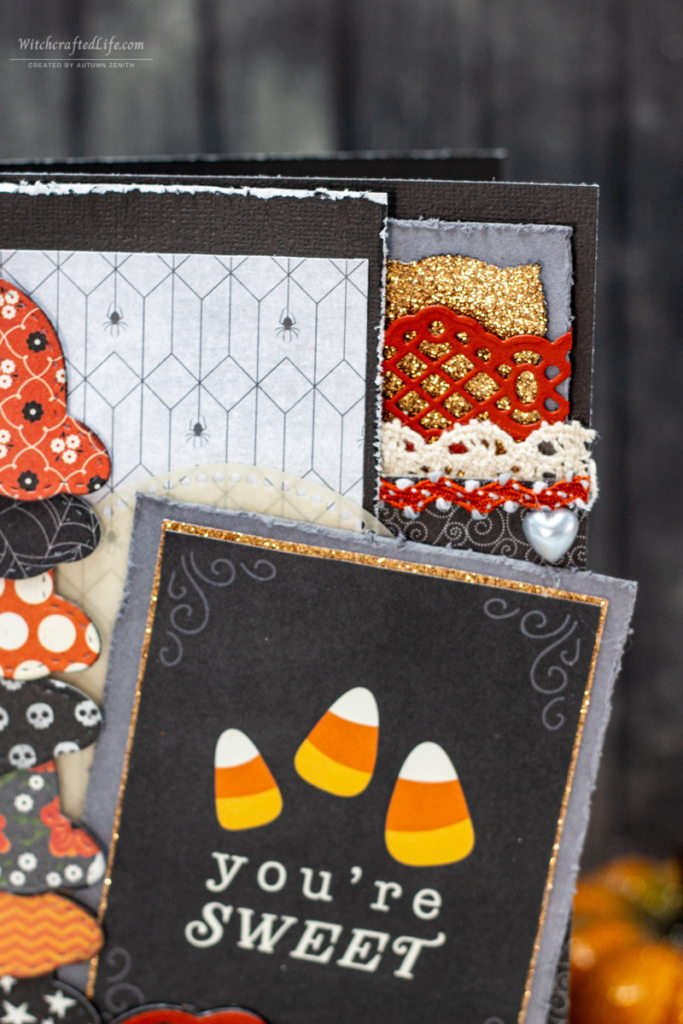 Using decorative edge scissors (in this case "Sunflower" from Fiskars), cut out a piece of copper coloured glitter cardstock slightly smaller than the grey cardstock layer. Attach to grey cardstock.
Die cut two elegant border/edge pieces from dark orange or terracotta cardstock. Adhere one die cut border near the top of the card and another near the bottom, as shown.
Slightly layer pieces of both cream and orange + grey trim on both the top and bottom die cut border pieces. Adhere in place with sturdy adhesive.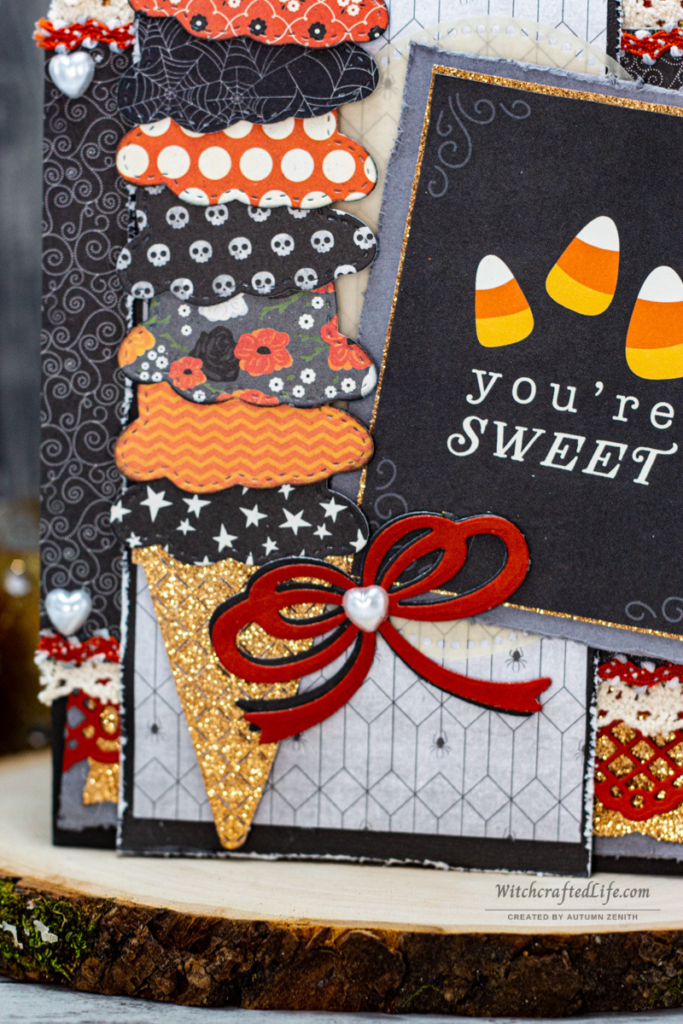 From the Pebbles Thirty One 6"x6" paper pad, cut a piece of swirling grey and black patterned paper and adhere it in the center of the card design so that the orange + grey trim just ever-so-slightly overlaps on this layer. Adhere to previous layers.
Cut a piece of black cardstock the length of your card base. Distress the edges and adhere over all previous layers.
Top this with a piece of dangling spider print paper from the Spook Hill 8"x8" paper pad.
Die cut an oval from cream/ivory vellum and adhere it slightly off-centre on the righthand side of the dangling spider print paper.
Next, die cut your ice cream cone from glittery copper cardstock and your scoops of ice cream from various Halloween print papers. Ink the edges of the scoop with black ink.
Assemble your ice cream cone so that the scoops are slightly, playfully crocked. Adhere layers together and then adhere your ice cream cone to the dangling spider print paper layer.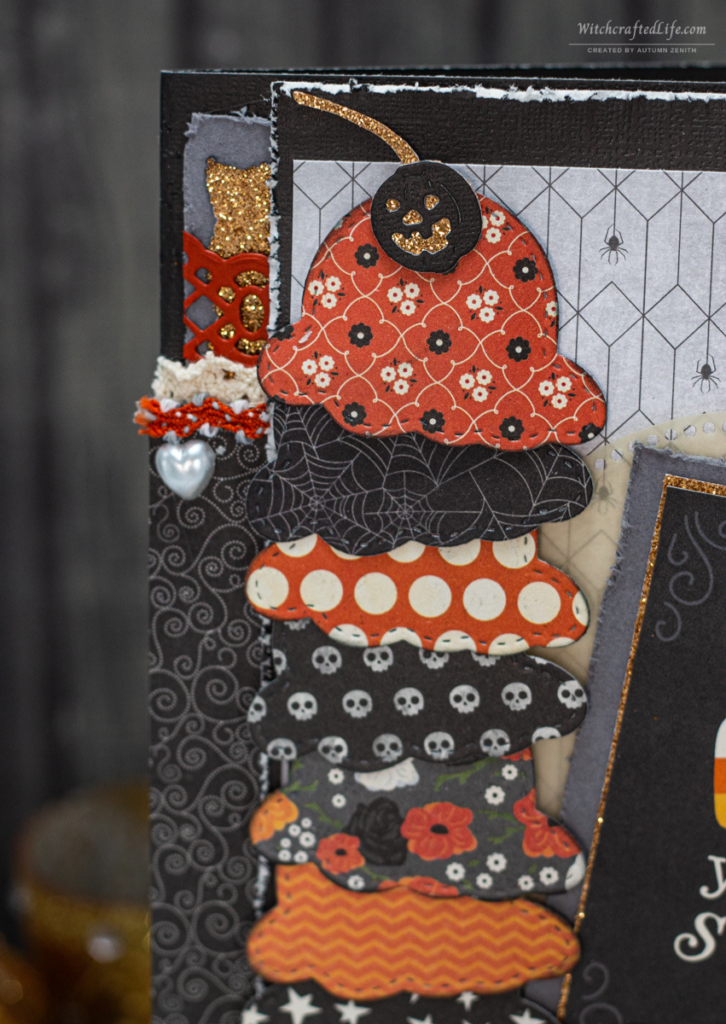 Create a tiny jack-o-lantern "cherry" from black cardstock, backing it with copper glitter cardstock. Use the same copper glitter cardstock to die cut or hand cut a stem for the cherry.
Cut out the "You're Sweet" sentiment. Mat it with a layer of copper glitter cardstock and a layer of grey kraft cardstock. Distress the edges of the grey cardstock layer.
Adhere layers together and attach your sentiment at an angle over top of the vellum oval piece.
Die cut a flat (aka, not 3D) bow out twice. Once from black cardstock and once from dark orange or terracotta cardstock.
Stack and slightly offset the die cut bows so that the black creates the sense of a shadow behind the orange bow.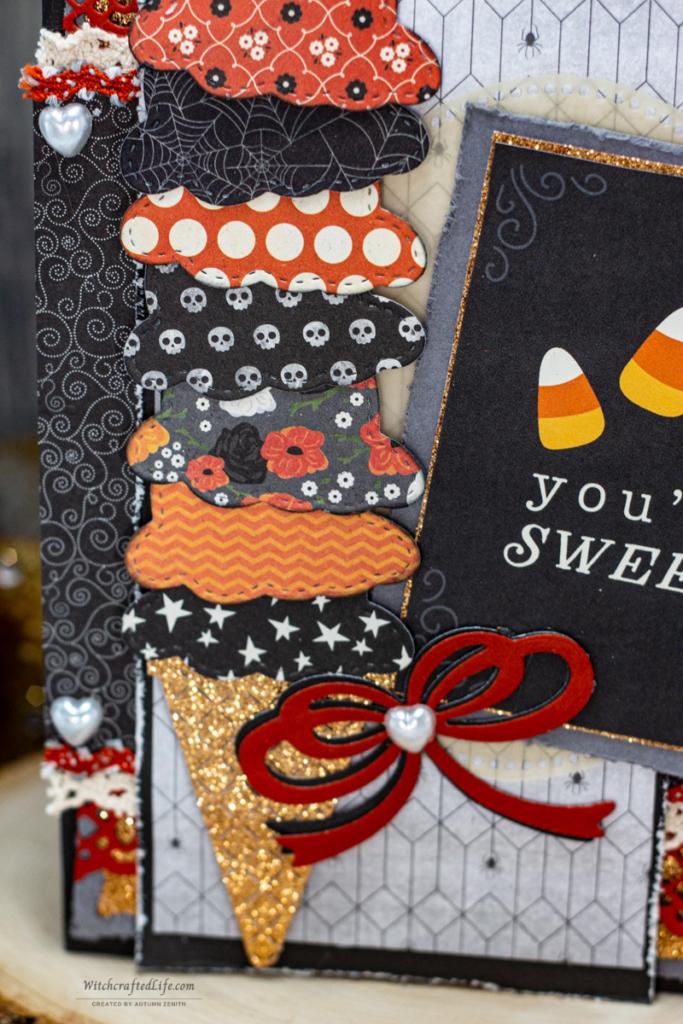 Adhere both bows together and then to your card. Top the bow with a small white pearlized heart embellishment.
Place four more of the same tiny heart embellishments around the corners of the swirling black and grey patterned paper piece that you have previously attached.
And just like that, you're wonderfully sweet Halloween ice cream cone card is complete.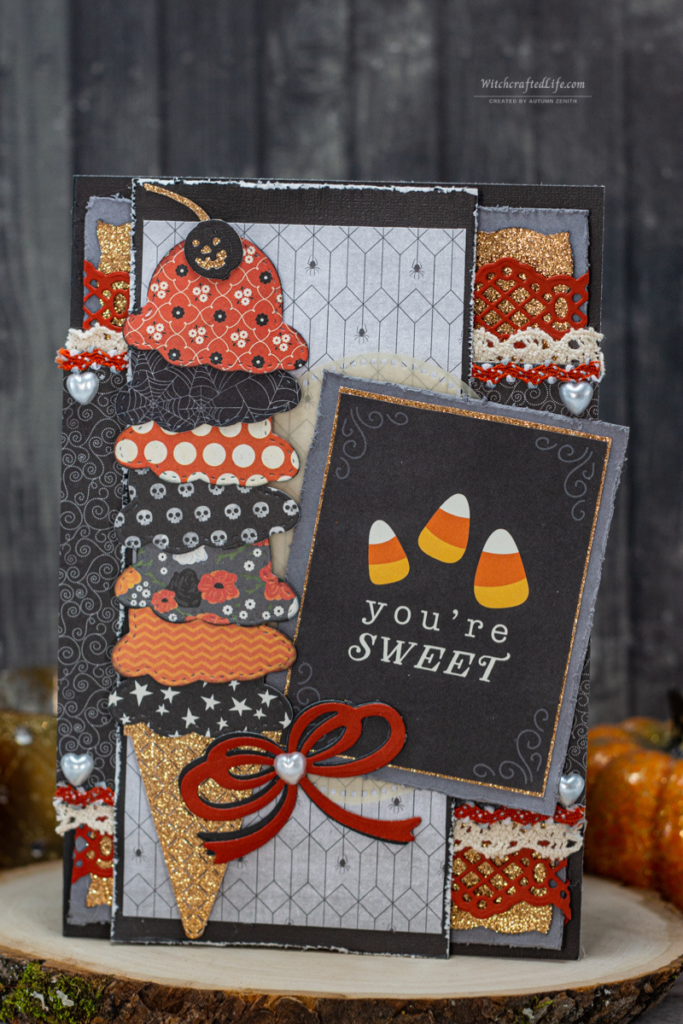 Be forewarned, much as with the real dessert that inspired this festive greeting, you may be tempted to go back for (aka, make) seconds, thirds, and so forth of this darling spooky season greeting. 😊
Don't be afraid to outside of the box when making Halloween cards
No one loves the classic images, themes, and colours of Halloween more than this ghoul. Sometimes though, it can also be highly enjoyable to think beyond the usual ideas and come up with something really unique and cool (ice cream pun intended).
Have a look at your paper crafting stash. What products could you use for Halloween that are not typically (or overtly) associated with October 31st?
Let your imagination run wild, try something new out, and embrace the fun of All Hallows' Eve via your cards, tags, scrapbook pages, and more this autumn.
Just about any theme or idea is fair game when paper crafting and that certainly applies to your Halloween project as well.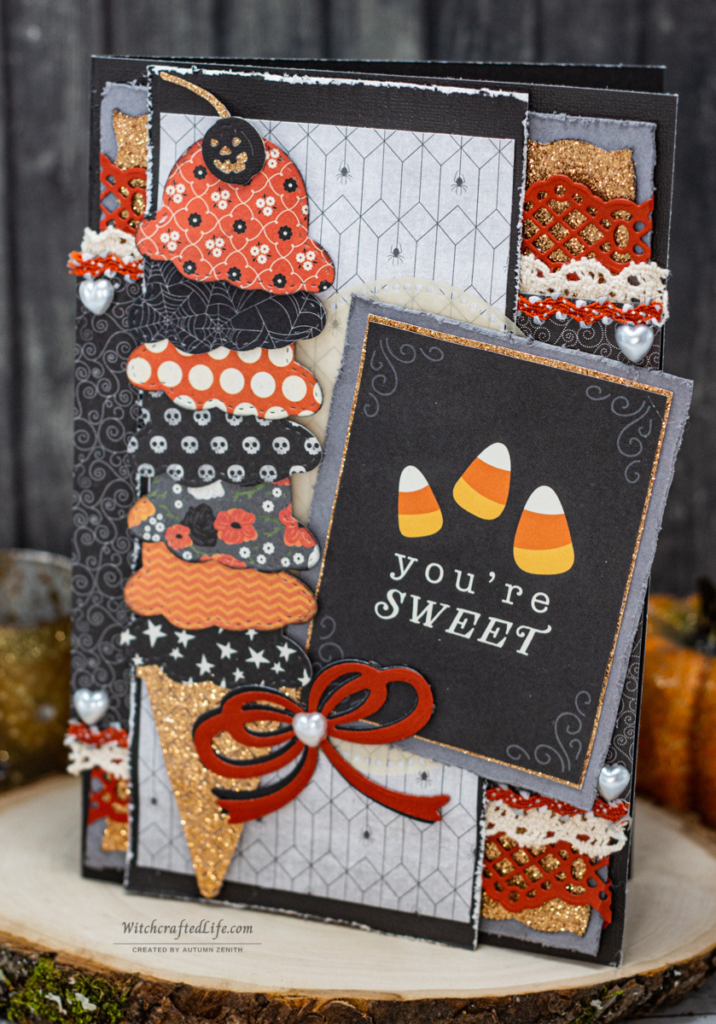 There is a palpable excitement and heady, incredible energy to the final days of October.
I cherish this point in the year and feel more fortunate than ever (especially as the pandemic rages on) to experience another Halloween season.
A single week now stands between us and the 31st. 👻
You can bet your favourite Halloween decoration that I will be focusing as much of my time and energy as possible on all things sweetly spooky, spine-chillingly macabre, and nostalgically festive during these seven magnificent days.
Just as I know many of you will be as well.
Go, team #MakeHalloween365!!! 🥳
This Halloween, why not start a new tradition by including ice cream – be it the real deal or a cone whipped up in papercraft form – in your October 31st happenings?
May your Halloween countdown week be sweeter than all the ice cream and festive candy in the world, dear friends – here's to celebrating and delighting in the magic and marvellousness of this incredible point in the year! 🍦🎃🖤
PS: If you want to go all-in on celebrating with ice cream this October, you could always whip up a thoroughly delightful DIY Ice Cream Sunday Halloween costume.