Can you feel it in the air? That heady, electric surge of timeless energy that permeates the second half of October?
Halloween and Samhain are mere days away – a point that makes this autumn adoring witch immeasurably happy. 🎃
As a season that is inherently connected to themes of harvesting, change, endings, and death, it is no surprise that autumn – and in particular, October – is inextricably linked with cemeteries and graveyards.
Plenty of these are rendered in decoration form during the spooky season and they can be a wonderfully hair-raising thrill to experience.
However, the real deal was the original deal, so to speak, and it is this type of burial ground that we'll be focusing on in today's post.
Whether you are a fellow taphophile (if this term is new to you, be sure to check out my in-depth post, What Is Taphophilia? Exploring the Fascinating Subject of Grave Hunting) or simply someone who enjoys visiting cemeteries and graveyards, these hallowed spots are a nearly universal element of the human experience and one that provides no shortage of interest and inspiration to many.
So much so, in fact, that numerous folks over the years have opted to create whole websites and blogs devoted to subjects such as cemeteries, graveyards, headstones, funerals, burials (including the green burials), and death positivity.
Enmeshed as we currently are in the heart of All Hallows' season, with that most liminal of days (Samhain/Halloween) rounding the bend again, I thought now would be an excellent time to share a selection of cemetery focused blogs with you.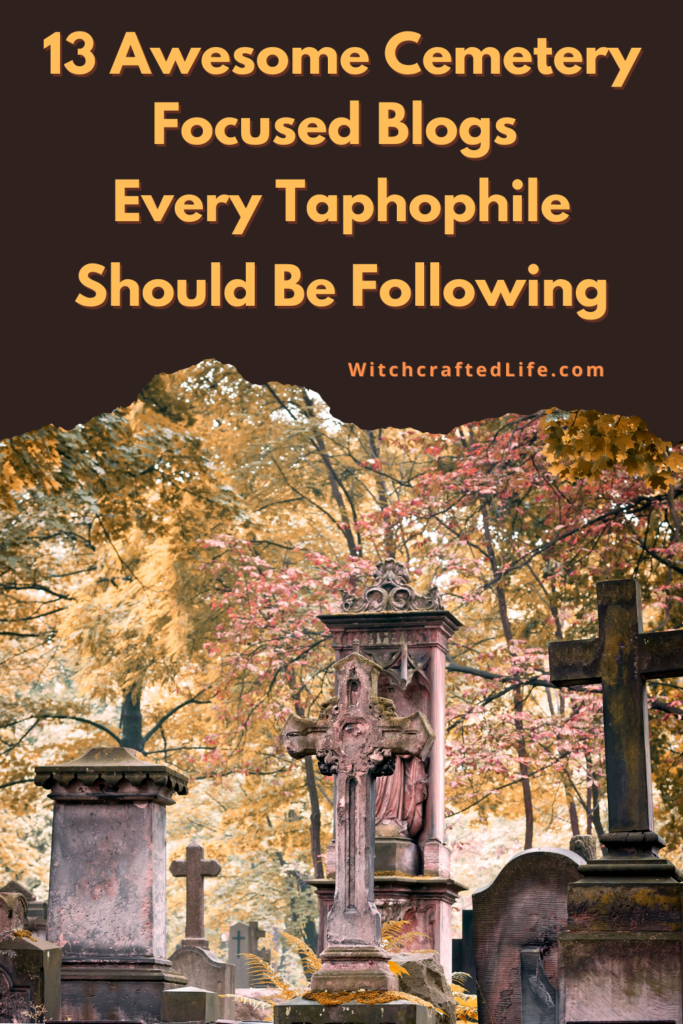 These sites are chocked full of lovely photographs, fascinating history, passionate writing, and ample inspiration for taphophiles, history buffs, genealogists, and many others who enjoy visiting and/or learning about cemeteries and the souls who were laid to rest there.
It is my pleasure to bring you a list of 13 awesome cemetery focused blogs that every taphophile should be following.
As quite possibly the least pushy person or bossy person ever, please note that I use the word "should" very lightly here. Consider it a suggestion to do so if these kinds of blogs appeal to you, not an order by any means. 😃
13 wonderful cemetery blogs for taphophiles and graveyard fans everywhere
Founded at the start of 2013 by Traci Rylands, Adventures in Cemetery Hopping houses a large number of posts devoted to – as you likely guessed from its name – cemeteries.
Traci's photo-rich posts feature an array of different US cemeteries, often with a focus on one or more particular grave(s) at a specific burial ground (including, in some instances, those of celebrities).
If you're an armchair cemetery traveller, settle in, clear your schedule for a few hours, and get lost in the informative and highly engaging burial grounds Traci treats her readers to every month.
The introductory slogan of A Grave Announcement is "Unearthing the Lives of the Dead". Much to the delight of cemetery and history enthusiasts everywhere, this blog lives up to that tagline in spades.
It is a deeply engaging site that takes an in-depth, well-researched look at the lives of various deceased individuals and the final resting places they now call home.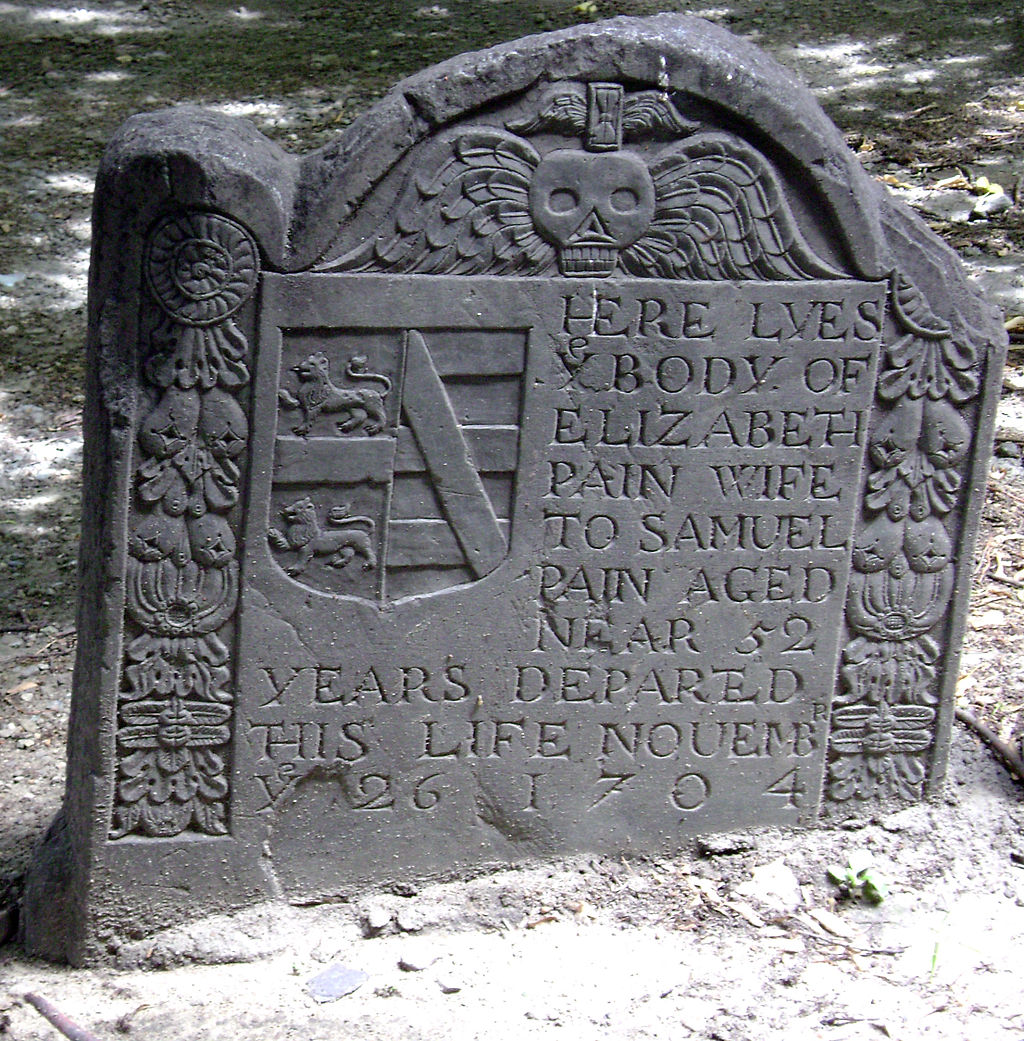 The blog Billion Graves (which is the companion blog to the well-known and very popular website, BillionGrave.com) not only discusses burial grounds, but also takes a look at other areas pertaining to death, mourning, internment, and genealogy.
From Victorian Mourning Clothes (another favourite subject of mine) to Native American Burial Rites, this website does an excellent and respectful job of detailing the past and present history of death, mourning, and remembrance.
As you will have no doubt deduced from the name of this blog, Canadian Cemetery History is a site devoted to documenting the history of various Canadian burial grounds (with an emphasis on those in Ontario).
As a born and raised Canadian who just happens to be a passionate taphophile, it's safe to say that it was love at first sight for me when I hit upon this blog.
One need not be a fellow canuck to enjoy Canadian Cemetery History, however. Its content is thoroughly interesting, richly informative, and accompanied by no shortage of photos from each cemetery featured. If the subject of burial grounds in general interests you, this blog is apt to be right up your alley.
On the Cemetery Club's about page, blog author Sheldon K. Goodman states that "Burial Grounds are like libraries – admittedly, libraries of the dead". I adore – and very much agree with – this insightful comparison and feel it does a terrific job of capturing the spirit and care that goes into each insightful British history and photo-filled entry housed on Cemetry Club.
You know that feeling when you hit upon a blog and instantly feel like, if you had the pleasure of meeting them, you'd likely be fast friends with the soul behind that site? In my case, I got that sense the moment I discovered the site Cemetery Photography by Chantal Larochelle.
A fellow Canadian with a keen interest in photographing cemeteries (something I adore doing as well, as you may have spotted both here and on my Instagram), Chantal skillfully captures the soulful beauty of cemeteries and the headstones they house.
Her lovely images are accompanied by blog posts that span a wide array of not only cemetery locations, but also topics pertaining to various death and burial ground-related matters (for example, cemetery etiquette).
One of the best-known and longest-standing blogs in the wee world that is the burial ground blogosphere, Cemetery Travel is a taphophile's dream site.
The creation of author Loren Rhoads (whose excellent books Wish You Were Here: Adventures in Cemetery Travel and 199 Cemeteries to See Before You Die are must-reads for grave hunters and history buffs everywhere), this splendid site showcases and discusses dozens of different cemeteries around the world, each accompanied by photos and enjoyable insights on these locations.
Loren's posts – just like her books – are engaging, informative, and always a great read.
For several years now, I have had the pleasure of engaging online via our respective blogs (starting my now long retired vintage fashion blog) with the sweet soul behind Goth Gardening. Her blog, while not exclusively related to cemetery topics, covers this subject extensively and she is a passionate fellow taphophile all the way!
I adore the thought and research that the Goth Gardener pours into her entries, just as I do the emphasis she places on highlighting the lives and ensuing deaths of females across the ages.
Presently, she is penning a book related to that important topic, which is provisionally titled Women Writers Buried in Virginia Cemeteries. I'm sure it will be a fantastic and highly informative read, just as her blog posts themselves are.
To date, I have not had the pleasure of setting foot on Scottish soil. This country has, however, captured my heart and imagination for as far back and I can recall. Visiting its ancient soil is a travel dream I dearly hope can come to fruition one day.
In the meantime, I am clocking many an armchair traveller frequent flyer mile via the fantastic blog, Graveyards of Scotland.
On this engaging site, one is treated to a treasure trove of beautiful photographs detailing various parts of Scotland (many a gravesite included) and accompanying posts that are every bit as lovely. If you have even so much as a faint interest in Scotland, I cannot recommend this blog highly enough.
Passion and research go hand-in-hand on The Cemetery Traveler blog, which is choc-a-block with posts devoted to various American cemeteries.
Run by Ed Synder, this site has been bringing the web and world at large high-quality cemetery content (some of which Ed has compiled in a self-published book, The Cemetery Traveler) for more than a decade now and is sure to appeal to taphophiles and history fans both inside and out of the States.
Another long-time leading light in the world of cemetery blogs, The Graveyard Detective honours the departed with compassionate explorations into the lives and final resting places of those interred at various British cemeteries. Readers with an interest in war history will appreciate the attention paid to victims of 20th-century battles, such as WWI.
Being such a young province in terms of non-First Nations inhabitants, a fair number of British Columbia's burial grounds are pioneer cemeteries, housing the remains of some of the province's 19th and early 20th century residents.
As a result of having lived in BC for much of my life, I have a soft spot for pioneer cemeteries and adore the fact that Sharon, the Canadian blogger (and fellow death positive taphophile) behind The Jolly Taphophile, shares this interest.
Her site, which has been going strong since 2010, teems with visits to various older cemeteries and explorations into their history. Many of these entries star a video from her enjoyable YouTube channel, Amongst the Headstones.
In a city with some of the world's most beautiful, historically rich, and well-known burial grounds, it's no surprise that a fellow cemetery fan decided to start a blog devoted to London's cemeteries. That is precisely what Mr. David Bingham has done with The London Dead.
This site explores the fascinating history of London's cemeteries, crypts, and churchyards (with travel posts to additional destinations). If your heart beats extra fast for ornate, elegant yesteryear European cemeteries, this is the blog for you!
(Please, do note that some of the posts on The London Dead are NSFW and definitely not for young eyes either due to the adult content they contain.)
(The images above all hail from, and are the respective property of, the blogs that they are linked back to.)
Additional blogs and websites about cemeteries
Honourable mention, as it is not strictly a cemetery blog, goes to The Irish Aesthete.
This instantly captivating blog shines the spotlight on the history of Ireland in an articulate, accessible manner that will have you reading for hours.
Amongst the content shared, you'll find a slew of wonderful posts pertaining to graveyards and cemeteries around Ireland (which, as someone who lived in the Emerland Isle during my very early 20s, I can attest are, unto themselves, well worth booking a flight to Ireland to see in person).
Likewise, you may adore the sites Grave Photography (which was last updated in 2016) and Taphophile Tragics (last updated in 2012), both of which were/are cemetery-focused blogs.
The fact that neither has been updated in a few years excluded them from the list above, which focuses on active blogs. However, as their content is the bee's knees, I definitely wanted to mention them here all the same.
As well, on top of the sites listed above, various cemeteries – for example, the Lauren Hill Cemetery in Philadelphia and Forest Lawn Cemetery in New York state, respectively – maintain fascinating and informative blogs of their own.
You may want to look up cemeteries in your area, those you visit while travelling, or which you otherwise have a keen interest in to see if they currently have a blog you could follow.
In addition, as you might imagine, there are various blogs and websites that pertain to other and/or additional elements of taphophilia. For example, areas such as the funeral industry (e.g., Funeral One), exploring historical churches (e.g., My Church Adventures), death positivity (e.g., The Order of the Good Death), and the experience of death/grieving (e.g., The Amateur's Guide to Death and Dying).
Such websites could easily make for a blog post all their own, so if that is something you are interested in seeing here, please do not hesitate to let me know in the comments below.
Passion with multiple purposes
For many who deeply appreciate cemeteries and other taphophilia-related topics, documenting and discussing burial grounds goes far beyond elements such as the beautiful aesthetics of burial grounds.
Each of us has a unique and highly personal relationship with the subject and complexities of death.
Birth and death are set in stone for every last one of us who has ever lived. Some people are completely at ease discussing, thinking about, and focusing on topics pertaining to dying and death, others are less comfortable (understandably) with these subjects. In turn, they may not be big fans of visiting cemeteries unless required to do so for funerals or to visit deceased loved ones.
There is no right or wrong way to have a relationship with death. It is, after all, the greatest unknown.
We have theories, scientific viewpoints, religious and spiritual interpretations, and ideas of what may lay on the other side of the veil. Ultimately though (no matter how sure you may be about your beliefs, experiences, and convictions), until we breathe our last, none of us can say with absolute certainty what lies beyond.
Graveyards and cemeteries invite us to explore the subject of our mortality, as well as that of those who have gone before us.
Burial grounds remind us of both the fragility and strength of life, of the cyclical nature of existence (as we are all, to paraphrase Carl Sagan, the stuff of stardust), of loss and grief, and of celebrating the miracle of life while we're still fortunate to be here.
Most people with a deeply seated interest in subjects pertaining to cemeteries and death have a great reverence for the departed and the sacred spaces we as a species have chosen to place many of deceased in.
Cemetery-focused blogs (as well as social media accounts on the subject) provide insight, inspiration, and information alike to those who are drawn to the subject of death for whatever reason.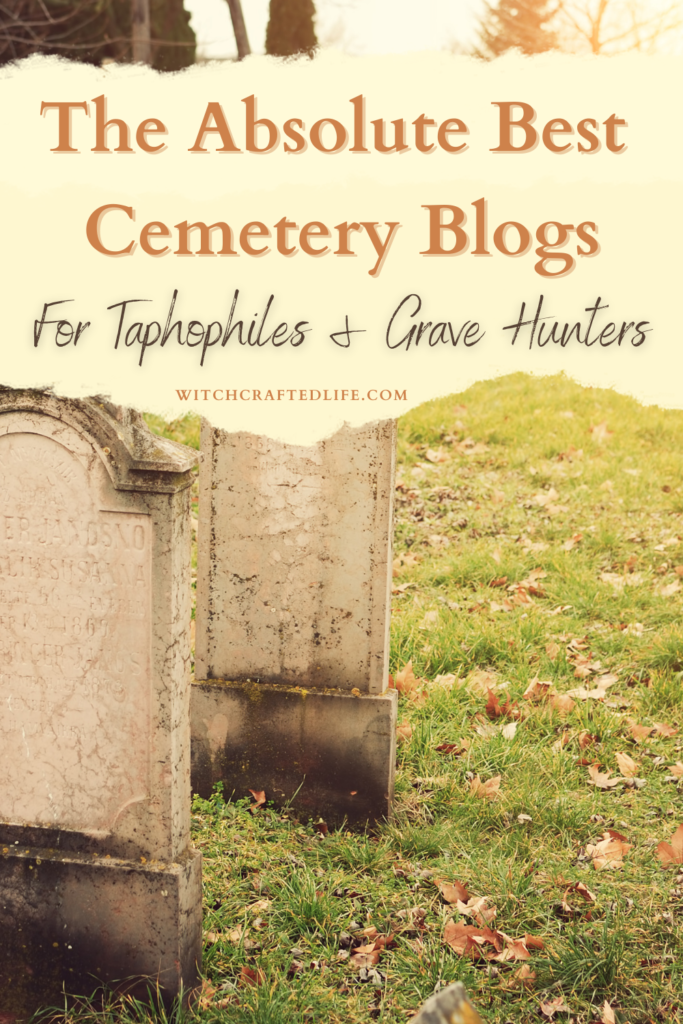 I respect each of the bloggers above and really appreciate the time, effort, and passion that they pour into their captivating websites.
Much as with visiting a physical cemetery itself, these blogs are able to evoke a multitude of thoughts and feelings in their viewers, document history in the process, and remind us in a supportive way that one day we too pass on into the great beyond.
Hopefully, of course, that won't be happening anytime soon for most of us! And while we're still getting our mortal groove on, we can appreciate, learn from, and be inspired by cemeteries and numerous wonderful blogs devoted to burial grounds around the world.
Do you follow cemetery related blogs? What was the last cemetery or graveyard that you visited in person? 🖤⚰️🖤