Darkness falls across the land, the midnight hour is close at hand. – Rodney Lynn Temperton
It is safe to say that 365 days is a fairly long time to wait for anything. Yet some events are more than worth the days, weeks and months of pining and patience.
In my books – and those of many others – one such happening is October 31st.
This enchantingly magickal day houses not only Halloween, but for many Pagans, witches, and Wiccans who observe it, the sacred sabbat of Samhain as well.
There is almost a sense of disbelief that greets me when my eyelids blink open on the morning of Halloween/Samhain (I observe both events, seeing them as being akin to two sides of a coin).
Can it really and truly be October 31st? Have I fallen asleep on an icy February night or a sizzling hot July afternoon and dreamt that All Hallows' Eve had returned once more?
Awesomely, today is not a figment of one's imagination. Halloween/Samhain is real, it is magnificent, and it never fails to be even more incredible and meaningful than I could have hoped for.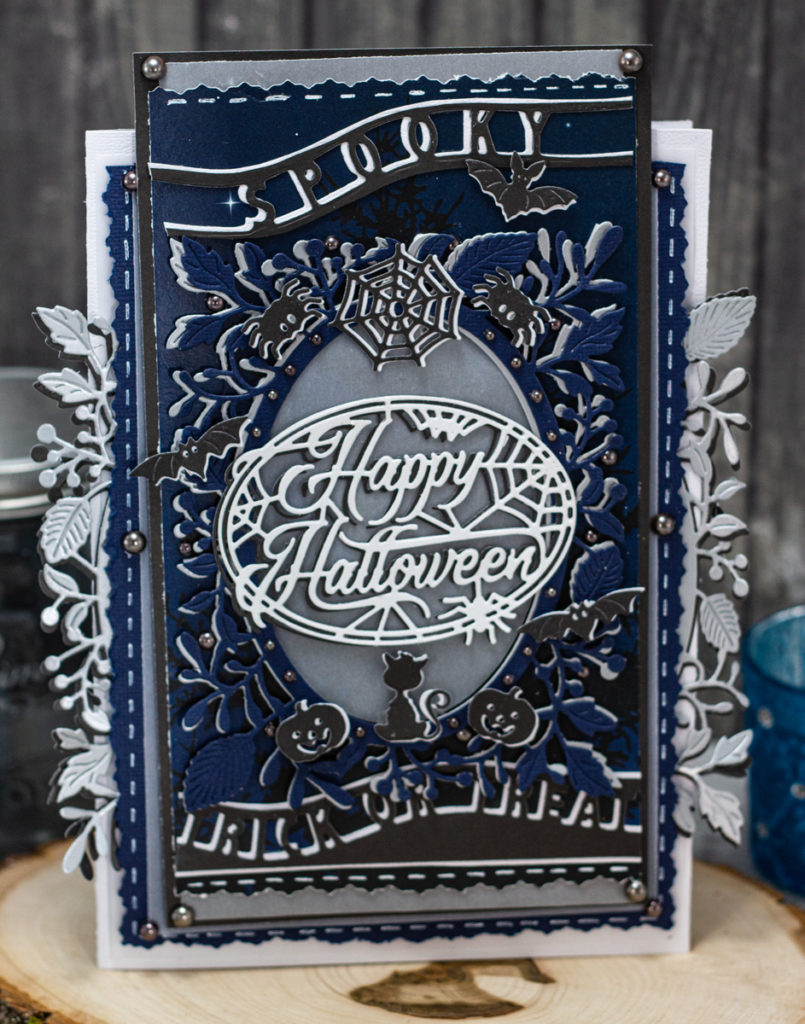 On this day, the veil between the worlds is the thinnest (in the Western Hemisphere). Mystery hangs in the air like a chorus of bats dangling from a fall maple tree branch.
Halloween swirls with nostalgia, spine-chilling thrills, a glut of sweet treats, old favourites, new ways of celebrating, and the promise of a day filled with intrigue and enjoyment.
As much as I could (gleefully) wax poetically at length about Halloween and Samhain alike, I know that plenty of us are very, very busy today, so I shalln't keep you for too long.
Here, on the last and final day of October, when spirits drift through the nippy fall air, grinning pumpkins peer out from porches near and far, and magick of all kinds reigns supreme, I am popping in to share one of my latest Halloween cards with all of you.
Sweetly spooky multi-layer Halloween card
Here on the blog, October began with a Spooky Multi-Window Halloween Ghost Shaker Card that featured a colour palette of dark blue, black, cream, gold, and copper.
Thirty-one days on, a good chunk of that same colour palette returns in the card featured in this post.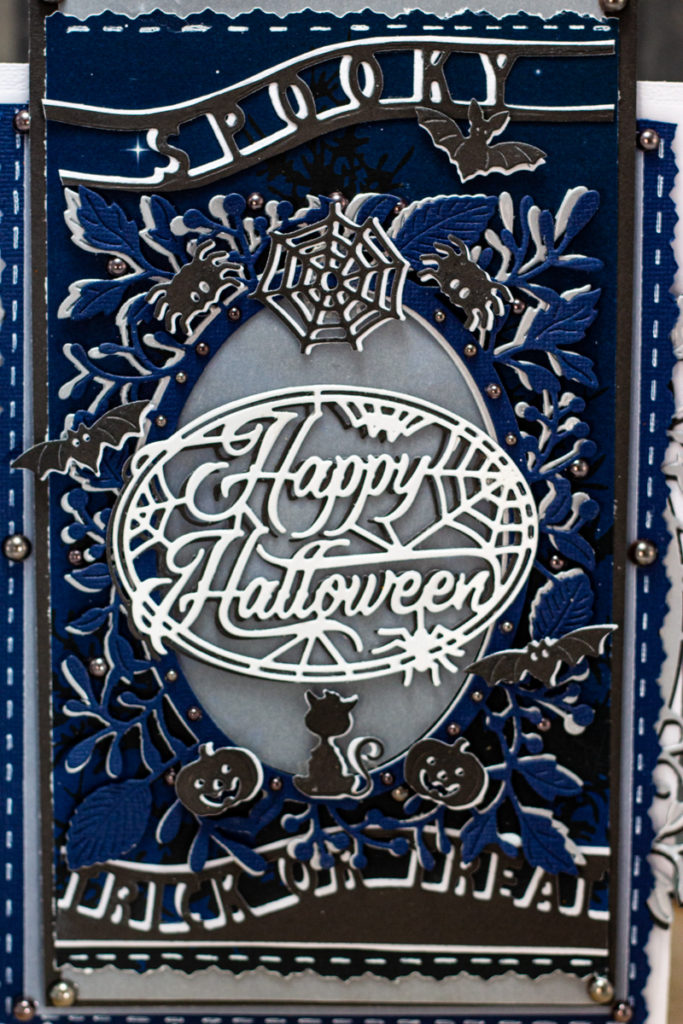 Gone, however – much as on many of the local trees that now sit barren until spring jolts them back to life again – are the warm autumnal hues of sunshine and fire.
From the colour scheme to the imagery, I set out to create a Halloween card that channelled the dark, inky evening hours of this resplendent annual happening.
A realm filled with things that go bump in the night, where shadows seem to take on a life of their own, and which those of us who celebrate Halloween and/or Samhain are likely to have many fond memories of throughout our lifetimes.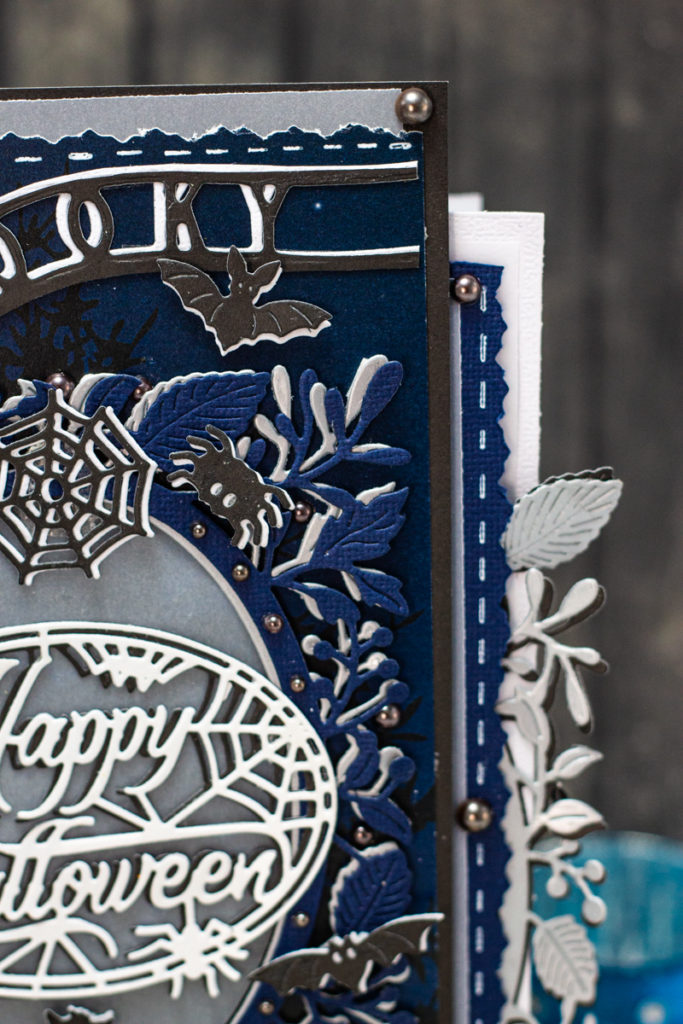 A touch eerie, but considerably more sweet and charming, this card is a multi-layered symphony of All Hallows' Eve related imagery, merriment, and the timeless soul that embodies October 31st.
It features a palette of midnight blue, jet black, grey the colour of cold sidewalks, ghostly white, and a wee hint of gunmetal (via the pearl embellishments).
Only one patterned paper appears on this card. That of the black tree silhouetted against a dark blue sky. This layer is subtle though, and that is intentional.
Much like how one often begins to make out their surroundings more clearly after you've been outside in the dark for a while and your eyes have had a chance to adjust, so too did I want there to be little details to this greeting that take a moment to spot.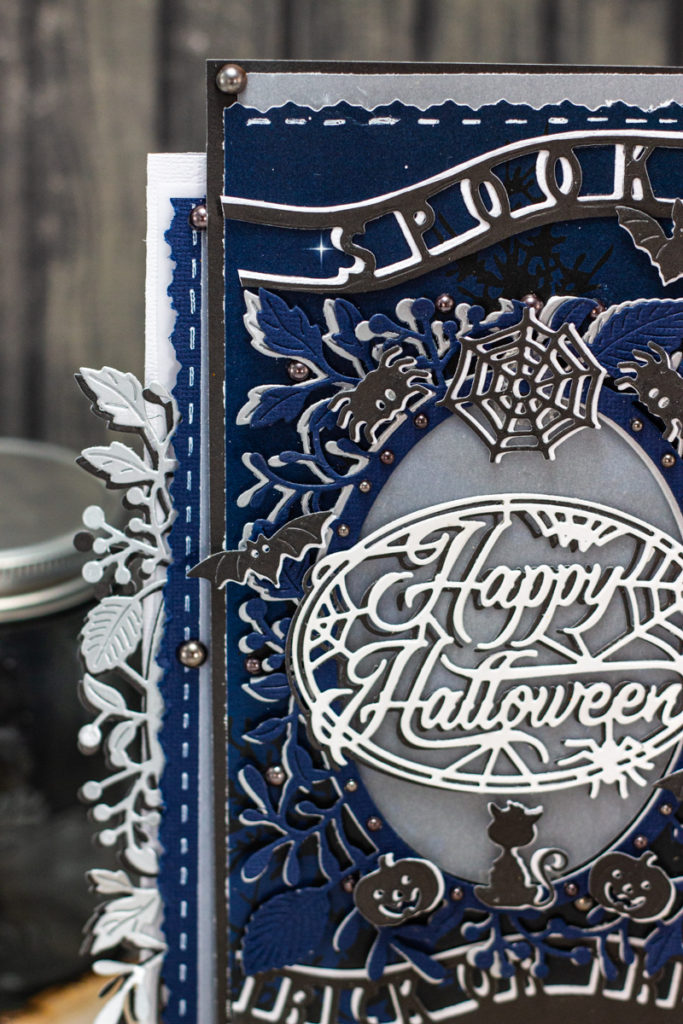 Vellum – a most apt and delightful material to use on Halloween cards – appears here three times. One of which creates a ghostly base for the "Happy Halloween" sentiment before extending on to the top of the design.
This card takes a little while to compose due to the volume of die cutting involved. However, the materials required are (aside from the dies) both relatively minimal in number and fairly budget-friendly to boot.
You could recreate this All Hallows' Eve card in different colours – think, orange, black and green or an earthy harvest season combination, for example – if so desired and it would be no less festively fantastic.
If you are aiming to channel Halloween night itself, though, then I would suggest sticking with at least one or two intensely saturated shades and, likewise, one or two paler ones to help convey a sense that darkness is indeed falling across the land…
Products used to make this beautiful blue and black Halloween trick-or-treat card
-Black, light grey, navy blue, and white cardstock
-Pearlized white paper or cardstock – Cool Metallic Sheets from The Paper Company
-White vellum – Vellum from Core'dinations
-Dark blue night sky and tree silhouette print paper – Full Moon Night Sky Paper from Ella & Viv
-Leaf frame die with an oval aperture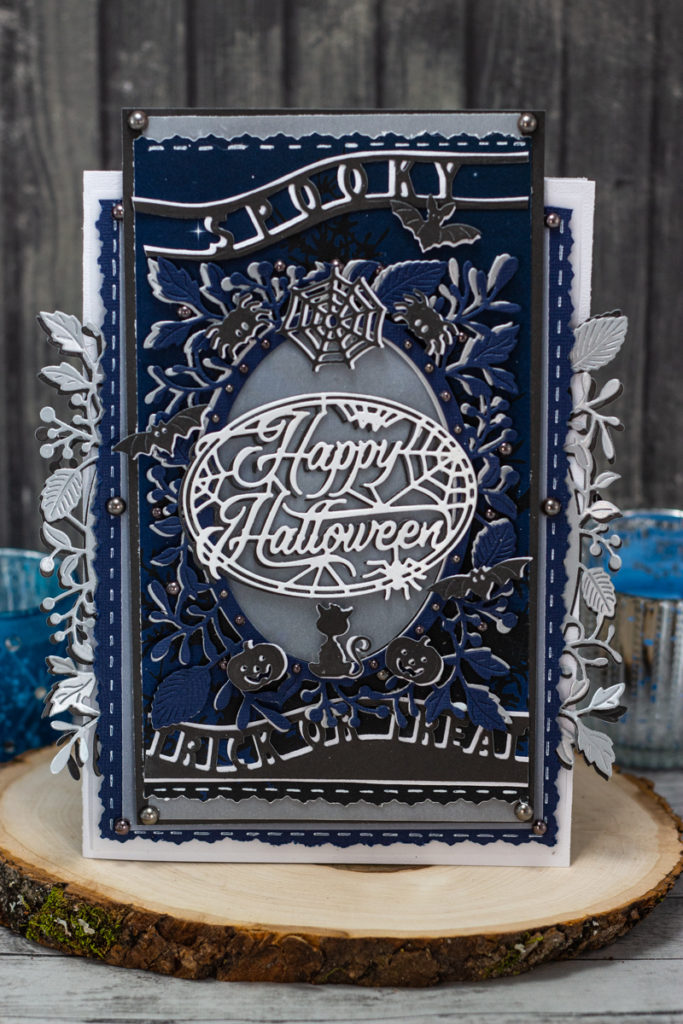 -"Spooky" and "Trick-or-Treat" wavy word dies – Halloween Trimmings Dies from Studio Katia
-"Happy Halloween" oval shaped sentiment die
-Various small pumpkin, bat, spider, spiderweb, and cat-shaped dies
-Decorative edge scissors – Heartbeat Paper Edgers from Fiskars
-White gel pen – Signo White Gel Pen from Uniball
-Two sizes of dark grey/gunmetal coloured pearl embellishments (silver pearls could be used here, too)
-Liquid glue with a very fine tip nozzle (or use double-sided adhesive sheets with your die cut layers when cutting them out)
-Dimensional foam, pop dots, or similar to elevate some of your layers
-Adhesive, such as a tape runner, of your choice (I often use my Scotch Tape Glider)
How to make a festively spooky multi-layered Halloween night themed card
To begin with, I suggest die cutting (and, where applicable adhering) each of the layers that you'll be using for this handmade Halloween card in advance, as doing so will help speed up the process of putting your card together.
Cut two layers (one light grey, one black) of the leaf frame. Then, once adhere to each other, cut your layered frames in half vertically down the center, as you will be using half of this frame on each side of the middle of your card.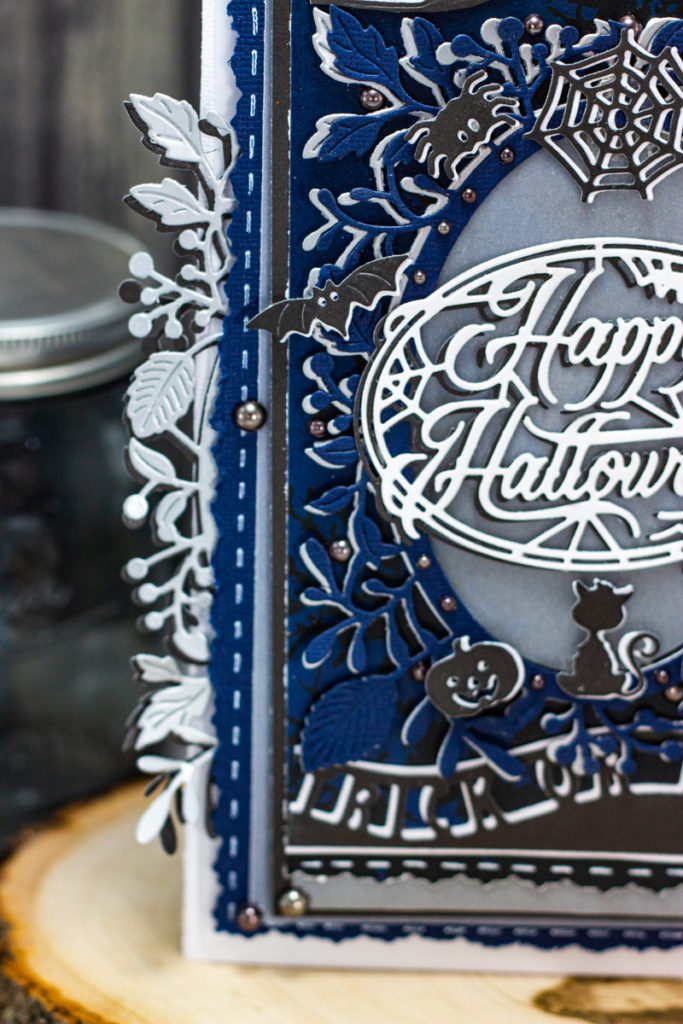 Cut two layers (one white, one black) of the "spooky" and "trick or treat" curved words
Cut two layers (one light grey, one blue) of the leaf frame.
Cut two layers (one pearlized white paper or cardstock, one black) of the "Happy Halloween" sentiment and cobweb-filled oval piece.
Cut two layers (one white, one black) of the bats, pumpkins, spiders, spiderweb, and cat.
Once you have die cut and adhered these layers together, it is time to start assembling your Halloween card.
Start your design with a card base made from white cardstock (pale grey would work well here, too).
Cut a piece of white vellum slightly smaller than your card base and then adhere it to the card base.
Position and adhere the light grey and black (die cut) leaf frame halves on the center of the vellum layer.
Use decorative edge scissors (or a suitable border punch) to cut a piece of dark blue (or navy blue) cardstock slightly smaller than the vellum layer.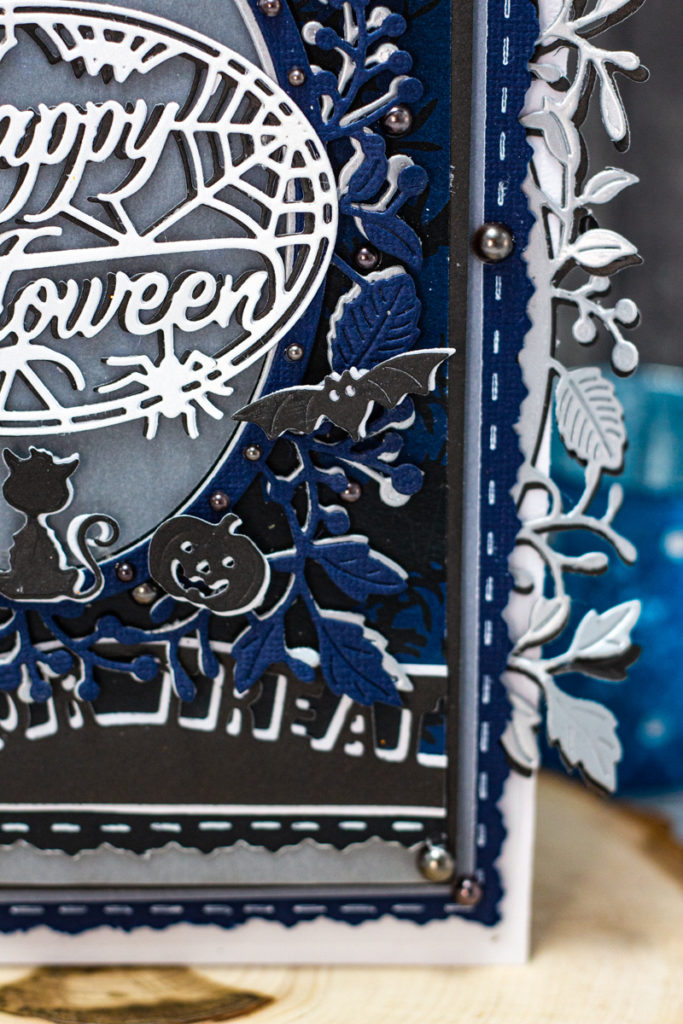 Utilize a ruler and a white gel pen to hand draw stitching lines around the edges of this piece, then attach it to vellum + leaf frame layers.
Cut a large rectangle from black cardstock. Top it with a layer of vellum that is just a teeny bit smaller than the black cardstock itself. Adhere these two layers to one another, then to the previous card base layers.
Top those two layers with a piece of Ella & Viv nighttime sky and tree print paper, cutting the top and bottom edges with the same decorative edge scissors (or border punch) used previously on this project. Adhere this layer of paper to the latest vellum layer.
Next, take the second pair of leaf frames that you die cut earlier and back the oval opening with a piece of vellum. Top this vellum with the "Happy Halloween" sentiment pieces. Adhere across the center of the vellum oval.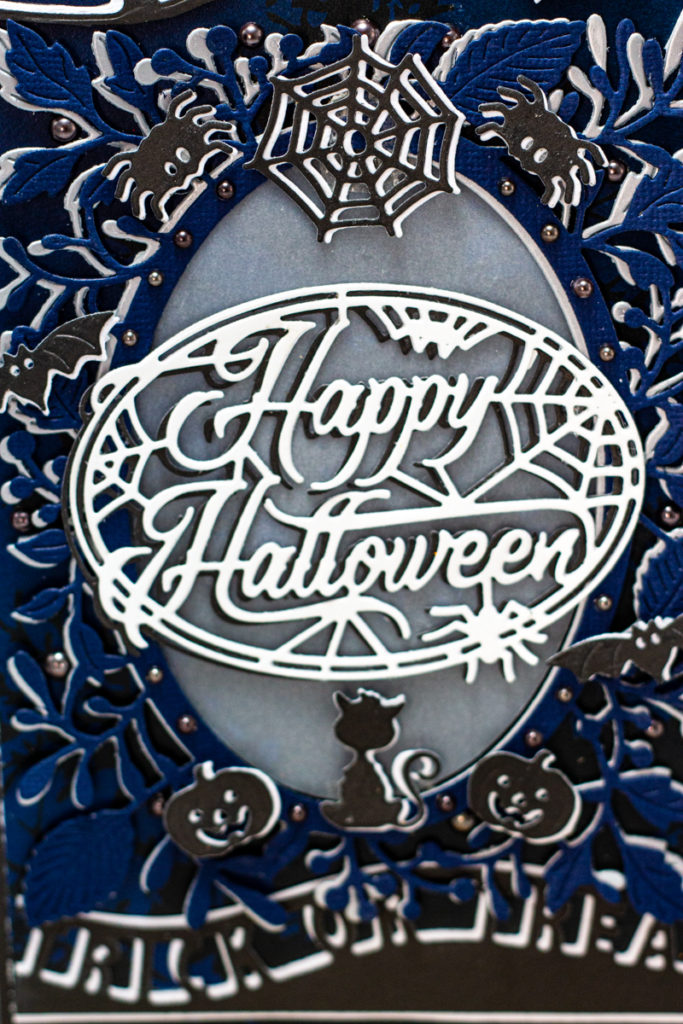 Use the smaller of the two sizes of dark grey/gunmetal coloured pearl embellishments to create an oval ring around the border of the central oval opening (see photo immediately above).
Arrange and adhere your die cut "Spooky" and "Trick-or-Treat" wavy words across the top and bottom of the central card panel.
Place layered die cut Halloween critters and pumpkins around the card, as shown in the photos here (or, however you please).
Adhere the larger of the two dark grey/gunmetal coloured pearl embellishments on some of the central panel layers, also as shown.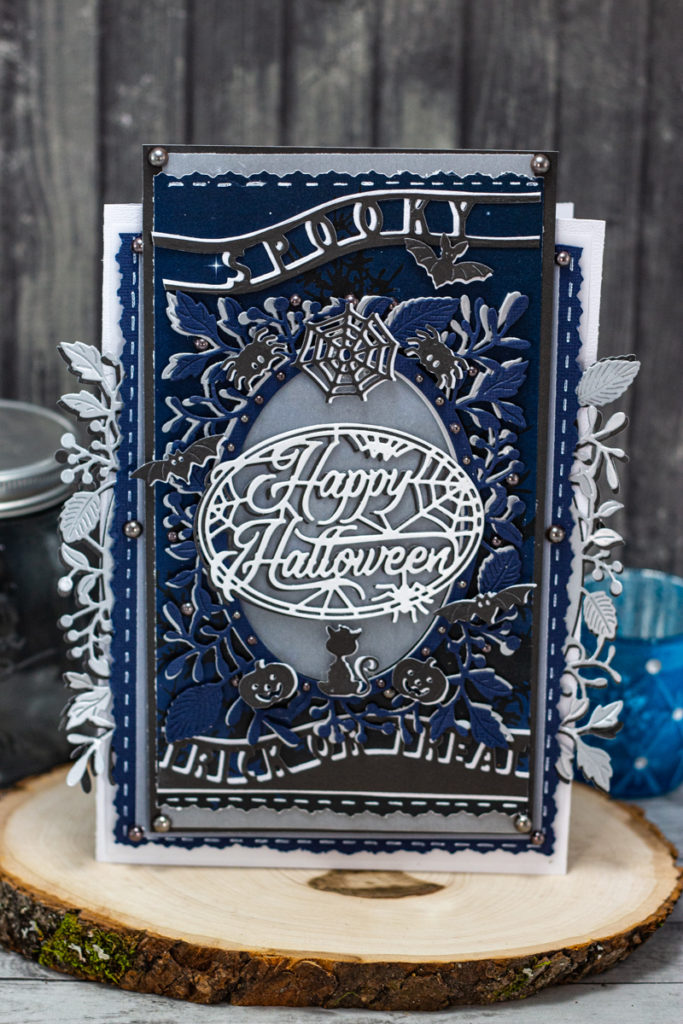 And there you have it, one sweet, spooky, and thoroughly eye-catching Halloween evening themed card that is sure to bring howls of happiness to any lucky soul who receives it. 💙
Joyful Halloween and Samhain wishes to one and all!
Fellow Thriller fans may have spotted that the quote which begins today's post is from that wildly iconic Michael Jackson hit, which many of us make a point of listening to on Halloween.
While just a few words long, it does a stellar job of capturing the sense of anticipation and elation alike that October 31st delivers.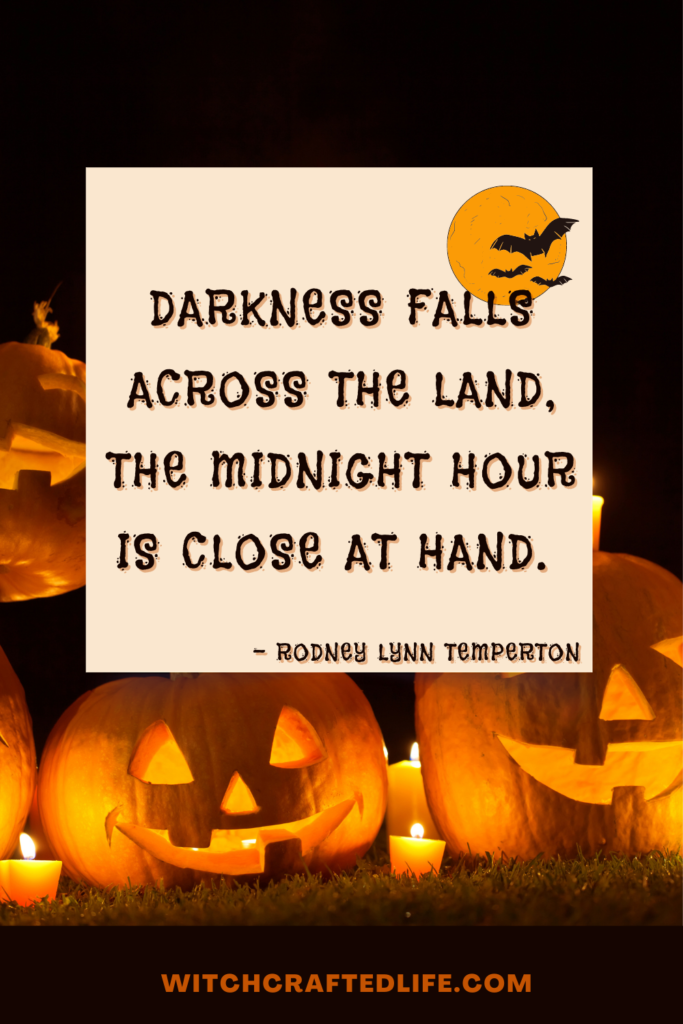 Halloween is as much a day (and night) of possibility and promise as it is of mystery and hair-raising fun.
The card featured in this post, naturally, falls squarely under the header of a #MakeHalloween365 project.
A huge and incredibly heartfelt thank you to everyone who has used this hashtag not only throughout October, but since its launch back in March of this year.
So much of the driving force behind the creation of this hashtag was, and is, for oodles of people to embrace and derive inspiration from Halloween throughout the entirety of the year.
I plan to continue sharing at least one new Halloween themed project here with you every month for the foreseeable future.
This means that my fellow Halloweenoholics can join me in (quite literally) making Halloween an amazing part of our lives the whole year through.
And I enthusiastically encourage you to keep using #MakeHalloween365 long after Halloween 2021 has wrapped up, as this festively fun hashtag is fully intended for ongoing year-round use by one and all.
For many years now, I have opted to focus a lot of my Samhain related happenings in the early morning and late evening hours of October 31st. The time that sits between these two points in the day is filled primarily with Halloween activities of all sorts.
Objectively though, for me personally, there is a lot of crossover between the two and each one helps to ensure that my undying love for All Hallows' Eve grows stronger with each passing year.
With the pandemic still going strong, we are once again foregoing holding a Halloween party at our house (something that we did for several years running before Covid gripped the planet).
Instead, much like last year, Tony and I will celebrate the holiday here at our house with mom (who only lives an hour's drive away from us).
Costumes will be donned, candy piled high in multiple bowls, ready to hand out to all who come knocking; beloved movies will be watched and songs listened to on repeat, a festively themed jigsaw puzzle will be done, and we will nosh on plenty of hauntingly delicious fare.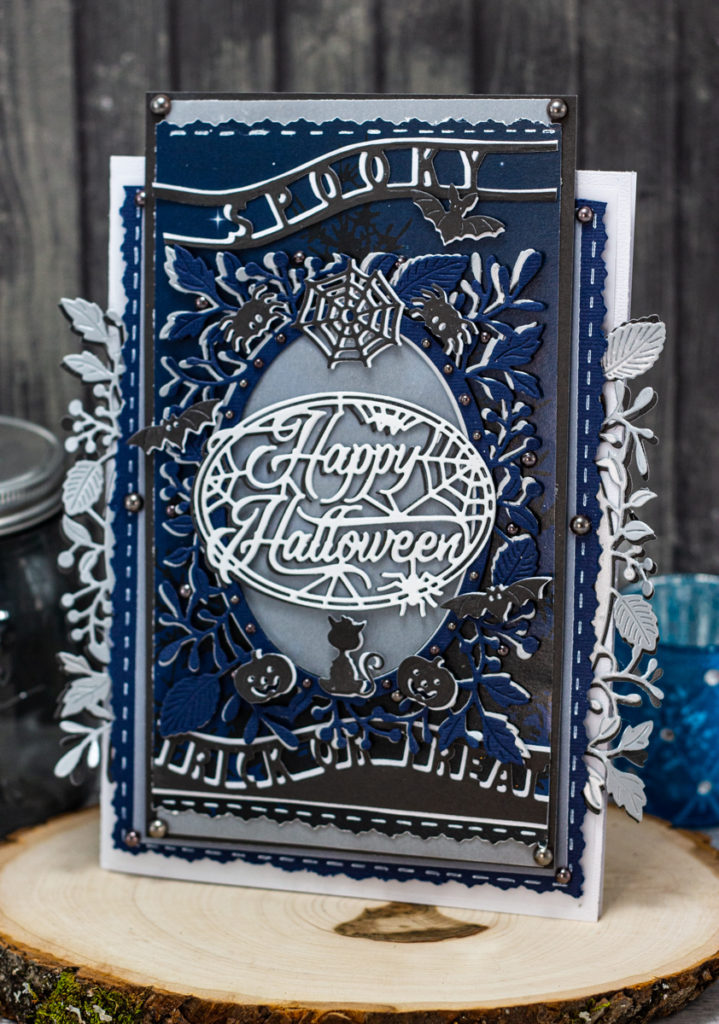 What does this Halloween/Samhain (or Beltane, for those in the Southern Hemisphere) look like for you?
Are you as excited as I am that October 31st has returned again at long last? 🥰
However you spend this today – be it a time of sacred reverence, lighthearted fun, chilling suspense, or simply the final day of the year's 10th month – I am sending my unending wishes your way for a sweetly spooky October 31st.
Have a safe, incredibly happy Halloween/Samhain, dear friends! 👻🦇 🎃🖤🎃🕷️💀