Often when we think of holiday season giving, it is the act of exchanging presents with those closest to us that springs to mind first.
This is a wonderful and deeply cherished component of December for many. However, it is by no means the only form of giving that we can engage in – either as the giver or the receiver.
Sometimes the most touching gifts are the ones we didn't see coming and which were given with love and care from the heart of those who bestow them upon us.
They need not be new or fancy, nor cost much, for their impact on our lives to be great.
This year, as autumn wound down, a very sweet neighbour of ours – who had recently learned of the arson fire that we experienced four years prior – gifted us with some of her gently used outdoor Christmas lights.
They are the first lights we've had since before the fire and we are touched to our cores by her generosity and sweetness.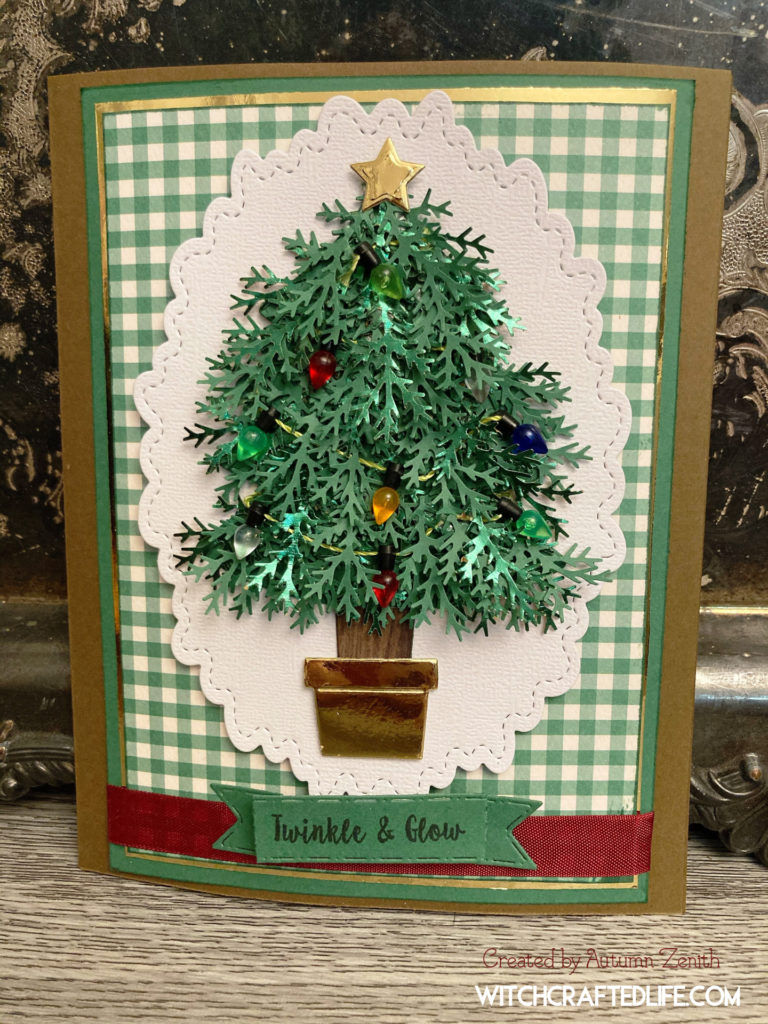 To thank her for this awesome present, I recently made the card that stars in today's post to give our neighbour and her children. I hope that it will bring them even just a fraction of the joy and festive cheer that their kindness instilled in our holiday season.
Fun and elegant "Twinkle & Shine" Christmas tree card
If you've been a part of the paper crafting scene for a while now, you're likely familiar with the crazes for certain supplies and tools that come and go.
Several years ago now, when Martha Stewart's paper crafting products (which were, by and large, excellently made and amongst my favourites ever offered in the crafting sphere) were all the rage, some of her punches were especially popular.
In terms of the shape punches (as opposed to things like border and corner punches) some of her best sellers were those featuring leaves and branches.
I can remember times when they were almost sold out across the web. That's how big a demand for these punches there was at the time.
Most of Martha's punches are no longer produced or easily found for sale (new) online these days. I truly wish they were, as I always adored – and often used – those that I had before the fire.
Thankfully though, between eBay, Etsy, and the few Martha Stewart punches that can still be purchased from sites such as Amazon, it's not impossible to track down at least some of the vast catalogue of punches that this brand once offered.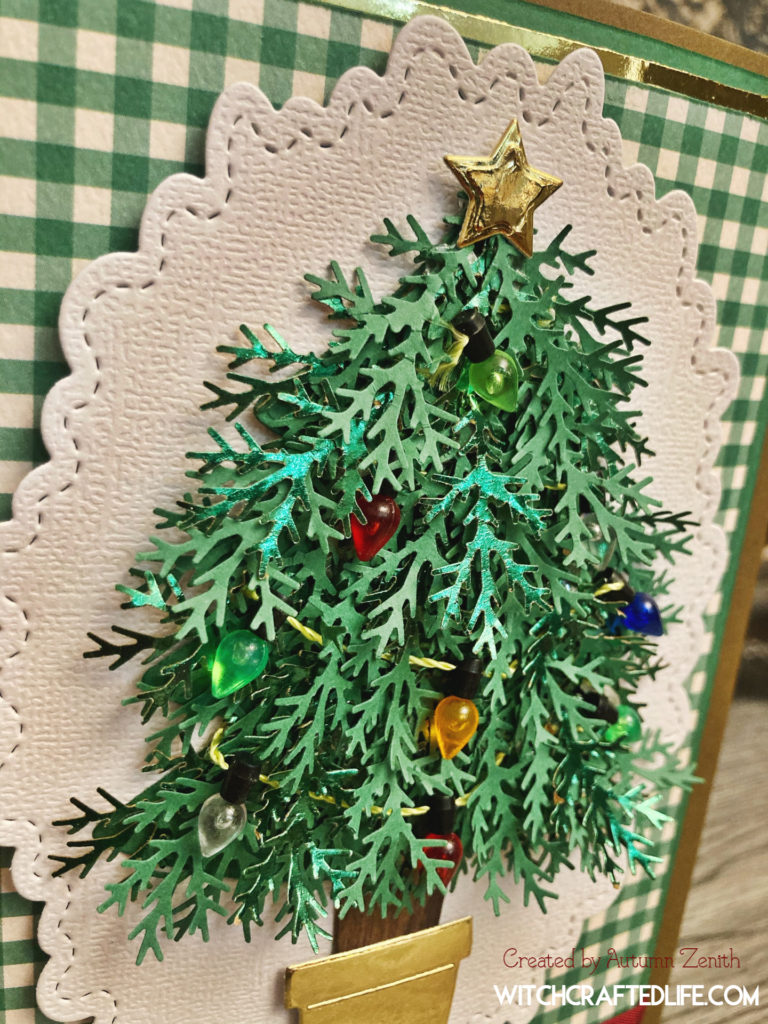 One of the most popular shape punches Martha ever released was called simply "branch". Its versatility and appeal struck a chord with crafter and a good many of us added this lovely punch to our collections.
I was fortunate to find one new in 2017, I believe it was, and in doing so, to replace the one I lost in the fire (yay!!!).
It was to this particular paper punch that I turned when creating the festive card in this post, as the shape it produces works awesomely as boughs or branches on a Christmas tree – or most any evergreen tree for that matter.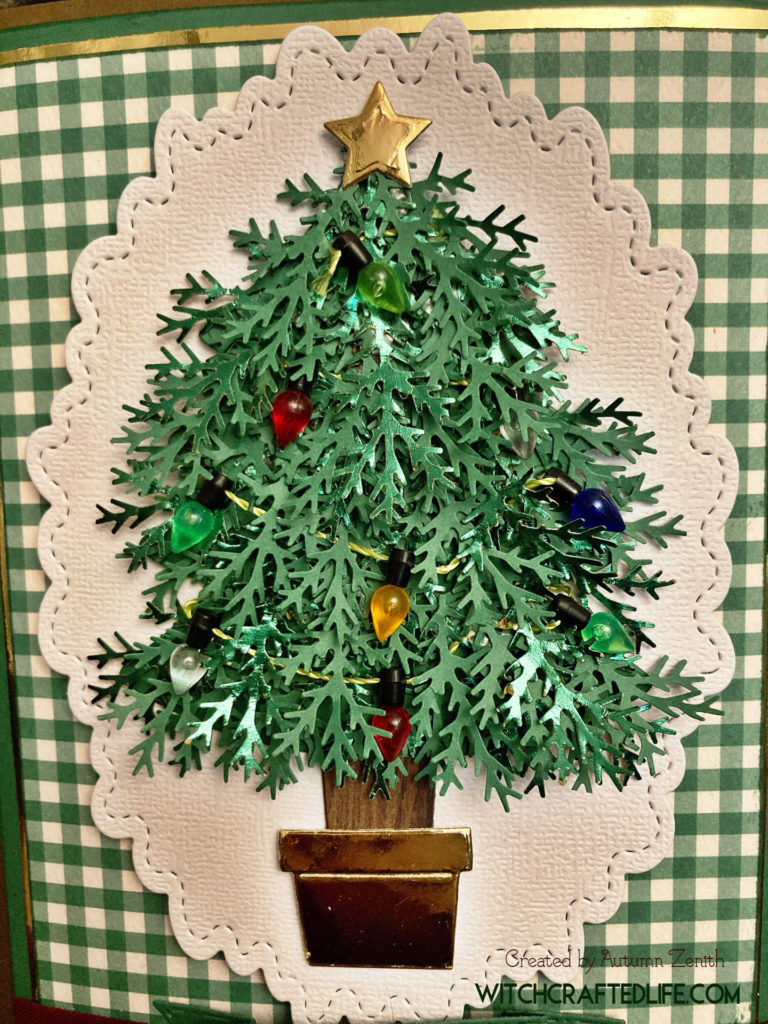 As our lovely neighbour gifted us with some Christmas lights, I knew that I wanted to feature lights on this card as well.
I don't presently have anything suitable in my stash that could actually light up for real.
Thankfully though, I did have a package of Jolee's delightful Christmas light strings. They fit the bill to a tee and helped to create exactly the card design I was aiming for with this project.
Putting this fun dimensional Christmas tree and lights card together
In some respects, this card is not as elaborate as many of my makes. This was intentional, as I wanted to create a classic, eye-catching design for which the Christmas tree with its dimensional branches and strings of holiday lightbulbs would take center stage.
This card began with a base of earthy brown cardstock, which I topped with panels of green cardstock (the edges were inked with dark green ink), green and white gingham print paper, and metallic gold cardstock.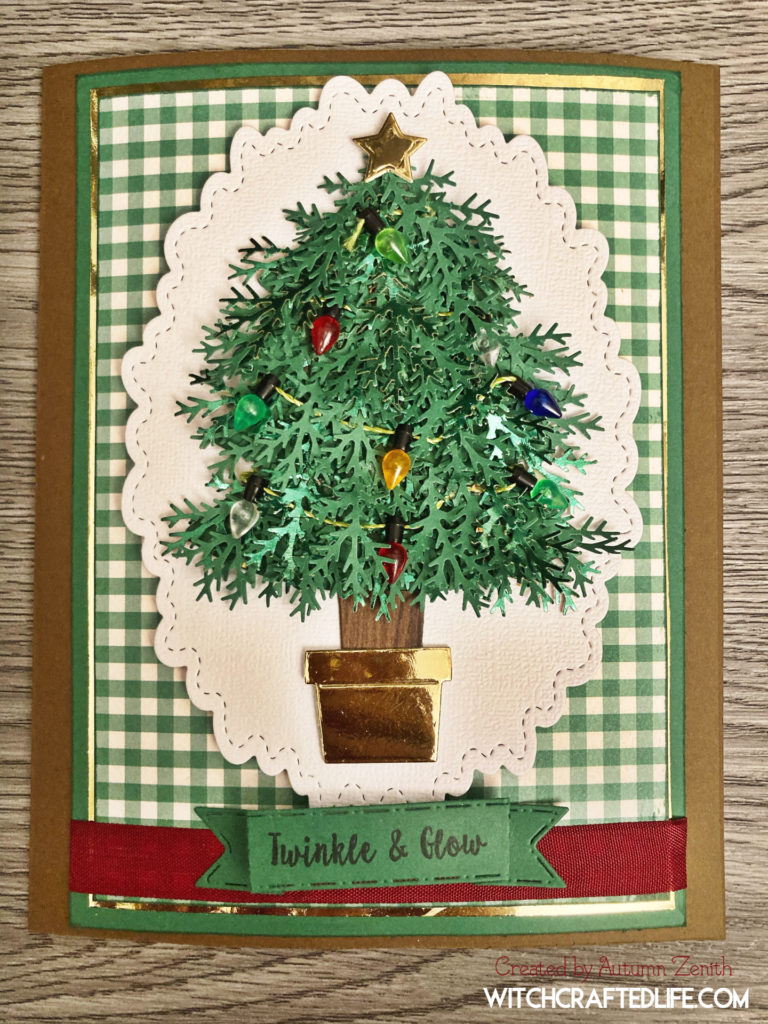 A fun wavy oval shape was die cut from subtly textured white cardstock and used as the background for the Christmas tree.
To build my tree, I first die cut a Christmas tree shape, which I used as the base for the branches that you see here.
If you do not have a suitable die in your stash, fear not! You could easily draw a tree by hand, freeform cut one out, or use a stencil or template.
The tree die that I used comes with the cute Christmas tree stand and star elements, as well as the trunk of the tree, so I made sure to put those to good use here.
Again, you could easily draw and cut out similar shapes by hand, use other suitable punches, or utilize things like star shaped stickers or rhinestones here instead, if you'd like.
I cut the tree trunk from brown woodgrain print paper (inking the sides with brown ink), and both the star and Christmas tree stand from gold metallic cardstock.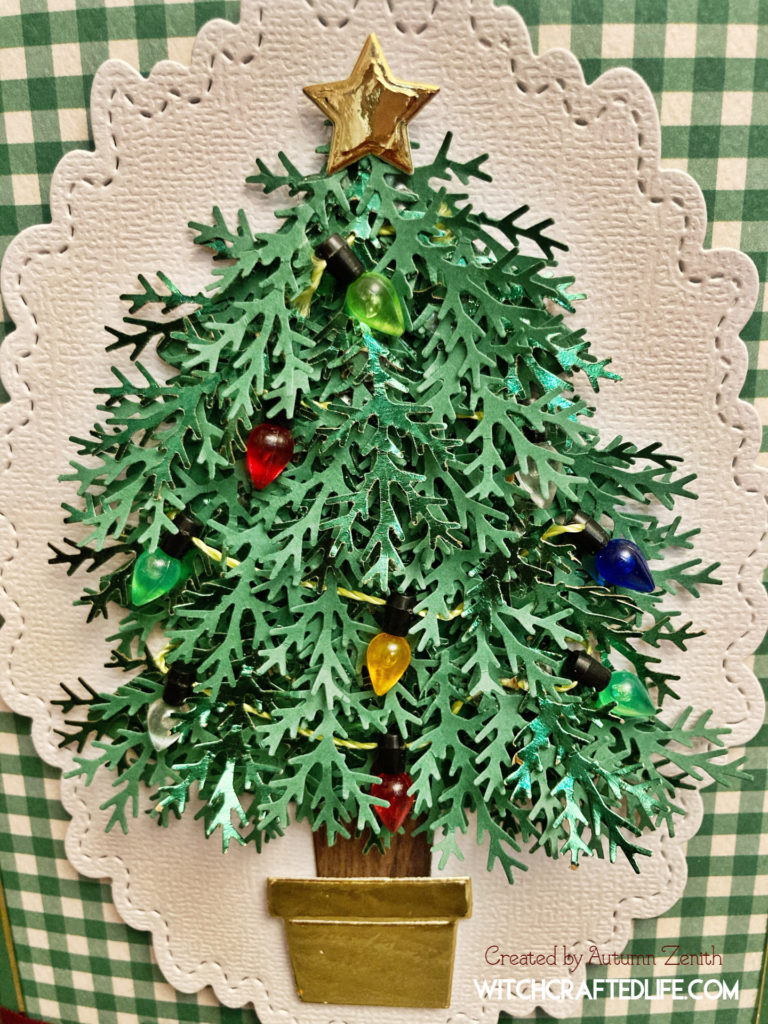 Then I set to work punching out a whole bunch of evergreen branches using my Martha Stewart Branch Punch.
Though it's a bit hard to see in these photos, I used a mix of both plain green and metallic green cardstock in similar shades to give my tree even more visual interest and festive shimmer.
I didn't count the precise number of branches that I punched out, but I'd easily say that a few dozen were utilized on this project.
I began building up the branches of my tree by layering from the bottom of the top, sticking closely to the general shape of a Christmas tree.
I used more of the plain green cardstock branches than the metallic green ones, as I wanted the hits of sheen to be nice additions, not all one saw when looking at this tree.
After I had all my branches adhered to the die cut Christmas tree card base, I played around with the arrangement for the string of Jolee's Christmas lights.
Once I was happy with how it looked, I cut the string to the length I needed (happily, I've still got some of it leftover for future uses), added adhesive to the back, and gently tucked it between the branches.
Much as with many a real Christmas tree, the star at the top went as the final touch.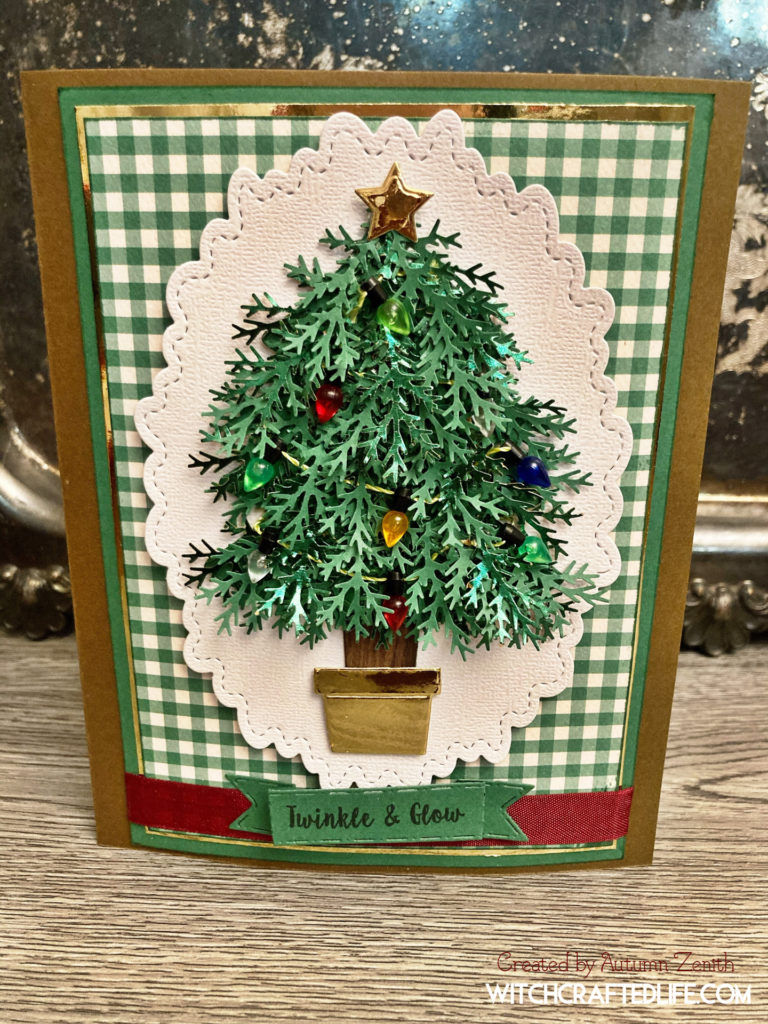 Little else was added to this card, as again, I really wanted to tree to steal the limelight.
That said, I did include a piece of cranberry/burgundy seam binding near the bottom of the card.
I topped this with a green cardstock wavy banner die cut that I stamped with the festive sentiment "Twinkle & Shine", to reinforce both the theme of the Christmas tree here and the gift of Christmas lights that we received. 🙏
Card making tips and ideas from this project
-While no shortage of Christmas tree dies, stickers, stencils and the like exist on the market, sometimes it is really fun to create your own tree.
If you don't have a similar branch shaped punch in your stash, plenty of branch shaped dies could work here as well – as could some feather-shaped ones (though that might give your tree more of a fluffy branched look).
-We often think of tartan and plaid as the main checkered patterns for holiday season makes, but gingham works awesomely on this front as well – especially when it features classic festive colours such as red, green, white, and/or black.
-Surprisingly, mini Christmas lights for paper crafting are not that common as a general rule.
These ones from Jolee's can sometimes be had on eBay and Etsy, as well as various online and offline craft supply shops. However, if you cannot find them, some handy alternatives include:
Die cut Christmas lights
Christmas light stickers
Christmas light shaped brads
Christmas light shaped beads
Oval, marquise, or teardrop-shaped sequins or rhinestones
Nuvo Drops (solid colours or glittery)
Mini-sized Dew Drops embellishments or similar transparent plastic embellishments
Strings of dollhouse Christmas lights (which often look quite similar to the ones from Jolee's Boutique that were used on this project)
Other miniature Christmas lights sold at places such as some craft, hobby, and dollar stores (check near the Christmas village and/or bottle brush tree sections of the store)
Stamped and inked/coloured Christmas lights that you either cut with a coordinating die or fussy cut by hand
Strings of Christmas lights fussy cut from patterned paper that includes this festive design. Such as those found on Reminisce's Magical Lights paper from their Magical Christmas collection, and Sparke and Shine paper from Photo Play Paper's Kringle & Co. collection.
-Alternatively, if you didn't want to go the Christmas light route, you could embellish your tree with things such as ornament shaped die cuts or stickers, rhinestone embellishments, enamel shapes, skinny tinsel trim, candy cane shaped stickers, die cuts, buttons or brads; or adorn some of the branches with white paint or dimensional craft snow paint (e.g., Aleene's Glitter Snow) for more of an outdoorsy look.
-In addition to "Twinkle and Shine", there are plenty of charming lighting-related sentiments that you can use for a holiday season card like this. For example, "May your holidays be merry and bright", "You light up my Christmas", "Have a dazzling holiday season", or "Shining our love your way at Christmas".
-If you are unable to locate this exact Martha Stewart Branch punch, various other brands have released similar punches over the years.
These include, but are not limited to the Large Branch Punch from EK Success, the Rock Fern Punch from Bira Crafts (which is available in both 1 inch and 2 inch sizes), the Large Fern Punch from Punch Bunch, and, while a bit more "bare-branched" looking, the Tim Holtz Branch Punch from Sizzix.
Products used to make this festive Christmas tree card
-White, green, and brown cardstock
-Metallic gold cardstock
-Metallic green cardstock
-Brown woodgrain print paper – Mademoiselle Collection Mahogany from Kaisercraft
-Green and white gingham print paper – (backside of) Country Kitchen Multi Journaling Cards from Carta Bella
-Wavy oval shaped die (or another oval or circle shaped die of your choosing)
-Christmas tree shaped die (optional, see note above)
-Wavy banner die
-Branch punch – Branch Punch from Martha Stewart
-String of mini 3D Christmas light embellishments – Holiday Lights from Jolee's Boutique
-Black ink – Jet Black Archival Ink from Ranger
-Dark brown ink – Rich Cocoa Ink from Memento
-Green ink – Cottage Ivy Dew Drop Ink from Memento
-"Twinkle & Glow" sentiment stamp (or another holiday sentiment of your choosing)
-Cranberry/burgundy coloured seam binding – from Snug Hug
-Dimensional foam, pop dots, or similar to elevate some of your layers
-Adhesive, such as a tape runner, of your choice (I often use my Scotch Tape Glider)
May your holidays twinkle and shine
There is no beating around the bush, this year has been a tremendously challenging one for a lot of us.
Even those who have been fortunate enough to pull through relatively unscathed, have, of course, still been impacted in myriad ways by the rapid and radical changes, worries, and crises that have swept across the globe in 2020.
Today, and in the final days of a year of loss and difficulty, stress and uncertainty, it is my unwavering hope that you are safe and happy.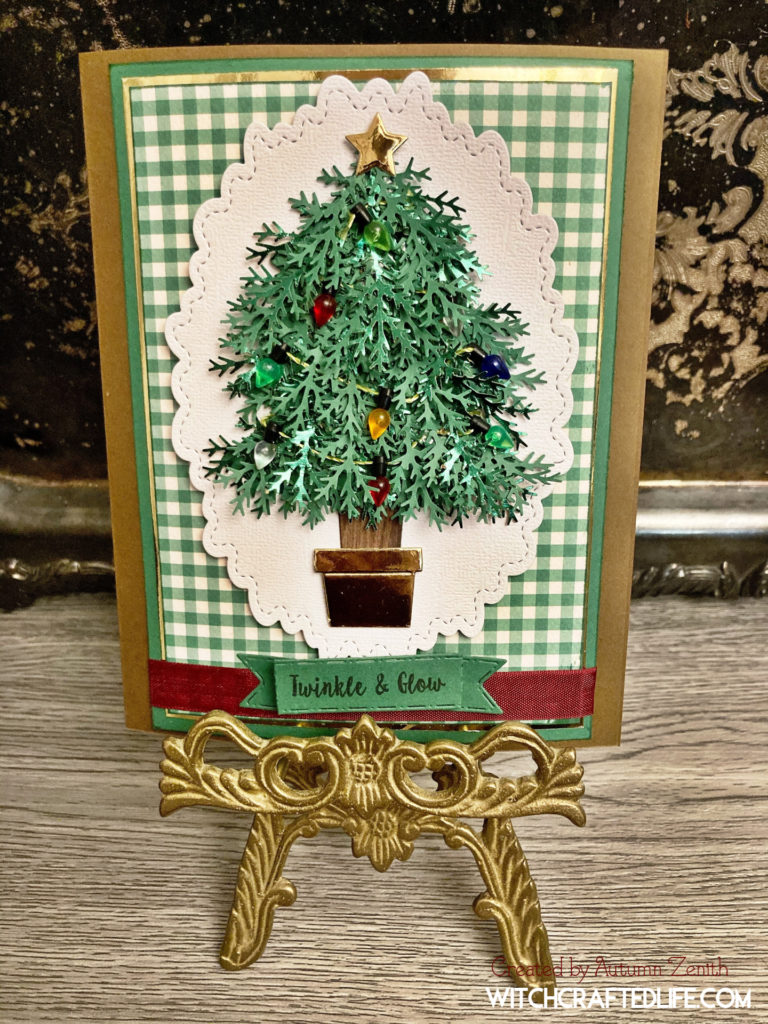 May this festive season bless you and keep you well, and in the process bring plenty of heart-touching surprises your way as well.
Happiest holidays and much ❤️ to you each and every one of you, my dear friends! 🌟🎄🌟
Project share
Pin the image below – or any other in this post – to Pinterest, pop it into your Instagram Stories, post in on Twitter or Facebook, or share it anywhere else you wish to help yourself find it again and to inspire others at the same time.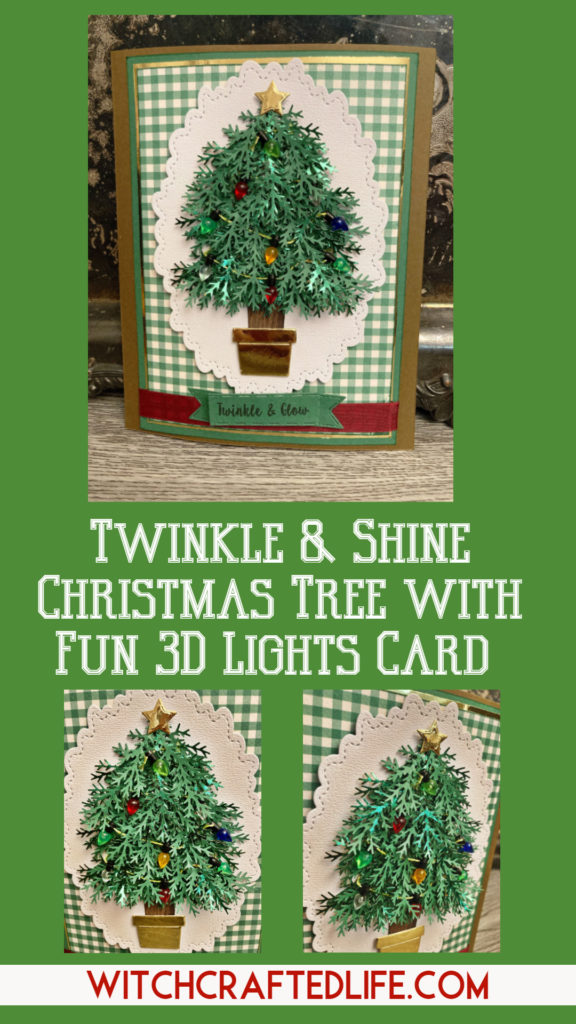 If you make a project based on or inspired by this card – or want to share any of your other handmade crafts with me – please use the hashtags #WitchcraftedLife and #WitchcraftedLifeMakes on social media so that I see can your beautiful creations.