Earlier this month I announced the creation of the #MakeHalloween365 hashtag.
It is awesome to see the positive reaction that this Halloween crafting hashtag has already received. 😃 Thank you very much to everyone who has supported and engaged with this hashtag right out of the gate.
I am excited to watch #MakeHalloween365 blossom and grow, like the loveliest of autumn pumpkins, into a thriving hashtag community for Halloween crafters and creative folks the world over.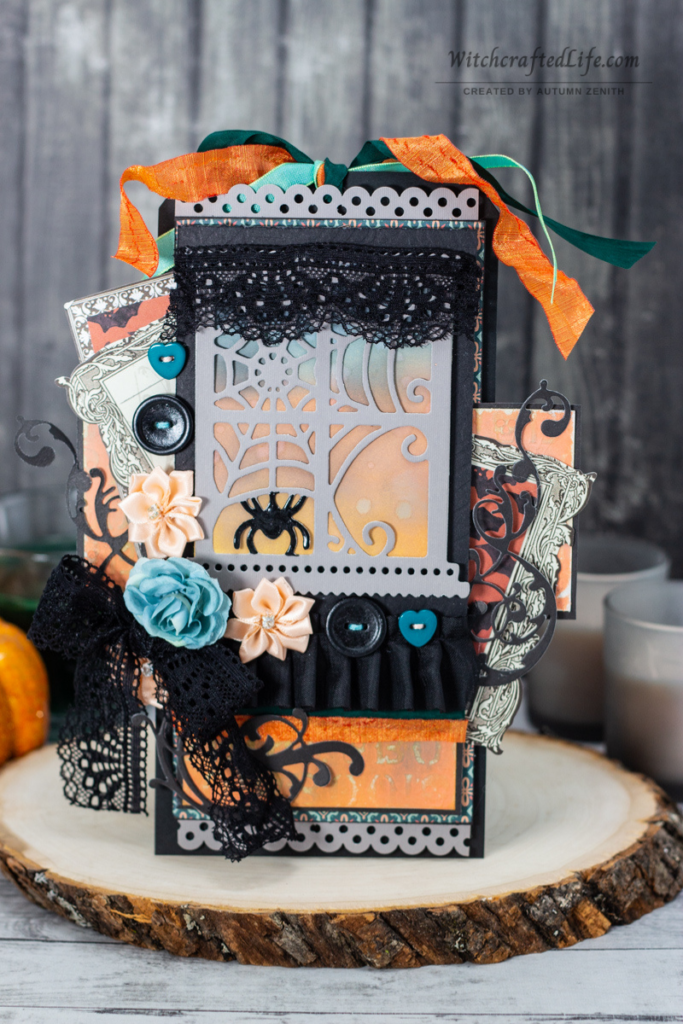 To that end, I'm delighted to share my own contributions to the tag and have decided that this year (and quite possibly beyond), I'm going to be posting at least one Halloween themed craft project per month here on the blog.
Some will have accompanying YouTube videos as well.
Not only will this help to generate more content for which to use and share the #MakeHalloween365 hashtag, but it will go a long way to ensuring I have plenty of Halloween paper crafting projects ready go when fall returns. 🍂
If you enjoy Halloween related crafting of any kind – be it paper crafting or otherwise – and would like to join me in sharing at least one Halloween craft project a month, I wholeheartedly welcome you to do so.
Of course, you do not have to do so in order to use #MakeHalloween365. Whether you create one, five, twenty, or a hundred Halloween craft projects throughout year, you are always welcome to use this hashtag. 🧡
One of my favourite elements of fall time is the gorgeous display of colours that the sky often takes on as the sun sets.
We live deep in the heart of a narrow valley, so we don't get to see as many sunsets as in certain other parts of the world. Thankfully though, we still experience some, with those of October and November often being amongst the most breathtakingly beautiful.
Throughout the year, I often think fondly (and longingly) of those gorgeous displays of overhead autumnal colour.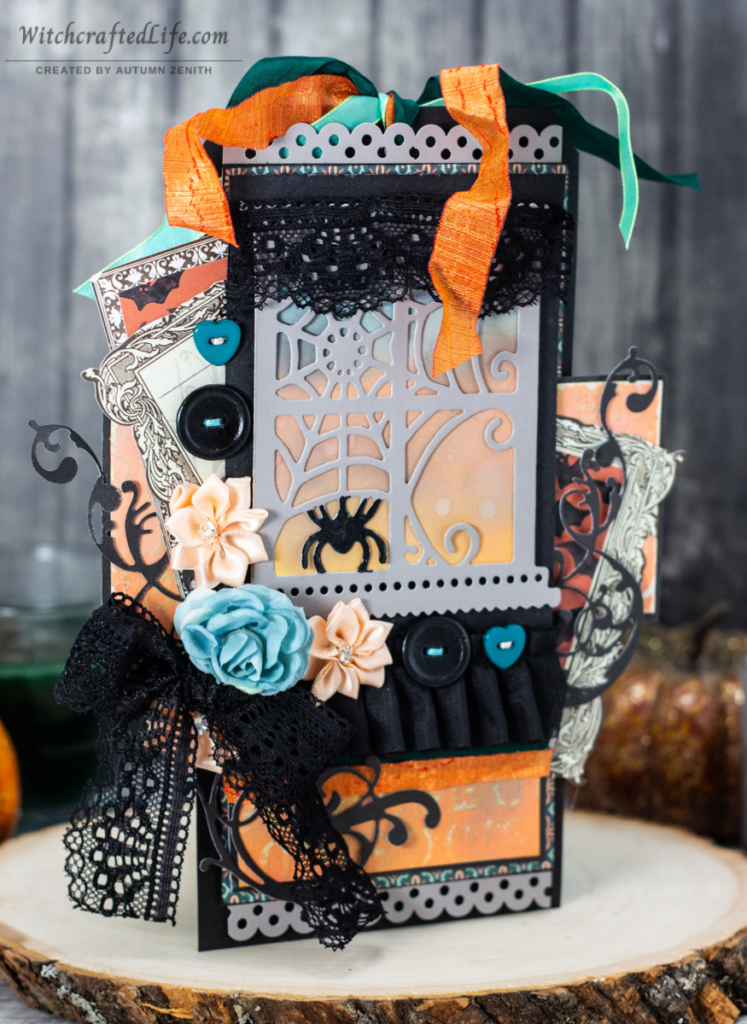 Recently, I was in the mood to celebrate them in paper crafting form.
And so set to work creating this oversized tag that features a sunset tucked behind a classic four-pane window that comes complete with a dangling spider to up the spookiness factor all the more. 🕷️🌆🦇
Products used to make this handmade oversized Halloween tag
-Black cardstock
-Grey cardstock
-White cardstock
-Orange and black bat print paper – Halloweeny 12"x12" Paper Pad from Recollections
-Peachy-orange embossed skull cardstock – Embossed Halloween 6"x6" Paper Pad from Recollections
-Black embossed bat cardstock – Embossed Halloween 6"x6" Paper Pad from Recollections
-Teal and peach print paper – Splendor Lovely Paper from My Mind's Eve
-Black (or other colour) oversized tag – 4 1/8" x 8.5" Dylusions Black Journaling Tag from Ranger
-Window with dangling spider die
-Flourish die
-Polka dot border punch – Double Bubble Border Punch from Fiskars
-Black and cream journaling pieces – Narratives by Karen Russell from Creative Imaginations
-Black ink pad – Autumn Leaves Onyx Black Ink Pad from Stampology
-Ranger Tim Holtz Distress Ink Pads in the following colours: Pumice Stone, Rusty Hinge, Spiced Marmalade, and Stormy Sky
-Black enamel drops – Ebony Black Crystal Drops from Nuvo
-Pleated black satin ruffle trim
-Black lace
-Teal green seam binding
-Orange ribbon
-Blue and green ribbon
-Blue embroidery thread
-Peach embroidery thread
-Black buttons
-Teal buttons – Charm Pack G0R356102 from Santoro
-Small peach ribbon flower embellishments
-Blue paper flower
-Glue gun and glue sticks
-Dimensional foam, pop dots, or similar to elevate some of your layers
-Adhesive, such as a tape runner, of your choice (I often use my Scotch Tape Glider)
Note: Following on what I said in my last project share post regarding the requests I received to give more in-depth project instructions, it struck me that it is logical to list the materials used in a given project and then proceed with the instructions themselves. Thus, I will be doing just that starting with this post.
How to create a beautiful peach and teal Halloween sunset window oversized tag
Start with a black (or other colour) oversized tag 4 1/8" x 8.5" Dylusions Black Journaling Tag from Ranger.
If you do not have a tag this size on hand, you could use a ruler to draw the same dimensions onto a piece of sturdy cardstock or chipboard, cut your handmade tag out, and use that instead.
As well, the general layout of this tag lends itself excellently to a card, so that is another alternative to making a tag that still works great with this particular Halloween window design.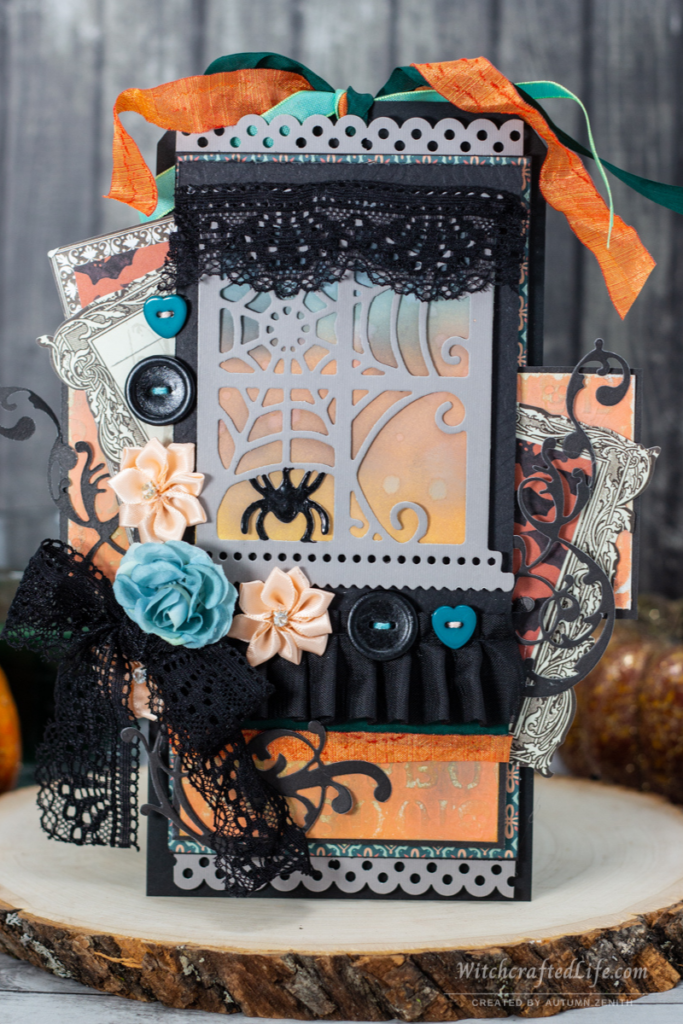 Next, trim a piece of teal and peach print My Mind's Eye paper slightly smaller than the tag front and punch two pieces of grey cardstock the same size as the top and bottom edges of the MME paper using a Fiskar's Double Bubble border punch.
Attach the grey punched cardstock to the top and bottom of the teal and peach paper and adhere this to your tag base.
Cut two pieces of peachy-orange embossed skull cardstock and distress them with some fine sandpaper or a nail file to give them more of an aged, worn look.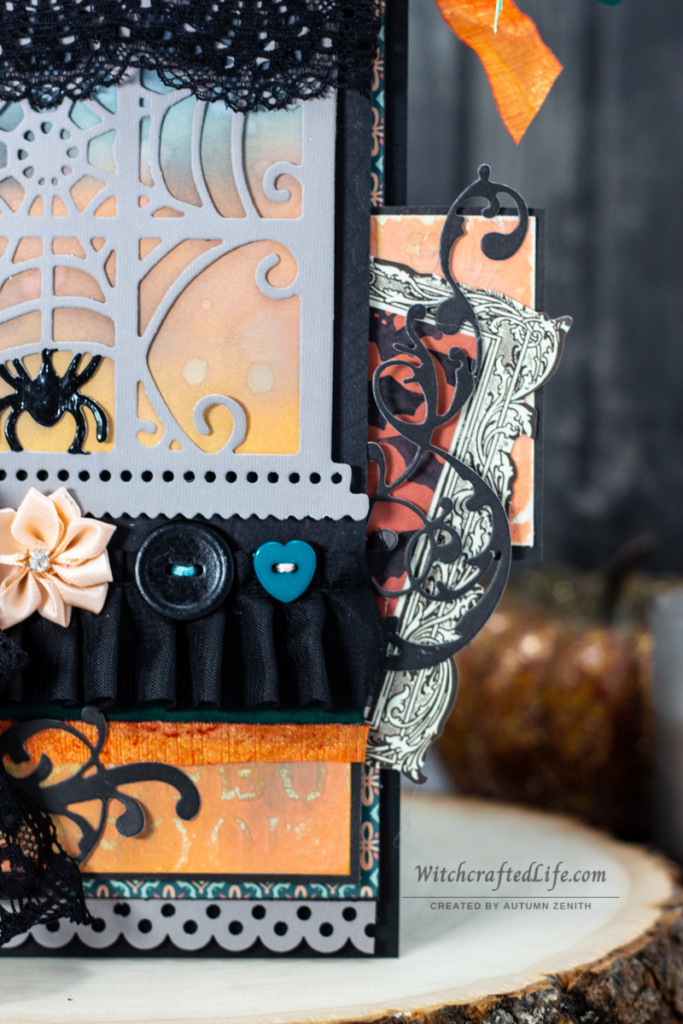 Apply a small amount of Pumice Stone Distress Oxide Ink and a very light amount of black ink in various spots across both pieces of embossed cardstock to give even more of a distressed and aged appearance.
Back both of these pieces of embossed cardstock onto black cardstock, leaving a very narrow visible border of black cardstock on all sides.
Arrange one panel towards the bottom of the teal and peach print MME paper and another (horizontally) about halfway down the total length of the tag.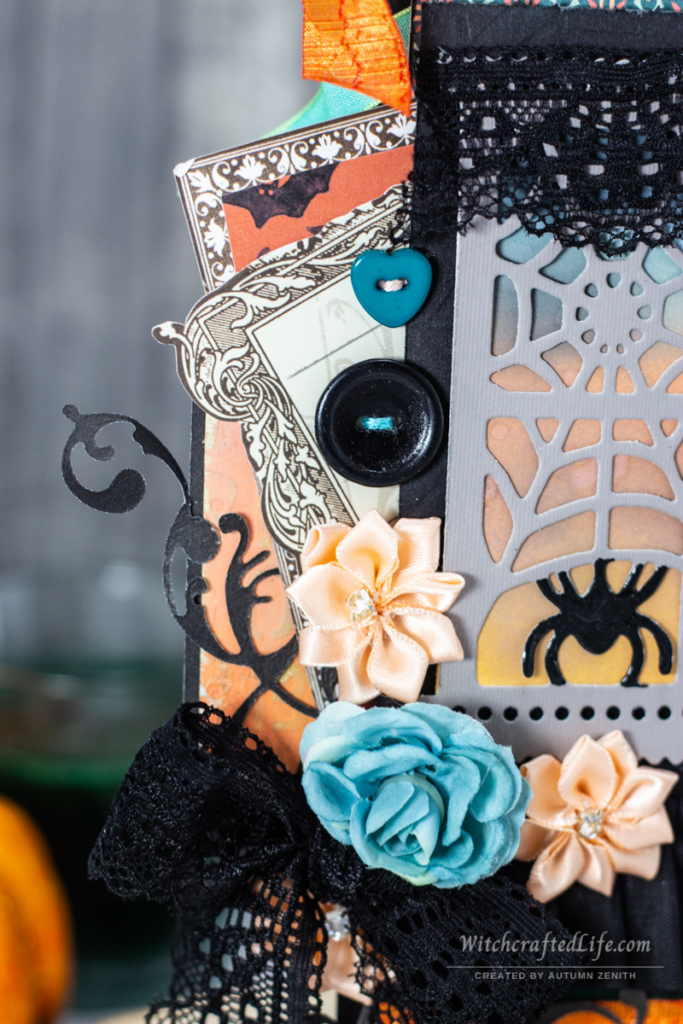 Select three cream and black journaling pieces, topping two of them with pieces of orange and black bat print paper. Arrange as desired slightly above and below the middle of the tag.
Die cut two flourish shapes from black cardstock, arranging them just below the middle of the tag.
Cut a piece of black embossed bat pattern cardstock that's a little over half the length of the MME teal and peach paper, trimming it just slightly smaller than the width of that panel. Attach with either adhesive or foam dots, if added dimension is desired.
To create the fall sunset panel, begin with a piece of white cardstock. Use Ranger Tim Holtz Distress Ink Pads in the following colours: Pumice Stone, Rusty Hinge, Spiced Marmalade, and Stormy Sky to make an ink blended sky. Apply a light dusting of water to the ink once you've blended it.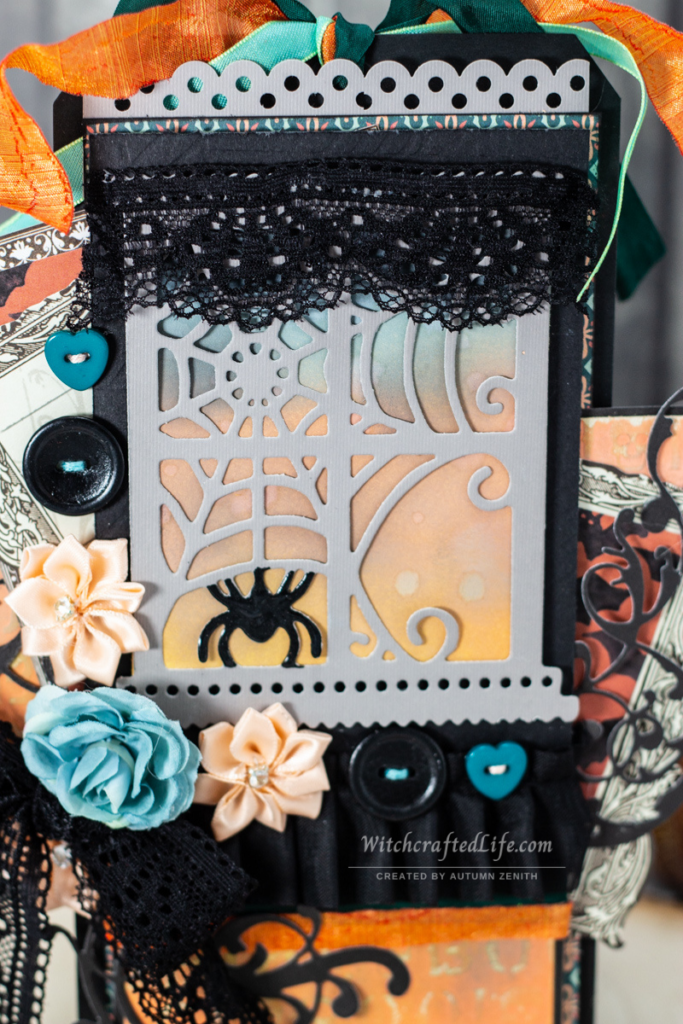 Next, die cut the window (with spider) shape from grey cardstock. If you do not have a die like this (I picked mine up 2 – 3 years ago on Ali Express), you could use any suitable window shaped die of your choosing and (optionally) add a die cut spider, spider charm, spider sticker, or even a small black spider toy to the window instead.
Apply black enamel drops to the spider and allow to dry before attaching the grey cardstock window piece to your inked sunset background.
If you do not have black enamel drops, you could use black embossing powder, black glitter, black Stickles, or colour the spider with a black marker or pencil crayon instead (or simply leave it as is for a uniformed grey look).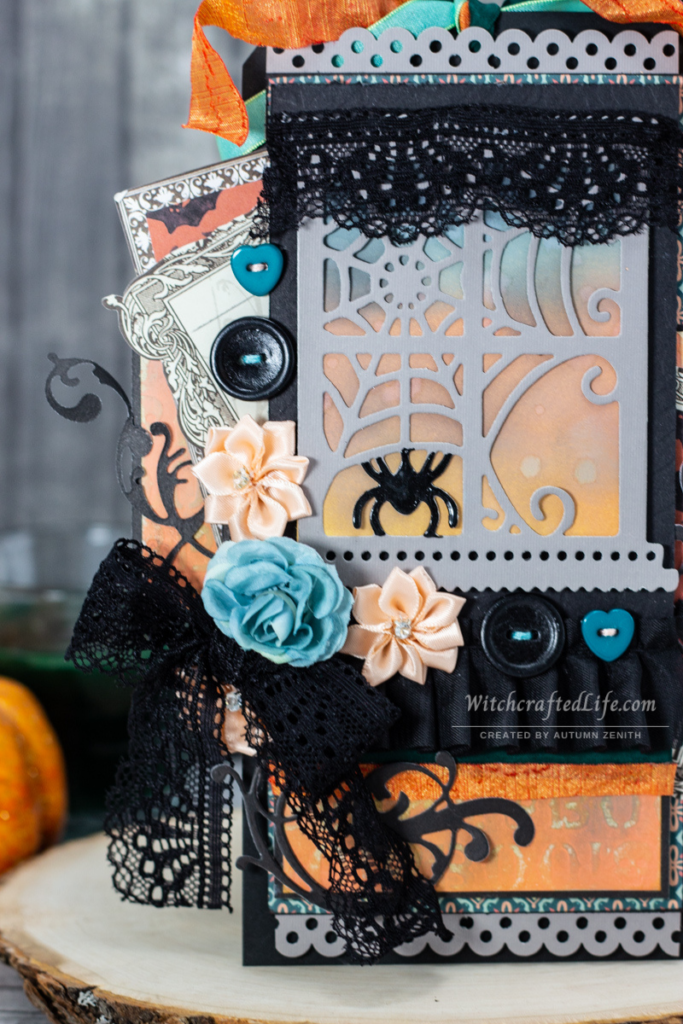 Attach the window panel to the tag base. Thread the round black and heart shaped teal buttons with embroidery thread and arrange them as shown. Likewise place the peach ribbon flowers and blue paper flower as shown around the base and sides of the window panel.
Top the window panel with a piece of black lace to create the look of a valance.
Beneath the window panel, adhere a piece of black ruffle trim, a piece of teal green seam binding, and a piece of orange ribbon.
Tie a basic bow from a piece of the same black lace that you used for the window valance and attach it below the blue paper flower.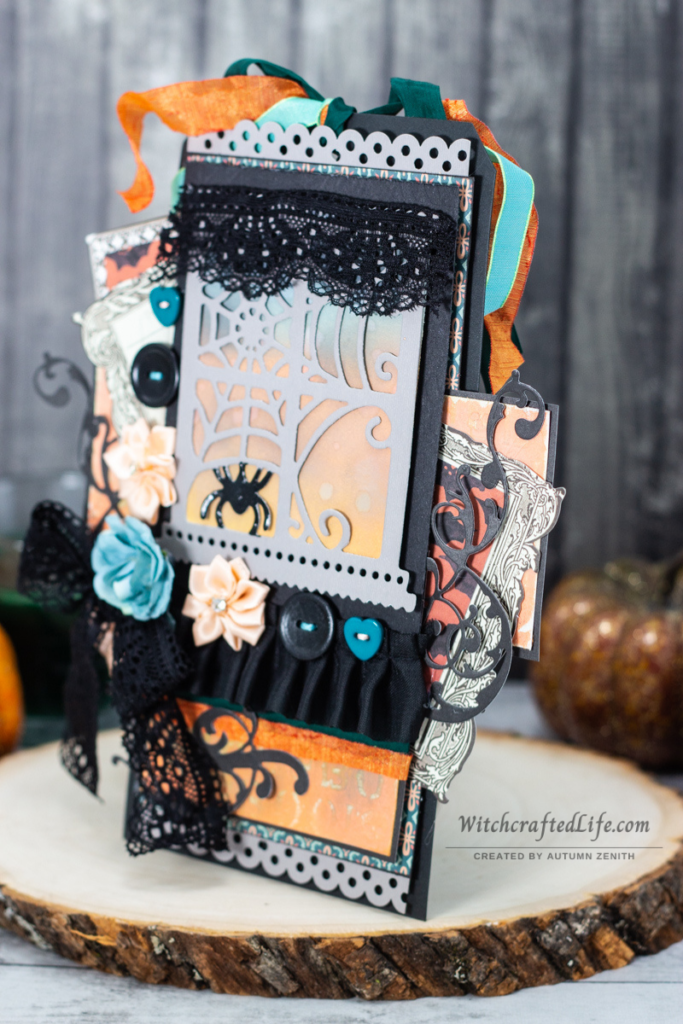 Lastly, cut one piece each of teal green seam binding, orange ribbon, and blue (with green edges) ribbon, or other ribbons and trims of your choosing, and tie them through the hole at the top of the tag.
Your Halloween sunset window tag is now complete and ready to be enjoyed as part of your festive décor or gifted to whomever your heart desires. 🧡🖤🧡
It's never too soon to start counting down to – or crafting for – Halloween
From the get-go of this blog's life, I have wanted to make fall/Halloween/Samhain relating crafting a big part of the projects that I share here.
Things got off to a decent start on that front in 2020, WCL's first year of life.
However, I feel that thanks to #MakeHalloween365, I will be able to amp up my Halloween crafting all the more. And, in turn, help to make it a standout element of my blog, Instagram, and YouTube channel.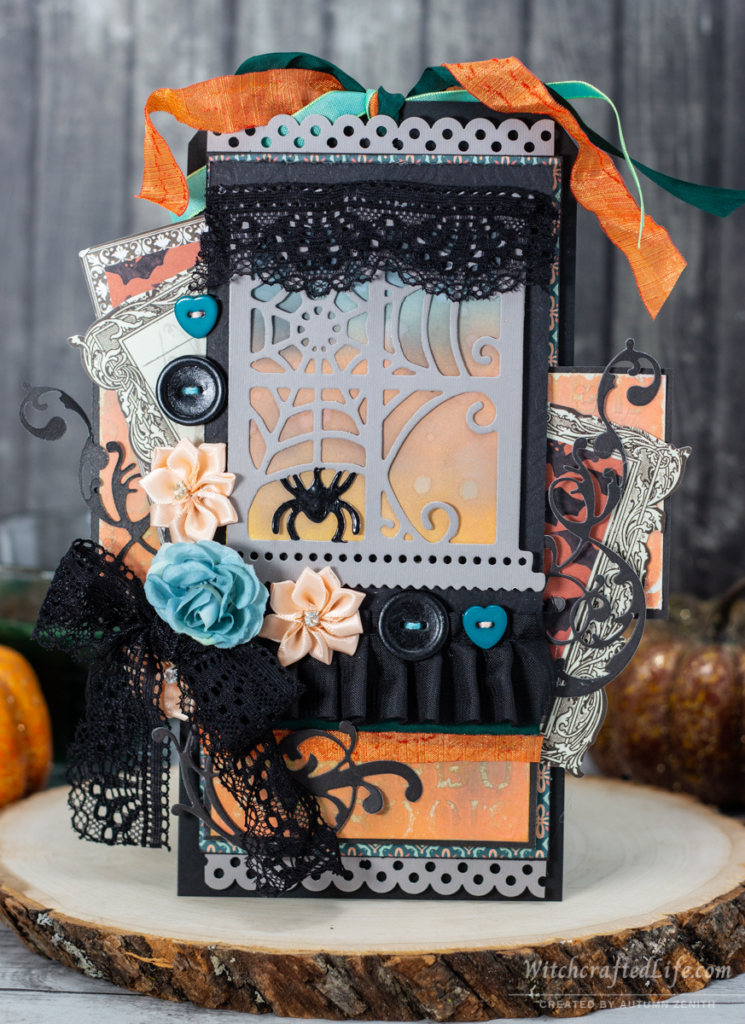 As of today's date, March 28th, there are 217 days to go until Halloween.
While I do not want that time to vanish too quickly (after all, each day behind us is, objectively, one less in front of us), as a perpetual Halloween lover, it just comes naturally to me to countdown until All Hallows' Eve the whole year through.
Whether you do the same or not, I hope that the Halloween projects I share here and those posted by others who use the #MakeHalloween365 hashtag will prove inspirational as you go about making your own fall and Halloween themed creations of all kinds.
Here's to a year of fa-boo-lous Halloween fun and crafting! I can hardly wait to see what you all make! 🎃💌🖤