Depending on how long you've known me for, you may or may not be aware that Witchcrafted Life is not my first blog or website.
My history of running personal websites stretches all the way back to 2004. The world and the web were both very different places then – as one would expect after a sixteen-year period in this fast-paced day and age that we live in.
Between then and now, I've had the pleasure of helming a handful of different websites and blogs. Thus far, the longest-running were active for eight and just shy of ten years, respectively.
I retired my last blog, which focused on vintage fashion and history, in March 2017. Doing so was gut-wrenchingly difficult. I agonized over the decision for months. It tore at my very core to walk away from something that I had poured my heart and soul, endless hours and untold amounts of energy into for such a long time.
And yet, in respect to the circumstances of my life and health at the time, I knew that retiring that website was the wisest choice for me in that moment. While I've often missed it and the awesome vintage blogging community that existed at the time, I've never regretted my choice.
In the nearly three years between when that blog was retired and when Witchcrafted Life sprang into being, I thought a great deal about if I would ever return to blogging again – and if I did, what kind of site I would create.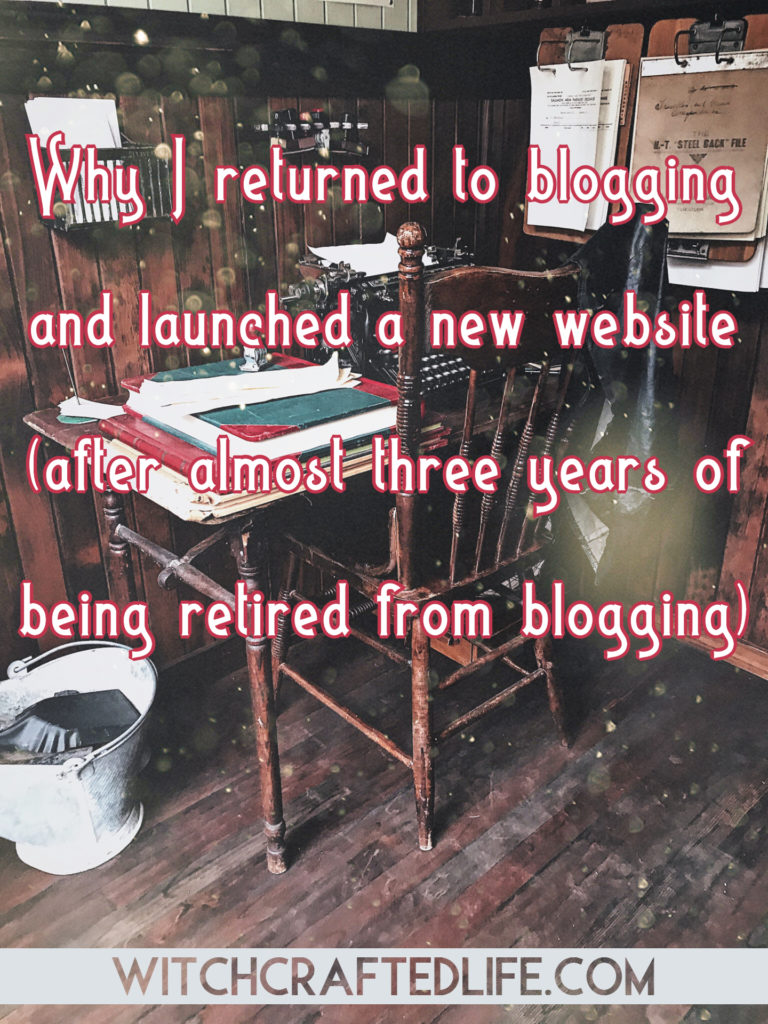 As time went on, guided by the universe, I came to realize that A) I definitely wanted and needed to return to blogging and B) I was going to do combine two of the most important aspects of my life – Paganism/witchery and paper crafting – as the primary topics that my new site would cover.
Despite those who are quick to decry as much, I do not believe that blogging as a medium is dead. I would never have started the very site that you're now reading if I believed as much.
Has blogging changed substantially since the 2000s and early to mid-2010s? Absolutely.
Have a lot of people retired, abandoned or removed their blogs in recent years? You bet!
But that doesn't mean that blogging has given up the ghost. Many folks who have been blogging for ages continue to do so and no shortage of new blogs pop up every year.
WitchcraftedLife.com is born
At the start of this year, I became one of those people. Again.
And the "again" is important, because WCL is not my first blog or website. Yes, I'd been out of the game (save for guest blogging) for a while, but much like riding a bike, blogging is something that you don't just suddenly forget how to do.
For every "what if" thought, trepidation, and valid concern that my mind could dream up when I contemplated the idea of returning to blogging, a voice deep inside reminded me that I had a substantial amount of past experience to draw on.
At one point, I was blogging professionally with my vintage site. It was my full-time job (and then some!), and to say that I gave it 110% would be an honest-to-goodness understatement.
Yet, I didn't (and don't) want blogging to currently consume my every waking hour. There can be a lot of pros, perks and positives to taking that "I'm all in" sort of approach, but it can also be astronomically draining, stressful and difficult to maintain without running the risk of legitimate burnout.
In life, knowing what we don't want is often every bit as important – if not more so – than knowing what we do, and it was critical for me that I set some personal boundaries before I kicked off a brand new site.
I knew that I needed to find a healthy balance between blogging and my offline life. I knew that as sharing homemade craft projects would play a key role in this website's existence, I would need to factor in time and energy to create.
And I knew that as a multi-chronic illness fighter, the immense uncertainty of my health would need to be accounted for in respect to my posting frequency and the overall blogging related workload that I took on.
I was also aware that the blogging world, while not yet having succumbed to the fate of the dinosaurs, had changed a fair bit in recent years.
In a world where social media and video content (YouTube, Snapchat, TikTok, etc) hold more sway and have higher user counts than ever, it can be genuinely challenging to grow a blog – especially one that combines not just a single niche topic, but two.
Nothing about my decision to return to blogging was rushed or done haphazardly – if anything, as my patience-of-a-saint husband will attest to, I likely overthought and over-disucssed the mother lovin' heck out of things! 😂
No matter how much one knows about a subject, plans and prepares for, things can – and often will – unfold differently than you expected. That's life in a nutshell.
And I was ready for that. Ready for the trials and tribulations, positives, stresses, joys, challenges, adventures, and connections that blogging offers.
As soon as I felt ready to blog again, the name Witchcrafted Life came to me.
It was time.
I was prepared.
And so on the very first day of the first month of the first year of the new decade, this website went live.
Why I returned to blogging in 2020
From the moment I mastered the alphabet as a child, I began to write and I haven't stopped since. What began as journaling and stories jotted down in crayon morphed into notebooks of teenage poetry and on to an adulthood that has been filled with more written words than I could ever begin to count.
Many, though not all, have been digital – as is true for a lot writers these days. We use the tools and mediums of our times, and that means things like blogs, websites, online magazines, and social media.
Writing gives me more of a voice than the one that exists my own mouth. It is joy and strength, empowerment and creativity for me.
I can picture my existence without countless things, even those of a basic needs level, but I genuinely cannot fathom a world in which I wasn't writing in some capacity.
While I had other outlets, online and off, to write in between my previous blog and this one, including Instagram, few gave me the free reign, character count, or ability to captain my own creative ship the way that blogging does.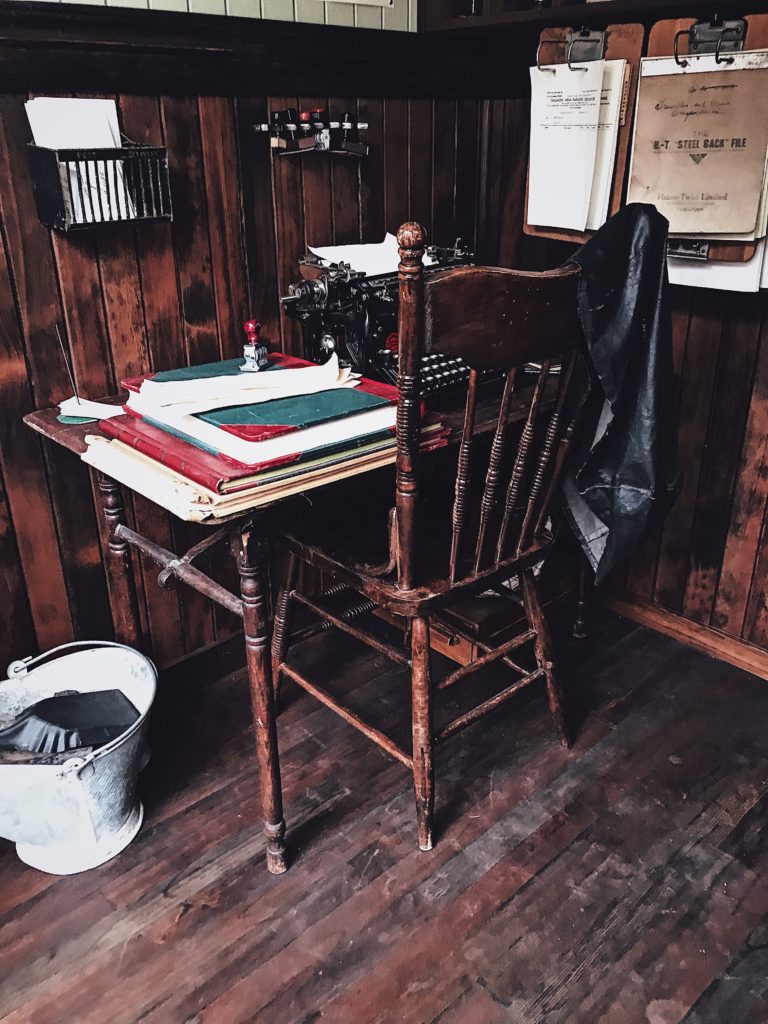 I returned because I love to write, need to write, start to go stir crazy if I don't write in some capacity online or off.
But that wasn't the only reason. After all, there are other ways to write besides blogging.
I also returned because I wanted to share my knowledge and passion on the topics that are at the heart of this blog, to connect with others who share those passions, and to help support and inspire people around the world to be true to themselves and their own innate creativity + inner magic(k).
It is my hope that blogging will also allow me to reach certain goals that are very important to me – including becoming a published book author.
Returning to blogging wasn't a decision I made lightly. I had watched as hundreds of blogs on an array of topics that I enjoy shuttered their doors or were simply abandoned (zero judgement there, I promise you – I get it, I really do).
I knew that far fewer people were commenting on many blogs and that the community that had once helped to foster, nurture and support the growth of a lot of sites within a given niche wasn't likely to be as extensive as it had once been.
In a sea of Buzzfeed lists, memes, tweets and selfies, blogging can look and feel downright antiquated at times. Yet, in many respects, the purposes that it serves and the reach it extends are greater and more important than ever.
Blogging is, generally, far less ethereal than the "here one moment, buried under five thousand new posts the next" realm of social media.
It might not generate something that is physically tangible, but it creates words that are crawled and indexed by search engines, that are not capped at 280 or 2,200 characters, and which can quickly and easily be linked to by other websites.
Compared to the temporary nature of many different digital platforms, blogging almost seems weighty.
It has substance and packs a punch (as can, please don't get me wrong, SM and the like at times, too). It can be Googled and it allows a certain sort of creative freedom that, to my mind, other digital platforms are hard-pressed to top.
And you know what, I like blogging. In fact, I love blogging.
It can drive one up the wall and back again at times – but there are few things worth doing in life for which that isn't the case.
Blogging is rewarding and fun. It excites me, it inspires me, it allows me to connect all the more with those who share my interests.
I know from experience that it also has the potential to blossom into so much more than just the sum of its parts.
The opportunities, skills, networking, friendships, collaborations, and other positives that can stem from blogging are invaluable for many of us who opt to steer our own vessels through the vast waters of the internet.
I returned to blogging because I have so much more that I want to say, share, learn, teach, and, I hope, both inspire others with and be inspired by.
Why did I create this paganism meets paper crafting blog?
As this post winds down, I'd like to take a moment to mention that while there is plenty of overlap between the two, the reasons why I returned to blogging point blank and the specific reasons why I started a site dedicated to both Paganism and paper crafting do differ in some respects.
For example, one of the driving forces behind this site coming into being is that it is very important for me to be an example of, and voice for, those who consider themselves "alternative" crafters or who don't always feel that they or they work are/is fully accepted within their respective crafting sphere.
I know full well what it's like to feel that way. Let's face it, there aren't a ton of Pagan paper crafters out there – let alone ones who are blogging about it.
Helping in my own small way to encourage others to always craft – and march – to the beat of their own drum, is incredibly near and dear to my heart.
This desire was one of a handful of key reasons behind why I launched a blog that covers the topics of both witchery/Paganism and paper crafting.
Some of the others were discussed in my inaugural post, and other still will likely be explored in greater detail here as time goes on.
How long will I blog for?
It is impossible to know how long Witchcrafted Life will be online for. I've learned that how and when websites and blog conclude rarely happens how we might have imagined.
I sincerely hope that this blog will have an extensive and wonderful life during which it is able to be of benefit, and bring supportive positivity, to many who encounter it.
That is my goal, my commitment, and my plan.
I didn't spend more than two years contemplating whether to blog again (and what specifically it was that I was going to blog about) to dip my toes into the water once more and then promptly retreat back to dry land.
Nope, I'm all in.
This blog matters a great deal to me – as do the people who visit and help to support it.
And with all of my heart, I thank each person who engages with this website in any way. You are appreciated and valued beyond measure.
I returned to blogging for a multitude of reasons, and I have no doubt that others still to emerge will help ensure that I remain here for a good long while.
Which reminds me, I've got a new post to write, so I best get cracking. 😊