August is that glorious month where summer's intense heat often gradually begins to relax and soften into the somewhat cooler days and dreamily sublime colour palette of autumn.
At this realitivaly early stage in the eighth month of the year, the temperature and landscape are still decisively summery. The heat is keeping a marathon runner's steady pace, scarcely letting up for the inky black hours of nightime.
Yet, beneath the patio umbrellas, sandal-clad feet, and lush peach trees, the earth is shifting into autumnal gear.
I adore – and I mean, really adore – the colour palette of late summer and early fall.
Straight up autumn time's intense jewel tones and earthy shades win out as my favourite seasonal palette, but that of the later days of summer is close on its heels.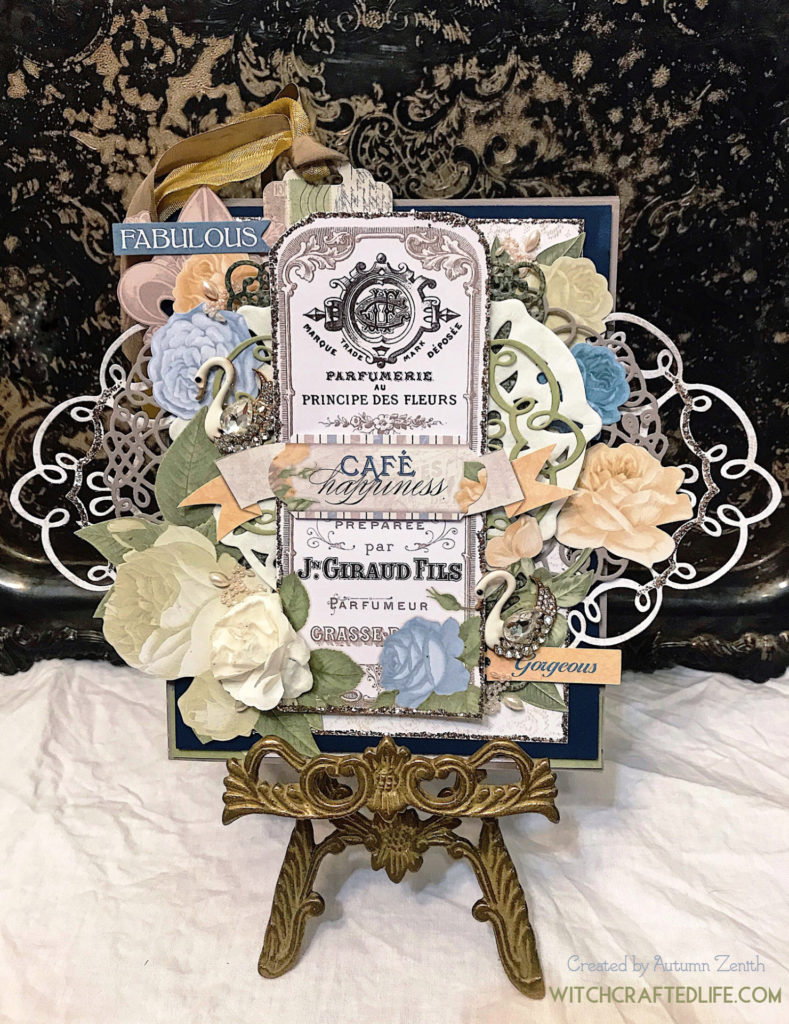 It was to this palette that I turned when creating the French Inspired "Happiness Café" shabby chic card featured in this post.
While these particular colours are not overtly summery in the way, say, that neons, tropical fruit hues, or a nautical palette might be, at their heart they remind me of the flaxen tones that nature often takes on as summer winds down.
The immediacy of the season's beginning is behind us once more, and with it has gone some of the piercing verdant vibrancy.
Now nature is, in certain respects, mellowing a tad, as fields of green morph into seas of harvest time gold and brown.
French Inspired "Happiness Café" Shabby Chic Card
The French component of this card comes primarily by way of the gorgeous Bo Bunny Boulevard Collection items used here.
To extend the French theme, the overall style of the card has a certain romantic, distinctly yesteryear charm.
I might not go quite so far as to call it straight up Rococo, Victorian or Art Nouveau, though to my mind, subtle elements of each of these periods are woven into this card's design.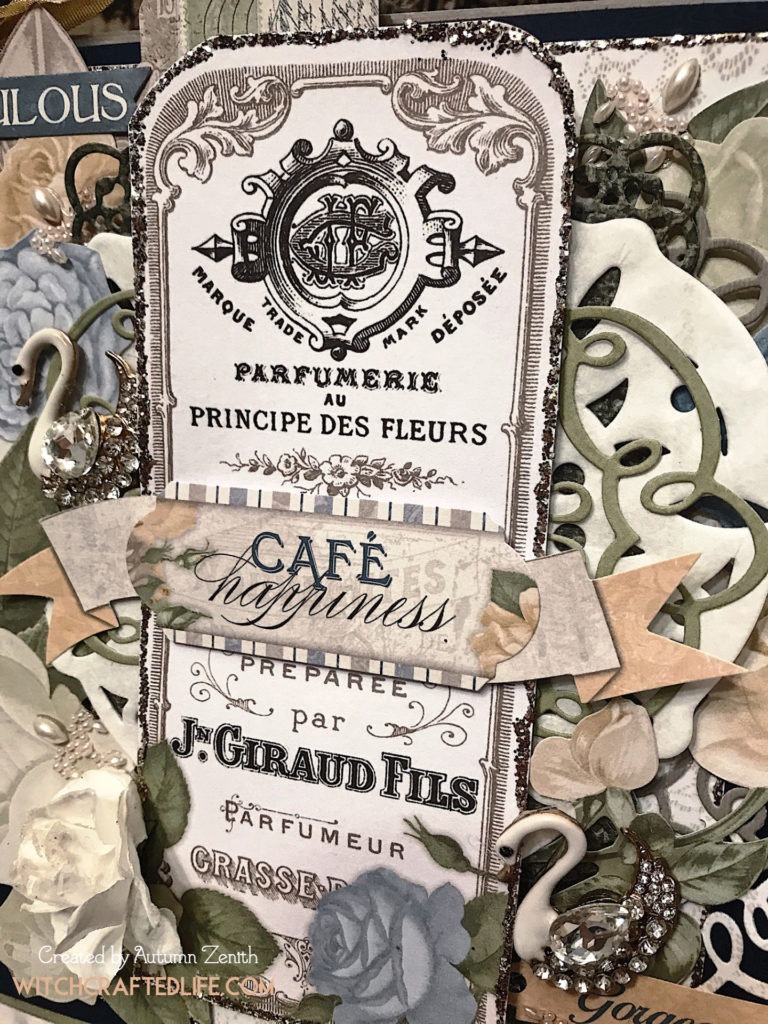 As is frequently the case when my paper crafting makes, this card is both shabby chic and generously layered + embellished.
Yet, for all the intricate die cut pieces, paper layers, seam binding, and bejewelled embellishments, this card is not actually that thick.
I'm hoping that, given the itty-bitty 2 cm letter mail height limit on all outgoing mail here in Canada, I may still be able to send it as a letter, not a parcel (which, I kid you not, would add $8 – $15+ in additional shipping costs, depending on the destination).
As I created this elegant greeting for a dear friend who lives outside of Canada (I don't want to say more, lest they're reading this and the surprise of this card is ruined), I'm really hoping letter mail will be possible.
This card was a spontaneous creation, which, all things considered, came together quite quickly. Moreover, its design flowed like water and I had a fantastic time creating it.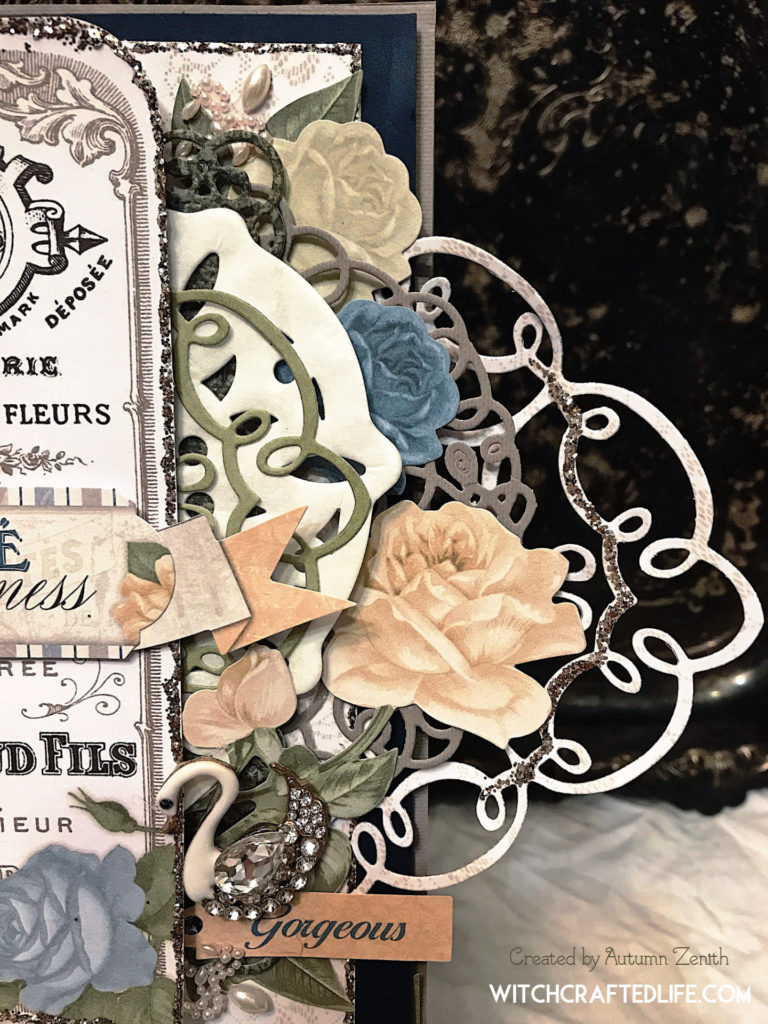 Once the palette (which, as per usual, the less-than-stellar lighting in our house didn't do the best job of capturing) had been established, I stuck by it closely.
Navy blue (which reads more as black here – my apologies!), muted golds, honey tones, and taupes; earthy blues, sage green, and crisp grey are the stars of the show.
As a collective whole, these colours also channel a certain French feel to me – both of the aged, exquisite architecture of Paris, and at the same time, of the rolling hills and pastoral lands of the French countryside.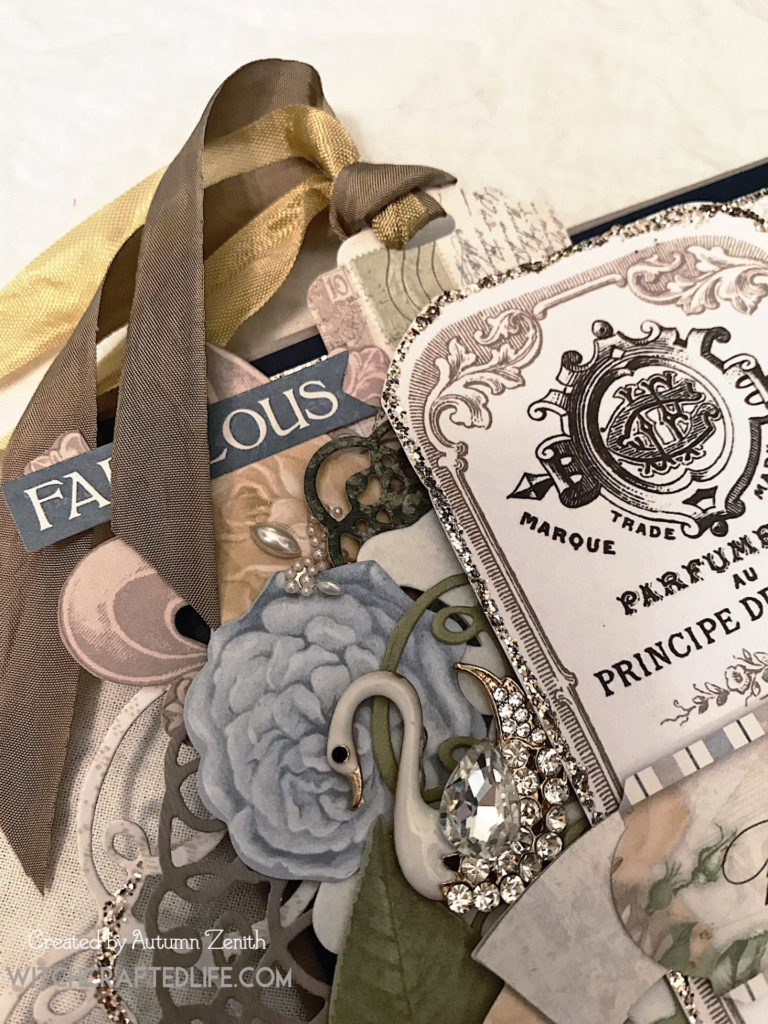 Another hit of France comes by way of the fleur de lis used on this project.
I've adored this classic shape since childhood and, as this project reminded me, they're something that I need to use it more often in my paper crafting – especially since doing so feels like a lovely odd to my French ancestry.
While there is a lot going on in the design of this card, there are not actually too many 3D elements.
The single creamy-white paper rose near the bottom and the two gorgeous metal and rhinestone swan flatback charms are the main 3D elements here.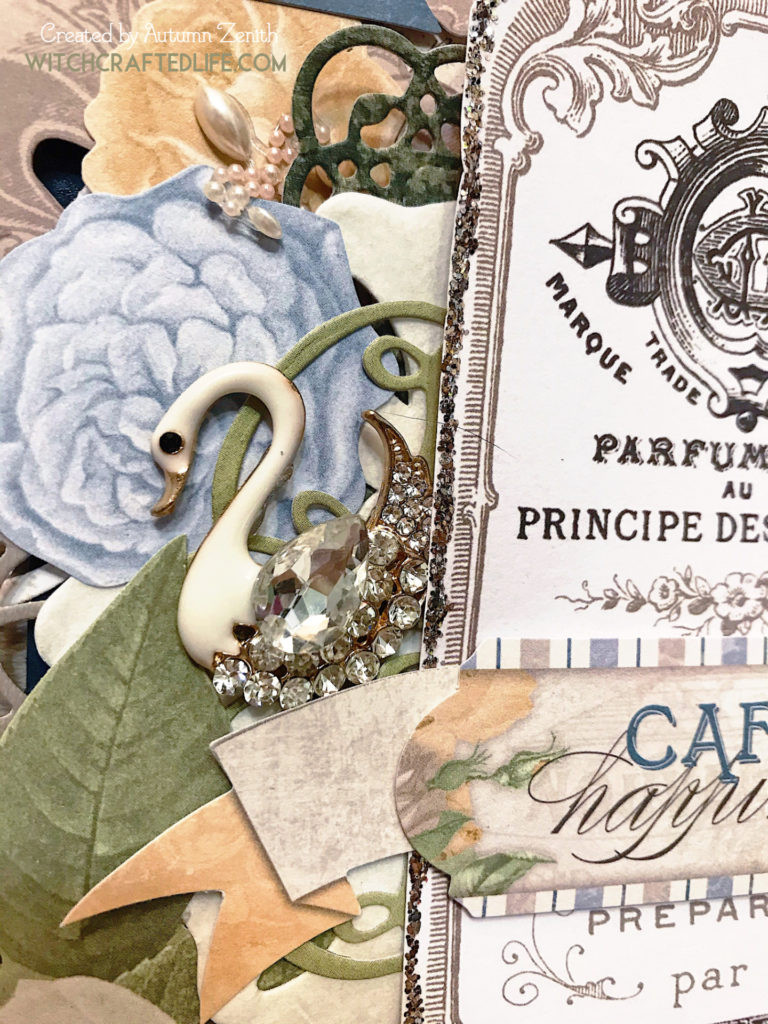 These chic metal swan charms have a fair bit of heft to them. While they can be used for a wide range of purposes and projects, they were sold as jewelry making components and it's easy to see why! How stunning would they look on a necklace, brooch or cuff bracelet?
Because the pair of swans, coupled with the multiple layers of paper on this card front did add up in weight, the finished card was quick to fall forward on itself.
To counterbalance this, I added some layers of paper inside (in the greeting area), which balanced the weight out and eliminated that concern.
This lovely greeting will zip off to its recipient as a thinking of you card. However, it could easily work as a thank you, "just because", birthday, anniversary, Mother's Day, congratulations, retirement, or (in some instances) get well card, too.
Card making tips and tricks from this project
–Don't feel you have to stick to the boundaries of your card base. As you may have noticed from many of my previous card shares here, I love extending some of the elements of my card designs over the sides.
Sometimes, it may be just a subtle reach beyond the card base. At others, I let this design approach run wild and free. It's safe to say, this shabby chic card falls into the latter camp! 😃
If you need to keep your card to within a certain size limit for mailing or other reasons, then naturally, you may be limited to a degree by how much you can go over the borders of your base. Even then, though, you can usually still have something peeking over at least one side.
By working beyond the size of the card base, you extend the canvas, so to speak, of your card, add awesome visual interest, and can design a greeting that stands out all the more from the pack.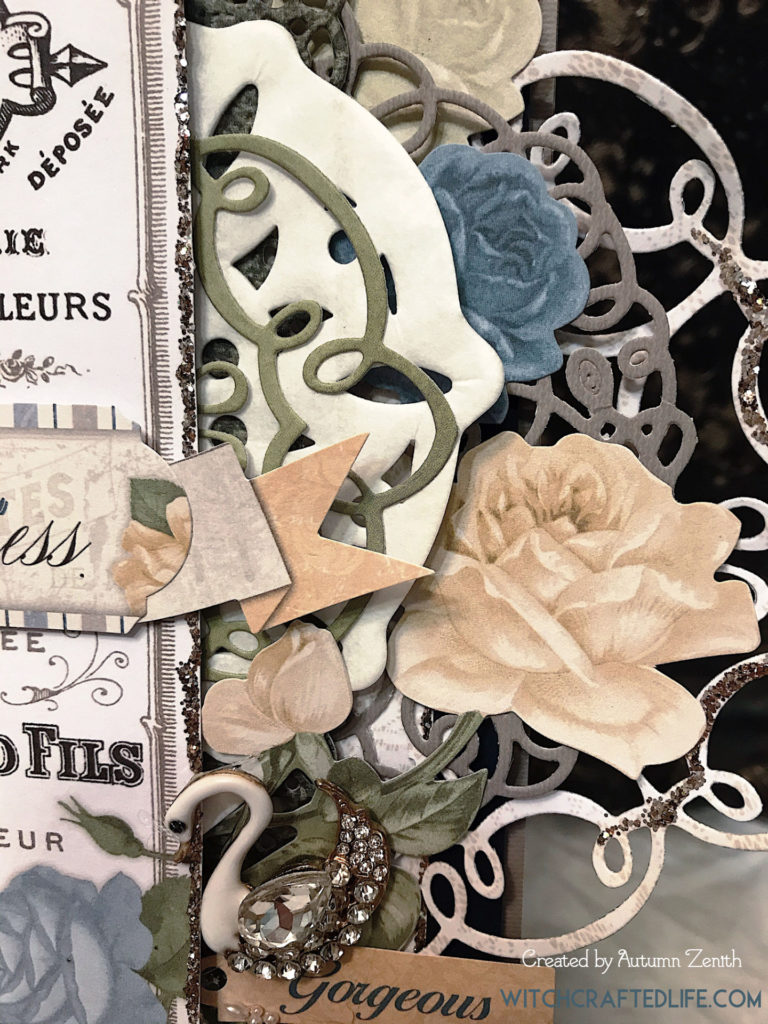 -Put your Stickles to use! I adore Stickles and have at least a dozen colours of this handy-dandy glitter glue in my craft stash.
Anytime I go to town with the Stickles, I cannot help but think of one of my favourite crafters (and a huge inspiration on my own paper crafting style), Lisa M. Pace, whose paper crafting how-to books are chock-a-block with Stickle filled projects.
Stickles add instant sparkle, elegance and fun to your projects (with little bulk – win-win!). Plus, when you edge a given design element with a border of Stickles, it almost looks like a separate layer unto itself.
-Mirror doilies with similar looking die cut shapes (and vice versa). An actual white paper doily appears here, as do intricate die cut shapes that have much the same look.
The pairing is appealing and sophisticated, as well as vintage looking. It could also read as rustic, festive, or many other things, too, just depending on the overall design of your project.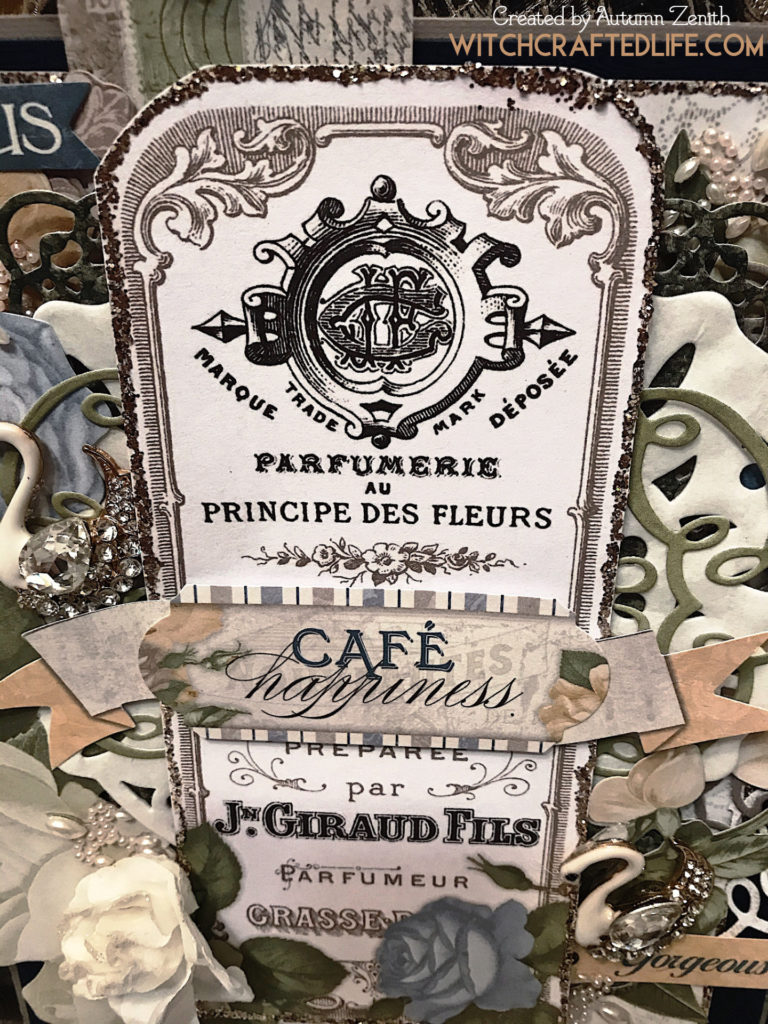 -Raid your jewelry making stash (or jewelry box) for embellishments. There is little in the way of strict dividing lines between crafting camps in my supply stash. I often reach for beading or needle work material for my paper crafts, and encourage fellow crafters to do the same.
If you don't bead/make jewelry, you can still pick up some supplies for this craft to use on your cards, tags, scrapbook pages, etc. Thrift shops, discount and dollar stores, yard sales, flea markets and eBay can all good places to source reasonably priced jewelry making supplies.
In addition, if a piece of your costume jewelry has broken or you don't wear it anymore, consider repurposing it into one or more of your papercrafts.
You might just be surprised by how many projects a single beaded necklace, for example, can help to embellish. Plus, by recycling, you're helping to keep the earth that much happier and healthier in the process.
-Add a tag with ribbons, seam binding, and/or twine to your project. In this case, the tag is stationary, but you could design it to be removed from the greeting itself. I love this eye-catching technique and the way it helps to instantly elevate the charm of any project all the more.
How to Make this layered, embellished shabby chic card
To begin with, I created a card base out of medium grey cardstock (white cardstock would also look fab here), followed by a piece of solid navy blue cardstock just a touch smaller in size than the card base itself.
After that, I layered a piece of pale hued lacy damask print paper from Kaisercraft, which I edged with stickles and allowed to dry before proceeding with the rest of my design. Ditto for the central "Parfumerie" piece.
While the Stickles were drying, I cut out the intricate die cut shapes, selected the rest of my ephemera die cut pieces and assorted embellishments, cut the seam binding for the tag piece, and added some Stickles to the white cardstock die cut pieces.
Once all of the Stickles had dried on each respective element that included them, I set to work layering and composing this card.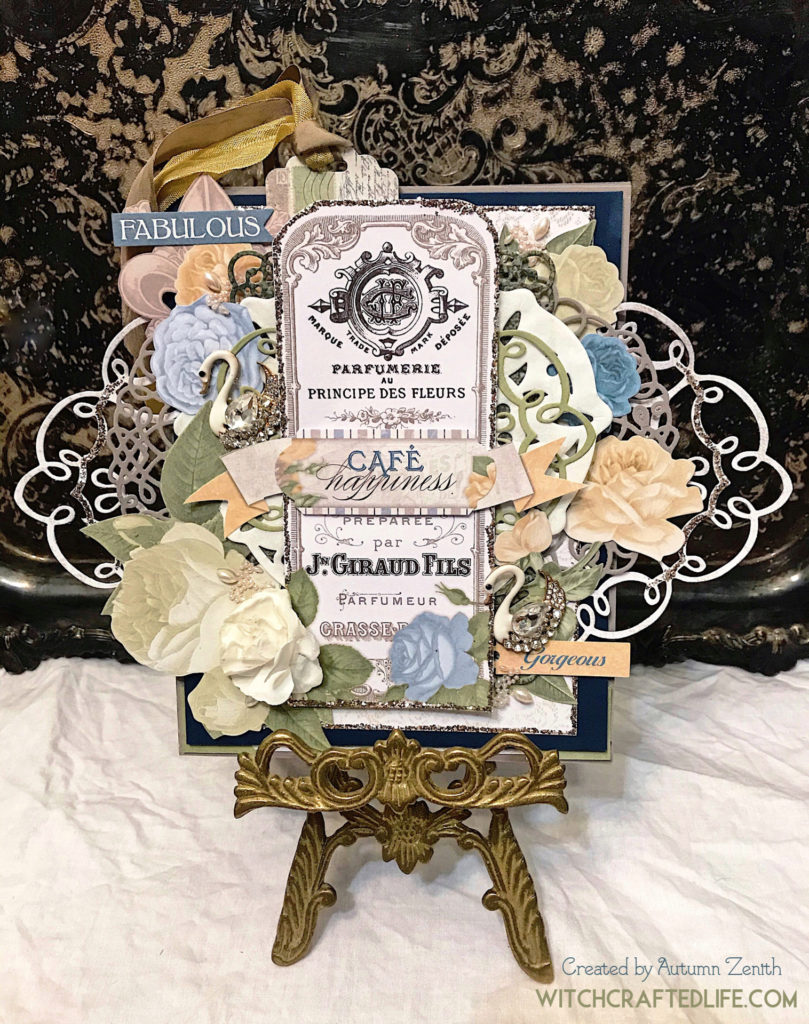 I should mention that the central "Café Happiness" sentiment is actually two different die cut shapes layered on top of each other. The larger banner shaped base topped with the "Café Happiness" piece.
After I had arranged and adhered all the layers, including the white doily, I added the adhesive pearl fleur de lis pieces and the metal + rhinestone swan charms.
Lastly, I tied the seam binding to the tag, and with that, this intricate, yet fairly easy to make card was complete.
Products used to make this elegant thinking of you card
-White, grey, and navy blue cardstock
-Lace damask print paper – Rose Avenue Collection "Suite" paper from Kaisercraft
-Sage green paper – Boulevard 6×6 inch paper pad from Bo Bunny
-One or more ornate filigree/doily shaped metal die(s)
-Assorted ephemera pieces – Boulevard Noteworthy Notable Die Cuts from Bo Bunny
-White paper doily (premade or die cut, as desired)
-Silvery-gold coloured glitter glue – Platinum Ice Stickles from Ranger
-Light gold and taupe seam binding (the gold is the shade "Trophy Gold" from Snug Hug, the taupe reached me unlabeled)
-Fleur-de-lis adhesive pearl embellishments – Say It In Pearls Strip (in) Cream from Prima
-White paper 3D rose – Garden Blooms from Blue Fern Studios
-Metal, enamel and rhinestone swan flat back charm embellishments (purchased a while back on AliExpress.com)
-Dimensional foam, pop dots, or similar to elevate some of your layers
-Adhesive, such as a tape runner, of your choice (I often use my Scotch Tape Glider)
Utilize monthly colour palettes in your paper crafting projects
In some parts of the world all twelve months are blessed with their own distinct colours that are part of the bigger seasonal picture of each chapter of the year.
I encourage you tap into the inspiration and premade colour schemes that each month of the year brings (no matter if your own area is awash with said colours or not).
Not only will you have a built-in colour palette at any point in the year, but this approach can help your projects to feel that much more on theme and imbued with festive cheer.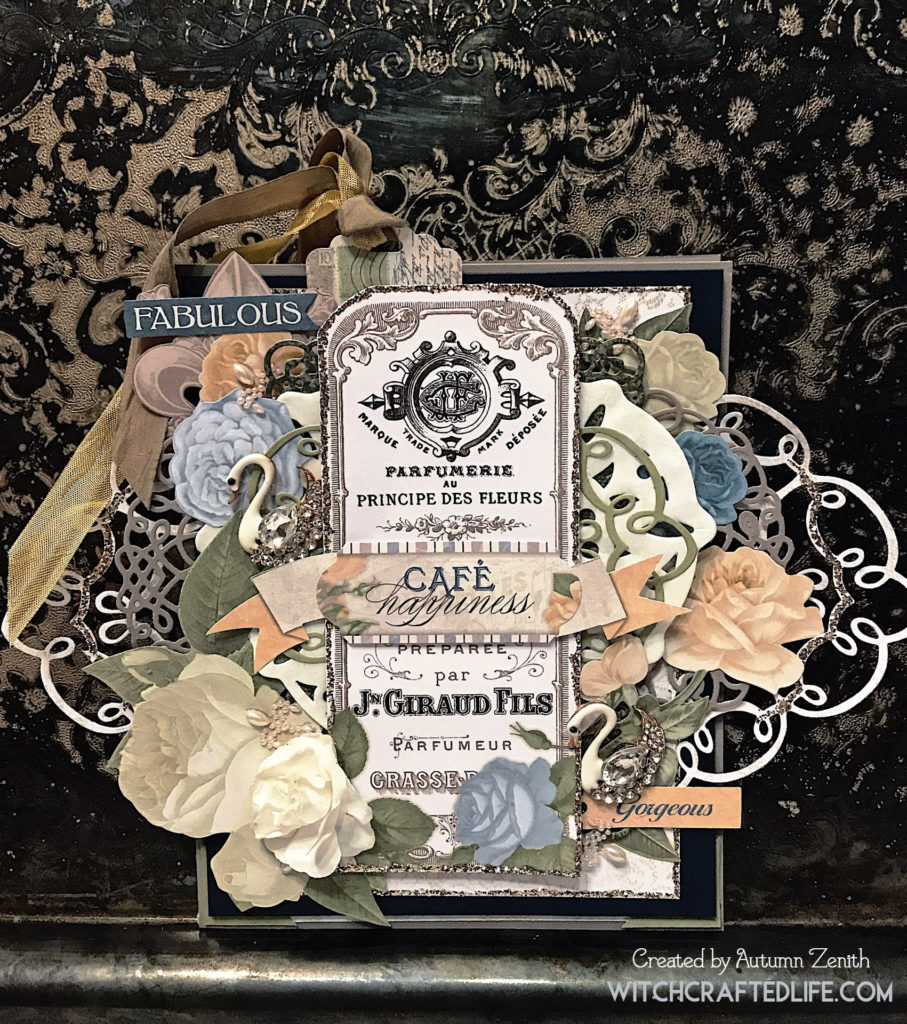 August is the last full month of summer. The current season extends until the third week of September, but by that time, in many corners of the globe, the gentle shades of the early harvest season have given way to the rich, intense hues that we immediately associated with fall time.
I love working with those colours, just as I do the softer (or conversely, brighter and more sun-baked) hues of August. Both bring me joy – just, as I wholeheartedly hope they do for the people that I create handmade cards for.
What if your favourite month or season from a colour palette perspective?
Project share
Pin the image below – or any other in this post – to Pinterest, pop it into your Instagram Stories, post in on Twitter or Facebook, or share it anywhere else you wish to help yourself find it again and to inspire others at the same time.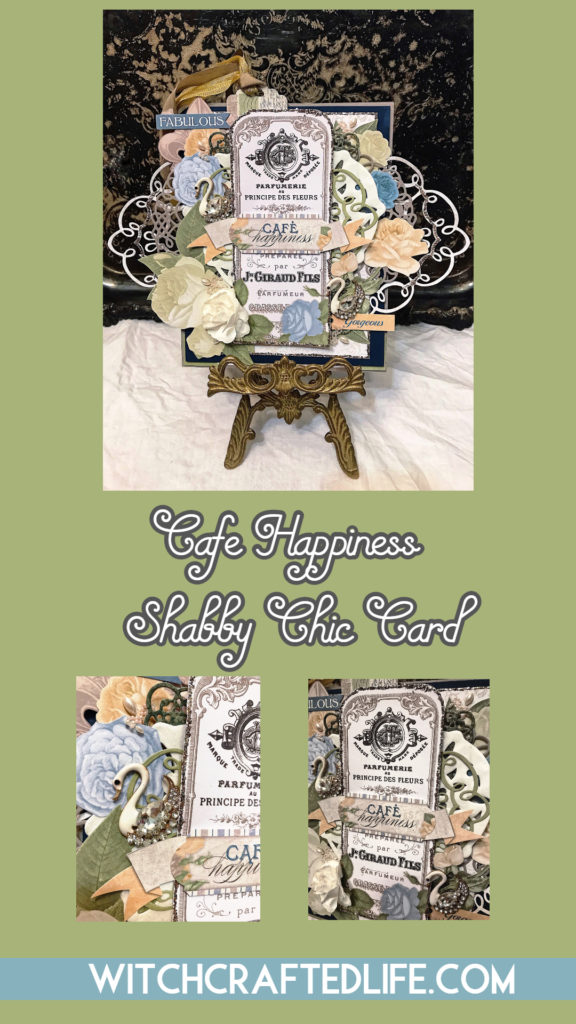 If you make a project based on or inspired by this card – or want to share any of your other handmade crafts with me – please use the hashtags #WitchcraftedLife and #WitchcraftedLifeMakes on social media so that I see can your beautiful creations.