Today's entry was not the post that I had originally had in mind for this week.
However, as those who follow me on social media (by which, let's be frank, I mean Instagram 😄) may have noticed, I've scare been online so far this month.
July saw an unplanned hiatus (of about 1.5 weeks) at one point from the good ol' interwebs as well. Neither was intended and both have left me reeling to catch up.
I accept that, for the sake of my time/energy/well-being/mental health, I won't be able to do so to the degree that I might fully like. I know that I will have to simply cut my losses, so to speak, and pick up afresh again on some digital fronts.
That's okay. It's happens to even the best of us sometimes.
This summer has been an interesting one for sure – not least because of the extraordinary issues, from the pandemic to matters of racial and societal equality that are presently at the fore in our world.
Closer to home, we've been slogging our way through a heatwave which really knocked the wind out of our sails there for a while. The temps are slatted to skyrocket again in the coming week, but I suspect that they won't stay this roasty-toasty for too much longer.
I was quite drained by the heat (we don't have central air/AC in our house and the internal temps can climb above 45C at times). As a result, my productivity in various areas, including online, came to a bit of a screeching halt for a little while.
This is not the first time over the years that I've experienced the heat hampering my output during the dog days of summer.
Indeed, with the last blog that I ran prior to this site, I used to say sometimes, only half-joking, that if I could, I would pen a year's worth of blog content during the winter months.
Then, as now, that isn't feasible or realistic for me. Nor would I want to write everything out that far in advance. You just never know what views or opinions might change, what you'll learn that could benefit a post, what photos you may take, and so forth that will help enrich a post in the moment.
So far this blog has been the one out of the various websites I've run over the years that has seen the least amount of "far in advance" content written for it.
Many entries are created mere hours or days before they go live, though some are certainly written further ahead than that. The perpetual Girl Guide in me does greatly enjoy being prepared, after all. 😊
My energy isn't at full capacity again yet, but it's inching back and I highly suspect that autumn's glorious return will help it to perk up all the more.
Recent weeks have seen me and my husband burning the midnight oil in regards to a number of different areas of our lives, from the mundane to the dream fuelled, that need our attention.
The time and focus required for these things is also a sizable part of the reason why I've not been online lately as much as I usually am.
Another reason is that this year I've been dealing with some of my chronic health issues being anything but happy (I won't go into much detail about such things here today though, fear not 😉).
At the same time, I've been working hard to try to a promise that I made to myself last year when I turned 35 regarding continuing to find ways to ideally improve some of my medical issues further. Particularly those that severely impact my gastrointestinal system.
As a whole, I am on a continual mission to improve my health, and by extension quality of life, in ever greater and more impactful ways.
This journey began nearly as soon as my health feel to pieces eighteen years ago, and has been at the fore of my life ever since.
Now in my mid-thirties and having wholeheartedly embraced the archetypal "Mother" age of the Maiden/Mother/Crone trifecta that some witches and Pagans choose to identify with, I see with deeper clarity the need to try my darnedest to do everything I can to make the coming years of my life the best and healthiest that they can possibly be.
This is a tall order, no two ways about it. Let me assure you that I'm wildly realistic. One doesn't battle multiple severe chronic illnesses for quite literally half of their life without becoming passionately entwined with the power that reality holds over our lives.
In particular, I've very recently made further medically driven changes to my diet. By and large, I'm pleased with the results that I've seen thus far.
I am finding, though, that rather surprisingly, these changes, while helping some aspects of my health, have caused one of my most serious (non-GI based) chronic medical conditions to currently flare-up fairly intensely.
This is not something I saw coming. I'm now actively working to find measures to help temper its present furry, as I believe in my heart of hearts that these new dietary changes stand to be extremely beneficial for my health as a whole in the long run.
When possible, we have continued to take nature walks in secluded, low foot traffic areas this season. The stifling heat has often meant doing so late at night or at the break of dawn.
Both suit this night owl witch to a tee, and I've delighted in the breathtaking beauty of summer's bountifully lush, life-filled landscape to a degree that I can honestly say I don't think I have since I was a child.
As I have continued to focus on my health and wellness heavily this year, certain ideas and prospects have sprung to life in relation to these areas that, even just a few short months ago, I would never have guessed I'd now be thinking about.
I feel like I'm in a state of possibility. At the same time though, again, my feet are firmly planted in reality and I know that some of the ideas I'm entertaining may simply not be feasible at this point in my life.
Just as I know that not everything I'm doing to try and further improve my health and life may pan out.
That might not be ideal, but it's the honest truth, and an important aspect of existence that we're all well served by accepting. Not everything we imagine, try, or dream about is going to unfold favourably – if at all.
Hopefully, though, along the way, we continue to learn and grow, and to find a deeper sense of certainty about what it is we want out of life.
I often find that the time between Lammas and Samhain is one of new beginnings. As well as parting ways with the old, and being brutally honest with myself about where my life (and health, for that matter) are at, what I want out of the coming year, and what elements of my world need to change or be revamped.
I know that I'm not alone in this respect and that, with the more lighthearted days of spring and early summer starting to gradually wind down, many of you may be experiencing similar thoughts or otherwise seeking to part any clouds of uncertainty that you may be living with these days.
To that end, allow me to present you with a lovely, easy and, I personally find, very effective spell that you can use when you're in need of some clarity about the future.
Cloud Divination Spell for Clarity About the Future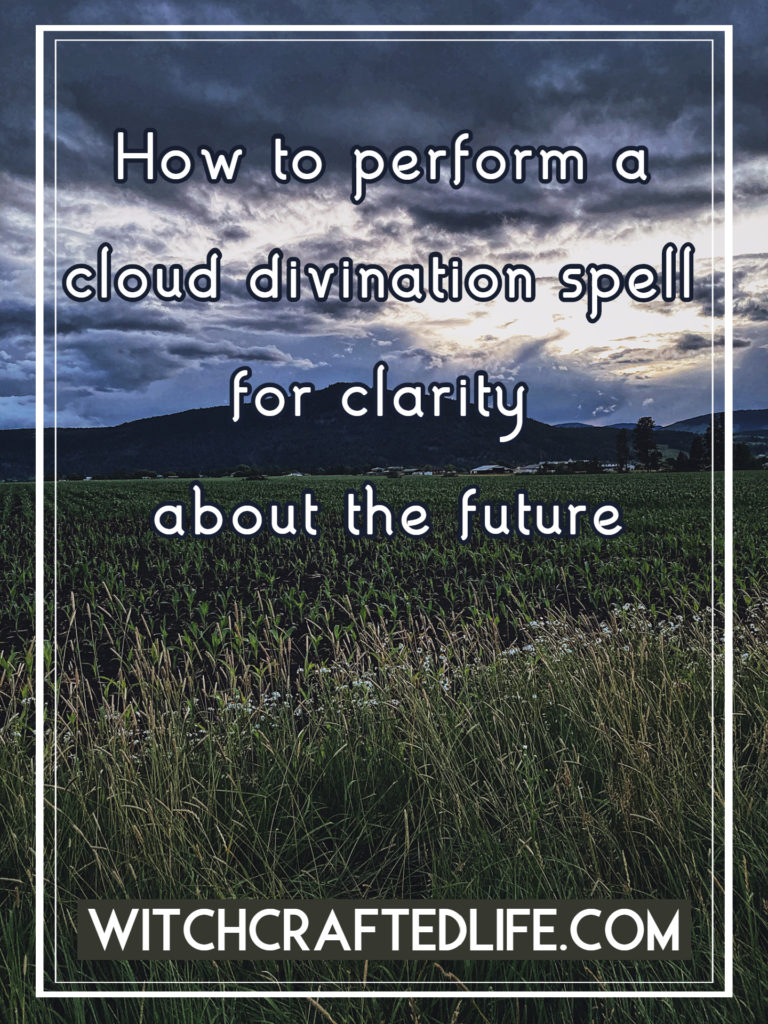 This spell taps into the ancient method of divination called aeromancy, which involves using cues and signs from the sky, clouds, atmospheric conditions, and cosmological happenings to help provide needed information in the here and now.
As well as that of nephelomancy, which puts the focus particularly on reading and intercepting clouds through aerial focused scrying.
For this spell, it's clouds we're after, so – especially when summertime is still underway – you may need to wait for an overcast day to perform this working.
Plenty of sunny days house clouds, too, of course. Particularly, I find during the hours of early morning and as dusk settles for the evening.
What you'll need to do for this clarity spell
-A safe space outdoors where you can stand, sit, or lay down and gaze up at the clouds (be sure to wear sunglasses, if the weather calls for it) or a suitable window through which to do so.
-If needed, a chair, towel, blanket or other comfy surface to sit or lay on while outside.
-A coin or other similar object with two distinctly different images or colours on each side. (You could always paint a small, flat rock ahead of time to use for this purpose, if so desired.)
How to perform this spell for clarity about the future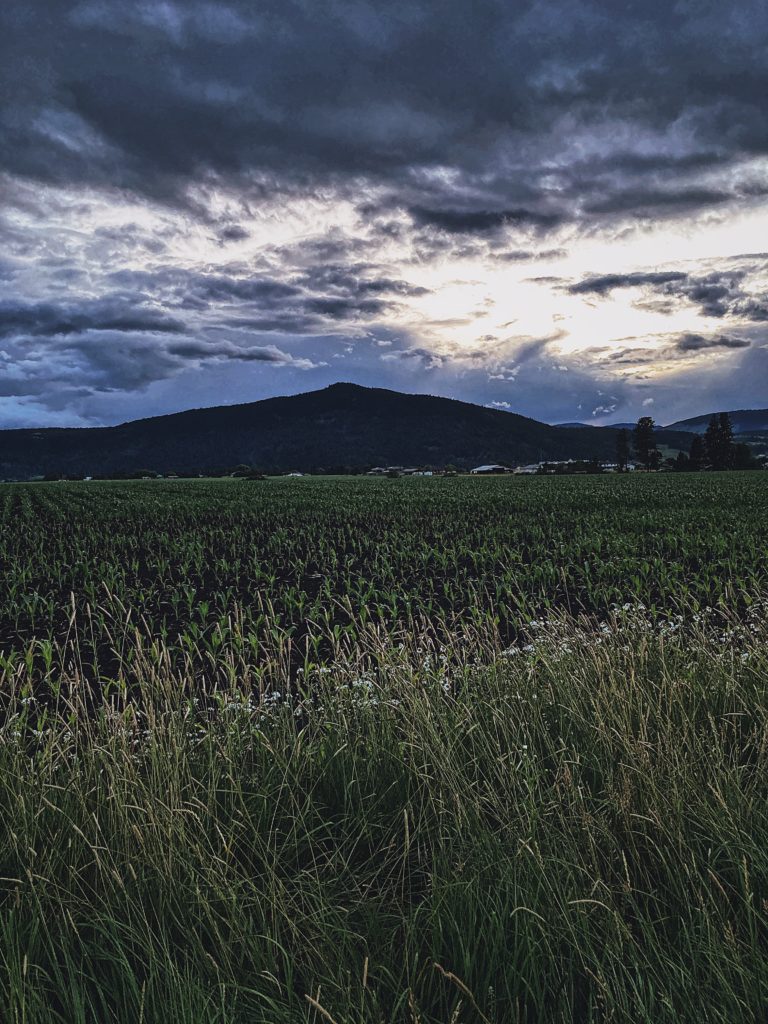 Go – or look – outside and gaze up at the clouds. As you to so, clear your mind as best as you realistically can. (I like to turn off my phone beforehand, so that I'm less apt to be interrupted by the many pings and notifications that tend to fill our 21st century world these days.)
Breath in and out mindfully, center your energy, and if you wish, ground yourself.
This is not a formal or overly intense spell, so I do not personally cast a circle, use ritual tools, call the quarters, or (generally) evoke spirit allies or deities when performing it.
If you want to do any or all or those things, by all means, have at it. One of the most vital aspects of effective spellwork is that we personalize and work within the ways that feel most true to our own spiritual paths.
When your mind is clear, your breathing aligned with your energy, and the sky overhead peppered with clouds, you're ready to begin.
Focus intently on two different aspects of something important in future that you're unsure about.
For example, two you might wish to think about two different career paths you're debating, two suitors you're interested in, two towns you're considering moving to, or two very opposite directions that you could take your life as you head forward from today.
Look at your coin or other two-sided object and assign one possible choice to one side of the coin and the other option to the opposite side.
Without looking at it as you do so, rotate the coin (or stone, etc) in your hands multiple times until you're certain you do no know which side is pointing towards skywards.
At this stage, do not look at the coin/object again. Keep it concealed in your hands. We'll return to it shortly.
With those two possible options in mind, gaze up at the sky and really study what you see. You do not have to rush yourself here. Please, take your time, and allow images in the clouds to appear organically to you.
Also be aware of any inner messages (institution), environmental cues or signs, colours in the sky/clouds, energies you feel, or thoughts that leap out at you that you may receive while doing this working. Sometimes they'll tell you just as much, if not more so, than the clouds themselves.
Does anything you see trigger a pull towards one of the two options you're contemplating? For example, if you debating whether to move to either Maine or Texas, seeing a cloud that looks like a cactus or a head of cattle might indicate that Texas is where your heart most desires to go.
If after a few minutes of sky gazing, nothing leaps out at you, that's okay. Take stock of how you're feeling and what images or thoughts might have appeared in your mind as you were scrying the sky.
Listen to your heart. What is it telling you? Often, though not always, we already know deep down inside what we want or need to do.
As one option begins to stand out to you more than the others, take your eyes from the clouds and look down at the coin or two-sided object in your hands.
Does the side that's now facing you align with the choice you are leaning towards? In my experience, more often than not, the two do indeed jive.
If they don't, however, please do not worry. It may mean that you truly are not sure yet, that there are so many possible options at hand that a clear answer won't be forthcoming unto you narrow them down further, or perhaps that the universe is trying to guide you down another path entirely.
Should there be three or more possible options available to you, you can repeat this process multiple times on the same day (or different days), pairing them off in twos, until you've reached the point of a final selection.
Clarity, I've long found, cannot be rushed or faked. It is often within us already and methods such as mindful cloud scrying and allowing the universe to help guide your decision via the coin/object can be powerful aids in bringing our innermost desires to the foreground of our minds.
This spell can be performed at any point in the year where clouds are available and you're in need of clarity about a certain aspect of your future.
I particularly enjoy carrying it out during the summer and early fall, when some of the biggest, most creatively shaped clouds are apt to fill the sky.
If you're keen to try additional magickal workings on this area, I recommend that you check out the relevant guest post, Ostara Candle Spell for Clarity and Renewal, that I shared in 2019 over at the Witch of Lupine Hollow.
Ready and rearing to go for the future!
As I began this post by saying, it might not have been the one I had initially planned for the midway point in August. However, is the one that feels most aligned with my present life and that automatically ensured its appearance here today.
I'm going to do my absolute best, health and other circumstances permitting, to be online more again from this coming week onward. Generally speaking, I am not the type to just go MIA and try hard to avoid doing so whenever possible.
And while there can certainly be perks to taking breathers from the web (no two ways about it!), I vastly prefer to take intentional and typically announced internet breaks rather than having them crop up organically.
When they do occur, I remind myself to try not to stress too much and to just pick up again like usual when doing so is possible. Easier said than done though, I know.!
Thankfully though, the web isn't going anywhere, and neither, I sincerely hope, am I.
With any luck, my life will be long and the measures I take, coupled with the clarity that I cultivate, now will help to ensure a brighter, healthier, and more fulfilled tomorrow. However that may look both for myself and the world at large.
Now over to you
Are there areas of your life that currently need some clarification? Have you ever used the clouds for magickal/spiritual purposes? ☁️ 🔮 ☁️