Generally speaking, I think that it is not only important but also a lot of fun to include numerous different elements that we adore in our paper crafting projects.
Of course, most of us are wild for a sizable array of techniques and products and it would likely not be feasible to include all of them in just one make.
Sometimes though, a project is able to house quite a few of your favourites and the end result is a card (or layout, mini album, tag, etc) that you not only love, but which has an innate ability to feel perfectly in line with your present crafting style.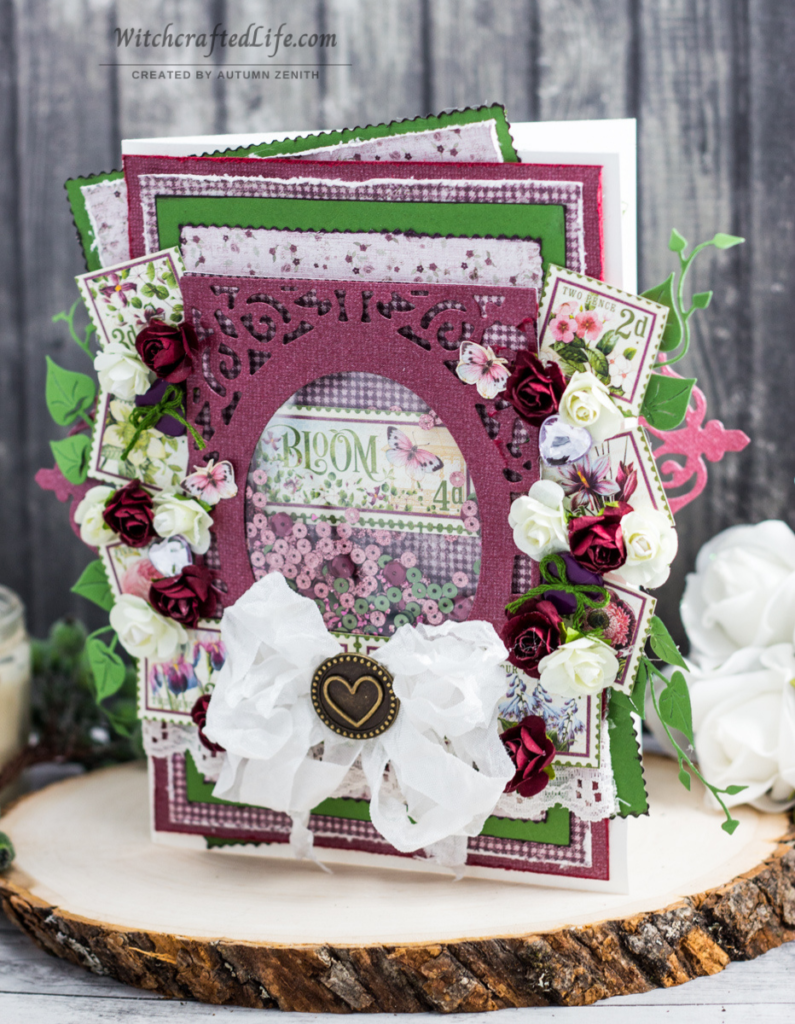 The cheery and charming springtime card featured in this post is precisely one of those projects for me.
Ample layers and embellishments? Check!

A shaker element? Check!
Distress, inking, and general shabby chicness? Check!

Flower and leaves? Check!

Seam binding? Check!
And so on and so forth. 😊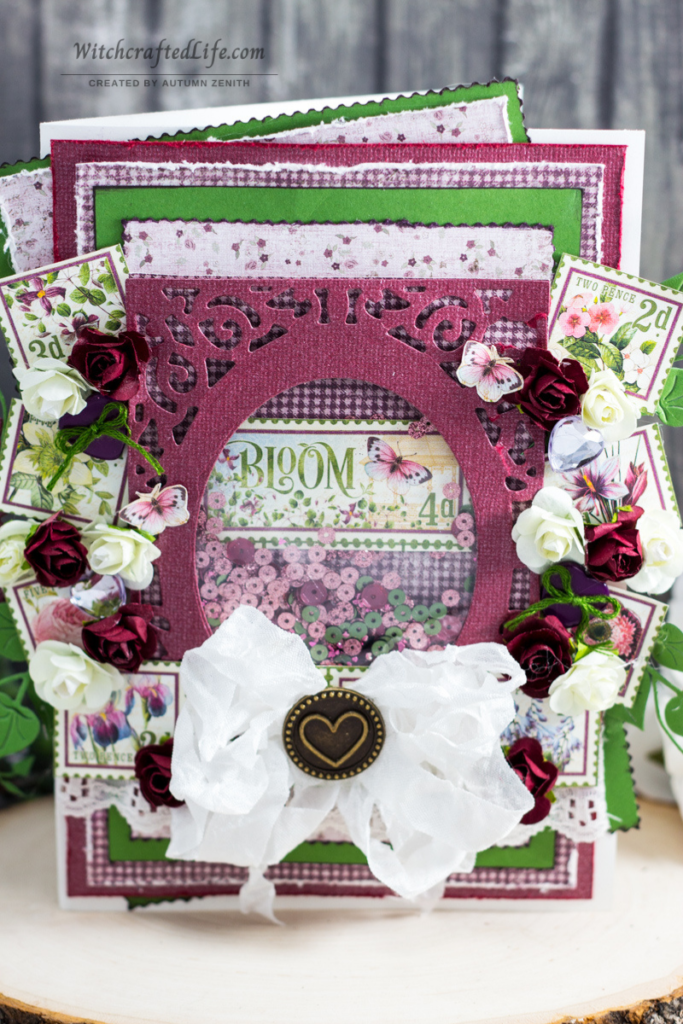 In short, this card is jam-packed with many of my favourite paper crafting materials and supplies (not to mention colours), and is a project that I'm truly delighted with in terms of how it turned out.
I created this shabby chic card as a general springtime thinking of you greeting, but it could just as easily work (with or without a relevant sentiment added) for everything from Ostara to Easter, Beltane to Mother's Day, birthdays to anniversaries, get well cards to a baby shower greeting.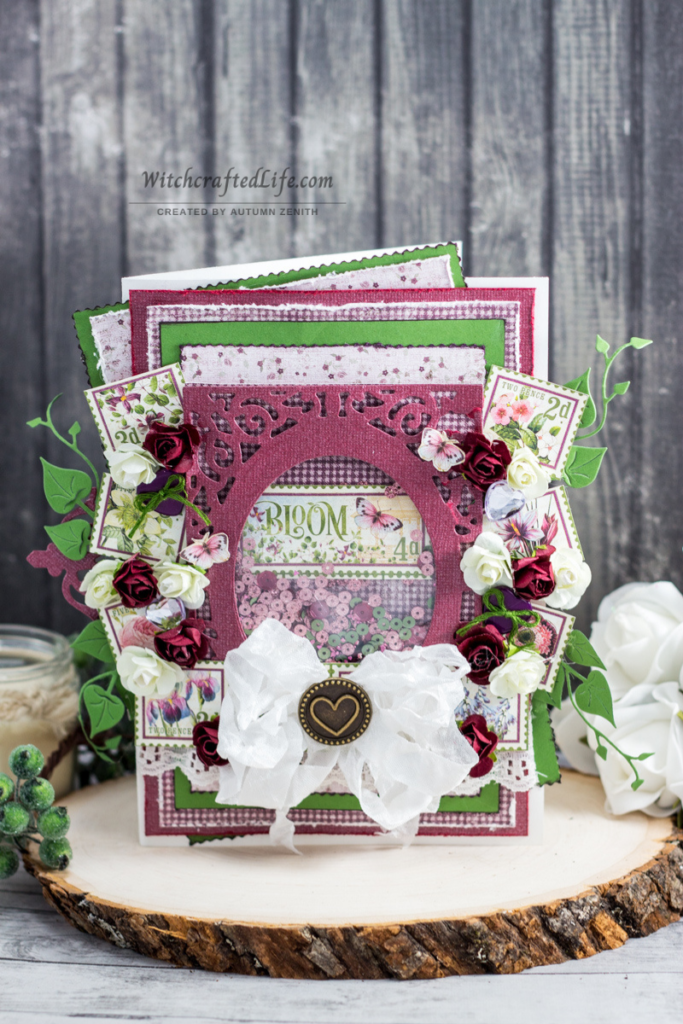 Items used to this beautiful spring flower card
-White cardstock
-Green cardstock
-Pearlized (or plain) dark berry red cardstock – Cranberry Zing cardstock from My Colors Cardstock
-Double sided houndstooth and floral print paper – Vintage Autumn Basics No. III from Maja Design
-Floral postage stamp print paper – Bloom Collection Petal Postage from Graphic 45
-Clear acetate
-Ornate frame die with coordinating corner dies (in this case, I used the A2 Filigree Delight Die from Spellbinders)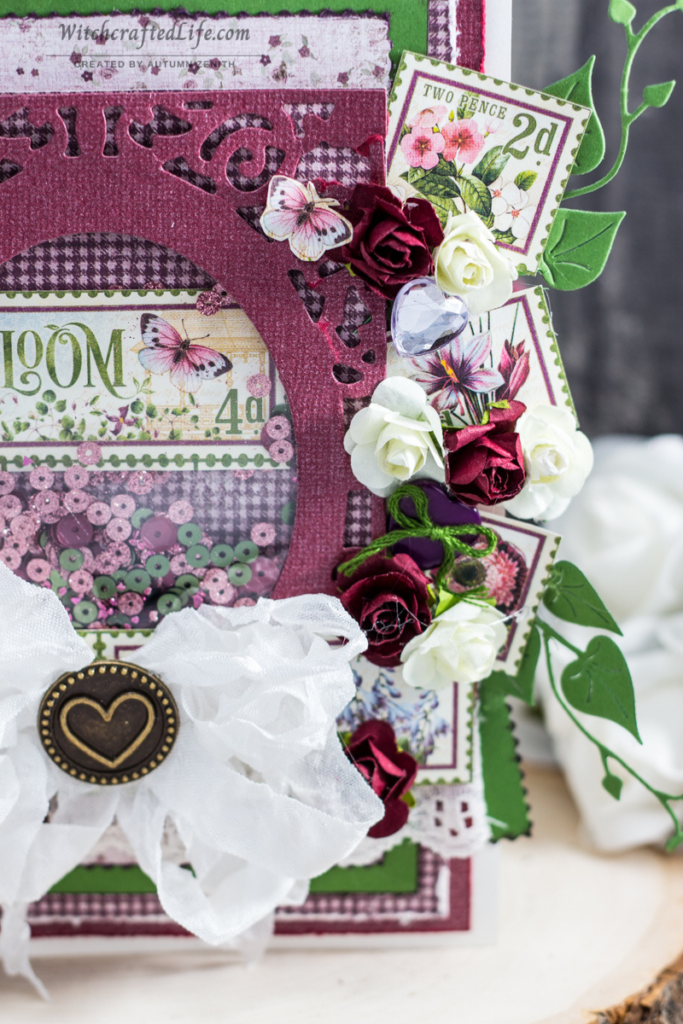 -Small leaf or vine die
-Dark purply-burgundy coloured ink – Gothic Purple Ink from StazOn
-Plum coloured sequins – from Pretty Pink Posh (product not specially named on its packaging)
-Earthy green coloured sequins
-Plummy-pink sequins
-Pink metallic flakes – from Craft Décor (found at various dollar stores; product not specifically named)
-Small burgundy and white or cream paper roses
-White seam binding
-White cotton eyelet lace (or other white lace/trim of your choosing)
-Stamp edge decorative edge scissors – Paper Edgers Stamp Scissors from Fiskars
-Green embroidery thread
-Purple heart shaped buttons, pale purple rhinestones, and aged brass metal heart charm piece all from the Gorjuss Charm Pack from the brand Santoro London
-Glue gun and glue sticks (optional but handy for attaching embellishments)
-Dimensional foam, pop dots, or similar to elevate some of your layers
-Adhesive, such as a tape runner, of your choice (I often use my Scotch Tape Glider)
How to make a layered and detailed shabby chic springtime card
Begin by making a card base from plain white cardstock (earthy shades of green, taupe/very light brown, cream, plum, and whisper soft pink tones would all be lovely choices as well).
Cut a piece of pearlized berry coloured cardstock slightly smaller than your card base and lightly distress the edges of this piece.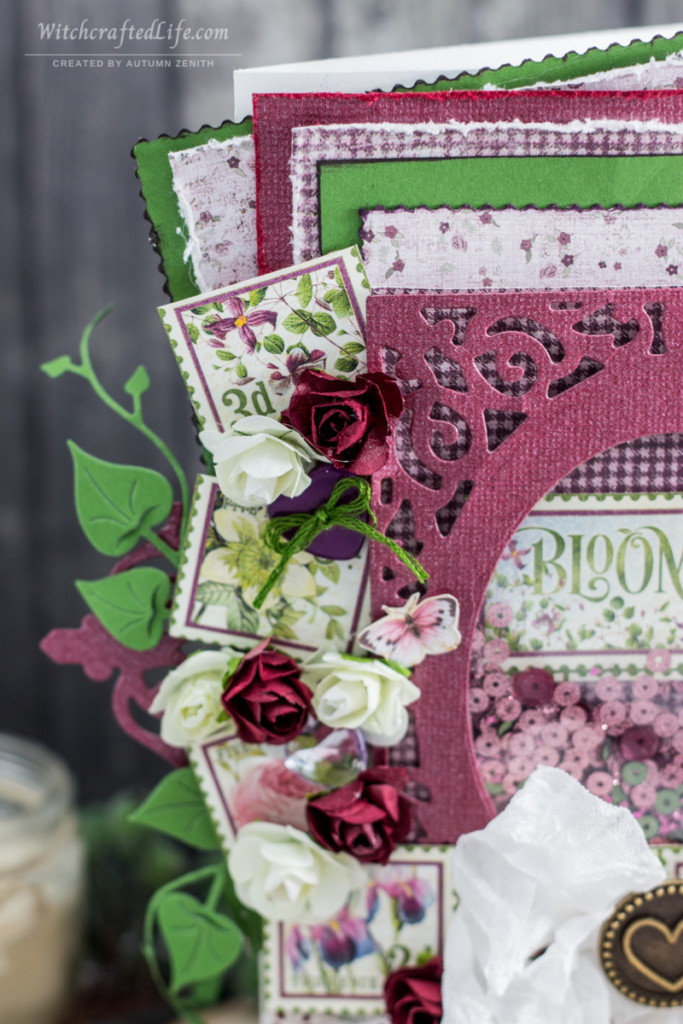 Cut a piece of houndstooth patterned paper slightly smaller than the berry cardstock and likewise distress its edges. Adhere that paper to the berry cardstock and attach to your card base.
Next, cut a piece of green cardstock a touch smaller than the houndstooth print paper. Ink the edges of the green cardstock with dark purply-burgundy StazOn ink.
Use postage stamp edged decorative edge scissors to cut out a piece of floral print paper that's a little smaller than the green cardstock.
Ink the edges of the floral print paper with the same StazOn ink, then adhere it to the green cardstock piece and adhere that to the houndstooth print paper.
To make the shaker element, die cut your ornate frame from pearlized berry colour cardstock. Cut a piece of the houndstooth print paper to the same size as the frame. This piece will be the background of your shaker element.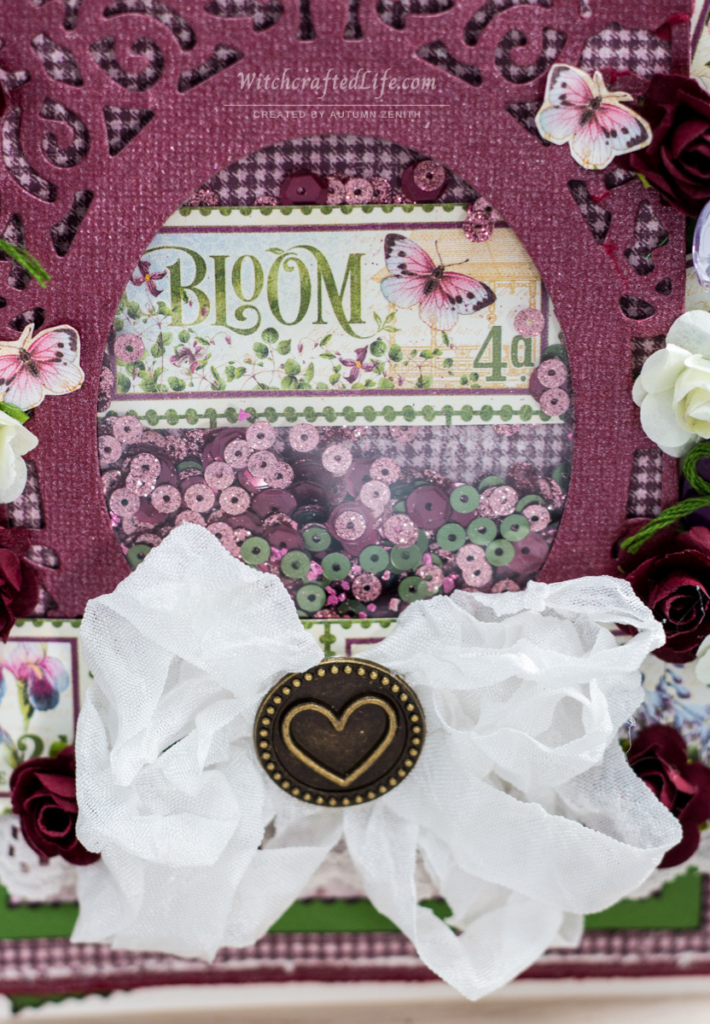 Cut out the word "Bloom" from the Graphic 45 Bloom Collection Petal Postage paper and adhere it to the houndstooth print paper, as shown.
Cut a piece of clear acetate so that it fully covers the oval portion of the frame (there is no need for it to extend beyond that portion of the frame) and adhere to said frame.
Create a barrier with foam tape or foam pads around the oval window portion of the frame. Fill with sequins.
Remove foam tape backing and adhere the houndstooth print paper background piece to the shaker frame (bring the background to the frame, not the other way around, so as to not have your sequins mix fall out and potentially go everywhere).
Attach the shaker piece to the floral print paper layer using foam tape or dots, for an added hit of height and dimension.
Create two small rectangles of green cardstock, ink the edges of each piece, and top both with the same floral print paper. Place one at an angle towards the top of your card and one at an angle below the shaker element, as shown in the pictures throughout the post.
Attach a piece of white eyelet lace just below the shaker layer.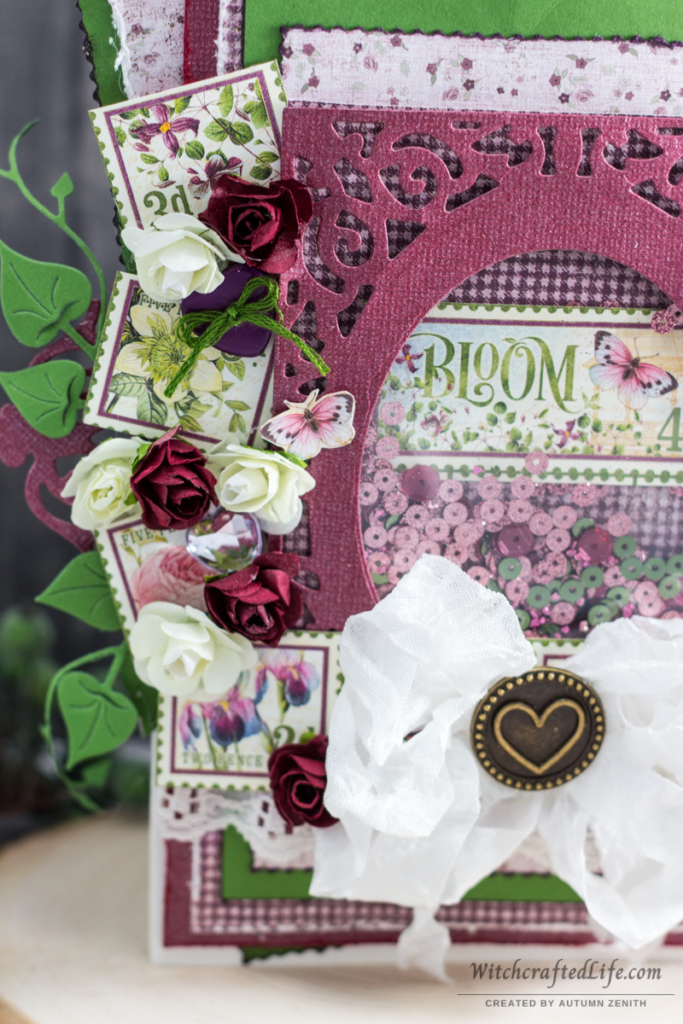 Next, fussy cut several floral postage stamp pieces from Graphic 45 Bloom Collection Petal Postage paper, as well as a strip of four continuous stamp images from the same paper.
Attach that strip immediately below the shaker element, allowing it to overlap somewhat with the white eyelet lace.
Arrange the fussy cut stamp images at lovely angles around both the left and the right side of the shaker element.
Once attached, intersperse small cream and burgundy coloured paper roses, two purple heart buttons (one on each side) laced with green embroidery thread, two pale purple rhinestone hearts, and some leaves/vines die cut from green cardstock amongst and/or behind the postage stamp pieces.
From the same stamp print paper, fussy cut two small butterflies, gently bending their wings upwards for an added sense of dimension. Attach one butterfly on each side of the shaker frame.
Die cut two ornate photo corner pieces from the berry coloured cardstock and attack them behind the layers on the front of your card, roughly at the halfway point of the overall design.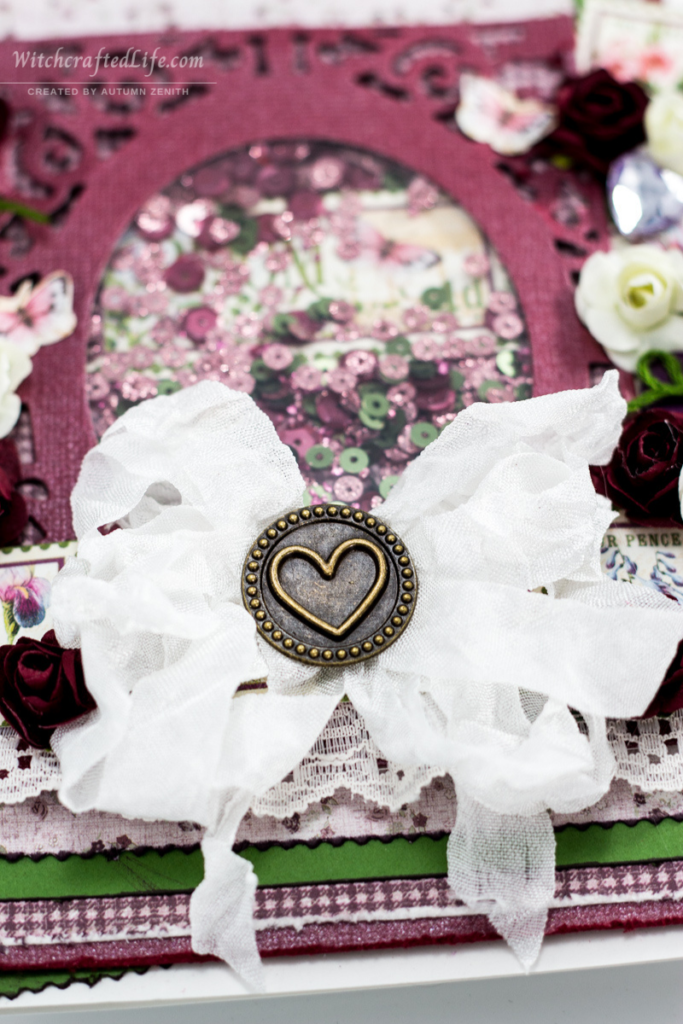 Lastly, make a multi-loop bow from white seam binding (I pre-crinkled mine before starting this project; it is not imperative that your seam binding me crinkled to work here).
Attach this bow to the middle of the card, just below the shaker frame. Top with an aged brass-coloured metal heart charm (or another embellishment of your choosing).
And just like that, your shabby chic springtime floral greeting card is complete. 🌼
Spring has officially bloomed on our end!
After a long, cold Canadian winter that began in mid-October and saw our final snowfall of the season on April 10th, spring was the most welcome of returning visitors this year!
As much as I do favour the colder half of the year in many ways, I love spring and summer for a multitude of reasons as well.
There is something to be said for not risking frostbite when you step outside, daylight that lingers well past the dinner hour, and the vibrancy and optimism inherent to the warmer months.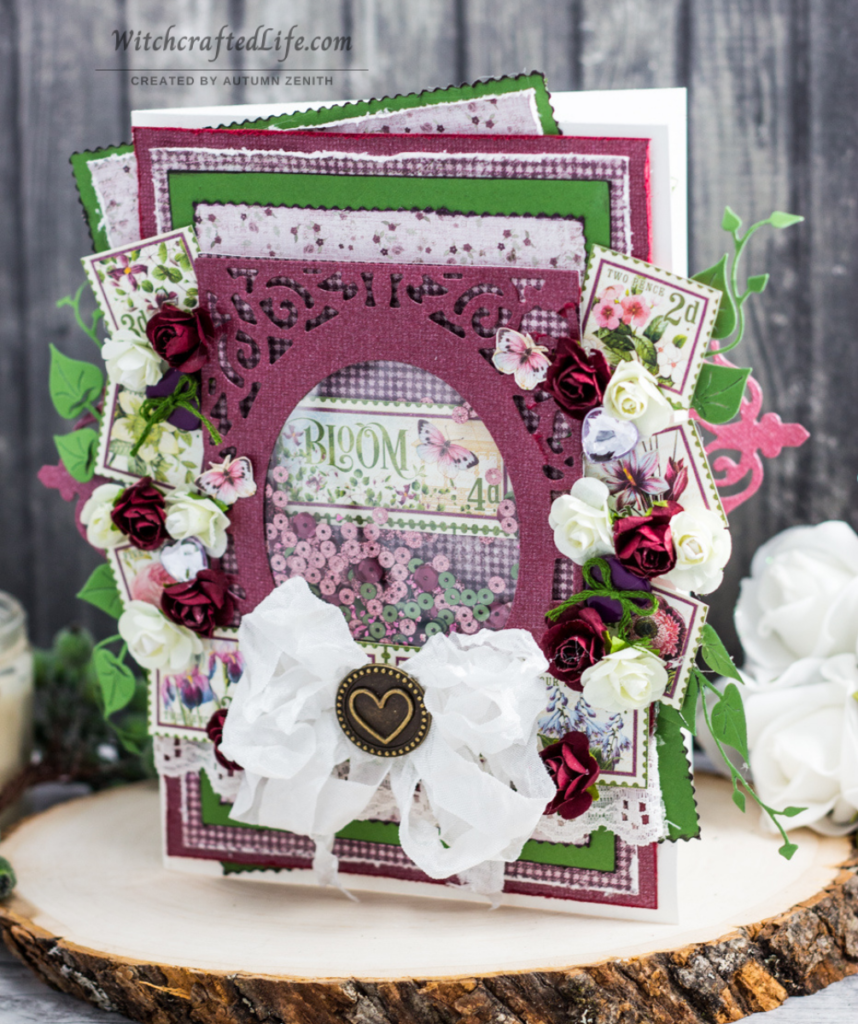 This card was created to celebrate all those points – very much including the abundance of new blooms that are once again returning around these parts.
Another of my paper crafting favourites has long been the well-known brand Graphic 45, and their elegant cut-apart floral postage stamp print paper was a delightful way to inject even more floral charm into this shabby chic springtime project.
Spring is typically very short-lived in our area. Chances are we'll likely experience summertime weather before May has wrapped up (it is not without good reason that the Victoria Day long weekend is often referred to as the unofficial start of summer here in Canada).
All the more cause to make and send springtime greetings while the sun is shining, birds are chirping, gardens are coming alive, and the joyful energy of this all too brief season is still going strong.
I hope that spring (or autumn, for my lovely readers south of the equator) has likewise sprung on your end at this point and that you have a safe, beautiful May – complete with blooms aplenty, be they the real deal or of the paper crafting variety. 🌺💗🌺