Today is my half-birthday. In other words, exactly six months until my next birthday rolls around. I adore birthdays, be they my own or other peoples.
By far one of the best things about birthdays is the cards – and all the more so if they're handmade! 😊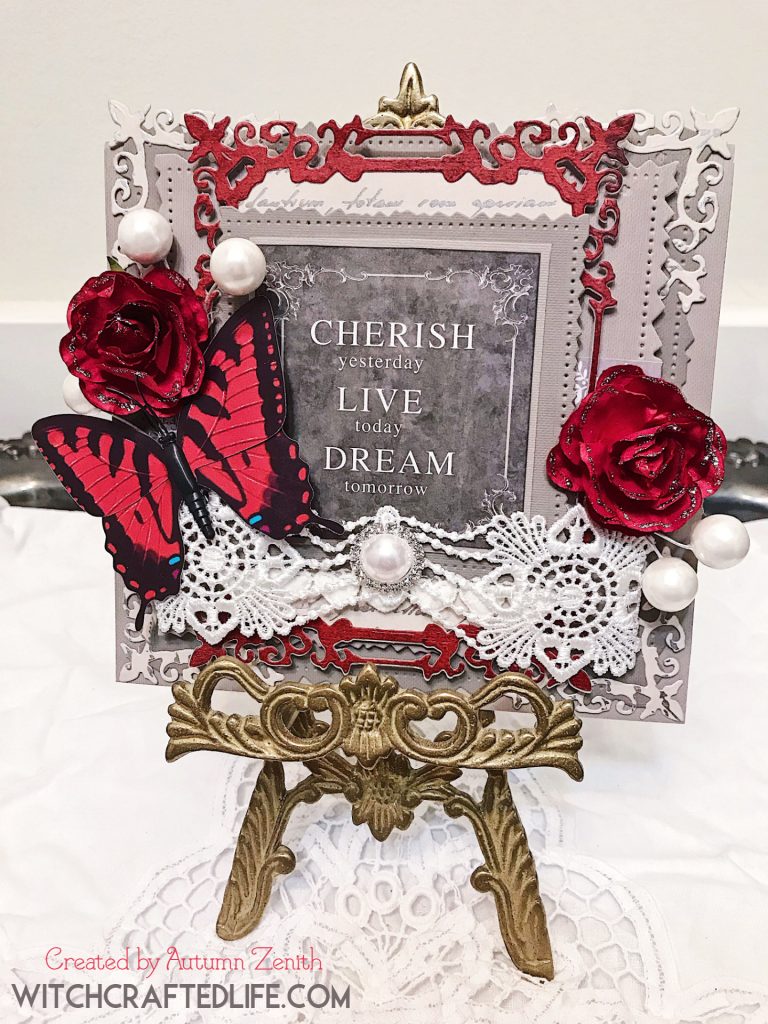 For the inaugural paper crafting project here on Witchcrafted Life, I wanted to share a card that I created recently that encapsulates so much about my personal crafting style, favourite colours, and a time period that positively adore.
Cherish, Live, Dream Victorian-inspired shabby elegant card
This was the first card that I made after the fire happened that I truly loved (yes, for those doing that math, that was more than three years later).
In fact, it's one of my favourite cards I've ever made at any point in my life. I'd even go so far as to say it's in my top five favourite cards to date.
I tend to favour fairly good-sized cards and this one is no exception. It measures 6 inches/14.2 cm tall x about 6.4 inches/16.2 cm wide.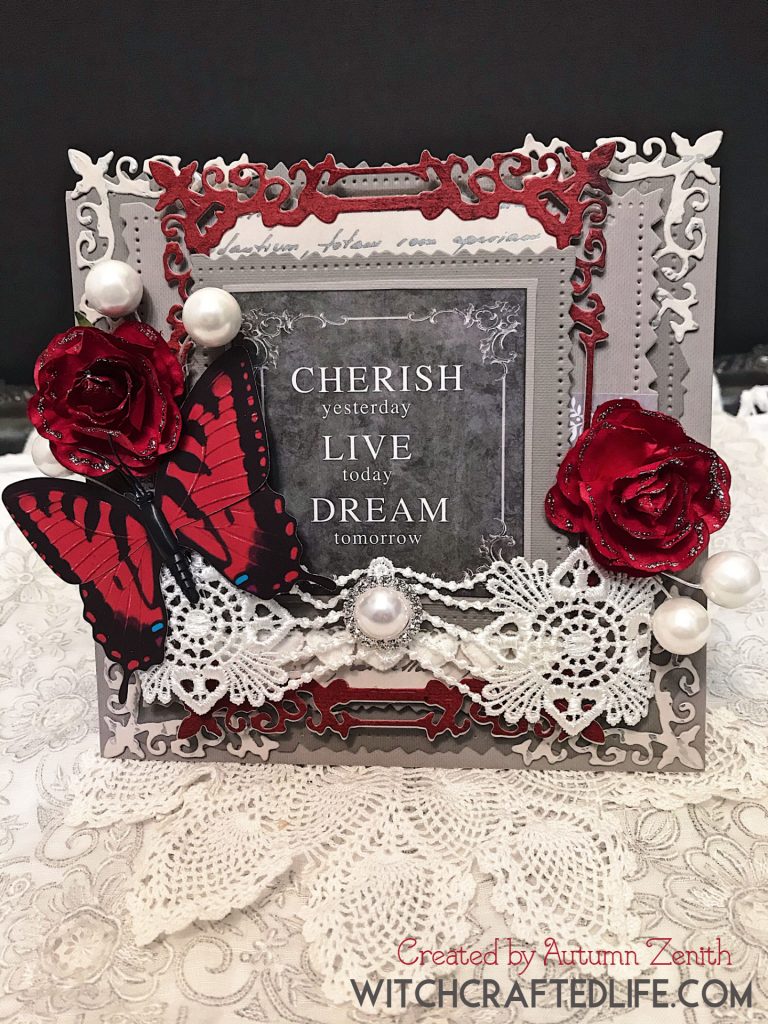 As a lifelong fan of the Victorian era (a passion that was inspired in part by my paternal grandma's own love of that timeframe), I was in the mood to create a card that captured a sense of some of the artistic and aestetic styles of that fascinating segment in time.
While the term shabby chic is open to personal interpretation, I feel that this card stops shy of full-on shabby (though it certainly contains some elements of this style), and instead falls under the header of shabby elegant.
Victorian-inspired elements on this card
The majority of the products used on this card were selected because they channel the opulence and elegance that is often associated with the Victorian era.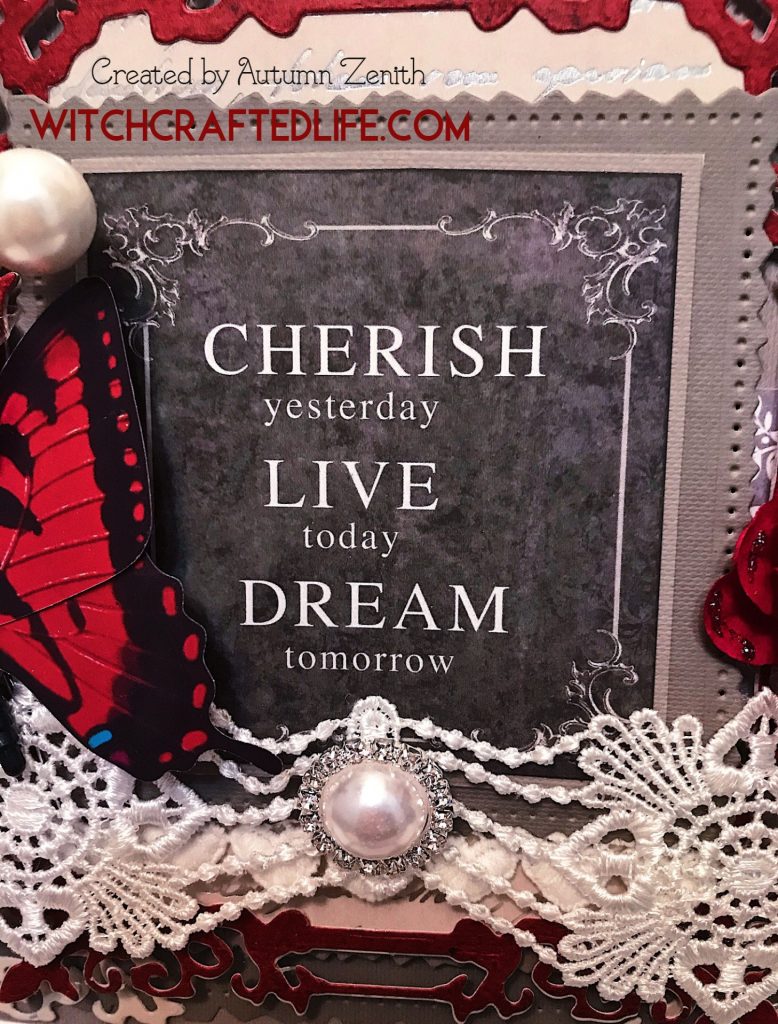 This includes the text print paper, which called to mind the flowing, beautiful handwriting possessed by many in the 19th century; the ornate metal dies that I used to create many of the layered pieces, and the detailed white applique trim.
As well as a faux pearl and rhinestone flat back embellishment, the focal sentiment paper (with its own sophisticated yesteryear inspired border design), the paper roses, the dimensional butterfly, and the colour palette of white, grey, and deep red (all of which were used in everything from home décor to fashion, including in the case of white and grey, some forms of mourning attire, during the Victorian years).
Putting this layered card together
After creating my card base in light grey cardstock, the colour of which reminds me of a mix between chalk dust and chimney smoke on a cool fall evening, I die cut out various detailed border frames.
I then layered these along with a central piece of Kaisercraft Rose Avenue Collection Silver Notes text print paper (which was also used for one of the frame layers).
I absolutely adore this gorgeous paper. Unfortunately, I only have one (now partially used) sheet of it and as Kaisercraft is no longer producing this paper, I can't easily stock up on more.
I'll definitely be keeping an eye out for a similar cursive script paper with metallic silver detailing like this beauty.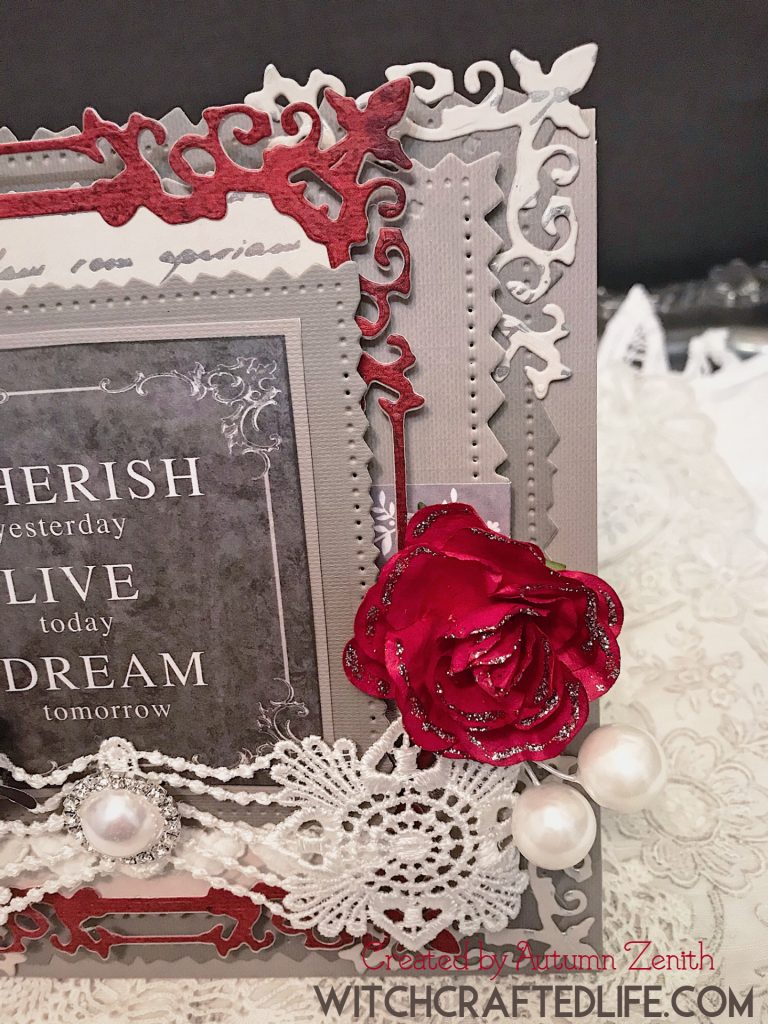 Though it is subtle to the point of almost being imperceivable in these photos, I applied medium to dark grey ink lightly to some of the edges of my papers and cardstocks.
As with a lot of the cards (and layouts, tags, etc) that I create, I love to raise some of my layers up with foam squares (or tape), pop dots, pieces of craft foam, or other methods that give a project a greater sense of depth and dimension.
I did that here with two of my layers, including the sentiment panel.
Once the layers were in place, I played around with various trim and embellishment ideas. I knew that I wanted an ornate lace and some flowers, and spent a good while digging through my stash until I hit upon the combo that you see here.
The card was coming together nicely at that point, but I felt that it needed more (story of my paper crafting life, let me tell you! 😃).
I added in some white coloured chunky ball ended floral spray pieces, the sophisticated faux pearl flatback, and a single good-sized butterfly embellishment.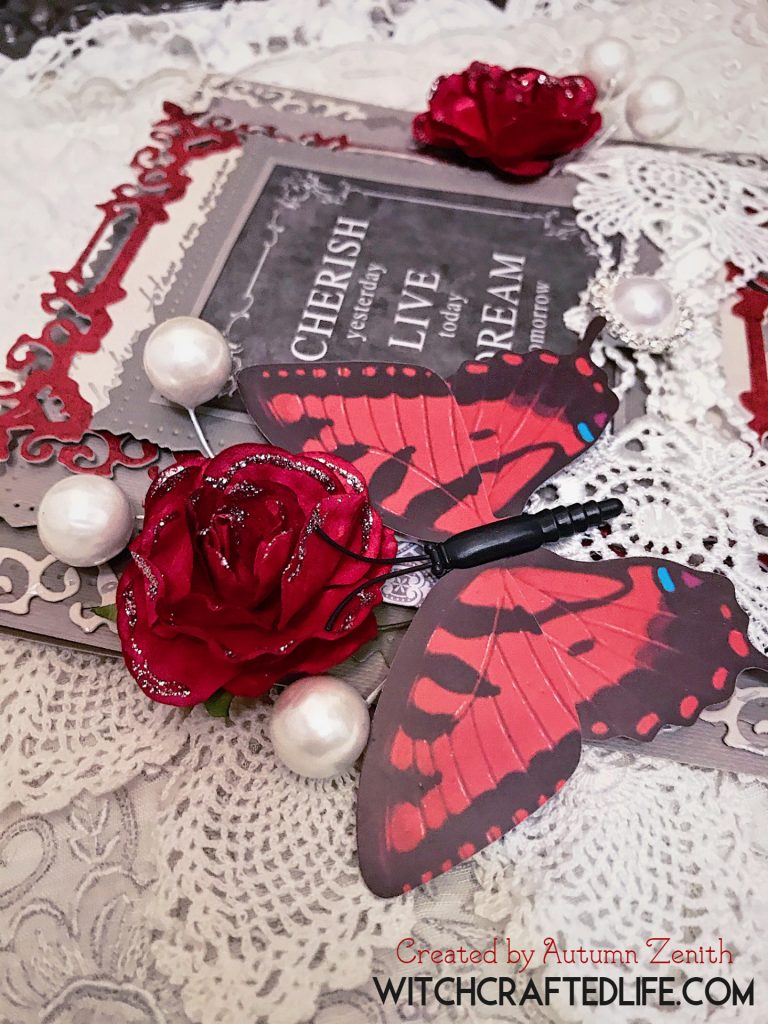 To tie into the metallic silver in the Kaisercraft script print paper and for added eye-catching charm, I applied some Ranger Stickles in Silver to the edges of the petals on the red paper roses.
And, voilà, my card front was ready to go (when, as in the case of this make, I create a card that is not yet indented for a specific person and/or event, I tend to leave the inside very simple or unadorned entirely until I'm ready to prepare the card for its recipient).
Card making tips and ideas from this project
–Centre your project around three main colours, at least one of which is a neutral. In this case, both white and grey are neutrals (as are the small supporting hits of black in elements such as the body of the butterfly and in the text on the sentiment). I prefer if the colours work in harmony, but it is entirely up to you if you want your trio to coordinate.
–Vary the proportions of each colour that use you, allowing one or two to dominate and the other(s) to play more of a supporting role.
–Use a cut-apart from a piece of 12×12 (or another size of) paper, a journaling card, a pocket album/Project Life card, or other pre-printed paper for your sentiment.
Stamping, embossing, letter stickers, rub-ons and other options are great as well, but few can compete with the ease and professional-looking text involved with commercially printed papers.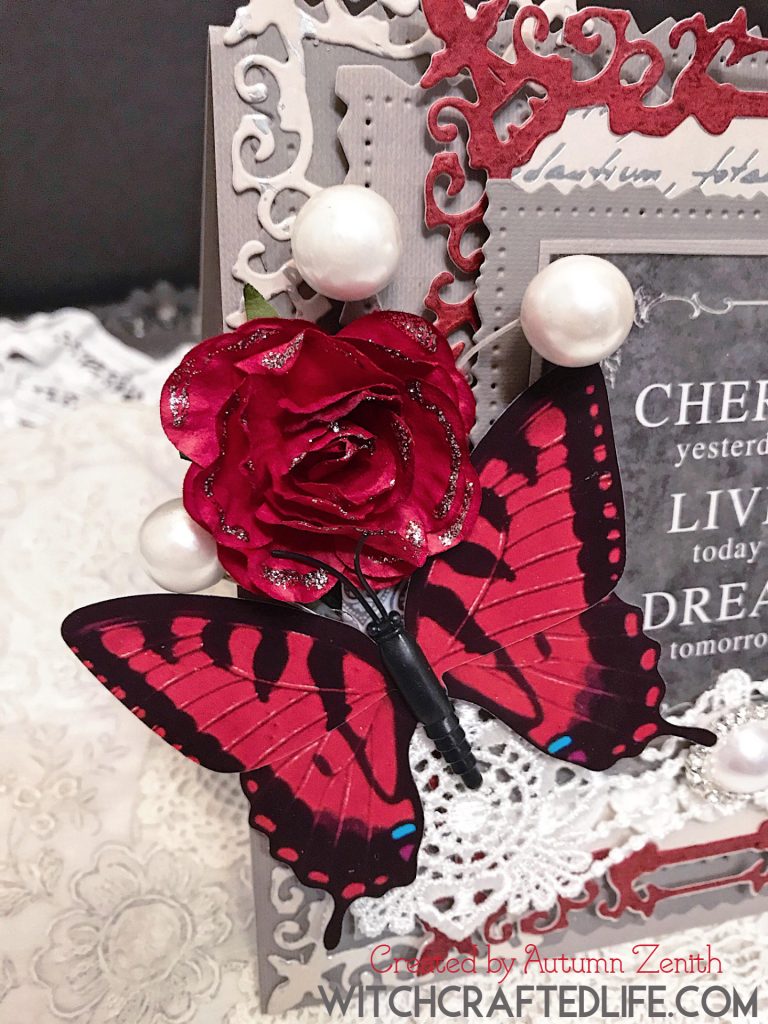 –Jazz up handmade or premade flowers with things such as Stickles, sparkles, embossing powder, markers (Copics or Spectrum Noir, for example), Liquid Pearls, Nuvo Drops, texture paste, microbeads, small sequins, inks, paint, and other projects that give your faux blooms further eye-catching appeal.
–Frame your sentiment with embellishment clusters on either side (generally left and right, or top and bottom, but you could opt for left and bottom as well, for example).
–Use uneven numbers of products. It's a well-known design principle that uneven numbers of elements are often very appealing and visually engaging to the viewer.
Here the three main focal embellishments are the two red roses and the single red and black butterfly. There are enhanced by the two pairs of white floral sprays and the single faux pearl flatback (for a total of five additional embellishments on top of the main three components).
–Make a dark coloured sentiment pop by matting (framing) it on lighter coloured paper or cardstock – and vice versa if your sentiment Is light coloured.
Another good option for helping a sentiment cut-apart to stand out is to layer it atop vellum, glitter paper, or metallic cardstock.
–Balance patterned papers with solid coloured papers or cardstock. While designs that rely solely on either can be fab, it can sometimes be easier on the eyes to have the "break" that a mix of both offers up.
Here, the dark red paper is subtly printed (in a moulted type of pattern), as is the Kaisercraft text print paper, which I used for two different layers.
–Don't be afraid to extend some of your design elements beyond the edges of your card. I do this ALL THE TIME with my projects.
It adds height and/or width, often makes a card look fancier or more elaborate, and can help to further the sense of a dimension on a given make.
–Layer on top of trims and lace. These types of materials can be awesome on their own, but sometimes they sing all the more when you top them with a little something-something!
I'm partial to pearls, rhinestones, flatback, buttons, wood veneer pieces, charms, die cut shapes, flowers and leaves, enamel dots, sequins, and other (often narrower widths of) trim, lace, twine, and the like.
–If you don't have a die cutting machine or access to one, create ornately edged layers and other design components with decorative border punches, decorative edge scissors, pre-made die cut shapes and trims, pinking sheers, or freehand paper tearing for an extra distressed or shabby chic look.
Products to help you recreate this Victorian-inspired layered card
-Two different shade of grey cardstock or paper
-Dark red, burgundy or maroon coloured paper – I used Elegant Autumn #4 from Ella & Viv
-Sentiment from a sheet of cut apart paper – I used Angelic from Kaisercraft's Rosabella Collection
-Fancy script text print paper – I used Silver Notes from Kaisercraft's Rose Avenue Collection
-Various sizes and styles of elegant metal layering dies (see note above about alternatives, if you do not have a die cutting machine)
-Medium to dark grey ink – I used Tsukineko Memento Ink in Grey Flannel
-White applique lace trim
-Generously sized flatback faux pearl
-Paper roses
-Ball end floral sprays/stems (dollar stores, craft stores, and baking supply stores are good sources for these)
-Dimensional butterfly embellishment (the one used here is from Dollarama)
–Silver Stickles or other silver glitter glue, glitter paste, or loose glitter and suitable adhesive
-Dimensional foam, pop dots, or similar to elevate some of your layers
-Adhesive, such as a tape runner, of your choice (I often use my Scotch Tape Glider)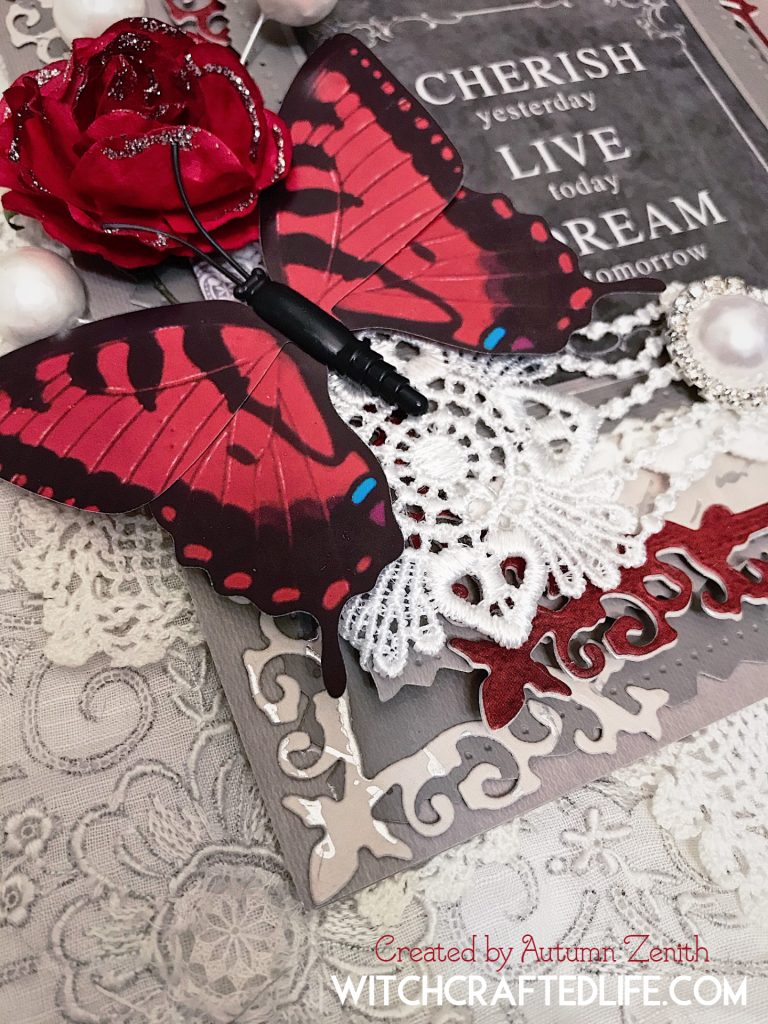 What occasion would this card be well suited for?
Given the lovely sentiment that this layered grey and red card features, you could give it to someone for a multitude of different occasions. Naturally, if you're making a similar looking card, yourself, chances are you'll be using an alternative sentiment.
Between the serene, almost somber colours and the touching sentiment, I feel this card would be well suited to everything from offering support and encouragement to a retirement, anniversaries to birthdays.
If the sentiment was changed (or perhaps even as it stands now, depending on the recipient) this card could also be a good fit for times of sympathy and loss, thanks to its colour palette, flowers and butterfly (the latter a symbol of hope and comfort).
I really do adore this card and the spirit of the Victorian era that it captures and can easily see myself "scraplifting" this general design again (and again!) for future card projects as well.
Are you inspired by certain historical eras or style with your paper crafting makes as well?
What sort of occasion do you see this card working especially well for?
Show me your paper crafting makes!
If you make a project based on or inspired by this card – or want to share any of your other handmade crafts with me – please use the hashtags #WitchcraftedLife and #WitchcraftedLifeMakes on social media so that I see your beautiful creations.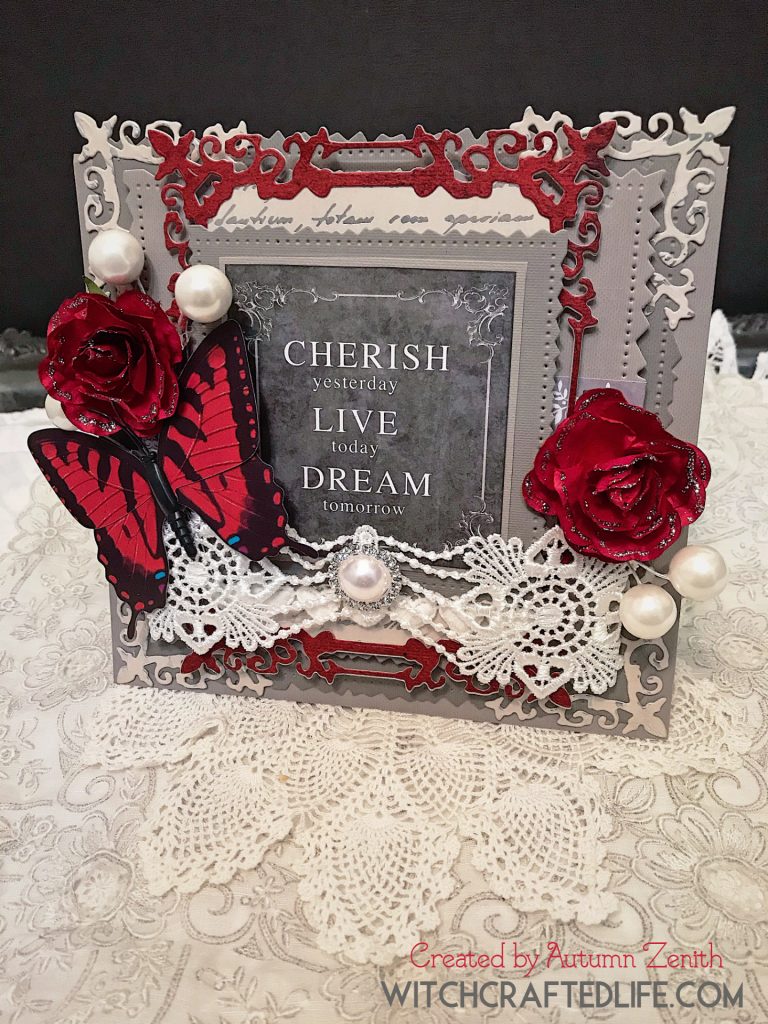 Quick notes about my paper crafting posts in general
As a side note to this project itself, I wanted to mention the following points as today's post is my first project share on this blog.
-We live in a small house with some, but not a ton, of natural light and, honestly, not that much artificial lighting either. I'm shooting with an iPhone 7 and it's currently wintertime, so I'm definitely experimenting with available lighting (just as I am with how I style and photograph my completed paper crafting makes).
As such, things may vary a bit on this front, especially throughout my initial project share posts, until I hit on a lighting + backdrop (and/or styling) combo that I'm currently happy with.
-I readily welcome you to share, pin, and repost my photos, I simply ask that you please credit them to me, Autumn Zenith at WitchcraftedLife.com
-Unless clearly stated, none of the materials used or products featured on my blog are sponsored, endorsed, or received gratis from companies, websites or physical stores.
Project share
Pin the image below – or any other in this post – to Pinterest, pop it into your Instagram Stories, post in on Twitter or Facebook, or share it anywhere else you wish to help yourself find it again and to inspire others at the same time.